Pressed for time? Here's my preferred choice as the best cheap acoustic guitar: the Yamaha FS820 Concert. You can check its price on Sweetwater here.
When first learning how to play the guitar, beginners need to invest in a guitar that's affordable, but also reliable.
That can actually be quite the balancing act. If you cheap out too much, you could potentially be discouraged by the sound the guitar produces. And if you spend too much, you risk wasting your investment in the event you lose interest in the instrument.
It's definitely a challenge and one I've been through early on in my playing days. On top of something affordable, I personally also wanted a guitar that looked nice and captured the attention of people who saw me playing.
Oh, and I didn't want it to sound bad.
For this article, I've focused on entry-level acoustic guitars that sound and feel great for the price:
Are you now ready to buy your first acoustic guitar?
Here are the Best Cheap Acoustic Guitars:
Yamaha is known for beginner guitars. Its entry lineup of acoustic and electric guitars, and, thankfully, they recently updated their popular FG700 to to the FG800 and boy does it sound nice.
The first thing I noticed when strumming this guitar is how warm it sounds. Cheaper acoustics have a tendency to sound too tinny, meaning there's too much treble. But the FG800 genuinely sounds warm. You can thank the nat wood — also known as eastern mahogany — and the scalloped bracing on the dreadnought body.
Beginners will appreciate the slim neck on this acoustic. Paired with a satin finish, your hands can easily glide up and down the walnut fingerboard.
Pros
Affordable. You'd expect all guitars on this list to be affordable, but this one is near the bottom of the pricing spectrum.

Scalloped bracing. The way this acoustic is built really puts an emphasis on the bass notes and better projection.

Comfortable neck. This slim neck is perfect, no matter how big or small your hands are.
Cons
Lower quality tuners. At this price, nothing is perfect. Depending how much and how hard you play, expect to tune up a few times throughout your practice session.
As an entry-level model, though, it's not perfect. Yamaha doesn't include a case with this guitar and the die-cast tuners aren't the best. Additionally, the strings may be set at a higher action out of the box. This might require you to take the guitar to a shop to set it up with lower action, which makes it more playable for beginners.
Still, the Yamaha FG800 is a great value and sounds like a more-expensive acoustic.
• • •
Another great entry-level model from Yamaha, the APX600 Thin-Line Cutaway is a beautiful-looking acoustic-electric with a preamp system perfect for coffee house gigs or playing a church worship group.
The first thing that stands out with this guitar is its looks. Everything is smaller and slimmer with this guitar, from the neck profile to the body and the soundhole. 
You would think this would have an impact on sound, but the spruce top and innovative bracing from Yamaha makes guitar a great bang for your buck.
Priced slightly higher than the popular FG800 that's mentioned above, the APX600 comes in five different colors: Natural finish, black, vintage white, blue sunburst and violin sunburst. 
Pros
Spruce top. This more premium wood delivers a nice warm tone.
Stylish design. Everything about this slimmer-looking guitar is unique.
Multiple color options. Pick from five different colors, including a classic natural finish and two different sunburst options.
Cons
Small sound hole. As an acoustic-electric, you might be buying this guitar to play coffee houses, which means you need a sound hole cover. The smaller hole on this guitar makes that difficult to find.
I personally played on the violin sunburst, which at first glance looked professional and classy. But upon a closer inspection, the finish is a little cheap looking. I recommend staying away from the burst finishes and stick with the natural, black or vintage white.
Luckily, the guitar sounds great, both acoustically and plugged into a PA system, making it a great acoustic for aspiring singer-songwriters.
While Yamaha uses quality wood in its guitars, that doesn't mean the same wood is used throughout the entire guitar. The back of this guitar feels a tad flimsy, but as long as you treat it nicely, there shouldn't be too many concerns about the overall structure of the guitar.
• • •
D'Angelico is best known for its jazzy archtops. But the reincarnation of this classic company has expanded its product lineup to solid body electrics and more entry-level acoustic guitars that sound great and play even better.
The D'Angelico Premier Tammany LS is one of the most popular acoustics in the brand's lineup, and rightly so. As an OM-style guitar (orchestra model), the body is thin enough to hold comfortably, but the size doesn't compromise on sound.
That's because this guitar uses 100% mahogany for its body. Mahogany is a warm-sounding wood that allows bass and treble notes to resonate loudly, which is important for acoustics.
Pros
Beautiful design. This OM-style body looks way more expensive than what's on the price tag. The darker mahogany satin is quite beautiful.

Great build quality. espite being mass-produced overseas, D'Angelico has great quality control on all of its products. This guitar is made using all mahogany wood.

Satin finish neck. D'Angelico does a great job at making its new lineup of acoustics very playable and that starts with a comfortable — and fast — neck.
Cons
Sensitive pickup system. You pick up a lot of clicks and rubbing of frets when plugged into an amp or P.A. system.
If you need more of a boost in sound, though, D'Angelico's in-house pickup system is capable for coffee house gigs. Some owners of this guitar have said the system is a tad sensitive, but you can figure out how the system responds by practicing with the guitar plugged in.
• • •
Fender is best known for its iconic lineup of Stratocaster and Telecaster electrics, but over the years, the classic company has made an effort to bolster its acoustic lineup. The Fender FA-15 ¾ Scale Steel Acoustic Guitar is a decent entry-level guitar when you factor in its looks and sound.
But when you look at how much it costs, it's an incredible guitar. Even better, it includes a gig bag! If you hadn't noticed, most entry-level acoustics don't include any kind of case, so kudos to Fender.
If you're unsure how committed you're going to be to learning the guitar, the Fender FA-15 is a great option because it's not going to cost you an arm and a leg. 
Pros
Comfortable body size. This ¾-sized acoustic is great for beginners or more veteran players looking for a solid traveling guitar.

Four fun color options. Fender's signature on its acoustic lineup is its bright, fun colors.

Budget friendly to the extreme. The price tag is so low on this guitar you could buy two.
Cons
Not the fullest sound. The sound of this guitar isn't too shabby — especially for the price — but it's not as strong as other acoustics on this list.
And it's actually quite comfortable to play. That's because it's a ¾ style guitar, also known as a parlor-style guitar. The smaller body makes it easier and more comfortable to play.
Because the body is a laminated top that uses a cheaper wood, the sound isn't terribly loud, but that doesn't mean a beginner can't learn how to play on it. In fact, a quieter acoustic might be exactly what you need when learning the ropes of the guitar.
• • •
There are a handful of iconic acoustics on the market and the Gibson Hummingbird is certainly one of them.
Epiphone is known for its more affordable version of Gibson-style guitars (and is actually owned by the Gibson company!) so it's only fitting that the company offers an entry-level Hummingbird at a competitive price.
Epiphone did a great job with this Hummingbird. It's more expensive than the Yamaha and Fender options, but you're paying for that artistic design.
In terms of sound, it's not the warmest sounding dreadnought-style guitar, but it certainly gets the job done for practicing and learning how to play.
Pros
Beautiful imitation of a timeless design. It's a near-replica of Gibson's iconic guitar.

Pickup system to amplify your sound. Epiphone uses a Fishman system, which is one of the best in the business for acoustic pickups.

Elegant and playable fingerboard. The Pau Ferro fingerboard has beautiful inlays.
Cons
Inconsistent quality. Some owners have complained about parts, like the pickup jack, becoming loose, although that's not universal.
Epiphone did include a Fishman pickup system in this guitar, which can help you dial in a warmer sound when playing plugged in. That system includes an equalizer and other tone controls.
Epiphone ships this guitar with slightly heavier Gibson-branded strings. Beginners may want to order a lighter pair of strings as they learn how to play the instrument.
We also reviewed the Epiphone Hummingbird in our best acoustic guitars article.
• • •
If you're in the market for a cheap acoustic guitar, that doesn't necessarily mean you need a steel string dreadnought. In fact, some guitar teachers recommend first learning on a more traditional classical guitar. The Yamaha C40II Full-Scale Classical is a great option if you decide to go that route.
First, it's super affordable. If you're interested in learning how to play guitar the more traditional way — running scales up and down the frets instead of strumming chords to popular songs — you can easily accomplish that with this guitar without breaking the bank.
Now, this guitar isn't perfect. Yamaha sends it with relatively cheap strings. And while the top of the guitar is made of spruce, the sides and back are made with a cheaper meranti wood, which isn't the best option for producing fuller sounds. 
Pros
Budget friendly price. This is the most affordable guitar on this list.

Beautiful body finish. The stained spruce top looks quite nice.

Full, 2-inch nut. This allows for true classical fretting technique.
Cons
Dull projection. There's a reason higher-end classical guitars are made with mahogany. Still, this guitar is great for learning how to play the guitar.
The strings are an easy fix: Have someone at your local guitar shop install a set of D'Addario Pro-Arte Nylon strings (or if you buy from Sweetwater online, they can do that for you before shipping out your guitar).
Learning how to play the guitar on a classical instrument, in addition to tailoring your lessons and practice sessions toward that instrument, is actually a great way to become a better musician and guitar player. Instead of solely focusing on chord shapes, you're taking the time to learn the fretboard, which makes chording and soloing easier later on in your development.
If you need a cheap classical, don't hesitate to buy the Yamaha C40II.
• • •
Are you noticing that Yamaha is pretty darn good at building entry-level acoustic guitars? When you start your guitar-buying journey, I recommend starting with that brand first.
And if you want to spend a tad more money than what the FG-800 costs, the Yamaha FS820 is actually a really beautiful — and playable — guitar that won't disappoint you.
This guitar falls in between a traditional dreadnought and an orchestra model, which means it's super-comfortable to hold.
You're not going to get the more distinct bass notes from this slimmer body, but the mid-range and treble notes sound great acoustically or when mic'd up. That's OK, though. If you're primarily strumming chords or even tackling the more challenging fingerpicking style, you want a guitar that highlights those tones.
Pros
Beautiful body design and finish. The binding and classic tortoiseshell.

Confortable to hold. This is a thinner guitar that falls in between a dreadnought and an OM-style acoustic.

Smart design. Yamaha used Scalloped X-bracing, which supports the overall build of the guitar.
Cons
Only 20 frets. It would have been nice to have a longer scale length.
The Yamaha FS820 actually comes in three finishes. I prefer the natural finish the best, but the autumn burst option has Gibson Hummingbird vibes that may resonate with some players.
Yamaha doesn't include a case with this guitar, so you'll want to at least buy an acoustic gig bag to protect it. These softer cases cost anywhere from $25 to $50 typically.
• • •
We've officially entered the part of our list where the prices shoot up a bit, but can still qualify as entry-level acoustics. Think of these as guitars for people who may have played before and are now returning to the instrument years later, older and more mature — and determined to finally learn. These people also have a slightly higher budget.
Takamine is great in this category. You'll be hard-pressed to find a $1,000 Takamine acoustic. The company tends to stay in that $300 to $700 range and delivers a darn good guitar in the process.
The Takamine GN77KCE NEXC Acoustic-Electric certainly fits that description. The first thing I noticed when strumming on this guitar was its big sound thanks to its jumbo-style body. Don't let that "jumbo" description intimidate you though. The cutaways and overall design of this body make it quite comfortable to play.
Pros
Gorgeous Koa top. The Koa wood looks even better in person.

Big time tone. With a jumbo body, this guitar simply projects loudly and clearly.

Top-notch electronics. When the time comes to plug in, you'll be quite pleased with these electronics.
Cons
Odd location for EQ controls. I'm not sure why Takamine put the equalizer on top of the guitar body versus the side.
The neck is what really makes this a playable guitar. It's slim and made with mahogany, a wood that really lets your hand move up and down the fretboard without getting stuck along the way.
Surprisingly, Takamine doesn't include a case with this guitar. But it does set the guitar up beautifully with D'Addario strings, so it's immediately playable (after a tune-up of course) out of the box.
• • •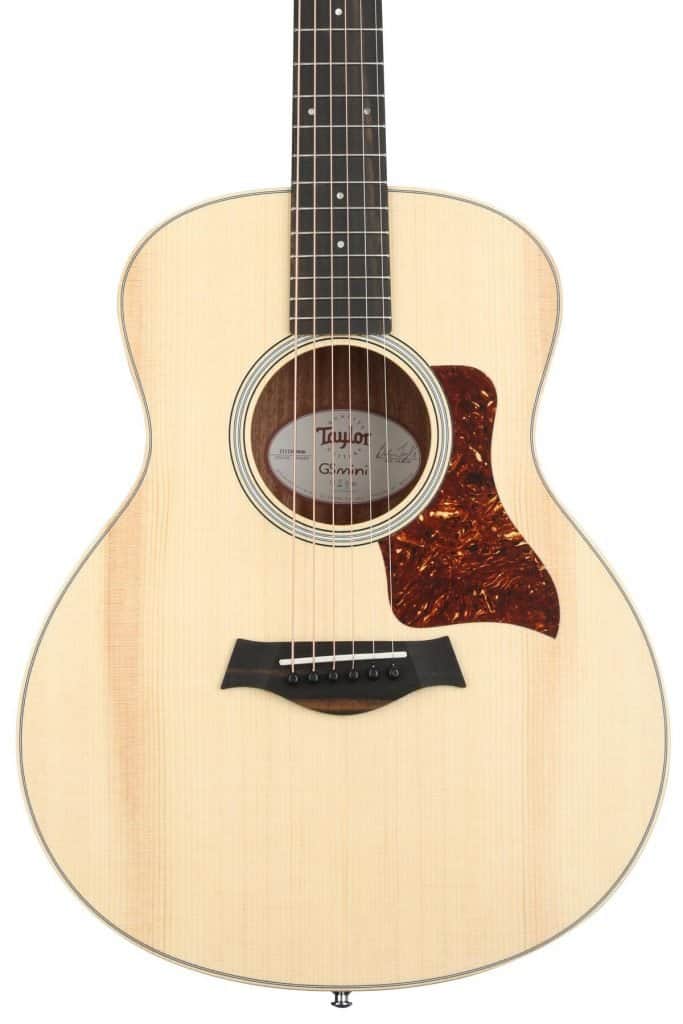 When it comes to the best acoustic guitar brands, there is Martin, Gibson and Taylor. Of course, all of those brands sell acoustics that are relatively expensive.
But if you can stretch your budget, Taylor actually offers a few options that are obtainable for beginners, although more expensive than other guitars on this list. The Taylor GS Mini-e Rosewood Acoustic-Electric is my favorite option.
The moment I strummed this guitar, I knew it was a premium product. Taylor uses rosewood in a lot of its guitars because it produces such a warm sound. That's certainly the case with this model.
Don't let the smaller body fool you, either. This guitar packs a big sound that makes you go, "Whoa, this is powerful!"
Pros
Comfortable to hold. The smaller body-style makes this a treat to play.

Beautiful, high-end wood. This is probably the most beautiful guitar on this list.

Incredible tone. This is a Taylor, after all, which is known for producing guitars with super crisp, warm tones.
Cons
Not within everyone's budget. There isn't much to complain about with this guitar. It might just be too expensive for some.
There are two things I really like about this guitar for beginners:
First, the small body is great to learn on. It's comfortable because you can easily wrap your strumming hand around it and the neck is slimmer, which makes shaping chords easier.
And two, the price. Why do I say that after explaining this is the most expensive on the list? Sometimes you need a little friction between you and your wallet to motivate you to practice. If you buy a $150 guitar, you may not be as motivated to practice knowing it's not that big of a lost investment. If you spend $700 to $1,000, it's probably going to motivate you to practice a bit more.
• • •
So, should You look for in a beginner acoustic?
Price. Unless you have extra disposable income, you typically don't want to spend more than $300 on a first-time guitar because you don't know if you're going to stick with the instrument. An investment of $150 to $300 should be enough skin in the game to give the guitar an honest try.
Playability. Comfort is key for your first-time guitar. Unless you're a bigger person, I recommend going with a smaller body style and a thinner neck to really give yourself an easier chance of shaping those first chords you learn.
Sound. While you can definitely tell the difference in sound between a $150 Yamaha and a $1,500 Martin, you can still find an entry-level acoustic that sounds warm and can project. You don't want your acoustic guitar sounding tinny.
My Personal Favorite
Cheap acoustic guitars have plenty of trade-offs, so beginners really need something that's comfortable to hold and play, and something that sounds full — think boomy bass notes and clear treble notes.
There are certainly a few models on this list that fit that description. What you ultimately choose is going to come down to preference and budget.
The Taylor GS Mini checks those boxes, but it's also the most expensive guitar on this list, and many beginners likely won't want to drop several hundred dollars on their first guitar.
All of that being said, my personal favorite for a cheap acoustic guitar geared toward beginners is the Yamaha FS820 Concert Acoustic Guitar. From its stunning looks to its great tone — plus its budget-friendly price — beginners can't go wrong with this guitar.
This guitar has a more premium sound (and look!) compared to the other Yamaha entry-level models.
And while the bass notes could be more distinct, the clarity of the mid- and high-range tones make up for it. Once you're more comfortable playing the guitar, consider putting on some higher-gauge guitar strings to amplify those bass notes a little more.
• • •
Start Strumming That New Acoustic Today
Ready to buy a new acoustic guitar?
One of the best ways to determine what type of acoustic you need for your first guitar is by finding a local shop near you and to start strumming away. Do your best to determine if the guitar is comfortable to hold and have someone who works at the shop who, you assume, can play the guitar, strum through some chords so you can get an idea as to what the guitar sounds like.
Here are some tips when shopping for a guitar that can help you make the best-informed purchase.
After purchasing a guitar, the next step is actually playing it! That likely means taking online guitar lessons at your own pace and, of course, practicing. Soon, you'll be jamming out to these songs in no time.