Guitarists love receiving gifts as much as any other person. 
There's no better way to show your guitar-playing loved one that you appreciate their craft than by giving them a heartfelt gift. 
Here are what we think are the best gifts for guitar players this year:
For a musician who spends any time at all in the studio, it's important to have a set of professional-grade headphones at their disposal. 
A pair of quality headphones will make studio time much more productive and will allow a guitarist to play their electric guitar without annoying anyone around them. 
The Sennheiser HD 280 Pro Monitoring Headphones are extremely popular among industry professionals due to their accurate sound, comfort, and dependability. 
They are the perfect tool for dissecting mixes, and for stopping mixes from bleeding into the microphones while recording. 
They can even replace monitor speakers in a home studio setup!
Musicians who find themselves moving around quite a bit during their studio time may find that the coiled cable attached to these headphones creates too much tension. It may pull at the head when stretched. 
If you're using these headphones in a more stationary position, the cable doesn't seem to be as much of an issue. 
Either way, you can rely on these quality headphones for years to come!
• • •
As the upgraded version of IK Multimedia's iRig HD, the iRig HD 2 has all the most popular features of its predecessor and packs even more power. 
This guitar interface comes complete with a ¼" amp output jack that allows users to effortlessly use it with a live rig. 
The interface includes an FX/thru switch that allows two modes of operation:
The FX mode to carry signal to an amp without having to use an adapter. 
The thru mode allows using a mobile device as a recorder or an instrument tuner. 
One of the most exciting features of this product is its lack of latency. This provides practically seamless playback for musicians, making it an ideal interface for both live gigs and practice sessions.
As a multi-platform interface, it's designed for use with the iPhone, iPad, Mac and PC. 
There are only a few minor setbacks to this product. First, the interface can initially be a bit confusing and takes some getting used to. Also, the unit is made of plastic, so it can crack or break if it isn't handled with care. 
• • •
If your guitarist has a home studio or does any kind of home-recording, the Mackie CR3-X 3-Inch Multimedia Monitors are a must-have. 
Having quality monitors can make the difference in whether a pesky imperfection makes it all the way through the recording process or not. 
These studio monitors provide a trustworthy, genuine sound reproduction that will significantly simplify the entire process of recording music.
They offer a convenient front-panel headphone output for listening to audio in private. A variety of other inputs allow the monitors to receive signals from an audio interface, portable device or a computer.
These monitors are also exceptional for watching movies and gaming. Musicians enjoy those things too!
• • •
The Korg Pitchblack Custom Pedal Tuner features an easy-to-read, three-dimensional design. 
Its 9-volt output allows it to power additional pedals. It features four different display modes – strobe, half strobe, meter, and regular b. 
The high-contrast display provides clean visibility, allowing guitarists to easily monitor their pitch. It's also bright enough to make it visible in even the darkest of stages. 
Its calibration is adjustable, and its precision facilitates accurate tuning. 
The pedal tuner has a tough aluminum die-cast body that withstands even the toughest gigs.
• • •
Not all guitar stands are created equal. The Hercules Stands GS414B Plus is one of the most versatile stands available. 
It features an auto-grip system that holds instruments with up to a 2" neck width. 
An instant height-adjustment clutch makes it ideal for musicians who need to quickly switch instruments during a gig.
The Hercules stand's Specially Formulated Foam rubber contact points ensure your instrument doesn't rest against a surface that can damage it. 
Its high-friction rubber feet keep the stand from slipping and sliding.
• • •
Having countless cables strewn across the stage while playing a gig can be frustrating and even dangerous. With a wireless transmitter, unruly cables won't rule your guitarist friend's life!
The Xvive Audio U2 is a high-quality, affordable digital transmitter-receiver system that is both easy to use as well as compatible with any brand and model of electric guitar. 
It runs on rechargeable batteries and is able to split signals into four different channels. 
Another benefit of this system is its compact size and portability, making it the perfect accessory when playing live.
• • •
Rather than having a normal amp setup that connects to and powers speakers, the Vox Headphone Guitar Amp is designed to be used with headphones. 
Higher-end headphones require an outboard amplifier in order to perform at top quality. This product provides guitar players with an efficiently portable way to amplify their guitar playing through headphones.
The unit comes with countless sound-customization features to tinker with. It also includes an auxiliary input, allowing users to plug into a secondary music source or instrument. 
The Vox Headphone Guitar Amp is available in Blues, Clean, Lead, Metal and Classic Rock finishes. 
The unit is small enough to fit in a pocket when traveling to a gig or recording session. Simply load the unit with AAA batteries and you're ready to rock!
• • •
Durable and lightweight, this carrying bag is ready to hit the road with you on your next gig. 
The gig bag helps protect a variety of Boss gear including the GT-8, GT-Pro, GT-6 and GT-6B Effects Processors. 
The bag's internal size measures in at 4" in height by 11.5" in width, offering enough room to store additional cables, other Boss accessories, and a power supply. 
The front of the large gig bag features two zipper pouches, with a net pouch inside. 
The bag can also be used to store and transport custom pedalboards and accessories, making it one of the most useful gifts for guitar players available.
• • •
Stringing a guitar is a bit of an annoying, yet indispensable chore. 
To cut down on time and frustration, Ernie Ball has created the Power Peg Pro String Winder. 
This neat gadget allows guitarists to wind their strings quickly and automatically before their next gig or practice session. 
It can even save their lives by allowing them to quickly replace a broken string during a live show!
• • •
A quality capo is an essential item in a guitarist's arsenal. A capo's purpose is to raise the pitch of a guitar's strings without having to re-tune all of them.
The Kyser Capo utilizes quick-change technology created with a spring-clamping mechanism to allow for quick and easy adjustability and removal.
This is especially helpful for guitar players who find themselves quickly shifting their capo between songs. 
And the capo is built with materials that protect the guitar's finish. Its black aluminum construction makes this an exceptionally durable gift for even the roughest guitar players.
• • •
When you're a lifelong musician, long-term exposure to increased sound volumes can damage your hearing. 
This is especially true for musicians specializing in louder genres such as rock, heavy metal and electronic. 
For that reason, in-ear monitors and earplugs are becoming increasingly popular among professional musicians. 
With the ability to reduce noise up to 37 decibels, these earphones offer protection in even the loudest environments.
With their clear design, these specific earphones make it difficult to tell a player has anything in their ears.
The Shure Sound Isolating Earphones are the perfect gift for a guitarist who isn't ready to take the plunge on expensive custom-made monitors. 
They're also the perfect backup pair for a traveling musician. 
Their high-quality, low-profile design comes in three sizes. 
• • •
The Dunlop 222 Brass Slide is the perfect solution for guitar players looking to create clean, bright tones with exceptional sustain. 
This slide's brass composition gives it a heavier weight than most other glass or multi-composite slides. 
Many guitar players find that this additional weight allows the slide to glide along the guitar's neck more smoothly. It also allows for a beefier, more solid tone. 
If your guitar player is used to a glass slide, this brass slide can open unknown doors of creativity for them.
• • •
If you know a guitar player who's having trouble taking the load off their neck and back while playing, this padded, 3"-wide leather guitar strap will make all the difference. 
This strap can be especially helpful for guitar players who are consistently playing long, high-intensity gigs.
Levy's Leathers has made a notable name for itself as one of the world's most prominent makers of guitar straps. 
And with so many famous musicians being fans and endorsers of the brand, you can rest assured that this strap will have your guitar-playing friend's back!
• • •
This Blackstar Fly 3-watt combo amp features two channels, a tape delay effect, and the revolutionary Infinite Shape Feature. 
If you're on the hunt for a quality guitar combo amplifier that is battery-powered, portable, and an overall great practice amp, look no further. Coming in at less than two pounds in weight, you'll be surprised by how tiny and lightweight this thing is. 
You'll be even more blown away once you hear the impressive tone and sound that comes out of such a small system. This combo amp impresses even at lower volumes and can compete with any regular-size amp.
An added bonus to this combo amp is Blackstar's patented Infinite Shape Feature, which allows users to alter the sound of the Fly 3 in infinite ways. 
The onboard tape delay effect provides additional resonance to any guitar's sound. 
Additional features include the MP3/line-in jack and a headphone output. 
This thing is especially compact and battery-powered, making it an exceptional choice for traveling guitar players. With its superior value and quality, this "lunchbox" style combo amp is one of the best in its class.
• • •
Every responsible guitar player needs a quick, easy way to clean, polish, and protect a guitar. 
The non-abrasive single-step MusicNomad The Guitar One does just that. It removes dust, grime and fingerprints from any guitar. It restores faded surfaces and removes any oxidation. 
The Brazilian wax in the product provides a high-gloss shine to the guitar's finish, filling in any scratches and imperfections, and protecting the instrument against moisture. 
Its 4-ounce size is ideal for guitar players who are constantly on the go or traveling from gig to gig.
• • •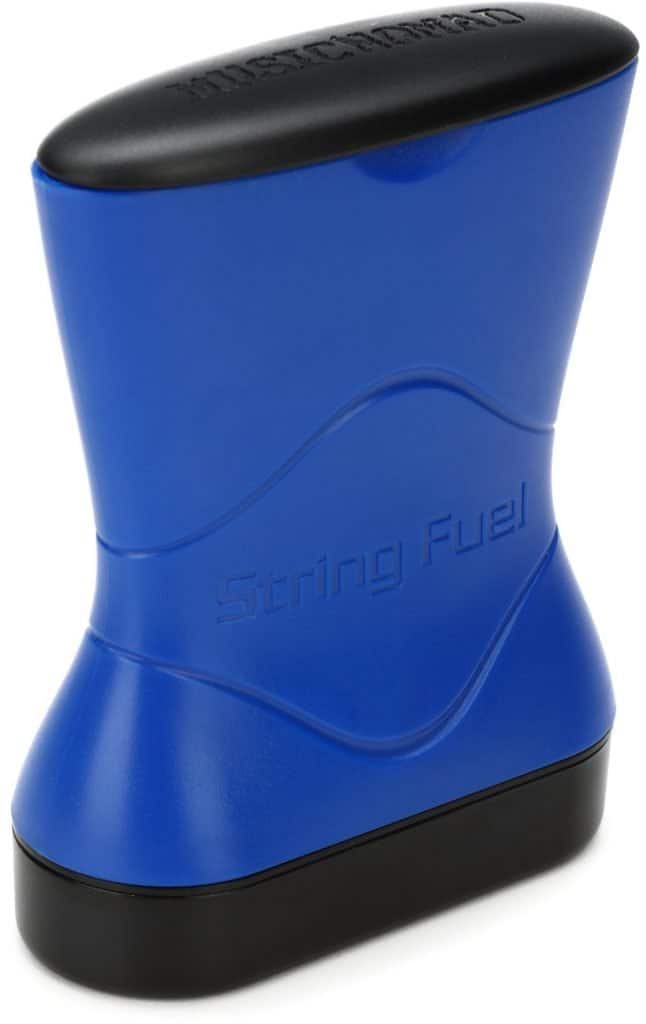 No matter how high quality a guitar may be, it won't perform at its best with grimy, dirty strings. 
Strings naturally pick up dirt, sweat and dust. A bit of tender love and care can go a long way in prolonging their life, cutting down a bit on the guitarist's string-changing budget.
This all-in-one string cleaner and lubricant is made out of high-quality mineral oil and includes an applicator. It's especially helpful for reducing finger-squeak noise during recording sessions. 
It can also help reduce finger strain and calluses. For beginners, this can make learning to play a less painful process. It can also enhance the professional guitar player's shredding chops!
• • •
The Ernie Ball Musician's Tool Kit is like a guitar's first-aid kit. 
This affordable tool kit offers ample bang for the buck and provides everything needed for almost any kind of guitar-maintenance task. 
The kit features a microfiber polish cloth and Wonder Wipes to maintain a clean, polished guitar in any circumstance. 
The heavy-duty string cutter and peg winder are especially useful for changing strings in a hurry. 
For moments when the guitarist has a bit more time to fine-tune their guitar, they can take advantage of the hex wrench set, ruler, and 6-in-1 screwdriver. 
The tool kit comes packed in a nifty zippered carrying case, allowing for easy storage in a guitar case pocket
Gifting your beloved guitar player with a full musician's tool kit is the perfect way to show them that you care for their guitar's care!
• • •
Another great gift for guitar players is a guitar stool. However, we're not reviewing any here because we wrote a whole article about the best guitar stools available in the market.
• • •