If you're in a hurry and want to cut to the chase, know that we recommend the Shure SM81 Small-Diaphragm Condenser Microphone as the best microphone for recording acoustic guitar. You can check its price on Sweetwater here.
You've been learning to play the acoustic guitar and feel confident in writing some songs and doing some recording.
There's one problem: You don't own a microphone.
And you don't want to break the bank by buying one.
We've been there — and we get it. Let's find the best mics for acoustic guitar that are the best value.
I'll review a selection of what I've found to be the best mics for recording acoustic guitar over the many years I've played with them. I'll also touch upon a few important concepts and tips you need to know when shopping for acoustic guitar mics.
Before we review each mic in more detail, here's a quick list of all of them:
Here Are Some of the Best Mics for Recording Acoustic Guitar
Here's a selection of promising microphones at various price points. Let's help you narrow down your search!
This mic is capable of producing chart-worthy acoustic guitar recordings!
This small-diaphragm condenser mic is excellent for small home studios. As a unidirectional mic, it'll pick up a wide range of frequencies, but only from the instrument directly in front of it.
It's very popular for recording acoustic guitars due to the warmth and detail it brings to the track.
These are excellent microphones for recording acoustic guitars due to the high-frequency boost prevalent in this product – presenting great articulation and detail for a beautiful guitar tone, making an outstanding feature of a steel string acoustic guitar's natural harmonics. 
It's a little on the pricier side, but you absolutely get what you pay for. This is the mic for you if you're looking for high performance in your recording session.
Pros
Great for smaller recording setups
Warm characteristic sound
Includes clip; foam windshield, and carry case
Cons
Not the cheapest.
"Negligible" amount of distortion present over a wide array of load impedances
• • •
A reliable, versatile, large-diaphragm condenser microphone. This Audio-Technica mic works great for live performances, professional recordings, and home studios. It responds beautifully to low-end tones.
So it's a great fit for recording your acoustic guitar if you prefer something less bright. This durable mic has more than a couple of tricks up its sleeve.
The clear sound reproduced from the Audio-Technica microphone avoids unwanted coloration, which is often evident in cheaper microphones.
Its best quality has to be its price. You're not buying the most prestigious acoustic guitar microphone for recording Abbey-Road quality sound recordings at this price, but you are getting a deal.
For those on a budget, it might just be one of the best mic choices we've come across — as far as cheap condenser mics go!
Pros
Versatile large diaphragm mic
Great both in live and studio settings
Includes a protective pouch as well as a shock mount
Cons
Limited bass performance. 
Sensitive to bumps, need shock mount for best performance
• • •
For those on a super-tight budget, Behringer makes a pair of condenser mics for under $100 that doesn't compromise too much on quality.
These small-diaphragm cardioid mics are incredibly sensitive, making them ideal for guitar microphone use. Unlike other mics on this list, these come as a matched stereo pair, meaning you get a perfectly accurate stereo image, which makes for more interesting recordings than a simple mono mic. 
These stereo pair mics aren't just good for recording acoustic guitars. They're also great for upright acoustic basses, simple live trio performances, field recordings, and even drum overheads.
Be aware that the low end of these babies can get a bit noisy at times. And while they'll undoubtedly get the job done, the end product won't always sound amazing.
Pros
Affordable. 
Decent stereo image. 
Clean high frequencies. 
• • •
For the same price point as the Behringer C-2s, the Samson C01 is a great studio mic to start out with.
It's optimal for recording instruments as well as vocals in the studio. If you're putting together a bedroom studio for the first time, this could be the mic for you.
But if you're looking for a more long-term investment in a guitar microphone, you may want to shop at a higher price point.
The C01 can have an unpleasant hiss from time to time. And if you use it often, the mic's performance will probably deteriorate before long.
This mic is best for those starting out who record a track every once in a while. 
Whether in the studio or on stage, this microphone will find a place in your acoustic guitar setup!
Pros
Affordable large diaphragm condenser. 
Good deal for beginners. 
More sensitive than small diaphragm condenser microphones. 
Cons
Occasional hiss. 
Limited frequency response.
• • •
This is likely one of the best microphones in the market for under $50.
It's not exactly a professional mic, but this little guy gets the job done if you're trying to demo songs or practice on the go.
It'll plug into your computer or hook up to an Apple iPhone or iPad with the right adapter.
It's also great for videoconferences, recording lectures, or anything that requires capturing the spoken word.
This is good for beginners who don't have other core parts of a recording rig like an interface or mic stands.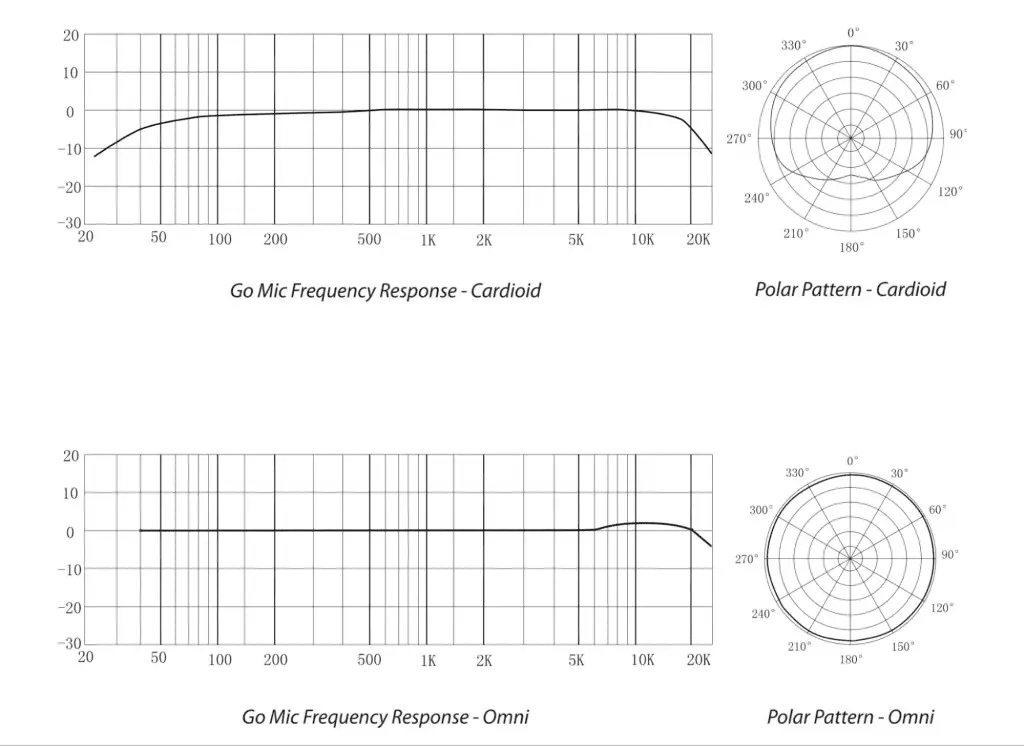 Pros
Portable.
Balanced frequency response. 
Plug-and-play, no other gear required.
Cons
Limited sound quality. 
Sensitive to interference.
• • •
The Neumann KM184 stereo condensers are premium microphones capable of producing high-end studio-grade recordings.
If you're familiar with the name Neumann, you'll have an idea of what these mics are capable of. If you haven't heard of Neumann before, all you need to know is that they are one of the oldest, most legendary names in the world of microphones and speakers. 
The KM184s offer an incredibly low noise floor and equally impressive high overload capacity too, which is perfect for obtaining clean sound when recording acoustic guitar. They sound clear and pristine whether you're playing whisper quiet or super loud. 
Besides being suitable for acoustic guitars, they work well as multi-purpose mics. They could also be used as overheads for drums, backing vocals, or general room ambiance.
There's no other way to say it: Neumann is a high-end mic with big-time performance. When you hear the sound it produces, it's like the musician is in the room with you.
Pros
Uncompromising audio quality from a legendary brand.
Wooden case, pop filter, clips included.
Cons
Expensive for a home studio setup.
• • •
The Beyerdynamic M160 is a medium-budget professional-grade ribbon microphone that boasts unique, modern features. Most notably, the capsule uses a double ribbon design, which delivers a more natural, live sound.
The design of this mic rejects unwanted off-axis noise and captures a tight, focused sound. The chromium-plated chassis also reduces unwanted interference and stabilizes the microphone from external vibrations.
This microphone is possibly famed chiefly for its well-documented use on Led Zeppelin's "When The Levee Breaks" fabled drum sound. It is more than capable of capturing exceptional sound from many instruments. But much of its design makes it a strong mic for recording stringed instruments.
This is possibly the best ribbon mic on the market for recording acoustics.
Pros
Rejects unwanted off-axis sound.
Versatile: Great for use on a variety of stringed and percussive instruments
Sleek and sturdy design.
Cons
Relatively expensive for home studio setups.
• • •
This visually attractive large-diaphragm condenser microphone from emerging UK brand Aston offers excellent value for money and has been a popular choice with intermediate recording artists. 
This is a durable mic thanks to the stainless steel mesh grill, which allows for superior plosive control and acts as a shield for EMF (electromagnetic frequencies) interference. The sprung steel waveform head acts as a shock absorber, making this a very rugged mic.
It features a cardioid polar pattern, a 10dB pad, and an 80Hz hi-pass filter to tweak for certain recording situations. 
This is an excellent addition to any home studio looking to capture soothing vocals and shimmering acoustic tones on a budget with excellent results. 
The Origin's rugged durability, transparent sonic nature, and excellent price point make this a great choice for beginners to improve their acoustic guitar recording setup. 
Pros
Excellent plosive control.
Shock-resistant, rugged durability.
No shock mount required.
Cons
Condenser needs phantom power (48v)
• • •
This microphone is different from your average acoustic guitar mic.
The LR Baggs Lyric captures the audio quality of a high-end studio microphone with the convenience and portability of a piezo pickup because it's installed inside the soundhole of your acoustic.
Because of this design, the Lyric is a great design for recording at home, but also playing live.
With the Lyric's distinctive pressure-zone design and its situation underneath the guitar's saddle, this mic is perfectly capable of capturing the warmth and vibrancy of your acoustic guitar's tone while avoiding feedback altogether. 
The Lyric includes a unique noise-canceling system that removes that unwanted 'boxy' sound often associated with under-saddle acoustic guitar microphones while still retaining the frequency response you would associate with an external studio microphone. 
Don't be daunted by this microphone's installation process. You simply attach the mic inside the acoustic guitar's soundhole underneath the bridge plate by peeling and sticking an adhesive pad. If you're uncomfortable with working on your guitar, though, don't hesitate to have your local guitar shop install it.
The price point of this microphone is also attractive — especially if you need a mic to perform with live on a stage.
Pros
Tone-shaping options available with onboard 'Presence' control
Revolutionary noise-canceling technology
Simple installation
Cons
Prone to some feedback in loud, amplified situations.
• • •
This flagship ribbon microphone from Grammy Award-winning brand Royer works a treat on an acoustic guitar. It's equally powerful for amps, drums, and broader orchestral applications.
This microphone has a figure-8 polar pattern meaning it captures sound from the front and back faces of the mic. It's designed to cope with high sound pressure levels from the front end of the mic, meaning it has the capacity to record loud instruments as well as more subtle vibrations like acoustic guitars. 
Royer has created a unique ribbon mic with a patented 'Offset Ribbon' design, which exhibits a subtle proximity effect within only inches of the sound source. This differs from other ribbon mics, which develop this effect at much greater distances (around 6 feet).
The offset ribbon design allows greater volume from sources than other ribbon mic competitors. It reduces proximity build-up on the back end of the mic, giving it more brightness and a condenser-like quality when recording guitars and other sound sources at closer distances (more than 2-3 feet). 
Further away, the back and front end will behave in an identical manner sonically.
It's reasonably priced, given its legendary status and one-of-a-kind offset ribbon design. However, that does not take away from the fact that this is still a considerably expensive microphone compared to most mics on this list. 
This is undoubtedly no entry-level acoustic guitar microphone and would instead be much better suited in high-end recording studios.
Pros
Flagship product from Grammy Award-winning company
Transparent, true-to-life tone with signature Royer warmth
Includes wooden presentation box
Cons
Does not include a shock mount.
Expensive for home studio setups
• • •
This large-diaphragm mic from MXL provides all the perks of a sturdy cardioid condenser at a very reasonable cost. It's suitable for a range of applications in the studio, live, on vocals, acoustic instruments, guitar amps, podcasting, and even field recording. 
With a wide frequency response, this mic is more than suitable for recording acoustic guitars in a home studio environment. It has a nice bump in the top, bringing out detail and clarity. 
The 770 employs a -10dB attenuation switch which ensures its capability to deal with any loud sound sources it is presented with. The low-frequency roll-off switch eliminates ambient noise in the lower register, too – making it ideal for recording acoustic guitar and other acoustic instruments in noisier environments. 
The inclusion of a hardshell custom-fitted case and shock mount is a sweet bonus that helps you protect the mic and get cleaner recordings. 

Pros
Fantastic frequency response.
Low-frequency roll-off eliminates excessive background noise.
Comes complete with a custom hard case and shock mount.
• • •
The Shure SM57 is probably one of the most iconic instrument mic models around.
Every studio I've been to has a bunch of these, and for good reason. It always has reliable, consistent performance and is a great-sounding dynamic microphone for the price. This is one of my favorite mics for recording acoustic guitar.
The Shure SM57 features a focused cardioid polar pattern. They have a relatively balanced frequency response with a slight bump in the high mids, which gives them an excellent clear definition. 
Utilized as a room mic, this will add fantastic ambiance to your guitar sound when coupled with some heavy compression to bring out the sound of your desired performance space.
Pros
Reliable, consistent sound. 
Works well as a close mic and can handle loud volumes. 
Sturdy but sensitive. 
Cons
Limited detail compared to a condenser microphone. 
• • •
This pair of sE8 small diaphragm condenser microphones is a solid choice if you want to capture a wide stereo recording with sweet highs and rich mids. They feature a handmade capsule designed to have a balanced tone and accurate response to transients. 
The mics are clear enough as a raw recording, but these things sound even tastier when you add a bit of EQ to the top end. They respond well to all kinds of processing, like compression, but I think they have a great relationship with equalization. 
With a bunch of extra features like 10db or 20db attenuation pads and a low-cut switch between 80 and 160 Hz, you can fine-tune these condensers to an ideal state for the source you're recording. 
I think the frequency and transient response make them an excellent pairing for acoustic guitar, but they're versatile enough to capture any instrument in pristine, wide stereo.
These are probably some of the best microphones for recording acoustic guitar in stereo if you're on a mid-range budget. 
Pros
Clean stereo recording. 
Built-in pads and filter. 
Pristine, hand-made capsule. 
Accurate, fast transient capture. 
Cons
Too sensitive for live/stage use. 
Limited to a cardioid pattern. 
• • •
Buyers Guide – Which Is the Best Acoustic Guitar Mic for You? 
When it comes to recording acoustic guitar, it can seem daunting to choose which microphone style is best – condenser mic vs. dynamic mic, stereo vs. mono, frequency response, budgets, and more.
With this buyer's guide, I'll explain some key concepts to consider when choosing microphones for recording acoustic guitars. 
The Different Kinds of Mics Out There
If you search for "recording microphones," you're going to see the words "dynamic" and "condenser" a whole lot.
Before you add the shiniest one to your cart, you must understand the difference between the two. They're meant for different things.
Dynamic Microphones
Do not be confused by the word 'dynamic' here. This has little to do with the types of sounds applicable to this kind of microphone and instead refers to the dynamo mechanism (similar to that in some bicycles), where sound is converted into an electrical signal through electromagnetism.
So, unlike a condenser, a dynamic mic will not require any external source to power it as it generates its own power through electromagnetic induction.
Now that the science bit is out of the way, let's look at how to apply a dynamic mic to recording acoustic guitars and how to use them in a live setting. 
It is widely known that a dynamic mic's frequency response is inferior to that of a condenser mic. Dynamics struggle to capture the higher frequency content of small diaphragm condenser mics – or even large diaphragm condenser microphones, for that matter. 
So this is certainly something to consider when purchasing an acoustic guitar microphone. What these microphones lack in high-end frequency response, they certainly make up for in their dark coloration of sound, which can be desirable in some applications – notably acoustic guitars if that's the sound you are trying to obtain!
Dynamic mics, like condensers, can be used for a wide variety of applications. In live instances, it can be a good idea to go down the dynamic route due to their ability to cope with high sound pressure levels without distorting and their less sensitive nature when confronted with feedback.
This is important to note, especially when discussing acoustic guitars on stage, as they are very prone to feedback due to the hollow nature of an acoustic guitar, often making mixing them up with anything less substantial a risk.
Condenser Microphones
Condenser mics are often the preferred choice when recording acoustic guitars in the studio due to their delicate nature and high-frequency response. 
One final and crucial key point to mention with regards to the condenser microphone is its need for a +48V supply, known as phantom power. This is usually readily available with even the most basic audio interfaces and comes as standard, so don't let this scare you off!
Ribbon Mics
Believe it or not, the ribbon mic is also a part of the dynamic family as they operate similarly to the more common 'moving coil' dynamic mics by way of electromagnetism. 
Unlike the moving coil dynamic mics, ribbon mics are much more fragile and subject to significant damage if mistreated due to the very delicate ribbon within the mic's capsule. 
They have a wonderfully natural sound but tread lightly when it comes to low-end sound sources, or even plosive vocal sounds, as these might just destroy the mechanism. Perhaps to be avoided for a first-time acoustic guitar microphone, or altogether if you're a bit of a klutz!
Dynamic Vs. Condenser Mics: The Pros and Cons
Dynamic microphones are optimal for capturing strong, loud noises; think drums, and high-volume vocals.
They are commonly used for live instruments and in front of amplifiers. They tend to be more affordable and don't need a power source.
They're also very durable and will last a long time! However, they're not very sensitive to quiet sounds and high frequencies.
They'd be well suited for a Metallica concert, but I wouldn't recommend them for recording Billie Eilish.
Condenser microphones are a bit different.
They capture a more comprehensive range of frequencies and are great for quiet sounds. They're sensitive and accurate.
Pricewise, they run slightly on the higher side compared to dynamic mics. They're also not as durable and don't perform well in very loud environments. This is the microphone you'd want to record Billie Eilish with.
There's a slew of other types of microphones out there. Polar patterns are another area that's important to understand. 
• • •
Polar Patterns
'Polar patterns' are also essential in understanding a microphone application. When referring to this, we are discussing the space surrounding the microphone capsule where the sensitivity to the sound is most critical. 
The most common pattern associated with dynamic and condenser microphones is called 'cardioid' – derived from "heart" in the Greek language due to its resemblance.
A cardioid polar pattern describes the shape of the area which is being picked up by the mic capsule. The base of the heart shape (apple more like!) represents the front end of the microphone. The two bumps represent the rear end where sound is rejected. This is known as "unidirectional," whereby the sound is being picked up from one direction, as the name suggests. 
This is as opposed to omnidirectional, meaning sound is picked up from all around the capsule and is often denoted as a circle symbol. Other common polar patterns include Hypercardioid, Supercardioid and Bi-directional – all of which exhibit their own individual three-dimensional pattern to determine which areas are more susceptible to sound being picked up.
Cardioid – best for capturing the direct sound of your instrument or vocals.
Super and Hyper Cardioid – create an even more focused sound. 
Omnidirectional – great for when you want to pick up the sound of the room where you're playing.
Figure-8 – captures the front and back of the mic simultaneously. 
Multiple patterns – can switch between a selection of the above patterns. 
But since your goal is to record your acoustic guitar, you'll also want to take diaphragm size into account.
Capsule / Diaphragm type 
These types of mic will often be accompanied with "Large Diaphragm" or "Small Diaphragm" within the title – denoting quite simply the size of the microphone's key recording component. 
The diaphragm essentially reacts to the vibrations created by any given sound source and creates an electrical signal which is then captured in a DAW or any other given recording technology. So the size of the diaphragm is considerably important when deciding which is best for the application.
Large-diaphragm condenser mics are generally used for recording vocals, orchestral ensembles, pianos, and of course – to record acoustic guitars too! They are also ideal for 'room' recording to capture the ambiance of one's environment, which can be achieved using an array of mono or stereo miking techniques. 
Small diaphragm mics, on the other hand, small diaphragm mics are more suited for close-miking instruments (acoustic guitars included!). Needless to say, there are no hard and fast rules regarding sonic experimentation – so feel free to try both for either application!
Large Diaphragm – broader, more sensitive. 
Medium Diaphragm
Small Diaphragm – focused, more direct. 
Microphones with large diaphragms are better for picking up lower frequencies. Small diaphragms are best for capturing high frequencies.
Why I Prefer a Small-Diaphragm, Cardioid Condenser Microphone
How you like your guitar's tone is similar to how you like your steak cooked, or how burnt you like their toast.
If you really enjoy the low-end tones your guitar puts out, then maybe you'd like a mic with a large diaphragm.
So here's my take. Small-diaphragm cardioid condenser microphones are the best for recording an acoustic guitar.
I like my guitar to shine on the track. I want to be able to hear the subtle changes when using suspended chord shapes or tracking lead parts.
Large diaphragms tend to boost my low end while muddying up my high end. And dynamic microphones just don't cut it unless I'm using an electric guitar.
I also prefer cardioid mics to omnidirectional. I record in a house that's rather small and stuffy.
If I had a big, brilliant room that added some good tone to my track, I'd experiment with an omnidirectional mic. Since that isn't the case, my goal is to capture only my guitar.
• • •
Stereo v.s Mono
When considering which are the best acoustic guitar mics to get you started on your journey for recording or for live purposes, you may want to decide whether you will be running a single mic setup in mono or whether you will be running stereo using multiple microphones. 
If you are a total novice to recording acoustic guitars and you simply want to record some demos in your bedroom or home studio setup, then it may be best to start with just a single mic stuck in front of your guitar. 
Some of the relatively inexpensive large diaphragm microphones we've looked at previously in this article, namely the MXL 770 or Aston Origin large diaphragm mic, are great places to start for this kind of setup. 
Maybe if you are a little further on your journey and are searching for more substantial, slightly more expensive acoustic guitar mics, you might want to try out one of our favorites, the Shure SM81. I think it is one of the best small-diaphragm mics around for recording acoustic guitars (and just one of the best microphones for recording in general!).
If you are a little more advanced in your audio technology or simply want to experiment with miking techniques and stereo recordings, then perhaps a matched pair of microphones is the way to go. We have included two examples of a pencil-style condenser microphone that both come as a matched pair, the Behringer C-2 Matched Studio Condenser Microphones and the Neumann KM 184 Stereo Set. 
Stereo recording can be a great way to add width to your studio or live sound and can positively affect the overall sound quality. 
Perhaps the best mic for the job in this scenario would be a matched pair cardioid condenser microphone to allow for feedback elimination and general sound rejection from behind the microphone. 
Phase issues are inherent with stereo miking, so we recommend them for advanced users. Bare this in mind when making your choice as to whether a single mic or matched pair are going to be the best microphones for recording yourself. 
Heaps of online tutorials explain how to get the best sound quality out of using stereo miking techniques. And remember, you don't need the best mic selection in the world to experiment with different approaches – just remember to have fun with it!
• • •
Frequency Response
A microphone's frequency response is like its fingerprint or DNA in many ways and is considered the most defining feature of its signature sound. Small diaphragm condenser mics are said to have some of the flattest frequency response out of many other types of microphones, extending beyond the audible range in some instances. 
Large-diaphragm mics are also said to have a relatively flat frequency response, although they tend to have a slight bump in the upper range, making them slightly brighter. Both are excellent acoustic guitar mics! 
Looking at the frequency response of dynamics, these tend to have a less even frequency response and often feature a slight peak in the upper midrange (around 2.5kHz), which again can be helpful if that is the particular sound you are trying to achieve. 
As previously mentioned, they are limited with what they can handle in the upper ranges of the frequency spectrum, giving them a slightly darker characteristic compared to their condenser mic counterparts. 
With a ribbon mic, however, these tend to have a high-frequency response, reaching those upper frequencies that regular moving coil mics can't handle. 
Dynamics are certainly useful for certain applications but it might be fair to say that this may not be the best mic for the job when recording your acoustic guitar for the very first time. This is due simply to the overly characteristic nature of these mics – but we'll leave that up to you to decide!
Reading a frequency chart. 
Reading a frequency chart can give you an idea of how a microphone will sound. These charts indicate which parts of the frequency spectrum are exaggerated or reduced based on the properties of the mic and its capsule. 
The mics are tested in an anechoic room to determine the frequency response charts. An anechoic chamber is a laboratory designed specifically for evaluating audio. The goal is to ensure that each microphone is tested under identical conditions, which necessitates a totally silent environment devoid of any sound reflections. 
Typically, pink noise is delivered via a speaker placed in front of the mic under evaluation (pink noise is all frequencies with equal energy in every octave). A frequency response chart is generated by connecting the microphone's output to a spectrum analyzer. Typically, the chart spans the range of audible frequencies from around 20Hz to 20kHz.
What do you make of it, then? In a microphone's frequency response chart, the horizontal numbers indicate frequencies (often in the 20 Hz to 20 kHz range), while the vertical numbers denote relative responses in Decibels. Analyzing a frequency response chart, you can often learn how a particular microphone responds at various frequencies.
• • •
And Here's My Very Favorite Mic for Acoustic Guitar
All these microphones are good options for recording an acoustic guitar. But my personal favorite is the Shure SM81.
The AT2035 is a good piece of equipment, but I simply have no desire for that large diaphragm. I want an intimate, crystal clear tone that makes my guitar sound like a painting you can hear.
A small diaphragm, unidirectional condenser microphone (a.k.a. the Shure SM81) is the only microphone on this list that'll give me that degree of clarity.
The Samson Go is too much of a quality compromise, perhaps better suited for recording podcasts and lectures.
The Samson C01 definitely has a place in the studio, but I want to invest in a mic that'll have some longevity. I don't want to have to buy another mic by the time the holiday season rolls around!
The Behringer C-2's are the most promising budget-friendly option. But it's just a little too versatile for my taste. The idea of a mic with such a wide variety of applications seems almost too good to be true. So it probably is.
Hopefully, this article helped you narrow down your search for your new recording mic. If you're new to recording music in general, I hope this article taught you something.
Take what you've learned and channel it into your trade and your art!
Recording With a Microphone vs. Direct
Today, it's easier than ever to have your own recording studio.
We have digital audio workstations (DAWs) on our smartphones and tablets. We have preamps that plug into headphone jacks. It's an exciting time for anyone who wants to make music.
Nowadays, it's very likely that your acoustic guitar has an output. But when it comes to recording it, it's better to go the old-fashioned way.
In other words, you'll get better results using a microphone than recording it direct.
It all comes down to the fact that an electric guitar is, well… an acoustic instrument. So internal electronics usually don't do a good job of capturing its sound.
But what type of microphone is going to get the job done?
Microphone Placing for Optimum Recording
Indulge in another one of my hypotheticals. Let's say you've purchased a cardioid condenser mic with a small diaphragm. And now you're wondering how to set it up for a recording session.
As pointed out in the video below, you don't want to put your mic right next to the soundhole of the guitar.
Due to the COVD-19 outbreak, many people have been social-distancing at the time of writing this article. Well, you're going to want to socially distance your mic from your soundhole.
A full six feet would be a little extreme, though. Your guitar isn't coughing its brains out, so one foot will do the job.
Also, try to line up your mic with the 12th fret of your guitar to ensure it picks up a nice, even sound.
Always be conscious of the room you're recording in.
Bathrooms or any space with too much tiling and porcelain will create a lot of natural reverb. Recording on a carpet or couch will absorb a lot of sound and give you a cleaner-sounding track.
• • •
Image credits:
Featured image by Ctd 2005, used under a Creative Commons (CC BY 2.0) license; Polar patterns image: Tóth Péter, CC BY-SA 3.0, via Wikimedia Commons; Neuma diaphragm mic image: JacoTen, CC BY-SA 3.0, via Wikimedia Commons; Frequency chart image: Tóth Péter, CC BY-SA 3.0, via Wikimedia Commons.