For over a decade, new guitar players have turned to YouTube for guitar lessons to learn everything from soloing techniques to music theory to how to play their favorite songs. As a result, several great teachers and organizations have launched YouTube channels packed with awesome guitar lessons to get you playing guitar in no time.
Beginner players essentially have two routes when choosing an online guitar teacher: YouTube or premium online guitar lessons.
YouTube is always a great starting point because the videos are free. As a guitar newbie, you can search things like "How to hold a guitar" or "how to shape a C chord," and you'll see dozens of great videos teaching you these basic concepts.
As you dive deeper into YouTube guitar lesson channels, you'll notice a ton of content, but it's not as well-structured as a traditional online guitar lesson. That's the price of paying nothing for guitar lessons.
Still, you can't go wrong with picking up guitar tips from some of the best YouTube guitar channels on the internet — especially if you pair it with a consistent guitar practice routine. Let's get playing!
The Best Guitar Lessons YouTube Channel Options
As I mentioned, there are plenty of options when you dive into the bevy of guitar lessons available on YouTube, but I sought to find the best YouTube guitar lessons — the top channels that are packed with content to help learn guitar for beginners!
So, let's get to it!
Steve Stine Guitar Lessons
Subscribers: 656,000
You may not recognize the name, but Steve Stine is one of the top guitar instructors from around the globe. He wasn't made famous by playing in a band — although he's played with some big ones across the U.S. and U.K. Instead, he took a more traditional route, studying music education at Minnesota State University Moorhead and then becoming a professional in Modern Guitar Studies at North Dakota State University.
And based on the free guitar lessons available on his YouTube channel, it is no surprise that 1) his students love him, and 2) he offers some of the best YouTube guitar lessons available on the internet today.
So, what makes Stine such a good guitar teacher? I personally think he makes learning and practicing fun.
You'll find useful guitar tips each Monday in a series called "Monday Guitar Motivation." The most recent video explains essential string bending techniques.
But you'll also find some basic music theory, like "Learn Your Minor Triads" and helpful free lessons perfect for beginners, like "How to Read Guitar Tab." 
And if you own a 7-string guitar, Stine also goes over metal guitar styles across several different videos.
One of my favorite videos that really highlights Stine's ability to communicate difficult concepts while keeping guitar fun is a video titled "5 Guitar Tips I Wish I Knew," embedded below. It breaks down some practicing techniques that are helpful for beginner players.
One of those tips is learning to build out the fretboard. That means after learning one scale — like the Am pentatonic — on the bottom of the fretboard, also build out that same scale in all other positions on the fretboard. This makes you proficient across the entire instrument, no matter where your hands are on the fretboard.
Stine is also a realist and touches on the guitar culture for beginners. As you may already know, it's really difficult to learn a new instrument — especially the guitar! That's why his top tip is to find ways to stay motivated. That's why his YouTube guitar lessons are also packed with fun exercises, like practicing iconic solos and guitar gear reviews.
You can eventually tap out Stine's resources on his YouTube channel. If you like his guitar lessons, though, he offers premium online guitar lessons at GuitarZoom.com.
• • •
JamPlay
Subscribers: 351,000
JamPlay is one of the best online guitar lessons we've featured on our site, but it also offers some of the best YouTube guitar lessons.
It should be said upfront that JamPlay's business strategy is not to give away free guitar lessons on YouTube. The company, which employs some excellent advanced guitar players, wants to give you a taste of their lessons on YouTube and then have you head over to their site and pay for a subscription. This isn't necessarily a bad thing — I just wanted you to know that even though they offer some of the best YouTube guitar lessons, they certainly aren't comprehensive.
In fact, I would argue that JamPlay is more for advanced and intermediate players, rather than beginners. So, if you've been playing for a while and feel stuck on the instrument, you can find music theory-heavy guitar lessons, like how to play I-IV-V chord changes, or how to create jazz melodies.
That being said, you'll find some beginner-focused guitar lessons, like "Beginner Bluegrass Melody Lesson," and "Sweep Picking 101," which are really helpful when learning the basics of a specific technique or genre.
They also have some practical guitar tips, like "Jamming in a Jam Band," which helps you understand the basics of playing with a group for the first time. I think that's extremely helpful, whether you play acoustic guitar or electric guitar, because you can be as gifted on the instrument as possible. Still, you lack a necessary skill if you can't play with a group.
One downside of JamPlay is the video quality. It's good enough to understand the content, but it could be better on some lessons — especially those where you want a closeup of the fretboard to see how a chord is shaped. A lot of times, instructors send in videos of varying quality to JamPlay that are then reproduced. (This being said, some of the videos are produced with high-quality standards.)
You know that JamPlay offers some of the most popular online lessons. Now you know they also offer some of the best YouTube guitar lessons.
• • •
GuitarJamz
Subscribers: 2.3 million
When one of your oldest videos — The Absolute Super Beginner Guitar Lesson — has 15.2 million views and grows consistently year after year, it's a safe bet you offer some of the best YouTube guitar lessons.
Oh, and did I mention more than 2.3 million people subscribe to this YouTube channel? 
I'm talking about GuitarJamz, another online guitar lessons company that publishes many of its lessons on its YouTube channel.
GuitarJamz, also known as Marty Music, is so popular because of its instructors, including Marty Schwartz, Bret Papa, Tim Perce, and John Konesky. These guitarists do a great job of making learning the guitar fun and obtainable.
I think one of the reasons why GuitarJamz is so popular is because it teaches beginner guitar players to play actual songs — and then they incorporate little guitar tips and lessons into those song lessons that are useful in other facets of the instrument.
Take Marty's average-quality video of how to play Eric Clapton's "Wonderful Tonight." He uses a single camera angle and leans in with his guitar neck to show how to shape the chords and strumming patterns. It's so simple but effective.
That's because Marty's patience is very obvious. He understands that not everyone can shape a G or a C chord, so he takes the time to work through that transition, which is found in the popular song. He also goes through the little guitar riffs step by step to ensure it's as perfect as Clapton plays it.
Marty Music is a laid-back teacher with an approach that all beginner players really appreciate. Trust his 2.3 million subscribers (and join them!) in hailing his channel as offering the best YouTube guitar lessons out there.
• • •
Ben Eller Guitars
Subscribers: 426,000
Ben Eller is hilarious.
He's also one helluva guitar player.
Combine those two qualities, and you have some of the best YouTube guitar lessons available today.
Ben Eller — also known as Uncle Ben — really personalized his YouTube guitar lessons. "If you don't know your way around a fretboard," he says in one of his video introductions, "then you ain't no niece or nephew of mine." The title of the video? "This is Why You Suck at Guitar: You Don't Know the Fretboard!"
Ben's YouTube channel is packed with super-helpful content, which is all labeled under his series of "This Is Why you Suck at Guitar." He'll tell you your vibrato sucks — and then show you how to improve it. Do your barre chords sound sloppy? Ben has your back. Don't feel comfortable with picking patterns? He can help with that, too.
He then takes his YouTube channel further with some really fun content, like "Playing Every BANNED Guitar Store Riff at Sweetwater." Ben rolls a bag of dice, which dictates the guitar, amp, and several pedals. Just watch it — you'll thank me later. (See our own take on why is one of the most iconic rock songs banned from guitar stores here).
Unlike JamPlay, Ben Eller tries to monetize his lessons through ads and by getting his subscribers to support him on Patreon. And honestly, after working your way through his lessons, you'll probably want to throw $5 or $10 his way as a thank you for improving your guitar playing.
Looking for the best YouTube guitar lessons out there? Go check out Ben's YouTube channel.
• • •
Justin Guitar
Subscribers: 1.55 million
When guitar players like Steve Vai, Mark Knopfler, and Brian May praise you for your guitar-teaching ability, you might just have the best YouTube guitar lessons available today.
That's the case with Justin Guitar — one of the pioneers of publishing  YouTube guitar lessons who has eclipsed the 1 million subscriber mark.
Hailing from London, Justin Sandercoe is one of the most respected and desired guitar teachers on the planet. Lucky for you, his YouTube guitar lessons are completely free. You'll be playing guitar like a pro in no time.
All of this being said, Justin is also a smart businessman, and he doesn't give away everything for free. In fact, his introduction video on YouTube recommends you leave YouTube altogether and head over to his website, where you can pay for organized lesson plans that make your guitar journey a little less chaotic.
And he's right to do that. YouTube is a great platform for learning how to play the guitar, but it also is distracting. Learning through a dedicated portal that you likely have to pay a little bit of money toward is a smarter approach to learning guitar because it's focused and organized, which is critical in the early days of your musical journey.
You can still find beginner guitar playing lessons, like "How to Play a D/A Chord," in addition to how to play songs like "Riptide" by Vance Joy. Justin's song lessons are especially good if that's the approach you want to take to learning the instrument.
What separates Justin from other YouTube channels is his videos on how to study and learn the guitar — not necessarily specific guitar-related lessons, but lessons on how to stay motivated or speed up the process.
My personal favorite is the "Meet the Musician in You" video, which can help motivate you to turn your lifeless-sounding guitar into something special.
You'll notice that Justin doesn't even strum the guitar once in this video. Sometimes, that's OK. The lessons he offers can go a long way, which is why we think he has the best YouTube guitar lessons available to players today.
• • •
Guitar Tricks
Subscribers: 165,000
Whether you play acoustic or electric guitar; or lead guitar in a rock band or have no idea what the basic chords are, you can learn to play guitar after working your way through the catalog of videos from Guitar Tricks.
Similar to JamPlay, Guitar Tricks offers a sample of primarily electric guitar lessons (although you can learn on acoustic) and tries to lure you into subscribing to lessons on its website for a subscription fee. As I've mentioned a few times, this is a pretty typical business practice and not necessarily a bad thing.
I appreciate that some of the best providers of guitar lessons online give away free content on YouTube. It allows you to try out the teachers and lesson plans without signing up for a free trial. Think of it like a tryout for your guitar teacher online.
So, what is Guitar Tricks all about? It's a collection of lessons for absolute beginners to experienced players. They cover all genres, in addition to some fun artist reviews and guitar gear reviews. Guitar World magazine hails the company as one of the best in the business for teaching new players.
Guitar Tricks' premium content on their site is popular because they offer licensed song lessons from popular artists like Ed Sheeran, Jimi Hendrix, and The Beatles.
Playing guitar with Guitar Tricks' impressive lineup of skilled teachers is an absolute treat. I recently went through "Fingerpicking for Beginners" and learned a thing or two!
You can always count on Guitar Tricks to publish high-quality, produced videos, which is a big reason I tell people they offer the best YouTube guitar lessons. It's simply one of the best YouTube channels for any guitar player.
• • •
Rock On Good People
Subscribers: 349,000
If you want to play guitar with the best of them, you need to check out some of the best YouTube guitar lessons from the folks at Rock On Good People. Designed for players of all skill levels, Rock On Good People is a guitar lesson channel that also sells premium lessons at NextLevelGuitar.com.
The group's free offerings — which have garnered the attention of nearly 350,000 subscribers — touch on all different genres, but there's an intentional focus on rock and blues. Lessons like "Nasty Bad Ass Blues Rock Licks That Sound Killer" is a VERY clickable video, no matter your skill level. Who doesn't want to learn some fresh licks? (Also, not very many other channels have such creative titles!)
One thing I'm not crazy about in these lessons is that they assume you have some basic knowledge of music and guitar theory, and already know the basics of playing the guitar properly. For some beginners, it might be too difficult.
That being said, the lessons cover how to play certain scales and licks by including a close-up camera shot of the fretboard, in addition to easy-to-read TABs.
If you're into learning songs — or main parts of songs — in addition to replicating the playing style of your favorite guitar player, you can go down a rather large rabbit hole of content from Rock On Good People. I particularly like the video "How to Play Fast Eric Clapton Licks" and "Chuck Berry Blues Riffs." If you want to learn lead guitar techniques — this is the channel for you.
As you work through YouTube video after YouTube video, you may want to join their guitar community at NextLevelGuitar.com, which offers premium lessons for beginners to advanced players.
• • •
Kurt Berg – 5 Minute Guitar
Subscribers: 463,000
When it comes to learning how to play guitar, any channel of content that even hints at a quick fix — like Kurt Berg's 5 Minute Guitar — catches my attention.
Kurt is a skilled player who publishes one of the more simple guitar YouTube channels out there today. Each video is 5 minutes or less, which is the perfect amount of time for song tutorials or guitar technique practice, like breaking down the basics of sweep picking.
Unlike other channels, Kurt really focuses on popular songs. Over the past month, you can play through songs by Harry Styles, Bruno Mars, Elton John, Justin Bieber, and more. You can definitely expect a few songs on his YouTube channel each month.
In addition to songs, rhythm guitar lovers are going to appreciate his collection of rhythm-related content and strumming techniques greatly.
What makes Kurt's content so good is his ability to explain complicated concepts — like "How to Play Riffs In Between Chords" — into something relatable, like pulling tricks at a skatepark. As Kurt explains it, you need to know your skatepark (aka, your scales and fretboard) so you're comfortable pulling tricks (the awesome riffs in between chords).
• • •
Andy Guitar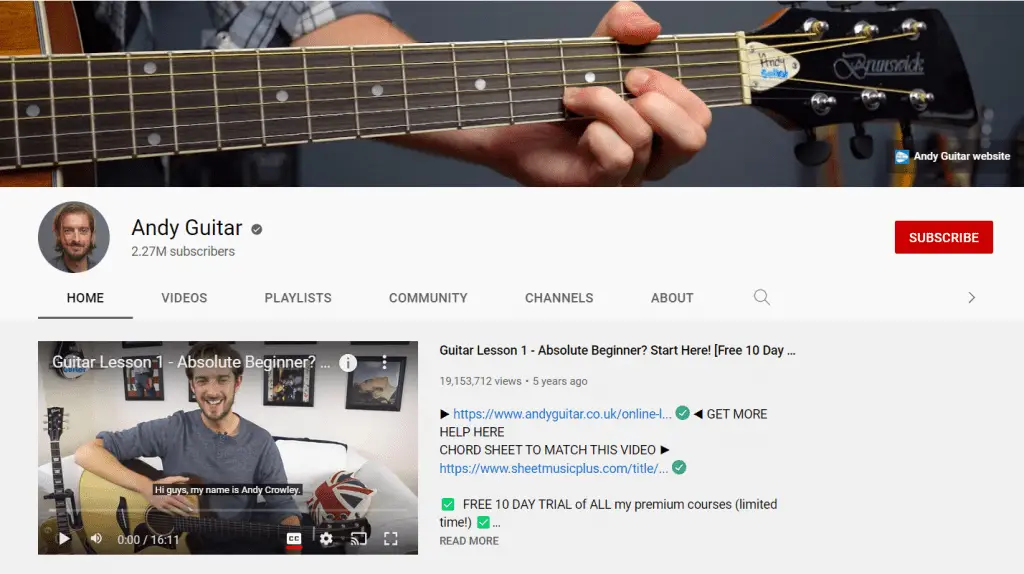 Subscribers: 2.26 million
Last, but certainly not least, is Andy Guitar — the channel created by Andy Crowley — that's perfect for those learning acoustic guitar and even ukulele. And with more than 2 million subscribers, this guy clearly knows what he's talking about.
Thankfully, most of Andy's content is free on YouTube, but if you're really into his YouTube channel content, he offers additional premium lessons and occasional live streams at his website, AndyGuitar.co.uk.
On YouTube, you'll find lessons on how to play songs like, Otis Redding's Sitting On The Dock of the Bay in addition to some fun content, like "Moving a Capo 18 Times in Under a Minute."
I'd argue he's also one of the few teachers out there who pushes the envelope on guitar learning. Take the video "Sound Like a Full Band With Just ONE Acoustic Guitar," for example. The video is filled with comments from many practicing guitar players thanking Andy for providing them with a lesson that's tough to come by on YouTube.
• • •
FAQ
In terms of the Best YouTube guitar lessons available to you, you have PLENTY to choose from. But you may still have some questions. We're here to help.
Who is the best guitar player on YouTube?
Answering who is the best guitar player on YouTube is about as difficult as naming the greatest guitar players of all time. Some of my personal favorites, though, include Emil Ernebro, who is one of the best fingerstyle guitar players out there.
There are certainly several players you could label as the best guitar player on YouTube, but they span a bevy of genres and styles making it nearly impossible to pick just one.
The beauty of YouTube is that players from all around the world — even the ones who haven't made it big with a Billboard Top 100 album — can be seen, heard, and appreciated, which is pretty cool.
Can you master guitar from YouTube?
Absolutely! Just like you can learn how to play the guitar from some of the best beginner guitar books, you can learn how to play from taking YouTube lessons.
Honestly, it's not much different than learning from books and, in many ways, is a better option because you can see and hear a person explaining how to play a scale or shape a chord while demonstrating on their guitar.
It comes down to practice. If you don't practice, you're going to sound bad.
Many up-and-coming guitar players actually became proficient in the instrument by watching YouTube videos and setting up appropriate guitar practice routines.
Remember, though, that it's going to take time to learn how to play guitar. Be patient, use the free resources mentioned above in this article, and practice, practice!
Of all the YouTube channels listed, which one is the best option for beginners?
Many of the YouTube channels listed above have great content for beginner guitar players, but I really like what Justin Guitar offers. His video lessons tend to include a beginner guitar song to learn, which includes the specific concept he covered in the lesson. In other words, it's a fun way to master a concept, like working your way through a chord progression or learning how to strum a guitar the right way.
Other solid teachers on YouTube, though, include Marty Schwartz, Ben Eller, and Steve Stine.
Does YouTube offer premium guitar lesson subscriptions?
No, everything on YouTube only offers free guitar lessons — which is a good thing! Many of the channels above are monetized by directing you toward their website for further instruction or through advertising, allowing you to receive the content for free.
If you're looking for more premium content, we recommend signing up for online guitar lessons that are available at a competitive price and include more detailed and structured content.
• • •
Guitar Playing 101: Keep Practicing!
It doesn't matter how good the content is when it comes to YouTube guitar lessons — if you don't practice what you're being taught, it's worthless.
We know how difficult it is to get over those initial hurdles of learning guitar, which is why we started this website filled with helpful content to not only help you find the right guitar and learn how to play the right way but also stay motivated to play the instrument for the rest of your life.
As you work your way through the YouTube lessons mentioned above, notice how talented the teachers are and understand that you, too, can get to that level. You simply need to stay motivated and keep working hard at your instrument.
Happy practicing!