Near the heart of my twenty years of strapping on a guitar is the Stratocaster vs. Telecaster debate. They're two very similar guitars, with tweaks throughout the years, but with divergent and storied pasts.
My first guitar was a Squier Affinity Stratocaster, mostly because Tom Delonge, from Blink-182, famously played Stratocasters at the time. Coming out of San Diego's skate punk scene, he was a local icon. I was 16. Gimme a break.
I would later settle into the Fender Telecaster camp. The tone is more to my ear's liking. To each their own. It's what drives the debate.
Both are excellent guitars at their roots. We looked at the top Strat models a while back, so I won't repeat a ton of that here. The Telecaster was Leo Fender's first love, introducing the single cutaway solid body electric guitar more than 70 years ago, in 1950. The Strat, a double-cutaway model, was introduced four years later.
While we're looking at the differences, I'll throw in a few Teles worthy of your attention.
Stratocaster vs Telecaster: Everything You Should Know
What makes the Strat vs.Tele debate interesting is the tonal differences between a Stratocaster and a Telecaster. Both have single-coil pickups and a legendary Fender history. It's going to be tough to decide which one is right for you.
Fender Guitar History:
Fender makes a bunch of other guitars, but let's be honest, a new guitar player only has one debate in mind when it comes to Fender electric guitars: Stratocaster vs.Telecaster. You actually won't believe some of the early prototypes of these guitars! (1)
History of the Fender Telecaster
Leo Fender started designing guitars way back in the 1930s, but it was the Telecaster that came first in 1950. It's a single cutaway with a single coil in both the bridge pickup and neck pickup positions, creating the iconic Fender twang. It was first introduced under the "Broadcaster" moniker, and finding one has been a pastime of Tele players ever since!
Fender has produced a number of iterations of the Telecaster over the years that guitar players have eaten up, but the original remains the standout classic.
History of the Fender Stratocaster
The Fender Stratocaster was born just four years after the Tele, and showed the continuing evolution of Leo Fender's designs.
Both the Telecaster and the Strat have single-coil pickups at the neck and bridge. The Stratocaster features three single-coils and dedicated tone knobs. The double cutaway design was immediately recognizable, and the two-point tremolo system lets players do more with their sound. Fender Strats got a bad name during the 70s when CBS bought Fender Guitars and quality control went with the old owners.
Stratocaster vs Telecaster: Quick Comparison
Product
Tone
Tone
Crisp and bright. They sound best through a clean amp
Twangy and bluesy. Perfect for country and rock
Body shape
Body shape
Wide double cutaway for easy access to upper frets
Single cutaway, but easy access to upper frets on both sides
Neck
Neck
Rounded neck is what you typically find
A flatter neck is common Tele
Headstock
Headstock
Noticeably larger headstock
Skinnier headstock that nearly lines up with neck
Bridge
Bridge
Smaller bridge to accommodate three single-coil pickups
Larger bridge that's installed at more drastic of an angle than a Strat
Tremolo
Tremolo
Comes standard with a tremolo system
Doesn't come standard; requires a third-party system
Weight
Weight
Slightly lighter than a Tele thanks to the double cutaway design
About 8 lbs., which is only a little heavier than a Strat
A Difference in Tone
Setting aside later pickup iterations and body tweaks, both the Fender Stratocaster and Telecaster have signature tones. Considering the similar bridge pickup and neck pickup, it's a testament to engineering.
Stratocaster Sound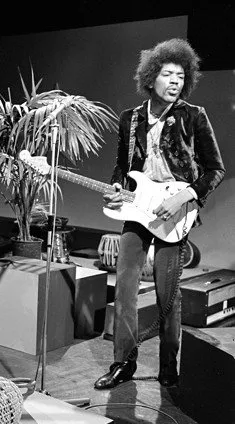 Standard Fender Stratocaster pickups are three single-coil pickups wired into a 5-way pickup switch, master volume, and two-tone controls to give players a wide range of tonal opportunities.
By playing the middle and bridge pickups together, you can get a thick, bluesy tone that guys like Stevie Ray Vaughn used to great effect. Eric Clapton got his slow solos by always including the middle pickup. You don't get the "Voodoo Sound" from Jimi Hendrix without his inverted bridge pickup tone.
Strats are quite versatile and can actually handle everything from twangy country music to heavy metal — all at the flip of a switch. That's why so many guitar heroes choose to strap one on.
Telecaster Sound
The Telecaster, for its part, is a simpler machine. The two pickups are driven by a single tone knob and then a master volume control.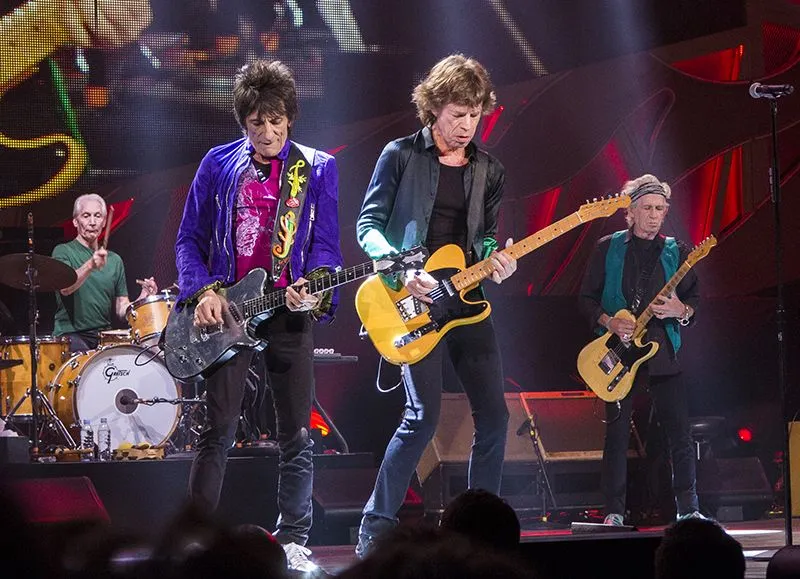 The hard tail bridge further emphasizes the sound difference but gives the Tele a balanced tone favored by many. This versatile instrument finds a home in any music genre.
The Teles are particularly known for their "twang" and have been a staple of country music since their inception. With no middle pickups, tone relies more on playing style than technology. 
The body shape without hip cutaways and a thicker neck shape force players to slow down. That philosophy defines the Tele tone more than whether you're playing a rosewood or a maple fingerboard. 
Body Shapes
Fender has two basic body shapes. The single cutaway Telecaster with the strap button screwed into the guitar's shoulder, and the double cutaway Stratocaster with its strap button screwed into the upper horn.
Dimensions of the Telecaster Body
Of the two guitars, the Telecaster's body does feel like an older design.
The body has a uniform dimension all around. Originally 1.75″, though that may wax or wane a bit depending on the era and model. That thickness means sitting over the top of the guitar slightly, which does slow you down as a player.
Body Measurements
Fender Stratocaster models have several features designed for comfort and speed. The body is generally 1.75″ but it features cutaways at both the hip and cheek of the guitar. Not only does this make the body lighter compared to the Telecaster, it means the body gets out of the player's way.
The second upper cutaway at the neck pocket is much the same. It makes playing the guitar feel easier and faster. The surf sound would be perfected with the player comforts that debuted on the Stratocaster body. 
Weight
When you're younger, you might not consider the weight of the guitar you're playing, but as I've mentioned, it's important.
Weight of a Fender Telecaster
Depending on what body wood your tele is made of, it will vary a bit, but generally around 8 lbs is standard. Without the cutaways, it does feel heavier.
Fender Stratocaster Dimensions
Using an ash body or an alder body? Basswood? It may be surprising, but a Stratocaster also weighs in at 7.5–8 lbs. on average.
Strat Neck vs. Tele Neck
The necks on Fender guitars look very similar across the board. The biggest visual standout is the headstock size of the Stratocaster when compared to the Telecaster. The latter is much smaller on standard models.
The most significant distinction is that the Tele neck will not intonate on a Strat. You can have a Telecaster with a Strat neck due to the rounded heel, but you cannot have a Strat with a Tele neck. Some old Squier bullet Strats had Tele shaped headstocks, but they weren't actual Tele necks.
In other words, Strat necks are the universal donors.
Headstocks
Headstocks are how you tell if you've got a genuine guitar or a knockoff copy of an electric guitar.
Stratocaster Headstock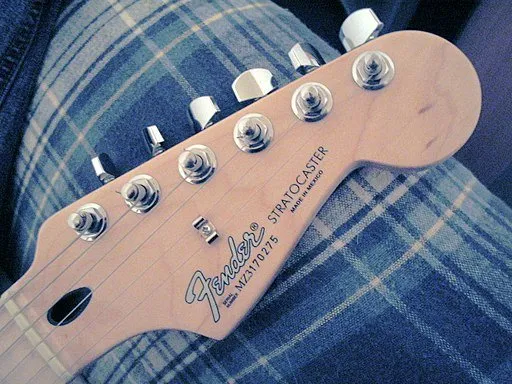 The Stratocaster guitar has had a couple of shapes over the years. The standard six-in-line headstock we all know and love. But from 1966 to 1974, we saw that headstock balloon up like it was the one eating the mushrooms. That larger headstock still crops up on certain custom shop strats and even the Telecaster Deluxe.
Telecaster Headstock
The Telecaster headstock dimensions are rather small. The shape drops just below the bottom of the nut and has been unique to the Telecaster with the exception of the mid-50s Precision bass and the early MIJ Squier Bullet Strats. If you want a Telecaster with a giant Strat headstock, though, the aforementioned Telecaster Deluxe is your ticket.
Strat vs. Tele: Hardware
Hardware might be the place where a more experienced guitar player notices the difference in each guitar. Leo did more with the hardware from Tele to Strat than he did electronics.
Bridge
The first bridge stands out the most. The Fender Telecaster bridge types tend to be the "ashtray" style. Meaning, they have that large piece of metal that extends out into the body surrounding the bridge pickup.
While modders have made it happen, the Telecaster bridge dimensions make putting a Telecaster bridge on a Stratocaster an enormous amount of work. And as they are using the same pickup, I'm not really sure what you're getting other than a "Hey, check out how I used my lockdown money."
Tremolo
Stratocasters come standard with a tremolo, while Telecasters do not. That's not to say you can't put one on a Tele, though. Bigsby makes a popular tremolo system that fits most Telecasters.
Our Top Stratocaster Recommendations
We've got to take a look at the top Strats to give our readers a good fell of what's out there in the market. Fender really crushed it with their Player Series Strats. They are made in Mexico, but for the price, they are hands-down the best Strat for our readers.
The electronics are indistinguishable, and unless you work in the factory, the aesthetics are the same. These guitars have an enormous array of finishes, pickup configurations, and the Fender quality we have come to expect (post-CBS). You might be paralyzed trying to pick just one.
Our Picks for the Best Telecaster
We've taken a look at some of the best Telecasters on the market and here is the cream of the crop.
American Professional II Telecaster by Fender
The American-made Professional Telecaster made our list of the best American-made guitars a while back. Jump over there to see what we thought.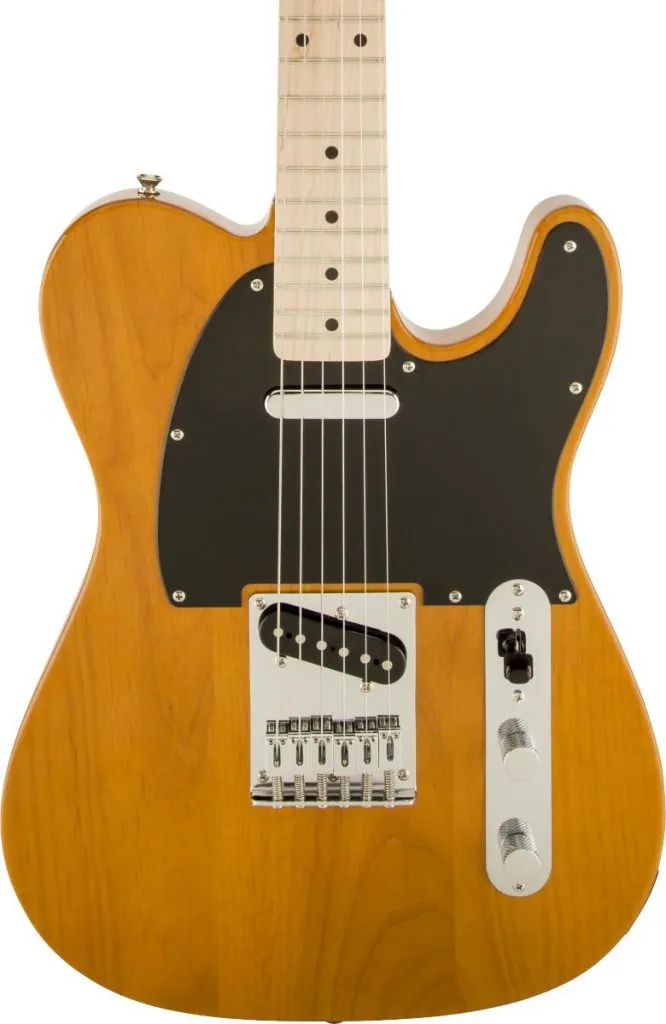 Is this gorgeous guitar really a Fender? It says Squier on the headstock, right? Well, if you've been around guitars for more than five minutes, you'll know why this is the best cheap Telecaster.
Squier is Fender's "little bro" brand. The same way Epiphone is to Gibson. While it may say Squier on the headstock, the paycheck to the guy overseas who made it comes from Fender. So, for this article, I'm calling it a "Fender."
Do you really need a Fender anyway? For some time, the quality control of these international factories has been rivaling their Mexican counterparts. 
Pros
Affordable. The Cheapest Telecaster Under the Fender Umbrella
Lightweight. A thinner body makes this guitar lighter.
Classic look. The finish is a classic butterscotch with a maple neck.Quintessential Tele. 
Cons
Not a Fender. It's not technically a Fender. Squier stickers aren't as cool.
Ask yourself how many guitars you really need. Our "How to Choose a Guitar" article helps break down the right questions to ask. And with this beauty, you're getting a lot of classic Telecaster tone in an also classic broadcaster finish that screams 1950s. If the logo bothers you, sand it away.
Because the rest of this guitar sings.
• • •
If you can't get over the Squier vs. Fender thing (and times are tough man, you really should try), the Fender Player Telecaster is one of the best Telecasters for the money. It features the traditional Tele twang, and the speedy neck ranked it amongst our top fingerstyle guitars. If you want a full review of this blonde, modern, classic, jump over there.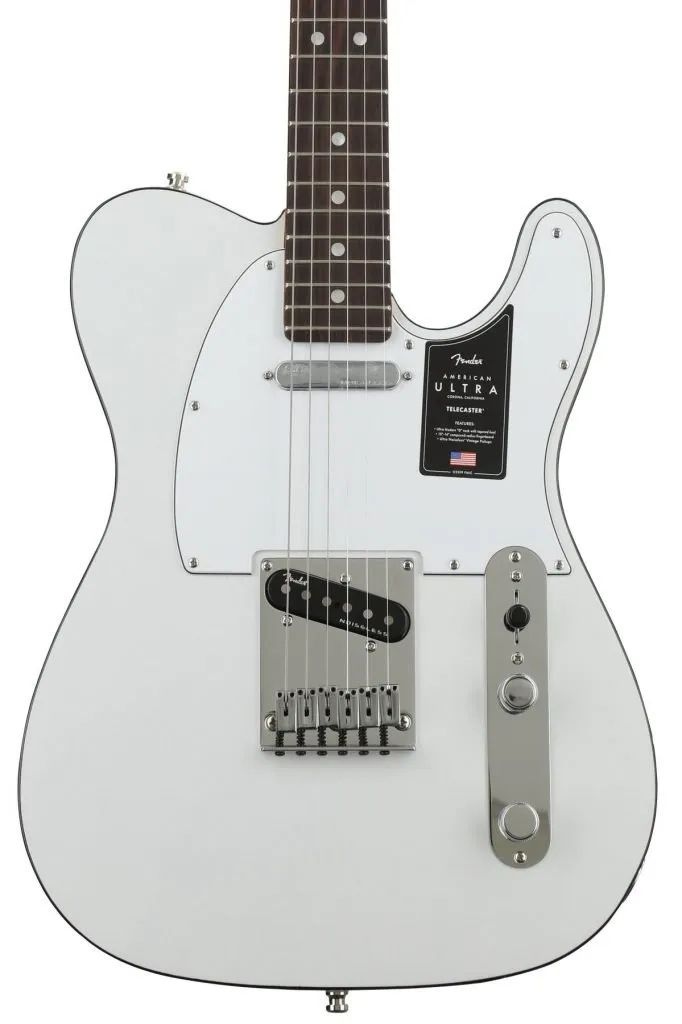 While I may not advocate a guitar with a used car price tag, I might here. There is so much Fender has included in this modern beast that it'd be hard not to miss something. But no Fender Ultra Telecaster review is going to be complete without mentioning the pickups.
Classic Telecaster single coils are known for their twang… and the amount of EM radiation, and thus hum, they produce. God forbid your studio or venue has florescent lighting. But for the Ultra, Fender has used their Ultra Noiseless line of pickups that create the twang but without the annoying hum. The S-1 in the volume knob wires each single coil pickup in series, which produces a punchier humbucking tone. 
Pros
Comfortable. Body contoured for added comfort.
High-Tech tone. Ultra-quiet single coil picks with no hum.
Beautiful. Exceptional, unparalleled finishes.
Cons
Expensive. Now we're in the 10x price range.
In addition to the upgraded electronics under the hood, there are beautiful visual appointments. This Tele is distinguished by hip and cheek cutaways and traced by standout off set color binding.The real bone nut not only looks like a great attention to detail, it also drives this guitar's ridiculous sustain.
• • •
Fender Strat vs. Tele FAQ
Are Stratocasters or Telecasters better for beginners?
While I graduated to Telecasters some years ago, a Stratocaster is generally better for beginners. The lower end models are so well appointed and the pickup system gives more versatility than the Tele's two single-coil pickups.
Depending on your budget, you can fill out your guitar playing with accessories like amps, straps, and picks. All the accoutrement a shredder needs.
Are Stratocasters better than Telecasters?
As my Mom used to say, "different isn't better." So, are Stratocasters better than Telecasters? No, it's all a matter of taste and playing style. Do you need a vibrato bridge? There has been so much overlap between the two guitars over the years that the question is kind of moot. Most good players, like Joe Bonamassa, prefer both Strats and Teles (2). 
What are the main differences between a Stratocaster and a Telecaster?
The main differences between the two guitars are most obvious in the two single coils in a Telecaster and three in a standard Stratocaster. The visual double cutaway of the Strat stands out from the Telecaster's single cutaway. The visual shape of the headstock is also a dead giveaway.
Which guitar came first: the Telecaster or the Stratocaster?
While there's evidence that Fender was working on these guitar ideas at the same time, the Telecaster beat the Strat to Fender's production line. The Telecaster was released in 1950 and the Stratocaster followed suit in 1954. The Stratocaster represented the advancement in design and technology for Fender's line of electric guitars.
• • •
Can't Decide Between a Strat and a Tele?
When you're just beginning to learn the electric guitar, you'll want to invest as little as possible. And for the beginner, that means the Stratocaster or a Telecaster. If for no other reason, there are cheaper and more ubiquitous starter packs for Stratocasters.
When I settled on my favorite guitar as a more advanced player, I came to the 1972 Telecaster Deluxe. I looked at the style of music I wanted to play, and humbuckers fit me better than any combination of single coils could. I preferred the look of the Telecaster body and the action on the neck. I never play dive bomb solos, so I didn't need the complication of the strat bridge.
Know where you're at and where your playing is going. Listen to your gut. 
• • •
References
Jamie Dickson, "The Fender Strat and Tele Prototypes That Reveal What May Have Been" as published here https://www.musicradar.com/news/fender-stratocaster-telecaster-prototypes.
Matthew Leimkuehler, "Hanging out with Joe Bonamassa, guitar ace of 'Nerdville'" as published here https://www.tennessean.com/story/entertainment/music/2022/02/07/joe-bonamassa-takes-us-inside-nerdville-his-nashville-home/9106432002/
Image Credits
Tom Delonge image: Kerry Key, CC BY-SA 2.0, via Wikimedia Commons; Jimi Hendrix image: A. Vente, CC BY-SA 3.0 NL, via Wikimedia Commons; The Rolling Stones image: Jim Pietryga, CC BY-SA 3.0, via Wikimedia Commons; Ash Image: Mdanielafs, CC BY-SA 4.0, via Wikimedia Commons; Stratocaster headstock: mrbill, CC BY 2.0, via Wikimedia Commons; Telecaster headstock: ArtBrom from Seattle, CC BY-SA 2.0, via Wikimedia Commons; Stratocaster bridge image: Zzerox at the English-language Wikipedia, GFDL, via Wikimedia Commons; Telecaster bridge image: Massimo Barbieri, CC BY-SA 3.0, via Wikimedia Commons; Featured Image: irish10567 from Little Falls, NJ, USA, CC BY 2.0, via Wikimedia Commons.