If you're in a hurry, I settled on the TC Electronic Flashback 2 as my choice for best delay pedal. It's a digital powerhouse that has expansion capabilities and is easy on the wallet. Pick one of these up to start your journey into the world of delay.
How much thought have you given to the delay pedal in your arsenal? Does your pedal board even have a delay pedal yet?
It's perfectly okay if it doesn't. Mine didn't for years. Blame the punk scene.
Pedalboard configuration is a serious task for guitarists of every level. While it may seem a bit technical to the uninitiated, it's the best way to ensure you have all of your equipment at your fingertips in one place.
In this article, I will highlight the best delay pedal for different players in a number of scenarios, while offering you my personal perspective on why these choices are the best.
I've been playing for more than 15 years and over that time period, I've owned several delay pedals. I've had the good fortune to record with several more. I've come to find that, while the best delay pedal is somewhat subjective, the best delay pedals share some characteristics.
Here's a quick list of the delay pedals I'm going to review in this article  (more detailed reviews below):
The Best Guitar Delay Pedal For Every Situation
Let's now have a more detailed look at each pedal.
1. Boss DD-3T — The Best Delay Pedal for the Familiar
The DD-3 is the most in demand digital delay pedal on the market. There is a reason why this pedal has been on countless pedal boards since its original release, and today's musicians expect this pedal to remain on the board.
With its 800 ms of delay time and clear accurate delay tone, with reverse and modulation features built in, you have all the tools at your disposal to work with one of the most legendary high-end delays ever designed.
It features studio-quality sounds and is updated with convenient features like tap tempo, modulation, and delay time adjustment. If classic delay sounds are what you're after, this pedal has what you need.
In practice, this is a very approachable delay pedal. Whether you're recreating the sound of a world-famous guitar player like Thom Yorke or just trying to cut your own sound in a garage band, you won't be disappointed with the DD-3.
I've owned several of these pedals throughout the years. They are a mainstay and it seems like everyone you run into will either have, or have had, used this delay at some point. They are a great entry point for dipping your fingers into the delay pedal world.
When you're ready to move on, there's a strong demand on used gear sites for this legendary pedal.
• • •
At the heart of El Capistan dTape Echo is a fully analog signal path based on Strymon's time-tested algorithms.
Like its progenitors, it features variable bandwidth and tone filtering, tape speed manipulation, dTape mode with saturation, flat mode for high-headroom clean delay, and xMode for special FX possibilities.
All of this is packed into a powerful pedal that gives you four knobs and two foot switches (one bypass toggle and one tap tempo) to control all the features. At max delay time, with feedback at maximum, you can expect over 600mS of pure analog goodness.
With everything packed into this little box you can mix and match the sounds of three tape technologies to create your own custom sound.
Most software emulation aims to replicate the sound tones of a specific amp or pedal you'd recognize. An emulator might try and emulate a marshall JCM 800 amp for instance.
Strymon takes a slightly different tack. In that same example, strymon is emulating the tubes, switches and wiring that make a JCM 800 sound the way it does.
I really like that Strymon is emulating the underlying technology that created some famous tape machines today's players seek out. It's like diving into the DNA of what makes something great.
I've only had the privilege of playing with this pedal in the context of studio recording, but I can say that I instantly fell in love with it. It's not a pedal I'd necessarily need when playing live. It's a pedal that needs to be appreciated, over a long period of isolated time.
For that reason, it's a great pedal, but perhaps not the best delay pedal for a player who doesn't already have a workhorse delay in their kit.
• • •
3. MXR Carbon Copy — The Best Delay Pedal for All Around Analog Delay
With Carbon Copy, MXR has crafted what may be the most organic, true-blue analog delay effect pedal ever constructed. The Carbon Copy's controls are simple enough for even the most novice player, and its delay time is adjustable from five milliseconds to a generous 600ms.
But above all, the beautiful, warm tone that this pedal produces is like no other — an utterly addictive analogue ambience that will yield pleasurable results whether used with electric guitar or keyboards. It's instantly recognizable.
The MXR Carbon Copy comes in the standard size that we've all come to love, as well as a mini version that has the same feature set for the same price. It's just, well, diminutive.
If you're feeling lighter and brighter, you can get the Carbon Copy Deluxe which is essentially the Carbon Copy and the Carbon Copy Bright pedal in one housing. It costs a slight bit more, but it also doubles the amount of delay available to a full 1,200ms.
Like the Boss pedals, there's a lot of demand for used MXR pedals. Because MXR makes just about every effects pedal under the sun, there are some players who spend their entire lives within the MXR ecosystem, building entire effects loops with the MXR technicolor pedal rainbow.
What I like most about the MXR Carbon Copy is that it's more than a single pedal. It's a pedal with a series of flavors. I still have the mini edition in storage because from time to time it comes in handy for recording projects. And it's my go to for a budget pedal I wouldn't feel sick about losing at a gig.
• • •
The TimeLine is Strymon's most comprehensive delay effect unit to date, and the perfect centerpiece addition to any musician's pedal board. It isn't cheap. In fact, it comes with the highest price tag, but it has a feature set to match.
A powerful Filter section and Freeze mode gives you access to all the possibilities that a definitive delay pedal has to offer. With its wide selection of knobs, you can tweak the tone for extreme or subtle use.
Ensuring that it will stand out on your board, its effects color switch is an extremely unique feature which allows this pedal to have practically unlimited sounds. I'm not exaggerating when I say this can take your sound from the bedroom to a cathedral in one flick of a switch.
Like the other Strymon pedals on this list, the versatile feature set and price tag mean that this is a pedal best suited for the sound creation phase of the musical creative process. If you want an excellent example of why this is the best delay pedal for studio settings, then you can do no better than listening to a Minus the Bear record.
You would be hard-pressed to find a band who has done more with delay over the past decade than Minus the Bear. And Dave Knudson's delay pedal of choice is the Strymon Timeline Multidimensional.
• • •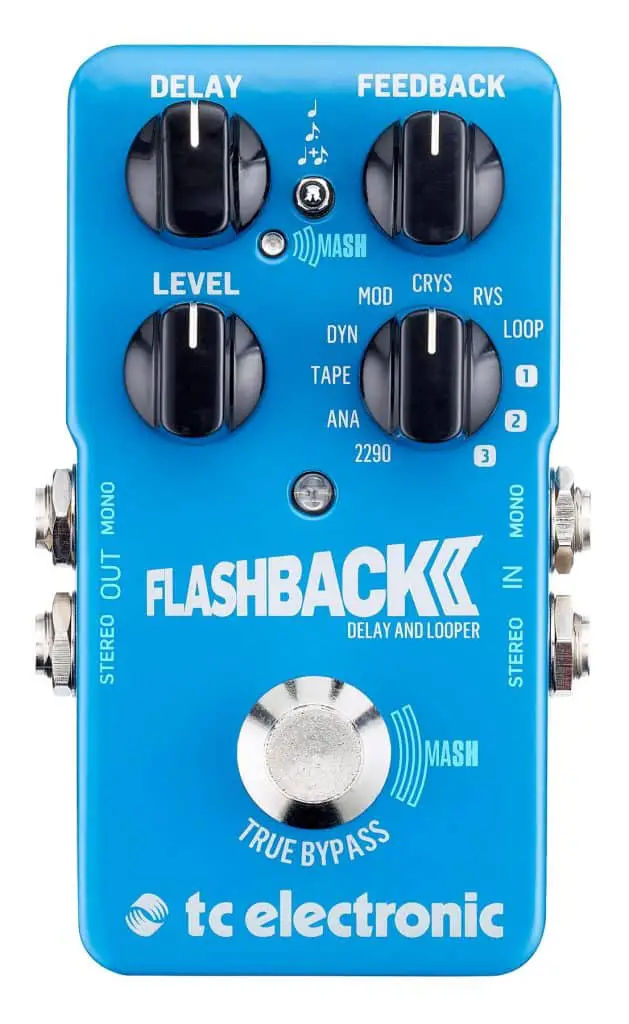 The Flashback 2 Delay's features are all about ease of use and high sound quality. The intuitive design includes updated controls, new features such as TonePrint and preset memory, easier navigation, full compatibility with TonePrint apps, MIDI functionality, and a stomp box format that works perfectly with the pedal board concept.
This makes it an exceptionally popular live pedal.
Numerous delay modes with optional modulation, tap tempo functionality for precise delay times, analog-circuit modeled tone from past delay pedals, and a wide range of delay time settings: The TC Electronic Flashback 2 Delay/Looper pedal has everything you need to put your sound front and center.
What I really liked about this delay pedal is the "MASH" foot switch. Depending on the pressure you apply and for how long, you can create big swelling soundscapes. Think of it like the expression pedal on a wah pedal. Whereby you can change the amount of effect the pedal is applying in real time.
It's not something you see on most stomp boxes at all, but it works really well with the delay and modulation on the Flashback. This is the type of stomp box that extends the usefulness beyond a mere six strings.
I don't currently use this pedal, but when I was, I found myself using it a lot for song writing ideas. The built-in 40-second looper and small size was what made it perfect for coming up with ideas during quarantine when there were toddlers and large dogs in the space. Coupled with a mini Squier Stratocaster, I was able to get a lot of music done under less than ideal circumstances.
If you have similar externalities, where you want cheap gear, then you can't go wrong with my choice for the best delay pedal for players on a tight budget.
• • •
6. Boss DM-2W – The Best Delay Pedal for Indie and Prog Rock
The BOSS Waza Craft DM-2W is a delightful throwback to one of the most popular and hard-to-find pedals from the 1980s.
While reproduction versions are floating around on eBay or the occasional Craigslist score, it ain't easy. This version was developed by BOSS in conjunction with Mike Matthews and the Waza Craft shop in Tokyo, and almost immediately stood apart from the ocean of other BOSS delays available.
This pedal is perfect for producing dark delays as heard on songs such as Pink Floyd's "Breathe Reprise" or U2's "Where the Streets Have No Name."
When I was first experimenting with delay pedals a decade ago, I was obsessed with the first 90 seconds of the Joshua Tree. It changed what a single guitar player could do. Years later I got the opportunity to play an original DM-2 and wasn't sophisticated or patient enough to get around the quirks of the pedal's timing circuit.
BOSS eliminated all the original's idiosyncrasies. The reissue is all about vintage tone without the vintage headaches. Now I have no qualms owning one of these pedals and have no problems taking it live.
The price point is right in line with the rest of the BOSS delay pedals, so it won't break the bank by any means. If you have a specific indie rock, or prog rock genre you're going for, you can get the sound you're after without the need to spend up to the Strymon standard.
• • •
The Volante is a boutique-worthy echo/delay pedal with an all-analog signal path that clocked in at #4 on Premier Guitar's Best of 2015. Each of its four delay playback heads can be set to one of three delay effects: Tape, Analog, and Modulated digital.
The pedal's intuitive design and 10 instant preset slots make it easy to quickly dial in delay sounds, from very short slap back repeats all the way to infinite delay trails. It also features a built-in looper with 48 seconds of recording time, MIDI capability, and an analog dry-through for serious tonal clarity.
It is difficult to express how much you can do with this pedal. There's a lot of overlap between the Strymon pedals on this list, but each has their own specific strengths, and the Volante is hands down the best delay pedal to complement any other delay pedal you'll ever own.
If you have the Volante in your stable of pedals, you can buy just about any niche delay pedal you want, and between the two, have any conceivable delay you want covered. That doesn't mean the Volante isn't a strong stand-alone pedal in its own right. It is. It will do 80% of just about anything with ease, sophistication, and granular detail.
Strymon is known for producing top of the line pedals that are top of the line. With the Volante, they've created the top of the line companion delay pedal.
• • •
Best Delay Pedal Mini Buyer's Guide
Not everyone has the same playing situation. Different styles. Different strokes for different folks. It's important to consider the different available options when picking your delay pedal.
These are some of the most common options available in almost every contender for best delay pedal.
Remember, best doesn't mean perfect, so you'll need to make a list of what you need in your personal effects loop.
What We Mean by Best Delay Pedal
An ounce of prevention saves a pound of cure. You may be coming to the table with preconceived notions of what a delay pedal is, or trying to emulate a certain guitarist's sound.
That's well and good, but the best delay pedal is an extension to your rig that is almost an instrument unto itself and should be thought of as such. You don't need to pigeonhole yourself into a style before you even plug in.
U2's Edge didn't invent the delay pedal, but he revolutionized what a delay pedal means to songwriters with his work on Joshua Tree.
His songwriting philosophy is minimalist in nature. His guitar playing style is spartan and deliberately leaves a lot of room in the songs. Then he uses his delay pedals to fill out the song.
The sound is at the same time ephemeral and anthemic. Even if U2 isn't your jam, you can find inspiration as to what is possible in your own music through delay.
So what do you need to think about to get the most out of the best delay pedal in your arsenal?
Analog vs. Digital
There are only really two types of delay pedals. Analog and digital.
Analog sends your guitar's signal through a series of capacitors that degrade the signal to produce the output.
It's akin to making a photocopy of a photocopy. Each generation has fidelity loss that is physically created by the process of recreating.
This means that there's only so many times the signal can be processed before you're left with unintelligible static. That means an analog delay has a relatively short signal delay lifespan.
Digital delay on the other hand is like making a copy of a CD. There's no physical loss in fidelity.
That means the signal can be processed an unlimited amount of times. There's no natural change to the signal, so the effect can be as clean or dirty as you want.
The effect can also last indefinitely, though most pedals will impose a limit for practical purposes. Nobody needs the same note looped for ten minutes straight.
Smart App Connectivity
This is a feature I could never have dreamed of when I first started playing guitar, but now is widespread. While using digital emulation via app may run afoul of analog purists, in practice it opens up the history books for inspiration.
Tempo settings
Delay effects are measured in how many milliseconds the loop takes to complete. How that time is set can be set manually with a dial or static setting, or can be set with "tap tempo."
Tap tempo simply means you'll tap the pedals button to set the tempo of the effect manually. It's set by "feel."
Multi Effects
When you're searching for the best delay pedal you might find yourself looking at multi-effect pedals. Pedals that have every kind of effect under the sun built in.
If you're just starting out, a multi-effect pedal can be helpful for acquainting yourself with what a dedicated pedal can do. Their usefulness tends to end there. Multi-effects pedals are usually complicated to use and lack the lush tonal qualities even the lowest-end dedicated pedals produce.
Loopers
A looping effect allows you to capture a bit of music and play it back on a continuous loop. This can be helpful not only when you're playing, but also when you're practicing or writing by yourself.
For instance, you can play a rhythm guitar, loop the piece and work out a lead over the top of the loop.
Delay Pedal Form Factor
You also will want to consider the physical form factor of the pedal you're looking at and how that will slot into your gear ecosystem.
I'm not going to lie. I've actually lost a small distortion pedal at a gig. Just lost it. Misplaced it while tearing down and I don't think it was stolen or walked off. I'm just prone to losing small things, so I tend to opt for a beefier version of a pedal if multiple form factors are on offer.
Aesthetics are something that's often thought of last. But the form factor, and the functional qualities, influence whether you'll want to play the thing.
Don't believe me? Like we pointed out in our must-have guitar pedals article, even uber shredders like Paul Gilbert believe a beautiful pedal board contributes to the overall musical creative process:
That's scratching the surface on what to look out for when thinking about the best delay pedal for your particular style of music.
How you express yourself on your guitar is up to you. One beautiful aspect of playing the guitar is that, at a base level, you've got six strings and 12 notes, but the possibilities are endless.
A really solid delay pedal is part of that aural equation.
Conclusion
While there's no universally perfect delay pedal for every conceivable guitar player, this list comprises the best delay pedals on the market today.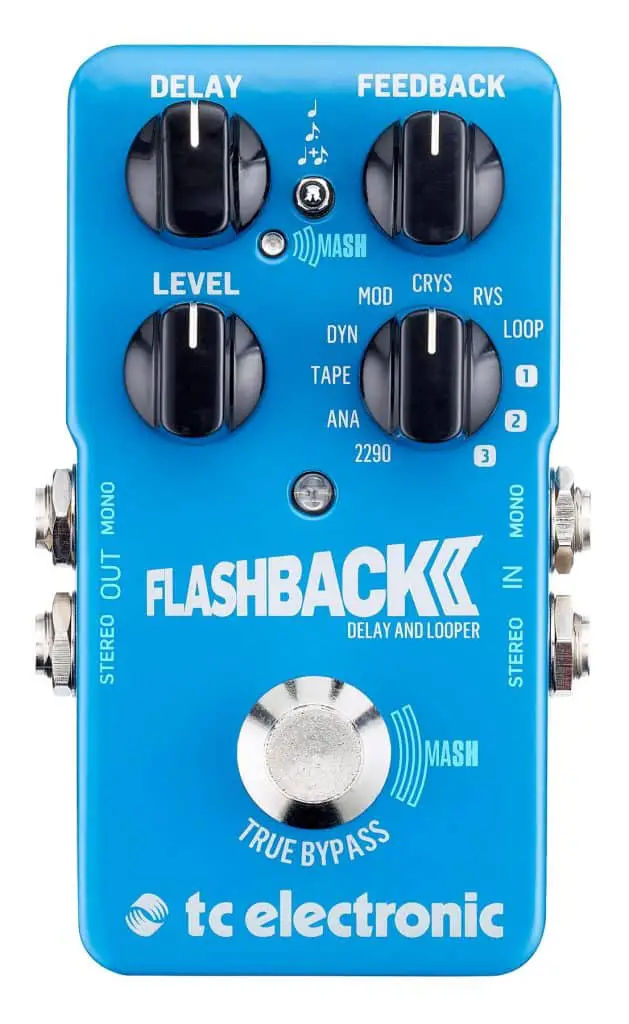 We've run through a slew of pedals and I've decided on the TC Electronic Flashback 2 as the best overall delay pedal. If you don't already own a delay pedal, it checks off the most boxes.
It's not the best at any one thing, but it's versatile, well-built, and has an app interface that expands its capabilities. Plus, and this can't be understated, the flashback 2 is inexpensive.
That makes it the best all around for most guitar players and, especially so, for new players. Every other pedal on the list will expand your sonic capabilities but you won't go sideways picking up a flashback 2.