If you're short of time, I'll cut to the chase: my preferred fingerstyle axes are the Taylor 814ce, and the Yamaha APXT2 ¾ Size as an affordable alternative. But I recommend you grab a cup of coffee and scroll down — we review a few other options you might as well like better!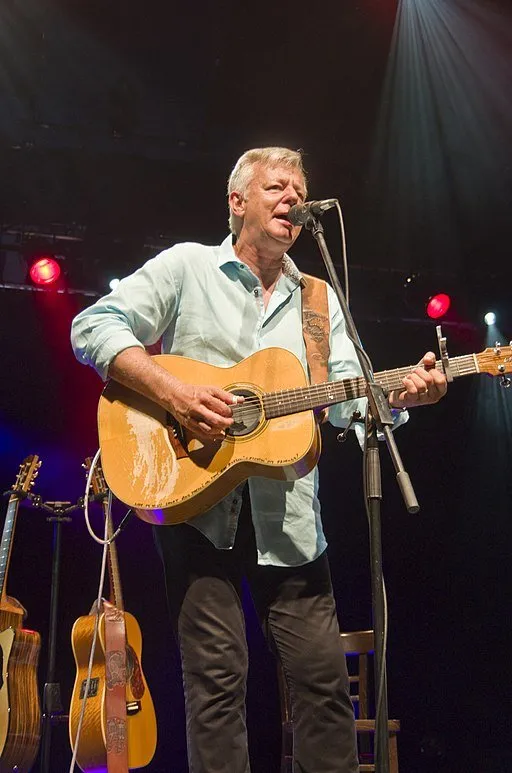 You know you've become a serious guitarist when you move from mere strumming of chords or ripping face-melting leads to focusing on your fingerpicking. 
Where would Extreme be without "More Than Words?" Or James Taylor without "You've Got a Friend?" Have you heard this mesmerizing arrangement of Guns and Roses' Welcome to the Jungle (1)?
In the 20 years I've been playing, fingerstyle playing has been the bane of my skills repertoire. It takes concentration and dexterity. Two traits that aren't exactly my strong suit. It doesn't hurt to have the right acoustic for the job, either. In other words, learning the guitar is doable, but takes time.
Today we're going to look at a list of the candidates for best fingerstyle guitar of all time and recommend a few that should get you playing fingerstyle in no time at all. 
• • •
Best Fingerstyle Guitars: Full Reviews
Opinions may vary, but almost every guitarist agrees the best fingerstyle guitar will have a well-balanced tone, excellent action for playing arpeggios, and a bright sound that lets bass notes break through.
Fingerstyle players pick out some of the best acoustics because it suits their unique playing style.
Let's take a look.
Best Martin Fingerstyle Guitars
Play the six-string long enough and you're sure to run across Martin acoustics. They invented the dreadnought acoustic shape, for crying out loud. In addition to exceptional sound quality, the action across their product lines means they are also excellent fingerstyle guitars. Let's dive into the Martin world.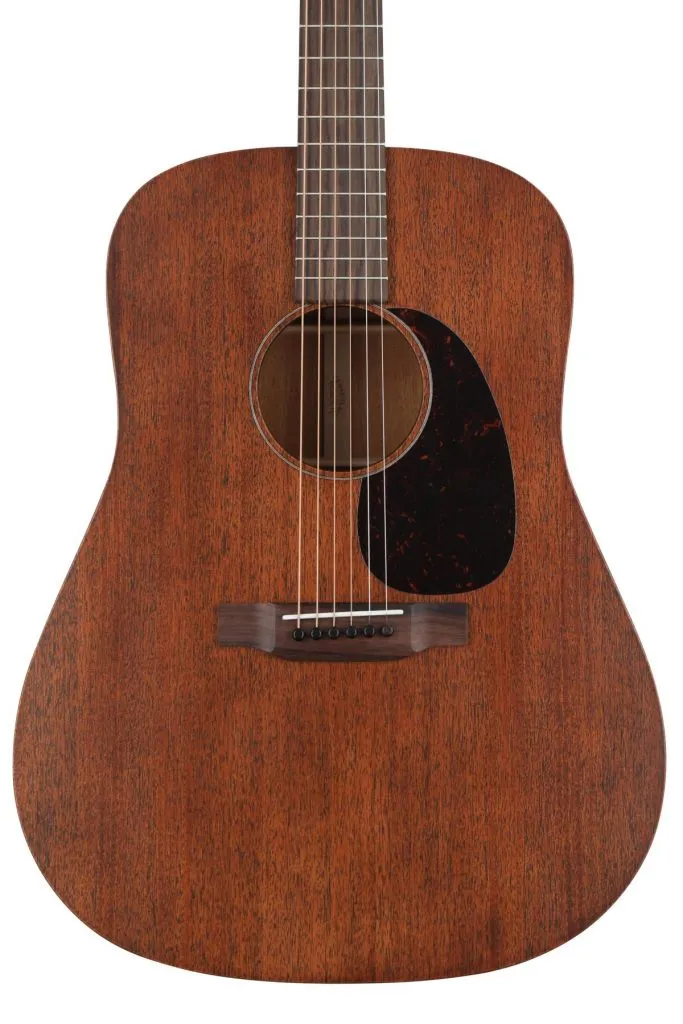 Fingerstyle guitarists are a breed unto themselves, and as such, this all-mahogany beauty may be just the ticket. The tone it creates is great for both soloing and percussive playing, which are two features that lend themselves to a great fingerstyle model.
The D-15 series was pioneered back in the 40s and has remained one of the most sought-after Martin acoustics ever since. This unique rendition not only looks great, but has a sound that the rest of the band is going to envy.
One of the most important features of any fingerstyle acoustic guitar is the comfort of the neck. When you're concentrating on your picking hand, you don't want to worry quite so much about your fretting hand.
Pros
Mahogany Top. It gives the D-15M complex tone to accompany solid Sitka spruce tops.
Neck Carve. Dreadnoughts aren't usually comfortable… this one is. Even for small hands.
Fretboard. Short pattern diamond and square inlays look amazing on this rosewood fretboard.
Cons
Mahogany is an Acquired Taste. The tone isn't what you may expect for your only acoustic.
In that respect, the D-15M sings. Reviews call out how comfortable this dreadnought is, even in the smallest of hands.
To round things up, you might want to read our review of this guitar's close sibling in our best acoustic guitars article.
• • •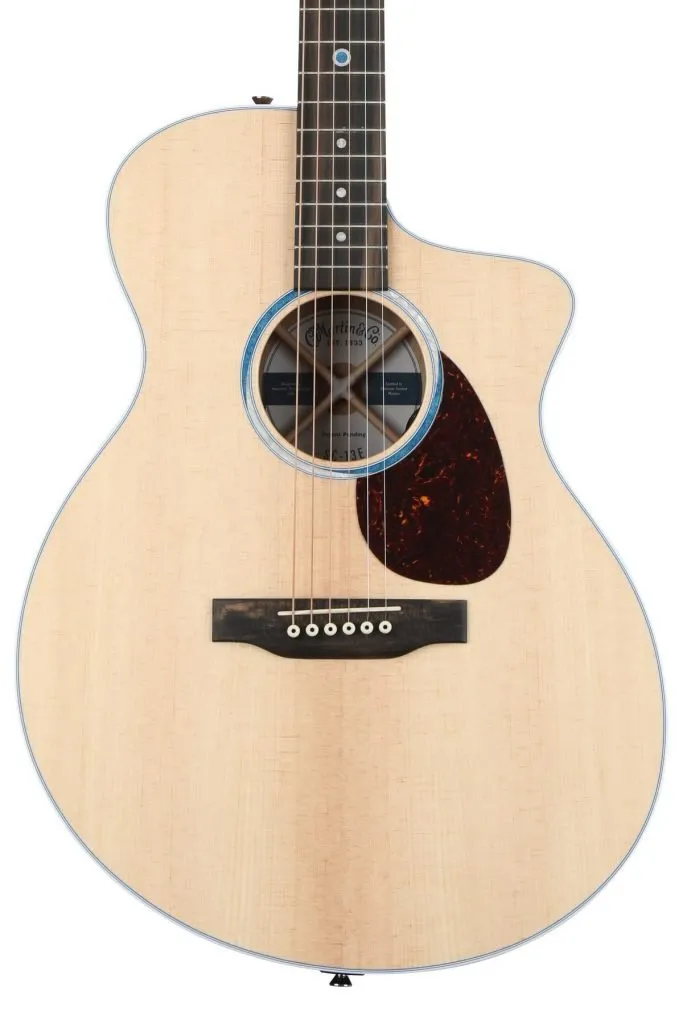 If you've been looking at acoustics for fingerstyle and have run across a Martin 000-13e review in the past, then know you're looking at its next-generation replacement in the road series. The SC-13e is truly a next-generation specimen. That's obvious from the body shape alone.
Fingerstyle guitars have to allow for comfort and the most fret access possible, and the SC-13e does that. The over-vertical cutaway is unparalleled. How the engineers at Martin shaped this body while retaining the obvious Martin tone is beyond this reviewer.
The sloped bridge design is also a delight for any fingerstyle guitarist. Everything about this model was designed to get out of your way and make you sound great. This may well be the best-sounding Martin for fingerstyle.
Pros
Offset S-Shaped Body. Gives unfettered access to every fret.
Line of Site Tuner. A tuner is located inside the soundhole, meaning there's no break in the body.
Fishman Electronics. World-class electronics mean this acoustic was born for the stage.
Cons
String Recommendation is Too Light. This acoustic requires a slightly higher gauge string than Martin recommends out of the box to really sound good.
• • •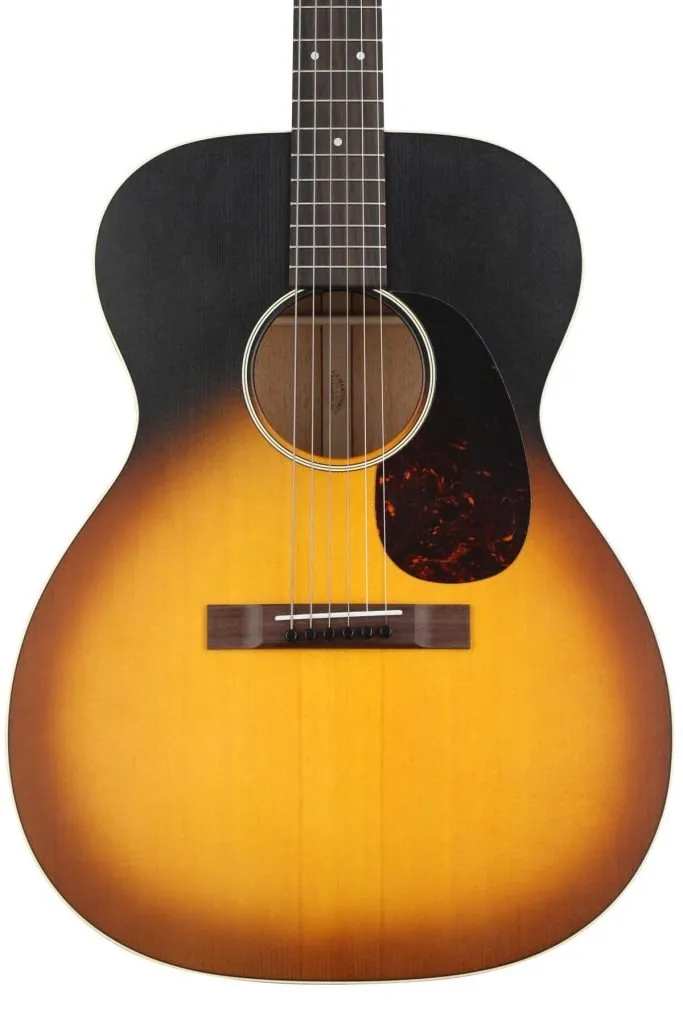 For those who never made a dime above five, this is one of the best small-bodied acoustic guitars money can buy. The Martin 000-17 is a splendid example of fingerstyle guitars for the studio and buskers alike.
The auditorium body is a pre-war design that delivers tremendous low end and projects well for such a diminutive instrument. The body is a design in simplicity, but that doesn't mean it's simple.
The mahogany back and sides accompany a solid spruce top that makes this acoustic louder than it ought to be. Even the smoke stain finish is designed to allow the wood to resonate and project.
Pros
Gorgeous Finish. The Whiskey Sunset Burst finish on this model is striking.
Auditorium Body. Articulates bass while projecting overall tone.
Comfortable Neck. Low-profile tapered oval neck is comfortable to play for long periods.
Cons
Short Scale. No cutaway and large neck joist are going to make reaching the high frets tough.
With a neck that joins the body at the 14th fret, you're not going to be ripping solos off anytime soon, but it makes the 000-17 a great accompanying instrument for fingerstyle players who sing as well.
• • •
Best Taylor Fingerstyle Guitars
Taylor is the second acoustic brand in what has become more or less a duopoly. It's for good reasons, though. They make some of the best acoustic guitars around. If you want a superb Taylor fingerstyle guitar, there are more than a few options to choose from. If this is going to be your first purchase, the essential examination is Martin vs Taylor fingerstyle.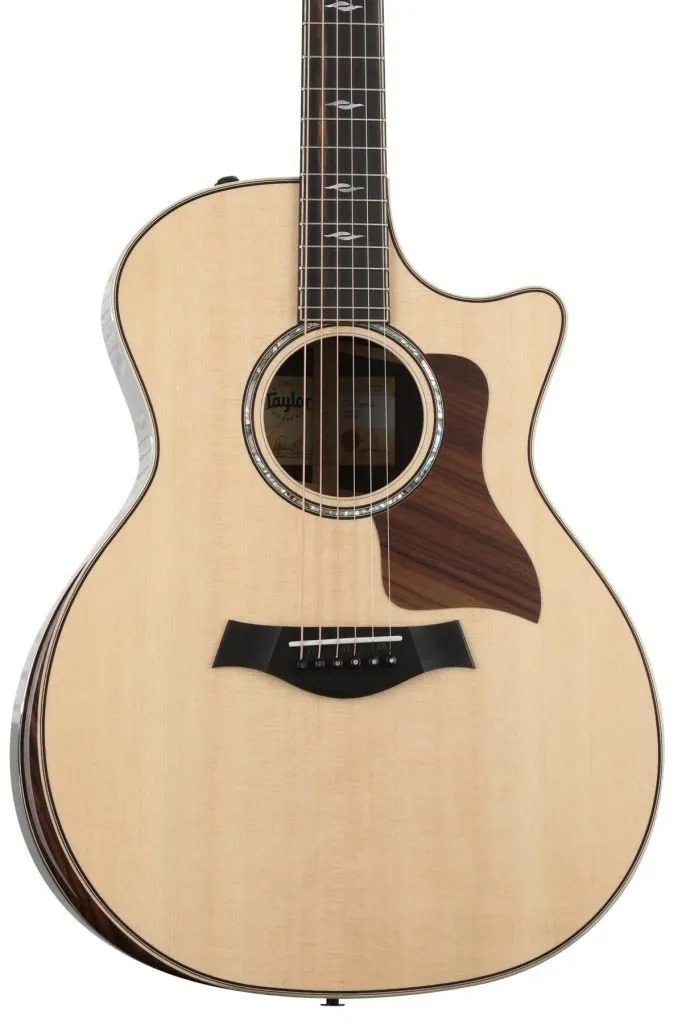 Taylor really outdid themselves with the 800 series in general, and the 814ce is no exception. It's an absolute beauty in the looks department and is far and away one of the best guitars I've ever had the privilege of playing. It blows my 314ce out of the water, and that has to be my favorite intermediate acoustic guitar in my entire guitar-playing career.
The grand auditorium body (which features a dreadnought body shape width) paired with a rosewood back and spruce top give this guitar a phenomenal level of projection. That's important when you're considering a good fingerstyle guitar, as most acoustic guitars just don't have the oomph to reach the back with that picking style.
Pros
Rosewood and Solid Spruce Top. Hard to beat this combination of tonewoods.
Scalloped Arm Rest. Very comfortable body contours.
Venetian Cutaway. Unusual cutaway allows players to reach the highest frets.
Cons
Expensive. Costs more than a decent used car.
Both the V bracing and custom Taylor electronics help articulate and accentuate fingerstyle guitarists to create a balanced tone. All in all, if you're concerned with sound quality, this is a great-sounding axe — you just have to be willing to drop the coin.
• • •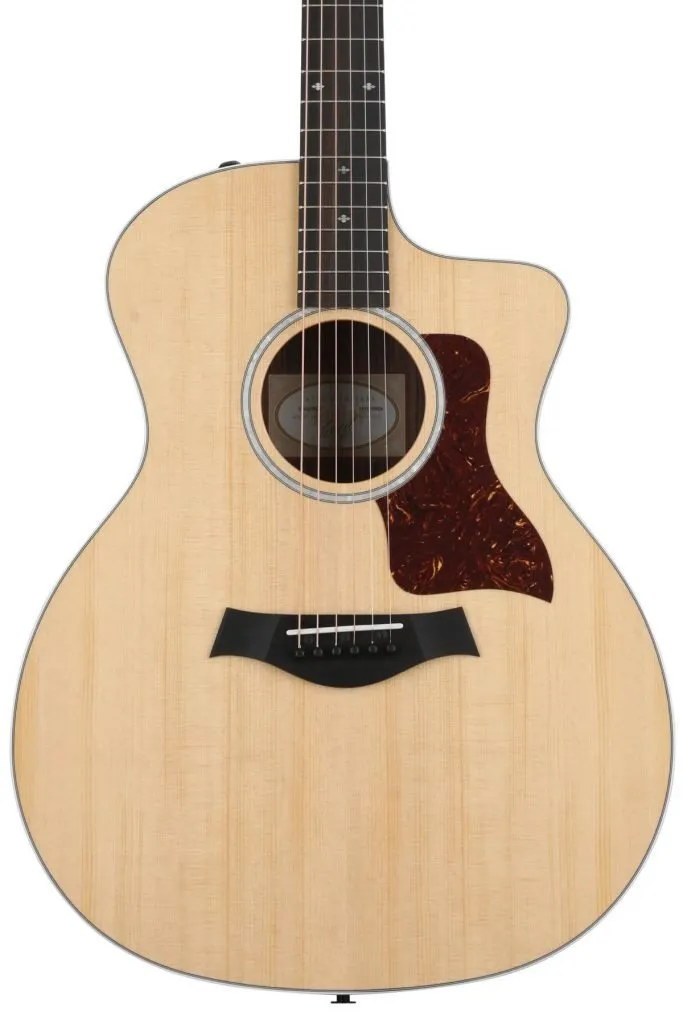 At the other end of the Taylor guitars price spectrum is the 214ce. Taylor's 200 series and below are made in their excellent Baja California factory, so I wouldn't lose too much sleep over that. The end result is an instrument that sounds amazing and is affordable.
If you are looking at this price range, you're most likely thinking Martin GPS-11e vs Taylor 214ce. If you're looking for a great fingerstyle guitar, perhaps I'm biased, but I'd come down on the side of the Taylor for fingerstyle players.
Like its big brother, the 214ce has the Grand Auditorium body for additional sound projection over a standard dreadnought acoustic guitar. In fact, for light fingerstyle picking, the grand auditorium shape makes for the best fingerpicking guitars.
Pros
Affordable. A good beginner model for Taylor enthusiasts.
Taylor Electronics. Expression 2 electronics just like on its more expensive cousin.
Offset X Bracing. Provides that Taylor sound quality we've come to adore.
Cons
Not American. Taylor's 200 line isn't American Made. Mileage may vary.
Rounding out the deluxe, this acoustic guitar features a solid spruce top, genuine African ebony fretboard, and Taylor's Expression 2 electronics, making this a great acoustic guitar for the stage.
• • •
If you've never had the experience of playing an acoustic made of Hawaiian Koa, you ought to track one down and treat yourself, especially if you play fingerstyle. This affordable Taylor features a scaled-down Grand Symphony shape that features a vibrant, warm tone that, because it's made of Koa, should only improve with age.
The projection may not be the same as a full-sized model, but the Robert Neve Expression 2 electronics faithfully reproduce the guitar's natural tone. While this may be a solid workaround, it may not be the best live acoustic guitar for fingerstyle technique.
That said, this is a high-quality instrument, and the music played on it is going to shine.
Pros
Small Body. Scaled-down Grand Symphony body shape.
Hawaiian Koa Body. Rare exotic tonewood for a rare exotic sound.
Affordable. A budget fingerstyle guitar that doesn't skimp on sound.
Cons
Projection Issues. Smaller body shape doesn't project as much as other Taylors.
Any professional musician looking to add a Koa tonewood instrument to their arsenal is going to love this one. Folk music, rock, alternative, country — any genre is going to benefit from the unique tonewood if you can live with the diminished sound projection.
• • •
Other Fingerstyle Acoustic Guitars
Martin and Taylor may have a stranglehold on the steel-string acoustic market, but there are several other smaller (and major) brands that are making quality instruments. They may not be best known for the best fingerstyle acoustic guitars, but they shouldn't be overlooked in your search.
This steel-string beast from Seagull consistently makes the list of best acoustic guitars, and often wins best cheap acoustic guitar hands down — it's easy to see why. The S6 Original is the best Seagull guitar for fingerstyle. Full stop.
The attention to detail our friends in the great white north put into the neck on this guitar is an absolute delight. It is so perfectly balanced that the tonal profile is better than the best acoustic guitars costing three times as much.
Although it features a pretty standard rosewood fingerboard, the exotic cherry and cedar tonewoods enhance the Seagull's unique sound. It really doesn't sound like anything else on this list. If I have one gripe, and it isn't much of one, it would be that this guitar can be somewhat uncomfortable to play in smaller hands. 
Pros
Outstanding Value. Pro features at an entry-level price.
Perfectly Balanced Neck. Not too muddy, not too tinny.
Handcrafted in Canada. They do good work, 'eh?
Cons
Large Nut. A 1.8" nut means this guitar can be uncomfortable in smaller hands.
Readers of our site know we look out for the best guitars for small hands, and this one doesn't quite fit the bill. All that considered, it's a quality guitar at an insane price point.
• • •
If you're thinking of picking up an acoustic guitar for a special someone in your life but aren't sure they'll stick with it or aren't responsible enough for something breakable, the CD-60s is one of the best fingerstyle guitars for you. It shows up at your door for less than $250, plays well, and includes a gig bag to keep the guitar relatively safe.
You won't be getting the best materials, but that's not something you should expect at this price point. The nut and saddle are both plastic, for instance, which isn't a big deal for a new player. By the time your guitar playing has advanced to where that makes a difference, you can get your own guitar.
Pros
Cheap. The price makes this the best beginner fingerpicking guitar on the list.
Trusted Brand. It may be on the low end, but it's still a Fender.
Fender Play Included. A 3-month subscription will get the new student started.
Cons
No Electronics. If you require an acoustic-electric guitar, you will need to look elsewhere.
It does feature a walnut fretboard over the top of Fender's "Easy to Play" neck shape. The nut is a scant 1.62", which makes this guitar attractive for little hands. Overall, it's a nice starter fingerstyle acoustic guitar. It won't break the bank and will get the job done.
• • •
Are you passing on Taylor and Martin for your guitar for fingerstyle? Well, then you have to think about a couple of things: Breedlove vs Seagull? And what's the best Breedlove guitar for the money. When you pass on Taylor and Martin, you know you're still going to be dropping a chunk of change, and Breedlove Guitars are absolutely worth a look. That is if you can find it, which isn't a guarantee.
This particular exotic concert model is a very playable guitar for fingerstyle. The Myrtlewood body really accentuates the player's tone when playing fingerstyle. It's a wood that is as unique as the player themselves. The strong winds where the trees grow give each tree a signature fingerprint, and thus, a unique tone.
Pros
Proudly American Made. Breedlove puts these guitars out from Bend, Oregon, in the Pacific Northwest.
Aggressive Cutaway. Concert style cutaway allows for easy reach to the highest frets.
Myrtlewood. This signature tonewood only grows from Northern California to Canada.
Cons
Hard to Find. Breedlove's limited runs mean they can be hard to find in any real numbers.
• • •
Yamaha acoustic guitars are a great value. This ¾ acoustic guitar makes for a great fingerstyle guitar at an even better price point. It is really hard to beat it in terms of value for money. What it may lack in natural sound projection due to its smaller size, it makes up for in comfort and quality onboard electronics.
If you're going to play a smaller acoustic guitar for fingerstyle, it has to be an acoustic-electric guitar. The pickup is required because, as we've touched on several times, fingerstyle guitar players have a lighter touch than their hard pick strumming cousins. 
Here, Yamaha guitars have outdone themselves with this perfect little travel companion. A solid Sitka spruce top, rosewood fingerboard, and strong cutaway show that Yamaha put a lot of thought into the design.
Pros
Easy to Travel. At ¾ size, this acoustic guitar is a great travel companion.
Onboard Electronics. Fingerstyle guitars need electronics to help project light playing.
Very Affordable. One of the cheapest guitars for playing fingerstyle.
Cons
Projection Issues Unplugged. Not the loudest guitar without a PA system.
The included gig bag means this acoustic guitar is ready to gig out of the gate. Any fingerstyle guitarist will love this as at least a backup.
• • •
When I think of acoustic guitars for fingerstyle, I have to admit that Ibanez isn't the first brand that comes to mind, even if they have a pretty solid line of acoustics. But as with their Artcore series, it's nice to see this company step outside their expected lane and do something remarkable, as they have here with the Jon Gomm Ibanez JGM10.
Ask Steve Vai, and you will know that Ibanez is all about progressive playing, and Jon Gomm certainly fits that bill. He's created a signature guitar for fingerstyle that is without equal. I don't even know if you should strum this instrument. It feels like that might be an insult. No, this thing was born to play fingerstyle. 
Pros
Thermo Aged Top. The spruce top is thermally aged for Jon's unique sound.
Neck Designed for Down Tuning. Play fingerstyle and down tune without sacrificing sustain.
Dual Output Fishman Electronics. Soundhole and bridge pickup is wired separately.
Cons
Not Cheap. Hey, it's a signature model, what do you expect? There is a more affordable version, however.
An acoustic guitar needs a lot of thought to maximize fingerstyle playing. Especially if you're going to make a living tuning down. Most fingerstyle guitars sacrifice sustain and tone when tuning down, but Gomm and Ibanez's engineers worked around that.
• • •
Gibson is one of the oldest names in acoustic guitar, so you don't really expect to run across something innovative like the Player Port. Anyone who plays acoustic guitars for fingerstyle (or any style, really) knows that what they hear behind the guitar isn't what the audience hears while sitting in front of the soundhole.
The Player Port changes this. The directional port in the shoulder of this otherwise basic dreadnought acoustic guitar allows the player to hear the same sound as the audience hears. While this can be helpful for strummers and rockers, it's a game-changer for fingerstyle playing. The delicate dynamics an acoustic guitar needs when playing fingerstyle are enhanced greatly by this Player Port.
Pros
Innovative Monitoring Port. Monitoring port lets the player hear what the audience hears.
Affordable. One of the more affordable Gibsons across any product line.
Grover Rotomatic Tuning Pegs. Perfect intonation
Cons
No Frills Looks. While affordable, it'd be nice if it had some visual flourish aside from the headstock.
That feature alone makes it one of the very greatest guitars for fingerstyle for the money. But then you remember that it's also a Gibson. That brand speaks for itself.
• • •
Best Fingerstyle Electric Guitar
Now, are fingerstyle guitars exclusively acoustic? No way. A ton of players are fingerpicking on electric guitar every day. This is not an exclusively acoustic guitar domain. In fact, if you want a fingerpicking electric guitar by Fender, I've got just the one to look at. Let's check it out. 
Electric guitars belong in the fingerstyle playing discussion just as much as acoustic guitars, and nowhere is that more obvious than the Fender Player Series Telecaster. With its classical guitar finish in butterscotch blonde, this thing screams country picking.
While it may look like a Delorian ride straight to 1955 (Great Scott!) I can assure you that with the Player Series, Fender went back to the drawing board to bring some classic shapes into the 21st century.
The updated Alnico V pickups move this Telecaster away from some of the single-coil hum and twang that you might be used to. Fender has added extra thickness, low end, and punch with this set of pickups. It makes the guitar feel more at home in a rock band, just as it's always been in country or bluegrass.
A Fender Strat with single-coil pickups is also a solid fingerstyle electric guitar.
Pros
Timeless Butterscotch Finish. The original "Broadcaster" finish.
Updated Electronics. Alnico V pickups add extra punch to classic Tele twang.
Maple Fretboard. Snappy maple hardwood helps articulate notes.
Cons
Scratches? Doesn't come with a case or even a gig bag, so be extra careful.
The Telecaster, with a maple neck, has always been a good fingerstyle guitar for various leads. Maple seems to make the strings sound snappier, cleaner, and less muddy. 
• • •
I might not be the biggest fan of the PRS aesthetic, but they make some quality instruments. With the "SE" or "Student Edition" line, PRS has finally made some guitars that are close to affordable. 
Anyone who has played a PRS before knows that, for leads, and in this case, fingerstyle playing, they are hard to beat. There's never a hint of fret noise or string buzz. How they do that with the strings almost visibly touching the frets is beyond me. What's great is that the SE series seems to retain that attention to detail and precision milling.
If you want a good fingerstyle guitar that can also get as heavy as you need to go, the PRS Custom 24 electric guitar is a good guitar for fingerstyle…
Pros
Great Value for a PRS. Usually, you need a 2nd mortgage to walk out with a PRS. We've actually featured this guitar before as the best electric under $1,000.
Neck Shape. This neck plays smooth and fast. You don't need to worry about your fret hand.
PRS Designed Pickups. Can replicate single-coil tones for clear fingerstyle melodies.
Cons
Quality Control. Some players have reported some quality control issues with the electronics wiring.
• • •
Fingerstyle Guitar Overview
As mentioned, the guitar is a polyphonic instrument capable of playing a bass line and melody simultaneously, much like a piano. To pull that off, you need to be able to use both hands, meaning you're going to be picking and strumming the strings with your hand that's nearest the soundhole on an acoustic guitar.
Dave Grohl has a pretty good explanation from a rock drummer's perspective.
He likens the heavier strings as his kick and snare drum and the higher strings as cymbals and accents. That's how he wrote the Foo Fighter's "Skin and Bones."
Fingerstyle vs. Fingerpicking
99 times out of 100, guitar fingerstyle and guitar fingerpicking are a distinction without a difference. That one time is when someone is being particularly pedantic, and you really ought not to have invited them to the party anyway. Fool me once…
If you indulge the nuance because you're feeling nice, fingerstyle means any type of playing that does not involve any kind of tool to pluck the strings. Fingerpicking, on the other hand, is a subgenre of fingerstyle that involves literally plucking the strings with your fingers, so strumming with your fingers would be fingerstyle but not fingerpicking.
But don't be that guy.
Guitar Pick vs. Fingers
Picking the guitar is most commonly done with a "pick." What used to be called a "plectrum." But who says that anymore? I've alluded to sound projection being important for an acoustic guitar when playing fingerstyle. Because there's often less force exerted on the strings than with a dedicated pick, the dynamics are quieter. Like a drummer using brushes instead of huge tree trunk sticks.
• • •
Best Players
There are plenty to point to, including David Surette (2). Here are some of my favorites:
Tommy Emmanuel
If you're a fan of percussive fingerstyle guitar and have never seen Tommy Emmanuel live, you're doing yourself an honest disservice. How his mind communicates with his hands to put together an arrangement that sounds like ten band members on the stage behind him is completely beyond me.
Emil Ernebro
A great fingerstyle player can make an arrangement that will just embarrass a songwriter. Emil is one such contemporary player. His arrangements, while complex, look as simple as strumming chords around a campfire. His playing is as technical as it is soulful and effortless. 
He floats around the Youtube guitar world, flummoxing those who watch while he breaks down his genius into digestible lessons. If you're serious about fingerstyle guitar, hire this man. 
Mark Knopfler
One of the beautiful experiences of learning to play fingerstyle is that it is a personal expression. Here, Mark Knopfler explains how he learned to play with his fingers out of pure necessity. Since he couldn't afford an amp, he had to learn to play the folk songs that were heavy on fingerpicking.
This would eventually lead to one of the most famous riffs in rock music when he wrote Sultans of Swing. Eventually, he'd play that iconic riff on an electric guitar, but it was born of necessity on his lowly acoustic.
Merle Travis
Merle has an entire subgenre of fingerpicking named for him. "Travis Picking." That's how iconic Merle Travis and his acoustic guitar were back in the mid-century heyday of folk music in America.
He was a pioneer in bridging this style of playing from old Southern folk tunes and Irish traditional music to rock and roll, pop, and beyond. You don't have much anyone on this list without the likes of Merle Travis paving the way.
• • •
Fingerstyle Guitar FAQs
What are the best strings for fingerstyle guitar?
Since there is no monolithic school of thought on what "fingerstyle" is, what strings you play are part of your expression as a player. If playing a classical guitar, you're likely playing nylon strings. A dreadnought guitar will have steel strings — you won't see nylon strings on a dreadnought guitar.
I tend to favor steel-string acoustic guitars for fingerstyle if only because it feels more comfortable in my hand. Your flamenco or mariachi mileage may vary. 
What are the best resources to learn fingerstyle guitar?
If you watch the Mark Knopfler video above, you'll notice he mentions having to get the fingerpicking pattern through his head and it took quite some time. Fingerpicking doesn't come as naturally to most players as strumming does. There's a lot more going on, and it requires a great deal of fine motor movement.
Take a look at our article on the best online lessons for guitar so you can move your playing to the next level.
Which is the best YouTube channel to learn fingerstyle guitar?
There are a few YouTube channels that are excellent for learning all manner of guitar styles, including several fingerstyle guitar techniques. Lauren Bateman's channel, Paul Davidson's channel, or Sean Daniel's channel.
Just about every guitar player should click with one of these channels.
How to play fingerstyle guitar for beginners?
The easiest way to play fingerstyle guitar for beginners is to pick some songs you like that have a fingerstyle pattern. Mimicking and copying is how most of us learn anything. If you look at Lauren's video on Travis picking above, she calls out a few famous songs that use the technique. 
How to hold a guitar while fingerpicking?
Since you're going to be doing more with your hands than you ever have before, you want to hold the guitar in the way most comfortable for you. You just need to get the instrument balanced and out of your way.
And for God's Sake, don't learn this on a flying V.
Outro
Fingerstyle playing is going to end up being one of the more useful and impressive skills you pick up as a guitar player. It takes you into the realm of composition and arrangement. That's big, but you need the best guitar to make it happen.
If you can swing it, I love the Taylor 814ce. If you can't, then there's no reason to overlook the ¾ size Yamaha we reviewed. It even had a gig bag. C'mon.
• • •
References
Sam Roche, "This fingerstyle acoustic arrangement of Guns N' Roses' Welcome to the Jungle will bring you to your knees," as published https://www.guitarworld.com/news/guns-n-roses-welcome-to-the-jungle-acoustic-fingerstyle-cover
Jeffrey Pepper Rogers, "Remembering David Surette, Humble Master of Folk Guitar and Mandolin," as published https://acousticguitar.com/remembering-david-surette-humble-master-of-folk-guitar-and-mandolin/
Image Credits
Featured Image: Roland Wichser, CC BY-SA 4.0, via Wikimedia Commons; Tommy Emmanuel image: Ice Boy Tell, CC BY-SA 3.0, via Wikimedia Commons.