Have you ever played American-made guitars? 
Fifteen years ago, when I was first starting, it was cheap Squier Stratocasters. Then in college, I was introduced to Taylor guitars. I got a job at the factory in my hometown of San Diego building guitars.
It was a life-changing experience. Taylor makes some of the best acoustic guitars in the world, and I saw that up close. Getting an American guitar became a mission. One I'd pursue for quite a while. 
The attention to detail in American guitars is unparalleled. Guitars made overseas are churned out to be cheap. They aren't quality instruments. American guitars, on the other hand, have the best parts, the highest quality finishes, and checks.
These American-made instruments have become so sought after, that some companies have started marketing their instruments as "Made in USA," even if they're actually manufactured elsewhere. This recent trend has forced the U.S. Federal Trade Commission to launch investigations (1) into companies looking to take advantage of those "Made in USA" claims.
Don't worry! All of the guitars we review in this article are 100% made in the United States of America. Look no further than our articles on the best Stratocasters or best Jackson guitars to see some of the best of those made in the USA. If you're looking for a challenge, also check out our roundup of best 7-string guitars. How about some more?
Best American Made Guitars: Full Reviews
Most of the iconic guitar brands started in the United States. For economic reasons, they shifted production of their lower-end guitars overseas, but guitars made in USA are still the gold standard for players around the globe. They are high-quality instruments without accessible rivals outside of, perhaps, a custom shop.
American Made Acoustic Guitars
You know immediately when you're playing one of the American acoustic guitar brands like the Taylor mentioned above, or Martin, which we'll be discussing in this article. American-made acoustic guitars have a great sound, refined, smooth action, and are the dream guitar for many acoustic guitar players. If you're looking for American-made acoustic guitars, you're going to find them here.
Taylor Guitars Made in USA
These days, a Taylor acoustic guitar made in the USA is anything above the 200 series. Which Taylor Guitars are made in Mexico? All other models at 200 and below are crafted in Tecate, Mexico.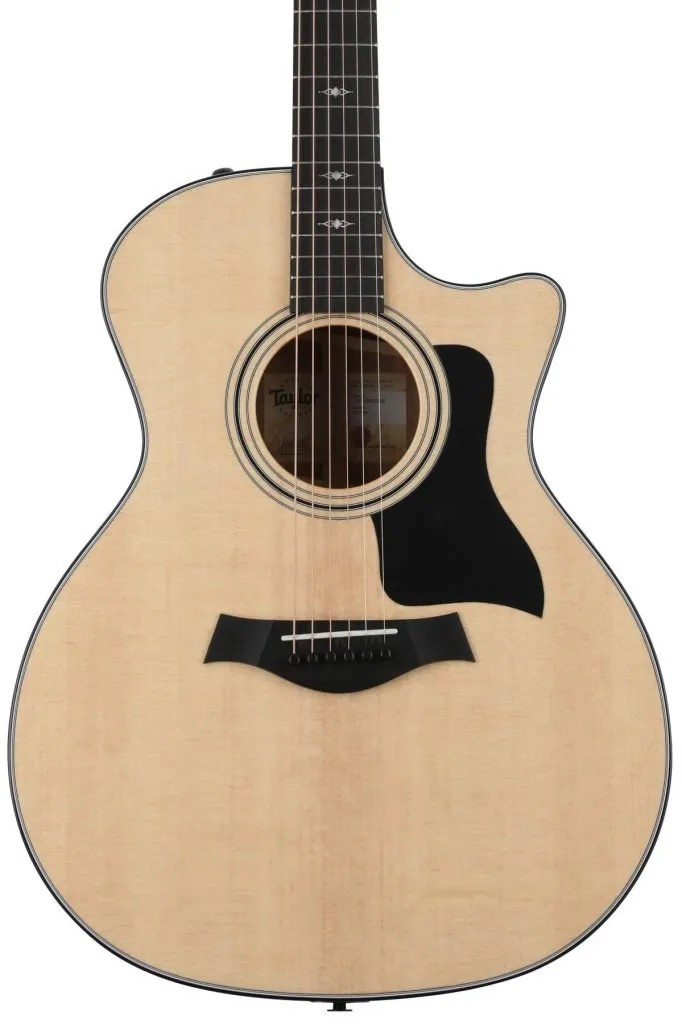 Taylor has been one of the best acoustic brands on the market for decades, and it shows with the 314ce. This handmade acoustic guitar is a great entry point for someone's first American acoustic guitar, but that doesn't mean it isn't loved by professional musicians or session musicians as well. The V-shaped bracing produces excellent sustain (excellent for fingerstyle playing!), making this high-quality instrument perfect for the studio and the stage.
As with all American Taylors, the action on this acoustic is superb. It is so close to the frets that playing chords is an absolute dream. The manufacturing process of these guitars means that you'll get a report of buzzing every once in a while, but that's limited to that particular guitar — not the model itself.
Pros
Innovative v-shaped bracing

Bright tone from solid sitka spruce body

ES2 pickup system produces warm tone
Solid Sitka Spruce Top
Cons
Lack of a built-in tuner at this price point is disappointing.
These acoustic guitars have a reasonably basic finish, and while well-appointed, aren't the flashiest. That's reflected in the accessible price for a model stamped "made in the USA." All in all, it's a great acoustic.
• • •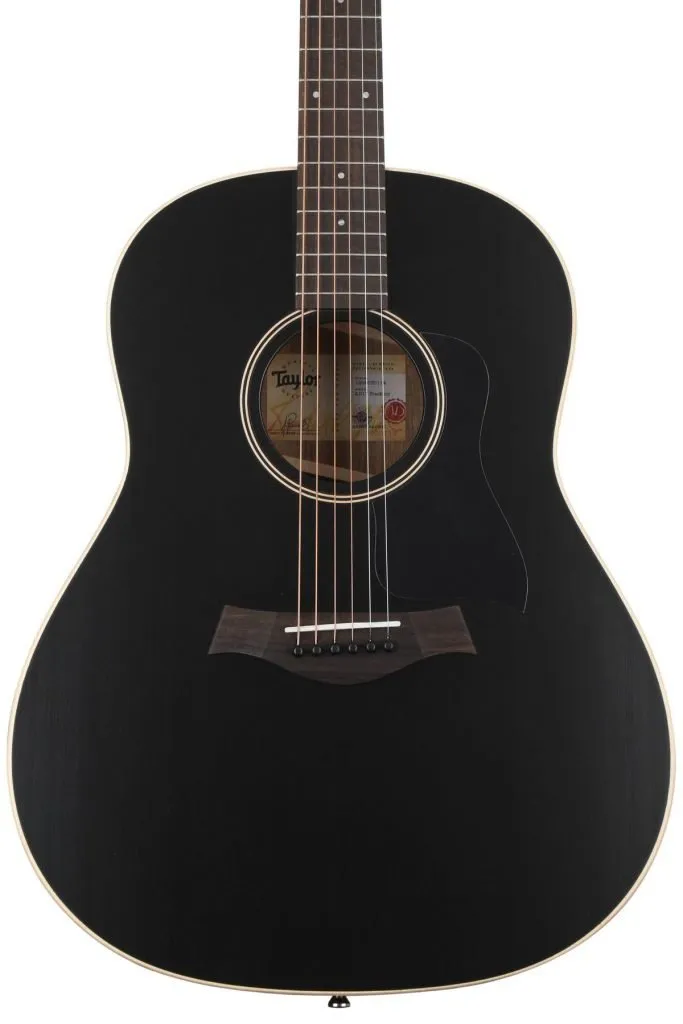 With the American Dream series, Taylor has shown why they are one of the world's best acoustic guitar manufacturers. The AD series has a bit of a retro style to honor the Laurel Canyon scene that was happening in the late 60s here in Southern California. If you grew up as a musician here, it's just one of those things you know about.
And with the AD17e, they knocked it out of the park.
The solid Sitka spruce top and African Ovangkol body mean this guitar produces just the right amount of sparkle. It's bright without being tinny. It's a great acoustic guitar suitable for strumming chords as it is for fingerpicking. It's a versatile instrument that electric guitar players love with that distinctive sound Taylor acoustic guitars are known for. 
Pros
One of Taylor's most affordable USA made guitars
Blacktop's imperfections make each guitar unique
Unique eucalyptus fretboard 
Cons
Reports that it can take a while to break these woods in
It's simply a great acoustic guitar, no matter what playing style you have. The unusual wood choices this guitar features set it apart, and then you need to factor in the price. That makes the AD17e the best budget American-made acoustic guitar around, in my opinion.
• • •
Best Martin Guitars Made in USA
American-made Martin Guitars are built in the company's world-famous factory in Nazareth, Pennsylvania. That factory has made Martin one of the most iconic American brands. Just which Martins are made in the USA? That would be the Standard and Modern Deluxe Series acoustic guitars, in addition to all custom shop models.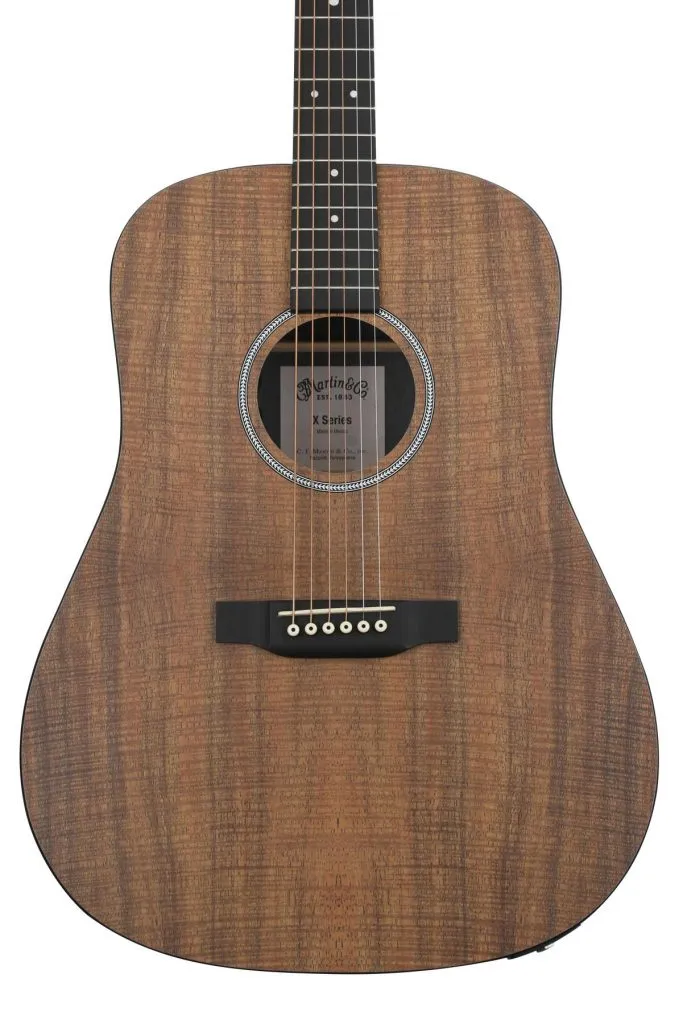 As far as American-made acoustic guitars go, this Martin D-X1E is one of the most affordable. Without a doubt, it's one of the best American-made guitars for the money you'll run across. 
Granted, it's not all wood construction like some of the others on this list, and as such, the tone may not be as rich. As one of the few American-made guitars under $1,000, though, it's worth a look. It's in a similar price range to some Guild guitars that aren't nearly as high in quality. 
Making guitars out of laminate that actually sound good isn't the easiest task in the world, but Martin has done a pretty good job here.
Pros
KOA wood grain laminate finish is gorgeous
Onboard Fishman electronics produce great sound
Richlite fretboard and bridge are sustainably sourced
The D-X1E sounds bright, which some players might describe as Tinny, but that's each to their own ear. It's not going to sound like a big deep Gibson, but it in no way sounds cheap. Most players are fond of this real-deal American-made acoustic guitar, and it's hard to argue with them at that price point.
• • •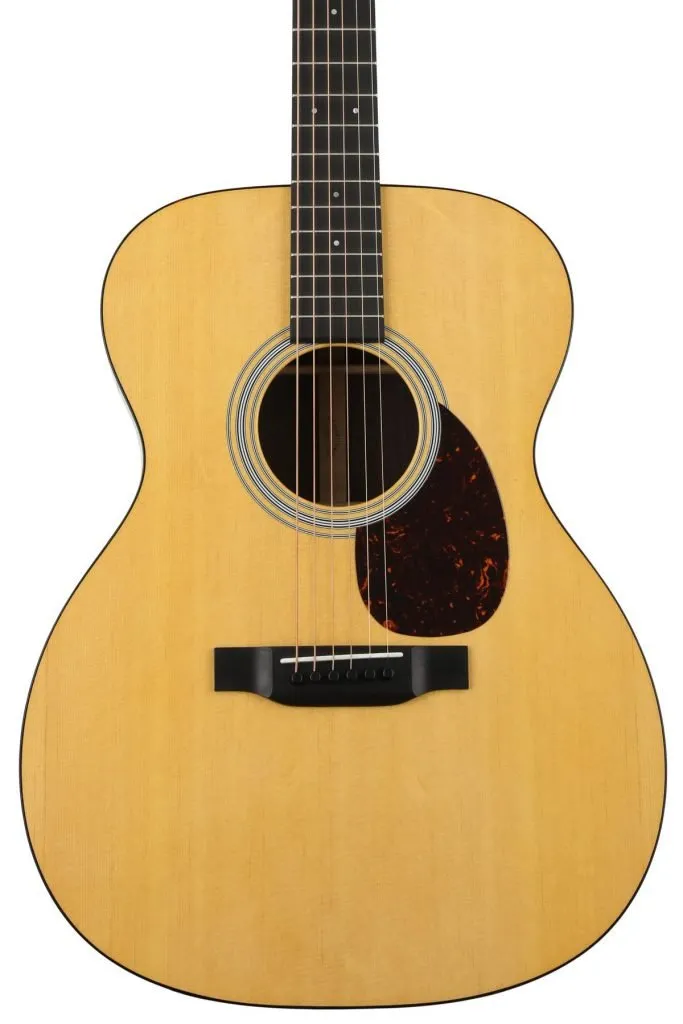 Ah… the Standard Series. A line of amazing guitars that have more or less defined Martin as an American company since the late 19th Century. The OM-21 model lives up to that legacy.
Martin made music history with this body style when it was released in 1930 to coincide with the concert halls where sound projection was key. And since that initial 1930 release, they've been known for this OM body. 
It's bright, rich, and articulate. The OM is versatile and is a guitar suitable for several playing styles. It has always been designed to gig. It can punch through on stage where other acoustic guitars might get swallowed up by the rest of the band. 
Pros
Slim "performing artist" neck is comfortable for hours
OM body style projects without need for amplification
Real bone nut and saddle should last a lifetime
Cons
Can be a bit pricey for a first American-made acoustic guitar
I mentioned it can be a bit pricey for your first foray into an American-made acoustic, and while true, the price isn't unwarranted. The Standard Series earns every penny with every strum. The OM-21? Well, it's an excellent representative of what a great Martin guitar is all about.
• • •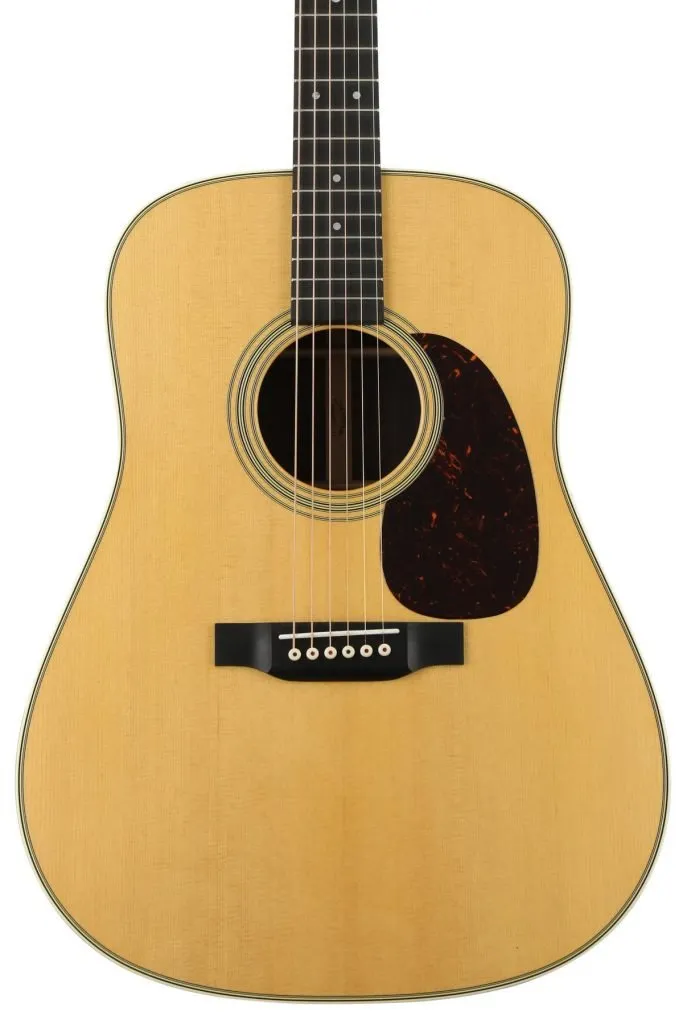 This is a bucket-list dreadnaught. An iconic guitar.
It's not hard to see why. None other than the Man in Black, Johnny Cash, played the same guitar. This thing is so wrapped up in Americana that "Martin Made in USA" ought to just be burned into the Sitka spruce top of every model.
If you are looking for an American-made acoustic, then you've looked at and are familiar with the Martin D-28. It's been a mainstay of acoustic players since World War I. The dreadnought shape was instantly popular among players for its tonal balance and projection. Equal parts tight, punchy, bass, and nimble highs, the D-28 makes playing guitar everything it's supposed to be. It's not cheap, but no definitional piece of music history should be.
Pros
Open vintage deluxe tuners are classic Martin
Well balanced tone cuts through a band
Beautiful appointments and toner aged solid Sitka spruce top
Cons
Can play a bit stiff for some
This is an investment in your aural future. You're talking about joining the ranks of John Lennon, Bob Dylan, Eric Clapton, and Chris Cornell. Among other music industry luminaries. This is a guitar you'll pass on for generations. Reverence people. Reverence.
Make sure to also take a look at the Martin HD-28 in our best acoustic guitars article.
• • •
Gibson Guitars Made in USA
Gibson is a legendary guitar company, but are all Gibsons made in America? Yep. And they happen to make some of the best American-made acoustic guitars available. Let's take a look.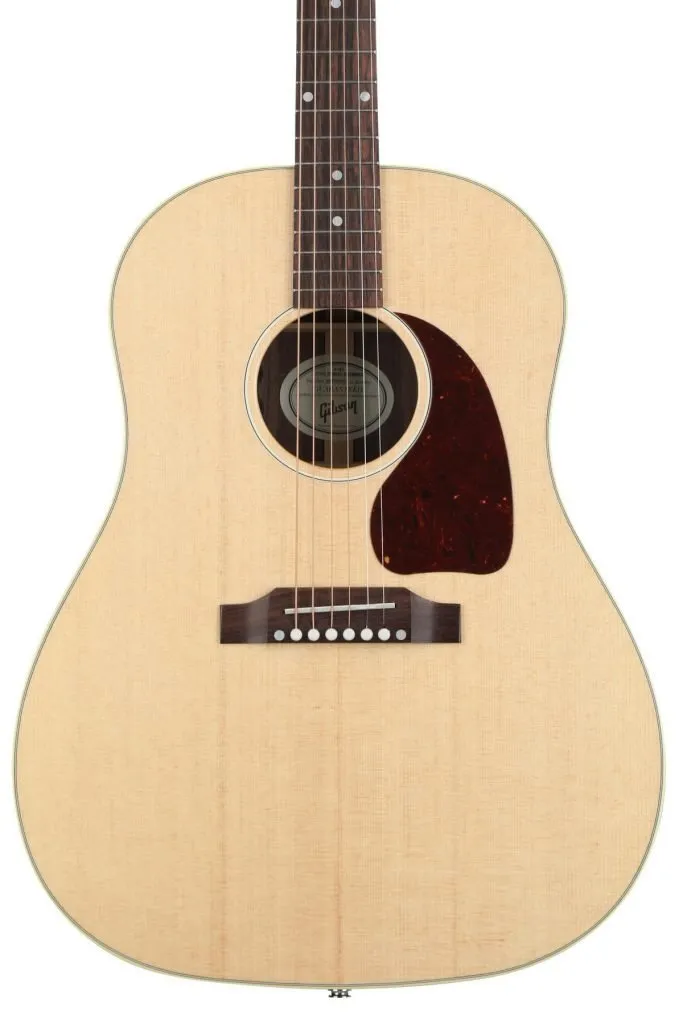 Is this the perfect American acoustic guitar? 
That's hard to say, but it has to be up there. It has the tone and playability that Gibsons are known for without the accompanying price point that scares a lot of new players away. Again, not cheap, but "Gibson" affordable.
After all, it's in the "Studio" series, and like the Les Paul Studio or Les Paul Junior, it's attainable.
The electronics on this guitar are especially responsive. Many players are afraid to plug in because doing so gets tinny. But the LR Baggs' Element Bronze electronics reproduce that legendary warm tone they're known for.
Pros
Old grove sitka provides extra tone
16" radius neck provides additional comfort
Onboard electronics produce rich tone
Cons
Rosewood is an Acquired Taste for Some
There's a reason why players from Woody Guthrie to James Taylor have fallen in love with the J-45 acoustic guitar and consistently play a variation on records and at shows.
• • •
The G Series of acoustic guitar lines from Gibson is designed to be the least expensive acoustics they make. As such, they cut down on some of the visual flourishes that you'll find in more expensive models. But what it may lack in visuals, it more than makes up for in technology.
Nestled in the shoulder of the body is the Player Port. It's as innovative as anything ovation guitars is doing. The Player Port is something you won't find on any other acoustic guitar on the market. This makes the G series one of the most uniquely made acoustic guitars available, no matter the price point. 
When a player strums an acoustic guitar, they're not hearing what's coming out of the soundhole. They hear the room reflection or the resonance of the body. The Player Port gives the player some real-time monitoring of what is coming out of the soundhole.
Pros
Very affordable guitar
Includes the Gibson player port for "monitoring"
Striped ebony fretboard gives this guitar visual flair
Cons
Very Few Aesthetic Frills Beyond Fretboard 
The G-Writer is my favorite of the series. The cutaway makes this guitar versatile in a way some other body shapes aren't.
• • •
Best Electric Guitars Made in USA
After looking at some of the best acoustic guitars on the market, let's take a look at the best American-made electric guitar models. This section is going to feature some well-known as well as some lesser-known electric guitar brands, but each incredible guitar is exemplary.
(And make sure to check out these great effects pedals!)
American Made Fender Guitars
Fender amps made in the USA are almost as famous as their solid-body electric guitars, but not quite. Leo Fender is a household name (2) for anyone who covets a high-quality electric guitar.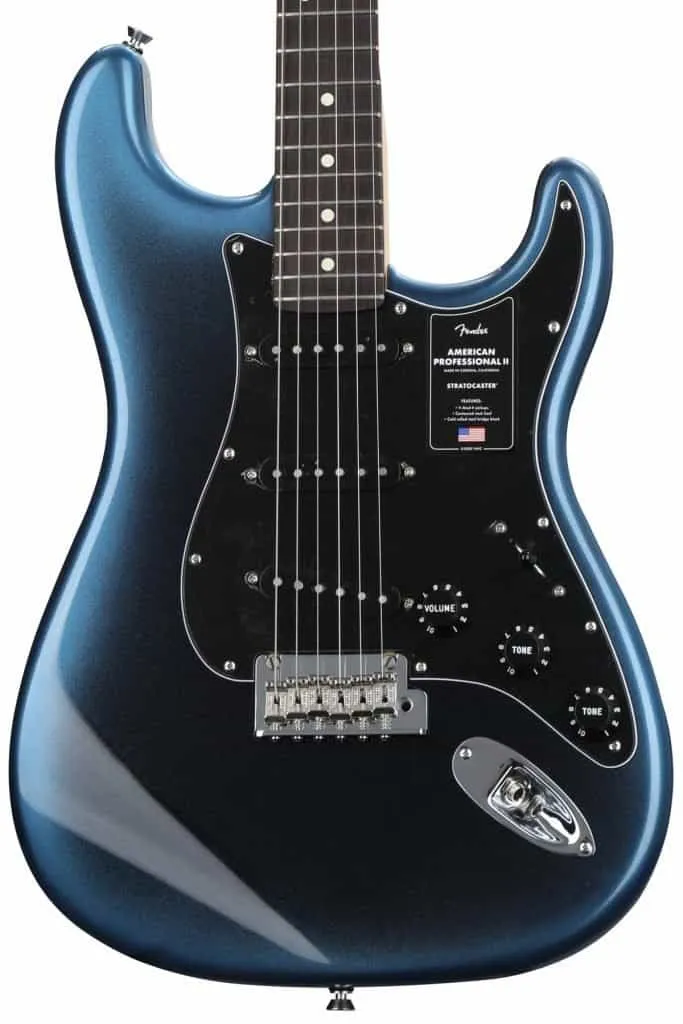 I don't know about you, but I feel this would have been an American-made Stratocaster that Prince would have had sitting in the studio at Paisley Park. The Pro features a 25.5" scale length, making this royal badness worthy.
There are many opportunities to buy a Fender Stratocaster made in the USA, but none are of this quality. It costs a third as much as its American standard cousins, but the electronics, bone nut, and satin finishes set it head and shoulders above those other Strats.
The only gripe seems to be that you can be playing a bit of "Fender Strat lottery" when you buy this model. The quality control seems to be lacking attention to detail at times that just shouldn't happen at this price point.
Pros
Tim Shaw designed V Mod single coil pickups
Dark night finish is striking
Push-pull tone adds neck pickup to any of the 5 way positions
Cons
Quality control can be hit or miss
But since that seems to be far and in between, these are high-quality electric guitars for anyone who can't afford a custom axe but wants top of the line.
• • •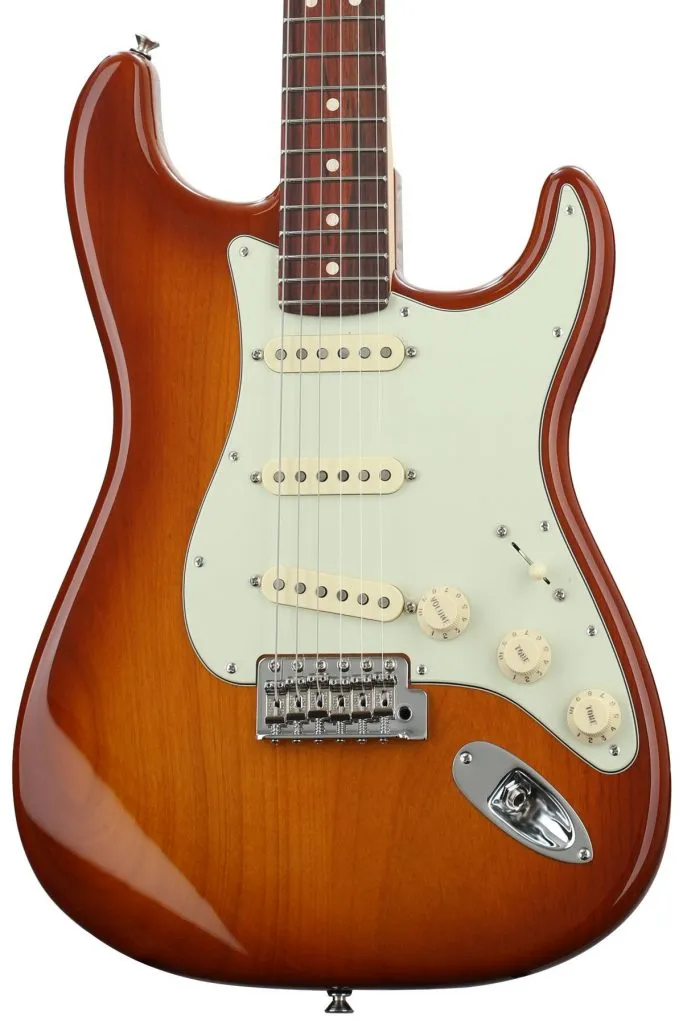 As electric guitars go, this American-made Fender Stratocaster is something to behold. It's an absolute tone machine and made for players who need versatility in their electric guitar.
We reviewed this Fender guitar in our round-up of best Fender Strats. You can find our full American Performer review here.
Pros
Honeyburst, Arctic White, and Lake Placid Blue finishes are Fender gorgeous
Tone machine with yosemite single coil pickups
Cons
Again, quality control out of Fender can be inconsistent
• • •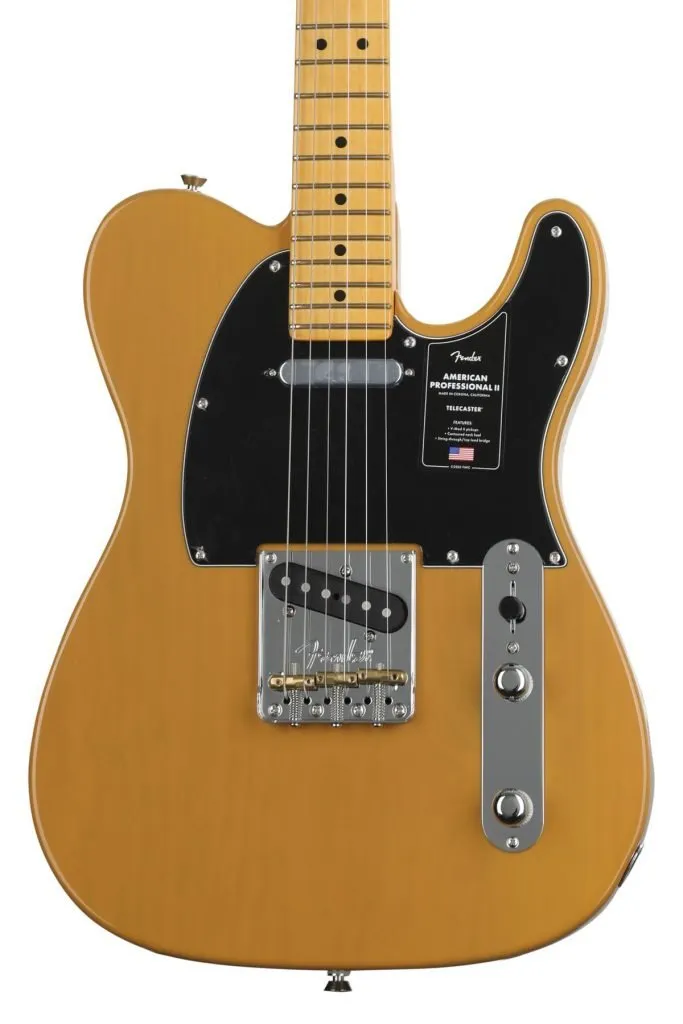 The second in the Pro series of American-made Telecasters saw Fender's engineers tweak an already wildly popular design. It's not as if they had to go back to the drawing board, so the improvements they did make are welcome indeed.
Like the Stratocasters, Tim Shaw went back and redesigned the pickup system and electronics to make them sound better and perform with more versatility. The telecaster also features the volume mod circuit that lets players take some of the top end out without sacrificing gain. You can have your clean and keep your crunch.
The saddle on this American-made Telecaster has also been redesigned to give it the vintage 50s telecaster look with the modern ability to adjust each individual string. This provides the setup with the absolute best intonation possible.
Pros
Narrow tall frets are right out of the custom shop
Tim Shaw is a tone alchemist 
Classic butterscotch finish is classic Tele
Cons
Players don't have much negative stuff to say about these electric guitars
As Fender engineers iterate on a proven design, they continue to make this guitar line better and better. It may not be the perfect guitar, but it is, without question, the pinnacle of classic Telecaster design,  rivaling even the Fender American Ultra Telecaster.
• • •
American Made Gibson Guitars
Gibsons made in USA include every electric guitar bearing the Gibson logo. They are one of the most famous electric guitar manufacturers on the planet, and for a good reason. They're simply fantastic guitars.
(If you need to save money, check out the best Epiphone Les Paul guitars, and the best Les Paul Copies for a great electric guitar that won't break the bank.)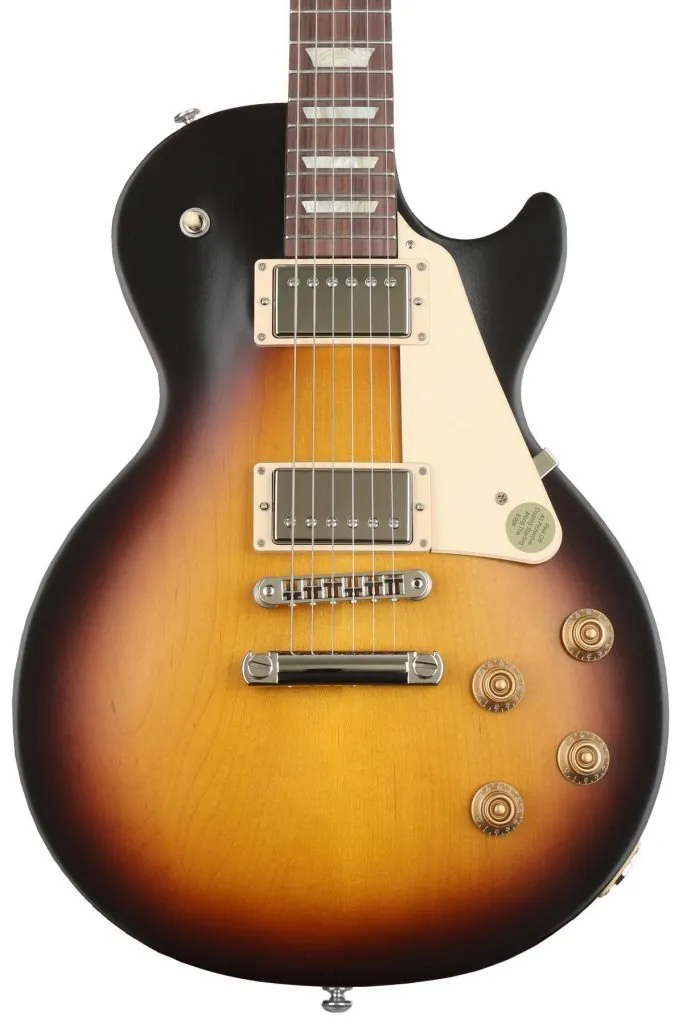 The Gibson Les Paul Tribute is a slightly updated reissue of one of the best American-made electric guitars of all time. Quite literally, millions of players have been rocking one version of this model's lineage for the past several decades. 
The lightweight mahogany body on this American-made Gibson Les Paul is a nice update for what has always been known as a brutal electric guitar to play standing for an extended period of time. Your chiropractor mileage may vary. Gibson has accomplished this lightweight magic by carving out strategic sections of the body that don't affect the guitar's tone but significantly reduce the strain on the player's back.
Pros
Updated pickups reminiscent of original PAF humbucker pickups
Satin tobacco burst finish is flawless
Features the original Les Paul shaped neck
Cons
Tuners can give some players trouble
The 490R neck and 490T bridge pickup humbuckers produce the original tone Les Paul's are famous for, but have some updated tonal characteristics that most players love. Pair those with the speedy neck with medium jumbo frets that is coveted by players the world over, and you've got one of the most beloved, best instruments in the history of the electric guitar. 
• • •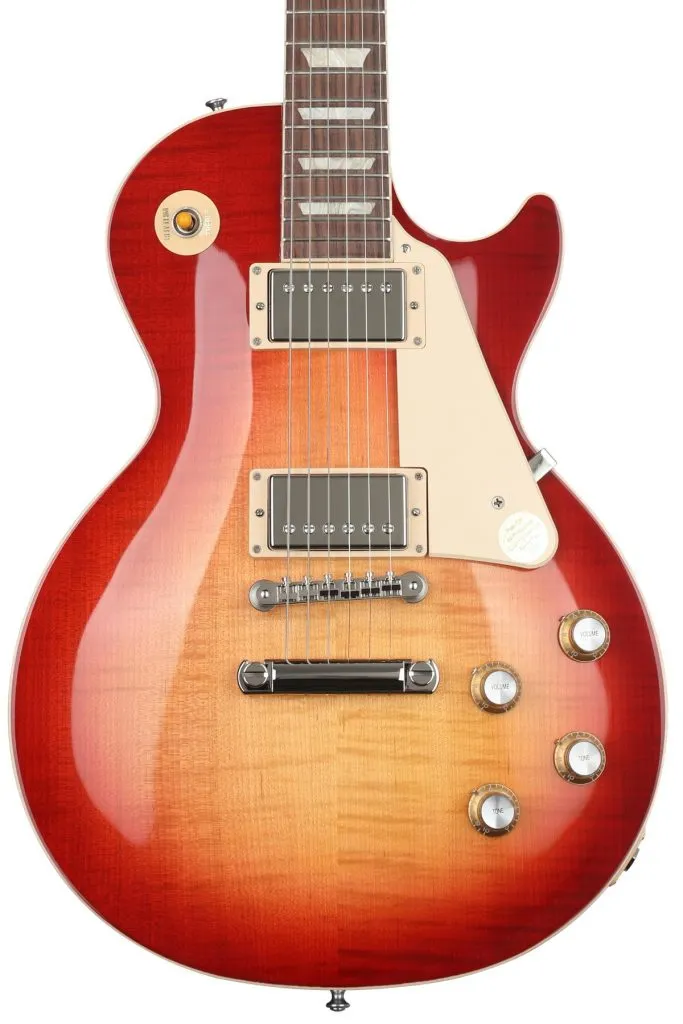 The Gibson Les Paul Standard is really pretty. There's no doubt about that. This Sweetwater exclusive heritage cherry sunburst finish is one of the nicest-looking guitars I've ever seen. But does the rest of the guitar hold up? 
The burstbucker pickups are phenomenal.
Gibson Les Pauls from the 60s is when they really came into their own for rock and roll, blues, and heavier music. They quickly became known as the best guitars for over-driving guitar amplifiers and soaking vacuum tubes beyond what they were designed to do. And that's largely due to the pickups.
They feature a nitro finish which is significantly thinner than modern polyurethane finishes. That finish lets the tonewoods of the mahogany body and flamed maple top breathe in a way modern finishes don't. Not only does this enhance the visuals, but it also enhances the sound.
Pros
Dual burstbucker humbucker pickups are legendary in rock
Nitro finish lets this baby breathe
Some of the best fretwork you'll find on a Gibson
Cons
Has been labeled more flash than substance by some players
There's also a 50s model electric guitar that isn't quite as famous in rock, but is a legendary guitar in its own right, as much a Gibson Les Paul Standard as its 60's sibling is. Make sure to also check out the P90s version of that 50s model, which we previously reviewed.
• • •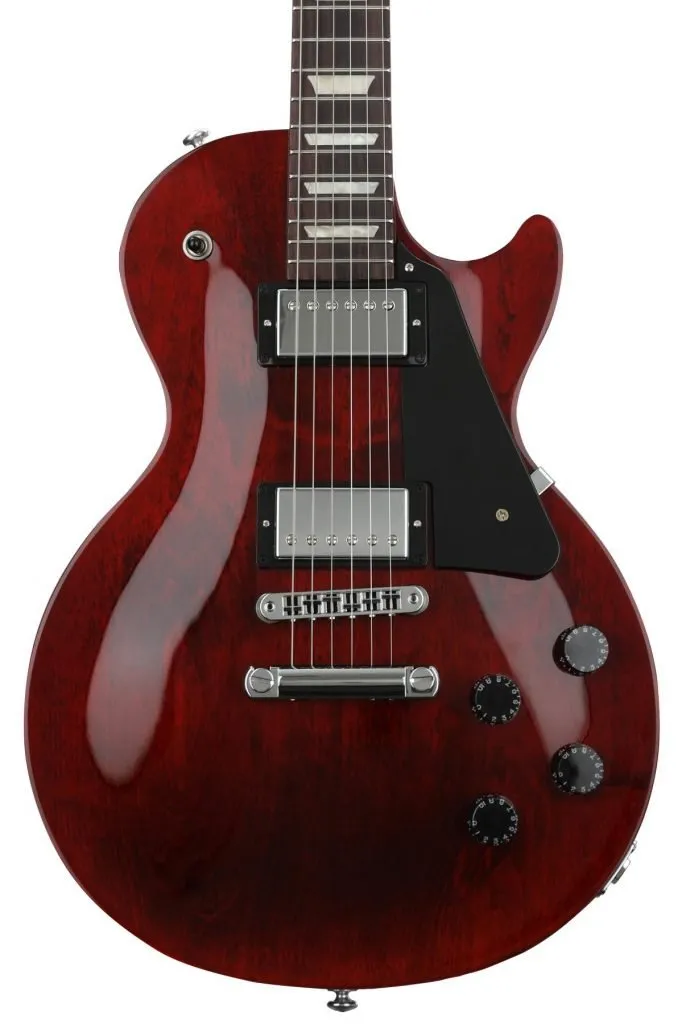 The Gibson Les Paul Studio is one of the legendary guitar manufacturer's best creations. The coil tapping-humbucker pickups with individual volume and tone controls provide tonal opportunities not many Les Pauls offer, making it a truly versatile guitar. The 24.75" scale length is great for leads, and the weight-relieving body is comfortable. 
The fretwork on the Gibson Les Paul Studio is a quality often reserved for a USA custom guitar. But here it is at a reasonable entry point. The slim taper neck is a 60s delight.
Cons
Some Players Report Weight Relief Changes the Tone of an LP
• • •
The SG Standard is an electric guitar that's a piece of music history. Watching Angus Young of AC/DC (who happen to have the best-selling rock record of all time) in his schoolboy outfit hopping across the stage on one leg, you know this beauty is a legend. 
Before switching to his signature PRS axes, Carlos Santana played one at Woodstock. 
This double cut-away model picked up the SG moniker when legend Les Paul stepped away from his endorsement deal in the early 60s. Before that, it was merely another in the line of legendary Les Paul guitars. Today, it has a life, attitude, and following it is famous for on its own. Not meant to be in anyone's shadow. 
Pros
The cheapest entry point to the Gibson Standard line.
Much lighter weight with better balance.
Unmatched action.
Left-handed model is available.
Cons
Has risen in price due to its following.
Only available in Ebony and Vintage Cherry.
This lightweight, solid-body, dual humbucker electric guitar plays fast and easy. It is one of the best I've ever owned. The SG Standard's action is nearly impossible to describe. It scrapes the deck of the fretboard like a fighter pilot without so much of a buzz.
If you're a lead player, you'll also appreciate the slight bevel all the way around the body. It makes the upper horn almost non-existent, so bends are easier, and reaching the highest frets is a breeze.
It comes in at a much lower price than a Les Paul, so it's worth taking a look at this evil-looking rock beast.
• • •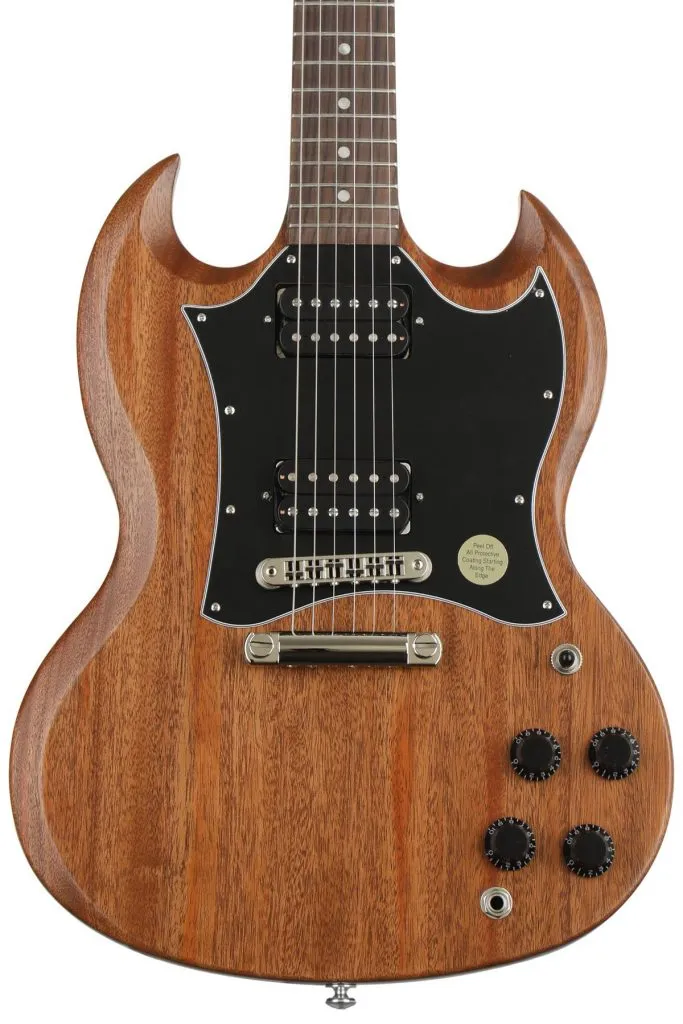 If the price of the Gibson Standard universe frightens you or causes issues with your significant other, then look at the SG Standard Tribute. It has all the attention to detail as the rest of the line with some stripped-down elements that make the price much more accessible. 
This guitar features open PAF humbuckers, standard dot inlay on the fretboard, and nitro finish bring the instrument's cost down without sacrificing an ounce of tone or that classic Gibson Standard playability.
Pros
Lightweight mahogany body is comfortable for hours of playing
Gibson SG action is almost non existent
Cons
Natural finish can be an acquired taste
• • •
Other Top American Made Electric Guitar Models
The electrics we've looked at aren't the only top electric guitars available. Collings Guitars comes to mind as worth a look. There are many more great guitars that have a lot going for them. 
Haven't picked your favorite? Strap these on for size.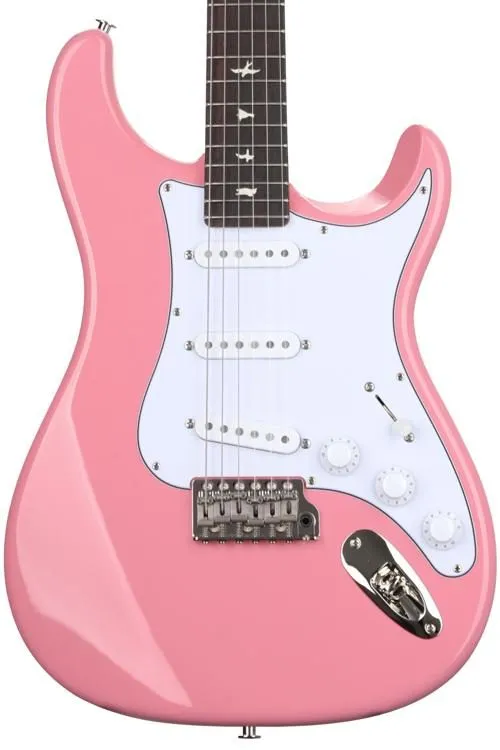 This Paul Reed Smith collaboration with John Mayer is meant to build upon the classic 60s Strats he's fond of playing. This body style stands out among PRS guitars and looks nothing like their other offerings. More Fender Custom Shop than PRS.
Paul Reed Smith is known for their superb action and glassy tones. As PRS guitars go, this Mayer model fits the bill. It is a stunner with vibrant finishes, and the custom bird inlays in the rosewood fretboard on top of a maple neck. 
Pros
Updated electronics for hum canceling & output
Headstock allows for even string length for better intonation
Cons
Open back is a scratch magnet
• • •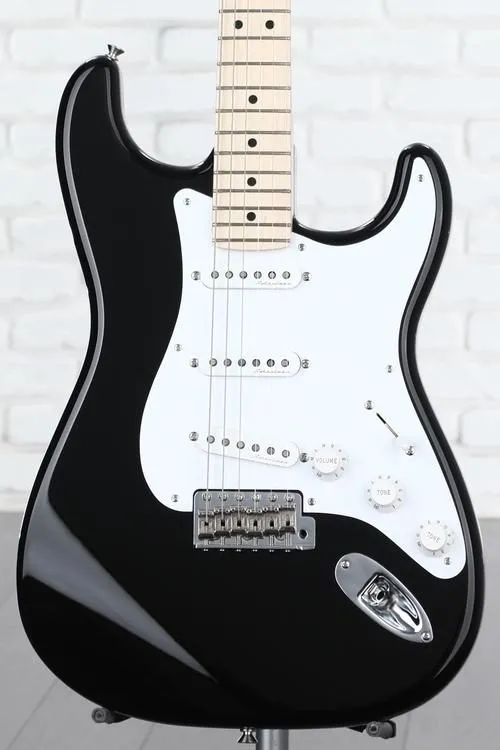 Any music fan has seen Eric Clapton play Blackie, his signature workhorse guitar for more than 15 years when it was finally retired from service and given a much-needed rest. The best part about Old Blackie is that it was a combination of three mid-60s Strats that he cobbled together. 
It was Eric's first foray into the world of custom guitars. Almost immediately after that, Eric would start working with Fender to perfect his guitar. Prototypes came and went until he settled on the custom shop model we see today. 
It may look a lot like your run-of-the-mill Stratocaster, but it has features unique to Clapton.
An alder body connected to a single-piece neck is an interesting twist on Strat culture. It features a soft V-Shaped neck, which is more akin to an acoustic guitar than any Strat Fender had ever made. 
Noiseless single coil pickups with standard volume and tone controls act more like humbuckers than Fender's usual twang. Not that the signature strat can't reproduce a crystal clear tone, but the Clapton midrange boost gives it more punch for playing Clapton-style lead parts.
Pros
Designed by Eric Yardbird Clapton.
Noiseless single coil pickups are the best of both worlds.
Midrange boost gives more tonal options.
Cons
Costs more than a Hyundai.
The unique features Slowhand loves may not be your cup of tea.
Finally, it features a "blocked" bridge. Since Clapton isn't known for a ton of vibrato, they chose to block the bridge by placing a block of alder wood against it so it won't move. It's an interesting tonal choice that makes sense for his playing style.
If you're looking for a Stratocaster like no other, you're looking at the creme de la creme. And, hey, you even get Derek's signature on the headstock… or was he the Domino? Regardless, this guitar is an immaculate work of art that will put you on your knees.
• • •
Another American-made work of art from the team at Paul Reed Smith. The first feature that will grab you immediately is the Charcoal Burst finish. It's thin, it's light, and it is absolutely gorgeous.
PRS nailed this finish using a cellulose basecoat after the lightweight mahogany body was sealed and topped with a nitro finish. The result is like looking through glass. Once you're done drooling over the body, you have to look up to the neck. It's a functional stunner.
The 24 medium jumbo frets on the neck is a feature in which PRS excels, and a guitar of this quality is no different. The basics are there, but the pattern finish, Indian Rosewood, with bird inlays, is truly striking. It looks fantastic, but it plays even better. 
Let's talk electronics. In 1985 PRS developed a humbucker that split treble and bass, which gave players a unique tone that no other guitar manufacturer could replicate. They were among music's best then. They're better now.
Pros
The finish adds to the tone of the instrument.
Players describe perfect intonation on arrival.
Pattern thin neck lets your hands fly faster than Maverick.
Cons
You're going to need to look into some financing. Honestly. Maybe a mortgage.
The warm and chunky tone puts this guitar's perfect intonation on display. You'll want to take a few days off work to try all the options of the 5-way switch that splits the bass from the treble. 
It's incredibly fun to play, and the attention to detail is without rival. The 3rd generation tremolo system means it stays in tune after even the deepest dive bomb.
"Impeccable." "Exceptional guitar." "PRS at its best." "A truly versatile guitar, perfect for blues, rock music, and anything in between." Actual reviews from actual users. And that last one… wow, that's a bold statement, but frankly, I can't disagree.  
• • •
Randy is a legend. He died a few months before I was born in a tragic, although probably not too unexpected, plane accident. He hated to fly. Sometimes that's fate. But in death, he's a legend.
In the same way you'll always be able to buy Kobe Bryant shoes, Jackson will always be making versions of the Randy Rhoads model. After all, it was the first model they ever made. At the time, Randy was the company. You can't say that today.
The aggressively shaped Randy Rhoads is a sharp, angular, mean-looking flying V. Ironic with how much he hated flying. But he loved shredding, and this thing shreds.
The body shape is iconic, but Jackson has outdone themselves in creating this tribute sonic weapon. The neck-thru maple body means this guitar has incredible sustain. Couple that with astonishing gain, and you've got Randy. The maple neck, rosewood fretboard, and classic mother of pearl full shark fin inlays add to the aggression. The headstock has a mother of pearl logo inset to match. 
Pros
Impeccable attention to detail on this model.
Iconic Rhodes angular V shape.
Neck-thru design creates incredible sustain, even with the tremolo.
Cons
It is expensive.
We've seen a number of these tributes to the legend before.
By using Seymour Duncan TB-4 and Jazz pickups, they've diversified the tone while keeping the massive gain Randy was known for.
It's a beautiful contrast to the deep all-black finish. This American made guitar is truly a work of art and tribute to one of the best human beings to strap on a guitar. No wonder you'll find Jackson guitars in the hands of some of the biggest professional musicians in hard rock and metal acts of the last 30-plus years.
• • •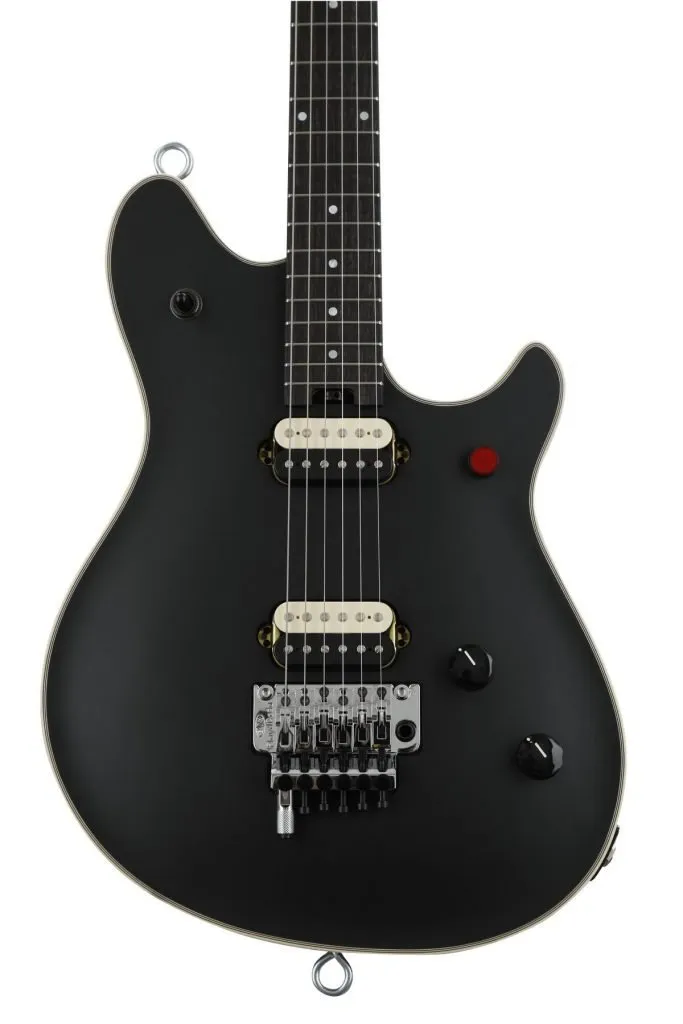 Eddie Van Halen played a lot of guitars over the years, but in addition to being a virtuoso, he always had a flair for creating his instruments. It's unlikely he ever played a guitar without some modification. The striped Frankenstrat was iconic in the 80s.
The EVH brand and the Wolfgang signature guitar are the culmination of that artistic spirit. It features every piece of innovative electronics he ever designed. 
The red button kill switch is there, as are the nearly frictionless pots that allow for a swell as if it were an Enya song. They're there too. Obviously, the locking Floyd Rose with the D-Tuna, for instant, perfect drop D tuning. This is not only a great guitar — it is Eddie's guitar.
The two alnico humbucking pickups were designed in conjunction with Eddie and are placed just a bit further apart in the body, helping increase the guitar's sustain.
Pros
A great guitar that plays like a dream.
Culmination of Kramer, Ernie Ball, Peavy, and Charvel's work.
Quartersawn maple neck single grain direction.
Cons
Might be in over your head with the electronics.
Would be nice to see some of these features in something more approachable.
We've seen a lot of that before. But this is the ultimate EVH Wolfgang, and no guitar features were overlooked. The quarter-cut maple neck is a perfect example. Cutting the wood this way means the neck's grain gains rigidity and even more sustain.
The basswood body has a maple top that changes the tone making it unlike any other EVH. They hadn't done this exact trick since the earliest Ernie Ball days.
Indeed the guitar this company was founded to build.
• • •
American Made Bass Guitars
Some of the most popular bass guitars are also made right here on American soil. 
The P-Bass is a legend. As such, the Professional II Precision Bass is built on a heritage that dates back to 1951, when Leo Fender first released it. It's perfect.
• • •
This is the best Jazz bass you'll play before you end up in the custom shops. State-of-the-art noiseless single-coil jazz pickups, a 34" scale length maple neck, and a maple fingerboard make for stunning visuals. Geddy Lee would play this bass. I guarantee it.
• • •
With ridiculous sustain and enough punch to break through heavy rock, this bass defined early 60s rock. 
• • •
Made in America Guitars FAQ
Let's take a look at the most frequently asked questions people make before becoming the owner of a guitar made in the USA.
What U.S. guitar brand is best?
The best U.S. guitar brand is obviously something of a subjective question. But as of 2020, Fender was the highest-selling brand. Again, it's a bit of an apples and oranges comparison since Gibson, who sells a ton of guitars, is priced quite a bit higher than Fender.
Are all Gibsons made in America?
Yes, all Gibsons are made in America. Gibson's electric guitars are manufactured in Nashville, Tennessee. The brand's American-made acoustic guitars are made in Bozeman, MT.
Are Gretsch Guitars made in the USA?
As of 2021, most Gretschs, including the brand's jazz guitars, were made in Japan, China, Korea, or Indonesia. It depends on the make and model. That said, the Gretsch custom shop is still churning out USA-made models.
Why go with an American made acoustic Guitar?
American-made acoustic guitars are some of the most consistently high-quality models available. Not only are the luthiers some of the best trained, but the materials that go into these guitars are unrivaled. Manufacturing the best acoustic guitars is a work of art and science.
Why are the best guitars made in America?
The best guitars are Made in America because labor costs, material costs, and manufacturing location, require a higher degree of attention to detail and employed manufacturing prowess. This results in a high-quality guitar that can justify the margin these guitar manufacturers require.
• • •
Ready to Rock in the Free World?
American guitars are hard to beat. Consistency, materials, and quality control mean you rarely get a lemon. It's the reason why the world's best guitarists typically only play these models.
I'm a sucker for a nice Telecaster, and that Fender American Professional II Telecaster has found its way onto my shopping list. 
Don't beat yourself up if you can't yet afford an American model. You can get by for a good long time with a nice Squier electric guitar. 
• • •
References
Frankfurt Kurnit Klein + Selz, "FTC Looks at 'Made in USA' Claims for Guitars, Hangers, and Doors," retrieved from https://www.lexology.com/library/detail.aspx?g=f13d6a70-0f0e-4538-82d3-585c76fae7ee
Mike Duffy & Rich Siegle, "Infographic: Fender Through the Years," retrieved from https://www.fender.com/articles/gear/fender-through-the-years-a-timeline-of-music-and-instruments
Image Credits
Featured image: Steve Joel Thompson, CC BY-SA 3.0, via Wikimedia Commons.