There are a handful of iconic guitar models that stand out today: the Gibson Les Paul, the Fender Stratocaster, and the Fender Telecaster.
All have their rightful place in guitar history, but the Telecaster stands above the rest. It was the first mass-produced solid-body electric guitar —¸and the first to be produced with the innovative bolt-on neck.
And while this is my opinion, here are some facts: the Tele is one of the most versatile electric guitars on the market today and remains Fender's most popular model.
Of course, a Fender Telecaster isn't always cheap, especially an American-made Telecaster.
Thankfully, Leo Fender had the foresight to acquire and develop Squier, the company's budget-friendly brand that makes guitars like Telecasters and Stratocasters obtainable for beginners. I started on a Squier more than 20 years ago when I took up guitar and loved every part of that guitar.
So, if you're in the market for a beginner Telecaster, I'd recommend giving the Squier Affinity Telecaster a serious look.
In this review of the Squier Affinity Telecaster, I will look at everything from the guitar's single coil pickups to its maple fretboard and then further explain why this budget guitar is perfect for beginners and intermediate players alike.
Squier Affinity Telecaster Review
The Squier Affinity Series Telecaster is one of the best Fender Squier models on the market, but what makes it so popular? Let's learn more about the Squier Affinity Telecaster to help you make the best-informed purchasing decision.
Body
The Squier Affinity Telecaster is a solid-body electric guitar made from poplar wood, which is a standard tonewood found in less expensive guitars.
A poplar body guitar offers a neutral tone that's definitely not as exciting as the more premium alder tonewood. You'll have very responsive lows and decent mids from this guitar, but the treble tones could be better.
That being said, you're saving a few hundred dollars — or even more — by going with a poplar-bodied guitar because that wood is more readily available and easier to source. Squier previously sold the Affinity Telecaster with an alder body.
The body of the Squier Affinity Tele is a bit thinner than a traditional Telecaster (likely as a cost-saving move). Still, most beginners won't be able to tell the difference.
In terms of finishes, Squier came through big time! The Affinity Telecaster comes in all the iconic Telecaster colors, including Olympic White, Lake Placid Blue, Butterscotch Blonde, 3-Color (two-tone) Sunburst, and Classic Black.
The butterscotch body is my personal favorite because it's the original Telecaster look.
Headstock
From a distance, the headstock on the Squier Affinity Telecaster looks identical to an actual Fender Telecaster headstock. Obviously, as you come closer, you see the Squier logo instead of the Fender.
Some users have complained that Fender Squier enlarged the headstock. But that doesn't impact the playability of this guitar. Maybe it affects the overall aesthetics of the guitar, but it's hardly noticeable, in my opinion.
The die-cast tuners attached to the headstock are pretty standard "beginner guitar" tuners. After a couple of hours of playing, your string will likely fall out of tune — which is expected. All-in-all, beginners will be pleased enough with the tuners.
Neck and Fretboard
The maple neck on this Squier Affinity Series Telecaster is moderately smooth on the hands. The modern C shaped neck makes it easy to grip — whether your hands are large or small.
The matching maple fretboard features 21 fets and a scale length of 25.5 inches. That's the same scale length as an American Telecaster, but one less fret (the Fender Telecaster has 22 frets).
Some owners have complained that the fret edges can be sharp and cause fret buzz. If that's the case with yours, it may require some filing down during your initial setup.
Maple necks are preferred among some players because it's a dense hardwood that's capable of producing brighter tones. More importantly, the notes you fret are more precise and offer great bite — even on the low end. You can thank the synthetic bone nut for that stability!
The biggest issue with this bolt-on neck is the quality — it's hit or miss. Some players have said the maple neck feels too tacky and makes fast scales and chords across the fretboard difficult. Others have praised it for being smooth and easy for movement. That's typically the case with guitars that are mass-produced overseas; they can be a bit of a mixed bag.
Pickups
Let's talk pickups!
The Squier Affinity Series Telecaster features two single coil pickups like a classic Telecaster. Squier then gives you one master volume knob and one master tone knob, in addition to a three-way switch, which allows you to toggle between the solo neck pickup, the solo bridge pickup, or a combination of the two.
In this Squier Affinity Telecaster review, I mentioned that this guitar is great for beginners and intermediate players. That's because Squier actually uses Fender-branded single-coil pickups in this guitar. So, even though it's a Squier, you can achieve some authentic Fender tone once you're playing guitar with more confidence.
You'll often hear the best Telecaster players play with a loud bridge pickup because it's brighter and twangier. Luckily, you can dial in a tone on this Affinity Tele that suits your style and preferred genre.
Twangier is obviously great for country, but turn up the neck pickup for a fuller tone  for blues and rock.
And if you're looking for a Telecaster that's a little more rock n' roll, I suggest going with the Squier Affinity Deluxe, which features two powerful humbucking pickups.
Hardware
This is a great guitar, but it's also priced under $300. Squier had to cheap out somewhere, and they went with the hardware.
That being said, if they had to pick between the body (tonewood) and the hardware, I'm glad they decided to cheap out on the hardware — that stuff can easily be modded and adjusted.
The first thing you'll notice is that the tone and volume knobs are pretty loose. And if they're not that way when you buy them, they'll eventually loosen up. Same goes for the cable jack. It's not a huge deal, but you'll have to use a screwdriver to keep everything in place throughout the lifespan of this guitar.
As I mentioned above, the die-cast chrome tuners are pretty decent.
Tone
The vintage-style pickups give you a full-bodied Telecaster sound. It's quieter than you may anticipate, especially for a single-coil pickup guitar, but I prefer that over a guitar that packs too much punch.
Now, this is a beginner guitar, so the tone isn't going to be perfect. But for the price range, this is a good guitar with pretty decent sound. It's capable of rock music (classic rock, too), country, blues, and even jazz if you're skilled enough in that department.
For a first guitar, you're going to think you hit the jackpot when it comes to the stock pickups.
What Else You Need to Know
As far as quality guitars go, this Squier (often misspelled as Squire) Affinity Telecaster is near the top of my list for a first guitar.
Even if you're a seasoned player, you might consider picking this up as a backup guitar because of its versatile sound, comfortable neck shape, and the fact that it almost looks, feels, and sounds like a classic Tele.
Unfortunately, it doesn't come with a gig bag, that will to run you another $50 or so.
• • •
Alternatives to the Affinity Squier Tele
While this classic Telecaster is a fantastic guitar, you do have other Fender-style options that are also considered budget guitar models. Here are some other Squier Telecasters:
Squier Classic Vibe '50s Telecaster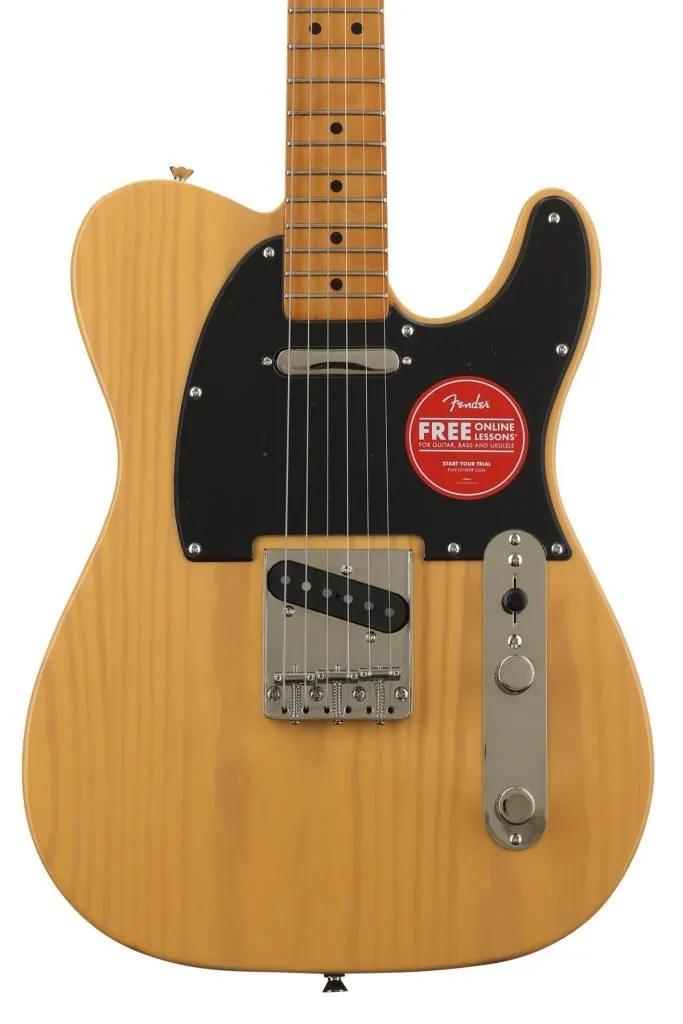 In terms of the brand name Squier, the Squier Classic Vibe '50s Telecaster is one of the best guitars.
It's also nearly twice the price of the Affinity Tele, though. In return, you're buying a higher-quality guitar in terms of overall construction.
You don't have to worry about things like the rough frets issue or the inconsistent tuning stability. This is a guitar worth your attention — and one you could play on for many years.
One of the differences is that this model uses pine wood — a hardwood that supports a warm, twangy sound.
So, what gives this guitar a 1950s vibe? For starters, it features the original black pickguard, which is one of Fender's most iconic aesthetics on the Telecaster.
It also features a custom set of alnico Fender style single-coil pickups with a single tone control. The neck position sounds perfect on this model compared to other guitars in its class. The pickup selector switch is similar to the Affinity model.
In response, you're getting a super twangy tone that very much sounds like an authentic Fender model.
There are a handful of similarities between this model and the Affinity series, including the maple neck, same size truss rod, and the fixed bridge. Both models also sound similar when played acoustically. And yes, both come in butterscotch blonde.
As far as entry-level guitars go, this model has a very comfortable neck, and I would argue it is right in line with a Fender made-in-Mexico Telecaster.
Squier Classic Vibe '60s Custom Esquire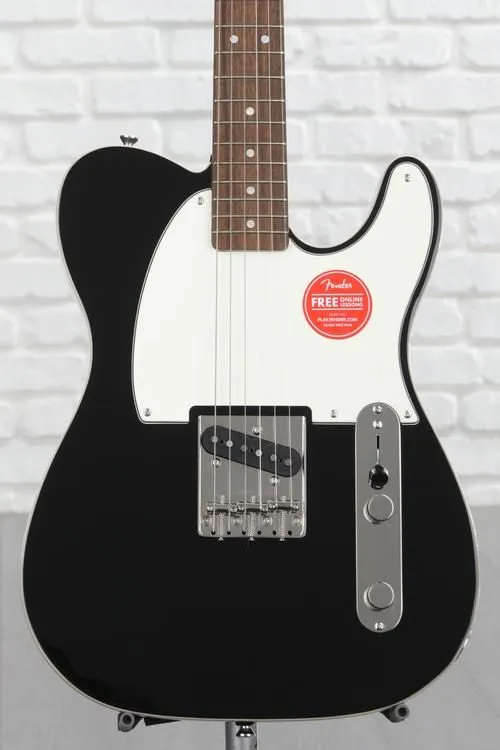 If the 1950s Tele is a good alternative to the Affinity series, then the Squier Classic Vibe '60s Custom Esquire also has to be a viable option. This Sweetwater exclusive is the most expensive model in the alternatives section, but for good reason.
For starters, it looks absolutely stunning in the iconic black finish paired with a pristine white pickguard. But what really does it for me is the Indian Laurel Fretboard, which looks great and plays even better.
Honestly, if Squier wasn't written on the headstock, this axe would be easily mistaken as a Fender.
In terms of tone, it delivers a decent sound — but it's different from the Affinity series. That's because there's just a solo single-coil pickup at the bridge. That's a more traditional approach to the Tele, which is appreciated among purists.
I also like the electronics approach for this type of starter guitar because it's simple. You don't need to fuss with the pickups — you can just pick it up, turn up the volume, and play.
Now, the vintage neck profile may not be comfortable for all players, so I recommend playing this in a guitar shop or ordering it from Sweetwater, which has an excellent return policy.
This guitar's body is made of Nato tonewood, which is also referred to as Eastern Mahogany. Because of this, the tone is warmer, and the guitar's overall weight is slightly higher — but not by much.
Squier Paranormal Cabronita Telecaster Thinline
This guitar is a bit outside the box, but the Squier Paranormal Cabronita Telecaster Thinline is a fun alternative if you want a "Telecaster" but still want to stand out.
This is a great option if you want to play jazz or blues because it's actually a semi-hollow Tele — and includes a classy-looking f-hole. You can actually play this acoustically in practice sessions!
The pickups appear to be P-90s, but they're actually Fender Alnico Soapbar single-coils, which offer a unique, vintage tone.
Outside of these key differences, it's actually quite close to the Affinity series: Modern C-shaped maple neck, similar knob setup, and (unfortunately) doesn't include a gig bag.
Owners have praised the action out of the box and call it one of the more comfortable guitars they've played. Because it's semi-hollow, it's lightweight, making it more comfortable to hold and play for extended periods.
• • •
Frequently Asked Questions
If you still have questions about the Squier Affinity Telecaster, we're here to help.
Where are Squier Affinity Telecasters made?
Squier has several factories around the globe that manufacture the Squier Affinity Telecaster, including Korea, Mexico, India, Japan, Indonesia, and China. A small portion is built in the United States, but that's quite rare.
What style of music is a Telecaster good for?
The Telecaster is one of the most versatile guitars on the market in terms of genres. You'll often see them in country music, but they're also great for rock and blues.
Which is better: Affinity or Bullet Telecaster?
The Affinity Telecaster is better than the Bullet Telecaster because it's more true to size and uses higher-quality materials. Both are decent low-cost guitars. The Bullet Telecaster is more affordable, but the Affinity Telecaster is an excellent overall deal for beginners.
Is a Squier Telecaster neck any good?
The Squier Tele neck is a decent neck that's easy to maneuver around. Because it's mass-produced, it's not as premium-feeling as an American-made Fender Custom Shop Telecaster, but it gets the job done.
How can you tell the difference between Squier Affinity and Standard?
The Squier Standard was discontinued in 2019 and ultimately replaced by the Squier Affinity. They were essentially identical looking but continuously swapped out electronics over the years, making it a difficult comparison.
• • •
Is This Tele for You?
If you're new to guitar but know you want a Telecaster, I would highly recommend the Squier Affinity Telecaster. For the money, it's a no-brainer because even if you quit the instrument (please don't quit the guitar!), you're only out a couple hundred bucks.
If you're more of a Stratocaster fan, make sure to read this Squier Stratocaster review.
New players need a dependable instrument and this particular model fits the mold perfectly. I highly recommend it.
• • •
Image Credits