If you want to know my answer to that question right off the bat, I think the best Jaguar you can buy today is the American Original '60s. Keep reading for my reasons why, and a review of other awesome offset guitar Jaguars available in the marketplace.
If you could sum up the Fender Jaguar in one word, I suppose you could say "diverse."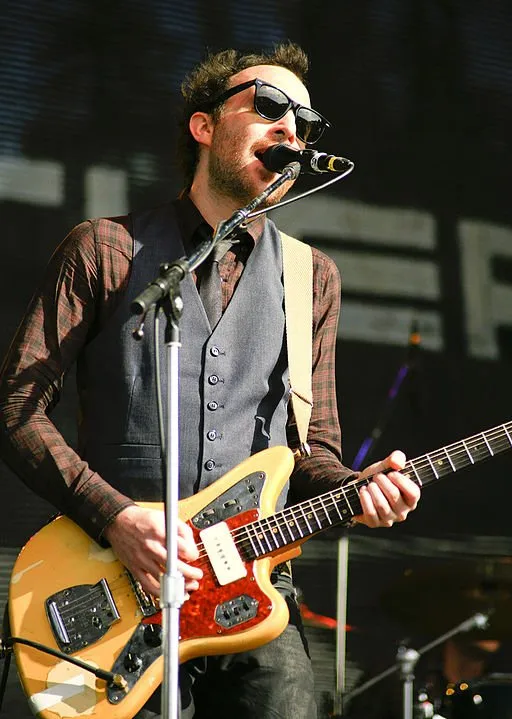 "Enigma" is also a good word.
What launched as a total flop and turned into a must-have for punk rockers, the Fender Jaguar has stood the test of time and remains a Fender flagship solid body electric guitar today.
The Jaguar's sound is certainly diverse thanks to its endless combination of knobs and buttons — something rockers appreciate since it gives them endless options to dial in that perfect tone.
Now, don't confuse this guitar with the Fender Jazzmaster. While the two look similar, they are pretty different. I covered the main differences in this Jazzmaster vs. Jaguar article.
This article, however, is all about the various Jaguar models you can find on the market today. I've played a handful of these guitars and hope to shed some light on the good, the bad, and everything in between.
Here are the Jaguars I've reviewed:
Fender Jaguar Review: Top Models to Choose From
Many guitar players either know they want a Jaguar, or they have zero interest in them. If you're in the first group, the Jaguar you ultimately decide to purchase is going to depend on your budget and tone preference. If you anticipate playing a lot of indie and punk rock, you have plenty of great options.
The Fender Player Jaguar, for the price, is a great value. As you're going to see, Jaguars don't come with price tags comparable with the lower-priced Stratocasters and Telecasters. Jaguars, including the Fender Player Series, are more expensive because of the electronics and switches — and the fact that they have an offset guitar body. But this is the closest you get to a "cheap Fender Jaguar."
The first thing I noticed when playing on this guitar in my local shop is the maple neck, which feels silky smooth. You can certainly move on this neck, but it's also great for chording. As a jazz player, I felt comfortable shaping more complicated chords, thanks to the comfortable size of the 22 medium-jumbo frets and the modern "C" profile neck.
Pros
Affordable. This is a relatively cheap option when it comes to price.
Modern pickup layout. The humbucker-single-coil arrangement sounds impressive.
Satin neck finish. Your hands can cruise on the 22 medium-jumbo frets.
Cons
Average quality. It's undoubtedly playable but could have quality control issues as a "made in Mexico" Fender.
The Player Series Jaguar is the only non-Custom Shop option to land a black Fender Jaguar. Black is always an attractive option for rockers.
Unfortunately, this guitar doesn't include a hardshell case.
• • •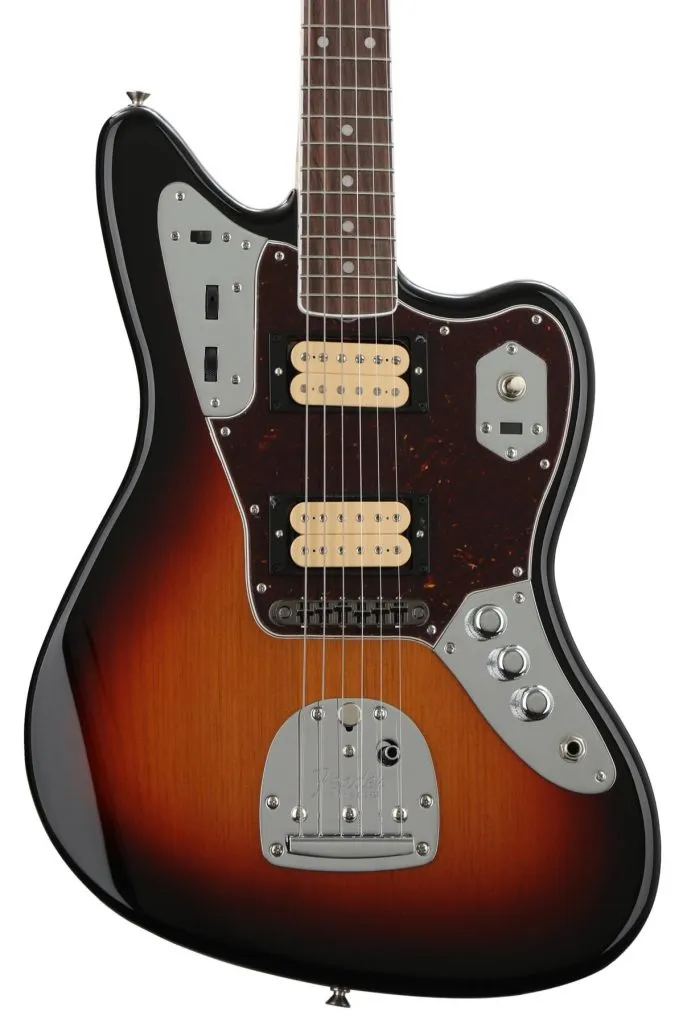 The Fender Kurt Cobain Jaguar is modeled after the Nirvana front man's 1965 Jaguar. And when I say replica, I mean replica. This axe, from the new old stock finish to the Stratocaster headstock, is practically identical. So, while it comes with a higher price tag, you can't really blame Fender — this beauty features near-identical components that Cobain used on his guitar.
That being said, there are some nice updates that modernize this guitar. For starters, all the wiring is updated, and it includes an upgraded Adjust-matic bridge that helps improve intonation.
What's most surprising about this guitar is that it's made in Mexico. Hands down, it has to be one of the highest quality non-USA guitars by Fender.
Pros
An icon's electric guitar. This is a replica of Cobain's 1965 Jaguar. There's not much else to say.
Right- and left-hand versions. It's tough to find a left-hand version of a Jaguar.
True rock sound. The dual DiMarzio pickups deliver a lot of power.
Cons
Expensive. Fender handcrafted these guitars to near-perfection, so the price shouldn't come as a surprise.
Cobain was also known to play a Fender Mustang, which has some guitarists deciding between a Jaguar vs. Mustang. Fender met them in the middle with the Jag-Stang. The guitar was originally designed by Cobain in '90s, and Fender re-issued it in 2021 to honor the 30th anniversary of Nirvana's Nevermind album (1).
• • •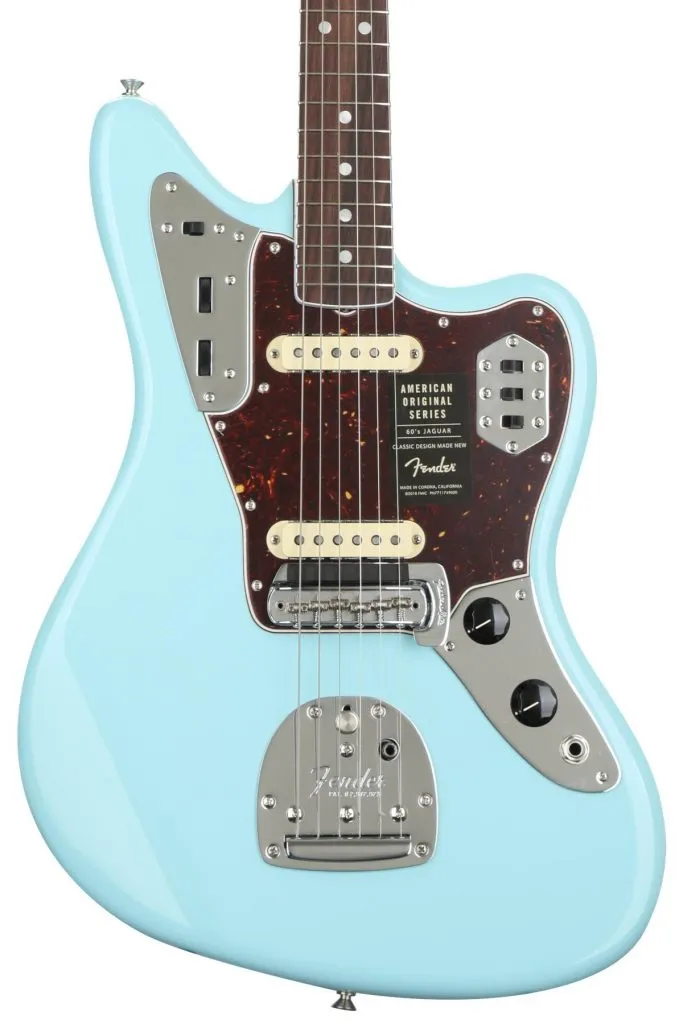 If you're a fan of those original 1960s Jaguars — and you're an experienced guitar player with some money saved up for a high-end guitar — the Fender American Original '60s Jaguar is an incredible guitar that's powerful and comfortable to play.
If you're searching for that sweet 1960s warm sound, the tone on this guitar is incredible. Fender included a pair of Pure Vintage '62 pickups, similar to the pickups found on the original Jaguars of the early 60s. Of course, these pickups are modernized with the latest manufacturing techniques, meaning they'll last a long time and deliver the power when you need them to.
Pros
American made. Expect high-quality hardware and construction all around.
Beautiful Daphne blue color. Surf guitarists will love the finish.
Classic pickups. The Pure Vintage '62 pickups sound incredible on this guitar.
Cons
Pricey. As an American-made Jaguar, expect to empty out your wallet. Fender does include a case, though.
My favorite part of this guitar, though, is the neck. It's the same type of "C" neck that you find on the original Jaguar. When combined with the rosewood fingerboard, you can play incredibly fast on it — even with the narrow frets, which may not appeal to all.
• • •
The Smiths' frontman Johnny Marr created a recognizable, crisp tone that's replicated on his signature Jaguar thanks to the two custom Bare Knuckles Johnny Marr neck and bridge pickup. Add in the custom switching, and this Jag features as diverse of a tone as you can find.
Now, this Johnny Marr Jaguar does have a shorter scale length at 24" (standard is 25 ½"). Some players, like myself, prefer the stiffer tension of the longer scale length, but beginners should appreciate less tension. That being said, this guitar is not exactly considered a beginners guitar due to the price.
The Jaguar white color is a big selling feature of this signature model. It looks gorgeous.
Pros
Punchy single coils. There's a lot of power in these custom pickups.
Modern. The upgraded switching and hardware make this super playable and very diverse in tone.
Jaguar white. It's a beautiful color that's not available across all Jaguars.
Cons
Shorter scale length. This is more of an opinion, but I prefer the standard 25 ½" scale length. This is 24". 
Thankfully, Fender includes a hardshell case with the Johnny Marr Jaguar.
By the way, at the time of writing Marr displayed a wacky, 9-pickup Strat on his latest music video (2). But his love for the Jaguar isn't going away any time soon.
• • •
Pros
Iconic Frusciante tone. John worked closely with Fender to create a guitar that handles this style perfectly.
Great playability. From intonation to the high-quality hardware, this guitar is super comfortable to play.
Cons
Really expensive. This is a Jaguar designed for advanced players and is considered top of the line.
John Frusciante, of the Red Hot Chili Peppers, has used several different Jaguars over his career. As you can see around the 4-minute mark in this video, Frusciante's '61 or '62 Jaguar is the guitar he has played the longest.
This signature model is inspired by Frusciante's seafoam green Jaguar as seen in the Chili Peppers' "Under the Bridge" music video.
• • •
Fender Custom Shop Jaguar
If you're willing and able to make a serious investment in a Jaguar hand-crafted by one of Fender's Master Builders, then you must check out the Custom Shop series.
There's something special about this 1964 Custom Shop Jaguar that has me excited! I think it's the Aztec gold finish, which is stunning on any Fender axe. But the way Fender replicated the exact tone while improving things like intonation is simply amazing.
Make sure to look for a Custom Shop Jaguar with golf hardware for an even more sophisticated look.
Pros
Excellent finish. There's nothing more stunning than Fender's Aztec gold finish.
Original 1960s tone. It's incredible what the engineers at Fender can do to replicate that iconic tone.
Custom bridge. Great for intonation.
Cons
It's an investment. This is the story with any Fender Custom Shop guitar. You don't accidentally purchase this guitar — it's an investment
• • •
Like the '64 Custom Shop jaguar, the '63 also features a matching headstock, meaning the headstock is the same color finish as the body. This is an attractive feature for collectors of these high-end Fender offset guitars.
Pros
Handcrafted in the USA. The Fender Custom Shop features some of the world's most talented luthiers.
Presets. The electronics and switches feature two distinct circuits, which let you switch tones drastically on a dime.
Great neck. This Jaguar features a rift-sawn neck, which guarantees stability. Don't worry about any warping down the road.
Cons
Nothing. You can't complain about the price when this guitar is near perfection.
• • •
If you're looking for a 1960s era Jaguar without paying several thousand dollars, the Fender Vintera is a great option.
Although still expensive — I call it more of an upgrade or intermediate guitar — it's reasonably priced, especially for the quality of construction.
If you're a diehard Jaguar fan, you may notice this guitar feels really close to the Jags of the 1960s, especially the neck and fretboard. Fender worked hard to produce this model at an affordable price, but it's not easy.
The other big thing that'll stand out is the electronics and switches. If you're jamming out and need to rip a screaming solo, you can cut the bass and simply focus on mids and highs. Now, this is a feature, but it's not perfect.
Pros
More affordable. Jaguars are expensive. This model isn't too bad, though.
Beautiful finishes. Especially the ocean turquoise.
Period-correct playability. The neck and fretboard feel very similar to the early Jaguars of the 1960s.
Cons
Better for rhythm. This isn't the most incredible sounding "lead" guitar but is solid for rhythm players.
I feel this guitar is much better for rhythm playing than lead playing, but that's purely my opinion on tone. It's similar in that sense to a Telecaster.
When comparing a Jaguar vs. Telecaster, know that the Telecaster is more straightforward in terms of electronics and thinner to hold.
• • •
Pros
Great designs. Fender basses have that classic offset look and wonderful color finishes.
Affordable prices. Basses are more affordable than the Jaguar guitars.
Cons
Price. You can find standard Precision and Jazz basses from Fender for cheaper.
Looking to take advantage of the Jaguar's popularity, Fender introduced a lineup of basses to appeal to that segment.
I'm a big fan of the Fender Player Jaguar Bass because it comes in a couple of great colors, including Capri Orange. Fender included one jazz bridge pickup and one precision pickup for a pretty unique tone.
The best Jaguar bass on the market, though, is the Troy Sanders signature model, which features an even more comprehensive range of tones thanks to the active onboard two-band EQ. This is an excellent bass for metal players.The Sanders model is more expensive, but it's certainly an attainable price for a devoted bass player who's looking to upgrade.
• • •
Squier Jaguar
Beginner guitar players rejoice! If you love the look and feel of a Jaguar, go with a Squier all day. It's your most affordable option, and even though it's mass-produced with cheaper components, it still sounds great.
I'm serious about that. The Squier Jaguar is one of the higher-performing guitars out of the entire Squier lineup. Check out our Squier Guitar Review article for my thoughts on the Classic Vibe 70's Jaguar.
One of the more surprising aspects of this guitar is the switches, which let you dial in your tone. Squier decided to include them to help the guitar better mimic a 1970s Jaguar.
Another Squier that I'm really fond of is the Squier Contemporary Jaguar HH ST. For starters, the Skybrust Metallic and Shoreline Gold colors are really nice, but the electronics are actually really high quality for a Squier.
The pair of SQR Atomic Humbuckers deliver a powerful, crisp tone, and — thanks to the coil-tap — a really versatile tone as well.
Intermediate players may be wondering if they should forgo on a Fender Jaguar if they're on a tight budget. That's always a tough call. But if you want to spend under $500, look for a used Fender Jaguar or go with the Squier. I don't think you'll be disappointed.
• • •
Vintage Jaguars
There will always be a group of vintage Fender guitar collectors going after '60s Jaguars, which are extremely popular. These Fender models are American-made and can be tough to come by. Models that you may find in good condition will be expensive, but they should retain their value. Start your search for on sites like Reverb.com.
The 1962 Fender Jaguar is the holy grail of vintage Jaguars, and a model in good condition could cost you north of $10,000. Hands down, it's the best surf guitar ever made.
These guitars came out during the Jaguar's first year of production and are pre-CBS — meaning before Leo Fender sold his company. While the quality of subsequent Jaguars was good, collectors feel that the pre-CBS guitars are top-of-the-line because they had Leo Fender's blessing.
You'll find rosewood fingerboards on these guitars and a stunning three-tone sunburst finish.
There's excellent acoustic resonance and perfect clarity when plugged into an amp.
If you're serious about purchasing this jewel of a vintage guitar, make sure to have it inspected by a luthier to ensure the electronics are solid and there's no static. It is like a fine automobile — you need to be 100% sure it's mint before writing a check.
• • •
After the early 1960s Jaguars, the next most popular model is from 1966. These guitars can cost north of $10,000 in varying conditions. Of course, these guitars are American-made.
The 1966 Jaguar is the first to feature F-tuners, in addition to matching headstocks. Some also feature block inlays on the fretboard, like this model in an original firemist gold, which looks stunning.
If you're committed to finding a 1966 but have a smaller budget, don't sleep on the '65 or '63 models. Both are similar and have significant value for collectors.
• • •
Popular Discontinued Jaguars
It's not uncommon for Fender to discontinue guitars, and that includes the Jaguar lineup. Here are some of the popular Fender Jaguars that have been discontinued over the years. Note that you can't call any of these a vintage guitar, but the only way you're going to find them is on the used Jaguar market.
Perhaps the Fender Jaguar Modern Player didn't survive because it doesn't look like a traditional Jaguar. The modern, rounded-off look simply didn't resonate with Fender fans.
Still, owners rave about the great tone and versatility of this guitar. It features a single P90 plus a rare triplebucker, which offers a unique tone. Add in the five-way selector, and you can easily dial in your separate tone.
Will this guitar be a collector's dream guitar one day? It's hard to tell, but if you can snag a good deal on one on the used market and are OK with the guitar's aesthetics, you most probably won't be disappointed.
Pros
P90 pickups. These originally came with the popular P90 pickups and a triplebucker.
Comfortable. The playability is closer to a Strat, which everyone loves playing.
Cons
Not a true Jaguar design. Fender tried to modernize the offset body, which is why it likely didn't sell that great.
• • •
The Fender American Professional Jaguar was supposed to take everything that was great about the 1960s Jaguars and modernize it while respecting the design and tone. The finished product ended up being a great guitar — some even say it's better than the originals.
But for some reason, sales lagged, and the company decided to drop the American Professional Jaguar and focus on other Fender models.
The tone on this guitar is iconic Fender, thanks to the crispy clean single-coil pickups. In terms of a Jaguar vs. Stratocaster, though, the Strat produces more pristine tones.
Pros
Great construction. These American-made Jaguars are undoubtedly high quality.
Wonderful finishes. The colors really pop.
Cons
A shorter scale takes getting used to, especially on the higher frets.
If you can come across a Jaguar with a maple fretboard in this series, like this one, you've hit a mini jackpot because it's pretty rare. The antique olive color is also pretty unique.
• • •
Maybe Fender discontinued the Classic Player Jaguar Special because it sounds and feels too much like the Kurt Cobain signature Jaguar. Which is a bigger money maker, so Fender probably didn't want to cannibalize its sales.
That being said, this Player Special guitar is excellent! The humbuckers pack a severe punch and sound great — perfect for rock players.
Some have complained that the intonation is a little shaky once you get up to the higher frets, but that's not an opinion shared by all players. It's like an issue of a mass-manufactured guitar, which is susceptible to quality control issues. Most agree it's a beautiful guitar crafted to the highest quality.
You can typically find these guitars for under $1,000, which is a good price.
Pros
Humbuckers. These pack a punch.
Cobain-like guitar at a reasonable price. This is pretty close to Cobain's signature model.
Cons
Questionable intonation. Especially on the higher frets.
Learn more about these guitars from this brutally honest gear review:
• • •
Fender Jaguar Case
The more expensive Fender Jaguar models, like the Kurt Cobain edition, include a hardshell case. If the model you purchase doesn't, Fender does sell a hardshell case, but it's not exactly affordable.
Best Jaguar Pickups
When it comes to the Fender Jaguar, there is one considerable debate over the pickups it features. Check out the options available on Sweetwater, for instance. Should it have single coils? Or should it have P-90s? (There are even some models that have humbuckers, but we won't get into that).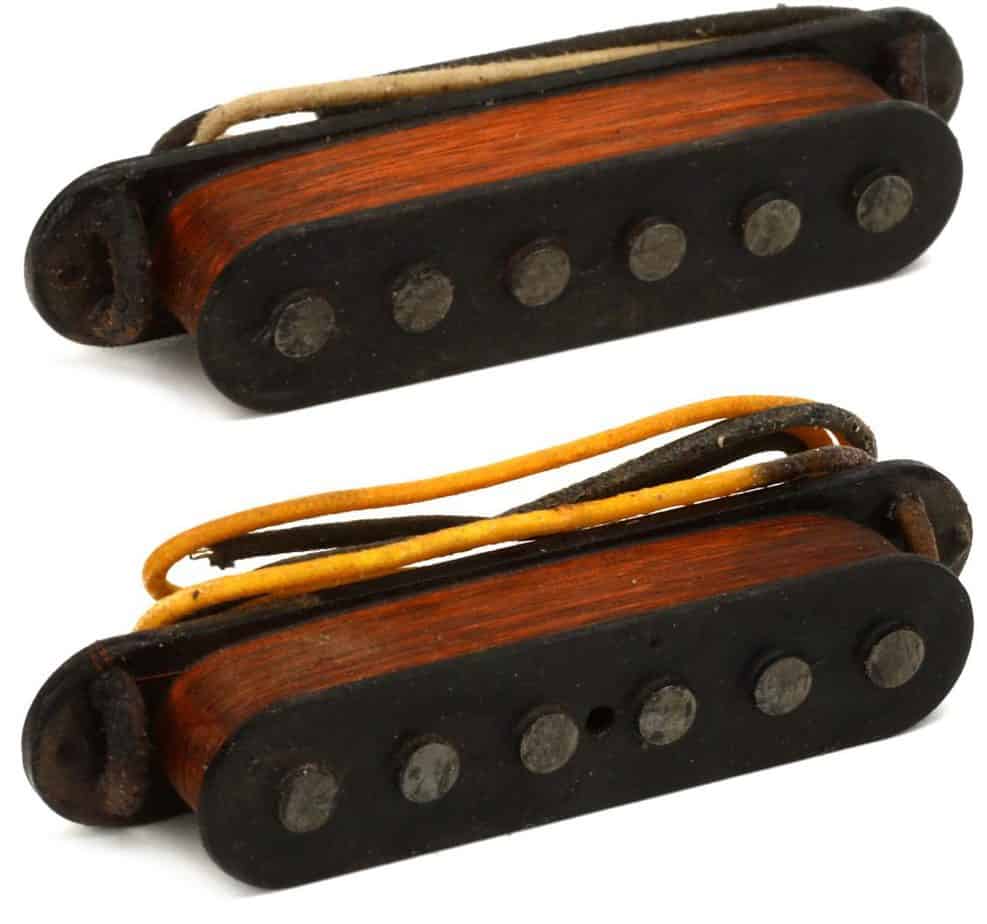 The Jaguar was introduced with single-coil pickups, so purists tend to side with that style of pickup. On the other hand, P-90s are single-coil but with a bar magnet that allows them to have a higher output. Rockers appreciate that extra power.
Fender was successful in developing pickups that were very similar to P90s. The Fender Blacktop Jaguar 90, which has since been continued, features some of the best P90 imitators out there.
Jaguars with lipstick pickups are rare because they have to be installed on the guitar — Fender never released a model with that style of pickup. Tom Verlaine, of Television, was famous for using this setup on his Jaguar. 
• • •
Fender Models: Jaguar FAQ
While Jaguars have been around for a while, there are still plenty of questions that guitar players have about these Fender guitars. Here are some of the most frequently asked questions.
Are Fender Jaguars worth it?
Fender Jaguars are worth it when it comes to quality of construction because there aren't as many affordable models when compared to a Stratocaster or a Telecaster. That being said, the tone on a Jaguar isn't for everyone, so make sure you try one out before purchasing.
Is a Fender Jaguar a Solid Body Electric Guitar?
Yes, all Fender Jaguars are solid body guitars. It would be interesting, though ,to see a semi-hollow Jaguar.
Who uses a Fender Jaguar?
Several famous guitar players still use a Fender Jaguar today, including Johnny Marr of The Smiths, Kurt Vile (formerly of The War on Drugs), and Kevin Shields of My Bloody. Some of the most famous Jaguar players of all time include John Frusciante of the Red Hot Chili Peppers, Cobain of Nirvana, and Joe Pass.
What is the history of these Fender Offset Guitars?
Introduced in 1962, the Fender Jaguar was a follow-up to the Fender Jazzmaster, which didn't initially sell that great. Ironically, the Jaguar also didn't sell well in its first 13 years of production, as most guitarists were drawn to the Stratocaster or Telecaster. It wasn't until the 1970s when the guitar was discontinued that American punk rockers started playing on it and making it a famous guitar. 
What is the price range for a Fender Jaguar?
If you include Squier models, the price range for a Fender Jaguar is between $400 and $1,500. You can typically find a good deal, though, if you shop for a used Jaguar. (A Fender Jazzmaster is similarly priced.)
Are there Fender Jaguars with three pickups?
The closest thing to a Fender Jaguar with three pickups is the Parallel Universe Jaguar Strat, which features three single-coil pickups.
What guitar strings did Kurt Cobain use?
Cobain typically played on Dean Markley strings with gauges .010-.052. That's not to say he always played Dean Markleys, though, on his Jaguars. Cobain was also known to play on strings that came with an electric guitar until they broke.
• • •
Dreaming of a Jaguar?
Well, did I convince you to buy one? Of course, that's never my intention. I only want to educate and give you as much information on each of these guitars so you can make a well-informed purchase.
If I had to pick, I would go with the Fender American Original '60s Jaguar. It's beautifully constructed and sounds great. If your budget doesn't allow for that, then definitely go with the Squier Jaguar, which also sounds terrific for a beginner student guitar. You can never really go wrong with a Fender guitar.
But whatever your choice is, a Jaguar is a classic that will add value to your guitar arsenal and provide you with plenty of tonal diversity to satisfy your wildest creative endeavors. I think Leo Fender would be proud to see its success of these popular Fender guitars.
• • •
Image Credits
Classic Player Special image: Fender Jaguar 62, CC0 1.0 Universal Public Domain Dedication, via Wikimedia Commons; Johnny Marr at Lolapalloza image: Liliane Callegari from São Paulo, CC BY 2.0, via Wikimedia Commons; Jimmy Shaw of Metric image: Shandra Stephenson at http://www.shandrastephenson.com, CC BY 2.0, via Wikimedia Commons; Featured image: fvancini, CC BY 2.0, via Wikimedia Commons.
References
Laurin Schaffner, "Cobain-Designed Fender to Be Reissued to Honor 'Nevermind'," retrieved from https://loudwire.com/kurt-cobain-fender-reissued-30th-anniversary-nevermind/
Matt Owen, "Johnny Marr shares a closer look at his bonkers 9-pickup Fender Stratocaster," retrieved from https://www.guitarworld.com/news/johnny-marr-nine-pickup-strat-fever-dreams