Whether you're new to the guitar or a more veteran player looking to upgrade your equipment, picking a specific guitar brand is no easy task — mainly because there are so many great guitar manufacturers today that build iconic guitars.
Of course, deciding the best brands is pretty subjective. Some may argue, for instance, that Fender makes the best electric guitars because the weight of a Stratocaster is preferable for that person. A Gibson Les Paul, they would argue, is too heavy.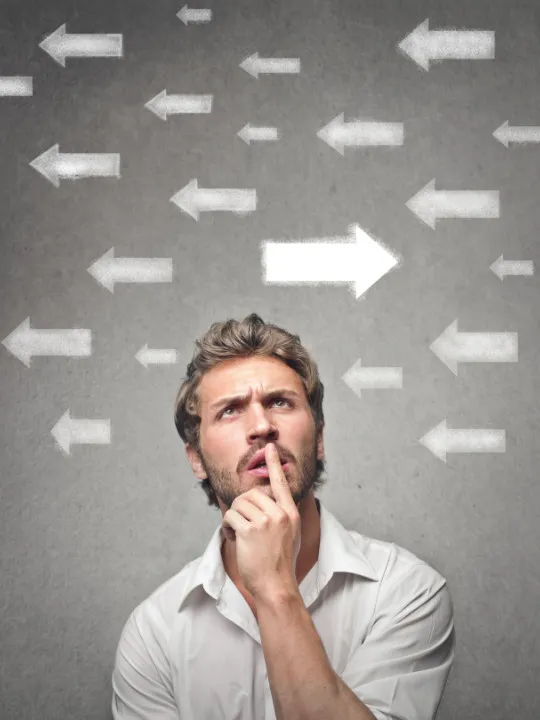 Martin or Taylor players are likely going to have a passionate debate over which of the two acoustic guitar brands reigns superior. By the time both get in their two cents, owners of Gibsons will argue they own an acoustic from the top brand.
You get the point. Thankfully, I'm a lover of all brands. I own a Martin and a D'Angelico, but over the years have had a Fender, a Parker (man, I miss that axe), and a Takamine. My bucket list guitar is a Gibson SJ-200.
In other words, if you're just learning to play, you're likely going to go through a period of experimentation with different brands of guitars.
At first, any new guitar is going to sound amazing. As you develop your skills, play out more and start to really understand how specific instruments are built and why they sound a certain way, then you will have a more educated opinion on what's best for you and your playing style.
No matter your skill level, use this article as a starting point for your next six-string search. I've included some interesting tidbits about each of the brands, in addition to some of their more popular models.
• • •
Best Guitar Brands — Electric
While many brands offer great acoustic and electric guitars, there are some manufacturers that are simply better at one over the other. Here are my picks for top electric guitar brands.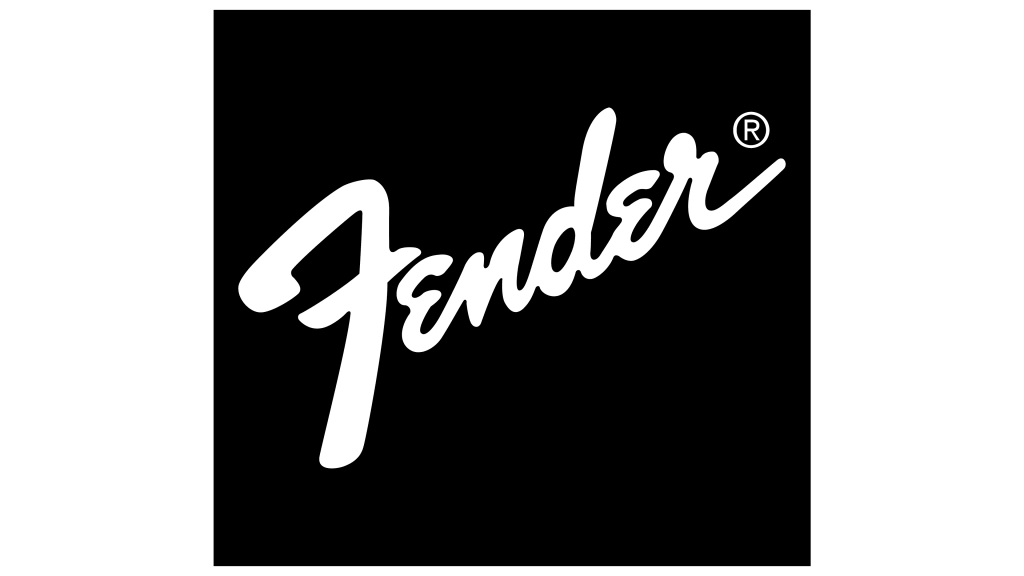 When it comes to an electric guitar, there's nothing more iconic than a Fender Stratocaster. In fact, some would argue that Leo Fender invented rock 'n roll when he introduced his timeless Strat in 1954. The company's history goes a little further back, though.
Leo Fender founded the company in 1946 with the goal of actually making a better hollow-body guitar. As the world soon found out, though, the company's lineup of solid-bodies, beginning with the Telecaster and then the Stratocaster, would become one of the most popular and iconic duos of guitars ever made.
There are three things guitar players really appreciate about the Fender brand: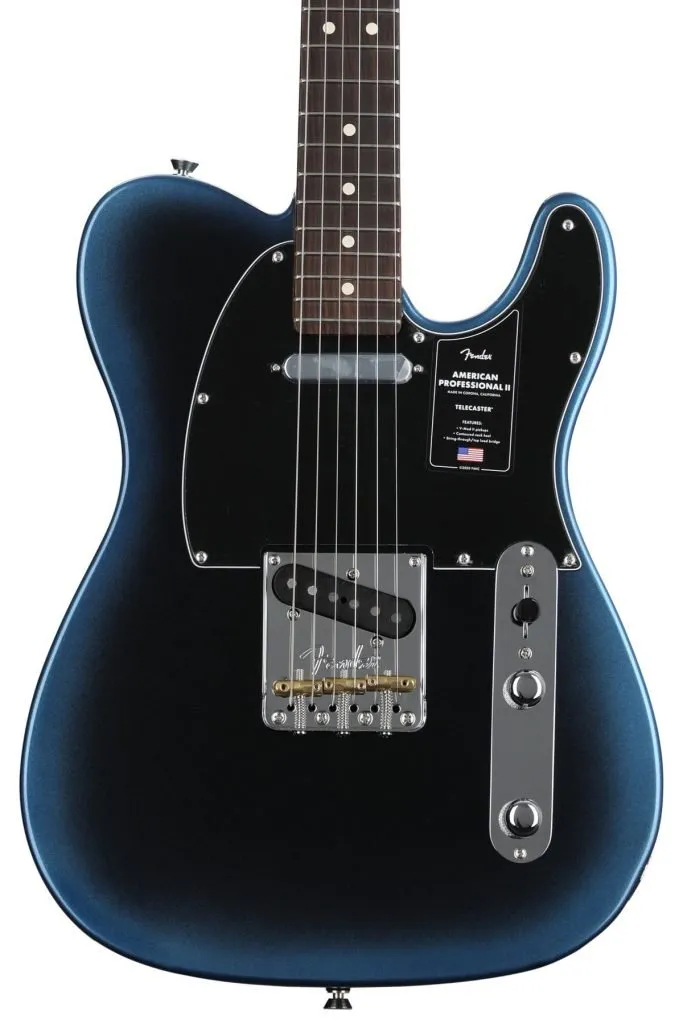 Fender stays in its lane. While you can find Strats and Telecasters with humbucking pickups and other configurations, the brand is most commonly associated with the tones produced by single-coil pickups. When you hear the smooth tones of a Stratocaster, it's indistinguishable, no matter if you're playing a 1964 model or a Professional Series model from today.
Playability is a top priority. Simply put, Fenders are comfortable to play. That's mostly attributed to the neck profiles, which accommodate players with small hands or those with larger hands.
There are models for all budgets. The company may have started with only a couple of different models, but today it has guitars for all playing levels and budgets. From the popular Fender Player Series for beginners that sets you back a few hundred dollars to the high-end, professional lineups that cost thousands of dollars, there's a guitar for anyone's budget.
As Fender has grown, its lineup of axes and bass guitars has become somewhat confusing. It also acquired the brand Squier to allow it to focus on beginner models with bottom-of-the-budget price tags. Make sure not to confuse the brands. If you're buying a Fender, you'll see the Fender logo on the famous headstock. If you're buying a Squier, the headstock will look similar, but it's going to say "Squier."
If money is no object, the American Performer Stratocaster is my pick for the top Fender electric guitar. If you're on a budget, the Player Series Strat is a solid option.
• • •

Gibson is an iconic brand that has withstood the test of time. From the brand's iconic Les Paul to the sultry (and expensive!) SJ-200 acoustic, there's an obvious reason you can find a Gibson inside the Smithsonian Museum today.
The brand started in 1894 as the Gibson Mandolin-Guitar Manufacturing Co. in Kalamazoo, Michigan. Following mandolins and guitars, the company invented the first archtop, replicating the arch found on violins, but for full-sized guitars, which immediately became a huge hit for jazz players.
The company has certainly had its ups and downs. In May 2018, it filed for bankruptcy and then went through a restructuring plan to return to profitability.
From a player's perspective, the build quality is bar none. When you buy a Gibson, you're buying a lifelong instrument.
Of course, manufacturing a six-string that's perceived as "lifelong" isn't the best for business, since you won't have as many repeat customers. That's why Gibson guitars aren't cheap. To achieve that Gibson sound, you need to open your wallet nice and wide.
So, what makes a Gibson a Gibson? Let me explain.
While there are different variations of Gibson's most iconic models, the brand offers a very straightforward lineup. The most popular model is the Gibson Les Paul, which comes in a variety of trims and replica years. The likes of Joe Bonamassa, Slash, and Jimmy Page are just a few of the top Les Paul players.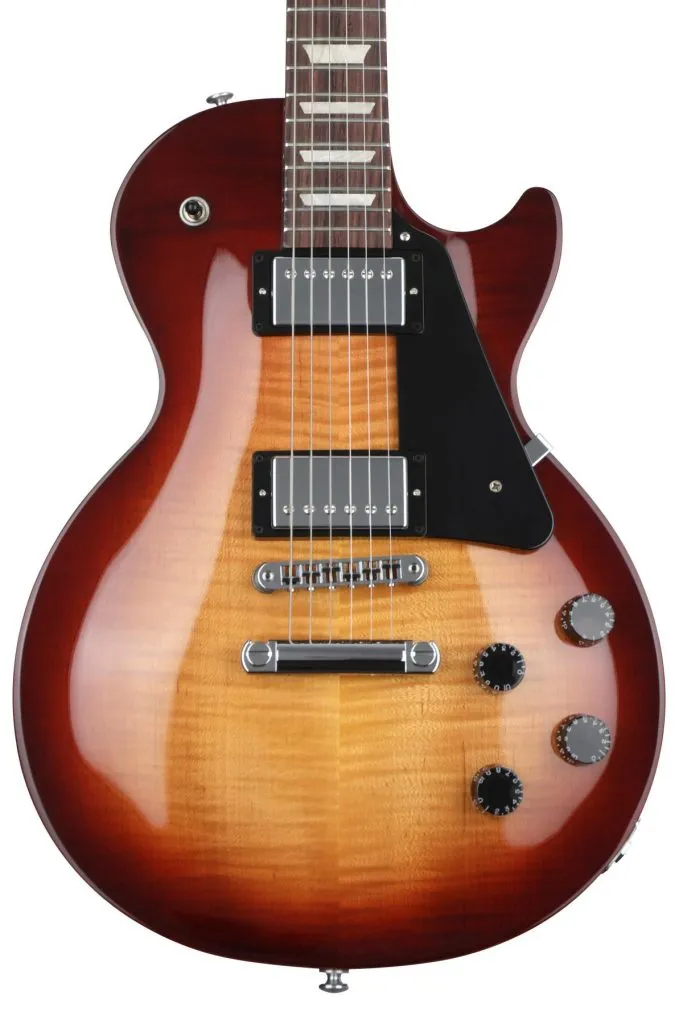 Humbuckers. When you see a Les Paul or an SG, you're not going to see single-coil pickups (that's Fender's play, remember?). Gibson likes big, powerful tone, which is why their guitars use humbucking pickups.
American made. You're not going to find a Gibson made in Mexico or anywhere else overseas. These quality electrics are handmade in Nashville and the acoustics are made in Montana. There's a big jump in quality with American-made guitars.
Tough to find. While you can certainly find a Gibson on sites like Sweetwater, the brand is tougher to find in smaller guitar shops because it requires retailers to buy product in large amounts that, unfortunately, those smaller shops can't afford.
If a Les Paul is too heavy for you or too expensive, you may gravitate toward the Gibson SG, which features a double cutaway and a smaller body.
Gibson launched its own media network — Gibson TV — in 2020 to not only show off its guitars, but highlight music culture in general.
• • •

When you see an Epiphone, you might do a double take and wonder if you're looking at a Gibson. That's because after two decades of competition in the archtop business, Epiphone was acquired by Gibson in 1957 and flipped into the company's "budget brand."
What does that mean exactly? It means you can buy a "Les Paul" for a really cheap price — some under $250.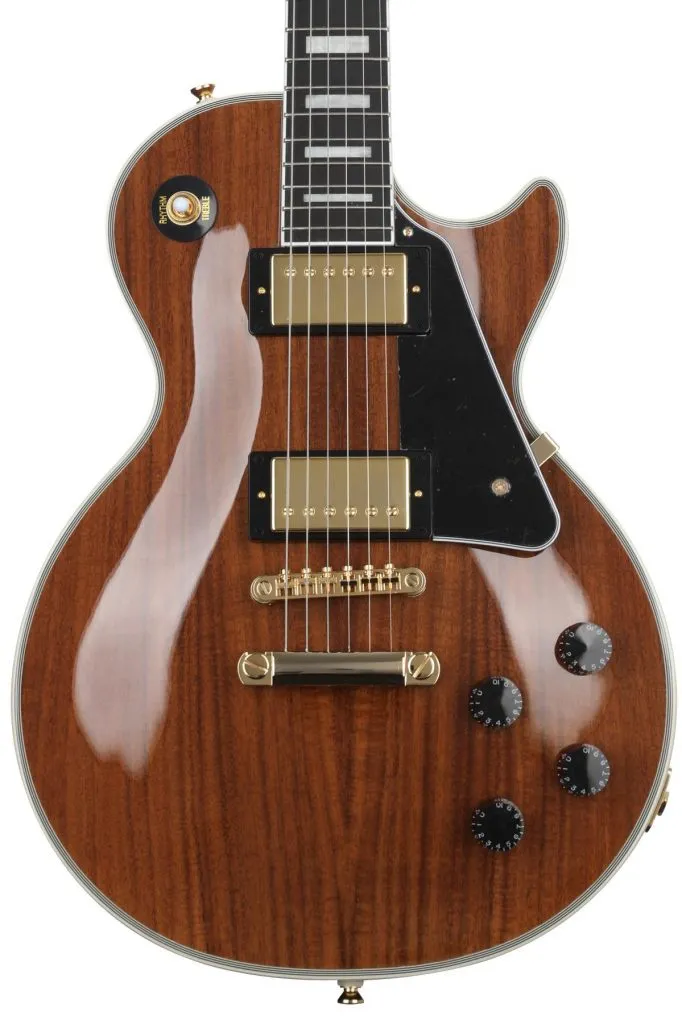 Of course, you also get what you pay for. Epiphones are manufactured in a Gibson-owned factory in China using cheap Chinese labor. It allows buyers in the U.S. to score a decent looking Les Paul replica for not a lot of money, but you're also dealing with quality control issues.
That being said, the manufacturing processes have improved over the years and you are able to find decent Epiphones. The Epiphone Les Paul Custom, for example, is an absolutely beautiful upgrade that won't break the bank.
There's no need to dive into the pros and cons of Epiphone — it's pretty straightforward. It's an affordable brand that makes Gibson-like models that look great. The downside is that quality isn't always the best and can be inconsistent coming from a Chinese factory.
• • •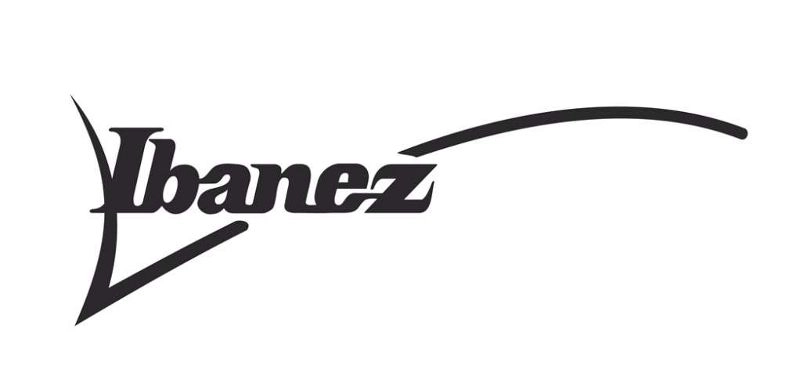 Depending on who you talk to, Ibanez is either a great brand that makes hard-rocking metal guitars or a jazz player's dream brand thanks to its impressive lineup of jazz tops. And honestly, that's a tribute to Ibanez's versatility.
The original Ibanez brand — first called Ibanez Salvador — launched in 1935, solely making Spanish-style guitars. In the mid-1950s, Ibanez experimented with some wild designs before the brand stopped manufacturing altogether.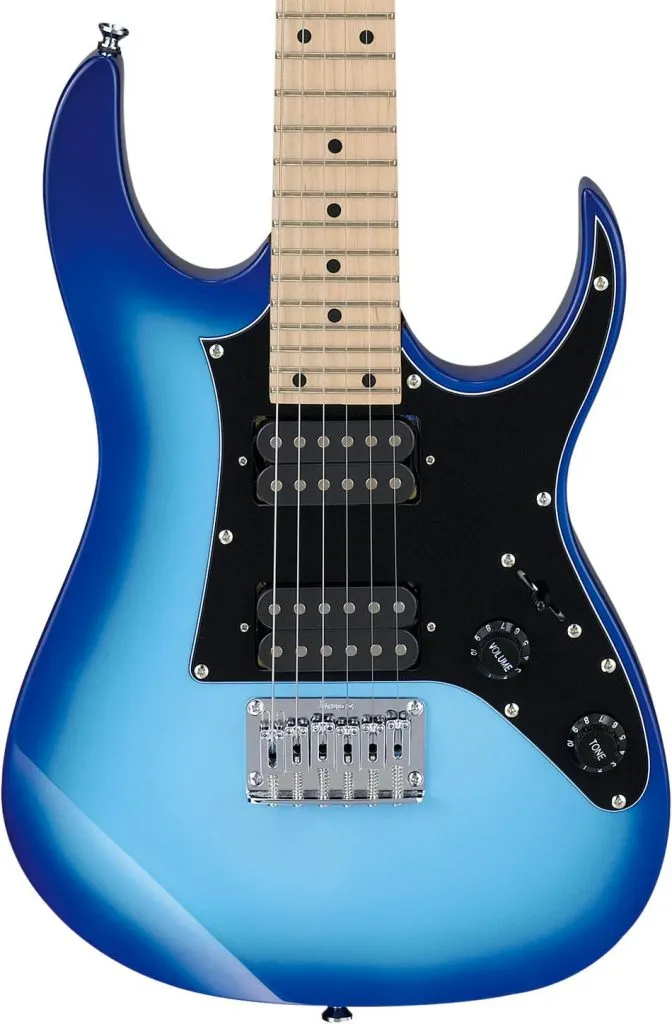 It wasn't really until the 1980s that Ibanez — one of the first Japanese makers to really make a big impression on the U.S. market — figured out its bread and butter: rock music. The brand held rock and metal music at its core, which was attractive to the hair metal bands of that time. That's why Ibanez was the first brand to mass-produce seven-string guitars. 
Along the way, the brand released a number of popular archtops played by some of the world's best players, including George Benson. Other top players include Joe Satriani and Steve Vai.
While most players associate Ibanez with these incredible electrics, the brand also makes an impressive lineup of acoustics.
Ibanez makes beautiful — and wild! — models and many of them don't come cheap. There are plenty of options under $1,000 and even some under $250 that are perfect for beginners, but the really popular options can cost you more than $1,500.
• • •

The D'Angelico brand — run solely by John D'Angelico, himself — was revered as the best maker of jazz guitars (archtops) in the land. So much so that Les Paul (yup, the guy who invented the Gibson Les Paul) borrowed a D'Angelico archtop from John D'Angelico and never returned it. He liked the archtop that much.
After John D'Angelico died, so did the brand, despite a couple of campaigns over the course of the five decades to revive the company.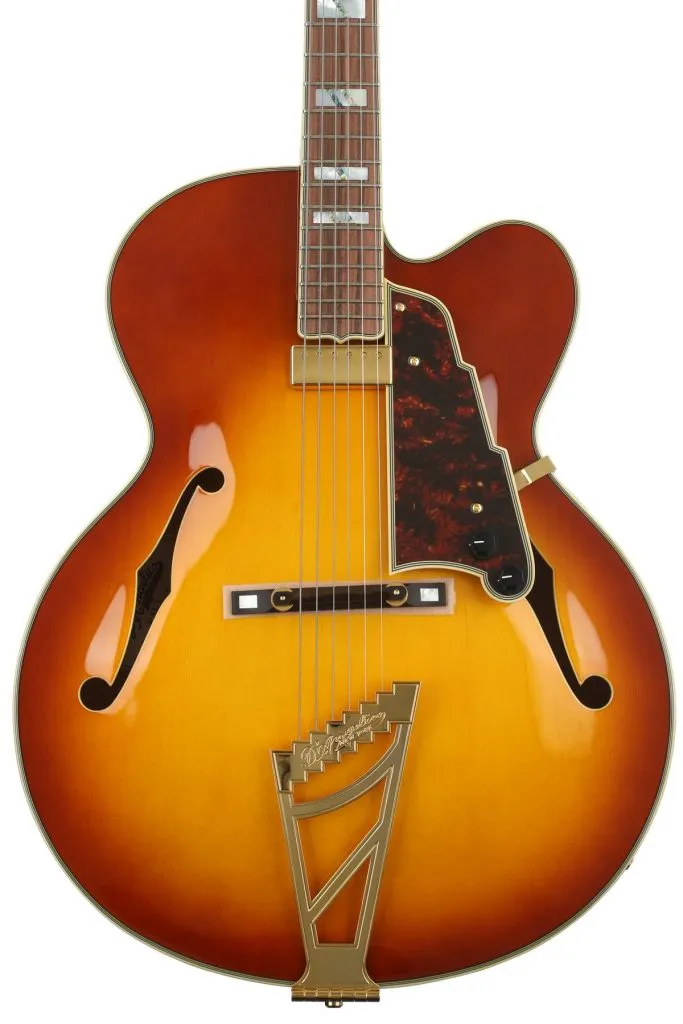 In 1999, the brand was purchased and ultimately revived 10 years later with high-end showrooms in New York City and Aspen, Colorado. They now make some of the best jazz guitars on the market.
Today's D'Angelicos aren't made by hand. Instead, the company ran all of the iconic models, including the EXL-1 archtop, through MRI machines and then made high-end manufacturing schematics that are used in production facilities in South Korea. The result is some of the nicest mass-produced guitars by a modern company.
I personally own an EXL-1 Deluxe in an eye-popping plum color that sounds really good through a bevy of amps. It's one of the best guitars for jazz and blues.
During this current revival of the brand, D'Angelico didn't really offer any affordable models, with most guitars costing between $1,500 and $2,000. Today, though, there are a number of entry-level electrics and acoustics for those with beginner budgets.
• • •
Founded by Paul Reed Smith in Maryland, in 1985, PRS creates some of the sleekest, sexiest guitars around. Building pro-grade acoustics, electrics, basses, and amplifiers, all PRS instruments have superior quality and an iconic aesthetic. 
Paul started PRS with the mission of creating "high tech" guitars, offering players modern features and a high level of playability. Taking inspiration from industry giants like Fender and Gibson, Paul built the first PRS prototype at age 28. Isn't it beautiful?
PRS is one of the most popular brands today. The company is known to create instruments that excel in many genres. While they have a loyal following in metal, rock, and more aggressive genres, PRS guitars are equally at home playing more traditional music like jazz and blues.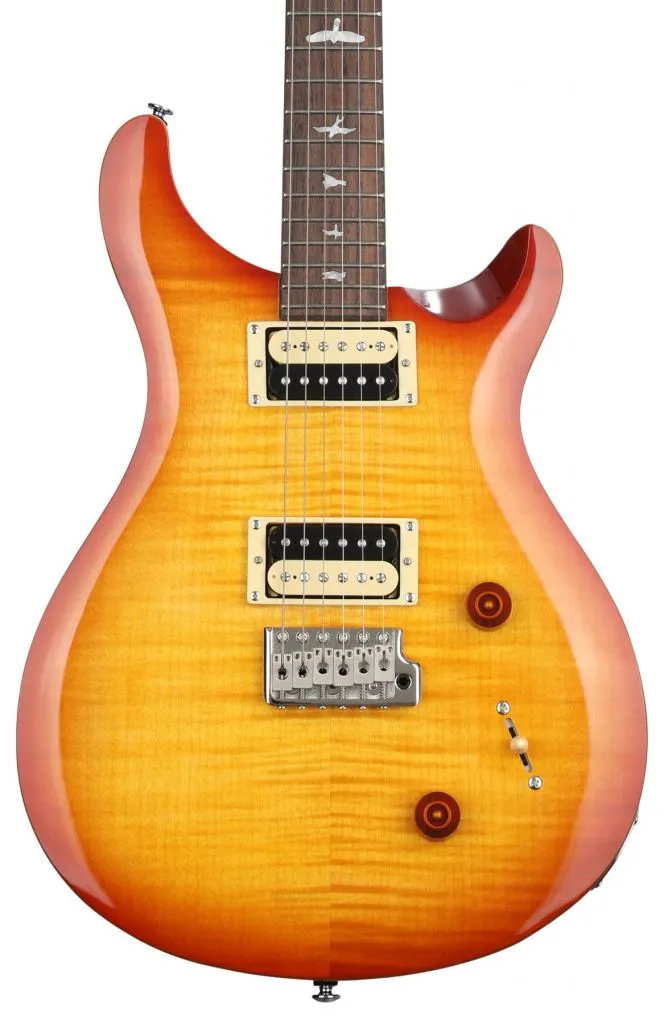 An attractive feature of PRS models is the pickups, which are designed and manufactured by PRS themselves. Most models use coil-splitting technology, meaning they can be switched between single-coil and humbucking modes – providing maximum versatility. 
There's a huge list of reasons why you'd want to own a PRS; here are a few:
Unique hand-wound pickups with coil-splitting.
Gorgeous, sculpted flamed maple tops –  infallible wood selection.
Pro-grade feel and sound — PRS doesn't make cheap instruments, these are serious instruments.
The top recommendations are the PRS SE Custom 22, or the PRS SE Custom 24 which boasts 2 extra frets. Many of their models have the option of being fitted with a tremolo bridge for more expressivity. All of their instruments are stage-worthy and offer quality even the most seasoned professionals appreciate.
• • •

Are there any brands more synonymous with '60s rock n' roll swagger than Rickenbacker? With origins building Hawaiian guitars, the company was founded by Adolph Rickenbacher and George Beauchamp – who designed the Dobro Resonator guitar.
Rickenbacker is credited as the first producer of electric guitars, releasing the 'Frying Pan' lap steel in 1931.
Creating a range of electric and acoustic models, Rickenbacker gained a huge amount of fame after being adopted by The Beatles in the '60s. Their instruments became a distinct element of the band, both sonically and visually, and are intertwined with the band's legacy.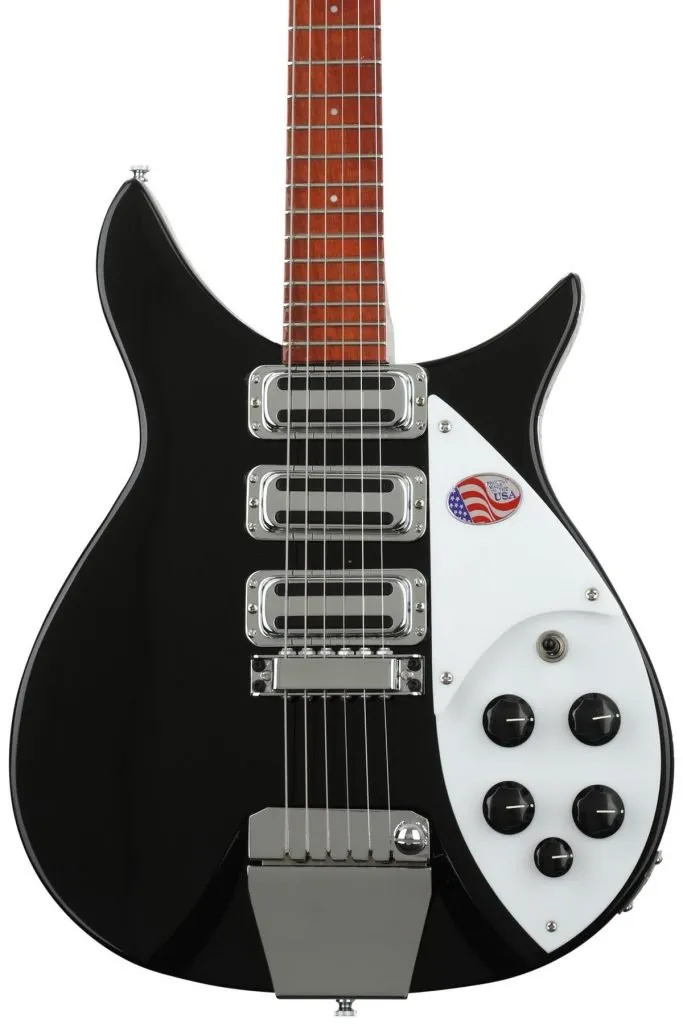 Rickenbacker electric guitars typically feature a semi-hollow body with humbucking pickups. They also manufacture their pickups in-house, which all have the same footprint, making it easy to swap out humbuckers for single coils and vice versa.
Most Rickenbackers use a body shape similar to Stratocasters, but with a rounder body and more offset cutaways. The Rickenbacker sound is known for its classic chime and jangle which was favored by players seeking a crystalline, shimmering tone.  
Rickenbackers are loved across the industry for multiple reasons:
Bright, jangly tone with distinct characteristics.  
Classic aesthetic styling.
Beautiful 12 string variations.
Endorsed by The Beatles!
One of their most iconic models is the Rickenbacker 325, a favorite of John Lennon. The Rickenbacker 620 was George Harrison's gently-weeper of choice. The best-selling models in recent years are the 360 and 330 series. 
Many of their models come in either a 6 or 12 string variety. The 12's offer an extra rich and harmonic sound which brings a new dynamic to your performance.
The company also makes a nice lineup of bass guitars.
If you can afford a Rickenbacker you won't be disappointed! They're pricey and rare, but truly stunning instruments with a captivating vintage tone.
• • •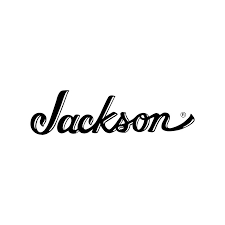 A California company founded in 1980 by Jackson Grover, Jackson was born in an era of massive tones and even bigger hairstyles. Jacksons provide musicians with high-gain, high-quality American-made instruments with an attitude.
Cutting their teeth in the '80s, Jackson took inspiration from the classic Gibson Flying V to create their first model — the signature Concorde.
The Concorde enabled them to establish a strong foothold in the guitar world's heavy metal and punk niches, and they rapidly became pioneers of aggressive guitar designs. 
All their models have a distinct, brazen appearance that screams "I'm here to rock and f*** you!" with the tone to match.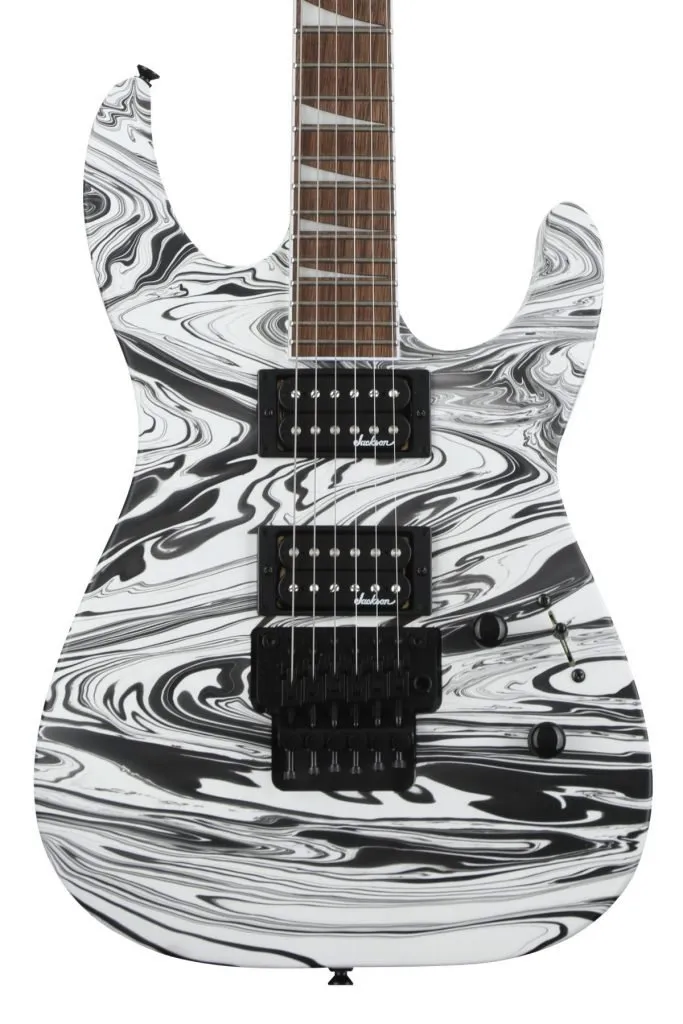 Defining characteristics of Jacksons include their signature pointed headstock, and unique 'shark fin' fretboard inlays, which were later copied by brands like Ibanez.
Jacksons are recognized for their:
Elegant style with aggressive features and sharp silhouettes. 
High-gain, crunchy pickups.
Affordability and accessibility.
Designed for fast playing techniques. 
Jackson provides instruments at a wide range of prices. Starting at around $100, going up to $4000 and above, there are instruments for any skill level. 
Affordable models like the JS Series are ideal for beginners. The JS Dinky series is also a popular choice, and is slightly smaller than full-size, at ⅞ scale. 
The X Series and USA Select models are some of Jacksons' premium models for a larger budget.
• • •

One of the longest surviving brands in the music industry, Gretsch was founded in New York in 1883 by Friedrich Gretsch. Passed down through generations of the Gretsch family, this company creates a wide range of musical instruments and remains a leading manufacturer.
The company originally manufactured drums, tambourines, and banjos with a focus on hand-craftsmanship and dedication to reliable quality. In the early 20th century they began producing acoustic guitars, specializing in archtops for jazz performers, and some flat-tops for country musicians.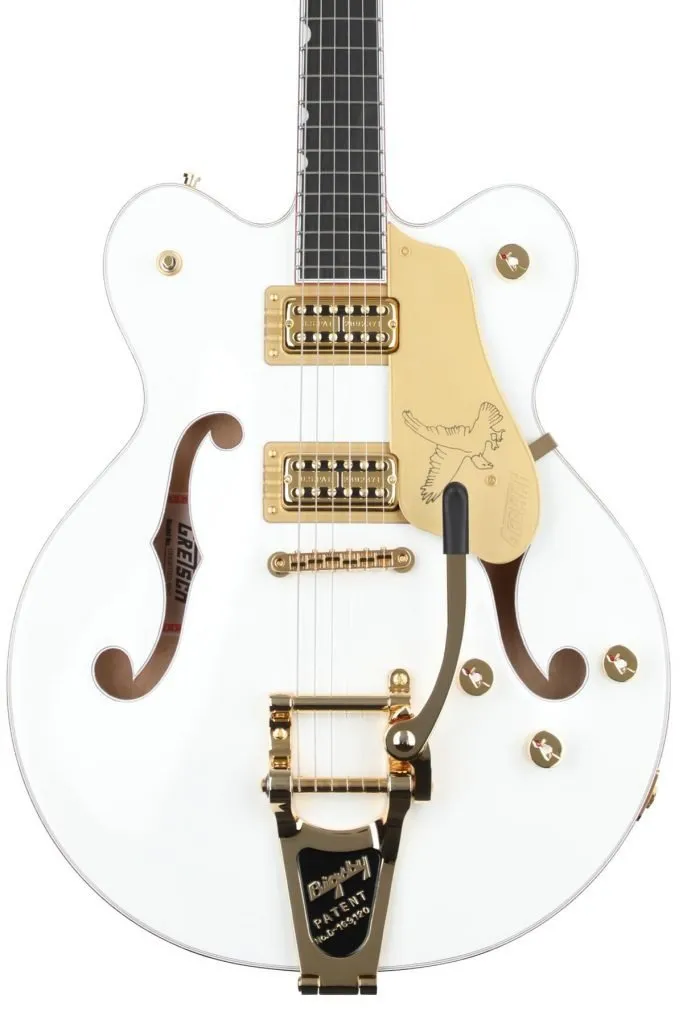 In the 50's they became even more prominent, rocketing to success thanks to their inclusion of custom finish colors and electronic enhancements. They even outperformed Fender in the '50s and received a string of famous endorsees like George Harrison, Chet Atkins, and Duane Eddy. 
Gretsch instruments are a favorite of the industry for several reasons:
Affordable instruments with reliable quality. 
A wide range of designs and budgets.
Iconic hollow and semi-hollow bodies.  
100+ years of experience.
The Gretsch roster offers a wide range of guitars, from basic workhorses to sublime masterpieces. 
A personal favorite is the Gretsch White Falcon. This is a beautiful electric guitar, but rare and expensive. 
The Gretsch Electromatic Series is a popular range of mid to professional-grade guitars. Gretsch Streamliner is another excellent series, coming in at slightly lower prices.
• • •
Best Guitar Brands — Acoustic
There are a handful of great acoustic guitar makers that (for the most part) solely focus on building great acoustics. Here are our favorites that you need to know.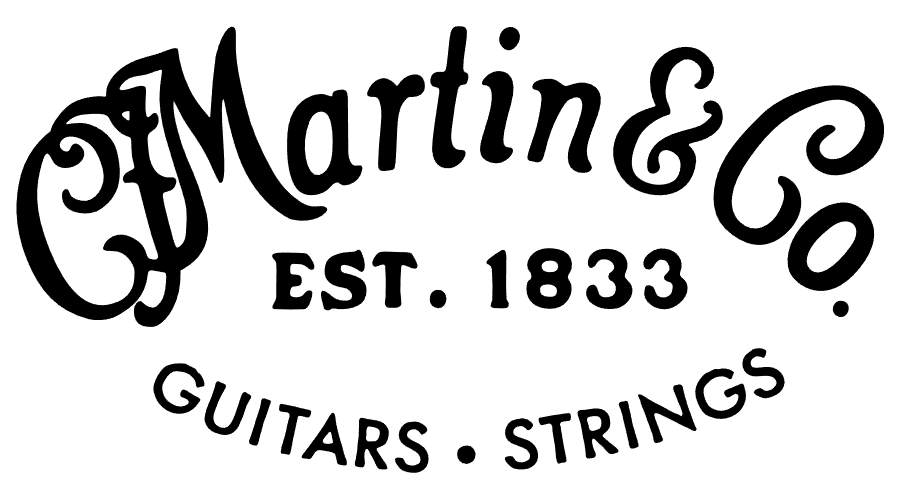 When you've had Civil War soldiers strumming your guitars, you know you're more than just a guitar maker — you're a piece of musical history. That's certainly the case for the C.F. Martin Guitar Co., which started all the way back in 1833 and has continued as the top-shelf choice for acoustic guitar players around the world.
Hank Williams. Bob Dylan. John Lennon. John Mayer. The list goes on and on and on. Simply put, a Martin guitar is a lifelong guitar that only gets better with age.
Of course, I may be slightly biased in this review as the owner of a Martin 00-17S, a super-warm, easy-to-play parlor-style guitar that I'll likely hand down to my son one day. It's the perfect guitar for strumming around the home. When paired with electronics, you can also easily bring it to the live performance stage.
So what makes a Martin a Martin? There are a few key differentiators.
American made. Each Martin is made at the company's Nazareth, Pennsylvania headquarters. 
Top-notch woods. When you strum a Martin, the warmth of the tone overtakes a room.
Quality Parts. While some robots and machines certainly help in the building process, all Martin models are technically made by hand. This means a lot in terms of quality.
Of course, this American-made quality does come at a higher price. If you're buying from the Martin Standard Series, you can expect to easily pay at least $1,500. Anything with a 42 or 45 on the end, i.e., a Martin OM-45, is significantly more expensive than say something with an 18 on the end, like a Martin D-18.
Of all Martins on the market, the D-28, a dreadnought-style, is the brand's most popular. It was used by all the big names and continues to be a top-seller.
While Martins are expensive, they do have a lineup geared more toward beginner players. For younger players with smaller hands, check out the Martin LXK2 Little Martin. The Martin OMC-X1E Acoustic-Electric is also a solid option for beginners with a slightly bigger budget.
As an added bonus, most Martin models come with a hardshell case to protect your investment.
• • •
It's natural to follow a review of Martin with a review on Taylor Guitars — the No. 1 seller of acoustics in America for several years. While the California guitar maker is much younger than Martin (the company was founded in 1974), it has quickly become a favorite of guitar players thanks to its indistinguishable warm tone.
The purists don't love Taylor as much because it was the first guitar brand to ever use computer mills (robots, essentially) to manufacture its guitars. They would argue the best-sounding acoustic guitars are made by hand.
But that's simply not true.
Taylors are still set by hand, inspected by actual humans — and they use high quality materials that help them deliver incredible sounding guitars.
While I'm more of a Martin guy, another writer on our team — James — prefers a Taylor. To each their own.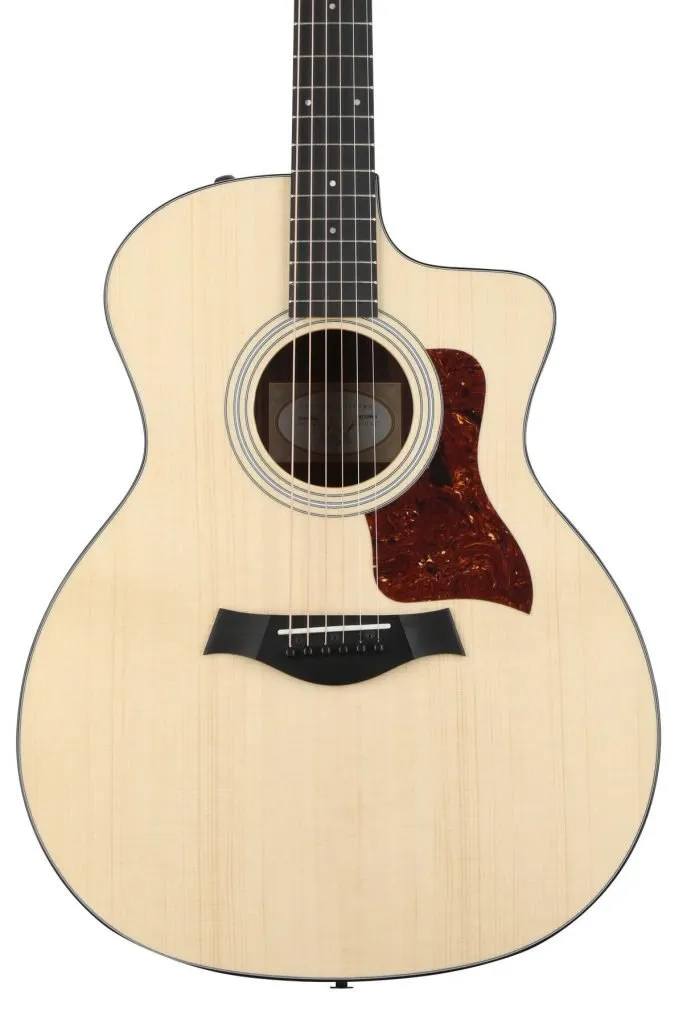 I would argue the artists who play Martins are a little more respected than some of the top Taylor players, which include Taylor Swift (obviously), Jason Mraz, and George Strait.
What makes a Taylor so appealing? Here are a few reasons:
Wide range of options. While a majority of Taylors can be classified as "expensive," there are some beginner options that smaller budgets can take advantage of.
Beautiful design. Scroll through Taylor's website and look at their guitars. Many of them are works of art, especially the high-end limited edition models.
Excellent electronics. Taylor uses its own proprietary electronics that do a great job of capturing a guitar's dynamic properties.
When you play a Taylor, it just sounds different than other high-end acoustic guitars. That's because this company innovates the heck out of its guitars. From the use of computer mills and lasers, Taylor has dialed in what makes a guitar sound good. When paired with its home-brewed electronics, the playing experience is even better.
If you're a beginner with a budget of about $500, you'll need to get a Baby Taylor, which still sounds great, but has a smaller body and scale length. My favorite Taylor for the money is the Taylor 214ce in a natural finish. The design of the guitar easily makes it one of the most comfortable acoustics on the market.
• • •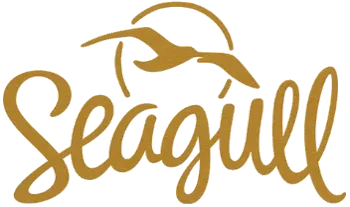 When it comes to beginner and intermediate guitar makers, Seagull delivers great value.
Born from the Godin guitar family in 1982, the idea behind Seagull was the same as Fender saw Squier and Gibson saw Epiphone — manufacturing an affordable guitar that sounds good and is accessible to all players. Today, you can easily find Seagulls for under $500 that sound really good and are great instruments for learning the guitar.
My first acoustic in middle school was a Seagull that I hung on to for several years before upgrading to a Takamine, and then eventually my Martin.
All Seagull guitars are manufactured in Canada. Interestingly enough, the Seagull factory is located in the LaPatrie village in Quebec. Of the roughly 475 people who live in the tiny town, about half work at the Seagull factory. A pretty musical village if you ask me!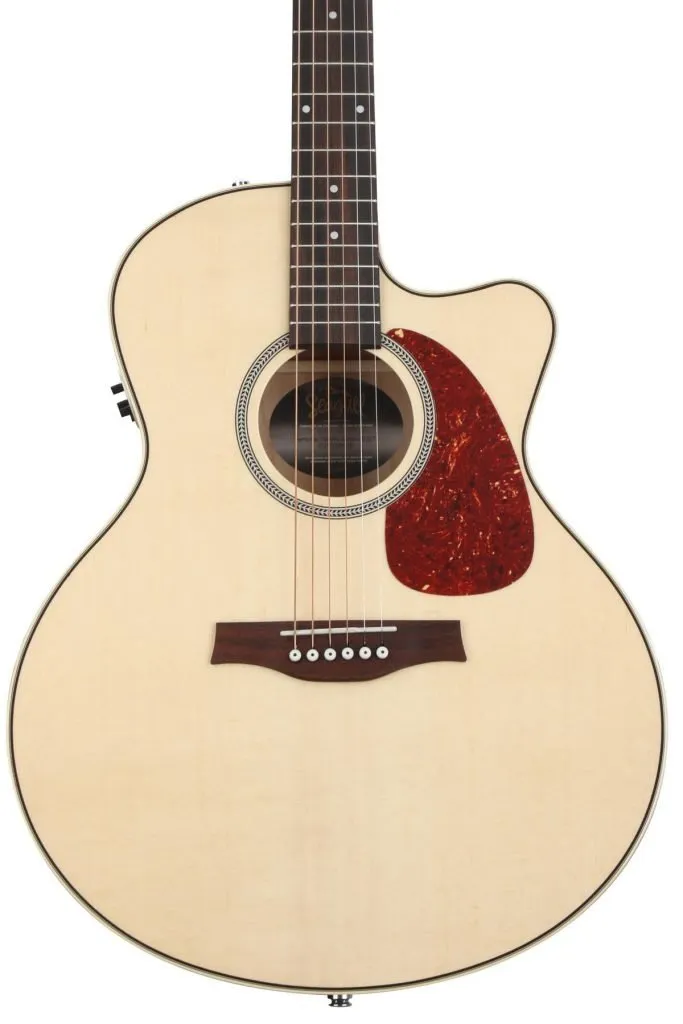 I've always appreciated how Seagull has stayed committed to sustainable guitars and leaving as little of a footprint on the environment as possible. They often use reclaimed wood and their production facility is run by hydroelectricity.
What are some of the qualities of a Seagull guitar? We have the answers.
Affordable. The most expensive Seagull guitar on Sweetwater tops out under $1,700. Most are under $600.
Simple designs. If you're looking for a classic dreadnought, Seagull has your back. Need a cutaway? No problem. The brand doesn't overthink design.
Quality. While Canada isn't known for being a mecca for guitar production, the quality of Seagulls are apparent the moment you hold one.
But is a Seagull right for you? That depends. If your budget is around $600 or less, then you should definitely check out the Seagull S6, which is one of the brand's most popular guitars. I'd argue it's more guitar than the "baby" models that Martin and Taylor offer at around the same price.
If you're looking for more of a "forever" guitar, Seagull still might be an option for you. The Seagull Performer with cutaway features excellent electronics for playing through an amp or PA system and feels extremely high quality.
• • •

The Japanese excelled in producing a great electric guitar brand or two, and they also have a wonderful acoustic maker: Takamine. Founded in 1959, Takamine has established itself as one of the world's top-value acoustic guitars. In fact, a lot of big-name artists, like Garth Brooks and Bruce Springsteen, trust Takamine on tour.
While you can certainly find Takamine models with beginner budgets, I like to think of this guitar brand as the first acoustic you upgrade to. Maybe you purchased an entry-level Yamaha acoustic to learn and feel out the instrument (more on this soon!), but now you need something that's higher in quality and more robust in sound. My first recommendation is to always look first at Takamine.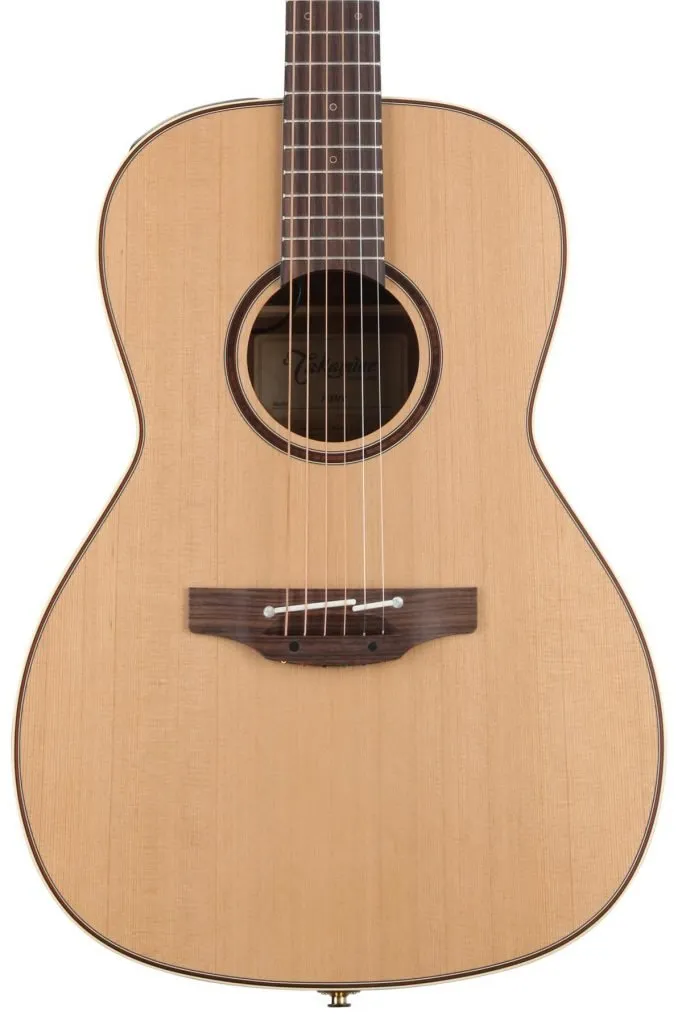 Most Takamines include electronics, so if you're on the fence about buying an acoustic with a pickup on it, Takamine likely already checks that box.
The most popular models, like the Takamine GN93CE, will cost you less than $1,000, and they're WAY more guitar than the entry-level models from Martin and Taylor.
There's a chance that you eventually fall in love with this guitar brand and want to stick with it to your next upgrade, which is typically a forever-type guitar. If you're in that camp, I'm a big fan of the Takamine P3NY New Yorker and the GJ72CE 12-string model.
Here are some main reasons why players love Takamine:
Well-balanced. They play both loud and soft really nicely.
Value. Like I've mentioned, you can get a lot of guitar for the money.
Durable. The Japanese follow great manufacturing practices that result in a high-quality guitar.
Now, the tone of a Takamine may be too bright for some players' liking. That's why it's always best to try out a guitar in your local shop before making the commitment.
• • •

Now, experienced guitar players might be wondering why we included Yamaha on a list of the best guitar brands. The reason is simple: It's easily the best beginner guitar brand out there. For under $200, you can start learning the guitar and that is something to be celebrated.
Yamaha is known for a lot of different instruments, especially pianos and wind instruments. It wasn't until the 1960s that the company entered the global guitar game. Its first guitar, the FG180, became a favorite of folk players who were looking for an affordable dreadnought. The company would also go on to release a couple of different electric guitar models.
Fast-forward to today and we often recommend Yamaha guitars for beginners or for those who are getting back into guitar after time away from the instrument. That's the case for the founder of ReallySimpleGuitar, Alan Furth, who launched this site to help beginners make the most of their guitar-learning journey. He purchased a Yamaha to reinvigorate his passion for guitar.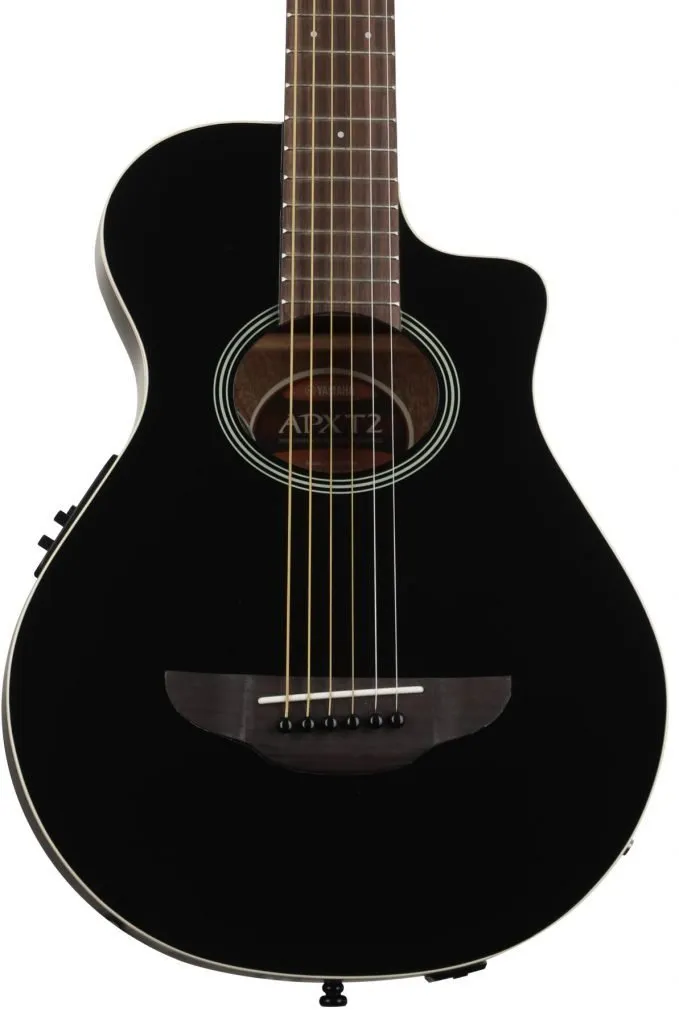 Are Yamaha guitars any good? Well, if you're a beginner who has never touched a guitar — Yes, absolutely! They have six strings, a fretboard, and decent manufacturing to keep everything in tune. What more do you need to learn how to play the guitar?
If you're an experienced guitar player who has played on Martins and Taylors, you might feel that a Yamaha feels and sounds cheap.
The truth is, there's a guitar brand out there for players of all experience levels. Yamaha just happens to be the one we recommend for beginners.
While Yamaha doesn't sound as good as some of the other acoustic brands on this list, there is still a lot to like about the brand.
Affordable. This is a given. The FG Series is great though for the money.
Accessible. You can buy Yamaha guitars anywhere online and they can be found in most music stores.
Interesting designs. There are certainly the classic dreadnought and orchestra model-style bodies, but there are also some interesting designs, like the APXT2.
If you want a dreadnought-style guitar, we recommend the Yamaha FG800. Need a cutaway? The Yamaha FGX800C is excellent. Both are well under $400, which means if you ultimately break up with playing the guitar, you're not out a ton of money.
• • •

The pride and joy of Texas, Collings Guitars is perhaps one of the most overlooked and underrated acoustic guitar brands. It was founded in the 1970s by Bill Collings, who has gone on to be recognized as one of the top aficionados of modern acoustic instruments.
The story of how Collings came to be is actually quite interesting. While in college, Bill Collings was interviewed by none other than Lyle Lovett for the college newspaper. Lovett's career was just getting started. When he heard the guitar, he immediately fell in love with it and purchased the 29th Collings ever made (1).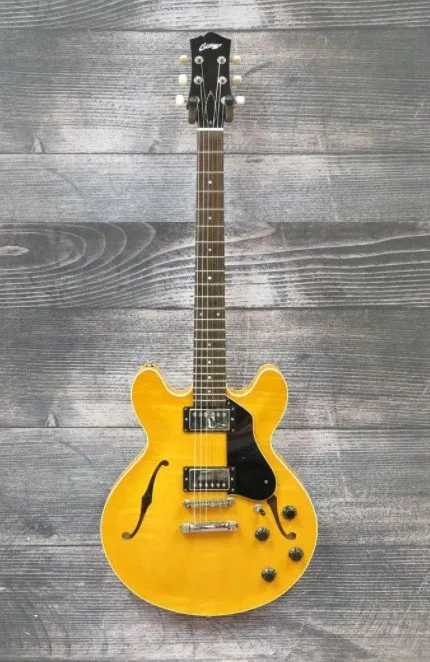 Today, the brand doesn't make a ton of inventory, which is why when you find a Collings, it typically comes with a big price tag. You won't find Collings in big-box stores like Guitar Center or Sweetwater; instead, you need to scope them out in specialty shops, like Elderly Instruments in Lansing, Michigan. Anyone interested in buying a Collings, needs to find an authorized Collings dealer.
In addition to Lyle Lovett, there's a handful of great players who trust Collings, including Bruce Cockburn, Ryan Bingham, Brandi Carlisle, Pete Townshend, and a handful of other singer-songwriters.
Yes, Collings Guitars aren't cheap. Expect to pay at least $3,000 for a model. But those who own them say they are worth every penny.
Incredibly warm tones. Bill Collings cracked the code on developing an acoustic tone that resonates with warmth all day long.
Perfect quality. Bill was a perfectionist (2) and would never sell a guitar that hadn't been expertly inspected.
Beautiful aesthetics. There's something simple, yet stunning about every Collings guitar manufactured.
Who's buying a Collings? This is definitely a brand you aspire to purchase after playing for several years (unless you have a ton of money to blow, obviously). Just like I aspire to one day afford a Gibson SJ-200, there are many guitar players — especially those down in the state of Texas — who have a Collings ingrained as their dream guitar.
• • •

Filling out a list of the top acoustic brands is no easy task, but one brand has been drawing a lot of attention as of late: Waterloo. And why are these guitars so highly revered? Because they're made by the same experts at Collings Guitars in Texas!
The Waterloo brand was designed for singer-songwriters looking for a balanced tone across the bass and treble. Many of today's up-and-coming Americana stars, like Thomas Csorba, trust Waterloo for a modern, folksy tone.
There's something very Texas about the design of Waterloo guitars, especially the WL-14 Boot Burst edition. If you're looking for a guitar that has that classic cowboy look and feel to it, definitely check out Waterloo.
As the child brand of Collings, you can expect Waterloo to also be an expensive guitar brand. The good news is that it isn't as expensive as Collings models. Still, expect to pay more than $2,000 for most Waterloo guitar models.
What are the best qualities of a Waterloo? Here are a few:
Folk and blues superstar. If that's your genre, you definitely need to strum one of these guitars.
Simple design. There's nothing over-the-top about these guitars, and that's a good thing.
Playability. These guitars are quite lightweight and come with a comfortable neck profile for players of all hand sizes.
Waterloo is known to put some intentional imperfections in its guitars, which aren't for everyone. But all-in-all, these are extremely high-quality instruments with incredible tone.
• • •
Guitar Brands FAQ
Which Guitar Brand Is Best?
The best guitar brand depends on what you're looking for. If you're in the market for an acoustic, for example, you're likely not going to shop for a Fender. The same goes for an electric guitar — we wouldn't recommend a Yamaha unless you're a beginner..
The best guitar brand is the one you can 1) afford, and 2) enjoy playing. We're always quick to say that it doesn't matter if you're playing a $5,000 guitar or a $150 guitar — if you don't know how to play guitar well, it doesn't matter.
You'll eventually figure out what brand you most align with and want to pursue. Personally, after learning the story of John D'Angelico and how he established himself as one of the top jazz guitar makers, I knew right away that I wanted a D'Angelico Guitar. That's the fun part of shopping for a new guitar.
What are some good guitar brands for beginners?
A good guitar brand for beginners is Yamaha for acoustics and Mexican-made Fender guitars for electrics. These brands offer guitars with reasonable price tags and acceptable quality that will help you first learn the instrument. 
Do Expensive Guitar Brands Sound Better?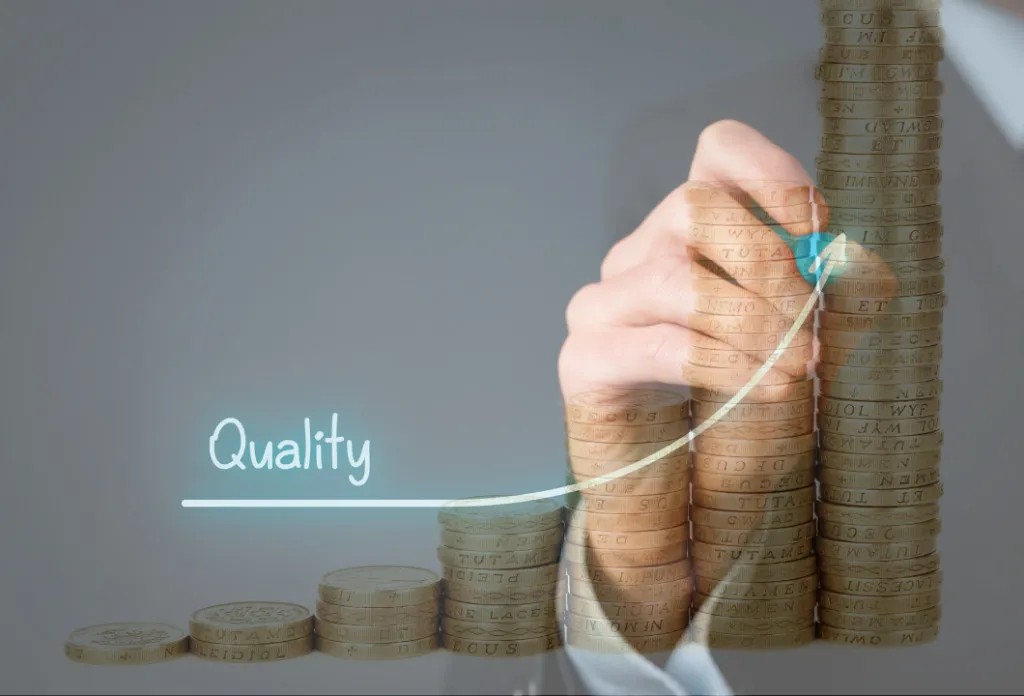 Expensive guitar brands don't necessarily sound better, but you can expect their quality to be better than entry-level guitar brands.
Again, a guitar only sounds good if you know how to play it. Fender guitars can be expensive, but that doesn't necessarily mean they sound better than a Gibson. Tone (and beauty!) is in the eye (and ear!) of the beholder.
Know this: the more expensive the brand, the higher quality of guitars the company makes. 
What Are the Best Cheap Guitar Brands?
Yamaha is the best cheap guitar brand out there and what we always recommend for guitar newbies looking to spend as little money as possible. Squier is good for electric players who also have a tight budget.
Is Gibson Better at Electric Guitars or Acoustic Guitars?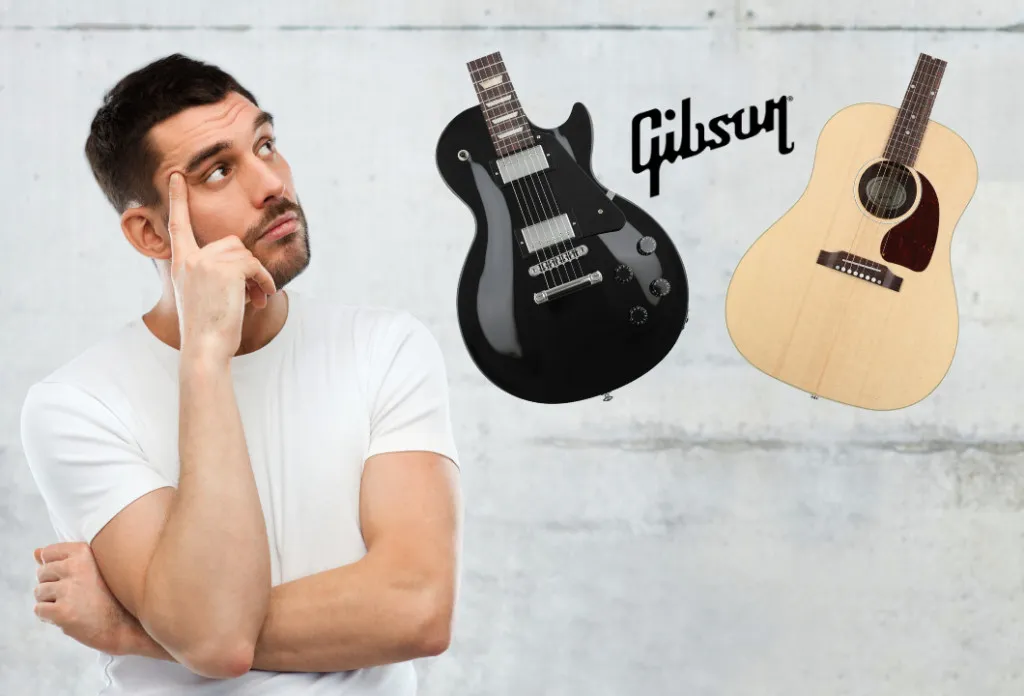 Gibson is simply a great guitar brand, so picking if it does electrics or acoustics better is no easy question. Personally, I'm more of a fan of Gibson's acoustic lineup. But the Gibson Les Paul is an iconic electric that can't be denied. It's a coin flip.
• • •
Find Your Guitar Today
As you can see, finding the guitar brand right for you is no easy task. In fact, it can be overwhelming.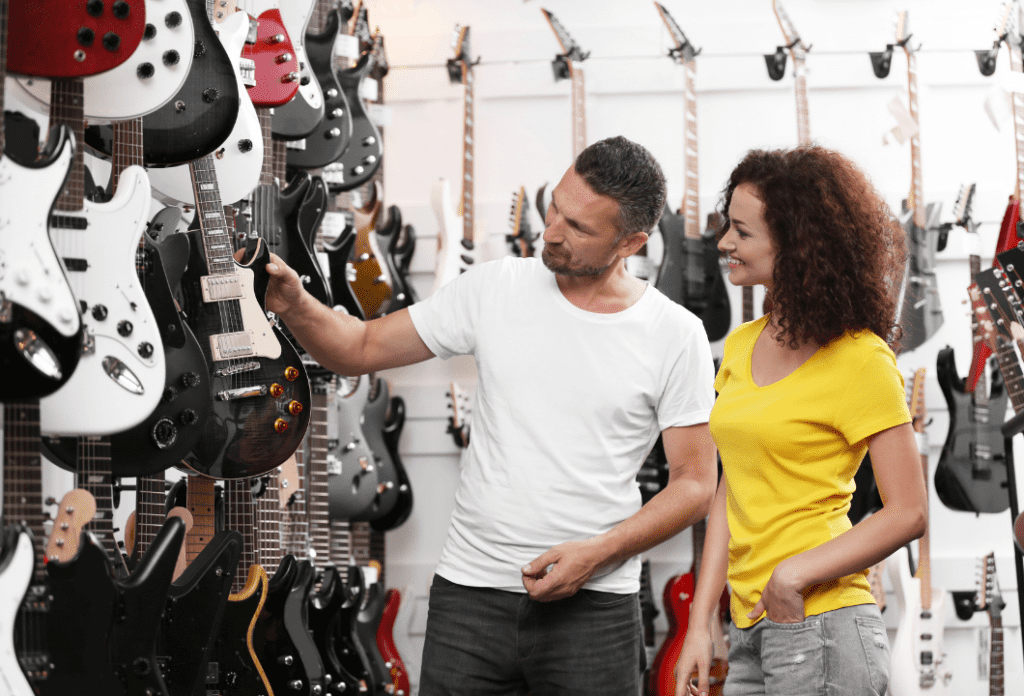 Here's some advice: Take your time! Find a guitar in your price range that feels comfortable in your hands and then look to upgrade from there as you continue to grow your passion for the instrument.
I've owned more than a dozen guitars over my lifetime, and have settled on two brands for now, but keep dreaming of owning that Gibson acoustic one day. Do the same and stay motivated to keep learning and becoming a better player. You can do that by taking online lessons at your own pace.
If you're deciding between two guitars — maybe a Strat or a Telecaster — we can also help! Click around our site for more helpful content to help you along your guitar journey.
• • •
References:
Davis Inman, "Lyle Lovett Talks Collings Guitars And 'Road To Ensenada'" as published here https://americansongwriter.com/lyle-lovett-talks-collings-guitars-and-road-to-ensenada/
Michael Hall, "Collins Guitars Are Worth Every Penny" as published here https://www.texasmonthly.com/being-texan/video-collings-guitars-are-worth-every-penny/