When we talk about Fender guitars, we're typically discussing Stratocasters and Telecasters.
But there are two guitar models that are quite popular, especially for those who are interested in standing out in a crowd: The Fender Jazzmaster and the Fender Jaguar.
These offset models were initially geared toward jazz players since Fender wasn't producing archtops, which is the preferred guitar style for that genre. Surf rockers, though, loved the look and feel of the guitar and really made it their own. 
Today, the guitars are loved by alt-rock and indie players, in addition to some heavier rock musicians and even some metal players.
Jazzmaster vs. Jaguar: Quick Overview
Product
Tone
Tone
Clear treble tones. Balanced.
Twangier — like a mix between a Stret and a Tele.
Body shape
Body shape
Offset body; some feature double binding.
Offset body similar to the Jazzmaster.
Neck & Freatboard
Neck & Freatboard
Similar feel. Jazzmaster features block pearl in-lays on the frets.
Jaguar features single dots on its fretboard.
Scale length
Scale length
25.5" standard scale length and 22 frets.
24 inches, which is significantly shorter. There are 21 frets.
Pickups
Pickups
Single-coil pickups that are at a shorter height than the Jaguar.
Single-coil pickups that offer better clarity than Jazzmaster
Weight
Weight
About 8.5 lbs, which is the same as the Jaguar
About 8.5 lbs, which is about the same as the Jaguar
Both guitars are quite similar in terms of design but have branched out as more genre-specific guitars.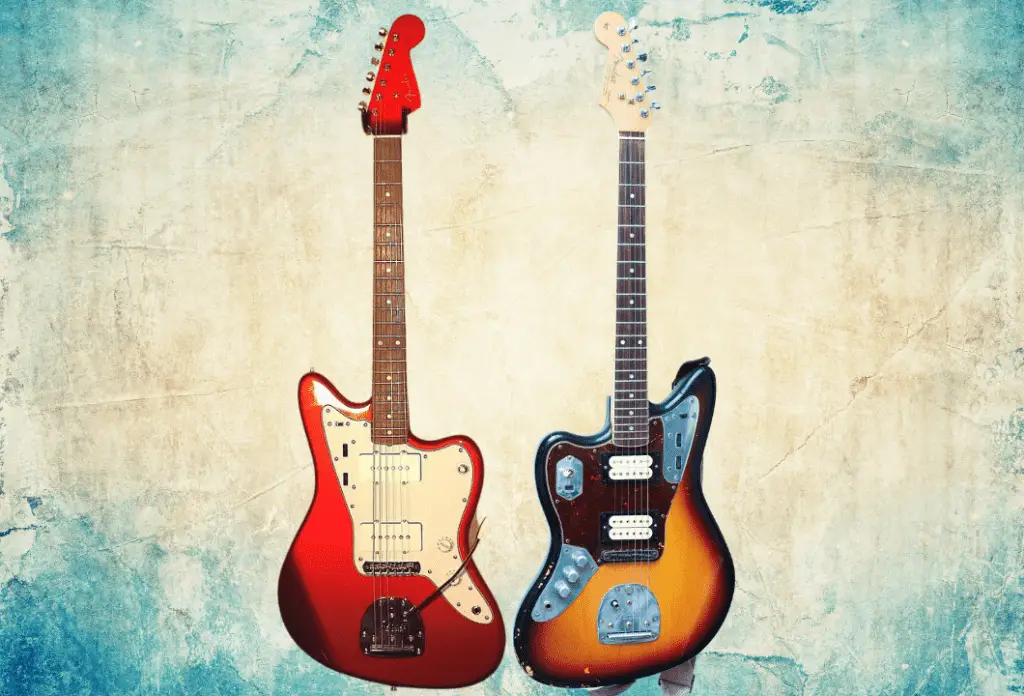 The Fender Jazzmaster is best for, well, jazz! That was the whole idea when Fender introduced the guitar in 1958. While the guitar never resonated with jazz players (it just couldn't compete against traditional archtops), it was an attractive option for surf guitarists. Still, the Jazzmaster's single-coil pickups offered impressive bass and mid response, with enough treble clarity that's suitable for most players.
Fender listened and made some critical updates to the Jazzmaster and four years later introduced the Jaguar.
The Jaguar is best for surf rock, shoegaze, and other alternative rock subgenres today. Today's Jaguars offer a twangy tone that's a bit more "classic Fender," which is why it's popular among alternative rockers.
Still interested in learning more about the difference between these two classic beauties? I'm ready to break it all down for you!
• • •
Fender Jazzmaster vs. Jaguar: Same Difference?
On the surface, they look and feel like nearly identical guitars. But when you start delving into both of them, there are some noticeable differences.
Unique Sound & Tone
Fender originally designed the Jazzmaster for jazz players, which is why there are relatively clear treble tones. But as you play the guitar, there's more resonance from the bass and mid-range tones, which isn't always the best for jazz. That balanced Fender sound is great for rock and pop music, though.
A Jaguar is a bit twangier — a nice mix between a Strat and Tele.
Weight
On average, both guitars weigh 8.5 pounds. This makes it slightly heavier than your typical Stratocaster and Telecaster, but considerably lighter than a Gibson Les Paul.
Pickups
Both guitars use single-coil pickups, but each setup offers a different overall tone. Some versions of both models do come with humbuckers.
Because the Jaguar includes a metal claw that helps cut down on unwanted hum, the pickups offer better clarity and sound a little brighter.
The Jazzmaster's pickup height — ⅛ of an inch — is quite short compared to that of a Stratocaster, which is 7/16  of an inch. These guitars have noisy bridge pickups, which can be solved by shielding them.
The Jazzmaster pickups which shouldn't be mistaken for P-90s, sound chunkier. Think rock-a-billy music, which is why it's easy to think those single-coil pickups are P-90s. If you're not totally satisfied with the factory pickups, you can find the best Jazzmaster pickups here. Some people do pair their Jazzmaster guitars with Strat pickups.
Scale Length
A major difference between these two classics is the scale length.
The Fender Jazzmaster uses a 25.5" standard scale length while the Jaguar is a bit shorter, with 24 inches between the nut and the bridge. With that shorter scale length, there are only 21 frets on a Jaguar, while there are 22 frets on the Jazzmaster.
A shorter scale length can make it more difficult to find harmonics.
Body
The first thing you'll notice on both of these guitars is the offset body shape. We're so used to the symmetrical look of the Stratocaster and Telecaster, that the offset body takes us by surprise at first. It's likely why many players gravitated toward these guitars in the first place, though.
There are Jazzmasters on the market that feature double binding, which gives the guitar's body more depth.
Bridge
The bridge on both guitars has been problematic over the years, although Fender has made some upgrades to it to improve it. The biggest issue is buzzing, which can be solved with a buzz stop.
Some users install a Mustang bridge on their Jazzmaster as they perceive this to be a better quality bridge.
Neck
The necks of both guitars are similar (both tend to be maple), but there are some minor differences.
Jazzmaster necks feature block pearl in-lays, instead of single dots, compared to most Fender guitars.
Some players aren't pleased with the Jazzmaster neck and have it exchanged, so there are quite a few Jazzmasters with Tele and Strat necks out there.
Tremolo
The tremolo system on both guitars is the same and it may require a setup by a professional.
The Jaguar and Jazzmaster tremolo lock prevent all strings from going out of tune if a string breaks. The "lock" also helps your strings stay in tune after using the whammy bar.
This tremolo isn't designed for big nose-bomb dives like on heavy metal guitars, but more so for that vibraphone-type tone.
Headstock
Both guitars share Fender's iconic headstock, which is also the same headstock found on a Stratocaster and Telecaster, and which Fender has been (essentially) using over the past six decades.
Circuits and Controls
Both guitars feature an intricate dual circuit and controls. 
The Jaguar includes a "rhythm" circuit, which offers a darker sound. There are separate volume and tone controls for that specific rhythm circuit.
The Jazzmaster also has a rhythm circuit, although it's simpler by utilizing a three-way switch.
Also unique to the Jaguar is a mute switch, which doesn't mute the guitar but gives it a unique palm-muted sound.
Pickguard
Because of the offset body design, the pickguards on these guitars are quite unique. It's common to see both with a dark red tortoise color.
Due to the different scale lengths, you can't install a Jazzmaster pickguard on a Jaguar or a Jaguar pickguard on a Jazzmaster.
Best Strings for Fender Jazzmaster & Jaguar
Because of the intricate tremolo system, I recommend a higher gauge string, like .009s. You can certainly go lighter, but it sounds best with .009s.
• • •
Jazzmaster Vs. Jaguar: Which is Best?
When it comes to these two offset guitars, is there really one that's best? In my very own opinion, I give the Jazzmaster a slight nod due to the more traditional scale length, plus its better all-around tone. Jaguars are certainly capable guitars and fit a certain genre of music, but if you're stuck between the two, I'd say you should go with a Jazzmaster.
Squier Jazzmaster vs. Jaguar
If you're a beginner looking for a more budget-friendly guitar, you're in luck! Squier, the subsidiary of Fender that makes affordable guitars for Fender, offers both the Affinity Jazzmaster and the Classic Vibe '70s Jaguar. Both are some of the best Squier guitars on the market today.
• • •
The Fender Player Jazzmaster is a mid-level electric guitar from Fender that delivers creamy tones perfect for jazz, blues, and pop music.
The guitar definitely carries a vintage vibe with it — and features four iconic Fender color finishes — with all the modern technology. The new humbuckers Fender uses in this guitar are powerful but offer the clarity that's needed for jazz and blues solos. The bridge pickup is coil-splittable, allowing you to dial in even more tones.
The one big complaint with this Jazzmaster HH, which is made in Mexico, is the bridge. While Fender did upgrade it from previous models, it's still pretty lousy for intonation. Many owners have opted to swap it out for something better.
Pros
Affordable. Still a guitar you upgrade to, but certainly within reach for most intermediate players.
Excellent clarity. The humbuckers used on this Jazzmaster really deliver.
Four iconic Fender colors. Capri Orange really stands out.
Cons
Poorly designed bridge. Intonation can slip out easily.
Fender also sells the Jazzmaster under the following series, all of which are made in the USA:
There's also the Fender Noventa, a 3-pickup version, that's priced similar to the Performer series.
In my opinion, this is the best Jazzmaster for the money right now. Make sure to also check out our review of the best Fender Jaguar.
• • •
Vintage and Used
While neither of these electric guitars weren't terribly popular in the 1960s, they've become a hot commodity for vintage guitar collectors, especially the 1961 Jazzmasters.
And, of course, this has also created a substantial niche for Jazzmaster copy guitars within the overall cheap offset guitars market.
To take advantage of this desire for the old specimens of both guitars, Fender, in 2018, released a hybrid Jazzcaster (1), a mix between a Telecaster and Jazzmaster.
• • •
FAQ
Interested in learning more about the Jazzmaster? Here are a couple of the most commonly asked questions.
Who plays a Jazzmaster?
There are plenty of famous guitar players who do, including John Frusciante, of the Red Hot Chili Peppers; American singer-songwriter Ric Ocasek; Slipknot guitarist Jim Root, who's known for his black Jazzmaster; Sonic Youth guitarist Lee Ranaldo, famous for his "Jazzblaster" (2); and Grammy Award-winning singer-songwriter Elvis Costello.
Is the Jazzmaster actually good for jazz?
The Jazzmaster is actually a great guitar for jazz — specifically the newer models which put a greater focus on clarity. For jazz music, you want the cleanest tones possible, especially when comping chords.
• • •
Explore the Fender Jaguar and Jazzmaster
These classic guitars are quite similar but, as you can see, there are some differences that will force you to make some decisions if you're on the fence about purchasing either one. In terms of tone, the Jazzmaster gets the nod from me, but it comes down to personal preference. Make sure to check the latest price on Jazzmasters and the Jaguar — and happy strumming!
• • •
References:
"Telemaster? Jazzcaster? Fender unveils limited edition Jazz-Tele hybrid," retrieved from https://happymag.tv/telemaster-jazzcaster-fender-unveils-limited-edition-jazz-tele-hybrid/
Chrissy Mauck, "Iconic Mods: How Invented the 'Jazzblaster'," retrieved from https://www.fender.com/articles/gear/iconic-mods-how-sonic-youth-invented-the-jazzblaster
Image credits
Fender Jazzmaster headstock image: Katie Montgomery katiemont1124, CC0, via Wikimedia Commons; Fender Jaguar II image: Karl Thomas Moore, CC BY-SA 4.0, via Wikimedia Commons; Fender Jazzmaster rot image: Dirk-X, CC BY-SA 4.0, via Wikimedia Commons; Fender pickup image: Edward Lund, CC BY 2.0, via Wikimedia Commons; Jaguar pickup image: Valentin Ottone, CC BY 2.0, via Wikimedia Commons; Fender Jaguar & Jazzmaster neck image: Leturiaga, CC BY-SA 2.0, via Wikimedia Commons; Fender Jaguar pickguard image: doryfour, CC BY-SA 2.0, via Wikimedia Commons; Fender Jazzmaster CIJ Vintage: Kristoffer Unstad, CC BY 2.0, via Wikimedia Commons; Lee Ranaldo image: Alterna2 http://www.alterna2.com, CC BY 2.0, via Wikimedia Commons; Fender Jaguar Salon de la Musique image: fvancini, CC BY 2.0, via Wikimedia Commons