Owning a good guitar book or two is essential if you want to teach yourself to play guitar. 
This review looks at the best books for learning guitar. Whether you're learning guitar as an adult or child, they teach you guitar basics and beyond so you can start shredding as soon as possible. When paired with a consistent guitar practice routine, these books are invaluable.
I'll share my top recommended guitarist books, helping you find the best resources and avoid the bad stuff. 
I've been playing electric and acoustic guitar for nearly 20 years now, and I still refer to some of the books I bought in my early days to improve my guitar technique continually. I learn primarily from books and videos and never studied with a guitar teacher. 
These guitar books for beginners give you all the information you need to start your musical journey. That being said, they are also suitable for more advanced players, not just the absolute beginner. They help you understand the core guitar concepts, expand your chord vocabulary and develop your unique playing style. Some even talk about pedals and other fun technical effects.
You can also learn these core concepts by taking free YouTube guitar lessons.
Guitar books for beginners should be easy to understand and follow and provide a good path of progression rather than jumping around skills. If you stick to these books, you'll be able to play guitar pretty soon.
Unlike YouTube video lessons, guitar books are likelier to follow a logical and comprehensive training path. They also do a better job of touching on music theory. This has a significant impact, enhancing your learning ability and enabling you to develop your skills quicker. 
The Best Beginner Guitar Books
Let's get into the reviews!
I'll outline a range of my top recommendations for beginner guitar lesson books, exploring what each guitar book covers and what type of guitar players would benefit.
If you want to teach yourself electric or acoustic guitar, then any of these books are a great choice, although there is variation in the teaching style and skills learned.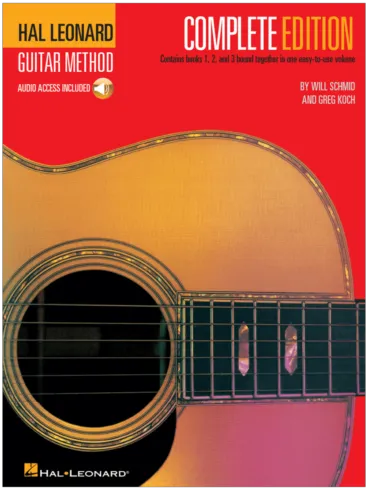 The Hal Leonard Guitar Method book is a comprehensive study for beginner and intermediate guitar players. This is one of the most widely read and recommended guitar books for beginners of all time and offers a fantastic amount of value for money. It can be picked up at an affordable price and provides a large amount of sheet music. 
Electric and acoustic guitar beginners can get a tonne of help from the Hal Leonard Guitar Method. It's based on years of experience instructing guitar students of all ages and includes some of the most innovative teaching methods across the globe. 
This guitar book is a compilation of the first three Hal Leonard Guitar Method books, so it covers a lot of ground. It's an excellent choice for total beginners and includes all the information you need to get playing, both chords and melodies. 
The only real criticism I have of the Hal Leonard guitar book is that it is heavily focused on standard notation rather than TAB, so total beginners may have some difficulty navigating the content. To be fair, though, it also comes with TAB underneath, so it captures a good range of both reading methods.
Actually, learning standard notation lets you read and play music that wasn't initially composed for the guitar and helps you better understand music as a whole. It's a transferable skill, enabling you to play other instruments. 
Also, the book is very matter-of-fact, making it dry but to the point. So it might not be to everybody's taste. 
It also includes 164 backing tracks that cover the songs and exercises included in the book. This is a nice addition and makes it easy to play the guitar dexterity exercises while also working on your timing. You can find versions with a CD or a digital download. 
What does the book cover?
This book explains chords in workable sequences, so even after learning the first couple of chords, it gives you some songs that use them so you can start playing right away. This is great because it doesn't overload you with information and gives you a practical level of progression.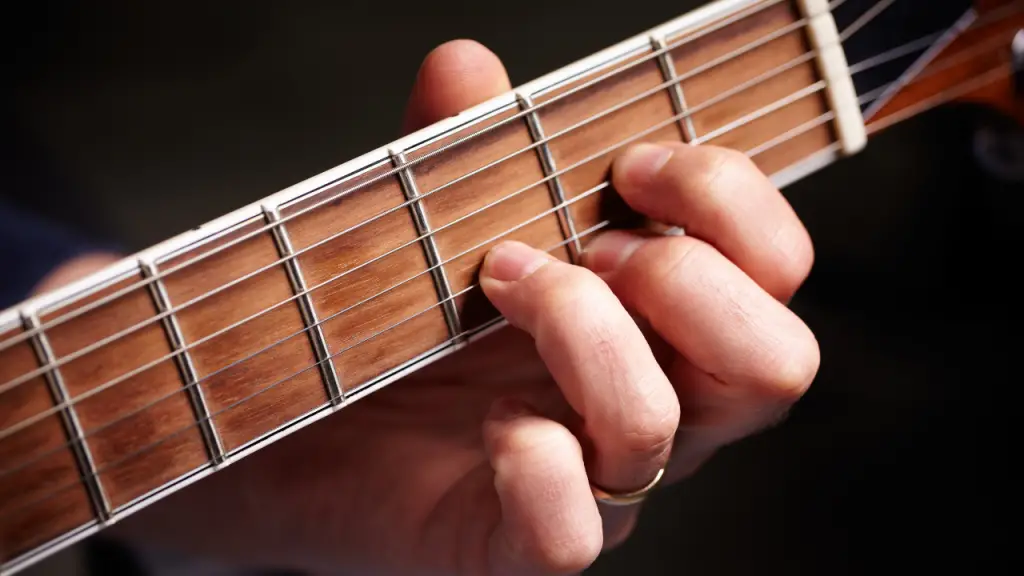 The book also goes deeper on rhythm, which isn't always covered in-depth in guitar books for beginners. It shows you how to read and perform rhythmic notation, which is famously difficult to master for beginners, but it breaks it down in a simple-to-grasp manner.
The Hal Leonard Guitar Method book is written by Will Schmid, one of the industry's most famous guitar instructors, so you are guaranteed to learn all the important knowledge you need. 
• • •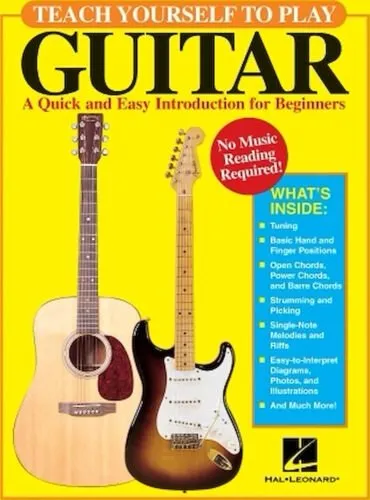 This book offers a quick and easy introduction to playing guitar and teaches guitar from the standpoint of an absolute beginner. It will get you up and running quickly and won't blow your mind with excessive information. It's a great place to start for new players and one of the best guitar books for self-teaching.
The author, David Brewster, has written for several massive guitar magazines (including Guitar Player and Premier Guitar) and is a traveling guitarist and instructor. His years of experience as a player and educator come through in this book, as it offers one of the easiest to follow and most logical progressions for learning. 
What does the book cover?
The content of this book covers everything a beginner needs to know from the ground up, whether you want to learn to play electric guitar or acoustic guitar. 
However, 'Teach Yourself to Play Guitar' does not include any supplemental music or backing tracks and relies only on written explanations of photographs and visuals. 
It includes a mix of guitar techniques and the underlying music theory. More specifically, you will learn about chords (starting with open chords in major and minor and moving on to power and barre chords). It shows scales in the open position, with some functional single note patterns and fills. 
It also includes a wide range of musical examples from popular songs, spanning various genres, such as rock, blues, classical, country, jazz, folk music, and others. You get a solid overview of the fretboard with all the essential diagrams to help you memorize it. 
You also get a bunch of helpful diagrams and patterns for guitar chords that explain the best hand and finger patterns. It describes the guitar anatomy well, which helps for acoustic or electric guitar, breaking down each part in detail. It also talks about guitar amplifiers and guitar gear, which is helpful if you don't know much about it.
The content is concise and to the point, without unnecessary waffling or anecdotes, making it quick and easy to get to grips with the instrument. It prepares guitar students for future lessons with teachers and works well alongside lessons. This book is an excellent choice for those who are brand new to guitar and need a solid overview with appropriate depth. 
Also, if you've never played guitar before, this is one of the best books for you and provides a quick and accessible introduction to the world of guitars. It isn't too complex and contains all the information you need. The diagrams are well presented and explain how to read TAB and notation, although the book mainly focuses on TAB. 
• • •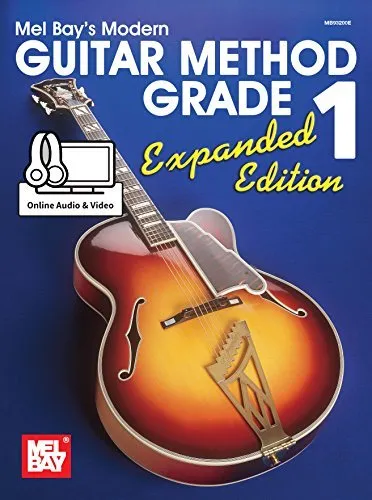 Mel Bay's Guitar Method book is a well-known and commonly recommended system for learning the guitar. This classic book starts in Grade 1, so if you are interested in studying the guitar with a progressive, grade-by-grade approach, this is a strong pick.
It's also my favorite pick if you're going to learn on an acoustic guitar.
Each of Mel Bay's seven guitar method books lays the theoretical and technical groundwork for a wide range of guitar styles and techniques.
This method's seven volumes (or grades) are all written in standard notation to help students improve their sight-reading skills and abilities. Unfortunately, it doesn't include any TAB, so it has more of a traditional/classical approach.
However, this is beneficial in the long run as it encourages you to develop your notation sight-reading skills, which is a valuable skill for any musician. You can also find versions of this book that come with the audio CD, or even an educational DVD, which might be helpful for some learners. 
What's included?
This book takes the approach of learning each string at a time and slowly adding them together to practice more complex arrangements. It provides exercises for each string, which helps drive home the relationship between the strings and the notes for each fret position. 
The lessons use many basic and well-known tunes as examples. While these are a little dated—think "When the Saints Come Marching In" and "Twinkle Twinkle Little Star"— they provide an accessible and recognizable reference point for learning how to play songs.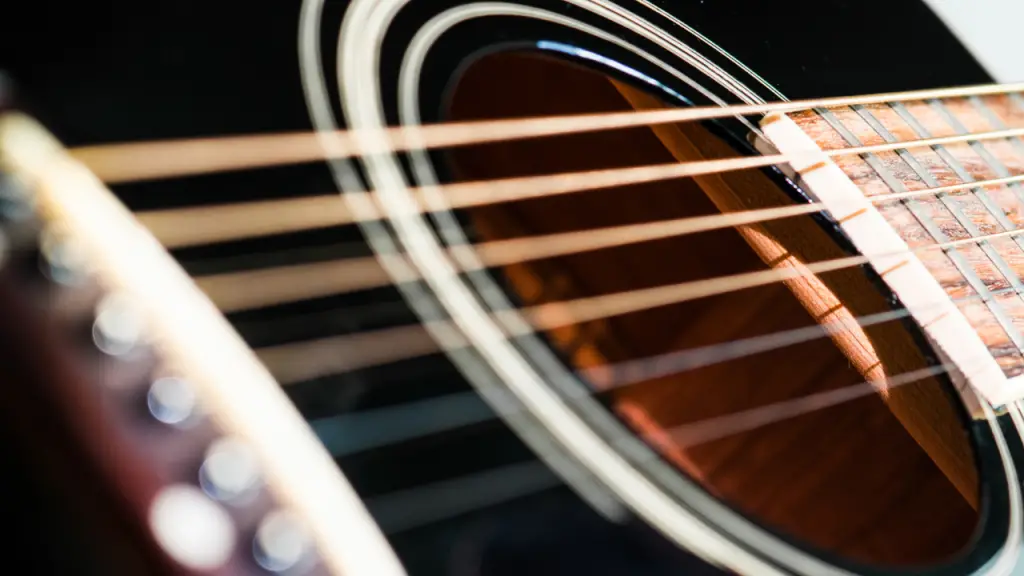 By the time the book gets round to showing chords, the student will have a good understanding of how to count time and read the treble clef. A slightly different approach to other books on this list, but it helps you build a strong foundation. 
After covering chords, Bay presents songs in a classical form, playing both chords and melodies simultaneously; this is where the accompanying CD comes in handy, as you have the backing track to play along to. The backing tracks are simply recordings of a solo acoustic guitar, which makes it easy to focus when playing along. 
By the end of this first book, students should have a good knowledge of chords and both rhythmic lead playing while also being able to read music. 
If you want to learn how to play guitar for beginners, this is an excellent place to start. 
• • •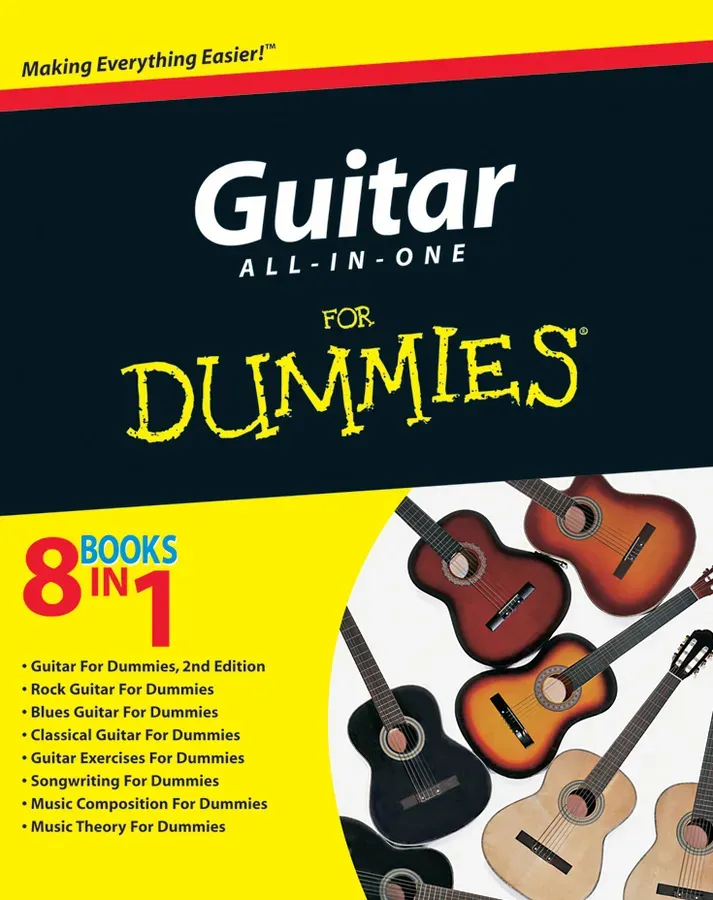 If you're interested in learning guitar, Guitar All-In-One for Dummies is a great resource that will keep you busy for quite some time. This edition includes six  "for Dummies" books offering great value for money and an extensive set of lessons, songs, and knowledge. 
The six books included are:
Guitar for Dummies
Guitar Theory for Dummies
Guitar Exercises for Dummies
Rock Guitar for Dummies
Blues Guitar for Dummies
Classical Guitar for Dummies. 
The overall compilation is helpful for both absolute beginners and more advanced players. In particular, the Theory and Exercises volumes contain information I refer to regularly, even after over 15 years of playing. 
This book has many contributors from guitarists who have played in some of the biggest bands and have also written for some big guitar magazines. The Ides of March's guitarist Jim Peterik and former Guitar Magazine editor-in-chief Jon Chappell are just two of the names here. 
What will you learn?
This guitar book for beginners covers everything from choosing a guitar to learning the fundamentals before moving on to more advanced techniques. As a result, even though the content is dense, it is easy to follow.
There are also accompanying videos and an audio library, so once you locate what you're looking for, there's lots of additional material to help you practice.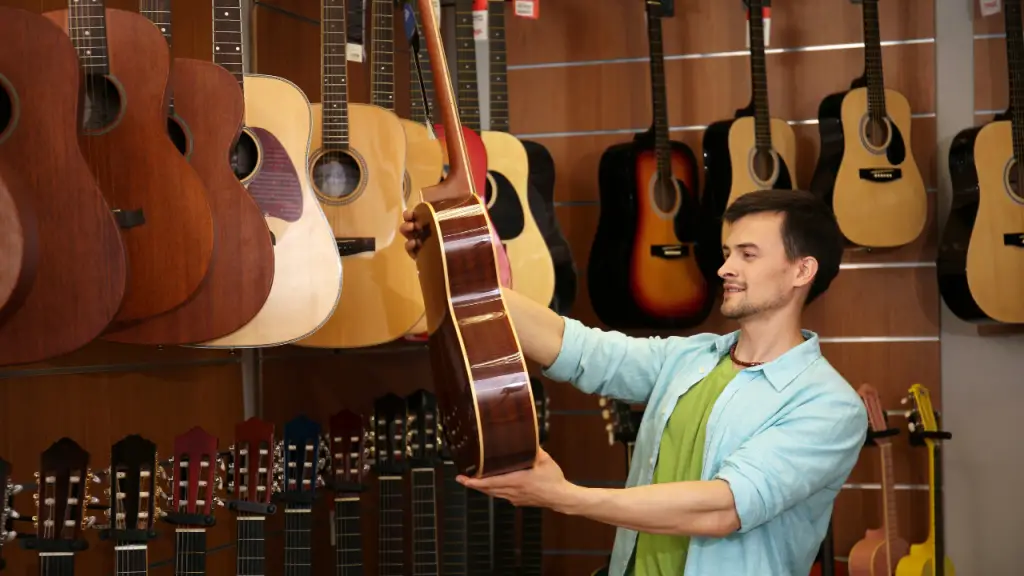 The sheer size of this book sets it apart from the others. Even if you've been playing for a while and are looking to improve your technique, this book offers all the knowledge you need. 
This book is for you if you're a novice guitarist who likes to dabble in various styles. Each style has its chapter on methods and tones. If you've ever wanted to learn to play the guitar but have no idea where to start, this book is an excellent resource for getting you up to speed.
It covers all the stops, from the basics to essential theories and techniques. Because it includes specialized studies on Rock, Blues, and Classical guitar, you can get a wide range of technical knowledge, practice exercises, and all the included songs. This helps you to develop your voice with specific regard to your interest in musical styles and genres. 
The exercises section is also fantastic and gives you a range of simple but effective exercises that help you develop technique and muscle. This is a great way to improve the sound of your playing without repeatedly playing the same song. This guitar book shows you how to read music in a simple and easy-to-follow manner, but it also includes a lot of TAB, making it easier to understand. 
This complete edition of the Guitar for Dummies catalog is a great pick, whether you are brand new or have even played for several years. Any guitar player will find something new and valuable in this text, while it's also capable of inspiring a total beginner to start their shredding journey!
• • •
While "Guitar Aerobics" isn't a comprehensive guitar instruction manual, it's a great practice aid and helps build technique and muscle. This is ideal for both young and adult beginners but still offers valuable lessons for seasoned professionals. 
The author, Troy Nelson, has created a range of guitar practice books, and this is one of his better guitar books for beginners. He used to be the editor for Guitar One magazine, so you know he has the experience to back it up. 
What will you learn?
Guitar Aerobics introduces a logical learning path, introducing a new daily exercise to add to your portfolio. This helps you progress at a strong pace and develops a solid overall technique. 
The book also includes a selection of audio files to use as a metronome, so you can hear how the exercises should sound when you play them. As a bonus, each day's workout focuses on a different technical ability to keep your practice interesting.
Generally, the book is more exercise-based rather than giving a quick and accessible introduction to the guitar. If you are entirely new to the guitar, I'd recommend pairing this book with some of the more typical guitar books for beginners, as you also need to learn about the foundational background of playing guitar. 
Guitar Aerobics provides specific instructions on improving some aspects of guitar playing, so if there are particular techniques you want to practice, this will help you refine those skills. 
If you have limited practice time and just want to learn one thing about guitar daily, this book is for you. For absolute beginners, bear in mind this book wouldn't be enough on its own.
• • •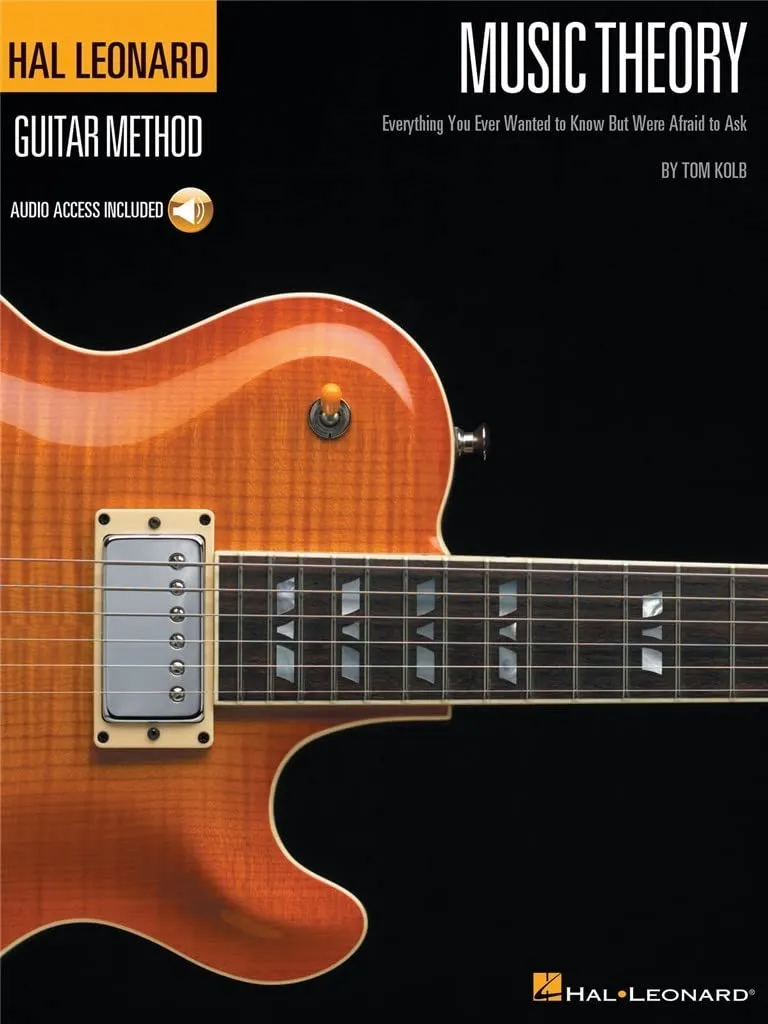 If you've been studying guitar for any length, you've probably come across sections of music theory that you couldn't quite make sense of. This book is here to help you fill up those knowledge gaps. 
Released in 2005, this is one of the best guitar books for beginners from the perspective of music theory. While most books focus on playing guitar and technique, this gives you a broader understanding of music theory from a guitarist's perspective. 
Beginner guitarists don't necessarily need to learn about music theory in-depth, but intermediate guitarists will find knowing the basics of music theory very beneficial. It's something that you will eventually need to know anyway if you want to take your playing to the next level. 
What the book covers
First, readers are introduced to the fretboard in its nifty glory and key signatures and intervals. Finally, modes and modal harmony, chord substitution, and reharmonization are covered in the book's advanced sections.
These concepts help improve your songwriting, soloing, and overall performance while sharpening your theory knowledge. It also helps when communicating with other musicians in band settings. 
The quizzes are an excellent feature and one of my favorite parts of this book. These put your knowledge to the test, which further encourages learning. As a bonus, over a hundred audio files serve as demonstrations of the concepts taught.
Many books present music theory in a dry, uninspiring way, but this is not the case here. The book excitingly encourages engagement with theory, making it fun and giving you a way to apply it to your playing, rather than coming from a purely theoretical angle.

This is one of the better guitar books for beginners and intermediates who want to sharpen their overall knowledge of theory.  
• • •
Beginner Guitar Books Buyers Guide
Knowing the best pick for you can be tricky with so many guitar books. This section explores some critical things to consider when choosing a new book and outlines some key points that should be included in some of the books you own. 
Obligatory Topics For A Great Beginner Guitar Book
When choosing a guitar handbook, there are several topics I would ensure that are included, especially for beginners.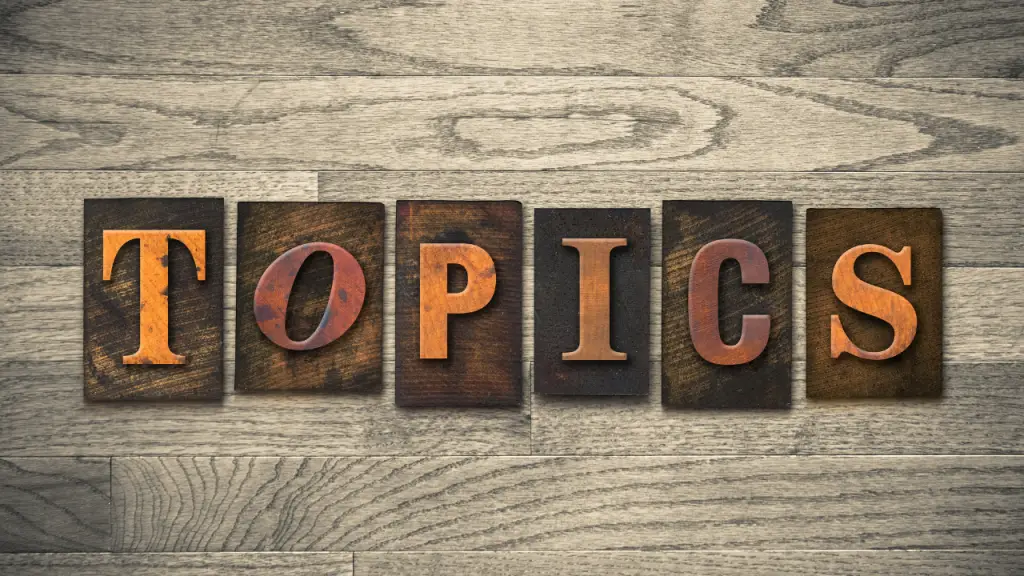 Guitar parts anatomy. A diagram of the different elements of guitars — both electric and acoustic guitars. An explanation of tuning and how the guitar works. Description of the differences between electric and acoustic guitars. A run-through of guitar amps and maybe an introduction to bass guitar.
Guitar playing posture. How to correctly hold the guitar when sitting or standing.
Basic playing information and theory.  Some information on playing the guitar (strumming and picking), simple guitar chords, how to understand chord charts, and TAB. 
Chord-based songs. Some basic, popular songs that are easy for beginners to learn and play. 
Some famous melodies. Basic, recognizable melodies from popular songs develop lead guitar playing style. Starting with simple, 2-string melodies, then 4 and 6 strings. 
A list of beginner chords. The easiest, basic chords for beginners in the open position, like A, Am, C, D, E, Em, F, G
How to change chords. Songs that encourage the player to transition between chords so they can commit them to muscle memory and create cleaner, faster switches between chords. 
Explanation of keys and chord progressions. The theory basics related to beginner guitar skills. Explain chord progressions, why they are important and how to use them.
(Optional) Explanation of standard music notation. It is better to learn this from a dedicated notation book. Notation is usually more difficult for total beginners compared to TAB. But understanding how it works from the onset will help you develop your guitar skills quicker. 
Rhythm and timing are also super important. Whether it's timing exercises or learning to read and feel rhythms, mastering this element is essential for taking your playing to the next level. However, this might not be the absolute priority for beginners. 
In the case of beginner books, they often contain information on all of these topics, although I would recommend getting extra books that look at specific areas in more detail, such as chords, scales, theory… and of course, songs!
Tips For Reading A Guitar Book
If you are new to learning guitar, you might not know how to get the most out of your books. This section gives some tips to maximize your efficiency when studying guitar books!
To play well and sound great, you must develop timing and rhythm, so I suggest you play the exercises and songs explained in a book to a metronome or backing track as much as possible. This helps you get time flow, so your playing sounds clean and natural, without uncomfortable gaps.
Using a metronome will increase your perception of time and generally give you better sound, although this can take a while to master. 
Practice regularly. I can't emphasize this enough.
This will come naturally if you are passionate. But make sure you stick to some kind of routine. And make it as easy as possible to stick to your practice routine. I think it's easier to practice on acoustic guitar because you can just pick it up and play.
Even if you are super busy and have limited time, you should dedicate at least 15 minutes daily to stay on top. It's better to practice small and often rather than leave the guitar sitting dusty for too long. 
An excellent non-guitar book that will help you develop your guitar practice habits or any other important habit in your life is "Tiny Habits" by B.J. Fogg.
When learning/practicing new exercises, scales, and songs, you should start slowly at first. Play them slowly until you are comfortable with the physical motions. Rushing things that you struggle with just makes them more challenging. Start slow, then bring it up to speed. 
I'd also recommend you make a list of practice goals that you can tick off as you cover them. Pick the topics you are interested in learning from your books, and make a checklist.
Because there are so many different areas to master, pick the things you have the most passion for — as well as the foundational basics like chords, scales, etc. Maybe make a list of songs you want to learn and work out what skills you need to know so you can play them. 
• • •
FAQs
Got questions? Most beginners do.
This next section answers some of those questions and provides a range of extra resources I recommend if you are learning guitar.
Whether it's your first time picking up a guitar or you've been jamming for a while, these are essential questions to ask!
Can I learn guitar from a book?
Learning guitar from a book is a great way to do it, although using a mix of methods generally makes the process easier. Learning exclusively from a guitar book is possible, although it will make things harder.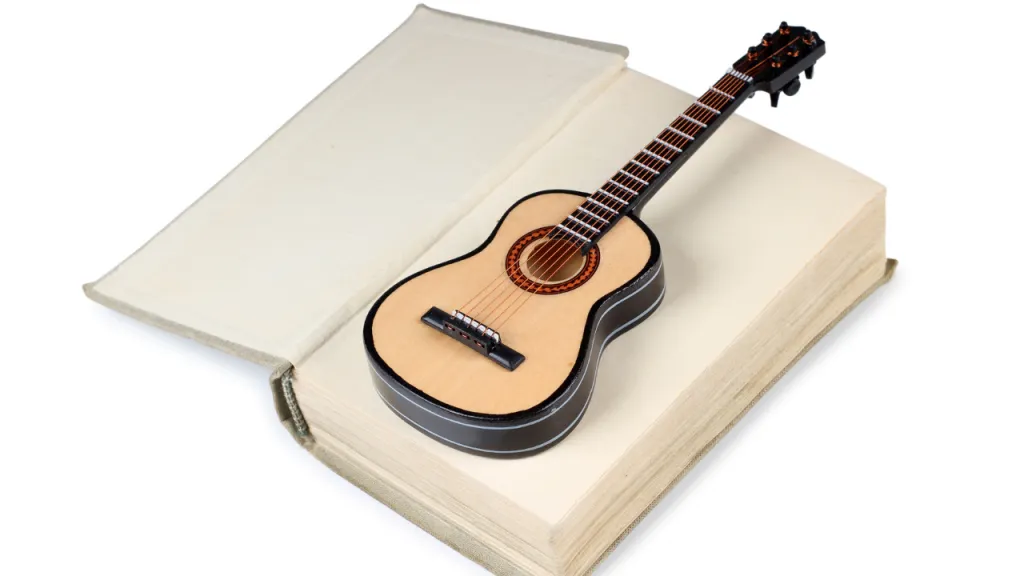 Like many musical instruments, playing guitar is a physical and mental process, so having individual lessons with music teachers or watching videos is vital in your guitar journey. If you want to learn guitar properly, it helps to see somebody who knows what they are doing. 
Using a broader range of learning resources rather than just books helps any beginning guitar player to get a broader sense of the instrument and reinforce their learning skills.
Having books is important, or even essential, as you need the printed material as a fixed point of reference so that you can look at them at any time. 
Check out our list of the best online guitar lessons for a range of fantastic videos and online resources!
What is the best guitar chord book for beginners?
You can find many guitar books. Some are better for learning foundational skills, while others are more useful for quick references to chords, scales, and songs.
I highly recommend keeping a guitar chord book handy when you are practicing. Learning all the chord shapes, patterns, and inversions opens up new expression levels in your playing.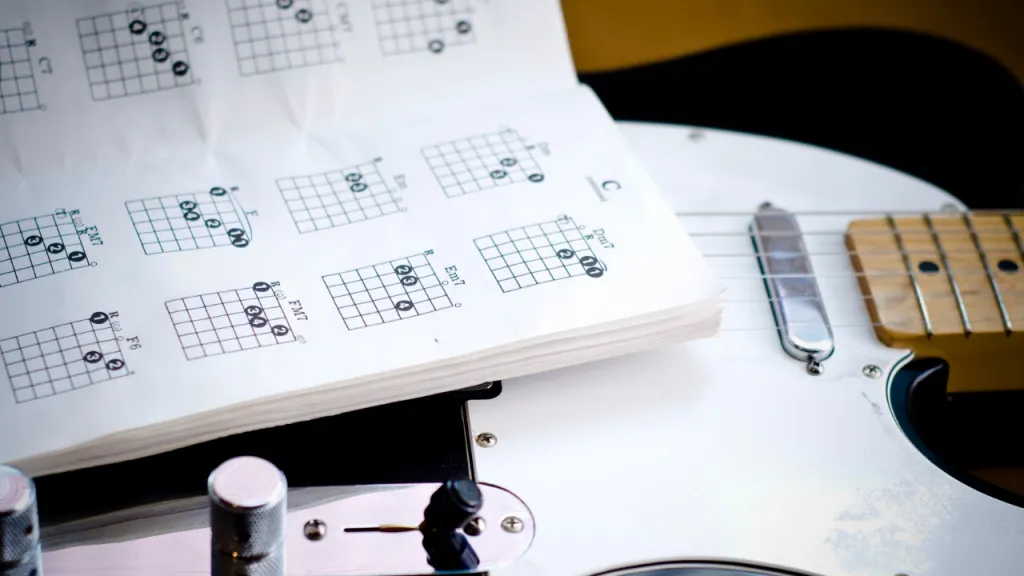 While the books mentioned in the above review mostly look at broader techniques and learning, if you are looking for a guitar chord book, here is my top recommendation: 
Guitar Chords by Jake Jackson contains over 360 chord shapes, organized in a logical and easy-to-navigate system. It covers basic chords, power chords, barre chords, and more. It's small and wire-bound, so it's easy to flick through and rest on the page you need.
This feature is a life saver in many situations and makes learning chords a breeze. This style of guitar book is essential for any guitarist! 
• • •
Final Thoughts on Guitar Playing Books
If you are a beginner guitarist, the books above are written specifically for you.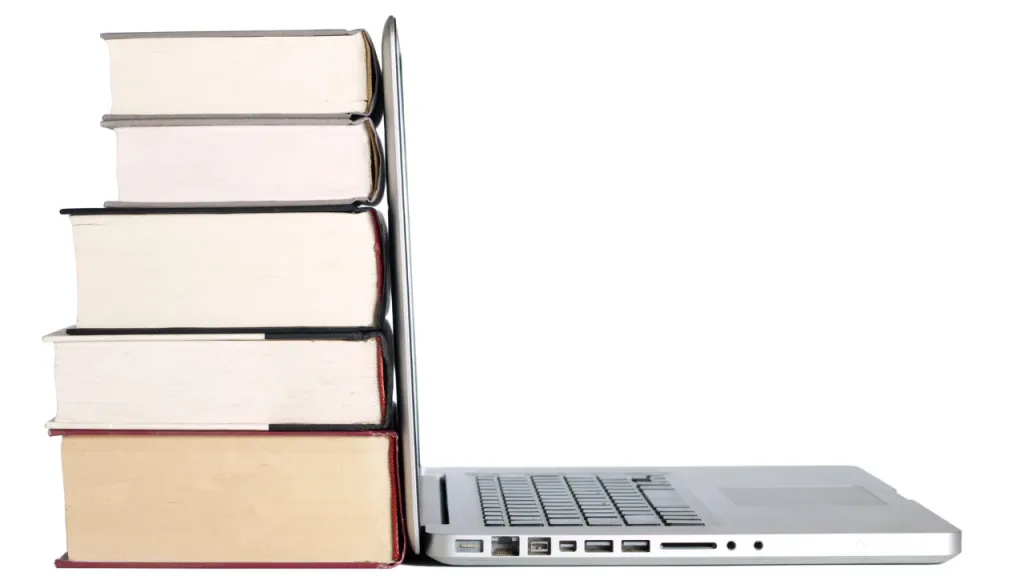 These books are great whether you want to learn how to play chords, build your repertoire of songs, or just want some basic guitar tabs and theory. Many of them are also suitable for intermediate players and are still good for occasional reference by advanced musicians too!
I'd recommend getting a mix of the best guitar learning books; that way, you get a better view overall, and of course, try to get some guitar lessons.
Even if you just learn to play guitar on YouTube, having some printed resources will help.
Good luck on your guitar journey!