If you're in a hurry, know that my personal favorite of all the platforms reviewed here is Truefire. But I encourage you to keep reading as there are other great alternatives that might be more suitable for your particular situation!
Once upon a time, when you wanted to learn how to play the guitar, you needed to either figure it out on your own, or hire a teacher who you would likely meet once per week to develop your skills.
The internet changed all of that, though.
Today, guitarists have a bevy of options when it comes to studying guitar on their own that are not only affordable but also really effective at turning complete newbies into legitimate guitar players.
The main issue new guitarists have, though, is picking a site that really suits their learning needs. Some sites, for instance, assume you already have a working knowledge of the guitar.
One idea is to sample each of the programs' free YouTube guitar lessons — something I highly recommend.
Even though I've been playing for a long time, I've personally tried a handful of these sites in an effort to continue honing skills, like strumming a guitar and chord progressions. I'm going to use this article to break down the good and bad of our top choices. Hopefully, at the end, you'll choose a site that's a perfect fit for you. Remember, learning the guitar takes time — lots of time! Be patient and enjoy the journey. Once you learn some basics, like the parts of a guitar, what the dots on a guitar mean, and how to hold it, you're ready for lessons.
Most importantly, make sure you develop a consistent guitar practice routine in order to make the most of these lessons. IF you don't, you're going to sound bad.
Here's a quick list of my favorite sites. You can find my detailed review of each one of them below:
These Are the Best Online Guitar Lessons You Can Take
Use this guide to determine which service is best for you and your learning style. Oh, and make sure to buy a tuner!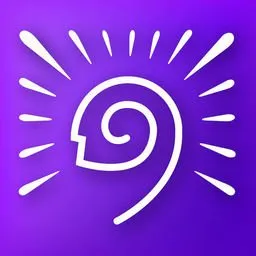 Price: $249 per year (best value)
Approach: World-class teachers walk you through on-demand lessons that utilize a synced tab and notation platform that makes walking through lessons much easier.
Extras: A slo-mo and looping feature makes it easy to learn specific licks in songs. Also, all videos are recorded in crystal-clear 1080p video.
When you hear names like Joe Bonamassa, Greg Koch, and Tommy Emmanuel, you know you're talking about serious guitar players. And it's those players that make Truefire one of the best online guitar lessons for beginners and advanced players. Truefire utilizes the expertise of some of the world's best guitarists to walk you through interactive, on-demand lessons that you custom curate based on your needs.
Pros
Great technology. The user experience is really enjoyable with Truefire.
Solid for beginners. The Learning Path track is a great starting point for guitar newbies.
Progress tracking. This allows you to set a goal and achieve it in a uniform manner.
Cons
A little pricey. Cons: A little pricey. At least for the initial annual plan, but you save money in the long run.
Truefire implements great technology into its online lessons, from an innovative synced tab that lets you follow lessons step by step, to a slo-mo and looping feature that lets you drill into specific licks during song lessons.
What I especially like about Truefire's approach is that you can focus either on a specific genre, or you can simply tackle your favorite songs with a huge library of song lessons. 
We recommend going with the annual plan, as you get the most bang for your buck. At $249 for the year, that works out to $20 per month, which is a steal for the level of guitar education you receive from this platform.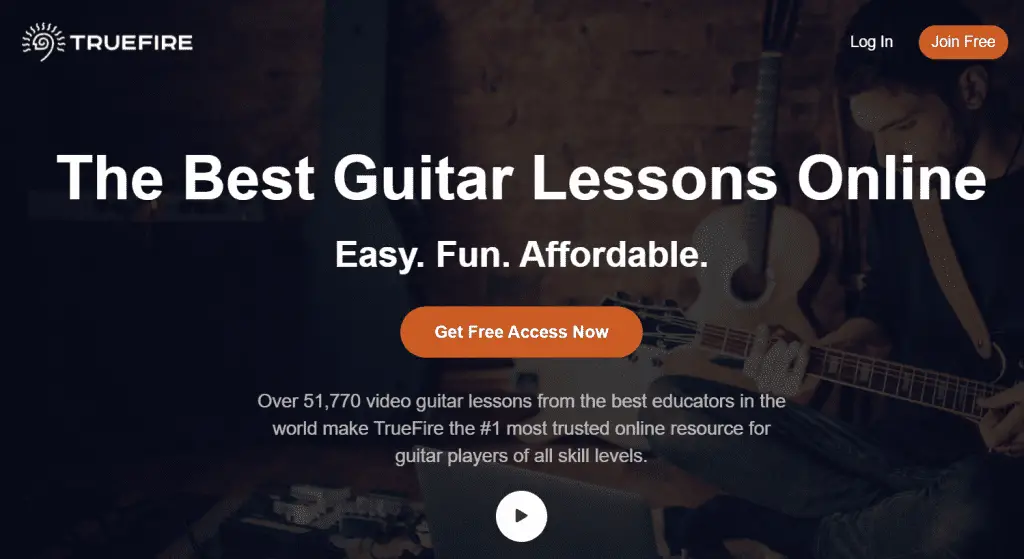 • • •
Price: $20 per month or $160 per year ($80 savings), $300/year for Pro Level.
Approach: Access world-class teachers on demand to either learn the basics or take your current skills to the next level.
Extras: 30-day free trial; Interactive tabs; interactive games; and a Pro Membership that offers one-on-one consultation.
Jamplay is one of the most comprehensive guitar-learning websites today.
Beginners can expect to spend the first six to twelve weeks learning the basics and building a solid foundation of guitar and music knowledge before hopping into a wealth of interactive lessons tailored to their favorite genres.
If you subscribe for a year, you'll spend your first two to three months learning the basics before jumping into Jamplay's four phases and artist series, where some of the top players in the world, including Bumblefoot, of Guns 'N Roses and Joel Kosche, of Collective Soul, take you through their personalized lessons.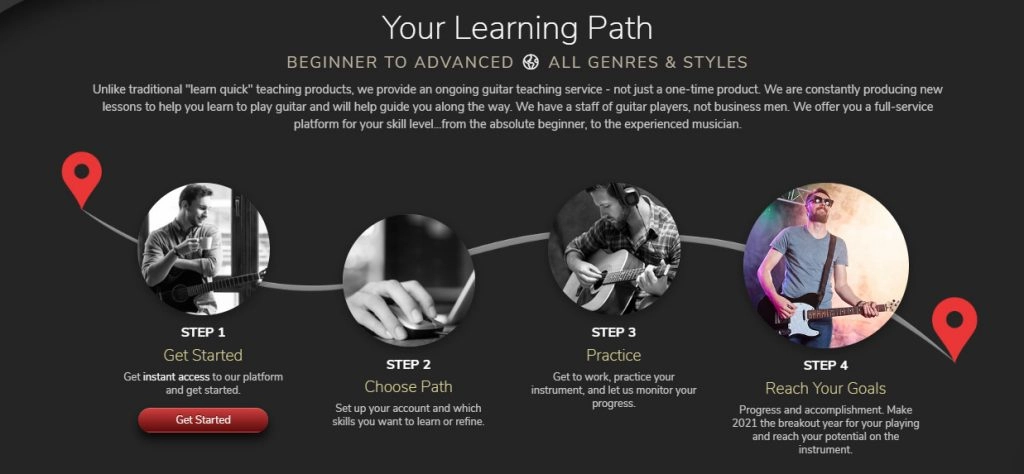 Jamplay's library of artists isn't just made up of rockers, either. There are some world-class classical guitarists and other performing artists across a wide range of genres, including jazz, blues, pop, and fusion.
What separates Jamplay from the rest is its one-on-one consultations and private lessons with artists and teachers. The ability to have someone specifically tell you what you're doing well and what you could improve upon is extremely helpful.
Pros
Value. Paying for a year-long membership works out to $13/month, which is a steal when you consider that a private lesson is now about $25 an hour, on average. If you work your way through this library of lessons, you'll easily get your money's worth.
Live lessons. Whether you're doing these one-on-one through a Pro Membership, or tuning in with hundreds, perhaps thousands, of others, this feature is really the epitome of an online guitar program.
Everything is achieved. Can't make a live lesson or workshop? Jamplay subscribers get access to everything the brand puts out.
Cons
Where to start? There is so much material that it can be overwhelming to figure out where to start your beginner lessons.
Where to start? There is so much material that it can be overwhelming to figure out where to start your beginner lessons.
Beginner lessons take longer. This isn't so much a con as it is a warning. Learning the basics of an instrument you've never played before is going to take some time, so get ready for that 6- to 12-weeks period of training. 
• • •
Price: $14.95 per month or $129 per year ($50 savings)
Approach: Learn by working through simple songs.
Extras: Free trial; step-by-step guide for absolute beginners; and 1,000+ real song tutorials.
Guitar Tricks started in 1998, making it one the oldest — if not the oldest — guitar-learning sites out there. Over the past 20 years, the company has grown its library to more than 11,000 lessons taught by knowledgeable instructors from around the globe.
Core Learning System
So, what approach does Guitar Tricks take to get you to learn how to play? They call it the "Core Learning System," and claim it's the easiest way for a beginner to pick up a guitar and learn to play.
After working through two levels of guitar fundamentals, players then start to choose their own path by either picking blues, country or rock. Each genre features two separate levels and consists of video lessons and actual songs to learn. The company believes in learning through songs, which is definitely one of the more fun ways to learn how to play.
Guitar Tricks' library of songs is pretty incredible, with hits like "Hotel California" by the Eagles, "Let It Be" by The Beatles, and "(I Can't Get No) Satisfaction" by The Rolling Stones. These tutorials break down every little part of the song, allowing you to learn section by section, and ultimately play through the entire piece with confidence.
Pros
Great user experience. The brand has really refined how a beginner can navigate through lessons and songs. You can start a lesson on your laptop at home and continue using your smartphone when on the road.
Advanced skill training. While these sites attract beginners, Guitar Tricks also caters to more experienced players looking to hone their skills.
Jam tracks. This is one of my favorite features. Take the skills you learn and have fun jamming out over some great backing tracks.
Cons
Overwhelming. The sheer amount of content can feel a bit overwhelming at first. It becomes more manageable as you get into your lessons.
• • •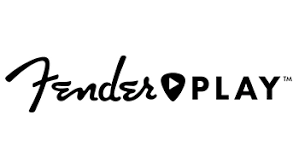 Price: $10/month or $90/year ($30 savings)
Approach: Learn to play by practicing songs in your desired genre.
Extras: Progress tracker, multi-camera video approach; support for bass and ukulele.
Fender Play is one of the newest sites for learning to play on the market, but the name behind the iconic Stratocaster and Telecaster has made it one of the most popular options — especially during the COVID-19 pandemic while people have been spending more time at home.
So, what's Fender Play all about? The online service, which also offers 10% off all Fender guitars, amps and gear for subscribers, focuses on teaching through learning songs.
After signing up, users are asked to input the instrument they own — either electric guitar, acoustic guitar, bass guitar or ukulele — and choose from five different musical genres, including rock, pop, blues, country and folk. This sets up your path of lessons, which covers everything from reading tablature to basic music theory.
Pros
Great value. For $90/year, which is the equivalent of $7.50/month, plus a 10% discount on all Fender products, Fender Play is an absolutely great value.
User experience is superior. Fender clearly invested into the tech of this app. You can start on a desktop and seamlessly pick up where you left off on a smartphone. In a mobile world, that type of experience is critical.
Perfect for beginners. This might be the ultimate beginner's program. If you follow the Fender Play plan, you'll develop a firm foundation of the instrument and music theory.
Cons
Oversimplified. Sometimes, Fender takes its "this is for beginners" mantra a bit too far. Some of the rock songs are overly simplified to the point where you can't even recognize what the song is. Some of these lessons would be better off just teaching chord shapes as opposed to trying to mimic a song using the most basic of chords.
We have to assume Fender has invested a hefty amount of money into this educational play because the quality of the on-demand video lessons is absolutely incredible. The production value is well worth the $90 per year price.
As an incentive, Fender offers Fender Play for a few months free of charge when you purchase a new guitar from the company.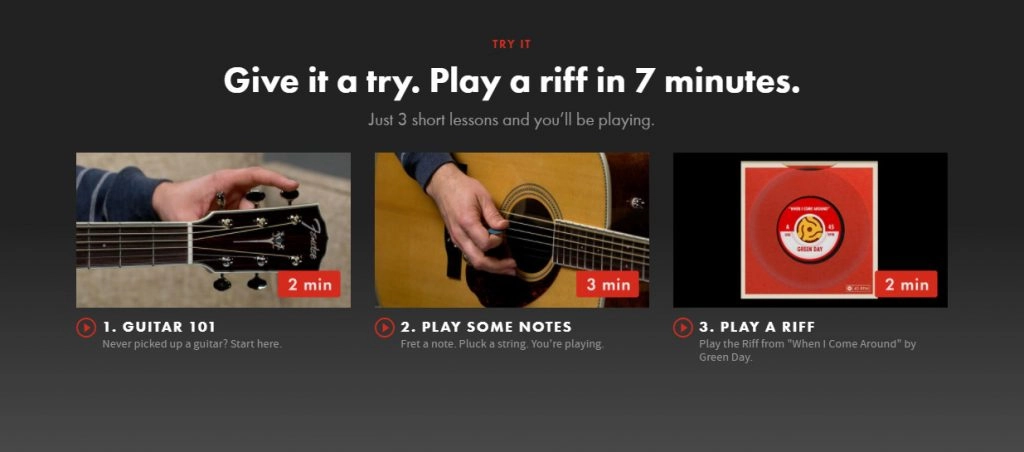 Each video is a bite-sized lesson led by world-class instructors. These teachers cover everything from how to play a G scale using all six strings to what's the best posture for strumming an acoustic guitar.
One of the best parts about Fender Play is its ability to track your progress. This not only keeps you focused on where you're at in your guitar-playing journey, but also allows those with busy schedules to take in a few mini lessons when they have time in the morning or in the evening.
• • •
Price: $105 for a 3-month plan; $179 for a 6-month plan; $279 for a 12-month plan
Approach: Video exchange learning.
Extras: Video Exchange Library gives you access to all subscribers' lessons and instructor feedback.
ArtistWorks Guitar is one of the best learning platforms available because of its innovative video exchange technology. Here's how it works:
After signing up with an instructor that's best geared toward your instrument, music genre preference, and skill level, you'll receive lesson plans to work through. You then submit a video of yourself playing through that lesson plan — it could be scales, chords, or even a song. Your instructor then sends back a personalized video with feedback to improve your playing.
The best part? Your videos and everyone else's videos (along with the instructor feedback) are uploaded to the Video Exchange Library, where you have access to all of that content. In other words, the amount of content to learn guitar from is incredible.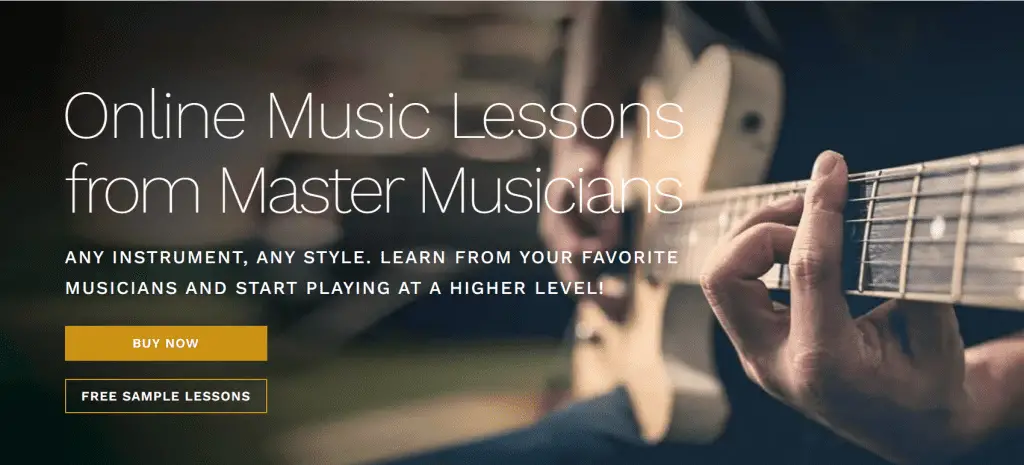 Pros
Flexible. This is perfect for those who want the engagement of a live class, but with the flexibility of an on-demand platform.
Several opportunities to learn. The Video Exchange Library is really helpful for those who want to delve into countless lessons.
Structured. You can knock out your guitar fundamentals first before moving onto songs.
Cons
Expensive. This is one of the more expensive ways to learn guitar online.
• • •
Price: $99 one-time fee.
Approach: On-demand video lessons.
Extras: None.
Australian Mark McKenzie is the founder of Jamorama, a guitar-learning platform that focuses on learning with a community. After signing up, you can show off your profile achievements, message other subscribers, read through discussion forums, and share updates on your progress, similar to a social media site.
What I really like about Jamorama is that it's a one-time fee of $99 and you have access for life — no subscription necessary. Even better, for guitar beginners, the free content is all you will need to start making that initial progress on the guitar.
Now, for that price, you're not going to get as much content as Guitar Tricks or some of the other websites, but for the average player, it should be enough.
One downside is that it doesn't appear Jamorama is updating its content that frequently. Again, not a huge deal if all you're looking for is the beginner content.
Pros
No subscription. It's a one-time payment of $99.
Engaging videos. While content is sparse, the video lessons that are available do a good job of going through the basics.
Cons
Sparse updates. New content isn't uploaded frequently.
• • •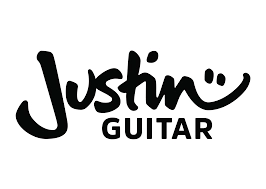 Price: Free (donations accepted)
Approach: More traditional lessons, focusing on the basics and music theory, like reading music and basic chord shapes.
Extras: Online tools include a metronome, tempo calculator and blank papers for taking musical notes.
Since 2003, JustinGuitar.com, founded by Justin Sandercoe, of Australia, has been on a mission to teach the world guitar.
The brand is so committed to making music accessible to all, that it doesn't charge for its beginner lessons. Instead, if the lessons worked, the company is asking for an optional donation.
So, what's JustinGuitar.com all about? For absolute beginners, you'll start at Beginner Grade 1 and work your way through Beginner Grade 3. These on-demand videos are as traditional as they get, but they're effective if you put in the time.
Pros
Free. For only a donation, you get access to incredible lessons that can truly teach you how to play.
The focus on music theory can really help those who know nothing about it more than a site that only focuses on playing rock songs on your guitar.
Cons
Needs to offer more songs. This could be difficult at the free price Justin is charging for these lessons since he has to worry about copyright issues.
For some, you might be OK with the relatively basic videos. They are free, after all. Others may like something with a bit more depth.
The folks at JustinGuitar.com say many players simply stop after their beginner track because they have enough of a foundation to play simple songs, which is really all they wanted in the first place. 
If you want to keep improving, you can move on to intermediate and advanced courses (the company has one advanced course, but is developing two more.)
• • •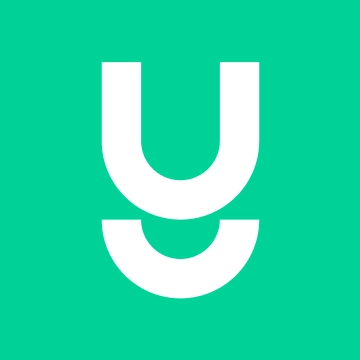 Price: $10/month or $120/year. All instruments access is $180/year.
Approach: More of a gamified approach, where you work through exercises and practices to accomplish goals — almost like a video game.
Extras: In addition to guitar, you can also learn bass, piano, ukulele and singing. 
Is Yousician the ultimate way to learn guitar? Some would say so.
This service takes a completely different approach to teaching that I like to call the video-game approach. The service, which runs $120 for the year, turns its lessons into games. The idea is that video games are fun, so learning the guitar should be too.
As a result, you're tackling chords, scales, and songs — and the mic on your computer, tablet or smartphone is picking up on your tone and timing. If you're hitting all of your notes perfectly, you'll score a high number of points.
The service then uses the data from your lessons to better tailor a practicing plan for your playing ability.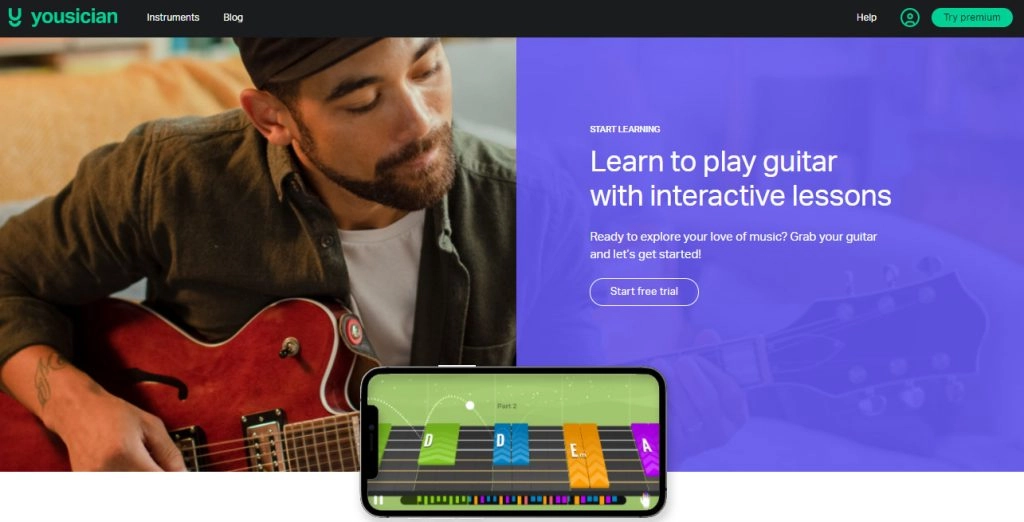 Pros
Impressive song library. This is quite important for beginners, who need to hear themselves playing something recognizable.
Gamified approach is addictive, which results in you wanting to practice more and improve your skills.
Left-handed option is a bit rare across all sites available. Youisican has it.
Cons
No yearly discount. It's the same price if you choose to pay by the month or for the year. Be on the lookout for discounts, which pop up every so often.
• • •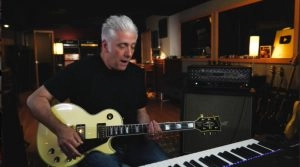 Price: $80 without discount
Approach: A strict music theory-first approach.
Extras: The bundle includes YouTube transcriptions and more than 700 pages of content on PDFs.
While many guitar programs focus on learning songs, Rick Beato's Book and Ear Training program is all about developing a strong foundation of music theory. Because of that, Beato's book bundle is a bit of a double-edged sword.
As a gigging musician who studied jazz saxophone in college and applied that musical knowledge to the guitar, I greatly appreciate Beato's approach to theory. He does a great job explaining scales and helping you hear what you need to hear.
In other words, if you play jazz guitar, check out Rick Beato.
But this is definitely an approach that won't appeal to everyone — especially those with absolutely zero music theory knowledge.
If you can stick through it, though, expect big-time results as you continue your guitar-playing journey.
Pros
Value. For $80, you receive a lifetime of guitar-learning materials.
Work offline. While this is technically an online program, it's primarily made up of PDFs, which allows you to practice from anywhere, no matter if there's an internet connection.
Cons
Too much theory focus could deter some students.
• • •
Other Options to Consider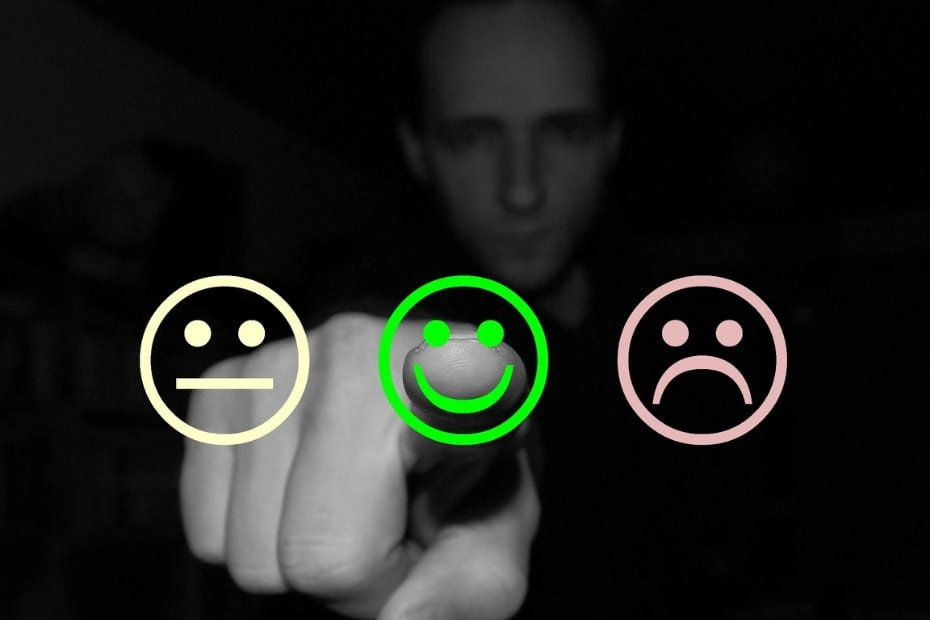 Obviously, there are other options out there. If nothing above interested you, check out these ones as well:
This is one of the most popular guitar apps out there, especially for beginners. Check out our full review here.
As the No. 1 site for guitar tabs, if all you want to do is learn songs, you can work your way through literally any song imaginable.
While this site isn't geared toward giving you lessons, some songs include video tutorials submitted by the guitar-playing community that can help you learn a thing or two.
This is a great option for younger children who are learning guitar (they also offer piano, drums and ukulele lessons).
The one-on-one lessons feature vetted instructors who are specifically trained to work with younger children, which is helpful because learning a new instrument is typically more frustrating the younger you are.
There are countless subreddits dedicated to learning guitar.
If you're a hardcore Redditor, explore those subreddits and you might just find some methods that work well for you in developing.
With more than 15,000 happy students, this New York-based school that features live, virtual lessons in real time, is quickly becoming a must-attend lesson platform for many new and experienced guitarists.
Geared toward intermediate and advanced guitarists, JamTrackCentral is all about taking your playing to the next level. 
• • •
What You Need to Know About Learning Guitar Online
Before starting out with your online guitar-learning journey, there are a few things you need to know and consider.
Free vs. Paid.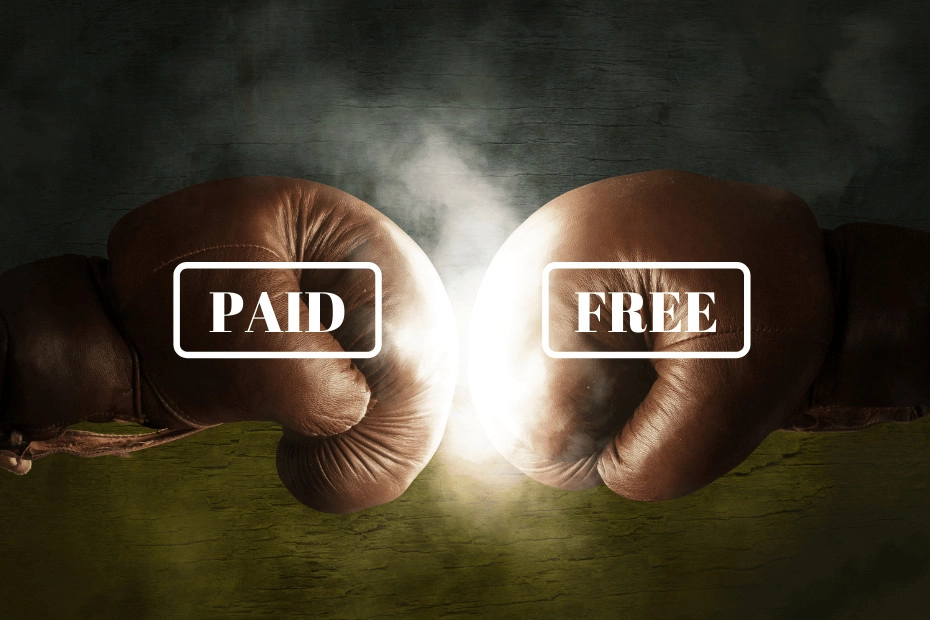 How much are you willing to pay to learn the guitar?
When you're shopping for lessons, remember that many of these sites make money by helping you learn. In other words, get ready to pay up.
Paysites
Most paysites use a subscription model — either monthly, or at a discounted rate if you pay for an entire year.
While that expense may annoy you, you can also use it as motivation to ensure you get your money's worth. 
What do I mean by that? Take the lessons and practice!
If you spend $240 for a yearly subscription to Truefire and religiously take the courses and practice, you're going to become a better guitar player. If that was your goal, that's money well spent.
Free
Now, that doesn't mean the free options out there are all that bad. In fact, some are really good.
You should know, though, that the good "free" sites on the internet always have some kind of product that you can buy. Really, no one is giving away their best content — and that includes guitar teachers. 
So, while you can certainly learn a thing or two and become a more competent guitar player, always know there's going to be some sort of pitch, be it via an email newsletter or a pop-up, that's working to get you to open your wallet.
Another way of learning for free is going on YouTube and piecemealing your lesson plans together. While it can certainly be done, this approach typically leads to slow progress and staggered results.
My advice? Devour as much free content as possible — especially the beginner's lessons. You're going to become a better guitar player simply by working on those.
Once you develop a basic framework of the instrument and music in general, then hop into a paid version to really start refining your playing ability.
Time Commitment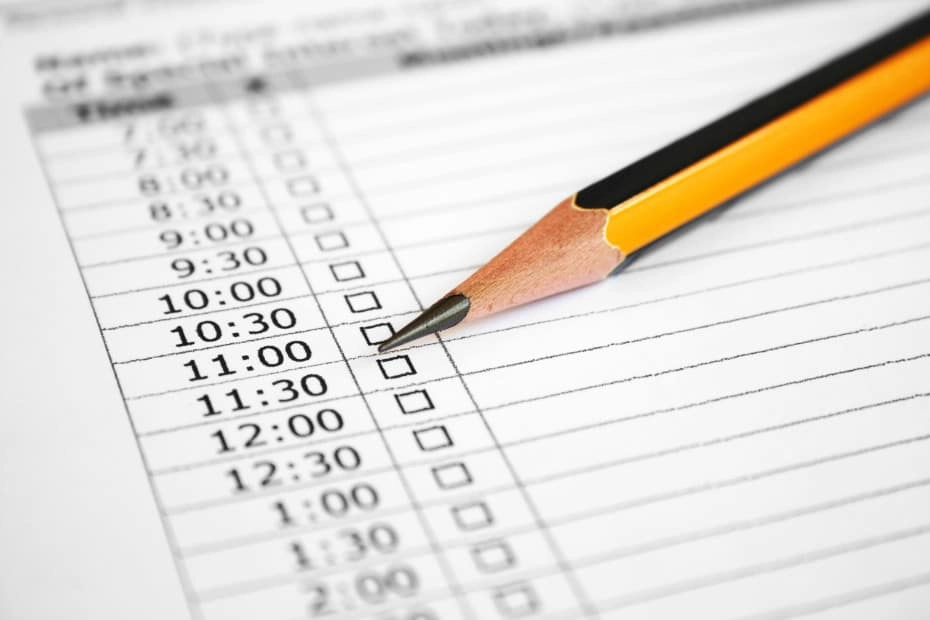 How much time do you have to commit to practicing the guitar?
When I was growing up, my parents had me set aside 30 minutes a day for practicing. And you know what happened? As I got better, I wanted to practice longer and longer. Sometimes it would get to the point where I needed to stop because dinner was waiting for me on the table.
The point is, most online courses can be custom-tailored to the time you have available. Shoot for 30 minutes a day, but if that doesn't fit into your schedule, 10 to 15 minutes is better than nothing.
The good thing about the guitar is that it doesn't have to be a very loud instrument in order to practice. That allows you to practice late at night or early in the morning.
Electric vs. Acoustic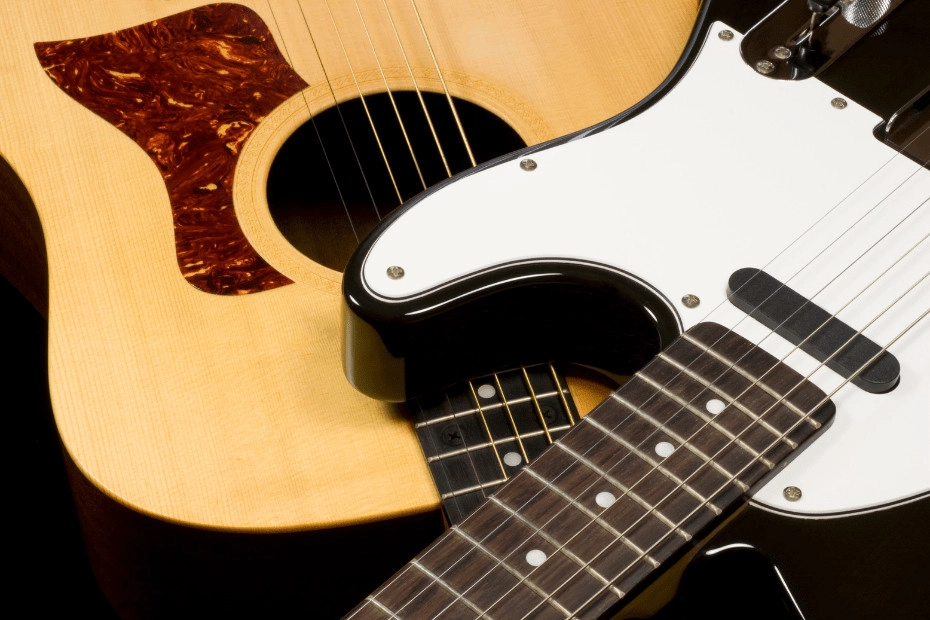 And one of the biggest questions we get from newbies who want to buy a guitar is: acoustic or electric?
The good news is that there are a number of websites that are great for electric players and just as many for acoustic players. So, it really comes down to how you want to learn.
Personally, I think learning on the acoustic is the best starting point. But I also understand the appeal of learning on an electric.
• • •
FAQ
Which company has the best guitar learning app?
Fender Play has one of the better guitar learning apps. Fender lessons are presented within a great user experience that's easy to use, engaging to learn from, and, well… fun!
If you're looking for a guitar learning app that's easy to use, Fender Play is a no-brainer.
What's the best way to find free lessons On the Internet?
The best way to find free lessons is to explore the different websites that already exist because many of them offer a free component.
While limited, it might be what you need to pique your interest in the guitar. Those who are learning guitar will also take to YouTube to find mini online lessons, like "Learn First 3 Chords in 3 Minutes."
The internet is packed with free lessons that are simply waiting for you to use and develop your guitar skills.
Can Kids Learn to Play Online?
While kids can certainly use any of the platforms mentioned in this article, one that we are a big fan of is StrumClub because it pairs kids with vetted instructors in live online lessons.
What are the best YouTube guitar lessons?
One of the best YouTube guitar lessons is a channel called GuitarJamz. With more than 2.2 million subscribers, GuitarJamz focuses on the fundamentals of learning guitar online.
What's most impressive is the patience Marty, the owner of the channel, exhibits when running through basic guitar skills, like shaping a chord. The best part? All of the online lessons are free, making this one of the best options for learning guitar on the internet.
Is there a platform with bass lessons?
Yes. Most of the sites mentioned above feature video lessons for learning the bass guitar as well.
• • •
Practice Makes Perfect
Lessons, electronic or in-person, are only as good as the time you're willing to put into honing your craft. So, make sure to practice, practice and practice some more.
Remember, these lessons are a roadmap to becoming a guitar player (or a better guitar player), but you're the driver doing the work. Let them guide you, and then practice each lick, chord and scale until your fingers bleed!
And if you need a little extra help on how to learn how to play guitar, we've compiled a helpful list of tips on how to do it the right way. Also, check out our tips on how to choose a guitar and the best practice amp for beginners.
Best of luck on your guitar journey!