Do you want a Les Paul?
Any guitar player who has been playing for any amount of time wants a Les Paul. It's practically a rite of passage. While a Gibson Les Paul might be out of reach, there are plenty of Epiphone Les Paul models that fit those smaller budgets.
But which one is the best Epiphone Les Paul?
While an Epiphone guitar used to symbolize that you didn't have much in the way of disposable income (1), Epiphone Les Paul guitars have come a long way. In the 15 or 20 years I've been playing, I've owned several Epiphone Les Pauls and still own one to this day.
Why? Because it's a quality guitar with a metal flake finish, I've never found a reason to get rid of it. It's a Les Paul standard with phenomenal action, workable electronics, and a comfortable neck. Plus, it looks cool.
Epiphone Les Pauls don't try to be Gibsons. They're affordable and play as well as any Gibson counterpart. So what's not to love? Oh, they also release new models around the same time (2)!
I'm going to specifically review the candidates for the best Epiphone Les Paul…
• • •
The Best Epiphone Les Paul guitars
Over the years there have been dozens of different Epiphone LPs. Broke guitarists the world over have appreciated the effort. Finding a rare one with a unique finish is always a treat.
What it means, though, is that the Epiphone lineup is constantly changing. So, which model is the best? Let's dive in.
The Epiphone Les Paul Special has been the workhorse starter guitar for just about everyone starting out in hard rock. As a kid, if you don't want a Stratocaster, you should start with a Les Paul Special. If you keep at it, you can graduate to something better.
That doesn't mean you're sacrificing quality here. For under a couple of hundred bucks, you get an Epiphone E1 body, a slim-taper neck with medium jumbo frets, and two open humbuckers. Nothing spectacular, but solid, classic Les Paul playability.
Because nothing has physically changed about the Special for so long, Epiphone has spent more time updating the finishes and looks of the various iterations, including the Les Paul Special II (which is one of the all-time Epiphone Les Paul models for beginners). You can get the uninspired ebony finish, but you can also now get worn burst finishes and satin finishes that make these budget guitars stand out.
Pros
Cheapest Epi Les Paul on the market.
Perfect starter Les Paul
Cons
Linked volume and tone controls.
Bolt-on neck.
Dot fretboard inlay.
Strictly speaking, this doesn't feel like a standard Les Paul. The body isn't the same. It's thinner and lighter. It doesn't have any arch at the top of the body. It feels a little like a Les Paul copy in that regard. But it is hard to beat this guitar for the money.
For an extra $60, you can pick up the Special Player Pack, which includes everything you need to plug in and rock. That's a 10-watt amplifier, a tuner, cable, strap, and an Allen wrench to adjust the neck.
• • •
If you're looking for Epiphone Les Paul deals, then the 100 series is an excellent choice. It is head and shoulders above the Les Paul Special without breaking the bank. While it doesn't rise to the level of the Standard series, it does feature two open humbuckers with individual tone and volume controls and has the nicer aesthetics of a pickguard and proper switch.
In short, delivers tremendous value for a starter guitar. It's an even better value for a versatile Les Paul that can also serve as a stage backup in a pinch. A former bandmate of mine has been using his LP-100 in the backup capacity for well over 10 years.
Pros
A solid entry-level Epiphone version of the Les Paul.
Affordable.
Nice visual flourishes.
Cons
Flat body doesn't feel like other Epiphone Les Pauls.
Only has dot fretboard inlays.
The thing is a tank. It can take a beating and still rock. The tune-o-matic bridge and sealed tuners ensure it stays in tune. The tuners are a little stiff, which can be hard for kids, but nothing that adults would have an issue with.
Since the sticker price isn't a shocker, you don't have to worry about throwing it around. You can't say that about something coming out of the Gibson custom shop, can you?
• • •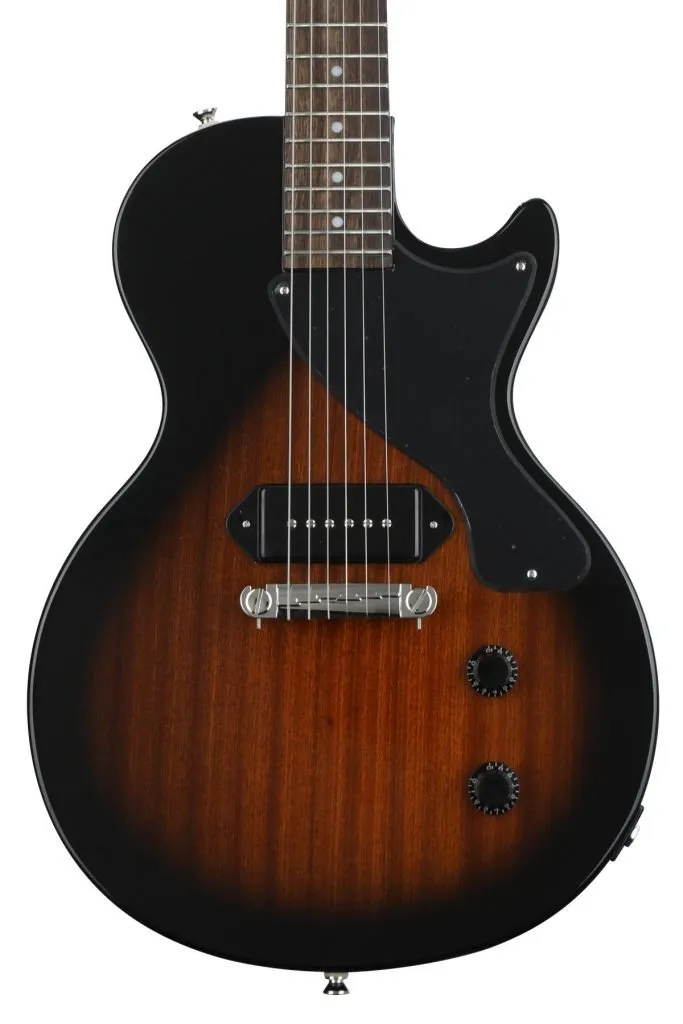 Les Pauls are known for their humbucking tone. That's what sets them apart from the single-coil twang of a Fender or Squire, right? Isn't that the whole deal? I mean, even an Epiphone Les Paul Special has two open humbuckers, and it's the bottom of the price barrel.
Epiphone guitars aren't going to go out on a limb, are they? That's part of what sets the Les Paul Junior apart. The stripped-down classic rock machine is the only standard P90 offering from the Epiphone brand.  
The body style does feel a bit like an Epiphone Les Paul special p90, with a single pickup. The '59 tapered neck ensures your shredding hand will be flying across the fretboard. The set neck combined with a wrap-around lightning bar bridge gives these diminutive Les Pauls unbelievable sustain.
Pros
Only Epiphone LP with a P-90.
A stripped-down Les Paul for straight-ahead rock.
Lightweight.
Cons
Quality control issues were reported.
Top it off with 22 medium jumbo frets and an Indian rosewood fingerboard, and it's impossible not to rock. Green Day's Billie Joe Armstrong has fueled the Epiphone Les Paul Junior's resurgence in mainstream rock. While he usually plays Gibson models, Epiphone does offer a version for the financially challenged among us.
• • •
The Epiphone Les Paul Studio is a simple, lean, rocking machine. To bring the price down, Epiphone removed most of the extra frills from the studio model. Extra visual frills like bindings, clear wood finishes on the rear of the guitar, and little things like 3 – way switch covers.
What you're left with is an Epiphone Les Paul Studio that is a well-built rocker that emphasizes function over form. That said, the clean finishes, like Alpine White, look very good. Unless you're looking at the truss rod cover, you may not know you're dealing with a Studio and not a Custom.
Pros
Low-Mid-Range Pricing
Lightweight mahogany body.
The basic humbuckers are versatile. They can handle overdrive and clean equally well. Epiphone opted to keep the more advanced electronics, so the Studio includes coil splitting to get a brighter, twangy, clean tone when you want it.
Pair that with a top maple layer body, and this guitar has more tone than its price tag would suggest.  
• • •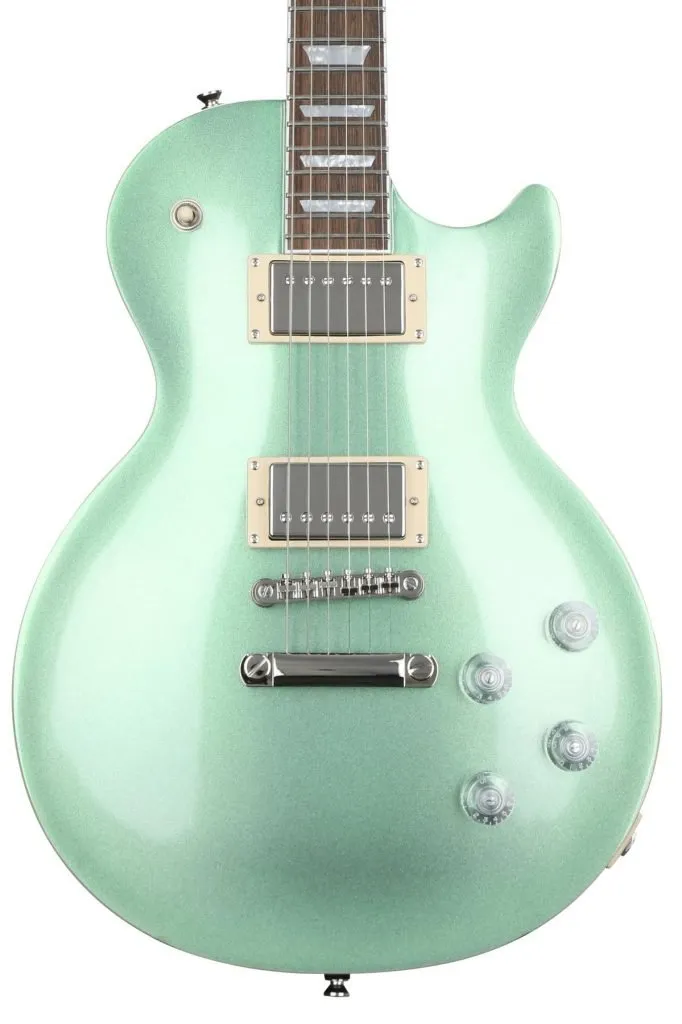 This is one of the more impressive Epiphone Les Paul models, especially at this mid-range price point. Epiphone has taken some chances with the body, and I'm here for it. Of course, we've seen Les Pauls come out of Epiphone guitar factories that mirror the original Gibson Les Paul. But with the Muse line, they've taken a big cut out of the hip.
Not only does this make the guitar more comfortable to play while standing, but it also cuts the weight down significantly. Buyers report their young daughters being able to play this guitar for hours on end without difficulty. That's something you don't often hear about Epiphone Les Pauls.
Pros
Mid-range pricing.
Hip cutaway sheds weight.
Bright, colorful metallic finishes.
Cons
Pickups could be better.
Custom C neck isn't everyone's favorite.
The maple top of the guitar sits on top of a chambered body that also lowers weight and adds natural resonance.
As for the rest of the guitar, outside the stand-out metallic finishes, it feels very much like an Epiphone Les Paul Studio. The electronics and hardware are basic but in no way cheap. No corners were cut (except for the body hip) to get to this price point.
• • •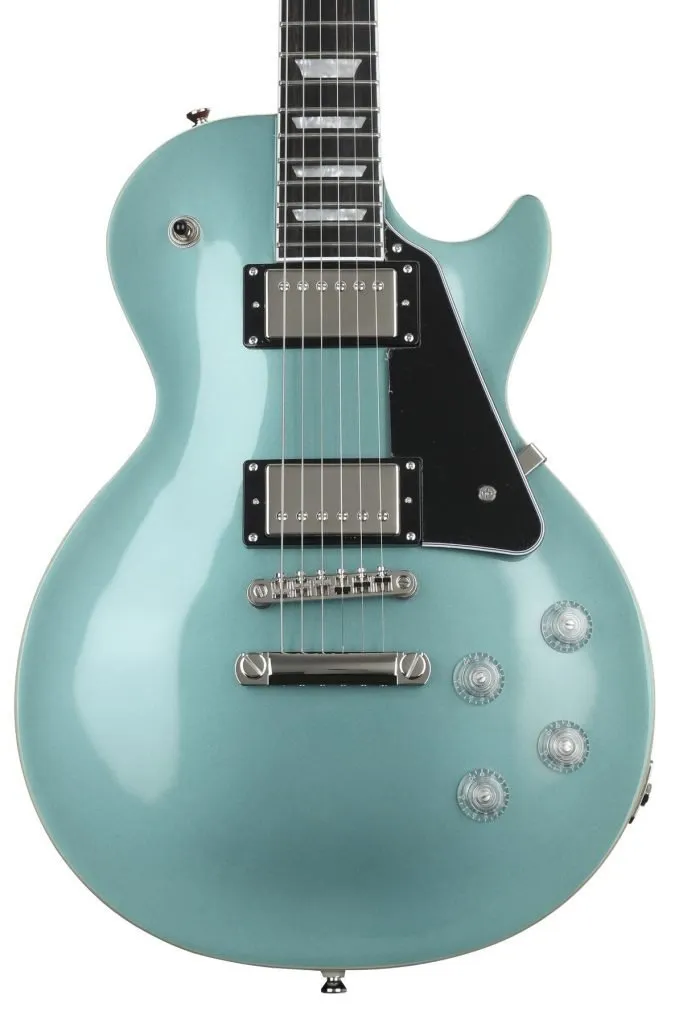 Much like the Muse series Les Paul, this Epiphone Les has taken some liberties with the classic Gibson Les Paul body shape. By adding contours to the heel and the cutaway, this guitar has better playability and less weight than any Gibson Les Paul on the market.
The electronics on this Epiphone guitar are also several steps ahead of anything Gibson Guitars is doing with their consumer lines. Les Pauls are straight analog rockers, but with the additional switching options available here, you have glassy split single-coil tone, phase inversion, and treble bleed. This Epiphone Les Paul modern is a blast to play and the reviews support that.
Pros
Modern Electronics With Additional Tone Profiles
Asymmetric Slim Taper Neck
Mid-Range Price Keeps this Affordable.
Cons
The Contoured Body isn't a "Classic" Les Paul shape.
It's been described as the Epiphone equivalent of the custom shop. The slim-taper neck and ebony fingerboard give better access when playing either lead or rhythm. The finish on this blue Epiphone Les paul is also a sight to behold. It almost looks like a blue version of the classic Epiphone Les Paul gold top. A slight metal flake shimmer adorns this beauty.
How they did this all for a middle-range price point is beyond me.
• • •
If you want to play anything more authentic from the 1950s, you will need to contact Doc Brown. This thing is a tone time machine.
The Epiphone Les Paul modern series is nice and fancy, but this Epiphone Les Paul Standard series is one of the best. The '50s models came out of the gate storming and never looked back. In some ways, it feels like the Les Paul Modern is trying to improve on perfection.
You know the drill with the Les Paul Standard. It's a heavy, solid chunk of mahogany. Mahogany body and mahogany neck. The two Probucker pickups use 50s style wiring to get that familiar analog tone. No fancy electronics here. Just straight ahead analog tone.
Pros
Recreation of the Golden Age of Les Paul Standard
Rounded C Medium Neck feels immediately familiar.
Classic burst finishes.
Cons
The solid mahogany body is heavy… as they always were.
No gig bag.
Speaking of familiarity, if you're not a big fan of the new slim-taper necks, then wrap your hands around a familiar rounded C neck for the ultimate in what it feels like to come home.
• • •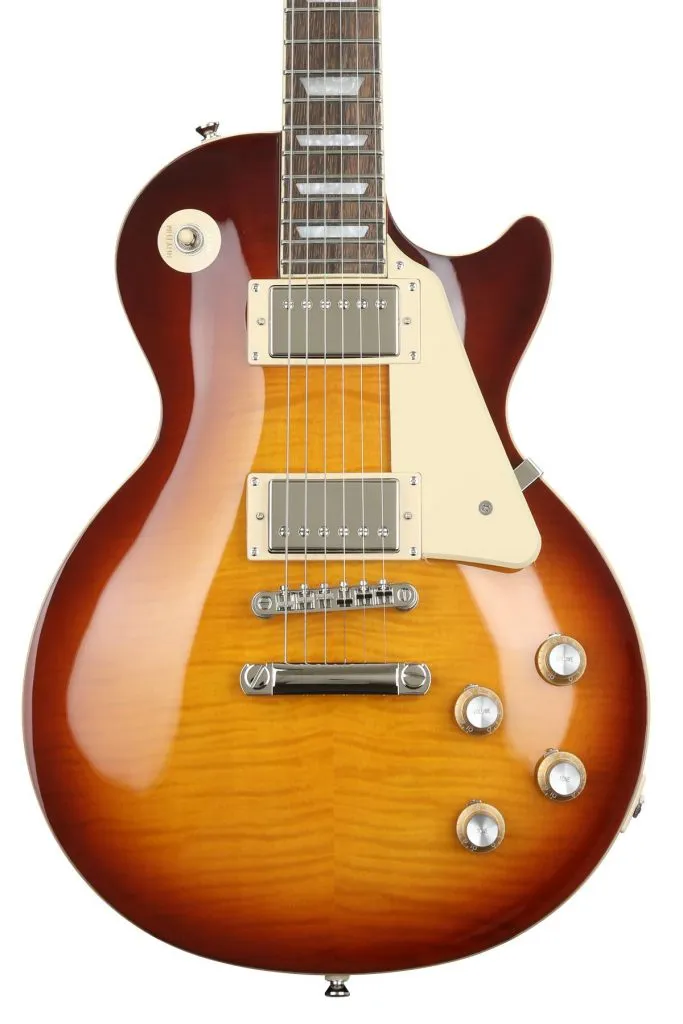 The Epiphone Les Paul Standard 60s models would see Epiphone take another classic rock guitar and release it in the 21st century. Back in the 1960s, Gibson took a great guitar in the 1950s standard, looked around at who was playing (and how they were playing), and went back to the drawing board.
The result is a slim tapered 60s C neck that lets players zip along the fretboard faster than ever before. The mahogany body now featured a maple top layer that added resonance to the instrument. Vintage Deluxe tuners and a tune-o-matic bridge helped give the guitars more sustain than they ever had before. As if that were possible.
Pros
The Slim Taper 60s C Neck is faster than the 50s style.
Alnico II humbuckers are easy to overdrive.
Cons
No gig bag.
Limited "era-specific" finishes.
The Epiphone guitar takes everything from the 60s era Les Paul Standard and gives it a price point most hobby musicians could still afford.
Throughout the years, Epiphone Les Paul Standard has come in several finishes that were truly impressive. With this release, they have limited themselves to ebony and era-appropriate burst finishes. Still beautiful, but not particularly colorful. A small price to pay for a brilliant instrument.
• • •
Nina Gordon, Mick Jones, Brain Bell, Carlos Santana, and Joan Jett. They've all come up playing Melody Makers. In the guitar world, a ton of players get their start on this budget Les Paul. Epiphone Guitars has created a faithful recreation of the early 60s student guitars with Melody Maker E1.
It has a flat Epiphone Les Paul body with the standard Epiphone Les Paul headstock. This is slightly different from what Gibson did since they created a custom headstock for the Melody Maker line.
Les Pauls are heavy chunks of wood with humbuckers for a raw rock tone. The Melody Makers featured single coils and were considerably lighter than anything coming off the line. The body looks similar to the Les Paul Junior, but it's quite a bit thinner.
Pros
Unique among the Epiphone Les Paul models.
Exceptional price point.


Cons
Single Coil pickups produce hum.
Poplar body.
The mahogany neck and slim 60s neck have made this a rock favorite.
The Turquoise finish is the most fun. It throws us back to that era when these cheap guitars first became popular with the rock and punk scenes.
• • •
The first impression that jumps out about this guitar is the gorgeous aesthetic appointments. Epiphone and Tommy sure did put in the extra effort to make this Epiphone Les Paul custom something to write home about. Most of the recent Epiphone Les Paul's have muted burst finishes, but not this one.
Tommy plays with KISS. So you know this thing is going to rock. The two Seymour Duncan open humbuckers scream. While they are completely built for hard rock, they can produce warm clean tones for a nice raunchy blues sound.
Pros
All over Electric Blue metal flake finish.
Blue hot-rodded Seymour Duncan pickups.
Includes Epiphone case.
Cons
More expensive than other similarly appointed Epiphone Les Pauls.
Often on backorder due to popularity.
Since this is a guitar for a man who embodies lead, you know it's going to have a slim tapered 60s style neck. The action on the neck takes a step back and gets out of your way. Just like anything in the Gibson Guitars family tree should.
This is about as close to a true Epiphone Les Paul Custom Shop creation as you can get on this list.
• • •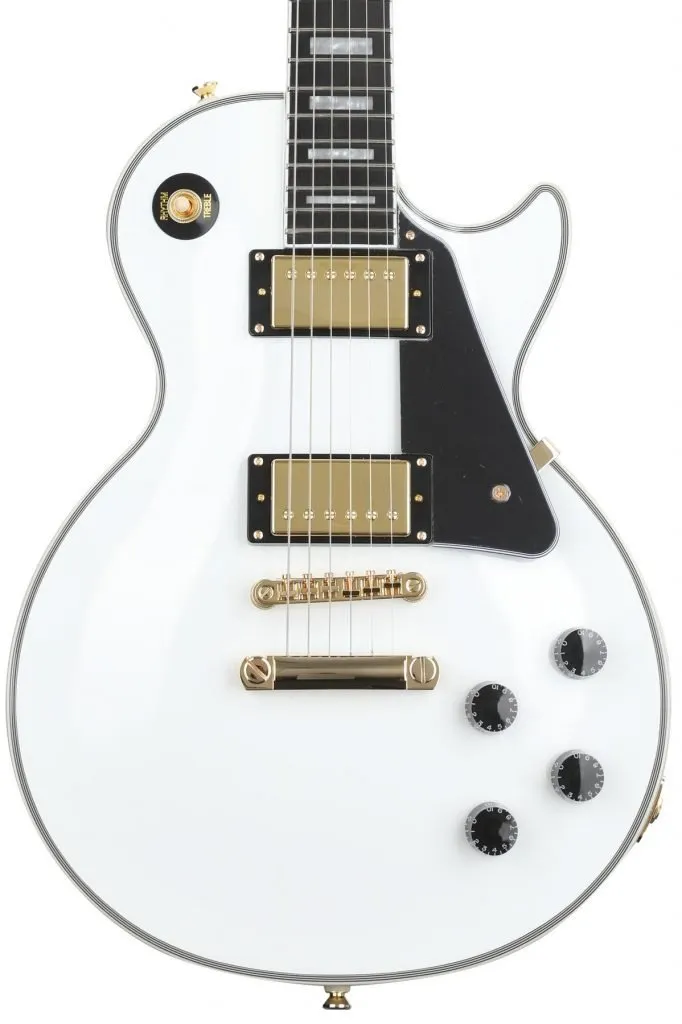 Along with the Tommy Thayer Les Paul, the Alpine White finish, gold hardware, and general attention to minor details makes this one of the Les Pauls money can buy. It's in the running for the best Epiphone guitars. Period.
As mentioned, you're going to need a bit of money to take this one home with you. That said, when you do, you'll be happy you did. Les Pauls don't get much better than an Epiphone Les Paul Custom.
As Epiphone guitars go, this one is just objectively nice to look at and even nicer to play. The two probucker humbuckers are underneath gold covers. They were designed in-house, specifically for Epiphone Les Pauls.
Pros
Striking Alpine White Finish
Gold hardware stands out against the guitar.
Cons
Toward the high end of the Epiphone Les Paul price scale.
No case included.
The slim taper neck and ebony fingerboard ensure the highest quality tone. The neck through design, Rotomatic tuners, and lock tone bridge give this guitar almost too much sustain. Considering Les himself ordered the original Gibson Les Paul custom, it's easy to see he'd be proud of the Epiphone Les Paul custom they're producing now.
• • •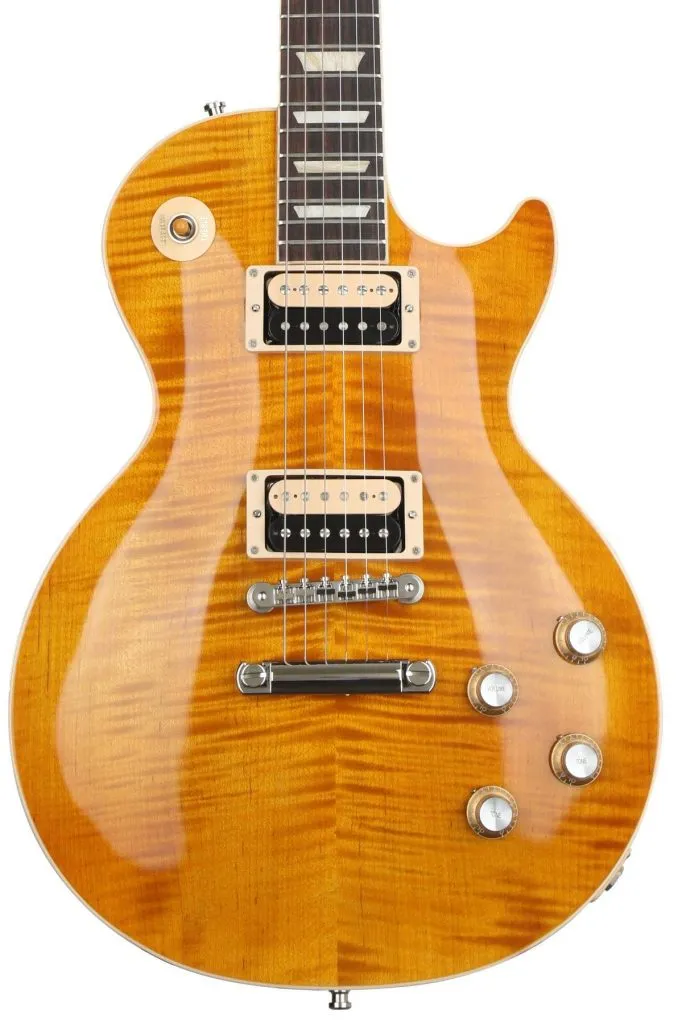 You're in the jungle, baby. If there's anyone Les Paul is synonymous with other than the namesake, it has to be Slash. He burst on the scene with his Les Paul Appetite for Destruction guitar and changed rock.
Yeah, Guns N' Roses would fizzle out and become something of a joke after that, but it wasn't because of Slash's play. This is one of the most-coveted Epiphone Les Pauls available and has several Gibson-level appointments.
The AAA flame maple top is instantly recognizable from the back of the arena. If it were a different finish, without the pickguard, it would almost look like a Les Paul studio.
Pros
Appetite for Destruction AAA Flame Maple Burst Finish
Included Custom Case
PAF Humbuckers Recreate Classic Tone
Cons
On the expensive side
Epiphone vintage tuners at this price point.
Once you pick it up, you notice the neck. It's Slash's signature C shape. It's close to a 1950s style neck, but not quite. In fact, it's the only electric guitar with this particular profile. A nice touch is the included strap locks, so you can hold the guitar vertically, just like Slash does.
The humbuckers sound right off the record when you plug this thing into any Orange or Marshall amplifier. Straight ahead hard rock. 
• • •
Jared James Nichols is a blues master, and he's put together one of the best Epiphones in this category. It's a paired down 1950s Les Paul with a single dog-eared P-90 pick up at the bridge. It's a dirty, grungy, Les Paul custom designed inspired by none other than Joe Perry of Aerosmith.
The thicker C – shaped neck fits Jared's style of play, which features slower scale play that exudes soul.
Epiphone isn't one of the guitar brands that features many single pick up designs, let alone single coil designs. This collaboration deserves a spot on the best P-90 guitars available. If you've been thinking about a Les Paul Junior, this guitar, with its pretty 1950s gold top finish, should catch your eye.
Pros
Innovative Single Coil Les Paul Design.
Gold top finish.
Cons
Have to like the 50s C Shape Neck
Epiphone doesn't make a ton of these beauties, and you're not going to find it at the local Guitar Center, so get in line and wait for this beast to show up on your doorstep.
• • •
Buyers Guide: How to Pick the Best Epiphone Les Paul
As with any of our buyer guides, the first question you have to ask yourself is what type of play are you trying to accomplish? Obviously Epiphone Les Pauls are cool, but they aren't going to accomplish the same goals as archtop guitars or acoustic guitars now are they?
Body
Most Epiphone Les Pauls share a common body type, but there are a few differences. Most are mahogany, but some are poplar. Some have maple tops for additional tone.
Some mahogany bodies have waist carve-outs or extra resonant chambers to make them more comfortable in terms of play and weight.
These are considerations when it comes to the body, and it comes down to personal preference.
Neck
Another personal preference is the neck shape. First, you need to know if you can afford a neck-through design. If you can, go for it. They have intrinsically better tone and sustain than bolt-on necks.
Epiphone Les Pauls also have different neck profiles. A thicker C neck from the 50s doesn't play nearly as fast as the Epiphone Les Pauls with a slim tapered 60s neck. An Epiphone Les Paul Modern has an asymmetric neck taper to accentuate both rhythm and lead play.  
Electronics
The electronics in these guitars have also changed over the years. The Melody Makers only have a couple of single coils. The Les Paul Junior has a single P-90. The Les Paul Modern has treble bleed, coil-tapping, and phase shifting. That's in addition to everything Epiphone could muster up in the analog 1960s.
Again, it comes down to what you're trying to do with the guitar.
Hardware
An area where Epiphone rarely skimps is the hardware. The greatest Epiphone Les Pauls tend to share the same stop bar bridge and quality tuners. You might have different color hardware, but it isn't usually a concern when considering the Les Paul Standard vs the Les Paul Custom, for example.
• • •
Frequently Asked Questions
Epiphone used to be its own company with its own, stand-alone, designs, but since being bought out by Gibson in 1957, Epiphone Guitars is synonymous with cheaper Gibson designs by design. Players of all stripes can afford Epiphone guitars. 
So, what else should you know about them?
Do professionals play Epiphone?
Yes, several well-known professionals play Epiphone guitars. As we've seen on this list, some of the best Epiphones are those that are artist custom models. Slash, Tommy Theyer, and Jared James Nichols all have exceptional models and play them regularly.
Other famous players rocking Epiphone:
Tony Iommi
Zakk Wylde
The Edge
Noel Gallagher
The Beatles
To name just a few. 
Which Epiphone Les Paul has Gibson pickups?
The best Epiphone Les Pauls have Epiphone Probucker pickups modeled after Gibson's original humbuckers.
Gibson designed the humbucker more than a half-century ago with the PAF pickup. When those became very popular and thus expensive, Epiphone took the job in-house to design their own version. What they came up with was the Probucker. A pickup that stays true to the original design.
What is the best-sounding Epiphone Les Paul electric guitar?
The best sounding Epiphone Les Paul electric guitar is the one that has the tone you like best. It's a subjective cop-out answer, but the best Epiphone Les will have Probucker pickups, a neck-through design, and high-quality tuners.
For the best Epiphone Les that sounds the best, look at an Epiphone Les Paul Standard or Les Paul Custom.
Will an Epiphone Les Paul appreciate in value like a Gibson Les Paul?
It is unlikely that a mass-produced Epiphone Les Paul Standard or Les Paul Custom will appreciate like their Gibson Les Paul counterparts. Some of the limited runs, special finishes, and artist models might. Markets are hard to predict.
While they may not appreciate, these Les Pauls, when well maintained, should hold their value.
• • •
Own a Genuine Piece of Rock Immortality
Every player, at one time or another, is going to want a Les Paul. Even if that's not your daily driver, everyone should own one. I don't care if you're Eric Clapton or Eric Cartman, you need a Les Paul.
If you're into American-made guitars, Epiphone does produce a few models in the U.S., but they're more expensive.
If we were only looking at Gibson guitars, that isn't exactly possible. Even a Gibson Les Paul Studio is a significant purchase for a baseline guitar. If you can get past the headstock shape, Epiphone has opened the Les Paul experience to the masses.
So go out and get an Epiphone Les Paul Custom for a third of the price and twice the quality. Own a piece of rock history. You'll own it for life.
Oh, and make sure to check out our best Les Paul copies article for even more options to enjoy the Les paul sound for a fraction of the cost.
• • •
References:
Ed Mitchell, "Epiphone vs. Gibson: What's the Difference?" as published here: https://www.guitarworld.com/features/gibson-vs-epiphone
Gear News "New Gibson & Epiphone Signature Models Planned for 2022" as published here: https://www.gearnews.com/new-gibson-epiphone-signature-models-planned-for-2022/
Image Credits
Epiphone Les Paul Standard headstock image: No machine-readable author provided. Ejflores assumed (based on copyright claims)., Public domain, via Wikimedia Commons; Epiphone Les Paul 100 image: Coles at Italian Wikipedia, Public domain, via Wikimedia Commons; Two standing Epiphone image: P. Schwichtenberg, CC BY-SA 3.0, via Wikimedia Commons; John Lennon guitar image: Ronald Saunders, CC BY-SA 2.0, via Wikimedia Commons; Epiphone shop image: Ronald Saunders, CC BY-SA 2.0, via Wikimedia Commons.