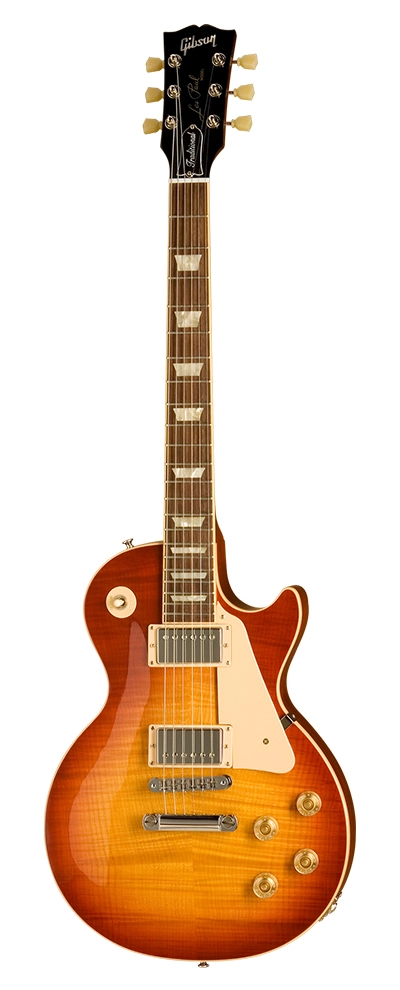 If you don't have time to read and want to cut to the chase, know that my top three choices for best Les Paul copies are the Epiphone Les Paul Standard, the D'Angelico Premiere Atlantic, and the PRS SE Standard 245. All these are great options for beginners or intermediate players and deliver great value for money.
From the dense hunks of mahogany that make up its iconic body to the powerful humbuckers that command a room, players have turned to Gibson Les Paul guitars for decades to tackle a bevy of music genres.
Of course, not everyone has the budget for real, classic Les Paul, which is why there's a thriving market and fierce competition to produce the best Les Paul copies — and for (non-Gibson) Les Paul guitars that aren't copies, but that imitate the Gibson design and style very closely.  Many take some creative liberties along the way.
As a guitarist with a couple of decades of playing experience under my belt, I've played a number of these Les Paul copies (and actual Gibson guitars!) and have been quite impressed with their sound and feel.
Here's a quick list of the best Les Paul style and copy guitars that I reviewed for this article:
Best For Beginners
Best "Outside-the-Box" Gibson Les Paul Alternatives
 A double-cutaway guitar with a beautiful sunburst finish and stunning binding. The humbuckers on this Ibanez bad boy really deliver some power.
One of D'Angelico's first models that venture outside the traditional jazz and blues archtops.
Yamaha is a brand associated with beginner guitars that deliver superb value for money. The Revstar is an excellent instrument that stands out in a crowd.
Best for Intermediate Players
Best for Blues and Jazz
A blast from the 1970s past, the Bluesbird is loosely based around the original Gibson Les Paul design.
A classy-looking guitar that will appeal to those who like those jazz archtops of the 1950s and 1960s. It features a great range of tones.
Best Premium
Perhaps you've had one of these Les Paul copies jotted down on your wish list, but are wondering if it's the right one for you.
If that's the case, read on as I break down the pros and cons of some of the best options on the market for a Les Paul style guitar.
Reviews: The Best Les Paul Style Guitars
When I review guitars, I first look for playability and comfort, and then tone. Why? Because even if it sounds amazing, if it's not comfortable to play, why force yourself into it? Les Paul copy guitars — like the real thing — tend to be comfortable to hold, but can be heavy.
Of course, your budget also plays a role. I like telling new players to pay cash and avoid debt at all costs when purchasing a guitar because if you end up quitting your new hobby, you're going to be pretty annoyed by the monthly payment. It's no different with Les Paul replica guitars!
Best for Beginners
 Let's take a look at some of the best Les Paul copy guitars for those just starting out on the guitar.
Note: three out of the four Les Paul copies reviewed in this section are Epiphone Les Pauls. For more models, check out our article on the best Epiphone Les Paul.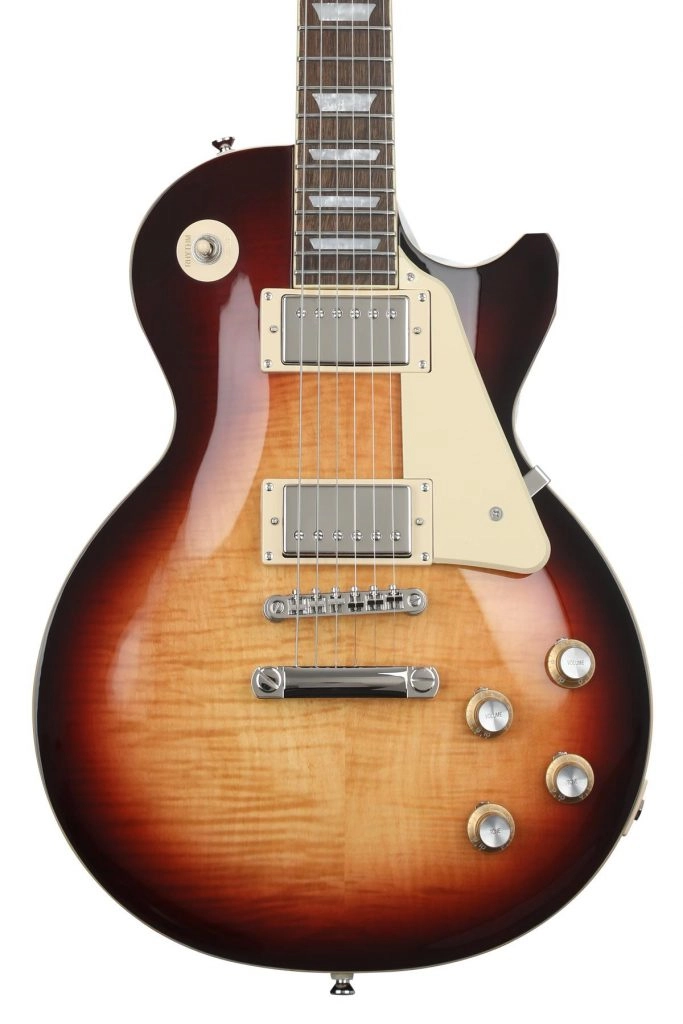 An Epiphone Les Paul is to Gibson Les Paul guitars as a Squier is to a Fender Stratocaster. The Epiphone brand is used to make budget Les Paul copy models, which, for a very reasonable price, are outstanding instruments.
Let's break down some of the key features of the Epiphone Les Paul Standard:
Powerful Humbucker Pickups 
The Les Paul Standard features ProBuckers with Alnico II magnets, which give your tone a vintage rock feel, but with modern vibes. Throw it to the bridge position with some distortion and get ready to rock out.
Mahogany All-Around
The body and the neck on the Epiphone Les Paul Standard both use super warm mahogany, which gives it a ton of sustain and a great warm tone. A mahogany body is heavier, so no surprise that, like its Gibson Les Paul Standard counterpart, this is a relatively heavy instrument.
It Really Looks Like a Real Les Paul Standard
And many owners argue that it sounds like a real Les Paul Standard too! The only difference is the word "Epiphone" on the headstock. The Epiphone Les Paul Standard is a winner in my book.
Pros
It looks like the real thing. There's one brand that can practically replicate the look of the original Les Paul design legally: Epiphone.
Gorgeous maple flame top. The Epiphone Les Paul Standard looks just like the Gibson originals of the 1960s.
High-quality tuners. You can play this baby all day without worrying about your strings going out of tune.
Cons
Slightly expensive, but not terrible. Especially for how solid it feels.
As mentioned, Gibson owns the Epiphone company and uses it to sell more affordable guitars, as most real Gibson Les Pauls start around $2,000. That's why Epiphone can make any replica Les Paul without worrying about a lawsuit from Gibson like other brands.
The only downside to the Epiphone Les Paul Standard is that it doesn't come with a case.
• • •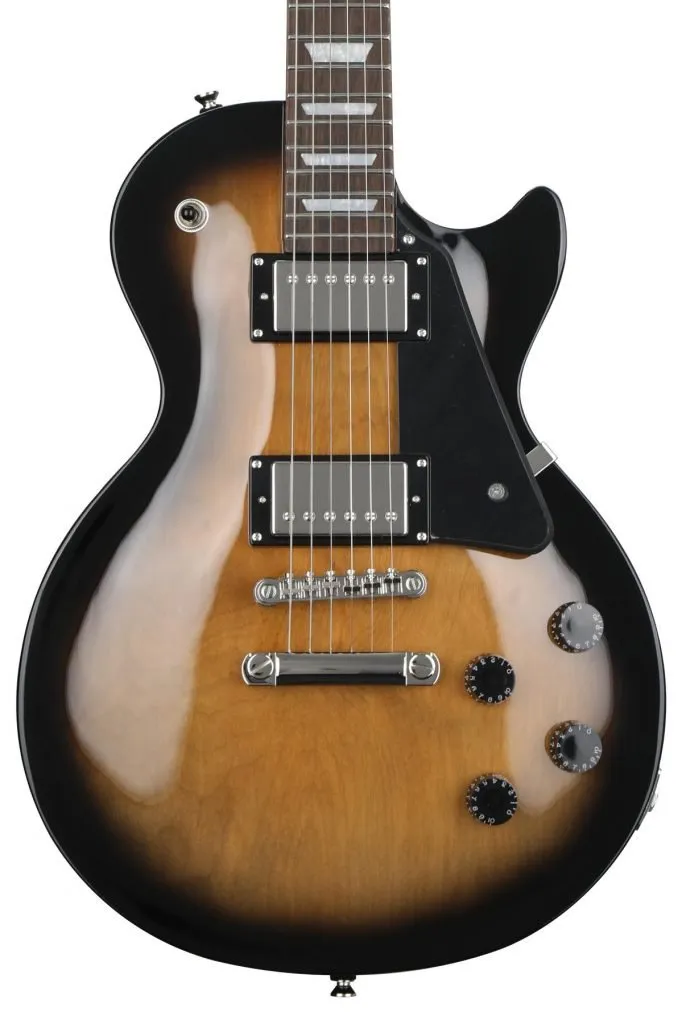 One of the more popular Les Paul copies is the Epiphone Les Paul Studio — a stunning ax that comes in a handful of different color finishes and one that performs with the best of the guitars on this list. Many Les Paul fans end up purchasing the Epiphone Les Paul Studio because it's one-third the cost of a Gibson Les Paul Studio.
There are a few things I like about this guitar:
First, the neck is extremely comfortable to hold and shape chords on. It utilizes a 1960s-era "SlimTaper" mahogany neck that perfectly fits big and small hands. This is especially helpful for jazz players, like myself, who need to shape intricate chords.
Next, I'm amazed by the tone versatility of the Epiphone Les Paul Studio. Les Pauls are typically played by rockers who need a powerful tone, but this Les Paul copy utilizes Alnico Classic humbuckers, which allows for everything from rock to jazz to pop music. And if you need to switch tones on the fly, the push-pull knob splits the coils for a totally different tone. In other words, this is a great guitar for the player who isn't quite sure what genre they want to focus on, so they need something versatile.
Pros
Premium look and feel. You really need to look at the headstock to decipher this Epiphone from its popular Gibson counterpart.
Lightweight. Les Pauls are heavy, but not this Epiphone studio model, thanks to its lightweight mahogany tonewood.
Versatile pickups. These humbuckers can handle rock or jazz and everything in between.
Cons
Changed headstock. The headstock is tweaked slightly from previous model years, which some don't appreciate. It doesn't impact the playability of the guitar, though.
Finally, I really like how affordable this guitar retails for. For a studio model, you would expect this mahogany body guitar to cost considerably higher than it is, which also makes it a great beginner or intermediate guitar.
Unfortunately, no gig bag is sold with this Les Paul, but that tends to be the case with these copycat guitars.
• • •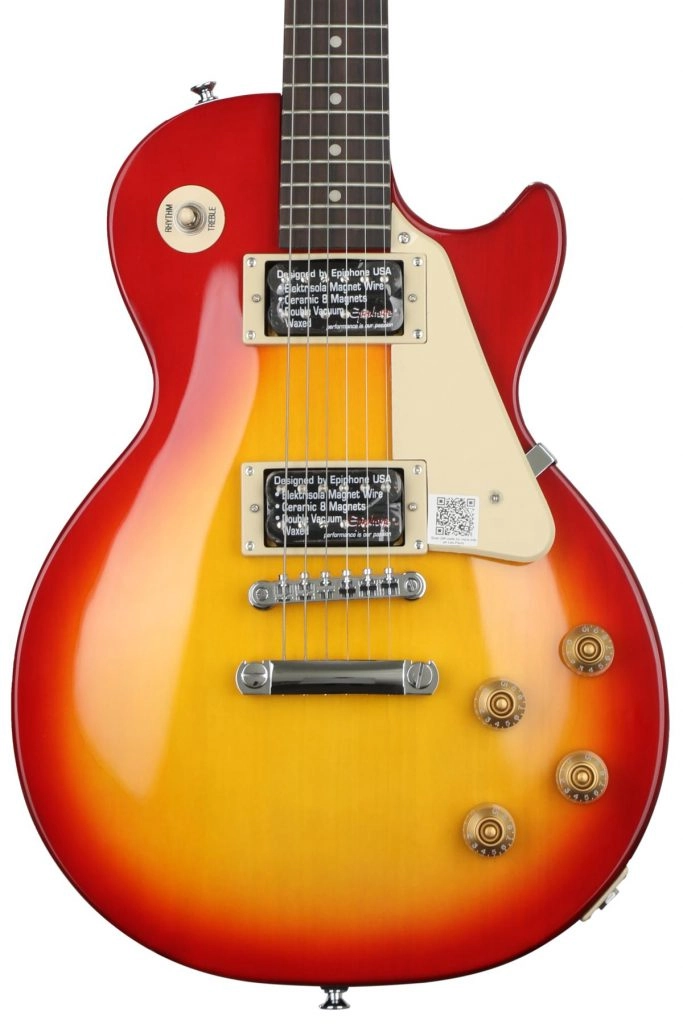 The Ultimate Beginner's Les Paul
A good beginner electric guitar comes at a price that won't break the bank, plays comfortably, and produces a decent sound. This Epiphone Les Paul checks all of these boxes — especially the sound part. Definitely one of the best Les Paul copies out there! And it has a mahogany body!
If you're a beginner with absolutely no playing experience and you're looking for something that looks and feels like a Gibson Les Paul, just go with this one and a small, affordable amp.
Stays in Tune
I was pleasantly surprised to see this Epiphone Les Paul features a LockTone Tune-o-matic bridge, which does a great job when it comes to intonation and keeping you in tune.
Slimmer Body
What makes this Les Paul so comfortable is the fact that it has a slimmer body (most Les Paul guitars tend to be thicker). That's important because you want an instrument you can easily wrap your arms around when learning the basics.
The slimmer Les Paul body (and the okoume neck) help lower its weight, too. Les Pauls are notoriously heavy instruments, so the lighter weight is certainly welcomed.
Quality Control Issues
Any entry-level instrument is going to have its issues. That's mainly because they are mass-produced overseas — and not by hand. That can lead to any number of quality control issues.
Pros
Affordable. This is the cheapest Les Paul guitar on this list.
Surprisingly powerful pickups. These don't sound like entry-level humbuckers.
Comfort all around. Especially the neck, which fits all hand sizes.
Cons
Quality control. Like most mass-produced entry-level models, the Epiphone Les Paul 100 isn't free of random issues.
A common complaint about this Epiphone  Les Paul is with the cord jack, which can easily become loose. This isn't a huge deal, as it can be screwed back in again, but it can be an annoyance. When you're not playing in the amp, make sure the guitar doesn't always have a cord dangling from it.
• • •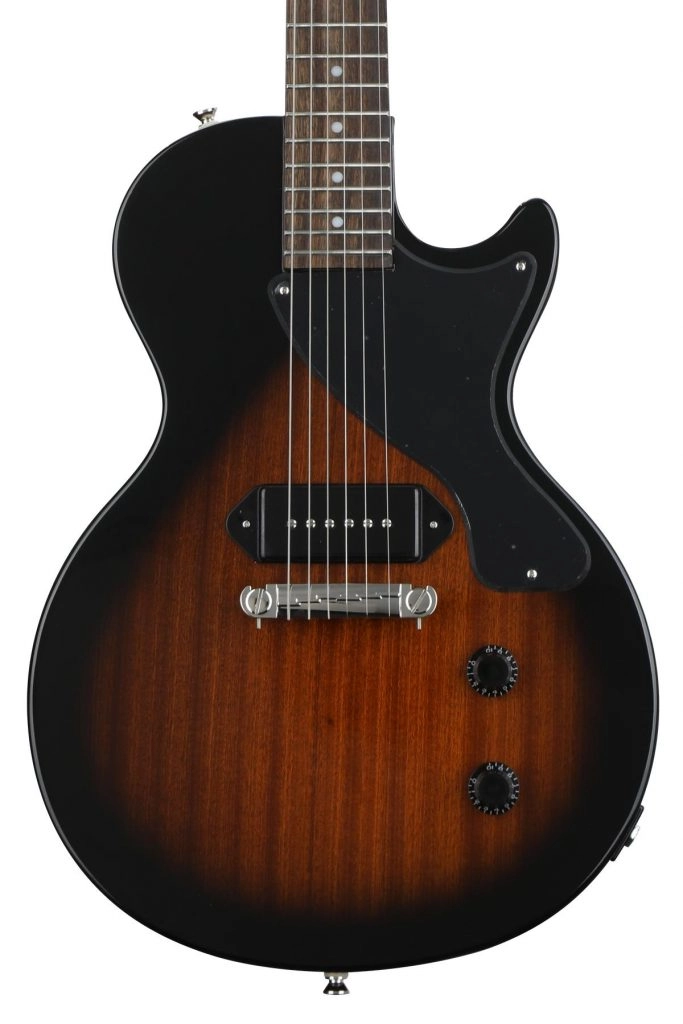 A Simple Instrument
Sometimes rockers want a simple electric guitar they can plug in and start jamming away on. The Epiphone Les Paul Junior is the ultimate, no-frills Les Paul. Some even describe it as an lp style guitar.
Featuring only one single-coil pickup, you can make subtle tweaks to your tone and volume and that's it. Thankfully, the pickup is quite responsive, making this mahogany body Epiphone with a rosewood fretboard a great beginner Les Paul for a player who's interested in rock, but also needs a good clean tone.
The Pickup
I noticed when playing the Epiphone Les Paul Junior that you can get a decent clean tone out of it, but the moment you start really playing hard, it's going to distort a little bit.
This isn't necessarily a bad thing, but this isn't your best choice if you need a crystal clear clean tone. Many rockers and blues players will appreciate the natural-sounding growl this Epiphone Les Paul can produce.
Pros
No frills Epiphone Les Paul. If you need a Les Paul to rock out on and not let anything else get in the way, this one is what you want to buy.
Responsive pickup. The P-90 single-coil pickup is pretty sensitive — but in a good way. It delivers great clean tones, and growls as you start chunking away on chords and solos.
Cons
Limited with only one pickup. Most Les Pauls feature two humbuckers. Your tone is limited with one single-coil pickup on this Epiphone.
Beautiful Design
The tobacco burst on this mahogany body looks great. I was pleasantly surprised by how nice this looks despite the Epiphone Les Paul Junior's extremely low price tag.
 If you want to check out other Epiphone Les Paul P90 guitars in the same price range as the Junior, read our best P90 guitar article.
• • •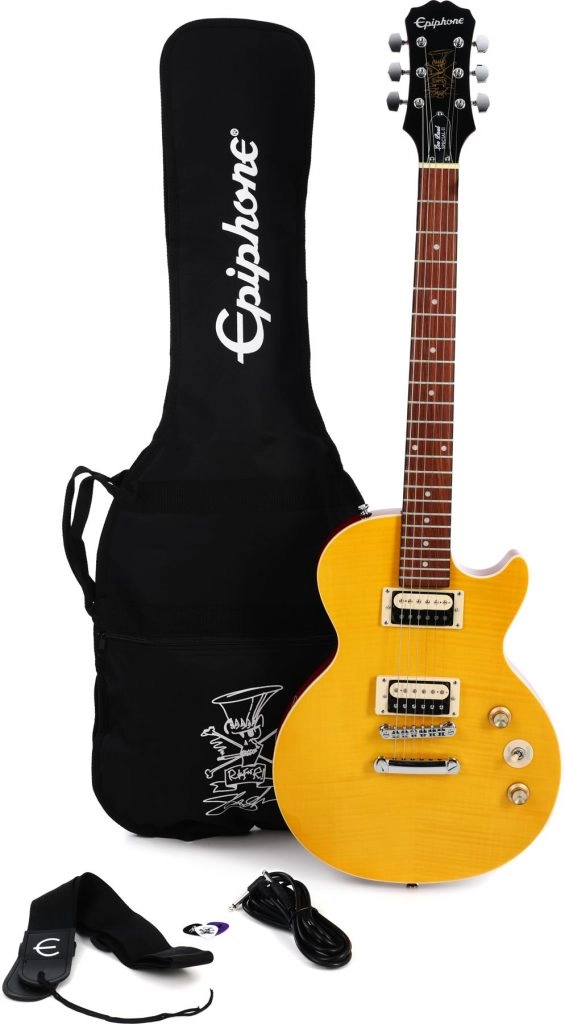 Designed by Slash, Guns and Roses' superstar guitarist, this is also a great, affordable Les Paul option for both beginner rock and metal players.
For our honest opinion on this guitar, check out our review in our article on the best electric guitar packages.
• • •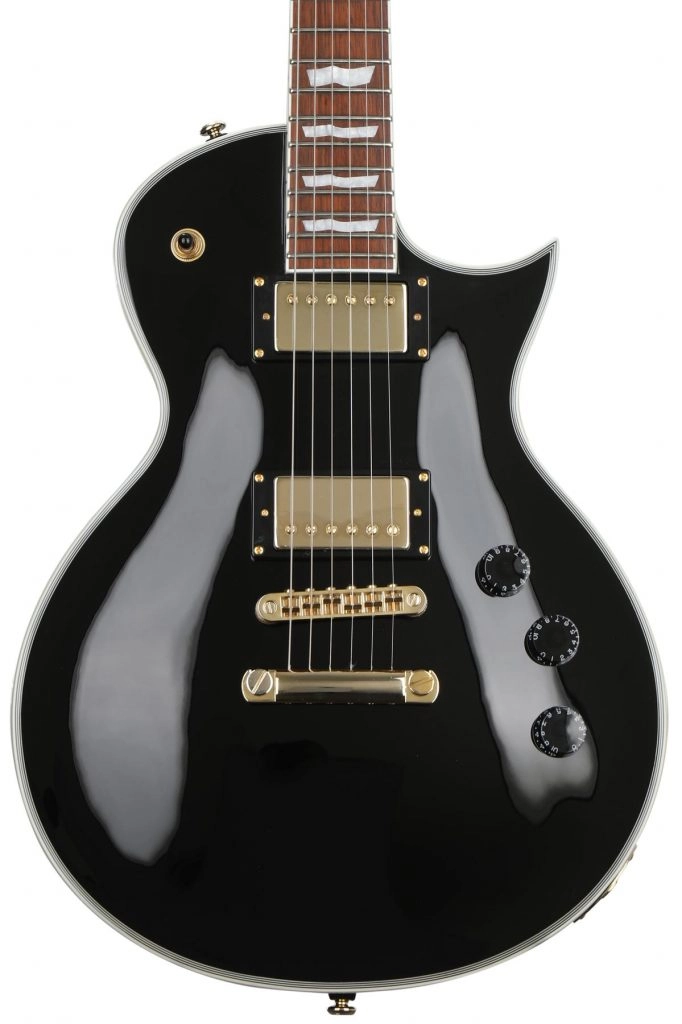 The ESP LTD EC 256 is a rocker's dream. It features a stunning glossy black finish over its mahogany body, which contrasts beautifully with the roasted jatoba fretboard.
I'm not a huge fan of the molded plastic nut, but many owners say they have zero intonation problems thanks to the Tune-o-Matic tailpiece and LTD tuners.
Despite costing a little more than an entry-level electric guitar, the ESP LTD EC is still an awesome beginner guitar that deserves a place among the best Les Paul copies. It sounds incredible — both clean and distorted — and it's really comfortable to play. Most owners reported that no setups are needed when you take it out of the box.
The thin neck profile is why this Les Paul style guitar plays so comfortably. No matter if you have big or small hands, you'll be able to easily wrap your hands around the neck of the ESP LTD EC and shape chords. 
Pros
Sharp design. And we mean that literally. The cutaway looks great with a super-sharp point.
Great value. It's not the cheapest entry-level electric guitar, but it's certainly in reach.
Impressive sustain. The original Les Paul is all about sustain, and this fearsome electric guitar follows that trend.
Cons
Fingerprints. The high-gloss black paint job on the ESP LTD EC-256 is susceptible to fingerprints.
For more experienced players, the ESP LTD EC-256 could actually make a great backup Les Paul. I think once you hear the sustain on it (thanks to the mahogany body), though, you might be tempted to make it your main electric guitar.
If you want to know more about this guitar and how it fits in the overall ESP catalog, check out this article. There's also a 7-string version of this Les Paul style guitar that we reviewed here.
Jackson's Monarkh SC JS22Q is a close competitor of this guitar. Check out our review here.
• • •
Best "Outside-the-Box" Les Paul Alternatives
These guitars are among the best Les Paul copies you can buy if you're willing to broaden the concept of what a Les Paul is all about. Most of them share Les Paul qualities, though, like a mahogany body, humbucker pickups, rosewood fretboard, and plenty of tone controls.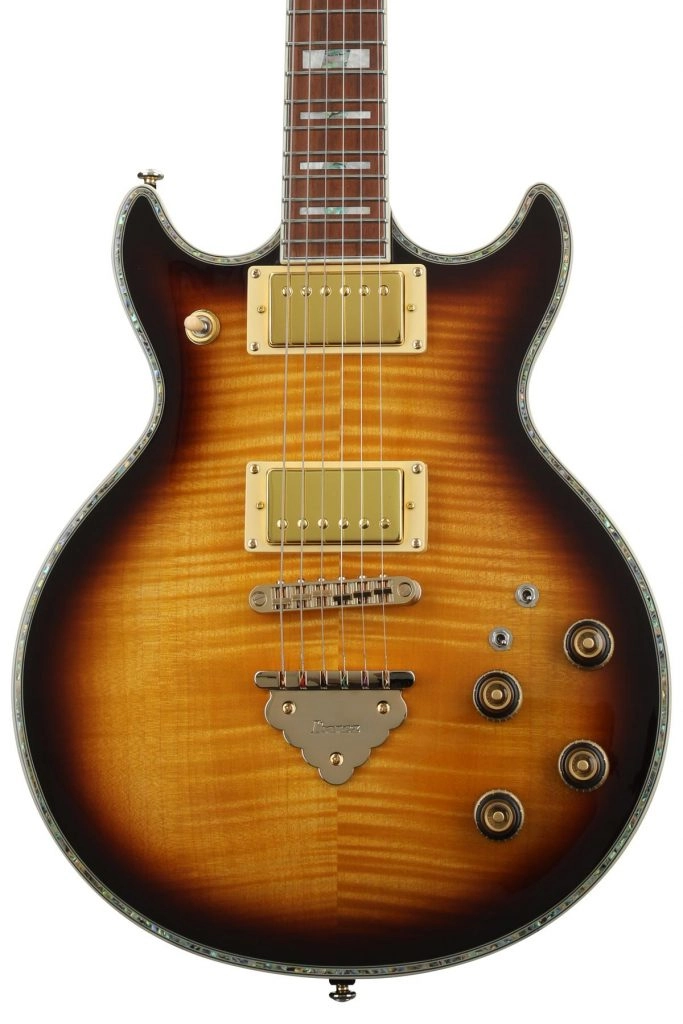 The Quest for the Ibanez Les Paul Guitar
Ibanez found out (a few times!) firsthand how serious Gibson was about making Les Paul replicas by dealing with some lawsuits over the years. As a result, Ibanez agreed to not confuse consumers over if it's a Gibson Les Paul or not and decided to make more distinct-looking models.
The Ibanez AR Series AR420 is a great example of this — it's a Les Paul like guitar, but still quite original. It certainly has Les Paul tendencies, but it doesn't really look like a Les Paul.
Cool Design
First, it features a double-cutaway body, and both cutaways aren't as deep as on a Les Paul. Next, the pickups and bridge are much higher up on the body, leaving some extra space at the bottom of the guitar.
I really love the violin sunburst finish on this Ibanez. It pairs beautifully with the gold hardware, giving it quite a classy look.
Powerful sound
As for the sound, it's plenty powerful. But I feel like it's not as fat or bright as on a traditional Les Paul and other options on this list. Still, it's a solid electric guitar that features pretty good clean tones and even better distorted tones. Many owners agree this Ibanez is great for the blues.
Pros
Beautiful design. It's a little outside the realm of a traditional Les Paul, but most players won't care — especially when they see the binding on it.
The double-cutaway is welcomed. It's much easier to reach the upper frets with two cutaways compared to one.
Cons
No Wizard neck. Ibanez's Wizard necks are super comfortable and play really fast. I feel like they should have included it on the AR420.
For the price, I expected a little bit more from Ibanez because they have so many other great electric guitars (you can see them here!), but if you can play on the AR4290 first, it might just be the right one for you.
• • •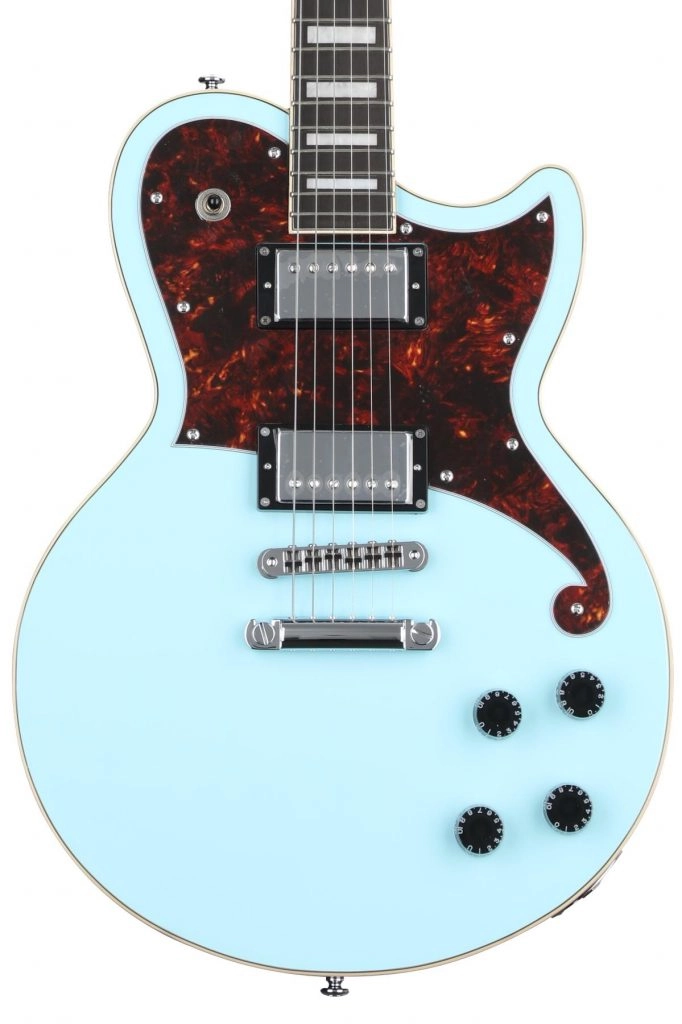 D'Angelico has an incredible history, but the Premiere Atlantic really hasn't been part of it until recently.
The company was founded in the early 1930s by John D'Angelico. He quickly became one of the top luthiers for jazz archtops.
D'Angelico guitars could cut some loud sounds, which is why jazz players at the time — including Les Paul, himself! — wanted them. They were the only archtops that could play with the loud sounds of a big band.
The brand essentially died with John D'Angelico until 2011, when new owners purchased the company and hit the reset button on it while paying tribute to D'Angelico himself by taking MRIs of his classic hollow-body archtops.
Pros
Three great colors. D'Angelico got creative with this guitar, offering sky blue, oxblood (red-pink), and classic black flake.
Mid-century modern style. Out of all the guitars on this list, this "Les Paul style" guitar is the least Les Paul style — but a lot of people like it!
Incredible tone. Especially for jazz, neo fusion and R&B players. D'Angelico has jazz in its DNA, but it's also gotten really popular with pop and R&B players.
Cons
Soft-shell gig bag. For a more premium guitar, I'd expect a hardshell case.
Fast-forward to today and D'Angelico has a full lineup of solid-bodies that are gaining a lot of attention, including the Premiere Atlantic, which features a rosewood fretboard, but no mahogany body.
I'll cut to the chase with this guitar: It looks different for a "Les Paul," but it sounds incredible. In fact, most probably wouldn't even consider this a Les Paul copy guitar, but I really like it — and I'm the author, here! That's thanks to the pair of Seymour Duncan humbuckers that offer stellar clarity. The clean tones are better than the distorted tones, so this isn't really an electric guitar for rockers, but works well for several other genres.
• • •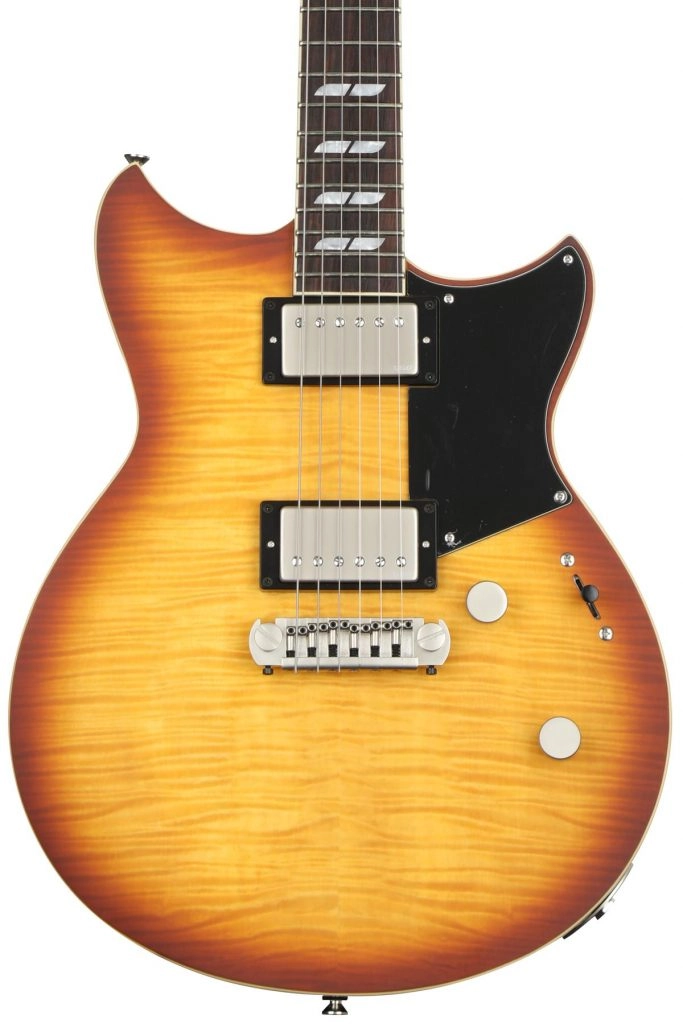 Yamaha is typically known for its beginner guitars and bottom of the barrel prices. But the Yamaha Revstar RS620 actually falls in that intermediate category.
Using the 1974 Yamaha Super Flighter model as inspiration, the Revstar is a smaller, solid-body electric guitar that features true Les Paul power, but with some pretty innovative electronics.
Yamaha's humbucker system enables single coil-like tones (think Fender strat) while giving you the option to go full-power with the pair of humbuckers.
This is an electric guitar best suited for jazz and blues, but rockers may also find it useful.
Pros
Smaller body is comfortable. Les Pauls might be too big for some people. The Revstar is much smaller, which might be more comfortable for some players.
Tone-shaping. Yamaha has included a pretty innovative "dry switch" which lets you put a passive filter to cut out frequencies for super-clear tone.
Great sustain. Thank the mahogany neck on this guitar for the all-day sustain.
Cons
Not the best design. It's not as classy looking as the other options on this list.
The design won't appeal to everyone. It doesn't look like most traditional Gibson Les Paul guitars, but the contour of the body mimics the design to a certain extent.
A few users have complained about the quality of the wrap-around bridge that can create some string buzz.
• • •
Best for Intermediate Players
We're now diving in to review the best Les Paul copies if you've been playing for some time and are ready to upgrade from the very first axe you bought. Or, you're a pro looking for a reliable workhorse/backup instrument you can take to gigs when you don't want to risk scratching your Gibson Les Paul.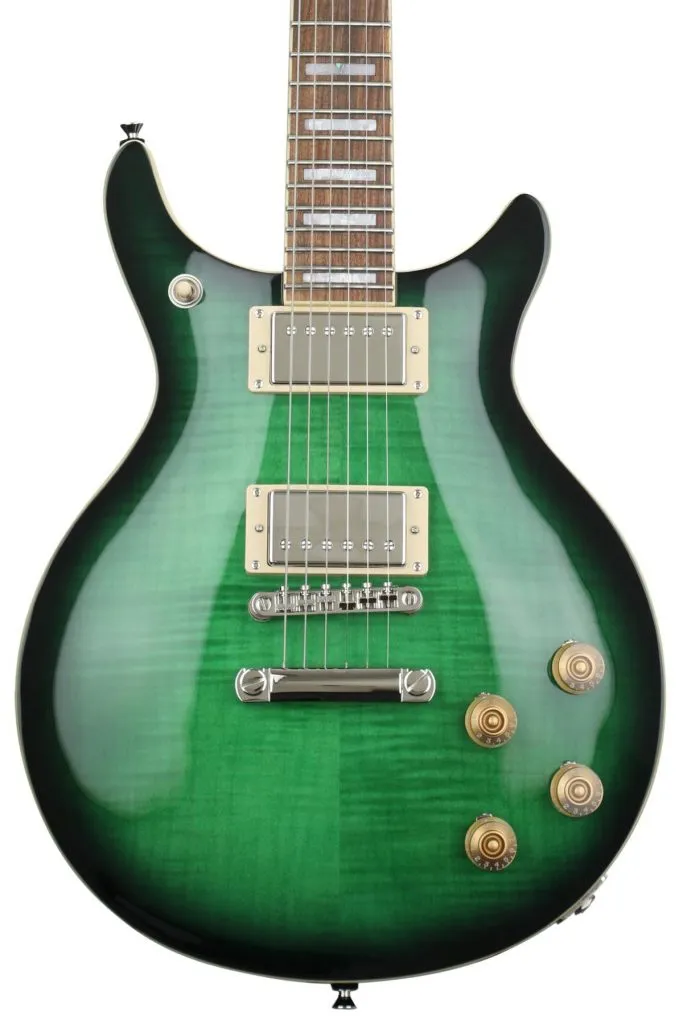 The Epiphone DC Pro is a cross between a Les Paul copy and a PRS-style guitar. Anyway you look at it, it's a beautiful guitar at a great price, making it an attractive ax for beginner and intermediate players. The cream binding is my favorite part of this guitar's aesthetics.
This model features a Pau Ferro fretboard that shares similar qualities with rosewood. It's slightly lighter in color and can actually slightly stain your fingers after the first few times playing on it — no biggie, of course.
Some have complained that the neck is too chunky on this guitar and that the hardware is on the cheaper side, which is likely a fair assessment based on its price. That said, it's still a very capable guitar with an impressive tone.
Pros
Deep double-cutaway. It's not the ideal Les Paul copy, but it's comfortable to play on upper frets!
Versatile tone. These aren't humbuckers on this guitar — they're ProBuckers, which are warm and clean.
Beautiful design. People are sure to admire the look of this beauty.
Cons
Big neck. Some players have complained that the neck is simply too big for comfortable playing.
The electronics feature everything you'd want in this style of guitar — coil tapping, phase invert, and plenty of tone options, thanks to the ability to switch between single coils and humbuckers.
My favorite part about this guitar? The flamed maple top in a very sexy ivy green finish. If you read other reviews, you'll hear others also rave about it.
No case is included with this guitar, which isn't surprising at this price point.
• • •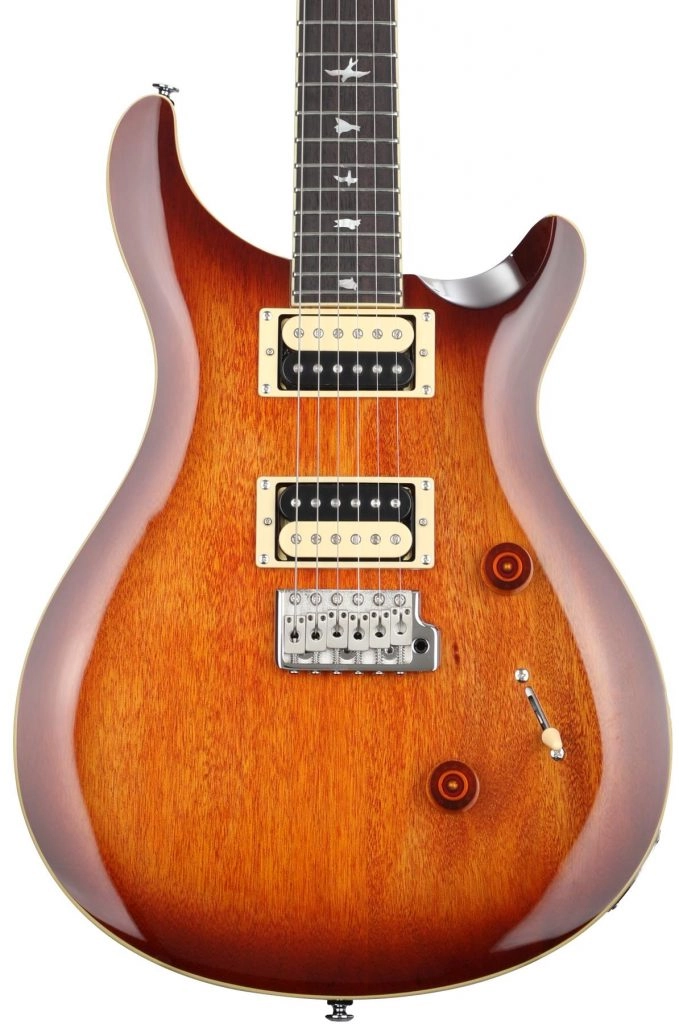 The absolutely beautiful PRS SE Standard 245 is the perfect option to upgrade to after learning on your beginner electric guitar. It's affordable, looks great, and sounds even better.
Here are some highlights:
Quality. Paul Reed Smith guitars are known for their extremely high quality. The mahogany body on this axe feels very solid.
Longer scale length. At 24.5 inches, this beauty can scream some high notes.
Rosewood fingerboard. It looks great, but it's even better to play on. Rosewood makes for easy navigation of the fretboard.
Fat humbuckers. This is a versatile electric guitar when it comes to sound. The humbuckers pack a punch, but also sound great when playing clean tones.
Pros
High-end design. Paul Reed Smith makes beautiful guitars and the SE Standard 245 is no exception.
Complete tonal control. With four volume and tone knobs, you can easily dial in the sound you desire.
Wide-fat neck profile makes it easy to both solo and shape chords.
Cons
Design of non-cutaway side. The single cutaway makes for easy access to the upper frets, but the other side — which doesn't cut away — is a little higher up, which makes things a bit uncomfortable. That's me being picky, though.
The SE Standard 245 is great for country, blues, and rock, which is why so many people have chosen to buy it.
Like I mentioned, this is the ultimate intermediate electric guitar. And while it doesn't look like a near replica of a Gibson Les Paul, it certainly delivers on the great Les Paul tone.
• • •
Mark Tremonti is the founding member of Creed, and he loves a powerful electric guitar. That's why this Les Paul style axe — the PRS SE Mark Tremonti —is great for those who want to play rock, but need a super-clear tone.
I played the PRS SE Mark Tremonti recently and was impressed by a few things.
First, the comfort. The way PRS curved the body allowed my arms to wrap around the guitar so comfortably.
As expected, the maple top veneer and overall design looks great.
My hands are slightly smaller, so I'm not a huge fan of the wider neck on the PRS SE Mark Tremonti. But individuals with larger hands may prefer it.
Pros
Durable. This Les Paul style guitar is built solid and should hold up for a long time.
Clear pickups. The clarity from the custom "Tremonti" S pickups is pretty impressive.
Awesome tremolo. The Paul Reed Smith molded tremolo not only gives you total control of dips and bends, but your strings also stay in tune after extensive use.
Cons
Wider neck. It won't appeal to all players.
Note: There are a handful of Mark Tremonti signatures by PRS, including a super high-end "yellow tiger" edition that sells for a lot of money. The model I'm reviewing, the PRS SE Mark Tremonti, falls more into that intermediate range — the perfect upgrade from your first electric guitar.
• • •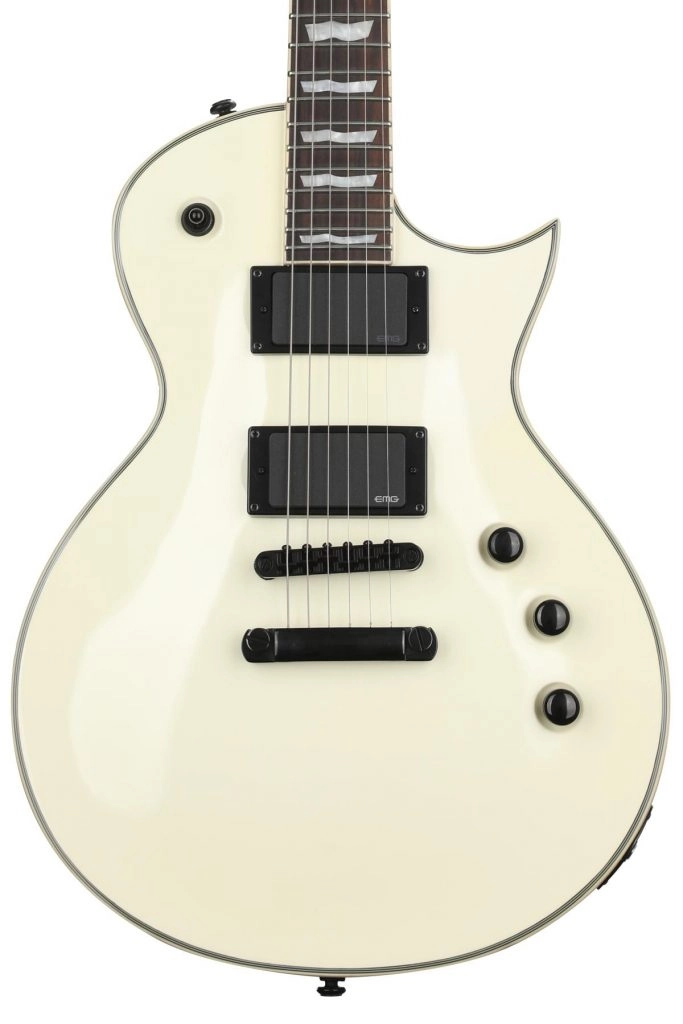 Plain and simple: The ESP LTD EC-401 is designed for those who want to rock out. It looks like a hardcore Les Paul and sounds even better.
Powerful Pickups
The foundation of this Les Paul style axe are the humbucking pickups. They deliver an incredible tone that's extremely clear — which is what you would expect from Seymour Duncan.
If you're playing through some distortion with the volume cranked, you can get that desired Les Paul grungy tone, mixed with the perfect amount of clarity for solos and quick licks.
Comfortable to Play
ESP implemented a thin "U" profile neck on the ESP LTD EC-401, which is not only easy to wrap your hands around to shape chords, but it's also wicked fast. The neck is a little heavier because it's made of mahogany, but that also adds to the overall warmth of the instrument.
Pros
Pickups for rockers. These humbuckers can scream.
Great value. This isn't a beginner's electric guitar — and it's not the most affordable — but the quality of the ESP LTD EC-401 is outstanding, making it a great upgrade axe.
Fast neck. ESP used a thin "U" profile neck, perfect for fast solos and easy access to the upper frets.
Cons
Tuners don't lock. For the price, I'd like to see locking tuners on this one.
Unfortunately, ESP doesn't include a case with the EC-401, despite its higher cost.
Jackson's Pro Series Monarkh SC is a similar Les Paul style guitar. Check out our review here.
• • •
Best for Blues and Jazz
Here we take a look at Les Paul style guitars that I think are best suited for these classic styles where the original Gibsons shine.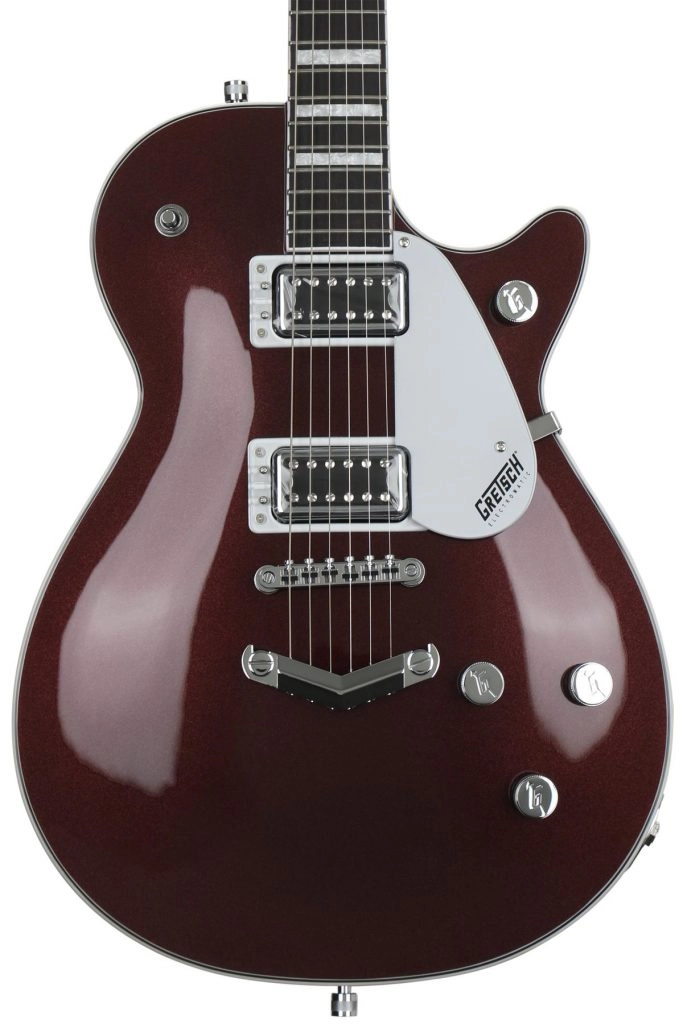 From its classic archtop feel to its super-versatile pickup system, the Gretsch Electromatic Jet is a vintage electric guitar lover's dream.
Perfect for jazz, rock, and blues, this Electromatic strays outside of the "Les Paul style guitars" genre of design to a certain extent, but its vintage looks make it stand out.
It's the pair of Broad'Tron pickups that define this Electromatic, and the tone that Gretsch is synonymous with. Think 1950s-era archtop tone, but with a nice little boost. You can play gritty blues music with these humbuckers, but also dial it down for a nice, clean jazzy tone.
Pros
Great value. Most Gretsch's aren't cheap. This one is a steal.
Vintage design. If that's what you're going for, Gretsch nailed it out of the park.
Versatile sounds. You can tap into a ton of different tones with the Broad'Tron pickups.
Five great colors. I personally like the jade grey metallic.
Cons
The bridge is a little weak. Intonation isn't a huge problem, but it just doesn't feel very high quality.
The neck only goes up to 22 frets instead of 24, which may be an issue for some alternative Les Paul lovers, but not most.
Gretsch doesn't include a case with the Electromatic G5220.
We didn't write a Gretsch G5222 review in this article. It's a similar model, but there are subtle differences that you can appreciate here.
• • •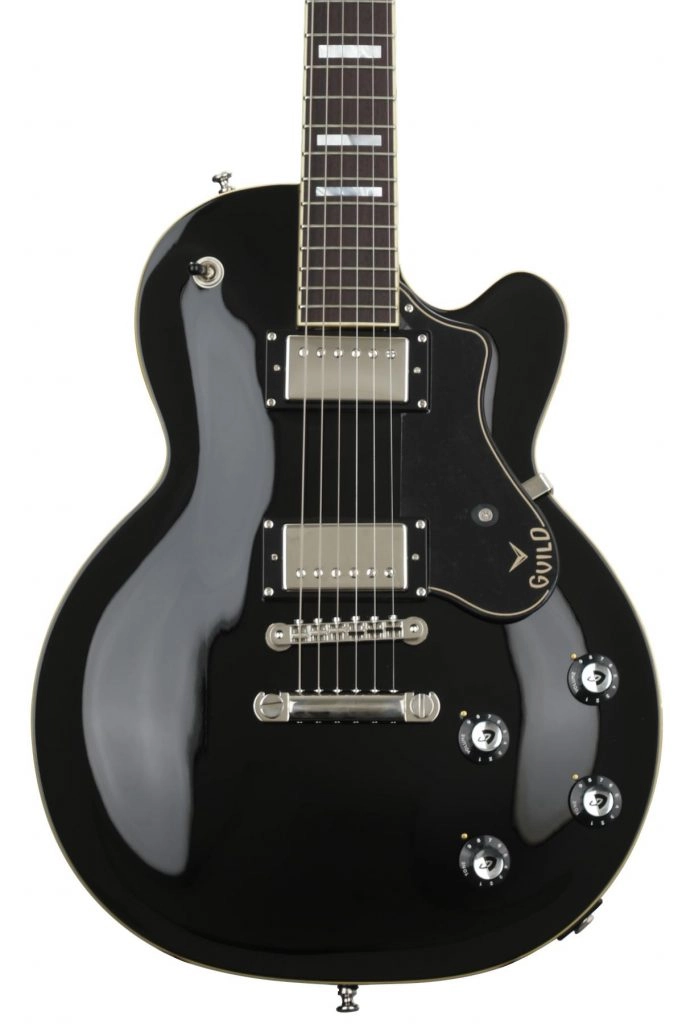 Gibson had the Les Paul and Guild had the Bluesbird. Since the 1950s, Guild has used the Bluesbird as a more affordable option to the Les Paul and it has been quite successful. The model really took off in the 1970s, which today's model is based on.
The Bluesbird features a 24.75" scale length, and the bound neck with a vintage U-shape design is comfortable for most players. However, if you like a thicker neck, it may not be for you.
It's the Seymour Duncan pickups that impress me most. They help bring the Bluesbird back to the tones of the 50s and 60s, making this a great electric guitar for rock, blues, and even jazz.
Pros
Lightweight. Despite being made with mahogany, it is chambered in a specific way to shave some weight off it.
Seymour Duncan pickups do a great job at mimicking the 1970s tones of this classic electric guitar.
Vintage neck will feel familiar to older players.
Cons
Too rounded of a design. It won't appeal to everyone.
You can pick between solid black and a beautiful flamed "ice tea" top.
This isn't a cheap instrument, but it's certainly attainable for most players.
• • •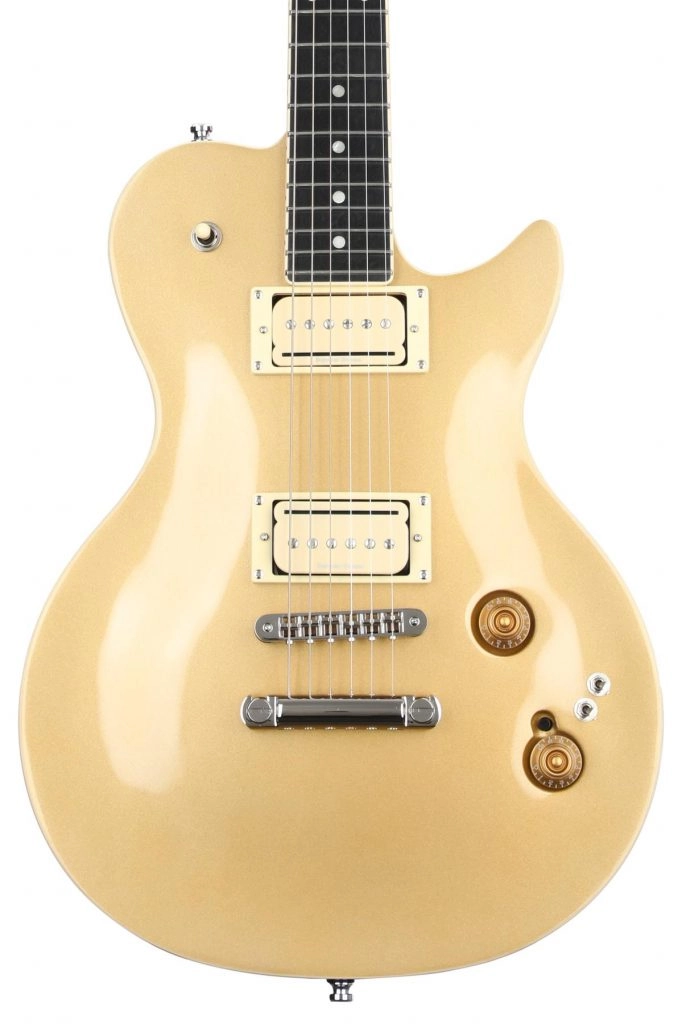 The first time I laid eyes on the Godin Summit Classic, I knew it was a special guitar.
Unique Design
In terms of a Les Paul style guitar, it's a tad outside the box. It's designed with that typical Les Paul single cutaway, but it scoops nearly the full length of the neck, giving you even better access to the upper frets.
The body is more rounded than a Les Paul for that vintage feel. And the hardware — especially the knobs — make this darling a true work of art.
Versatile Sound
This is an electric guitar that can achieve countless different tones. In addition to a pair of Seymour Duncan P-Rail pickups, Godin also included its homemade High-Definition Revoicer system, allowing players to go from passive to active pickups at the touch of a button.
Active pickups have a significantly higher output than passive pickups because they're powered by a battery. This is great for jazz and blues where you need great volume dynamics.
Pros
Classy design. It reminds me of a fine classic car.
Vintage tones. The Seymour Duncan P-Rail pickups offer a smooth, vintage sound.
Cedar body. Delivers the same warmth as mahogany, but much lighter.
Cons
Expensive. This kind of quality doesn't come cheap.
Expensive
A guitar of this caliber is going to run you a pretty penny. It's still cheaper than an actual Gibson Les Paul, but it's definitely a high-end instrument designed for more experienced players.
• • •
Best Premium
 In this section, we take a look at the very best of the best Les Paul style guitars on the market right now.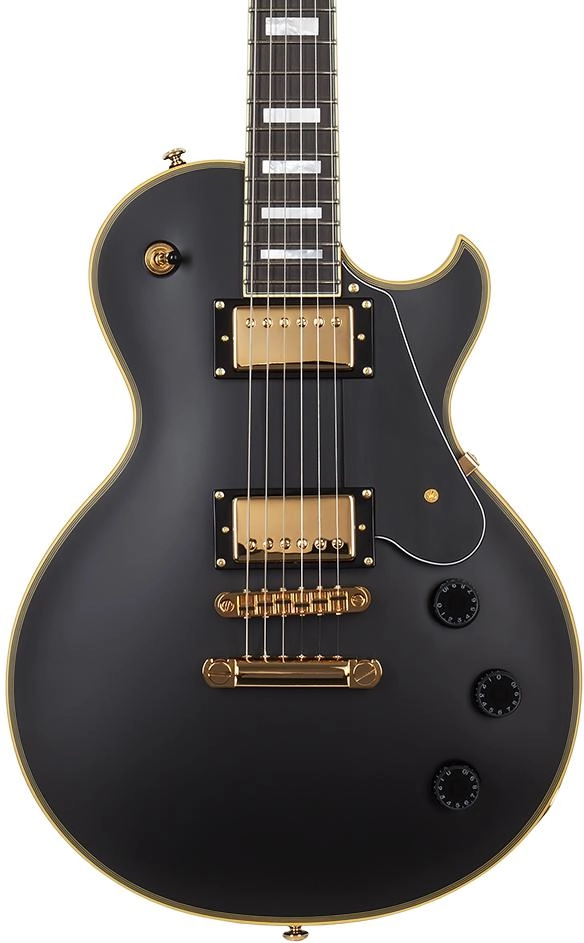 If you play rock and metal, then you likely want an electric guitar that looks aggressive — even sinister! But does the style of typical a Gibson Les Paul fit that bill?
If any company were to pull that off, it's Schecter. And the Schecter Solo II Custom is one of the raddest looking Les Paul lookalikes on this list.
It starts with the super-sharp single cutaway design that's typically associated with metal music, but doesn't kill the instrument's Les Paul vibe. And then the company complements that design with a classy black finish and gold hardware.
Most importantly, the Solo II Custom sounds incredible thanks to Shecter's in-house Pasadena humbuckers on the PAF platform. You can coil-split for more of a single-coil tone, or go full power for the ultimate rocker's experience.
Pros
Classic Schecter design. This sinister-looking Les Paul doppelgänger is a rocker's dream. I especially like the sharp single cutaway.
Mahogany and maple. The combination of these tonewoods gives you the warmth of a classic Les Paul guitar, but the attack that's associated with Schecter.
Hot-rodded PAF-style humbuckers are plenty powerful. Would you expect anything less from this brand?
Cons
Expensive. You're buying a quality instrument, so you'll have to save.
Some owners have complained about there not being enough range out of the tone knobs, but the pros of this Les Paul style metal guitar still outweigh the cons.
The same owner who complained about the tone knobs raved about the neck, calling it super fast and comfortable to play on. And the frets are silky smooth, making bends really easy.
• • •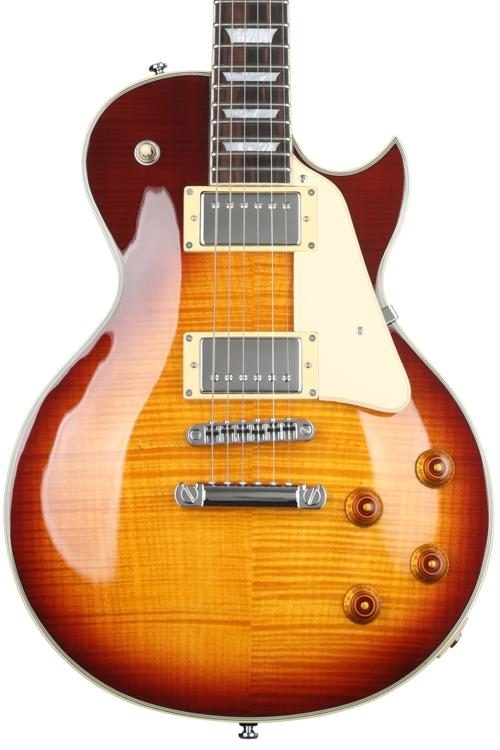 To be honest, I never heard of the Sire brand. But after doing some research on the Sire Larry Carlton L7, I'm definitely going to be on the lookout for more options from this skilled maker.
Beautiful Design
Sire was definitely going for that Les Paul style guitar with its design, but it put its own unique spin on it with a sharper single-cutaway look. The rest of the body is a near replica of the Les Paul.
The tobacco sunburst finish is what makes this baby look most like a Les Paul.
Superb Sound
Sire included its in-house "Larry Carlton Modern Humbuckers," which are creamy and warm — perfect for rock, blues, and pop music. You could even use it for jazz because the pickups deliver a super-clean tone.
Great Value
You might be thinking this is a four-figure Les Paul guitar since it looks amazing and is in the "premium" section of this article. But the Sire Larry Carlton L7 is actually quite attainable in price.
Pros
A Les Paul lookalike. The single cutaway is sharper, but the finish screams Les Paul.
Extremely high quality. Sire isn't the most well-known brand, but all of its guitars are built with great durability.
Incredible sustain. A Tune-o-Matic and aluminum stop tailpiece keep your strings singing all day long.
Cons
No case. For a premium guitar, there should be a case included.
Whether you're a long-time player looking for a reliable guitar that looks, feels, and sounds like a real Les Paul, or an intermediate player looking to upgrade from your beginner electric guitar, this is a great option.
• • •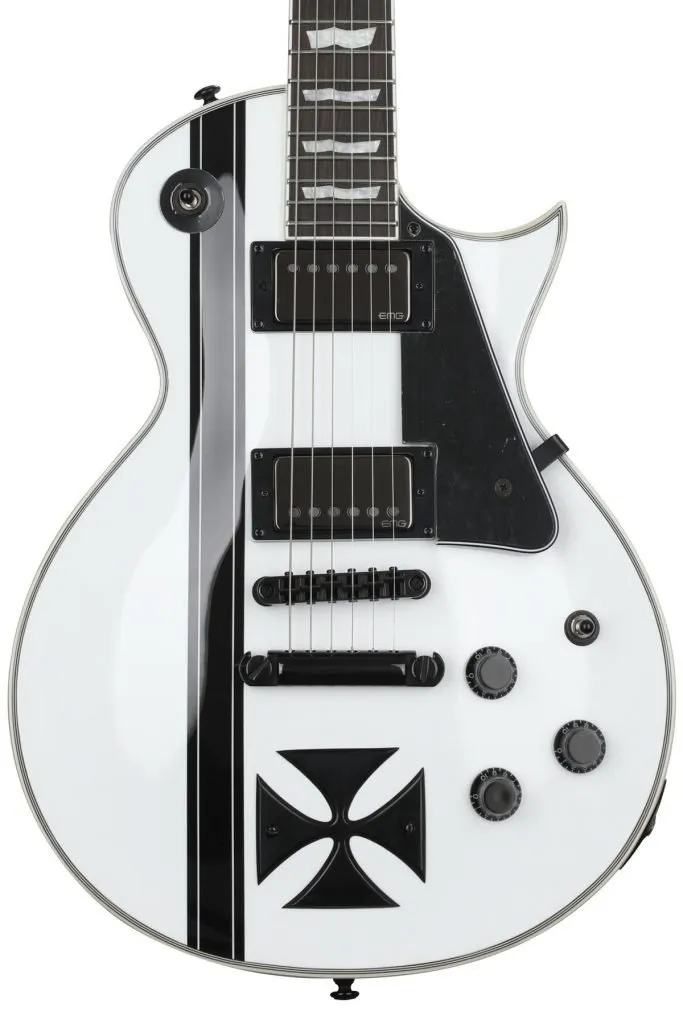 Do you want power? Do you love rock and metal? You can't go wrong with the ESP LTD James Hetfield Iron Cross, which is one of the coolest-looking Les Paul copies on this list.
Let's get the price out of the way first. This is the best guitar for $1,500 or less on this list, so it's obviously designed for more experienced players with premium budgets. Thankfully, it's worth every penny.
Let's start with the tone of this signature model. The active pickups from EMG pack plenty of attack and are designed for higher output. If you want to play quieter, this probably isn't the guitar for you. What stands out, though, is how controlled the output of this guitar is. It has a ton of clarity necessary for metal and hard rock music.
Pros
Gnarly design. The iron cross emblem truly makes this guitar.
Metallica legend. As the signature model of a Metallica legend, the James Hetfield Iron Cross is certainly popular among rock and metal players.
Versatile pickups. These humbuckers can handle rock or jazz and everything in between.
Cons
Expensive. Remember, though, that this is a premium guitar.
I'm not a huge Metallica fan (I respect the hell out of them), but even I am impressed with the design — especially the fretwork — of this guitar. It's absolutely stunning and is a total show-stopper.
Some owners of this guitar have said they've played some of the best Gibson Les Pauls that cost more than twice as much and feel this signature model is far superior. In other words, not all Les Paul copies are cheap. They can often be better than the real thing.
You get a hardshell case for the price, which is greatly appreciated.
• • •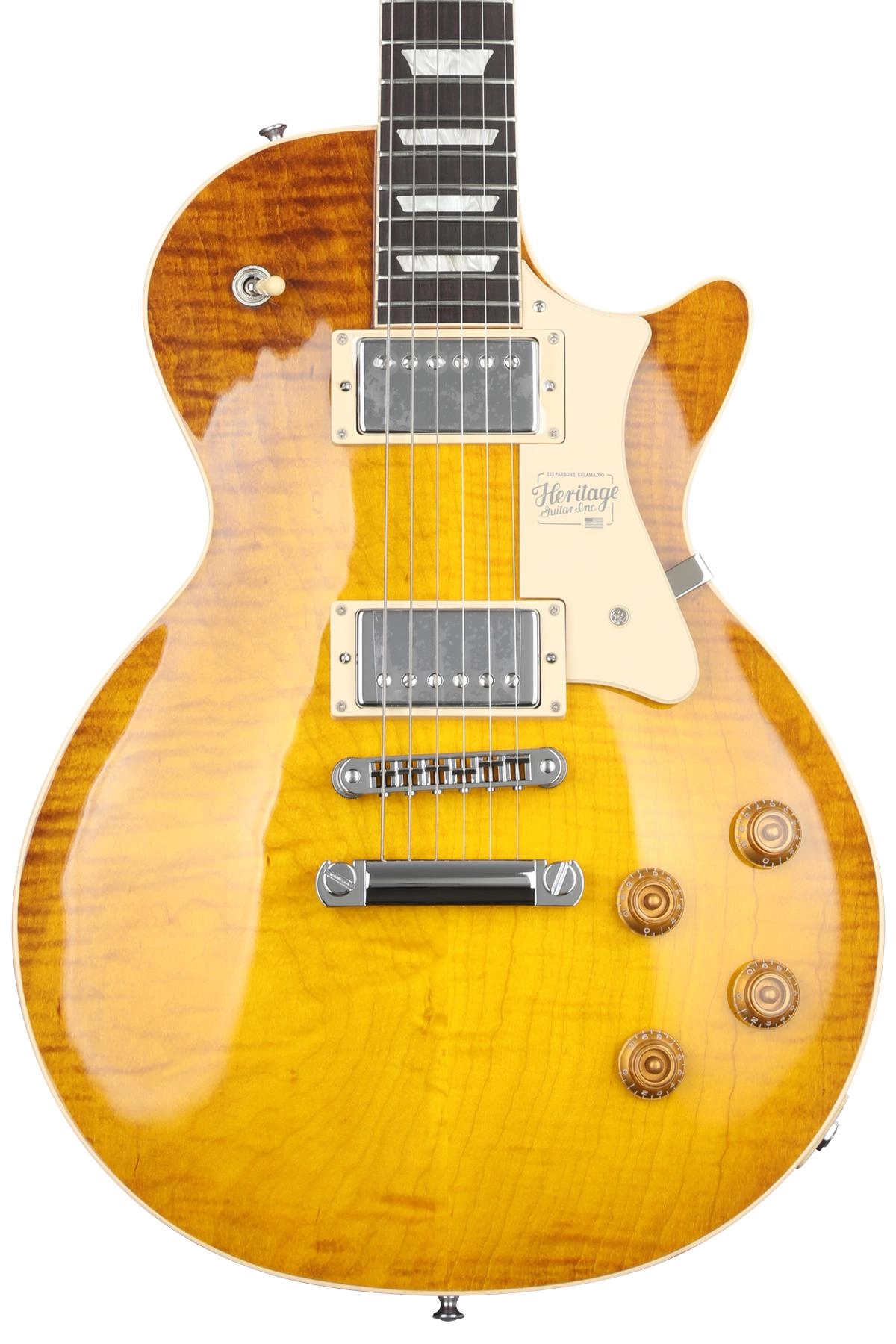 What can I say? The Heritage Standard H-150 is one of the most beautiful, authentic-looking Les Paul style guitars on the market today. Oh, and it also sounds amazing.
But, here's the kicker: It's going to cost you! How much? Well, let's just say you could purchase a real Gibson Les Paul for about the same amount or even less.
So, what are you getting with this Heritage Les Paul? Well, first, you're actually getting some Gibson ingenuity and history.
Orville Gibson arrived in Kalamazoo in the late 1800s to start his company, but as it grew, he moved out of Michigan. Several former employees kept the tradition of making hand-made guitars in Kalamazoo and started Heritage Guitars.
Pros
Looks like the real thing. You'll have to do a double-take to see if this is a genuine Gibson Les Paul or not.
Beautiful rosewood fingerboard. You can glide up and down the neck with ease, soloing or chording songs.
Pro tuners. The Grover tuners make a big difference.
Cons
Expensive.  But you're buying the best of the best!
The Standard H-150 is a testament to that handcrafted quality. Everything about this beauty is solid and I'd argue it sounds just as good as a Gibson Les Paul.
You have two barriers with the Heritage H-150: The price and the fact that you can get a Gibson Les Paul for the same amount of money. If you opt to go with the Heritage, though, you won't be disappointed.
• • •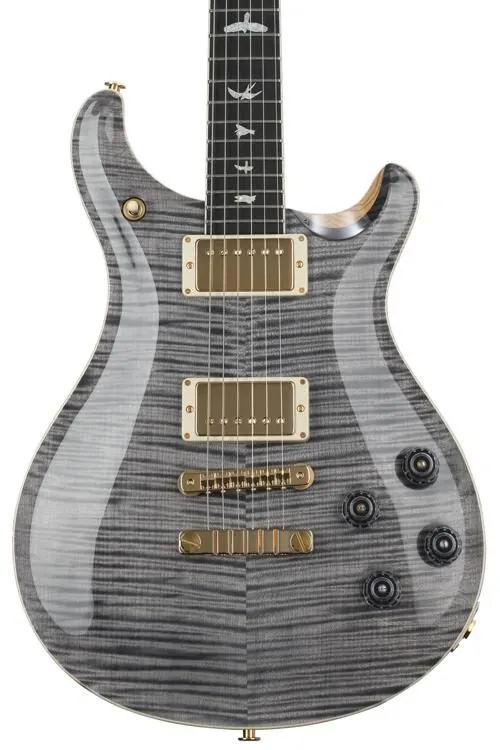 From its incredible appearance to its comfortable playability, the PRS McCarty 594 is the most premium Les Paul copy on our list, but for a good reason.
To start, this guitar uses several high-end tonewoods, including swamp ash, which is regarded as the finest tonewood for an electric guitar.
The neck is thicker but in a good way. Your hand — no matter the size — easily wraps around it, making thumb fretting easier if that's your preferred playing style.
Pros
Stunning finishes. PRS uses the finest tonewoods, and the flamed maple top is impeccable.
Swamp Ash. Swamp ash is tough to come by, and it just happens to be one of the finest tonewoods for an electric guitar.
Precise tuning. The hardware on this guitar includes PRS' Tuned Capacitance and Inductance tuning process.
Cons
Take out a loan! This is the most expensive Les Paul copy on our list.
Everything else about this guitar screams luxury and quality, which is expected for an American-made guitar. The iconic bird inlays on the frets are made using mother-of-pearl and gold outlines; there's gold hardware throughout, and the maple top in either faded gray or aquabluex purple burst is a work of art.
Yes, this is a really expensive guitar you will purchase and keep forever. Thankfully, it comes with a high-end hardshell case to protect your investment.
• • •
The Difference Between the Best Les Paul Copy and the Best Les Paul Style Guitar
While we have used these terms more or less interchangeably throughout this article, they don't refer to exactly the same thing.
As you search for a Les Paul, there's a good chance you're going to come across some of them that look like an identical twin to a Gibson original.
Over the past few decades, Gibson has been notorious for going after Les Paul counterfeits and Japanese guitar manufacturers who simply copied the Les Paul body to a tee, even if they didn't include the Gibson name on the headstock.
There were a handful of Les Paul copies that were made in Japan in the 1970s and 1980s,  including D'Agostino guitars, which are extremely rare to come by today, despite being in production until the early 1990s.
In the 1970s, Ibanez tested the water with Gibson by producing one of the most successful Les Paul copies. It could certainly be called a Les Paul clone.
It launched a famous lawsuit between the two iconic brands that ended with an out-of-court settlement. Gibson's main beef was with the headstock, which was identical to the headstocks it used on its Les Paul models.
Yamaha also made a famous "lawsuit guitars," like the Yamaha Studio Lord.  This Les Paul is a near-replica of a Gibson.
These Les Paul replicas are tougher to come by today and typically sell on the used market at a premium. If you can snag one at a decent price, you won't be disappointed.
As Gibson cracked down on Les Paul replica manufacturers, many shifted to what we call "Les Paul Style" guitars. They look like a replica at first glance, but typically have subtle differences in the body and headstock.
But there are still several Les Paul copies that enjoy a cult-like following. They are manufactured by the most reputable Les Paul knock off brands out there:
The Tokai Love Rock Les Paul
Tokai is a Japanese company that has been manufacturing high-quality copies of Gibson Les Pauls, Fender Stratocasters, and Telecasters for several decades.
Their Love Rock series is especially sought after. So much so that there are even Love Rock Les Paul replicas produced in Korea.
You can get one of those for a few hundred bucks, especially if it's used. But an original Tokai Les Paul made in Japan can easily sell for a thousand bucks or more nowadays.
The Burny Les Paul
Burny guitars are produced by Fernandes, another Japanese manufacturer that has built an excellent reputation for their great Les Paul copies. They have been used by rock stars such as Sex Pistols' Steve  Jones, and King Crimson's Robert Fripp.
Other reputable Les Paul look-alike brands include Greco, Grote, Harley Benton, and AIO guitars.
Beware of the Chibson
Of course, if you're looking to buy one of these replicas, make sure not to fall for shady overseas manufacturers as you could end up buying a fake Chinese Les Paul.
Counterfeit guitars are a serious problem. It's not uncommon for customs authorities to bust stashes containing fake Les Pauls. Some of these copycats are even decorated with false autographs of rockstar guitarists. 
On a recent bust, there was one guitar supposedly autographed by guitar pioneer Les Paul himself, another one by Guns n' Roses' Slash. This last one could have been appraised at $8,000, if authentic (1).
But this sum pales in comparison to the $59,000 that Gibson recently announced it's willing to pay to whomever may return the company's missing shipping ledgers from its 1959-60 golden era. These shipping ledgers would allow the company to better distinguish authentic 1959 Les Pauls, which usually sell for mid six figures, from the gazillion fakes out there. (2)
Here's a good video on how to spot one:
• • •
Buying Guide:
If a guitarist is dead-set on owning something that resembles a Gibson Les Paul, why not go with the real thing then? There are a handful of reasons for wanting to buy a (non-Gibson) Les Paul guitar.
Cost
One of the biggest reasons electric guitar players — especially new players — opt to purchase a copy is because Gibson Les Pauls are quite expensive. The Gibson Les Paul Classic, for example, retails for $2,000, which is a price most beginner and intermediate players aren't interested in paying.
On the flip-side, there are several of these options that can be purchased for under $500 — a few of them are on the list above!
I see the Gibson Les Paul as an instrument you aspire to own after years of playing because it really is one of the best of the best when it comes to electric guitars. Even a high-end, American-made Fender Stratocaster typically tops out at around $1,500. Plain and simple: Gibson guitars are expensive.
Style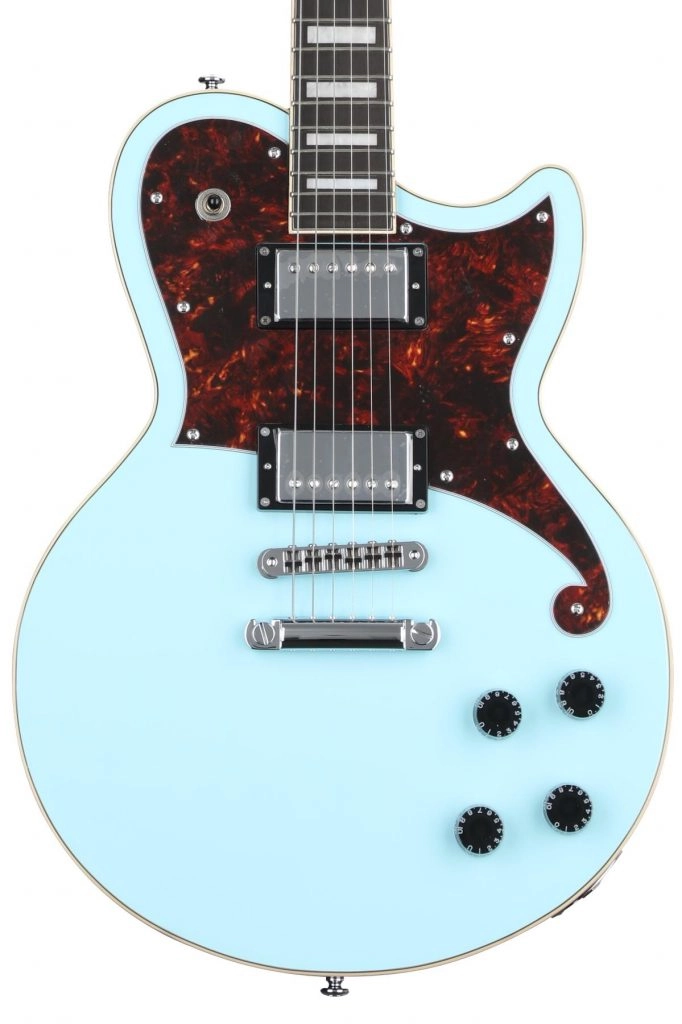 Sometimes, players are looking for an electric guitar with a little flare. And because cheaper Les Paul copies take some creative liberties in terms of overall design, that can be appealing.
The D'Angelico Premiere Atlantic, for instance, certainly has "Les Paul" characteristics, but it still offers a unique body shape (and not to mention a great body color!). If you're looking to stick out, but still have that familiar Les Paul-type contour in your hands while playing, the options above can get the job done.
Tone
While an authentic Gibson Les Paul sounds amazing, the tone may not be for everyone. 
Maybe they need an electric guitar that sounds more powerful, like the tone produced by the Schecter Solo II Custom.
Or if you're more into rockabilly music, the Gretsch G5220 Electromatic offers the perfect amount of twang that you just can't get with a Gibson.
• • •
Best Les Paul Copies FAQs
What makes a good Les Paul copy?
A guitar considered a good Les Paul copy shares a similar design to its popular Gibson model, which is why I would typically point players toward an Epiphone Les Paul Standard. From a distance, the Epiphone looks nearly identical to its Gibson counterpart.
In addition to looks, a good Les Paul copy features powerful humbuckers, an all-mahogany body, and four knobs — three for tone and one for volume.
What is the best Japanese Les Paul copy?
There are a handful of Japanese-made Les Paul copies (especially on the used market), but the best is probably a Burny Fernandes Les Paul from the 1970s. Thankfully, you can typically find these in decent shape selling for under $1,000.
Is there such a thing as a Chinese Les Paul?
Chinese Les Paul guitars exist, and they're infamously called "Chibson Guitars." I'll be short and to the point with you: Do not waste your money on these cheap counterfeit Gibsons! Chibson Guitars is a Chinese guitar maker that attempts to make a carbon copy of a real Gibson Les Paul, but sells them for significantly cheaper — less than $300 — because they use cheap materials and labor to put them together.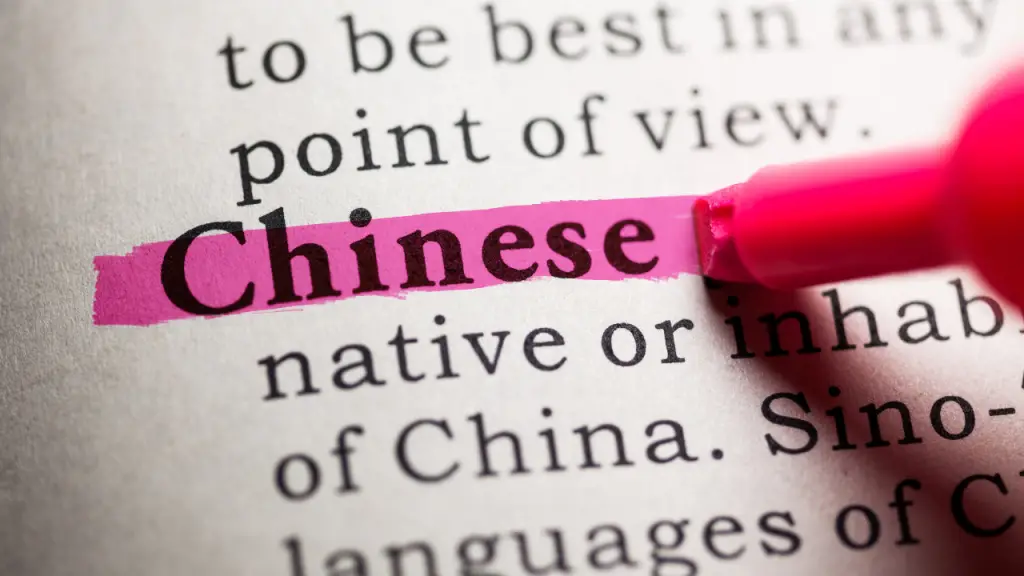 You find a Chinese Les Paul in any U.S. guitar store because they blatantly infringe on Gibson's intellectual property. Still, the factory in China can get away selling the guitar in that country where IP laws don't apply. Of course, the used market is ripe with these rip-off Les Pauls, so be careful. They won't last long.
Epiphone Les Paul vs. Fender Stratocaster: Which electric guitar is better?
The Epiphone Les Paul and Fender Stratocaster are often compared by beginner and intermediate guitar players because both models are available at reasonably affordable prices. You can find either model, in fact, for under $500 if you go with a Mexican-made Strat. In terms of which one is better… that's a complicated question.
An Epiphone Les Paul is going to have a bigger, chunkier sound thanks to its humbucking pickups, while the Fender Stratocaster will have a springy, clean tone. In a way, it's like comparing apples to oranges.
If you're a beginner deciding between the two, I recommend going to a local music shop and trying both out to determine 1) which one plays more comfortably for you and 2) which one sounds better to you. In terms of quality, a Mexican-made Strat is going to be on par with an Epiphone Les Paul.
Can a Strat sound like a Les Paul?
A Strat will never sound identical to a Les Paul because it typically uses three single-coil pickups versus the two humbucking pickups found on a Les Paul. These electronics simply sound different — a Les Paul is a thicker rock tone while a Strat's single-coil pickups are cleaner and brighter.
Of course, players have modified their Strats with humbuckers to create Super Strats, but even those tend to include still a single-coil pickup or two, which still doesn't match a Les Paul.
Why are real Les Pauls so expensive?
The first reason Les Pauls are so expensive is that they are American-made guitars, which almost always are more expensive than mass-produced guitars elsewhere in the world. Secondly, a Gibson is truly handcrafted in the U.S. Sure, these luthiers use machines to produce the guitars, but they're still carefully touching and crafting them with their hands. Finally, a real Les Paul is so expensive because it's backed by tradition and insured by nostalgia. Many of us grew up listening to the great rockers who used a Gibson, and they want to continue that legacy by investing in one themselves.
• • •
My Favorites
I hope the reviews above and buyer's guide help you on your guitar-playing journey — especially for those who are close to making a purchase! Make sure to also check out our roundup of the best 7-string guitars.
If I was in the market right now for an affordable Les Paul copy electric guitar, I'd go one of three ways:
Epiphone Les Paul Standard:  This guitar is simply the closest you can get to the real deal for a fraction of the price. You just can't go wrong with it!
D'Angelico Premiere Atlantic: I'm a huge fan of the D'Angelico brand and listened to some really good players make the Premiere Atlantic sound amazing.
PRS SE Standard 245: Never underestimate how great of a guitar Paul Reed Smith makes. For the price, this electric guitar looks and sounds amazing.
All these are great guitars for beginners or intermediate players and can be obtained with reasonable budgets.
Keep practicing — and enjoy your guitar journey!
• • •
References
Kristy King, "Sour note: 85 counterfeit guitars seized during customs bust at Dulles," retrieved from https://wtop.com/virginia/2021/06/sour-note-85-counterfeit-guitars-seized-during-customs-bust-at-dulles/
Bryan Rolli, "The 1959 Gibson Les Paul Is The Holy Grail Of Electric Guitars—And The Company Will Pay Big Money To Get Its Shipping Ledgers Back," retrieved from https://www.forbes.com/sites/bryanrolli/2020/07/14/1959-gibson-les-paul-shipping-ledgers-search/?sh=332b63e761dc
Image Credits
Les Paul traditional image: Gibson, CC BY-SA 4.0, via Wikimedia Commons; Tokai Les Paul image: Ken OHYAMA from FUNABASHI, Japan, CC BY-SA 2.0, via Wikimedia Commons; Burny Les Paul image: Freebird from Madrid, Spain, CC BY-SA 2.0, via Wikimedia Commons.