Electric guitar players have a common problem when it comes to practicing. They don't want to run licks, scales and chord patterns unplugged because it's hard to hear and (obviously) they don't get the tone they're used to hearing through an amplifier.
At the same time, though, some amplifier setups are big, heavy and loud. This is especially true for gigging guitarists. So, what's the best solution for practicing in your apartment or bedroom? A practice amp!
With more than 20 years playing guitar, I've tried out and owned a handful of practice — or mini — amplifiers over the years. Some sound great; others sound bad.
Now, I'm excited to help you find the best practice amp on the market.
There are certainly plenty of options to pick from, from mini amplifiers that weigh under 10lbs to headphone gadgets that keep your playing only between your hands and your ears — and not your neighbor! Because there are so many options on the market, I'm hoping to help you make sense of what's available and narrow down your choices.
Here's a quick glance at the best practice amps I reviewed. More detailed reviews are lower down in this article, in addition to a buyers guide with common questions.
• • •
Full Reviews: The Best Practice Amp Models I Found
I've reviewed 21 amplifiers that I feel are some of the best money can buy today. They are broken into five categories: modeling, combo, headphone, mini and tube practice amplifiers. All of them are some of the best practice amp models in their respective categories.
Best Practice Amps: Modeling Amps
Even as practice amps, these are tech-savvy devices that allow players to play through countless different amp sounds and mimic famous amplifiers from yesteryear, like a 1965 Fender Princeton Reverb.
Modeling amplifiers are great practice amps because of the fact that you can dial in different tones and effects. While the judge is still out on whether they can substitute real amps and effect pedals (1, 2) for live performance or recording, it's safe to say that they're definitely a great practicing tool. You don't want your practice time getting bogged down in effects pedals and loud amplifiers — you want simplicity.
Another benefit is their size. Traditional amplifiers include magnets and other heavy components, while modeling practice amps are essentially a computer hooked up to a speaker.
From Fender to Line 6, there are plenty of great options out there. The following are some of the best practice companions you can find today.
The Fender Mustang LT 25 is a great practice amp from a company best known for its iconic tube amplifiers. And while modeling guitar amplifiers can get a bad wrap for sounding cheap and gimmicky, Fender has perfected its practice amp lineup over the years and the tone that comes out of this tiny package is pretty incredible.
Now, as a practice amplifier, this 25-watt Mustang isn't the loudest, but it's plenty loud for the practice room. As a bonus, it includes a headphone jack, which is helpful for practicing in apartments that you share with a roommate. This will easily become a must-have practice amp.
Pros
Fender quality. Fender amplifiers have a rich history and this tech-savvy option doesn't disappoint.
A ton of tones. Access a countless number of iconic Fender amplifiers and custom-created ones from the Fender community.
Headphone out included. If you have roommates, you can keep your silent practice sessions going all night.h.
Cons
Only for practice. This smaller Fender practice amplifier isn't the loudest.
Best of all, this amplifier rings in at a budget price — perfect for beginners!
For players who end up falling in love with the Fender Mustang, the company offers a much larger, 200-watt option that's perfect for playing live gigs.
• • •
The Roland CUBE Street EX is a great practice amp for the guitarist on the go. Powered by eight AA batteries that last 20 hours, you can take the ultra-portable CUBE with you wherever you are located.
Despite being battery powered, it definitely packs a punch. It features two 8-inch speakers that do a great job of balancing lows and mids, while an additional two 2-inch speakers deliver beautiful high tones. If you need a practice amp that delivers ultra-clean tones — especially for jazz — definitely check out the CUBE.
Pros
Practice or gigs. This is a great practice amplifier, but it has enough power to also work at smaller live gigs.
Batteries. It runs on eight AA batteries and lasts for hours. We recommend investing in a rechargeable set of batteries.
Great for singer-songwriters. Because you can also plug a microphone into it, along with your guitar.
Cons
Expensive. The quality is definitely worth the money, but it's not the best for beginners on a budget.
The big bonus with the CUBE is its ability to turn into a great tool for singer-songwriters, thanks to the microphone input. And if you need to throw a little reverb on your vocals, this amp delivers!
• • •
The Positive Grid Spark is one of my favorite practice amp models on this list. That's because this ultra-portable device is tech-savvy, sounds great and, most importantly, is easy to use.
First, I'm blown away by the volume and clarity this 40-watt little amplifier produces out of two 4-inch speakers. It could actually handle some smaller coffee shop live gigs. And if you're playing larger venues, it sounds just as good mic'd up.
Pros
Thousands of presets. No matter what genre you prefer or tone you desire, there's a good chance you can find it on the Positive Grid Spark.
Innovative backing tracks. If you're running through some chord patterns, the technology inside the Spark will accompany you with a bass guitar and drums.
Beautiful design. The crisp white exterior and tweed speaker looks extremely classy on a desk or tabletop.
Cons
Some tones sound awful. There are 10,000 tones available to you, so it's no surprise that some of them sound too fake.
Next, the basic tones that Positive Grid packs into the Spark are really, really good. Now, I'm more of a purist player who prefers playing clean out of my D'Angelico archtop. The cleans are really solid and stay nice and clear as you crank up the volume. The distortion also sounds great, but don't expect wall-pumping volume like you would from a tube amplifier.
I'm quick to say that the basic tones on the Spark sound awesome. As you delve into the library of more unusual tones, the sounds you produce start to sound fake and cheap — more of a gimmick.
• • •
Line 6 has been around long enough to develop into a trusted brand for modeling practice guitar amps and other guitar technology. The Spider Jam is their latest tech-savvy foray and it's a great option for those who need an easy-to-use practice amp that delivers solid tone.
Now, the Spider Jam is a little more expensive, so beginners beware. You're buying a really nice practice amp, but at this price, there's a good chance it's more expensive than your actual guitar.
Pros
Easy to use. With 12 amplifier presets, you can focus on quickly finding a tone and knocking out your practice session for the day.
Awesome looper. A built-in 28-minute looper makes practicing more fun.
Built-in jams. Want to play with a backing track? Line 6 delivers this feature really well.
Cons
A little expensive. Great beginner features, but its price tag is more geared toward intermediate players. 
One of my favorite features is the 28-minute looper. Practicing with a looper is great for honing in on tempo, learning chord progressions, and then soloing over those progressions. I frequently use a looper to run jazz standards and then play the melodies over those chords.
If the idea of a looper interests you, the cost of the Spider Jam might be worth it.
• • •
Marshall is known for its hard-rocking, powerful amplifiers — it's not exactly a company known for software-driven modeling amps. But the Marshall Code 25 is a great practice amp that gives players access to the entire Marshall portfolio.
At 11lbs, it is really easy to carry around. And even though this is only a 25-watt amplifier, it manages to push a relatively loud sound out of its 10-inch speaker.
Pros
Great value. Awesome tone from an iconic amplifier maker at a great price.
Access to the entire Marshall library. If you're a Marshall fan, this modeling amp gives you access to all of them. 
Sounds great through headphones. Not all modeling amplifiers have such a great sound quality through a pair of headphones.
Cons
Finicky volume. When switching through presets, the volume can jump all over the place.
Remember, though, that volume shouldn't be a huge concern with a practice amp. You should be more concerned about producing clear tones that allow you to hear your chords, scales and solos — and then also offer some fun distortion and reverb effects for noodling around. This little Marshall modeling amplifier does all of this, although I wish I could squeeze a bit more clarity out of it.
A nice bonus: The basic black design with the iconic Marshall logo looks really nice.
• • •
One of the biggest concerns about modeling amplifiers that guitar players have is that the tones can sound too fake, even though technology has greatly improved over the years. 
The Vox VT20X is a practice amp that takes an interesting approach to modeling practice guitar amps, though, including a unique analog circuit that offers an authentic tube sound quality. I almost dare define this approach as "analog amp modeling," if that makes any sense!
Pros
Portable. A nice handle and small casing makes this a delight to carry around.
Digital + analog. This Vox features the digital technology you desire from a modeling amplifier, along with a unique analog circuit for classic Vox tone.
Classy design. Vox has a reputation of creating beautiful looking practice amps. The VT20X is no different.
Cons
A little heavy. At 16lbs, it's heavier than other amplifiers on this list.
The Valvetronix tube preamp uses authentic true tube circuitry, and you can really hear the difference when switching between it and its digital counterpart.
Another thing I like (and don't like) is the software that comes with the VT20X that allows you to create custom tones and effects. It's a great idea, but the software is a tad clunky. Once you figure it out though, you can unlock sounds of your favorite guitarists and more. 
• • •
If you're looking for a truly wireless practice amp, look no further than the Yamaha THR10 II Wireless — a battery-powered modeling amplifier that also includes a built-in receiver that lets you play through it wirelessly without a cable. This is a huge selling point for me as a practice companion, because you can literally take your guitar and amplifier setup anywhere with you to get in your session.
The THR10 II can either run on an AC adapter or the battery, which is good for about six hours of continuous playing.
Pros
Great tube tone. You'll be surprised by how good these amp emulations sound.
Solid 3-band equalizer. Dial in your specific tone with this 3-band EQ.
Wireless all around. In addition to working with batteries, this amplifier includes a built-in wireless receiver for playing without a cable.
Cons
Clunky app. The app that you can use to control your tone isn't the best user experience and can be buggy at times.
The THR10 II is a little on the expensive side for its size and output, but Yamaha sells some alternatives, including the same exact amplifier without the battery or built-in receiver. If you don't think you need the wireless feature, you can save yourself about $150. And honestly, do you really need a wireless setup for a practice amp?
And if you're an acoustic guitar player, the Yamaha THR5A 2×3" is a slightly different version of the THR10 II geared toward amplifying acoustic tones. It's about half the price and does a solid job at amplifying for small gigs, in addition to practice. Many owners reported having used it for an acoustic guitar, steel guitars and even violins with a pickup.
• • •
Best Practice Amps: Combo Amps
For beginners unfamiliar with the lingo, a guitar combo amplifier features the amplifier and at least one speaker all packaged in a single cabinet. 
It's the most common type of amplifier and a logical choice for practicing because you don't need to mess with purchasing a head and a separate speaker.
The best part of a combo practice amp is that you can plug and play immediately, without worrying about any technical setups. 
The main complaint with combo amplifiers is that you can't change the speaker configuration, but that's not a huge deal when it comes to practicing.
These are five of my favorite practice amp combos:
Boss amplifiers won't get the same accolades as Fenders, Marshalls and even Line 6 guitar amp models, but the company's Katana lineup is one of its best and a favorite among singer-songwriters who need an easy-to-use guitar amp for practicing and something that's portable for live gigging.
The Katana-50 MkII's best feature is its variable power control. You can turn up or down the wattage on this practice amp to do one of two things:
Generate heavy rock tones without the ear-piercing volume.
Split consumption of the amplifier with a guitar and a microphone (or backing track) for live performances or recording.
Pros
Big sound. At 50 watts, this Boss combo amp is suitable for practice or small live gigs.
Plenty of sounds at your disposal. The accompanying app can help you find countless tones at the touch of a button.
Variable power control feature. You can nail that heavy metal amp distortion tone, but at a fraction of the normal volume.
Cons
Heavy. At 25lbs, it is on the heavier side. Still, it's pretty portable for an amplifier.
The clarity from this combo amp makes it a perfect choice for acoustic players, but its ability to pair with Boss's tone app, makes it just as good for electric players.
If you need more power, Boss also makes a couple different 100 watt versions.
• • •
When I bought my first electric guitar, the salesman at the guitar shop I purchased from told me, "You only need one amplifier to learn how to play an electric," and handed me a Fender Champion 20. 
That was more than 20 years ago. And while there have been some technological advances along the way, the Fender Champion 20 is an all-time favorite practice amp for beginners and those looking for a solid practice amplifier.
Pros
Legacy guitar amp. The Fender Champ has been around forever and is a favorite among beginner players.
Solid cleans. It's not perfect, but for practicing, you can get plenty of clarity.
Built-in effects. From delay and echo to chorus, you have plenty of built-in effects to choose from.
Cons
Quality control. Some users have complained about cheap parts that can break off over time.
This 1-channel, 20-watt box packs plenty of power for your practice session and includes some impressive bells and whistles — modern amp voicings, different types of distortions, lovely reverb — all at an impressively low price.
While the hardware Fender uses on these mass-produced amplifiers can be a little cheap, the price still makes it totally worth purchasing.
• • •
If you prefer to practice with hints of bluesy distortion or all-out overdrive — we're looking at you rockers! — the Orange Crush 20RT is the best practice amp for you.
Orange guitar amps are known for being easy to use, but the company has managed to sneak some nice technology with its newest amp models. The 20RT uses the company's "CabSim" circuit that helps emulate the sound of an Orange 4 X 12 inch cabinet when you play through a pair of headphones.
Pros
Simple setup. Need an aggressive amplifier for practicing? Simply plug and play with this one.
On-board tuner. Very helpful for practicing.
Great price. Orange has evolved into a more premium brand over the years, so the price tag on the Crush 20RT is welcomed.
Cons
Not the best cleans. Orange makes great amplifiers, but they aren't known for producing super-clean tones.
There aren't a ton of effects on the Orange Crush 20RT, but you can take advantage of a nice reverb. Additionally, you have an on-board tuner, which is very helpful for practicing.
This Orange box is priced quite well and is another solid option if you're looking for a capable practice companion.
• • •
One owner of the Marshall MG30FX says you won't find a better value: "Real Marshall tone at a criminally low price!"
Marshall is indeed known for making quality amplifiers and that includes the MG30GFX, which is a great practice tool, albeit a tad clunky to carry around at 25 lbs.
Pros
Wide choice of tones. Switch from clean to crunchy at the click of a button.
Extra line input. Perfect when practicing with backing tracks.
Great Marshall quality. Everything about this amplifier feels and sounds solid.
Cons
Overdrive is better than cleans. The MG30 delivers a solid clean sound, but it could be better.
While you can play out with the MG30FX, it actually is at its best when you're playing through headphones. This allows you to easily hear the different effects, dial in the 3-band EQ and even play with a backing track.
In addition to practicing, the 10" speaker powered by 30 watts of sound is more than enough to play a small live gig.
• • •
When it comes to crispy cleans and bluesy overdrives, the Peavey Rage 258 may be one of the best amplifiers on the market for the price. This Peavey is an absolute great value and is actually one of the cheapest options on this list.
Personally, I'm not a fan of the way Peavey amplifiers look, but when it comes to practice amps, it's not about the looks — it's about the sound. And this Peavey really does sound great. That's due to the 3-band EQ that really gives you total control of your tone, especially when it comes to cleans.
Pros
3-Band EQ. Dial in a tone to your liking.
¼" input. Great for backing tracks.
Great tube sound thanks to the low damping factor.
Cons
A tad hissy at upper end. If you really like the trebles, you may not like this Peavey.
When shopping for a practice amplifier, you want features like a headphone jack and an extra out-jack for playing backtracks. The Rage 258 features both.
Again, if you're on the fence about this one, just buy it. It's a steal. 
• • •
Best Practice Amps: Headphone Amps
Another popular type of amplifier for practicing is the headphone guitar amp. 
This gadget looks nothing like a traditional guitar amplifier. Instead, it more resembles a wireless receiver that plugs into your guitar's jack. It then either has an additional input on it for wired headphones or built-in technology for bluetooth headphones.
Guitar players like headphone amplifiers for practicing because it's an easy setup and typically sound really good.
The downside is that you can't play out live, but that's not really the point of a practice amplifier anyways.
I recommend going with a headphone amp that allows you to plug in wired headphones. When you incorporate bluetooth, you open the door to latency issues.
Fender has turned its Mustang lineup into one of its most popular — and that's pretty impressive knowing the history of amplifiers the company has put out over the past several decades.
To truly give a Mustang option to all types of players, Fender introduced a headphone version that's perfect for guitarists who need to practice quietly because they either have roommates or live in an apartment building with thin walls.
The big question: Does this Mustang headphone amp sound as good as its lineup of traditional amplifiers? Well, that depends.
Pros
Access to all the same amp tones as the rest of Fender's popular Mustang lineup.
Rechargeable lithium-ion battery. It can last up to six hours on a full charge.
New tones? No problem. Plug this amplifier into your computer via USB-C for the latest updates.or.
Cons
A tad pricey. There are non-headphone amplifiers on this list that are similar in price.
The tone and effects it can deliver are certainly excellent, but if you're running average headphones through it, it's not going to matter. Higher-quality headphones definitely sound better through this amplifier, so keep that in mind when shopping.
Still, if you need a simple solution and only have a pair of Apple earbuds, it'll still get the job done for a regular practice session.
• • •
Best Practice Amps: Mini Amplifiers
Mini, micro, pocket amplifiers. However you want to call them, they are all about portability and ease of use. Sure, they don't get that loud, but the best mini practice amps are perfect for your practice sessions and — dare I say it? — gigs in small venues.
Because most mini amplifiers are about the size of a lunchbox, their biggest advantage is their size. Another big pro, though, is their price. If you just need a cheap amplifier to practice with, you'll find the best bang for your buck from a mini amp.
Not all mini amplifiers sound that great. When you're dealing with tiny speakers and low wattage — and likely cheap internals to keep the price low — it's not possible to deliver a great sound. Again, though, for practice, they're perfect. So it's well worth doing a little searching for the best micro amplifier out there!
Another Fender classic, the Frontman 10G is a favorite among beginners for its light weight and affordable price point. Actually, this little amp is quite often included in popular beginner electric guitar packages.
As one of the cheapest amplifiers on this list, you get a basic setup that includes either clean or drive. You're only playing out of 10 watts of power, so don't expect huge volume, but it'll certainly do for practicing.
Pros
Two channels. Clean and overdrive: Take your pick!
Headphone jack. Just in case you need to rock out but not wake up your roommates.
Super affordable. This tiny amplifier also comes with a tiny price tag.
Cons
Average cleans. This is going to be normal among mini amplifiers.
This amplifier does include an auxiliary input for playing guitar with a backing track or drum machine, which is a nice bonus.
• • •
Mini amplifiers are supposed to be small and compact — and the Boss Katana Mini certainly delivers on that promise. As the little brother of the Boss Katana-50 MkII mentioned above, this mini version delivers that same great tone with just enough variety.
You get to pick from three voicings, including a pretty nice clean tone. The overdrive is also decent.
Pros
Big sound in a tiny package. It's amazing what can be produced from this 7-watt amp.
Battery powered. Perfect for practicing on the go.
Incredible value. This tiny amplifier is super affordable.
Incredible value. This tiny amplifier is super affordable.
Cons
Need to find the sweet spot. Not all configurations are going to sound good. Some owners have complained that it takes a little bit to figure out that perfect tone.
Non-rechargeable batteries. It takes six AA batteries — and doesn't come with a lithium ion.
The best part of this amplifier is its portability and the fact that it can be powered with batteries. Expect to get about seven hours from six AA batteries depending on the brand of battery you use and how loud you play.
My top complaint about the Boss Katana Mini is the fact that it requires AA batteries and doesn't come with a lithium ion that you can recharge.
• • •

The Roland Micro CUBE GX is the even smaller version of Roland's Mini CUBE and comes packed with just as many features and effects.
As the only modeling amp in our roundup of mini amplifiers, this one is pretty special. There are eight guitar amp models to pick from, including a special microphone preamp model that is great for practicing with clean sound — especially if you play jazz.
Pros
Tons of features. How did they pack everything into such a small box?
Built-in tuner. A favorite feature of mine for practice amplifiers.
Crystal clear cleans. Roland knows how to capture super clean sounds.
Cons
AA batteries. I have no clue why Roland didn't include a lithium ion battery with the CUBE GX.
You can have a ton of fun with this little box thanks to all of the effects you can download via the Roland CUBE JAM app. There's also a cable included to plug in your device for background tracks, which makes it the ultimate practicing amplifier.
Now, this amplifier is a little pricier than other options on this list, but it's still relatively affordable.
The only downside is that it requires six AA batteries. The silver lining? Roland claims up to 20 hours of playtime from those batteries.
• • •
If you want a Vox amplifier there's a good chance you know your playing style and the tones you want to create. That's because Vox tones are so recognizable — and the Vox Pathfinder 10 delivers on those warm British tones.
At only 10 watts, this mini amp still manages to deliver those Vox tones in a portable package.
Pros
Classic Vox aesthetic. That plaid speaker cabinet is recognizable from a mile away.
British sound. Looking for that classic British rocker sound? Look no further.
High gain. This is pretty impressive from such a small amplifier.
Cons
Very average clean sound. Vox isn't really known for clean tones anyways.
The downside? Don't expect greatness when playing clean. If you're OK with a hint of distortion and a little crunch in your practice session, then you're going to love this amplifier. That's not to say there isn't a clean setting — it's just not that good.
I appreciate how Vox included a headphone jack, which makes practicing even quieter.
• • •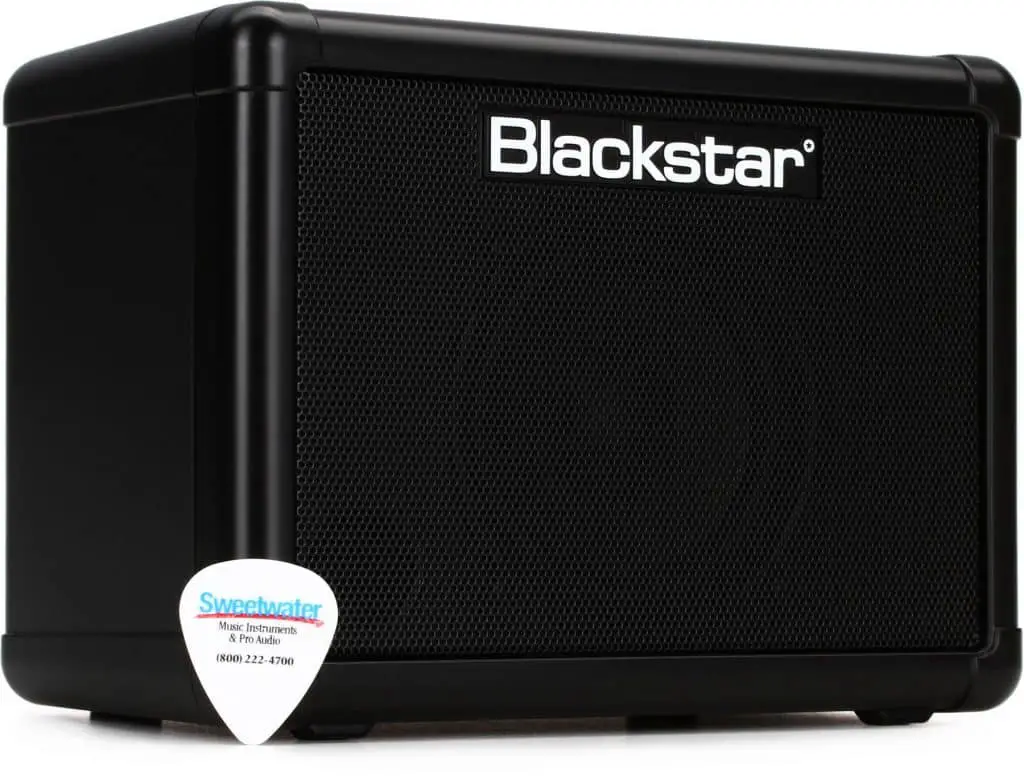 I plugged into a Blackstar Fly 3 recently and was actually really surprised by how loud this battery-powered mini amplifier can get! When I saw that it's only 3 watts, I wasn't expecting much but was pleasantly surprised when I cranked the volume to 10.
But is this a good practice amplifier? For the dirt-cheap price, I'd say so! There are two channels — one clean, one overdrive. And you can use the "Infinite Shape" feature to dial in your tone. As a bonus, there's a line-in for your iPhone to play some backing tracks.
Pros
Super affordable. One of the lowest-priced options on this list.
Tape delay. Looking for a special resonance when you play? Blackstar's tape delay is impressive.
Multiple colors, including neon green, pink and yellow. There's also a standard black.
Cons
Cheaper hardware. Still can't beat it for the price, though.
Oh, and this model comes in four great colors: black, lime, hot pink, and yellow.
The big downside is that there's no AC power included, but you can buy it separately. The Fly 3 runs on six AA batteries.
• • •
Best Practice Amps: Tube Amps
Older guitar players and purists are going to tell you to always go with a tube amp option for the most authentic tones — and they're not wrong! Tube amps, including the three below, can produce incredible tones.
But they're not perfect. A tube amp is typically heavier, requires some extra maintenance and is usually more expensive. And if you're looking for a practice amp, they tend to be louder and don't include as many effects or even a headphone jack to practice more quietly.
Still, if you're craving those iconic guitar tones of the 60s, 70s, and even today — you can't go wrong with a tube amp.
• • •
One of the most popular tube amp models on the market over the years has been the Fender Blues Junior. Now in its third iteration, the Blues Junior III maintains Fender's iconic look, complete with a beautiful tweed case and vintage tone knobs.
I'll save you some time if you want a tube amp: Buy the Fender Blues Junior.
Inside is a pair of Jensen 12" C12-N speakers — the same company that Fender has used in this amplifier for years.
Pros
Beautiful tweed case. Fender tweed amplifiers are some of the best-looking pieces of gear on the market, in my opinion.
Growling overdrive. Since the beginning, the Blues Junior lineup has delivered beautifully crunch tones.
Spring reverb. Fender's bread and butter is spring reverb.
Cons
Still pricey. The Blues Junior has always been on the pricier side for a smaller amplifier.
The most distinguishable part of the Fender Blues Junior III is its spring reverb. Not everyone is a fan of spring reverb, but if you're going after vintage tone, then you definitely want to go with spring reverb.
Over the years, Fender has greatly improved upon the cleans that the Blues Junior can produce. The sparkle circuit mod built inside can deliver crispy cleans.
The Blues Junior is an amp that can double as a practice amp, but also be used for small gigs.
• • •
Check out our article on the best small tube amps for more options that deliver the real-deal warmth of tubes at a reasonable size and price.
Best Practice Amps Buyers Guide
Before you flesh out those dollar bills in exchange for a practice amp, make sure to read this section in order to get clarity on some very important issues.
Why Buy a Practice Amp?
You should buy a practice amp if you fall into one of two categories:
You're a beginner player who doesn't want to spend a ton of money on a first amplifier and doesn't need something that can power a large live music venue. If this sounds likes you, buy a practice amp.
You're a more experienced player who doesn't want to lug around a massive piece of gear for individual practice and wants a nice tool to enhance your practice time at home.
I personally bought a modeling praxctice amp (a Fender Mustang!) to play plugged in but softly so I don't wake up my toddler son during a late-night practice session.
If you're a beginner guitarist, I highly recommend going with one of the more budget-friendly practice amplifiers mentioned above.
Last but not least, there are those who swear by the advantages of practicing without an amp. Make sure you consider that option as well before shelling out cash for an extra piece of gear (3).
What Makes a Great Practice Amp?
There are several factors that can help identify some of the best amp models on the market today:
AUX-in for playing with background tracks/songs. Practice is more fun when you can play with a band — even if it's a recording — behind you.
Headphone output. Practice amplifiers are quiet, but when you need to be extra quiet, you want a headphone output so no one — including your neighbors — can hear you practicing.
Portability. This is especially true for players who don't always practice in the same room, like a college student who may bring his or her guitar and amp to a practice room in their school's music building.
Price. This amplifier is for practice, not the big gig, so don't spend a ton of money on it. Luckily, most options are priced under $300. You can typically find a good practice amp for about $200.
• • •
Get Practicing (In Peace!) Today
Well, what are you waiting for? Now that you're equipped with the necessary knowledge of several great practice amp models, it's time to pick up an amp and start practicing.
Personally, I'm a big fan of the Fender Mustang lineup, but I was also pleasantly surprised by the Positive Grid Spark. Both are tech-savvy amplifiers that deliver a bunch of unique, great-sounding tones. User experience isn't the best on either one, but you'll be able to figure it out after a few practice sessions.
If you need some music to practice, we suggest starting here!
And if you're new here and are still shopping for your first guitar, we can help in that department too. Make sure to also check out our simple tips for learning guitar the right way, our guide to basic guitar chords, and our recommendations for the best online guitar lessons.
Remember, you're not going to become a great guitar player by over-analyzing amplifiers, guitars, and accessories. The only way you're going to improve is through good old-fashioned practicing.
• • •
References
"Zakk Wylde Talks Modeling Amps: If the Tone Is Great, Why Not?," retrieved from https://www.ultimate-guitar.com/news/interviews/zakk_wylde_talks_modeling_amps_if_the_tone_is_great_why_not.html
"Keith Urban Talks Why He Abandoned Modeling Amps: 'You Don't Want to Date a Mannequin," retrieved from https://www.ultimate-guitar.com/news/general_music_news/keith_urban_talks_why_he_abandoned_modeling_amps_you_dont_want_to_date_a_mannequin.html
"Is it better to practice my guitar with or without an amp?," retrieved from https://www.quora.com/Is-it-better-to-practice-my-guitar-with-or-without-an-amp