Whether you play at home or you're a gigging and recording musician, small tube amps can strike the perfect balance between portability and tone at a manageable volume. Low-wattage tube amps are used on countless recordings to achieve warm, saturated tones without blowing down the studio's walls.
Many players (myself included) prefer smaller tube combos on stage to hit that sweet spot where tube breakup meets manageable stage volumes. 
Many guitarists also prefer the fat clean tones that tube amp combos are famous for in the studio and on stage.
Low-watt tube amp options are also ideal for playing at home—providing warmer tones than solid-state amps while still keeping volumes at a level that even your neighbors can tolerate. And let's not overlook the fact that these small tube amps can be back savers. Most small tube combos are easier to haul to and from the stage or studio and fit nicely in the trunk (or front seat) of your car — especially compared to a solid-state amp (1).
If you're looking for something even smaller, check out our best practice amp article for the best backstage and bedroom amps.
I've bought, sold, and traded MANY amps over the years. I use tube combos for both practice and performing, and picking the right small tube amp combo is a very personal decision. I'll share my experiences with the best small tube amp options below and answer some commonly-asked questions to help find the right amp for you.
What's the Best Small Tube Amp: Full Reviews
To qualify as a top low watt tube amp in this review, each of the following amp combos features one speaker and a tube preamp at a minimum. You'll find that some of these amps are classic vintage recreations, and others embrace more modern additions such as digital reverb and an effects loop. 
Top Low Watt Tube Amps: Combo Models
If you're new to the world of amps and low watt tube amp models, a combo amp is simply an all-in-one package of an amp and speaker. While this article focuses on small tube amps, we'll also look at low-wattage tube amp heads later.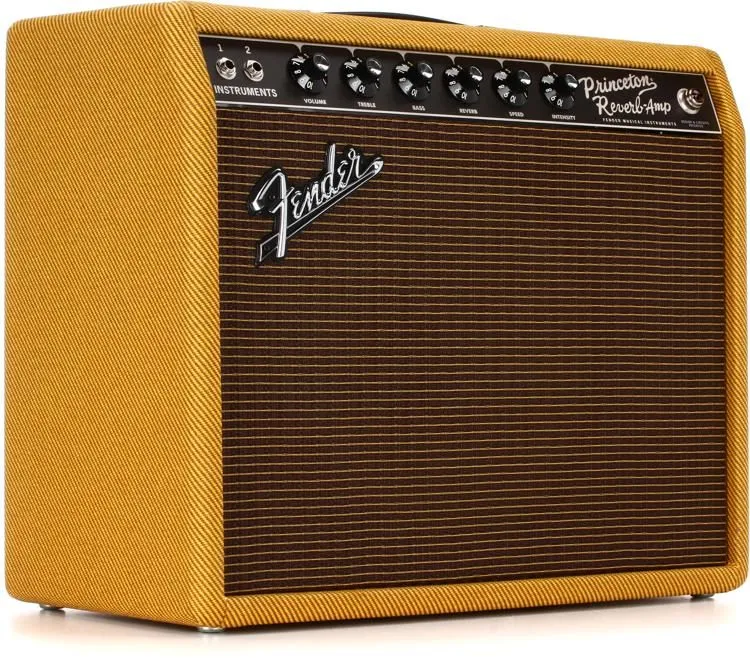 This Fender 65 Princeton Reverb is a 12 watt, 1×12″ single channel amp with a Sweetwater-exclusive lacquered tweed covering. Historically, most Fender Princeton combos have been outfitted with a single 1×10″ speaker (as shown here), but this version has been upgraded to a 12″ Eminence Cannibis Rex speaker to allow for a greater bass response while still retaining the classic Princeton sparkle.
Don't let the 12-watt rating on this amp fool you — it is LOUD. If you're playing at home and need to keep your volume in check, you likely won't want to crank the volume knob much past 2. Unless you're playing with an extremely loud drummer, this amp has no problem keeping up in a rehearsal setting, and thanks to the 12″ speaker, it's also loud enough to give you a good stage volume for live performance. 
Pros
Loud and pedal-friendly. Beautiful clean tones that can be pushed into dynamic crunch and overdrive.
Lush spring reverb and tremolo. For that classic vintage Fender sound.
Excellent portability. Even with the larger 12" Eminence Cannibis Rex speaker, this combo weighs 34 pounds. 
Cons
Expensive. This is one of the higher-cost options on this list, but I'd argue that it's worth every penny.
Single coil-equipped guitars will retain a sparkly clean tone until 4-5 on the volume before starting to add some three-dimensional grit, and this amp is extremely pedal-friendly if you like to use overdrive, fuzz, or distortion pedals.
Beyond the upgraded speaker size and custom tweed covering, this all-tube combo amp includes classic Princeton onboard spring reverb and tremolo.
Full disclosure: I've owned this same amp for four years now and don't see myself parting with it.
• • •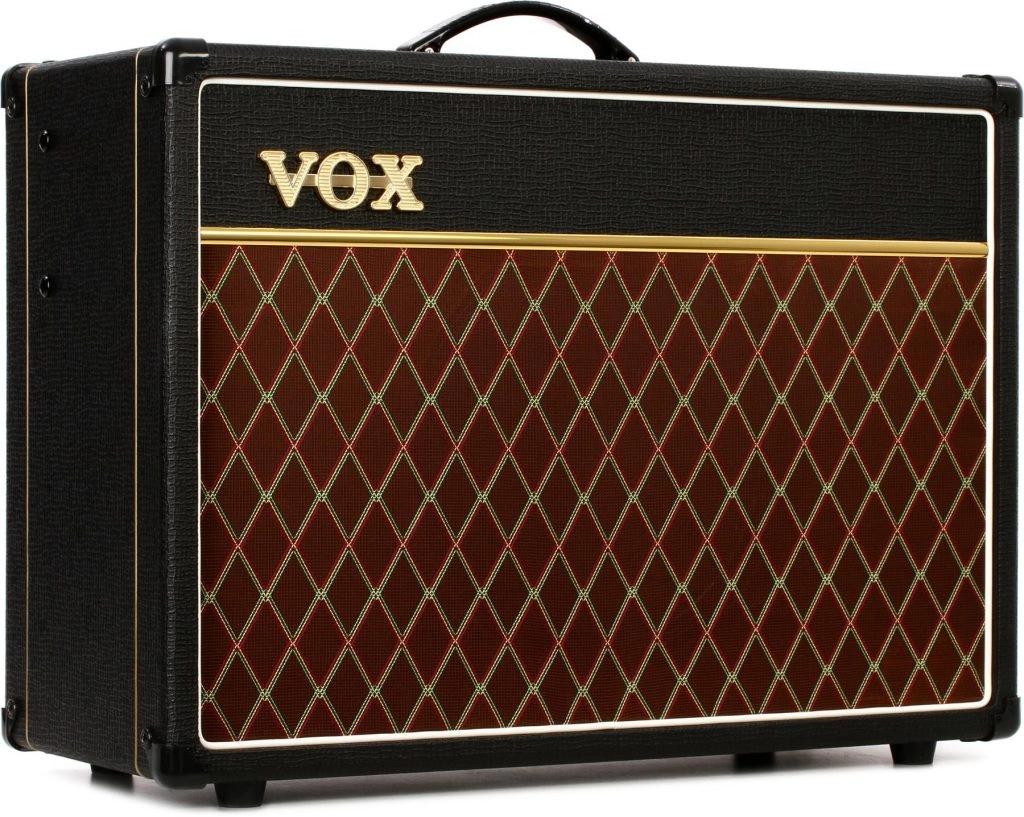 One of Vox's most popular amplifiers is the AC15. The Vox AC15C1 is a custom edition that includes a high-quality Greenback speaker, built-in tremolo and reverb, and plenty of power for live gigs and practicing. The Top Boost controls allow you to tap into the classic Vox chime and soaring lead tones (think Queen's Brian May) and cut through any mix.
I love the AC15C1 for practicing because it 1) looks nice in a living room or bedroom, and 2) can play quietly really well, thanks to its master volume control. Of course, when you want to crank it, its 15 watts of power can fill just about any room. I've performed in a medium-sized club with an AC-15, and it provided plenty of stage volume and sounded great mic'd up through the PA.
I can confidently say this is one of the best small tube amp models on the market today.
Pros
Classic Vox tone. The AC15C1 delivers that British rock tone that made Vox popular.
Greenback speaker. Delivers precise high frequencies.
Tremolo and spring reverb. Vox also delivers a unique reverb experience with their trademark tremolo.
Cons
Heavy. At 48.5 pounds, it's one of the heavier small tube amp combos on the market.
Vox also offers a higher-end handwound AC15 outfitted with an Alnico Blue speaker and a scaled-down Vox AC10C1 1×10″ 10-watt Tube Combo Amp. The Vox AC15HW1X 1×12″ 15-watt Handwired Tube Combo boasts a best-of-the-best feature set, complete with a birch plywood cabinet, hand-wired turret board, and a gorgeous 60s-style fawn-colored covering. The AC10C1 features a smaller 10″ speaker, simplified tone controls, and a more budget-friendly price tag. 
Aside from the smaller AC10, the AC15 is quite heavy—weighing under 50 lbs.
• • •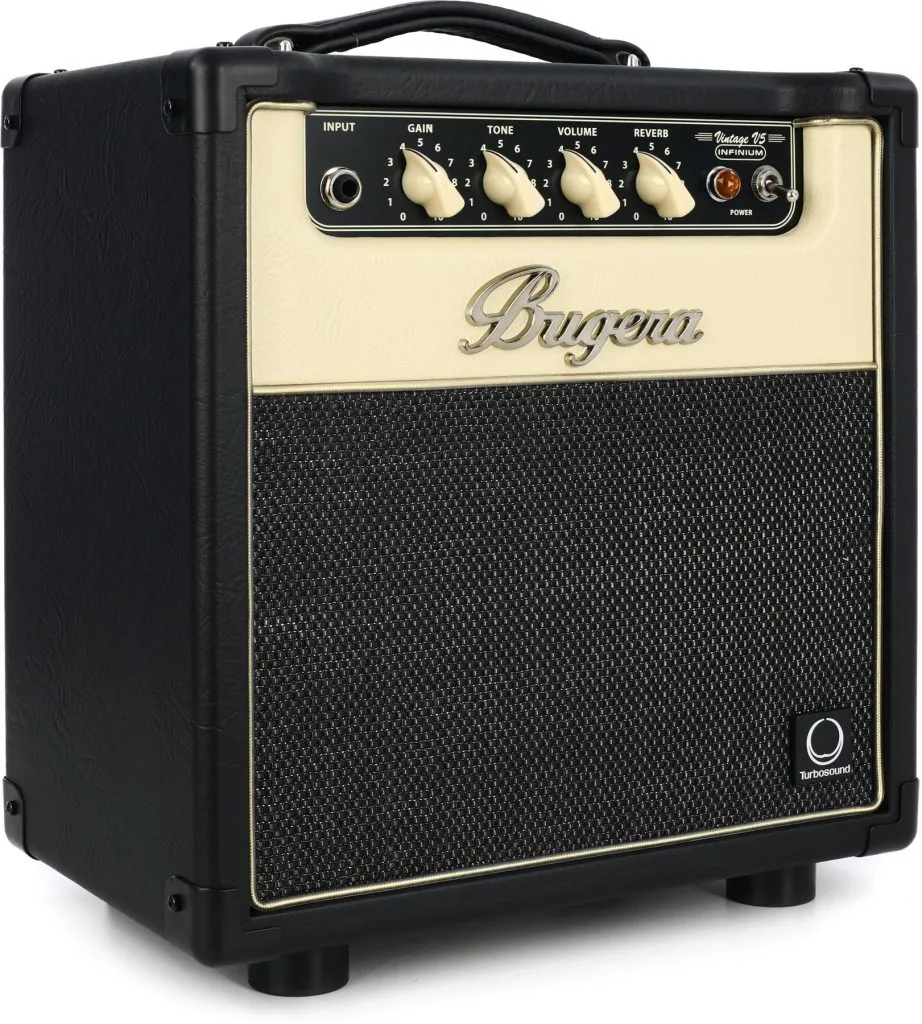 I'll admit that I was surprised by the Bugera V5 Infinium. So much so that I'd put it in the running for the best small tube amp for the money. This 1×8″ tube amp features straightforward gain, tone, volume, and reverb controls, along with a handful of unique features that make this amp a tremendous value.
Powered by a single 12AX7 preamp tube and an EL84 power tube, the Bugera V5 Infinium is the quintessential small tube amp with a lightweight design and 5 watts of output. This tube compliment is a blues player's dream, harkening back the blistering British blues and classic rock tones made famous in the 1960s.
It's also a great option for jazz guitar players, thanks to its size and ability to produce clean tones.
The 8″ Turbosound speaker provides plenty of punch, rich harmonics, and a well-balanced tone in a small package. 8″ speakers are fantastic for recording and offer enough power to keep up with most drummers in a rehearsal setting.
Pros
Value. Between the tone, features, and price, the Bugera V5 Infinium is one of the best cheap small tube amps on the market.
Flexibility. While the tone controls are pretty straightforward, being able to switch your amp between 5W, 1W, and 0.1W via the built-in attenuator lets you unlock huge overdriven tones and reasonable volumes. 
Durability. Bugera's Infinium Tube Life Multiplier gives you peace of mind that your tubes will last longer.
Cons
EQ. Some players have complained that this amp sounds a little dark for their taste.
Bugera's Infinium Tube Life Multiplier not only extends the life of your tubes by monitoring and maintaining consistent performance, it automatically biases your tubes—making it possible to swap in unmatched tubes. Monitoring and maintaining the performance of your tubes saves you money over time, making this amp a long-lasting value.
• • •
Orange makes some of the best low watt tube amp models on the market. They are undeniably distinctive from their classic bright orange Tolex to signature high gain tones.
The Orange Rocker 15 is a direct descendent of the Rockerverb series of tube amps from the early 2000s scaled down to a more accessible low-watt tube amp format. 
The Rocker 15 features two channels: A clean channel with a surprising amount of clarity and headroom and a dirty channel that dishes out everything up to molten metal high gain tones. 
The Rocker 15 features an all-tube design–right down to a tube buffered effects loop for your pedal chain. You'll find a trio of ECC83 tubes and an ECC81 tube in the preamp, followed by a pair of EL84 in the power tube section, perfect for classic rock, metal, and British tones.
Pros
Huge tone in a small package. The Rocker 15 can dish out tones from clean to crunch to chaos.
Power scaling. Massive Orange tube tone at any volume.
All tube everything. Tube preamp, tube power amp, and tube buffered effects loop for pure tube tone.
Cons
Love/hate. Orange amps can be polarizing among players for their trademark high gain and loud looks. 
The Rocker 15 also has an onboard power reduction circuit that gives you the flexibility to play at the full 15 watts, 7 watts, 1 watt, or 0.5 watts. With a separate volume knob and master volume control, you'll have greater control over dialing in your tone at a reasonable volume.
If you're looking for a low-watt amp that can dish out a ton of gain, the Orange Rocker 15 stands out in the crowd. But if Orange's trademark looks are too loud for your tastes, the Rocker 15 also comes in black.
• • •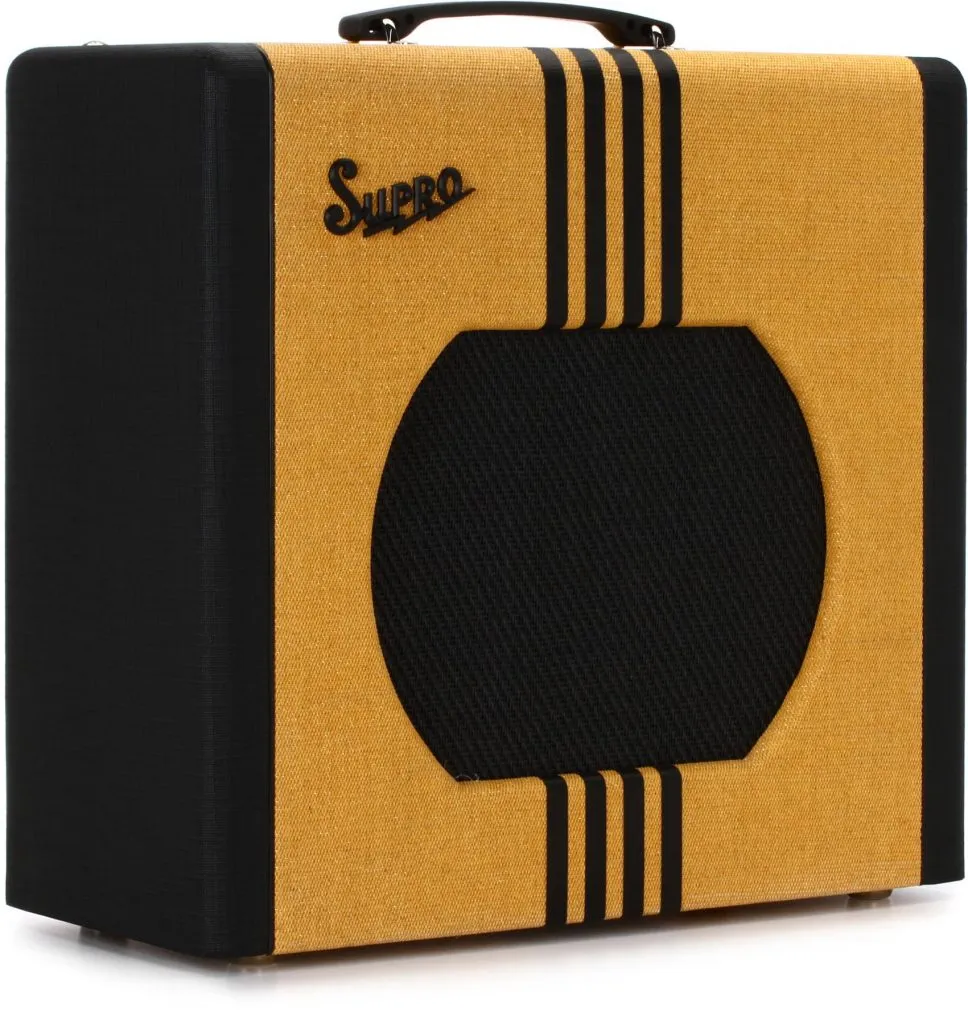 The Supro Delta King 12 is a vintage-inspired low watt tube amp — and one of my favorite small tube amps. This 15-watt tube amp borrows its looks from 60s-era Supro amps, but it adds a handful of modern updates to make this a flexible amp for home, studio or stage.
The Supro Delta King 12 is true to the Supro guitar amps of the 60s with a tried and true Class A power section fueled by a single 6L6 power tube. A single 12AX7 preamp tube joins forces with a FET-driven boost and a Pigtronix FAT high-gain mode to push your preamp harder–enabling enhanced midrange and beefier overdriven tones.
Looking at the controls on the Delta King 12, you'll notice a couple of notable knobs. First, the master volume knob lets you dial in the crunchy and higher gain tones at a neighbor-friendly volume.
Pros
12″ speaker. Fatter tone and better sound distribution for studio or stage.
Master volume and midrange controls. It helps you dial in the perfect tone at the right volume.
Line output. For recording and gigging without having to use a mic.
Cons
Footswitch sold separately. It will cost you another $54.99 if you want to easily engage the boost functionality.
Another underrated feature of the Delta King 12 is the inclusion of a midrange knob, which isn't always common in low-watt tube amps. These extra tone controls give you a flexible small tube amp combo that you can dial in for any recording session, gig, or practice at home.
You may be wondering why this vintage-inspired Supro Delta King 12 features a Pigtronix brand distortion circuit. That's because Supro and Pigtronix are siblings, now owned by the D'Angelico guitar brand (2).
• • •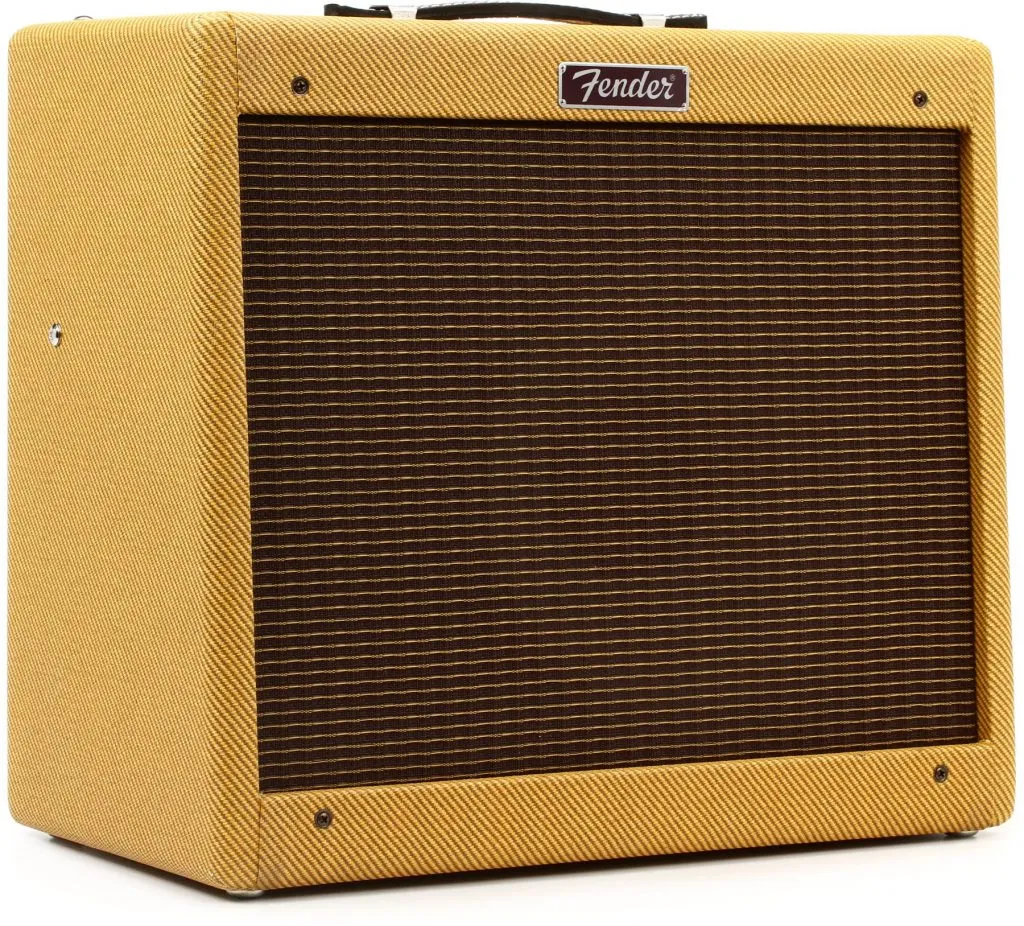 Quite possibly the most popular low watt tube amp of its generation, the Fender Blues Junior has been one of the most popular small tube amp models by Fender on the market for the last 30 years.
This pint-sized practice amp nails the classic American Fender clean sound before soaring into blues and classic rock territory. 
There's no better sound than a Fender Stratocaster plugged into a Blues Junior for some iconic, gritty Fender tone.
The latest iteration of this low-watt tube amp features an array of updates. Like previous releases, the Blues Junior IV is powered by a trio of 12AXY preamp tubes and a pair of EL84s in the power tube section for 15 watts of power–plenty for small to mid-sized venues without the need to mix it up.
New for this release, the Blues Junior IV features an updated preamp for a fatter tone that sounds much bigger than other comparable low-watt tube amps on the market. Also new is the 12″ Eminence Red, White, and Blues speaker. Specifically designed for classic American tones, the Red, White, and Blues speaker features a well-rounded tone profile with firm bass, balanced midrange, and high-end sparkle.
Pros
Updated preamp. Fatter tone than previous Blue Junior models.
Power and portability. Powerful enough for a gig, light enough to easily carry around.
Tweed. Tough to beat the look of Fender's classic lacquered tweed
Cons
Speaker. The Eminence Red, White & Blues speaker is upgraded from previous models, but some players still prefer to swap it out in the Blues Jr.
While the Blues Junior is lauded for its simplicity and ease of operation, it can also be a very versatile amp that takes pedals extremely well and provides an excellent tonal canvas. The classic FAT switch is still here, adding low end and extra grit with a simple tap. Rounding out the features includes Fender's legendary spring reverb, adding extra shimmer, sparkle, and dimension.
What else is there to say? The Blues Junior is one of the most popular low watt tube amp on the market today, and for a good reason.
If, for some reason, tweed isn't your thing, check out this limited edition Sweetwater-exclusive Fender Blues Junior IV in Western Tolex.
• • •
Marshall is also known for its lineup of low watt tube amp models.
One of the most iconic and classic sounds in rock and roll history comes from Marshall's 1959 Super Lead, which was a tube amp head that you may simply know as the "Plexi." The Marshall SV20C Studio Vintage takes one of the most legendary Marshall amps of all time, made famous by players like Pete Townshend and Jimi Hendrix, and scales it down to a portable 20-watt tube amp combo. 
Looking at its specs, the SC20C has a British-inspired 10″ Celestion V-Type speaker powered by three 12AX7 preamp tubes and 3 EL34 tubes. Like its predecessor, the Marshall SV20C Studio Vintage is a single channel tube amp that offers four separate inputs that you can patch via "jumper" cables to blend in different high and low frequencies combinations. 
While the Marshall SV20C is a vintage-inspired amp, it also features some convenient modern additions. The back panel of this tube combo includes a couple of hands ports, including an effects loop, which you may find useful if you want your delay and modulation effects to sound clear along with the cranked Plexi tones. Marshall also added a DI output for the studio or stage and a power reduction circuit that cuts the amp's output to 5 watts. 
Pros
Legendary Plexi tone. Crammed into a 20-watt combo.
Power reduction circuit. Cuts the power to 5 watts.
DI output. Easy to run a line to the recording console or PA.
Cons
Price. One of the most expensive combos in this rundown, but if you want that classic Plexi tone
But when you think of Marshall's classic Plexi guitar amps, you think of the classic Woodstock-era tone and beyond, and the Marshall SV20C packs the classic Plexi tone into a small tube combo amp. While a single 10″ speaker can't be expected to replicate the massive presence of a 100-watt tube amp head, the vintage Marshall sound is there–offering the dynamic response, presence, and searing distortion that made the original Plexi amps legendary.
The Marshall SV20C is one of the more expensive small tube amps on this list, but you get what you pay for. 
• • •
Staying at the pricier end of our rundown of the best small low-watt tube amps, the Rivera Clubster Royale Recording is a sonic Swiss Army knife for the studio. But at 25 watts through a 12″ Celestion Seventy 80 speaker, the Clubster Royale Recording can more than hold its own on essentially any stage.
Founded by the legendary Paul Rivera, Rivera amps rose to fame after Paul worked for Fender Amplifiers before striking out on his own. His hot-rodded American-styled amps have developed a devout following of players who covet Rivera's dynamic tone and sturdy build quality.
The Clubster Royale Recording features a decidedly Fender-style tube complementing three 12AX7 preamp tubes and two 6V6 power tubes. Yet, the 12″ Celestion Seventy 80 speaker is known for its British voicing and presence–giving this amp a best-of-both-worlds persona.
Pros
Tone. Tone. Tone. Clean to crunch to crazy, the Clubster Royale Recording can do it all.
Speaker voices for direct recording. Easy to dial in distinctive styles in the studio.
Amazing reverb. Via 6-spring Accutronics reverb tank.
Cons
It's an investment. But it might be an investment worth making for this level of flexibility and combination of vintage tone with modern upgrades.
Plug into the Clubster Royale Recording, and you'll instantly take notice of the lush, three-dimensional reverb. Featuring a 6-spring Accutronics reverb tank, you can dial in a spacious yet very musical reverb that is a ton of fun to play with.
Another cool studio feature on the Clubster Royale Recording is the Mini-Rockrec, which gives you the option of six different speaker voices so you can record directly to the console.
The Rivera Clubster Royale Recording is an absolute beast of a tube combo amp, combining the best vintage features with many modern additions. If you want the best of the best features in an American-style tube amplifier, you'll love the Rivera Clubster Royale Recording.
• • •
Warranted or not, Blackstar Amps are seen by some as being Marshall-style amps thanks in part to being founded by a group of former Marshall employees. However, amps like the HT20R 1×12″ combo would like to have a word with that.
Combining a pair of 12AX7 preamp tubes with a couple of EL84 power tubes, the Blackstar HT20R MKII is a 20-watt tube combo with a single 12″ speaker. While the tube complement leans decidedly British, the Blackstar HT20R stands out thanks to its Infinite Shape Feature, which lets you tweak your tone to everything from British grit to SoCal-style high gain. 
The Infinite Shape Feature (ISF) achieves dynamic range by shifting the entire curve of the amp's EQ. When combined with the voice switches for each channel, modern and vintage, you can unlock nearly any tone imaginable.
Pros
Feature-packed flexibility. Infinite Shape Feature dials in tones from British to American
Power for studio or stage. 20 watts gives you a lot to work with.
Power scaling. Turns this amp into an apartment-friendly 2-watt combo amp.
Cons
Digital reverb–not spring. It's just not the same.
Blackstar's HTR20 guitar amplifier embraces a handful of modern digital features to make it convenient in any application. The onboard digital reverb features more depth than previous Blackstar models. The HTR20 has an emulated line-out and a USB audio output to make recording in any setting a breeze. And, your neighbors can rest easy while you practice, thanks to the onboard power scaling circuit that cuts the output to 2 watts.
Throw out any preconceived notions you may have about Blackstar amps because the HTR20 is a flexible and powerful amp that sounds surprisingly good. At a $799 street price, it's also a good middle-of-the-road value among this combo amp review rundown.
• • •
If you've walked into a live music bar or club (or music store, for that matter) in the last 20+ years, there's a very good chance that you've seen or heard a Fender Hot Rod Deluxe in action. Like its smaller sibling, the Blues Junior, the Hot Rod Deluxe is a wildly popular tube amp with more than enough power for gigging almost anywhere.
Like its predecessors, the Fender Hot Rod Deluxe IV features a single 12″ speaker, three channels (normal, drive, and more drive), three 12AX7 preamp tubes, and two 6L6 tubes for 40 watts of power. 
The balance between power and portability is part of what makes the Hot Rod Deluxe such a popular amp line. With 40 tube watts, it's a workhorse that's loud enough to play in most venues without needing to be mic'd up. You'll have greater tonal flexibility and character than solid-state amps. And at 41 pounds, you'll be hard-pressed to find a more portable gigging amp. 
Pros
Plenty of power. 40 watts will give you enough juice for nearly any stage.
Upgraded features. Fender updated the preamp and reverb for a smoother, more powerful sounding tone.
Sharp new looks. Ivory knobs and aged grille cloth make this new model stand out.
Cons
A dime a dozen. It's one of the best-selling tube amps of all time for a reason, but you might want to look elsewhere if you want something more unique. 
The Hot Rod Deluxe IV features several refinements to its appearance, construction, and components. You'll notice a pair of these updates before you even plug the amp in: Appearance and weight. The series IV features aesthetic upgrades, including aged grille cloth and ivory knobs on a black control panel, which is helpful on dark stages. Thanks to its pine cabinet construction, the Hot Rod Deluxe IV weighs in at four pounds lighter than the previous version. 
Like the Blues Junior IV's upgrade, the Hot Rod Deluxe IV also received a redesigned preamp that increases its overall sound quality by adding articulation and definition to its distorted tones. The spring reverb tank also received an update to sound smoother and deeper. You'll find that these reverb tones still sound very musical and articulate, even if you've got the reverb control maxed out. 
• • •
The Imperial MkII is the latest in a long line of boutique hot-rodded Fender-style amps from Tone King. Based on the legendary Fender Deluxe Reverb amp, the Imperial MkII likewise has a 12AT7 and four 12AX7 tubes in the preamp, two 6V6 power tubes, and a 5AR4 rectifier tube. Also similar to the Deluxe Reverb, the Tone King Imperial Mk II also pushes 20 all-tube watts through a single 12″ speaker. 
Tone King didn't simply make this a vintage replica. Instead, you'll find many modern upgrades that give you extra flexibility at home, in the studio, or on stage. The Imperial Mk II has two channels, Rhythm, and Lead, for a wide variety of classic tones. The Rhythm channel gives you a classic American clean tone that breaks up beautifully at higher volumes. You'll nail cranked tweed-style tones in the Lead channel and more by tapping into the Tone King's Mid Bite control, which gives you even more overdriven range.
Perhaps the biggest standout feature of the Imperial MkII is the Ironman II power attenuator. Tone King designed this feature with reactive load technology, giving you excellent transparency with high gain tones at low volumes. This feature is standard in all Tone King amps, but not one you'll find in Fender's Deluxe Reverb models–old or new.
Pros
Tone. Tone. Tone. Legendary boutique American-style clean tones and overdrive. 
Ironman II attenuator. Get cranked tweed tone at lower volumes.
Tube-driven effects. Amazing onboard tremolo and reverb.
Cons
It's expensive. This is a major investment.
The Imperial MkII also boasts standout tube-driven spring reverb and tremolo. The pulsating bias-modulated tremolo stays smooth and very musical, as does the spring reverb circuit. No surprises here.
Not apropos of nothing, this amp flat-out looks great with its classy two-tone design that's available in a variety of color combinations, including turquoise. 
If you crave classic American and Fender tones, the Tone King Imperial MkII has all the best vintage sounds with a handful of modern benefits. It's the most expensive tube amplifier on this list, but it's an absolute tone monster that marries the best of vintage and modern. 
• • •
If you've been waiting for us to get to an amp that unabashedly unleashes modern American high-gain tones, your patience has paid off.
The Mesa/Boogie Mark Five: 35 combo is an absolute monster of an amp in terms of tone and features. Powered by six 12AX7 tubes and four EL84 tubes, the Mark Five: 35 has three power settings at 35 watts, 25 watts, or 10 watts, making it extremely flexible for practice, performance, or recording. 
You'll find fat, clean, and crunchy tones in the first channel before tapping into the roaring high gain tones that Mesa is known for in the third channel. Featuring three preamp options–Mesa's Mark V, Mark IV, and Mark IIC+–you can find everything at the extremes or in between. 
There are a lot of controls on the Mesa/Boogie Mark Five: 35, maing the tone sculpting possibilities are nearly endless. Thanks to two independent solo controls, you can set a foot-switchable preset boost to toggle between the two settings on the fly. 
Pros
Legendary Mesa tone in a portable package. Huge tones are available in this 1×12″ combo.
Tons of flexibility. Includes three preamps, two channels, two independent solo controls, and tons of EQ options.
Cabclone speaker simulator. Get great-sounding tones direct to the soundboard or mixer.
Cons
Too much of a good thing? Nearly overwhelming amount of tonal controls (and gain).
In addition to a standard three-band EQ with bass, mid and treble controls, the Mark Five: 35 also employs a foot-switchable graphic equalizer. While not necessarily known for their reverb, the Mark Five: 35 features a very nice long-tank spring reverb.
If you prefer to run a direct line to the recording console or PA, the Mesa/Boogie Mark V: 35 includes Mesa's Cabclone internal load and speaker simulation technology. What do I like best about this feature? You can blend it in a live setting so you can combine stage volume with a direct line out to the soundboard. On top of that, you can select virtual open-back, closed-back, or vintage speaker cabinet settings.
If you need the powerful high-gain American tones that only Mesa can provide, the Mark Five: 35 is an extremely potent option in a portable package.
• • •
As one of the more expensive options on this list, buying a Marshall DSL40CR solely as a practice amplifier is only for those with plenty of disposable income.
Now, if you need a solid amplifier for both gigging and practicing, this is a great option. Marshall tube amplifiers deliver incredible tones in an ultra-durable package. This can really be your workhorse guitar amp.
Pros
High and low power settings. This can be helpful for practicing.
Footswitch included. Switch from clean to overdrive at the tap of a pedal.
Great digital reverb. Marshall delivers a clean, studio-grade reverb for a beautiful tone.
Cons
Expensive. If this is your practice amp, you're paying a lot of money for it.
My favorite part of this little Marshall is its studio-grade reverb. It sounds great and can add a beautiful layer to your practice sessions.
This is an amplifier for rockers and blues players, although the cleans are decent. If you've always wanted a Marshall, I'd start with the DSL40CR.
• • •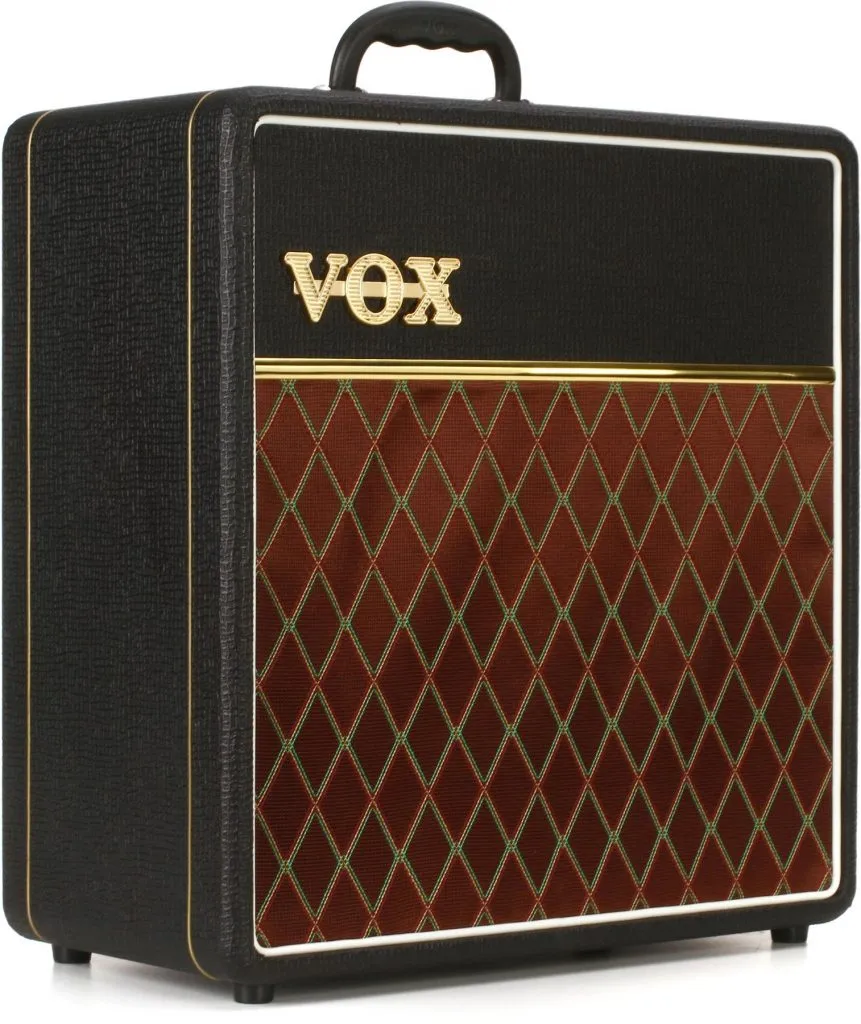 Vox's AC4 1×12″ combo packs its legendary Top Boost circuit into its more portable and affordable format. Two 12AX7 preamp tubes and a single EL84 power tube pump out 4 watts of pure Vox tone, perfect for practice or studio settings. And don't let the 4-watt rating mislead you–this little amp can get LOUD, thanks in large part to its 12″ Celestion speaker.
As far as plug-and-play amps go, this is as straightforward as they come. Four knobs in total: Gain, Bass, Treble, and Volume give you the classic British Invasion tone without extra tinkering. 
I've owned a scaled-down version of this amp with an 8″ speaker and was blown away by how loud it was. The only issue I ran into was playing with a full band–it actually was able to keep up from a volume perspective, but you'll be pushing the amp well into overdrive at that point. 
Pros
Straightforward simplicity. One channel, four knobs, unmistakable Vox tone.
Top Boost circuit. In a more affordable, portable package.
Only 23lbs. Super lightweight design.
Cons
4 watts. If you're using this with a band, it might not be able to stay clean enough.
For me, the overdriven tone was perfect for what I wanted in a practice amp with my band, but others might require a practice amp with more headroom. However, this is an absolutely killer amp for practicing at home or recording in the studio if you want that classic Vox Top Boost tone.
• • •
Most Popular Low Watt Tube Amp Heads
A guitar amp head is home to the guitar amplifier circuit, but it does not include an accompanying speaker. You'll need to match a separate speaker cabinet for these amps.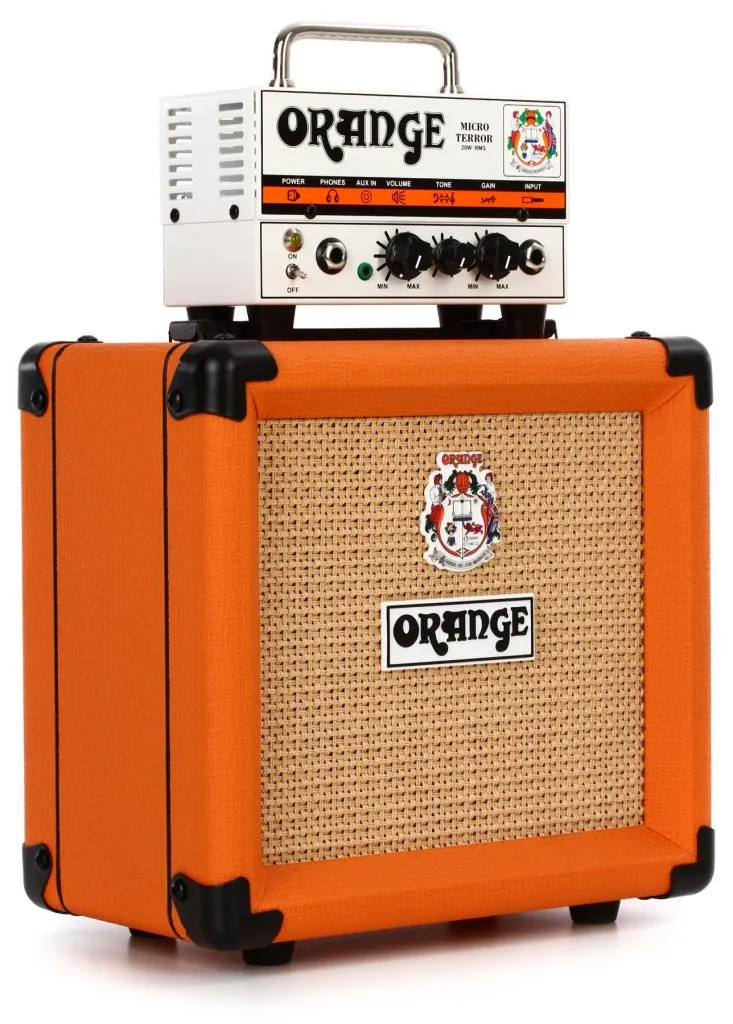 Orange's Mini and Micro Terror heads have long been popular options as ultra-portable tube amps with tons of gain on tap. You might be surprised by the Micro Terror's clean tones featuring the classic British chime and, at 20 watts, a decent amount of headroom.
However, you're not buying the Orange Micro Terror for its clean tones. The Micro Terror pumps out a tremendous amount of gain via a single 12AX7 preamp tube and a solid-state power amp. The solid-state power section allows Orange to pack in a surprising amount of power in one of the most portable tube amps you can buy. The Micro Terror weighs in at less than TWO POUNDS–1.87lbs, to be exact.
The Orange PPC108 guitar speaker cabinet is included in this package, and you don't need to worry about the cabinet weighing you down much. This lightweight cabinet weighs in at 7.7 lbs. It packs a ton of punch with its 8″ speaker and classic Orange styling.
Pros
Powerful. 20 watts is plenty loud for practice and performing.
Durable. All-metal construction.
Headphone output. For late-night practicing. 
Cons
Hybrid. Solid-state power amps might turn some away.
Despite its small size and straightforward Volume, Tone, and Gain controls, the Micro Terror isn't small on features. You'll find an all-metal construction that will stand up to any wear and tear from carrying this head to practice or the studio. The Micro Terror also features a ¼" headphone output that lets you practice late at night or without disturbing your neighbors. If you want to play along to your favorite songs, the Micro Terror also has a ⅛" line in for an MP3 player input.
While the Orange Micro Terror may not be a true tube amplifier, you get a lot of horsepower under the hood in a truly portable package thanks to its solid-state preamp. Perhaps best of all? You can take 20 watts of tube tone home for $258.00.
• • •
The Friedman Runt-20 head is a vintage showstopper in both looks and tone. Featuring three 12AX7 tubes in the preamp and two EL84s in the power section, the Runt-20 is a two channel 20 watt tube amp with truly impressive tonal range and power in a portable package.
Once you get past its strikingly good Brit-inspired looks, the Runt-20 head has a straightforward 7-knob layout featuring Presence, Master Volume, Treble, Middle, Bass, Gain and Clean Volume. You might be surprised by the clean tones in the Runt-20. While not a jazz box by design, you'll find fat, crisp and punchy clean tones before tapping into its red hot high gain tones.
If you like to use pedals, you're going to love the Runt-20 head. This versatile jazz to classic rock tone machine takes overdrive, boost, and fuzz pedals very well, and it boasts Friedman's renowned transparent effects loop to keep your modulation and time-based effects sounding crystal clear. 
Pros
Foolproof design. Straightforward control layout makes it nearly impossible to dial in a less than stellar tone.
Quiet. Play near-silently even without a cabinet
Great Aesthetics. Sweet vintage styling
Cons
Want a matching cab? It will cost you. $699 for a matching 1×12" and $999 for a 2×12" cabinet
The Runt-20 head was Friedman's first to feature an internal load and analog cab-simulated XLR output. Not only does this mean you can easily run your amp directly to the soundboard, you can also do so without having to connect a speaker cabinet. Speaking of external cabinets, the matching 1×12" and 2×12" cabinets will run you $699 and $999, respectively.
The Friedman Runt-20 is an extremely versatile tone machine for studio or stage. With 20 watts of power, you'll have more than enough power to practice or perform. Handcrafted in the USA, it's also built for the road with a durable Baltic birch cabinet and quality components. There's a lot to love about the Friedman Runt-20 head.
• • •
The Marshall Origin 20 is designed to be a straightforward, easy-to-use vintage-inspired tube amp. Powered by a trio of ECC83 tubes in the preamp and two EL34 tubes in the power section, the Origin 20 has 20 watts of power that's switchable down to 3-watt and 0.5-watt settings. 
The controls on the front panel of the Marshall Origin 20 head are all pretty familiar with the addition of the Tilt control. This knob allows you to blend in bright and darker tones for added tone sculpting.
The back panel of the ORI20H is fairly simple as well, with three options for speaker outputs, an included footswitch, and an effects loop. The footswitch gives taps into an extra gain for solo boosts.
Pros
No frills Marshall tone. Easy to dial in classic tones.
Tilt control. Blended bright and dark tones.
Low power modes. Drop the output to 3 watts and a half-watt power setting.
Cons
Not a lot of headroom. But you probably care more about the overdriven tones anyway. 
Tone-wise, the Marshall ORI20H nails vintage Marshall overdrive tones at reasonable volumes, and it has enough power to hold up on most stages. While it nails that classic Marshall sound, you won't have a lot of clean headroom if you're turning this amp up to stage or louder practice volumes.
If you're looking for a classic Marshall tone at a more approachable size and price, the Marshall ORI20H is a great entry to mid-level tube amp heads.
• • •
Which is the Best Tube Amp for Home Use?
Depending on where you live (and who you live with) will play a pivotal role in picking the best amp for home use. Generally speaking, low-watt tube amps are preferable for settings where you want to make the most out of your overall volume. However, there are other factors to consider here as well.
If you live in a home where you're able to crank an amp up without your neighbors calling the police regularly, I'd recommend the Fender '65 Princeton Reverb. The Princeton gives you a classic tube-driven blank canvas that gives you great headroom, takes pedals well, and offers classic Fender reverb and tone. 
If you need big tones at a lower volume, the Orange Rocker 15 gives you everything up to modern high gain tones with the ability to turn the amp down to a half-watt setting. 
Finally, if you need an all-tube tone in a small package with the ability to practice silently with headphones, the Bugera V5 Infinium is one of your best bets.
What is the Most Reliable Tube Amp?
With tube amps, the reality is that tubes will someday need to be replaced. However, depending on how much you play (and how hard you push your amp), you might be surprised to find how long tubes last. 
Every amp we looked at in this review qualifies as durable, and I'd recommend any of them for practicing or performing without hesitation. Tube amps are usually easily repairable and upgradeable with a qualified technician than solid-state and digital modeling amps.
If you're purchasing a brand new amp from an authorized retailer like Sweetwater, keep your original paperwork & receipts and check the warranty on your amp. Many of the high-end amp makers on this list, like Friedman and Tone King, offer limited lifetime warranties, but make sure you know the details of your warranty before attempting any DIY mods or repairs.
• • •
Tube Amp FAQs
Are mini tube amps any good?
Mini tube amps are great because you can achieve the classic cranked tube amp tones at reasonable volumes. They're fantastic for practicing and recording. You might be surprised at how many classic recordings used a small amp like a Fender Champ.
Is a 15W tube amp loud?
15-watt tube amps give you more than enough power for practicing, recording, and performing in most settings. If you're playing a larger venue, you'll likely have the ability to mic your amp and mix through the PA. 
Why are small tube amps better?
The biggest advantage you get from tube amps over solid-state amps is the natural overdrive that occurs as you turn the amp up. Small, low-watt tube amps make it easier to achieve that sweet-sounding natural overdrive without turning up to ear-splitting volumes.
What makes a tube amp good for practice?
The best tube amp for practice is the one you want to play–not only does it sound great, but it inspires you. Depending on the space you have to practice, you'll want an amp that hits that sweet spot where it sounds great at a reasonable volume or one that offers the option to use headphones.
Find something that sounds good to you. Remember, practice makes perfect — not the gear you're buying. Start taking online guitar lessons!
Which is the most popular small tube amp for jazz?
For fat, clean jazz tones, take a look at amps that offer ample headroom and clean tones like the Fender '65 Princeton Reverb, Supro Delta King 12, and the Fender Blues Jr. IV.
What is a good small tube amp for blues?
The Fender Blues Jr. IV is a great low-watt tube amp for the blues, as its name suggests!
• • •
References
Bienstock, Richard, "Tube Amps vs Solid State Amps: What's the Difference?" retrieved from https://www.guitarplayer.com/gear/tube-amp-vs-solid-state-amp
Bienstock, Richard, "D'Angelico acquires Supro and Pigtronix" retrieved from https://www.guitarworld.com/news/dangelico-acquires-supro-and-pigtronix
Image Credits
Featured Image: Quentin Thiel, CC BY-SA 4.0, via Wikimedia Commons.