Is it better to burn out or fade away? 
That's the age-old question in rock music, isn't it? But unfortunately, putting together a list of the best rock bands is a heavy task. Full of contention, heated debate, and general strife.
But we're going to give it a go because that's the confidence you'll find over here at Really Simple Guitar. With 20 years of floating around the rock world, I've got a decent handle on some of the best bands which may surprise you.
Read through the list and see if you agree. Then, let me know in the comments.
Best Rock Bands of All Time
I'm not going to bother ranking the greatest rock band until we get nearer the top of this list. If you're not in the top 10 of something, it isn't imperative where you fall on the list, right?
U2
The Joshua Tree is a fantastic record. There's no denying that, but it's easy to write U2 off based on their studio work. That Bono has become "Bono the activist" doesn't make taking him seriously as an artist this late into their career that much easier. 
Uno, dos, tres, catorce, for this San Diegan, will be one of the greatest insults to the Spanish language. Ever.
But damned if they aren't forgiven when they take the stage live. How Edge creates his studio guitar tones live is beastly. It makes watching his part in It Will Get Loud all the more enjoyable. 
My favorite thing about the band is that anytime Bono has to cancel due to ailment, informing the public falls to bassist Adam Clayton. Hilarious.
• • •
Deep Purple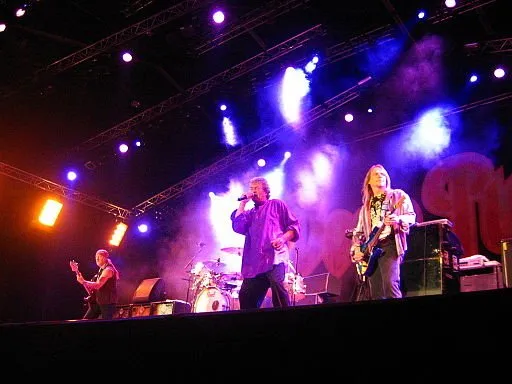 Getting together in 1968, Deep Purple is synonymous with hard rock. 
And as a guitar player, you will learn Smoke on the Water early in your journey. Even if you don't keep playing, you'll never forget that riff. It would be difficult to find a rock guitar player who isn't influenced by the work of Deep Purple.
They're another group that would have a slew of lineup changes that almost means each iteration was a separate band altogether. The second lineup was the most successful and penned the iconic Smoke on the Water.
Following iterations would have some success, but the successive seven iterations would not reach as much success and would deal with infighting.
"Deep Purple" was inducted into the rock and roll hall of fame in 2012, but nobody can agree on what that means, given the number of complete versions this influential band has had.
• • •
The E Street Band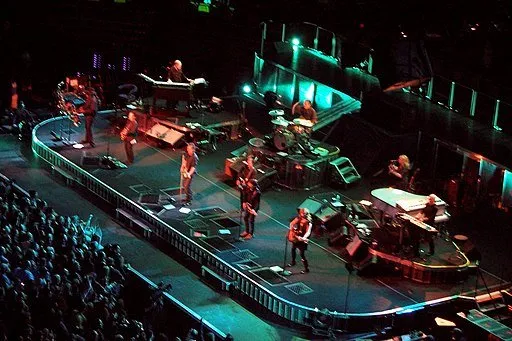 Where would politics be without the E Street Band? Where would Conan O'Brian be, for that matter? Not on basic cable. That much is clear.
Bruce Springsteen needed a backing band, so the E Street Band was formed in 1972. It's been together since and was inducted into the rock and roll hall of fame in 2014, which makes sense. The E Street band is a piece of East Coast Americana. 
You can't have American literature without Steinbeck, and you can't have American rock and roll without Springsteen. But this band isn't just about the man upfront. Nope, members have done incredible work as session musicians and solo artists. 
You might recognize Max Weinberg behind the skins for a decade or so on NBC. He rode it out through the Tonight Show debacle but didn't make the jump to TBS. Little Steven is a Soprano. This band is American rock and roll.
• • •
Velvet Underground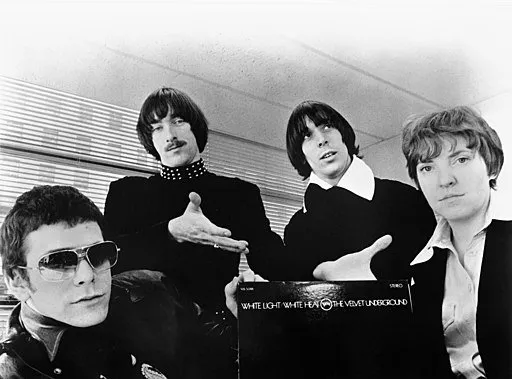 With avant-garde guitarist Lou Reed at the helm, the Velvet Underground created music that may not have been commercially successful at the time but has since become classic. The influence they would have on subsequent generations of musicians is undeniable.
When Andy Warhol—yeah, that one—took over as manager, he made them the house band for his art gallery. It gave the band work and subject matter to write about but ultimately would become the band's undoing. 
Artwork that doesn't find an audience may later. The New York Times dubbed the band the most influential rock band of our time (1). It's a tragic story, but they made music that has touched the hearts of millions. Not bad. Welcome to the list.
• • •
Talking Heads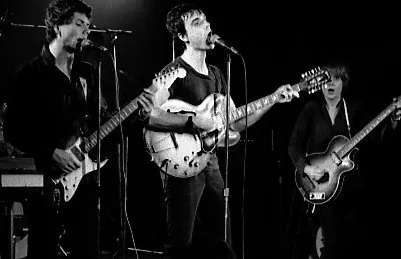 If the first wave of punk was simple, the first wave of post-punk was quirky. It would be defined by acts like those willing to burn down the house. Capable musicians who were trying to live a punk rock ethos but being nerds about it the whole time. 
They were art students who were into punk music. But they were art students. So the music they made was an avant-garde version of New Wave. And it was eclectic and fun and just what you'd expect from a quartet of art students. 
The band stood firm, and labels couldn't define them. Instead, they'd go on to expand their cohort of musicians. They'd add Adrien Belew on guitar, who would work with David Bowie on various projects. Eventually, the band broke up in 1991 when art projects took over, and something new was on the musical horizon.
• • •
Pearl Jam
Grunge music is an inflection point in rock history. If Nirvana was this generation's Beatles, Pearl Jam was the five-piece Rolling Stones. However, since "Grunge" was more a musical location than a rock music style, an eclectic mix of styles would shine through. 
Eddie Vedder's growling croon is immediately recognizable, and he used it to significant emotive effect throughout the band's mainstream run. They have been going strong since 1990 and have had an enormous impact on the music industry.
They were famously playing "Keep on Rockin' in the Free World" with Neil Young plugging seconds before climbing on stage. They also sued Ticketmaster for the fee schedule they thought was hurting their fans. 
Musicians first, activists second, Pearl Jam has always used their fame to promote causes they believe in and has stayed authentic and humble.
• • •
AC/DC
Of all the bands on this distinguished list, this is the most iconic one from Australia. 
That's insane, and despite the fantastic records this hard rock monster regularly churns out, it's hard to believe Back in Black isn't one of the best-selling albums of all time. It's the best-selling record of all time.
The first with Brian Johnson on lead vocals, Back in Black, has sold more than 50 million copies. 50x platinum. And Brian was stepping into the shoes of the lead singer after the death of Bon Scott.
Beyond that, AC/DC has brought forth many hard rock bands in their illustrious wake. These guys are hard-rocking, hard-partying, and loud. These guys are the real McCoy. 
• • •
Travelling Wilburys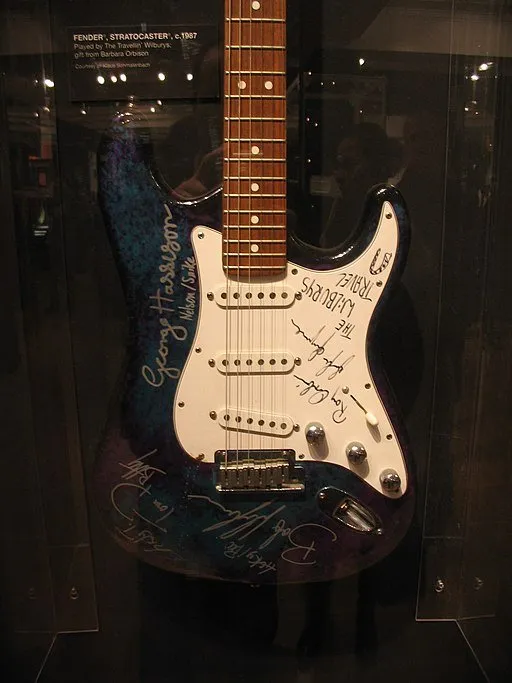 The Traveling Wilburys featured George Harrison of the Beatles, Bob Dylan, Jeff Lynne, and Roy Orbison as a supergroup of solo artists. Oh yeah, and Tom Petty would play with the group as well. So that's quite a few master singer-songwriters.
Despite heading some of the biggest rock bands ever, their studio albums would have their own style that was more than the sum of their parts. It was a lighthearted project, and, by design, it didn't take itself too seriously.
Which is saying something when you put that many egos on a single stage. The band would eventually fall apart when George lost interest, but the Wilbury spirit lives on every time the rock and roll hall of fame needs a house band for a 60s-era artist.
• • •
Tom Petty & The Heartbreakers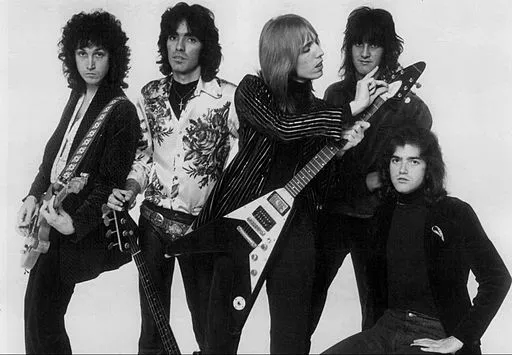 Underrated songwriters dot Rock history, and Tom Petty is one of those dots. Low key rustbelt rock and roll was their scene, and they crushed it right up until Petty's untimely death at age 66. 
The American songbook isn't complete without Free Falling, American Girl, or Refugee. Or how about I Won't Back Down? A song so epic it made another appearance when Sam Smith more or less inadvertently borrowed it some 25 years later. Intentional or not, that's impressive.
Bon Jovi, Taylor Swift, and Kings of Leon all cite Tom Petty and the Heartbreakers as significant influences on their music. Rock music isn't the same without this underrated songwriting powerhouse—definitely one of the most influential bands.
• • •
Fleetwood Mac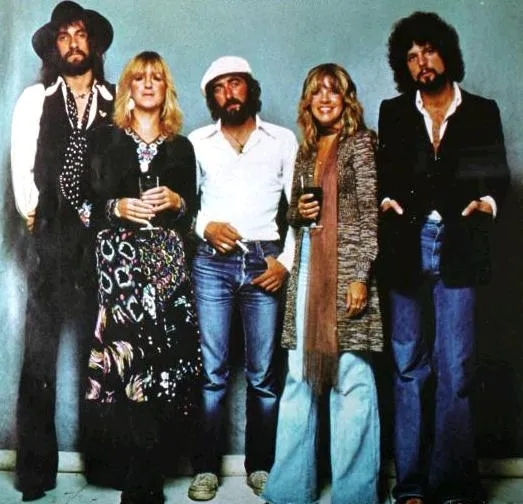 The drummer's name isn't often in the band's name, but that's what you get in Fleetwood Mack. Because Mick Fleetwood is a legend, magic was born when he asked Stevie Nicks and Lyndsay Buckingham of Buckingham Nicks to join the band.
The vocal harmony and guitar playing exploded, as did the songwriting. The new pop-influenced rock sound would produce a litany of singles, and Rumors, having sold 40 million copies, is one of the most commercially successful records ever.
This period would be the pinnacle of the band's sound and success. They would eventually sell 120 million records worldwide and, strangely enough, fire Lyndsay Buckingham in 2018, replacing him with Mike Campbell from the Heartbreakers after the death of Tom Petty. Small world?
• • •
Metallica
The hard-rocking Metallica from San Francisco would become one of the biggest bands and influence the next several generations of aggressive metal music. As the most commercially successful band in the thrash metal movement, they sold an astounding 125 million records worldwide.
They also were able to cross into more mainstream music scenes with songs from the Black Album, such as Nothing Else Matters and Enter Sandman. That wasn't something other thrash metal bands had seen nearly as much success.
Recently, they filmed other behind-the-scenes documentaries that showed the group's vulnerability, some of their infighting, and how power dynamics work in these supergroups. They made therapy okay for metalheads, which was nearly as controversial as when they got short haircuts.
The whole Napster debacle was the only real bummer outside of a few musical hiccups. Thanks a lot, Lars.
• • •
The Revolution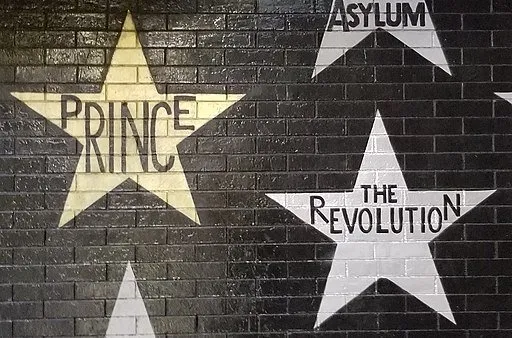 Did you know Prince played guitar? Well, he plays everything, but he never needed to because he had the Revolution.  Well, he did after the first record produced by the legend Family Stone Sly himself.
For Prince's second record, Purple Rain, they've been known as the best backing band of all time. 
Members of the band would play with Sheila E and form the Time. The fully assembled Revolution has been playing a few shows here and there since Prince passed away in 2016.
It might seem strange to put a backing band on the list of great rock bands, but they are royalty unto themselves, owning a piece of rock history. They have writing credits on Purple Rain, for crying out loud. Respect. 
• • •
Genesis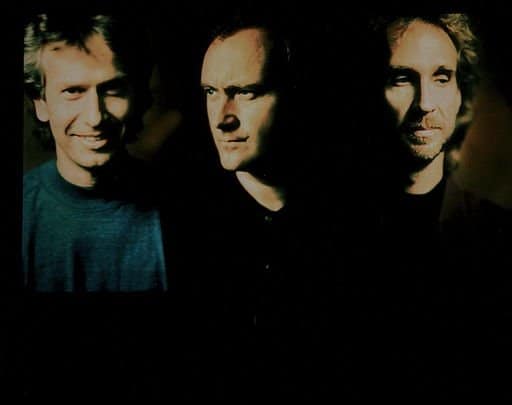 They just called it a day, but this English band shows why progressive rock bands deserve a spot on the best rock bands list. There was a punk rock attitude about this group that would shine through the entirety of their career as a basic three-piece band that had some 11 official members throughout their career.
Lead singer Peter Gabriel would dress as a flower. When he left the band, the search for a new singer was extensive until Drummer Phil Collins decided that nobody was better thus far than he was, and he'd just take over. Punk rock.
Guitarist Mike Rutherford played the absolute cheapest Squier Bullet Stratocasters on the final tour because, why not? They were more affordable to ship and lighter on this neck.
They may not have had the most record sales of all time, and the market usually dictates, but an editorial call on the band's attitude that stuck around that long says they belong on this list.
But they've been around for 30 years. That alone earns them a place on this list.
• • •
Black Sabbath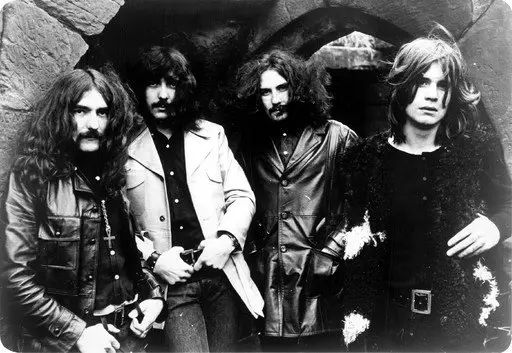 Name a band from anywhere in the metal genre, and they will name Black Sabbath as an influence. The band was Toni Iommi on guitar and the instantly recognizable vocal prowess of one Ozzy Ozbourne. 
Ozzy's vocals are as unique as any. As recognizable as Johnny Cash or Elvis Presley. Ozzy would drink himself out of the band in 1979, leading to Ronnie James Dio replacing him. An equally powerful force on lead vocals.
Sabbath would inspire generations of bands after them, and for that, it should be enough. But the subsequent tours, Queen's Jubilees, contentious reunions, and sonic experimentation cement them as one of the best rock bands ever. 
• • •
Foo Fighters
Dave Ghrol's work as a discreet solo artist is what birthed Foo Fighters. In Nirvana, Dave was one-third of a rock music colossus. But that giant was Kurt Cobain's baby. No confusion there. With Foo Fighters, after Cobain's death, he's learning to fly on his own.
With a brief stop as Tom Petty's drummer. Weird.
The Foos have been transparent and forthcoming, especially since Ghrol has dabbled in filmmaking. His work on Back and Forth, Sound City, and Everywhere But Home gives a lot of behind-the-scenes access to the band. 
They've been making rock records for more than two decades, but their level of access makes them feel like the garage band next door to many fans. That's one reason the untimely passing of long-time drummer Taylor Hawkins recently stung fans deeply and calls into question the group's future (2).
• • •
Nirvana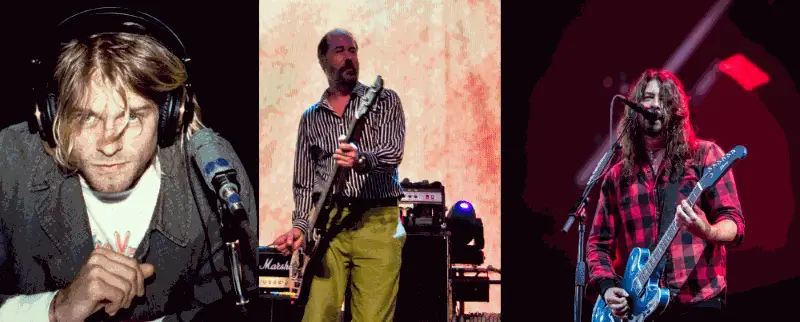 They broke the mold. When rock bands, like Poison, focused on teasing their hairdos, Kurt was writing punk rock records with the soul of a Beatle. Rock music needed his breath of cold, exhausted, sad air from the Pacific Northwest.
If LA was sunny and carefree, Seattle was gloomy and angry.
Nirvana wasn't just a band with a seminal record at the right time. They had what turned out to be two of the best songwriters of their generation in the group, and one of them stuck to drums.
They were already great. It is interesting to think about what would have happened if Nirvana could continue. What would that have looked like moving forward? 
• • •
Aerosmith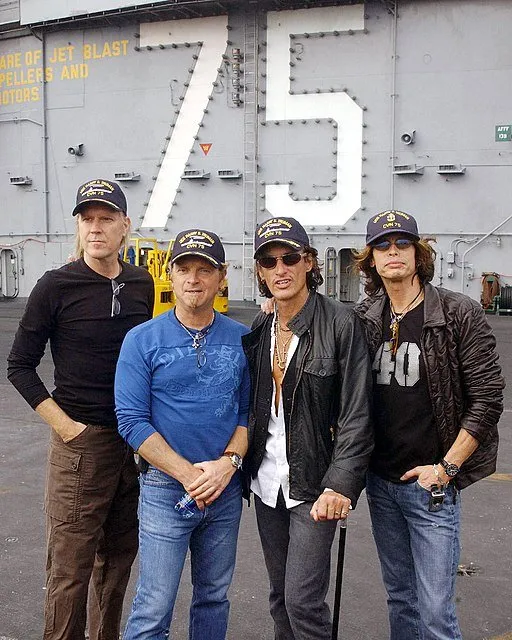 Dave Grohl said in an interview once that Aerosmith was one of the greatest rock bands at exercising the "don't bore us, get to the chorus" mentality. To wit, what's the verse of "Janie's Got a Gun" or "Love in an Elevator?" How about "Dude Looks Like a Lady."
Nobody does it better or more consistently than Aerosmith. The fact that Steven Tyler is on lead vocals is all the more reason to pay attention.
• • •
Guns N' Roses
Even though they only had a few serious records (because I'm not going to count the two-decade tease that was Chinese Democracy, nor the Spaghetti Incident), Guns n' Roses made the list.
The quintet consists of Axl Rose at the mic, Duff McKagan on bass, Izzy on rhythm guitar, Slash on lead, and Steven Adler on drums. When they broke on the scene with Appetite for Destruction, they decimated everything else at the time. The LA metal scene was already having glam metal problems, but the dirty aesthetic for GNR drew a contrast.
When James Hetfield was set on fire by stage pyrotechnics at a show in Canada, they played with GNR and had to stop in the middle. Unfortunately, GNR did not step up to save the day. 
The band's legacy is one of infighting and egos that could not get along. The music, though… the music shows that a band doesn't have to be nice to be great.
• • •
ZZ Top
Frank Beard is the only guy in the band without a trademark beard. That's just hilarious. Dusty Hill on bass and guitarist Billy Gibbons sported chest-long beards for most of the band's career. The aesthetic alone should be enough to make the list, but then we have to talk about their music once again. 
They specialized in Southern blues-rock when they came out but would push what that genre could be as time went on. ZZ Top's subsequent albums used drum machines and synthesizers and, as a result, produced some of their most popular singles. 
Bassist Dusty Hill passed away at age 72 after suffering from chronic bursitis. The band is soldiering on with Hill's longtime guitar tech taking over. Will it be the same? Time will tell.
• • •
Coldplay
Another controversial choice might be England's Coldplay. They are essentially the opposite of GNR's dynamic. Coldplay is four nice guys from University who started a band behind the undeniable falsetto of the band's frontman, Chris Martin.
The band has sold more than 100 million records worldwide and has been intentional about each record having a different sound. These elements translate into the band's set as well. Live, on the stage, is where they shine brightest.
What also stands out is that the band hasn't suffered from the ego issues or lineup changes associated with acts of this size. Instead, they tour a great deal, collaborate with other musicians, evolve their sound, and keep going.
Say what you will about their music. It may not be your flavor of ice cream, but it would be hard to deny they deserve a place on this list, so I'm not going to try.
• • •
Jefferson Airplane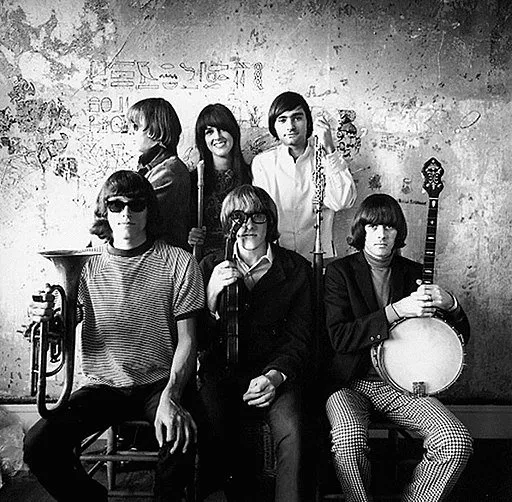 San Francisco was the birthplace of psychedelic rock, and it was harder to argue that Jefferson Airplane wasn't at the forefront of that movement. Did they mean to be? Who knows, but they were thanks to Timothy Leary and his dropping out culture.
So much so that two of their songs appear on The 500 Greatest Songs of All Time by Rolling Stone. The summer of love devolved into a hard-drug scene pretty quickly, but not before the Airplane turned out some great songs.
They would spin off the Jefferson Starship and later Starship iterations when the band broke up, but the magic was never the same.
All the more reason Jefferson Airplane's well deserved their Grammy for Lifetime Achievement in 2016.
• • •
10. The Clash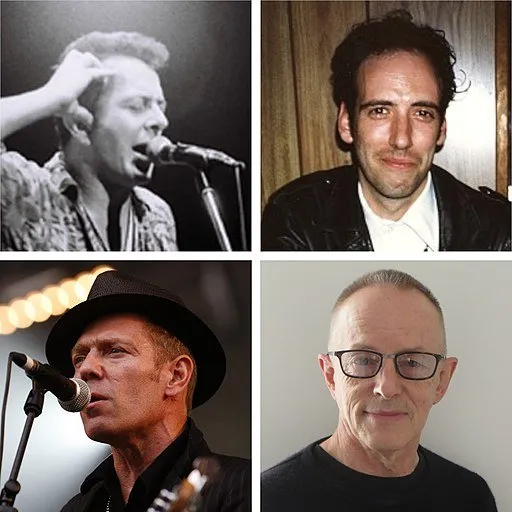 Punk Rock was a musical genre, but it was also an attitude. There was an ethos. As Matthew Lillard famously asked in SLC Punk, who started punk? Out of everyone he lists, The Clash are the better musicians and more aligned with the philosophy behind Punk music.
And because they were better musicians, they would incorporate reggae rhythms and instrumentation that would lead to larger, more commercially successful punk versions like New Wave and Ska.
If Rolling Stone says the Clash is the 28th best artist of all time, regardless of genre, they will make the list of rock bands.
• • •
9. Linkin Park
With their debut album, Hybrid Theory, Linkin Park was everywhere. They were all over MTV at the time with their heavily rap-influenced flavor of heavy metal. Or really, it sounded like an angstier version of Ice-T's various hardcore metal projects.
But that belied what the band was. LP was a group of well-trained musicians with multiple genre influences expressed through Mike Shinoda's songwriting. So you would have never known there was depth and complexity in the band's first single.
They broke barriers and traversed genres as though they were operating on another dimension. The cross-over record they did with Jay Z was a real work of art in rock and hip hop. It was a project received well enough to do it live on several occasions, including with Paul McCartney in tow.
Linkin Park may never get the accolades it deserves, but they were one of the best rock acts.
• • •
8. Oasis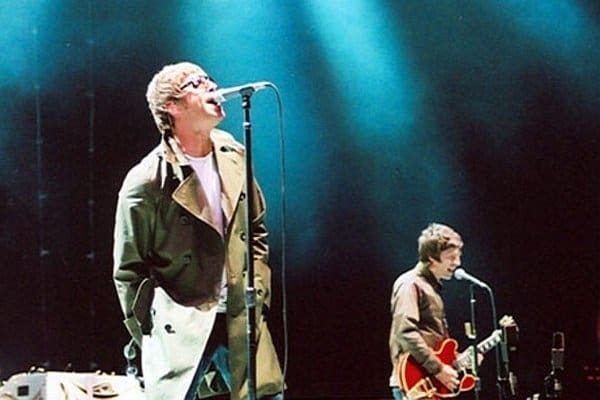 Say what you will about Manchester's hard-drinking, hard swearing brothers of the music industry, but the Ghallagers built one of the most incredible rock acts of the Brit Pop era. So go back and listen to those records. They stand up.
The infighting between lead singer Liam and lead guitar player and primary songwriter Noel defined Oasis. The music was unique, but the music came second to the contentious relationship between these two brothers.
They are eligible for the Rock and Roll Hall of Fame as of 2019, but there's no indication they want the honor or are interested in reuniting for the occasion. Oasis is one of the greatest rock bands in recent history, better than either brother alone, but they can't seem to bury the hatchet.
• • •
7. The Beach Boys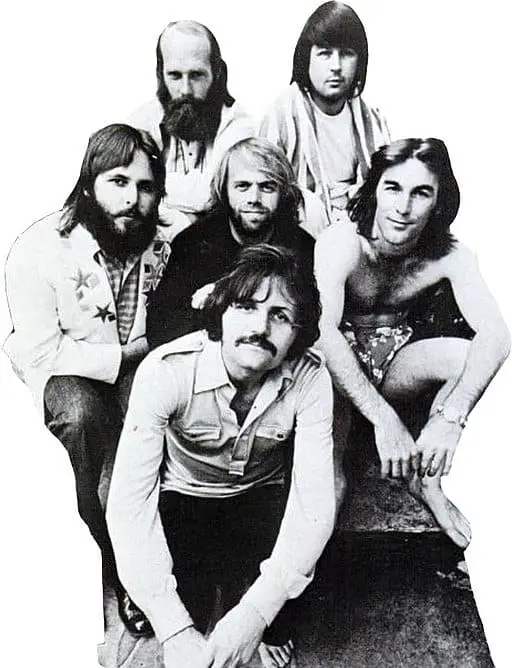 The middle 1960s featured a music scene dominated by two groups: the American Beach Boys and the Beatles from the UK. It would be hard to determine which one was the better group for a while. Which songwriter, Brain Wilson, or John, Paul, George, and Ringo, was better? 
Back and forth the decade went. The Beatles would release Rubber Soul, and Brian Wilson would almost single-handedly release Pet Sounds, one of the most ambitious records ever released. It immediately cemented Wilson as an icon and would influence generations of alternative rock artists. 
Melodic pop song after killer psychedelic rock song meant the Beach Boys, under Brian's sole direction, was one of the most influential bands of the 60s. However, Smile would be his magnum opus that wouldn't see the light of day for several decades.
• • •
6. Pink Floyd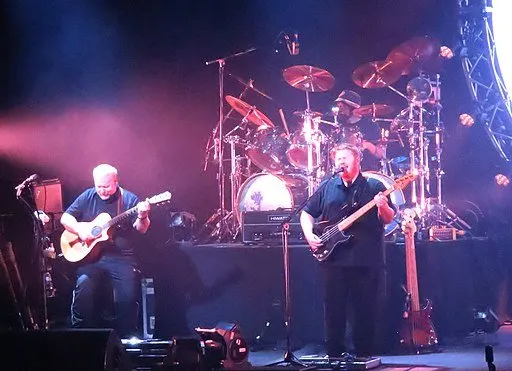 I have always been such a fan of Pink Floyd. It's easy to say that, but it doesn't mean it isn't true. David Gilmour is one of the reasons I picked up a knockoff Stratocaster when I first started playing.
When the band members, reunited with Roger Waters, set foot on the Live 8 stage in Hyde Park in 2005, it was nothing short of electric. It was a magical moment for a fan of progressive rock and the ambient music Gilmour's soaring solos evoked.
Both men held lead vocals as if a day hadn't passed.  They tore through all their fantastic records without missing a note. While a world tour would have been excellent on the heels of Live 8, living vicariously through YouTube clips will have to suffice as it is pretty clear the band is done, especially after Richard Wright's death.
• • •
5. Van Halen
Not Van Hagar. I have nothing against Sammy, but we're talking about the David Lee Roth era. Rock bands work their entire career to have a platinum album, and being one of the best rock bands ever, Eddie and the guys had two records that sold more than 10 million copies apiece. That's rock music royalty.
The band did go through a few lineup changes. It was a revolving door of musicians over the band's decades of performance. Each era was unique and successful in its own way, but the true heart of the band was Eddie Van Halen. His iconic Frankenstrat, with its striped finish, is legendary among great guitar players.
Sadly, Eddie passed away in October 2020 after a battle with cancer, at which point the rotating stable of musicians told Howard Stern that it was the end of Van Halen as a rock band because there is no VH without Eddie. RIP.
• • •
4. Rolling Stones
Stones music has always caught me in waves. They're one of those bands that have been around so long that it's impossible to imagine a rock landscape without them. Mick Jagger, lead singer, and Keith Richards on lead guitar are rock music. The Rolling Stones just are rock music.
Because of their size, it can be easy to forget what an accomplished blues-rock band they are. In addition to writing some of the most memorable hooks in rock music, it's the magic of how some of those riffs came about. The fact that Keith wrote the riff for Satisfaction in his sleep is magic.
There ought to be insurance against that type of cultural recklessness.
They also happen to be one of the hardest working bands of all time. The Stones will inevitably tour again. After the unfortunate passing of Charlie Watts, the band played on because that's what this band does. 
• • •
3. Queen
Can we just all be on the same page that no matter how great a singer Adam Lambert is, you can't have Queen without Freddie Mercury or John Deacon? It's just an insufficient lineup. Great to watch, but not the same band.
The band was great. Easily one of the best in rock's history. The band's work with Bohemian Rhapsody and its no chorus arrangement was groundbreaking for rock music. Brian May's guitar solos are epic, Roger Taylor's grooves are tight, Deacon's bass was valuable in rock for once, and Freddie's voice was without equal. 
Queen was a band that was more than the sum of its parts. And without all aspects intact, it feels fundamentally different. But, on the other hand, they were a band taken from the scene too early, so it's hard to fault May and Roger Taylor for wanting to carry on. We miss Freddie too.
• • •
2. Led Zeppelin
This is a biggie. Led Zeppelin embodied blues rock and hard rock and was one of the best British rock bands ever formed. I don't think you get heavy metal without Led Zeppelin.
They were also at the forefront of progressive rock bands, experimenting with alternative beats, time signatures, and guitar tunings. The relationship between Led Zeppelin lead singer Robert Plant and guitarist Jimmy Page was contentious, but it produced classic album after classic album.
Throw in one of the best rhythm sections in rock music with bassist John Paul Jones and drummer John Bonham, and you had a musical detente that would churn out one of the most influential bands ever.
Can you imagine a rock landscape without Immigrant Song? And that was only from Led Zeppelin III. 
The band would soldier on until drummer John Bonham died in 1980 when the world lost his hard-hitting, tight percussion.
• • •
1. The Beatles
The mere fact that the "Ringo wasn't even the best drummer in the Beatles" joke persisted for so long is a testament to the ubiquity of this rock music titan. Likewise, that Paul McCartney got in a fight with Michael Jackson about publishing rights is legendary. 
That a group can be "yoko'd." The man's wife is now a verb, and she's gone right on doing her thing. Paul wrote "Get Back" on the bass while waiting for John to show up at the studio.
These four guys and the people in their orbits have been associated with more legendary stories than number one records. But, the fact that 8 of their 20 number 1 hits came after they stopped touring (3) is impressive.
• • •
The Rock And Roll Hall Syndrome
Not every band on this list will make it to the rock music hall, but most will. However, even without that "prestigious" honor, watching any of these band's sets will make you question who's voting.
Who'd we miss? 
References:
David Bowman, "Forever Decadent," as published here: https://www.nytimes.com/1998/04/26/magazine/forever-decadent.html
Alan Cross, "RIP Taylor Hawkins. What do you do when a member of your band dies? It's complicated," as published here: https://globalnews.ca/news/8721497/foo-fighters-taylor-hawkins-band-member-dies/
Seren Morris, "Every Beatles Song That Reached No.1 on the Charts," as published here: https://www.newsweek.com/beatles-songs-reached-number-one-hits-billboard-charts-1497051
Image Credits
Rock and Roll Hall of Fame image: Erik Drost, CC BY 2.0, via Wikimedia Commons; U2 image: Paul Jones, CC BY-SA 4.0, via Wikimedia Commons; Deep Purple image: DVB33, Public domain, via Wikimedia Commons; The E Street Band: Wasted Time R, CC BY 3.0, via Wikimedia Commons; The Velvet Inderground image: Photographer unknown. Published by Verve Records, at that time a subsidiary of MGM Records., Public domain, via Wikimedia Commons; Talking Heads image: Jean-Luc, CC BY-SA 2.0, via Wikimedia Commons; Pearl Jam image: Lugnuts, CC BY-SA 3.0, via Wikimedia Commons; AC/DC image: Imhavingfun42, CC BY-SA 3.0, via Wikimedia Commons; Traveling Wilburys image: Andrew King, CC BY-SA 2.0, via Wikimedia Commons; Tom Petty & The Heartbreakers: ABC/Shelter Records, Public domain, via Wikimedia Commons; Fleetwood Mac image: Warner Bros. Records, Public domain, via Wikimedia Commons; Metallica image: Kreepin Deth, CC BY 3.0, via Wikimedia Commons; Prince and The Revolution image: Christopher Bahn, CC BY-SA 4.0, via Wikimedia Commons; Genesis image: David Scheinmann, CC BY-SA 3.0, via Wikimedia Commons; Black Sabbath image: Warner Bros. Records, Public domain, via Wikimedia Commons; Foo Fighters: christopher simon, CC BY 2.0, via Wikimedia Commons; Nirvana image: Julie Kramer (Kurt)David Lee (Krist)Andreas Lawen (Dave), CC BY-SA 4.0, via Wikimedia Commons; Aerosmith image: U.S. Navy photo by Photographer's Mate 3rd Class Christopher B. Stoltz., Public domain, via Wikimedia Commons; Guns N' Roses image: Raph_PH, CC BY 2.0, via Wikimedia Commons; ZZ Top image: Brian Marks, CC BY 2.0, via Wikimedia Commons; Coldplay image: File:Coldplay – The Rose Bowl – Friday 6th October 2017 ColdplayRoseBowl061017-70 (37665052902).jpg: Raph_PHderivative work: Minerva97, CC BY 2.0, via Wikimedia Commons; Jefferson Airplane image: RCA Victor, Public domain, via Wikimedia Commons; The Clash: 1. Masao Nakagami2. Andwhatsnext3. Rama4. Warrenit, CC BY-SA 2.5, via Wikimedia Commons; Linkin Park image: Chiragddude at English Wikipedia, Public domain, via Wikimedia Commons; Oasis image: Will Fresch, CC BY-SA 2.0, via Wikimedia Commons; The Beach Boys image: Unknown authorUnknown author, Public domain, via Wikimedia Commons; Pink Floyd image: kitmasterbloke, CC BY 2.0, via Wikimedia Commons; Van Halen image: GHOSTRIDER2112, CC BY-SA 2.0, via Wikimedia Commons; Rolling Stones image: Raph_PH, CC BY 2.0, via Wikimedia Commons; Queen image: Unknown authorUnknown author, Public domain, via Wikimedia Commons; Led Zepellin image: more19562003, CC BY 2.0, via Wikimedia Commons; The Beatles image: ingen uppgift, Public domain, via Wikimedia Commons.