From Jimi Hendrix's unforgettable performance at Woodstock in 1969 to Brian May shredding on Bohemian Rhapsody at Live Aid in 1985, there have only been so many guitarists who can be called legendary over the past century.
Of course, ranking the most extraordinary guitarists — let alone picking them — is an impossible task. But there is a handful that stands out from the rest. Also, don't expect to play like these guys right away. Learning guitar can take a LONG time. Be patient. You're going to sound bad before you sound good.
Here are the 37 best guitarists of all time:
Best Rock Guitarists
Without the guitar, there's no rock and roll. The following players are the top rock band guitarists that ever lived:
Jimi Hendrix
Perhaps the most original, inventive guitarist. Jimi Hendrix is consistently rated as the very best guitarist, regardless of genre, no matter where you look.
Hendrix shattered the norms of rock by effortlessly creating unbelievable sounds, especially when it came to incorporating feedback into his heavily distorted tone.
"That sound. It combines his concept of harmony, his concept of timbre, his desire to shock… they're all connected in that chord," said Phil Bywater, a music lecturer at the Australian College of the Arts (1).
Without a doubt, the top Jimi Hendrix song of all time is "All Along the Watchtower," followed by "Voodoo Chile." "Hey Joe," and "The Wind Cries Mary." (2)
Unfortunately, the legend behind Purple Haze and that iconic playing of the Star-Spangled Banner at Woodstock, died too young, at the age of 27.
• • •
Prince
Another innovative guitarist gone too soon, Prince is undoubtedly known as a phenomenal performer, but his guitar playing is often overlooked. What separates him from the rest is how effortless he makes complex arpeggios and runs look while commanding the stage.
At the 2004 Rock Hall of Fame Induction concert, Prince wowed the crowd with a solo on "While my Guitar Gently Weeps." At the end, he throws his guitar high in the air and casually walks off stage.
Many guitar and music critics believe Prince may have been the greatest guitarist since Jimi Hendrix died (3). And honestly, I'm not surprised by that assessment.
Unlike Hendrix, Prince had an incredible natural grasp on music theory, despite not being able to read sheet music. He was proficient across 27 instruments, and could quickly identify chord changes by ear.
Like Hendrix, Prince still had plenty left in the tank before his early death. His 2007 Super Bowl halftime show performance has been rated as one of the best.
• • •
Eddie Van Halen
Eddie Van Halen was one of the greatest classic rock stars. His unique, ground-breaking guitar playing inspired the next generation of hard rock and metal players.
His electrifying solo "Eruption" is nearly as defining as Hendrix's national anthem performance at Woodstock and inspired a generation of shredders.
Van Halen was known for his "Frankenstrat," a mashed-up version of a Fender Strat that featured two single-coil pickups and a humbucker. It allowed the phenom to achieve Gibson-like tone, but with the flexibility and functionality of a Strat.
As a result of Van Halen's unique guitar and his incredible ability to shred up and down the neck at lightning-fast speeds, brands like Charvel and Jackson introduced Superstrats that included humbuckers alongside a pair of single-coil pickups.
Van Halen wasn't only a great guitar player. He also was a master at working on guitars and making them functional for his style of music — not to mention his knack for cranking out hit songs that sold millions of records in the 70's and 80's.
• • •
Brian May
For some reason, Queen's Brian May is often forgotten about as one of the greats, likely because none other than Freddie Mercury was the group's frontman. But May could shred with the best of them.
He was incredible playing live, but his work in the studio — layering guitar parts on top of guitar parts — was masterful.
So, what made him so good? The London native was said to create a solo in his mind before playing it on guitar.
He once said, "The fingers tend to be predictable unless being led by the brain."
May is also quite humble. In an interview, he once said, "I will never claim to be a great guitarist in the sense of a virtuoso. I just try to play from the heart."
And did he ever. try and learn his licks using TAB — it's not easy!
May could make a guitar sing and sustain for what felt like forever. His work with Queen continues today, alongside former American Idol contestant Adam Lambert as the lead singer.
• • •
Pete Townshend
The Who's frontman Pete Townshend is best known for introducing the world to the talkbox, making his guitar sound like it was singing.
It was Beatles guitarist George Harrison who introduced the talkbox to Townshend, who went on to take that technology to the next level, supplanting himself as a true guitar legend.
What's funny about Townshend, though, is that he never played that many solos. He was a rhythm man first, and if you caught him soloing, it was a true treat.
He also made playing the guitar a status symbol and created the punk rock movement. He was the first to destroy a guitar on stage after an epic set.
But he was also refined. As a big-time listener of jazz, Townshend was heavily influenced by the work of Miles Davis. He often used an open D tuning to give his music a more modal approach.
Obviously, he's known for "My Generation," but "Summertime Blues" especially shows off his guitar god status.
• • •
Chuck Berry
A combination of skill and showmanship, Chuck Berry made his Gibson sing on some of rock-n-roll's earliest songs.
He started as a jazz player but evolved — and helped create — true rock and blues music with hits like "Sweet Little Sixteen" and "Johnny B. Goode."
Chuck Berry was also an advocate for black musicians at the time who were treated poorly by white-owned music clubs. Chuck would pack a house but require that he receive payment before his performance. If a club owner balked and told him he'd receive compensation after the show, he'd calmly respond, "No check. No Chuck."
Of course, canceling one of the greatest guitarists of that generation would make any crowd livid, and the influencer did quite well for himself.
Not familiar with Chuck Berry? Check out "Johnny B. Goode" and "Roll Over Beethoven."
• • •
Jimmy Page
Undoubtedly, Jimmy Page is one of the greatest — and most influential — guitar players alive. Page was a riff master, inspiring a generation of guitar players to play real rock-n-roll music.
The 1970s was packed with incredible guitarists like Eddie Van Halen, Eric Clapton, and Jeff Beck. But Jimmy Page — known as the "Pontiff of Power Riffing" — stuck out as one of the most original players in that era.
When you listen to "Dazed and Confused" or "Kashmir," Page's soloing simply brings you to a whole new world. He knew how to melt a crowd, but you quickly realized how intelligent he was as a musician when you broke down his solos.
Not only did he handle chord changes like a champ, but he understood dynamics. So many guitarists of that generation played fast and loud — but not Jimmy. He could hush a crowd with a near-silent solo before erupting into something truly magnificent.
• • •
Jeff Beck (The Psychedelic Rock King)
As an established blues player from the U.K., Jeff Beck of The Yardbirds took a risk and dove into psychedelic rock, jazz, and electronica in the 1970s and 80s.
He went on to play with the greats, including Mick Jagger, Tina Turner, and Rod Stewart. Thanks to his impeccable technique and musicality, he pushed boundaries as a lead guitarist.
One of my favorite Beck moments is his cover of Stevie Wonder's "Cause We've Ended as Lovers," which shows his grasp of tone and how it's so much more important than speed and volume.
Guitarists have a love-hate relationship with Beck because his body of work is so impressive yet so difficult to replicate — he was truly unique.
His solos are packed with melody but can smack you right in the face.
Simply put, Beck is the real deal.
• • •
Best Blues Guitarists
A good blues guitarist can play the basic scales that allow them to sound competent when soloing over a rhythm section. The best blues guitarists, though, know how to feel the chord changes and tell a story with their six-stringed instrument.
B.B. King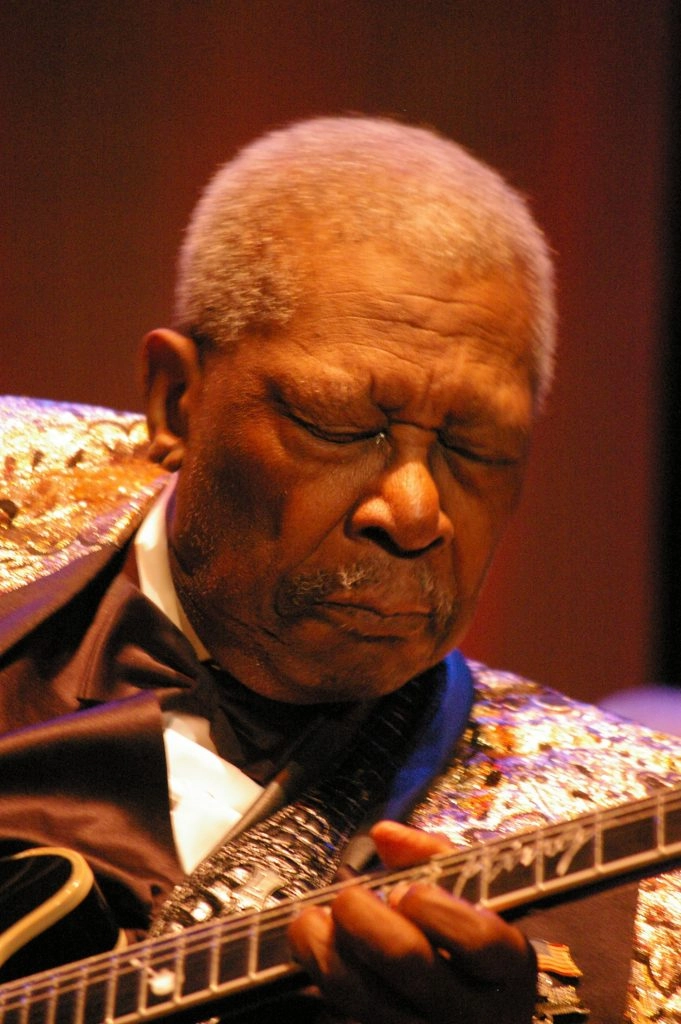 Legendary blues guitar player B.B. King points to an interview of Beatles frontman John Lennon wishing he could play like B.B. King as an emotional turning point.
"That was like Jesus Christ coming down and saying, 'Yeah, B., you're pretty good," he said in a Rolling Stone interview (4).
B.B. King made simple solos sound complex, spicing them up with his famous butterfly vibrato technique.
• • •
Eric Clapton
Eric Clapton is a hugely respected guitar player. He's the only person who made it three times into the Rock and Roll Hall of Fame.
The English blues aficionado has served as a guitar mentor for many. The great Eddie Van Halen considered Clapton his most important influence (5).
Clapton can take a root note and turn it into an unbelievable solo melody. Watch him do just that in this live performance of "I Shot the Sheriff":
Many guitar players respect Clapton for his simplicity. This is a guy who picks up a guitar, plugs it into an amp, and goes. There's no giant pedal board or other effects — just a touch of distortion and a mind designed for musical genius.
Clapton's focus on the blues created the core of today's rock and roll music — and that's pretty awesome.
• • •
John Mayer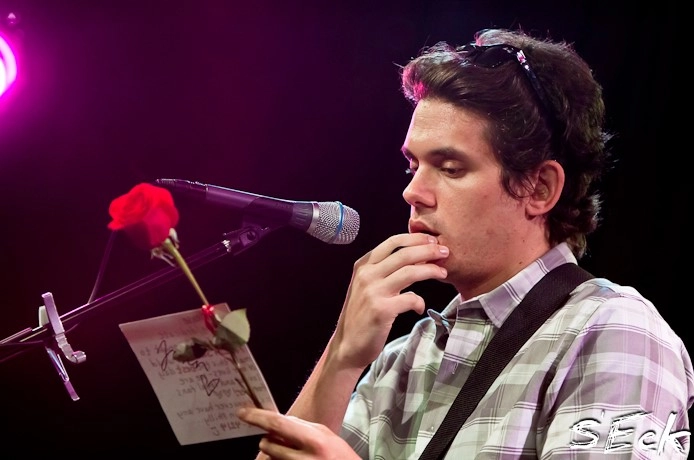 Pop and blues superstar John Mayer is on this list not only for being an incredibly skilled guitarist. He also figured out how to make thousands of concert attendees go nuts over a blues song.
Sure, Mayer has some pop hits that don't necessarily highlight his guitar playing. But love him or hate him, he's still one of the greatest guitarists of this generation — and he has a long time to keep playing.
His latest album, "Sob Rock," exemplifies his decades of playing with a wide variety of solos to enjoy.
What I've always loved about John Mayer's playing is its simplicity. Maybe he stole that from Eric Clapton. His solo on "All I Want is to Be With You," is the perfect example.
Listen to this face-melting solo, though, on "Slow Dancing in a Burning Room."
• • •
Stevie Ray Vaughan
Stevie Ray Vaughan got his start with the band Double Trouble but soon became one of the most respected studio guitar players.
He was primarily a blues player. But his fantastic talent allowed him to master all genres of guitar, which made him dangerously versatile.
He'd play the cleanest of tones out of his Fender Stratocaster on one song and then slay with heavy distortion on another. John Mayer points to Vaughan as one of his guitar idols.
• • •
Best Jazz Guitarists
There's nothing more complicated than mastering jazz guitar. The following players are the best ever to do it.
Pat Metheny
The great Pat Metheny is hands down one of the greatest all-around players. His technique is impeccable, and his overall musicality is breathtaking.
He's best known for his jazz and fusion work, where he created mesmerizing solos using effects that made his guitar sound like a synthesizer.
Over the years, Metheny has collected 20 Grammy awards! Today, he's one of the most progressive jazz players on the planet — almost a bit too progressive for some people's liking.
• • •
Wes Montgomery
Wes Montgomery was influential for his technique of plucking strings with the side of his thumb. He also embraced octaves in his solos, which gave him a unique jazzy sound.
Montgomery could do it all as a jazz guitar player, from hard bop to fusion, but most of his success came from playing pop music in the mid-1960s.
When you watch Montgomery play, you'll notice how effortlessly he uses his thumb to pick out notes. The thumb isn't the fastest finger on your hand, but he — somehow — managed to bop with the best of them at any speed.
Watch him play Round Midnight and you'll see what I mean:
• • •
Django Rheinhardt
Easily one of the greatest gypsy jazz guitar players ever, Django Rheinhardt was an absolute phenom.
Django is credited with starting the first quintet (Quintette du Hot Club de France) that featured the guitar as a lead instrument. At the time, a horn or piano player would typically play lead, while a percussive strum of a guitar kept time and rhythm.
His guitar legend status lured him to America, where he played with the Duke Ellington orchestra in the mid-1940s.
If you want to hear Django at his finest, listen to "Minor Swing" or "Swing '42."
Today, there are several "Django" festivals across Europe and parts of the U.S. celebrating this legend.
• • •
Best Guitarist: General
These top players are either pioneers of the instrument or have mastered a bevy of genres:
George Benson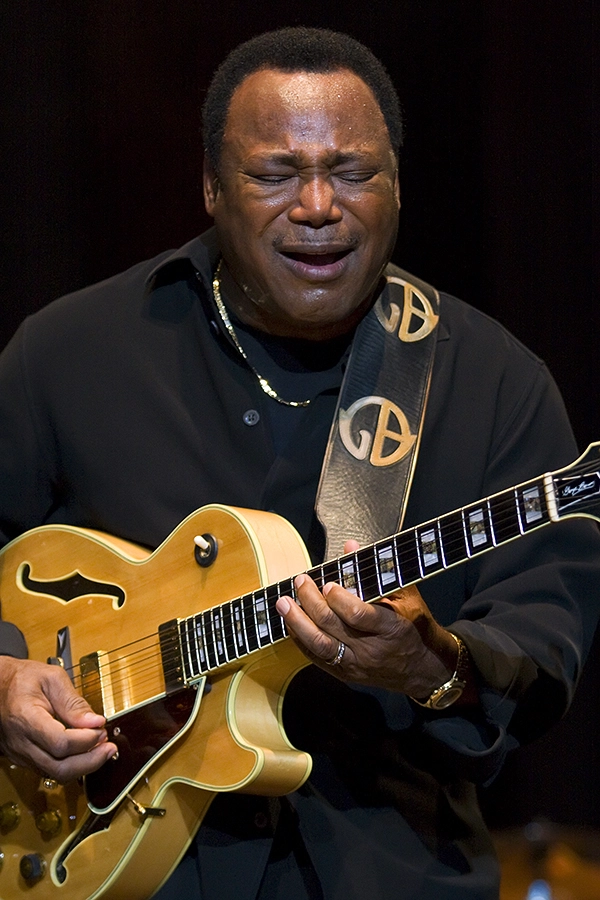 Guitarists often get bad raps from jazz players who argue they only play scales and patterns in their solos. George Benson took offense to that.
So, he took to the stage and started scatting his exact solos while he played, often going outside the standard chord structure.
That definitely left those traditional jazz players with their jaws on the floor.
Benson's musical acumen allowed him to stretch the norms of jazz music. For example, he conjured up a way to play blues licks over rhythm changes.
In 1977, Benson won a Grammy for his album "Breezin," which won best pop instrumental performance.
• • •
George Harrison
As one of the best guitarists ever, George Harrison was the master of creating riffs that stuck in your brain. The Beatles' guitar player knew exactly what to do to fill out a song that jived with the band's pop-driven vocals.
Harrison played a collection of different guitars, from Gibsons to Fenders to Rickenbackers.
While Harrison was an epic player, his music was also approachable for new players, which is exciting for us here since we cater to beginner players. I could safely argue that Geroge Harrison introduced the guitar to a new generation of players.
Here's George teaming up with Eric Clapton on an all-time classic:
• • •
Yngwie Malmsteen
A self-taught musician and founding father of the neoclassical metal genre. The child prodigy left his home country of Sweden and arrived in the United States to become one of the greatest uber-shredders.
Malmsteen isn't just an incredible metal player. His high level of music knowledge allowed him to produce and release his first all classical album in 1997.
• • •
Chet Atkins
Chet Atkins, also known as Mr. Guitar, was way ahead of his time in terms of technique and tone when he released albums and toured the world in the 1950s and 1960s.
What's really special about Chet is that he made being a solo guitarist cool. He didn't need to sing or be the band's lead guitarist. He just produced unforgettable melodies and improvisations as a solo artist.
Not many guitarists have since accomplished that same feat.
• • •
Keith Richards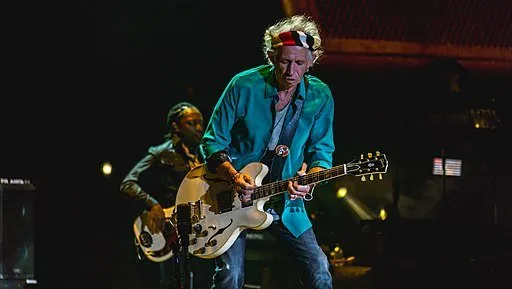 There's nothing more satisfying than the riff behind the Rolling Stones' "Satisfaction" that Keither Richards brought to life. As one of the best guitarists to ever pick up the instrument, Keith wasn't a technical player by any stretch of the imagination. Still, he certainly played with plenty of emotion.
That being said, he had a knack for using unique tunings — especially open G — to make songs like "Brown Sugar" sound amazing.
When you listen to Keith Richards play, really listen for the vibrato in the strings. It's subtle but so powerful.
Most importantly, Keith Richards stands out. There are only a handful of guys — even on this impressive list of players — who genuinely stand out. Guys who you can close your eyes, hear them play some riffs and immediately know who they are.
Keith Richards is one of those players.
• • •
David Gilmour
David Gilmour is regarded as one of the greatest guitarists to come out of the United Kingdom. As the lead guitar player of Pink Floyd, Gilmour pioneered the acid rock band with mind-boggling solos with such a distinctive sound.
In terms of Pink Floyd songs, Gilmour's solos shine brightest on "Money," "Crazy Diamond," and "Comfortably Numb."
Some regard his "Comfortably Numb" solo as one of the greatest in rock history.
Gilmour was inducted into the U.S. Rock and Roll Hall of Fame in 1996 and the UK Music Hall of Fame in 2005.
Despite fans calling for it, Gilmour dismissed any and all rumors in 2021 about a Pink Floyd reunion. That's unfortunate because we would love to see Gilmour jam out with his incredible band one more time.
• • •
Steve Vai
If there were an award for technical guitar proficiency, Steve Vai would easily take home the trophy.
He attended Berklee College of Music and studied under the great Joe Satriani before joining Frank Zappa in the 1980s. He later replaced Yngwie Malmsteen as the lead guitar player of Alcatrazz. In other words, Vai has been around — and for good reason.
His technique is incredible. He's probably one of the fastest shredders out there who doesn't miss a single note as his hand travels up and down the fretboard.
Vai's music today is sometimes too out there and considered too technical or too fast. That being said, Vai is an extremely talented musician who, as the classical composer's reaction makes clear in the video below, is capable of extremely soulful playing.
• • •
Duane Allman
Rolling Stones periodically ranks the best guitarists of all time and in 2003 listed Duane Allman at No. 2 behind Hendrix. If that doesn't make you respect the lead electric guitar player for the Allman Brothers Band, I don't know what will! 
This southern rock star certainly tore up the songs of the Allman Brothers Band that he co-founded in 1969. His most prolific story, in my opinion, came in "You Don't Love Me." The blues-rock song supplanted Allman as one of the best guitar greats.
Allman was so highly respected that he would commonly appear live and in-studio for performers like Aretha Franklin and Boz Scaggs.
• • •
Cory Wong
Playing rhythm guitar often gets a bad rap, but Cory Wong is clearly one of the best guitarists when it comes to rhythm playing.
He actually said in an interview, "Everybody wants to be a lead player, but if you're a working musician, 95% of it is rhythm." (6)
The rhythm guitarist is known for his fast, unique playing style and quirky melodies. He is the main guitarist for Vulpeckm but has launched a solo smooth jazz career over the past couple of years.
What I respect most about Cory Wong is that he's an electric guitarist who isn't worried about gear. He actually played a 90's American Strat (something you could purchase for under $1,000) for a long time before ultimately introducing his signature Strat in 2021.
• • •
Steven Van Zandt
"Little Steve," aka Steven Van Zandt, was the lead guitar and mandolin player of Bruce Springsteen's E Street Band and quietly became known as a top player in the music industry.
Van Zandt consistently had a high profile as a guitar player but rarely received the respect he deserves amongst the greats.
Always regarded as a great bandmate, "Miami Steve" often relied on distortion and his whammy bar to great memorable solos.
Listen to the solo on Bruce Springsteen's "Heart of Stone" to get a good idea of just how great Van Zandt is.
• • •
Eddie Hazel
Wondering who the best guitarist in the funk scene is? Look no further than Mr. Eddie Hazel.
The Brooklyn, New York native really helped establish funk music in the 1960s — and he kept it going until his death in 1992.
While his solos were indeed memorable, it was his rhythm playing that made him especially popular with different bands.
Hazel mostly played on Gibson guitars, but he also had a Fender Strat in his collection for certain songs.
His solo on "Maggot Brain" establishes him as one of the best.
• • •
Lead Guitarist Honorable Mentions
You can learn from any great guitar player. And you can't ignore these great guitar players:
Jerry Cantrell Young. As the lead guitar player and founder of Alice in Chains, Young is a great talent whose guitar of choice is a G&L Rampage.
Buddy Holly. Inspired by gospel and country music, Buddy Holly is one of the pioneers of rock and roll.
Les Paul. The late great Les Paul had a guitar named after him that remains one of the most famous guitars. That should be enough to tell you just how good he was.
Carlos Santana. Santana's tone is so unique and consistent from his signature PRS axe that you can recognize it with only a few notes played.
Billie Joe Armstrong. The Green Day frontman isn't always recognized for his guitar-playing prowess, but he's well-respected in several music circles.
Joe Satriani. As the main guitar player for Alice Cooper, Mick Jagger, and more, Satriani is a highly-coveted musician who can transform a song.
Mick Taylor. As a former member of the Rolling Stones, this Englishman understands rock music like the best of them.
Neil Young. As an accomplished songwriter, fans of this folk music legend often forget how skilled he is on the guitar.
Dimebag Darrell. Dimebag Darrell is hands down one of the best guitarists in the metal genre.
Peter Green. The English blues-rocker Peter Green is best known for his work with Fleetwood Mac.
Dick Dale. With his trusty Fender Stratocaster, Dick Dale is the king of surf rock.
• • •
Want to Play Like a Top Guitarist?
Well, there you have it—thirty-seven absolutely incredible guitar players. If you just started playing, hop on YouTube and watch these guys play their hearts out. Then, sign up for some online lessons, learn songs, and become a guitar legend yourself.
• • •
References:
Michael Dwyer, "Six-string trailblazer: is Jimi Hendrix the greatest guitarist of all time?," as published here https://www.smh.com.au/culture/music/six-string-trailblazer-is-jimi-hendrix-the-greatest-guitarist-of-all-time-20200904-p55sdb.html
Rolling Stone, "Readers' Poll: The 10 Best Jimi Hendrix Songs," as published here https://www.rollingstone.com/music/music-lists/readers-poll-the-10-best-jimi-hendrix-songs-19559/
Jack Hamilton, "Why Prince May Have Been the Greatest Guitarist Since Hendrix (and Why That Shouldn't Seem Like a Surprise)," as published here https://slate.com/culture/2016/04/why-prince-was-the-greatest-guitarist-since-jimi-hendrix.html
Brian Hiatt, "B.B. King: How I Got My Sound," as published here https://www.rollingstone.com/music/music-news/b-b-king-how-i-got-my-sound-35759/
Steven Rosen, "Van Halen – the 1978 interview," as published here https://www.loudersound.com/features/eddie-van-halen-the-1978-interview
Josh Gardner ""Everybody Wants To Be a Lead Player, But If You're a Working Musician, 95% of it is Rhythm": CORY WONG"" as published here https://guitar.com/features/interviews/cory-wong-motivational-music-for-the-syncopated-soul/
Image credits:
Jimmy Hendrix image: Steve Banks, CC BY-SA 4.0, via Wikimedia Commons; B.B. King image: Werner100359, CC BY-SA 3.0, via Wikimedia Commons; Pat Metheny image: Dorota Koperska Photography, CC BY-SA 4.0, via Wikimedia Commons; Wes Montgomery image: Photo first published by Gibson. According to NPR, the photo was taken by Chuck Stewart., Public domain, via Wikimedia Commons ; John Mayer image: Stephen Eckert, CC BY 2.0, via Wikimedia Commons; Van Halen image: Carl Lender, CC BY 2.0, via Wikimedia Commons; Brian May image: Raph_PH, CC BY 2.0, via Wikimedia Commons; Pete Townshend image: Heinrich Klaffs, CC BY-SA 2.0, via Wikimedia Commons; Chuck Berry: Universal Attractions (management), Public domain, via Wikimedia Commons; George Benson image: Raúl Ranz, CC BY 2.0, via Wikimedia Commons; Stevie Ray Vaughan image: Scott Newton –, Public domain, via Wikimedia Commons; Jeff Beck image: Mandy Hall, CC BY 2.0, via Wikimedia Commons; Jimmy Page image: Jim Summaria, http://www.jimsummariaphoto.com/, CC BY-SA 3.0, via Wikimedia Commons; Chet Atkins image: Gretsch Guitar News, Public domain, via Wikimedia Commons; Prince image: penner, CC BY-SA 3.0, via Wikimedia Commons; Eric Clapton image: Ericclapton007, CC BY-SA 3.0, via Wikimedia Commons; Django Rheinhardt image: Jeromie Blum, CC BY-SA 4.0, via Wikimedia Commons; George Harrison image: Steve Mathieson, CC BY-SA 2.0, via Wikimedia Commons; Keith Richards image: Raph_PH, CC BY 2.0, via Wikimedia Commons; David Gilmour image: Jimmy Baikovicius from Montevideo, Uruguay, CC BY-SA 2.0, via Wikimedia Commons; Steve Vai image: Vento di Grecale, CC BY-SA 2.0, via Wikimedia Commons; Duane Allman image: Ed Berman, CC BY 2.0, via Wikimedia Commons; Cory Wong image: Jazzman, CC BY-SA 4.0, via Wikimedia Commons; Steven Van Zandt image: Takahiro Kyono from Tokyo, Japan, CC BY 2.0, via Wikimedia Commons.
---