The Fender Stratocaster is an iconic piece of rock 'n roll history, forever changing music when Leo Fender introduced it in 1954. Today, those magnificent Strats continue to be played by some of the best guitar players in the world.
But they've also been repurposed into an affordable version perfect for beginners. Say hello to the Squier Stratocaster. The same great aesthetics as a Fender at a fraction of the price.
That's actually the very first electric guitar I bought — nearly 25 years ago! — in a classic red wine finish. I cut my chops on it for four years before becoming a big-time gearhead and swapping out guitars like clothes. (That's not an exaggeration! I think I once purchased and sold four guitars in one year!)
I owe a lot of gratitude to that guitar. It sounded good enough to hook me on the guitar and felt great in my arms. Today, I always recommend beginners to start on a Squier Strat. You simply cannot beat it.
Squier also makes other great electric guitars based on popular Fender models. In addition to checking those guitars out, you can also learn some history between Fender and Squier in this Squier guitar review article we recently published.
In this article, though, we're solely focused on the Stratocaster models by Squier. But don't worry,  there are some good ones! Here's a quick look at the beauties we will review here:
Squier Stratocaster Full Reviews
I'm going to delve into the pros, cons, and nitty-gritty of all the popular Fender Squier Stratocaster models on the market today. By the time you're through with these reviews, you should have a general direction on which model you think you should ultimately purchase.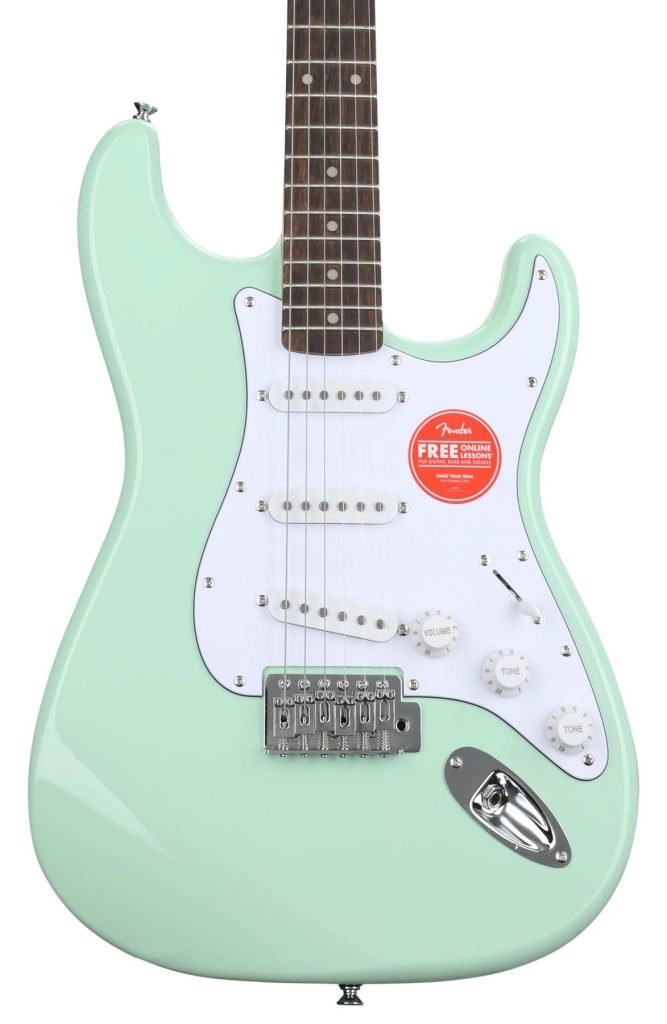 If I could only recommend one guitar to a beginner, it would definitely be the Squier Affinity Stratocaster. It's no surprise this is the company's best-selling guitar.
First, the price on this guitar is super affordable. It's not Squier's cheapest guitar, but I certainly wouldn't hesitate to recommend it to a beginner — even if there's a chance that they give up playing guitar one day.
Secondly, I love all the color options. Let's be honest, when you're a new guitar player, you don't have much to go off when shopping for your first axe. Sure, you want something that sounds good — but do you even know what good tone truly sounds like? 
You won't figure that out until you're more of an experienced player. However, you definitely know what your aesthetics preferences are. So, finish colors are a big deal. The Affinity Series offers six different finishes, including a super-cool looking Surf Green color.
Pros
Value guitar. At this price, there isn't a better deal.
Great color options. From Surf Green to classic 3-Color Sunburst, the Affinity series has an option for everyone.
Smooth neck. The company designs its necks for comfort, which is great for beginners.
Cons
Only 21 frets. Other Squier Strats go up to 22 frets.
While the Affinity is as close to a Squier standard Stratocaster as it comes, there are a couple other versions, including an option that substitutes the third single-coil pickup for a humbucker, and one model that features two humbuckers.
Some owners of this Strat have been picky about the setup out of the box. Frankly, if I'm purchasing a guitar in this price range, I'm going to take what I get. If you're a pure beginner, you shouldn't notice anything too jarring about the quality of this guitar's setup. If you're more of an experienced player, you probably don't even need to buy this guitar in the first place.
If you're totally stumped on where to start with a beginner guitar, go to your local guitar shop and pick up a Squier Affinity Strat.
• • •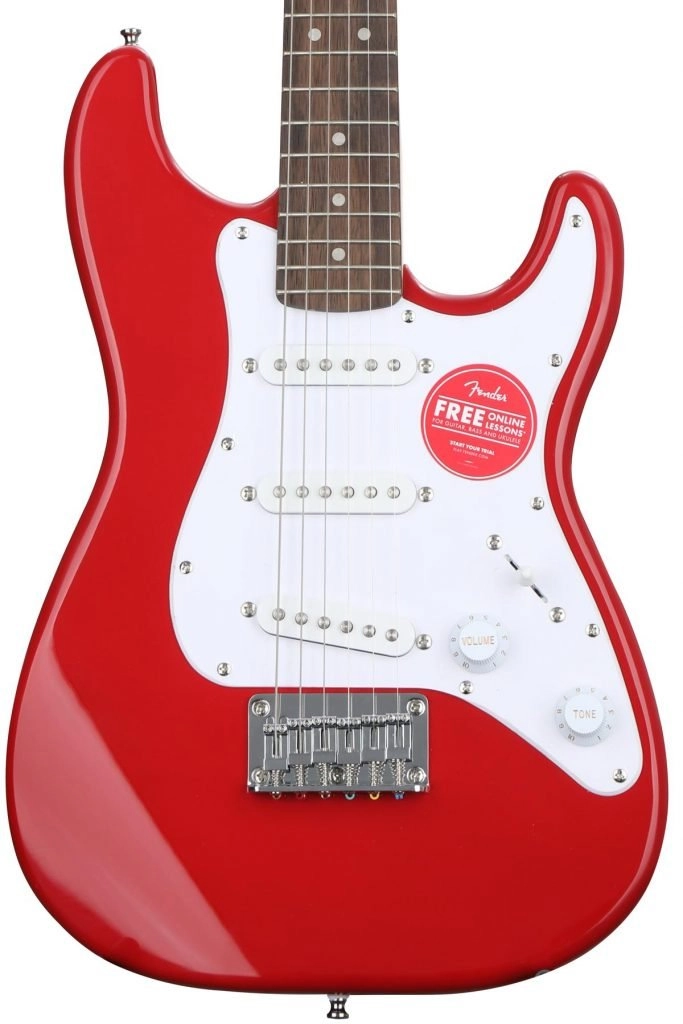 Another highly popular model is the Squier Bullet Stratocaster. This is a common Christmas gift for children who inquired about learning to play the guitar because it's so affordable. In fact, most people could afford to buy two!
In terms of tone and sound, I'll say the Bullet Stratocaster is "good enough." You're not going to get the cleanest of cleans. It's not going to be terribly loud. But if you're learning what a G chord is or how to play a D minor blues scale, this guitar can handle it. The idea is that you'll become proficient enough that you'll then be OK with investing more money into an upgraded guitar that sounds and feels better.
The main thing I noticed about the Squier Bullet Strat (also referred to as a Mini Strat) is that it's really small. If you're a bigger player, I would again recommend the Affinity Series for a more normal feel. The Bullet may feel too small. But if you just need something to practice on while traveling, this is a great option because of its size.
Pros
Small body. Perfect for guitar newbies and those who have smaller arms and hands.
Three fun colors. That includes Dakota Red and a cute Shell Pink — perfect for young girls learning the guitar!
Budget price. This is the most affordable Squier Strat on our list.
Cons
Cheap components. This is common with Squier, but the Bullet series uses the worst components out of all series.
There tend to be more female owners of this Strat because of its size, so keep that in mind if you're looking to buy a beginner guitar for a woman in your life.
Squier also makes an alternative version of the Bullet Stratocaster that features two single coil pickups and a humbucker. It retails for the same price, but only comes in a brown sunburst or a black finish.
• • •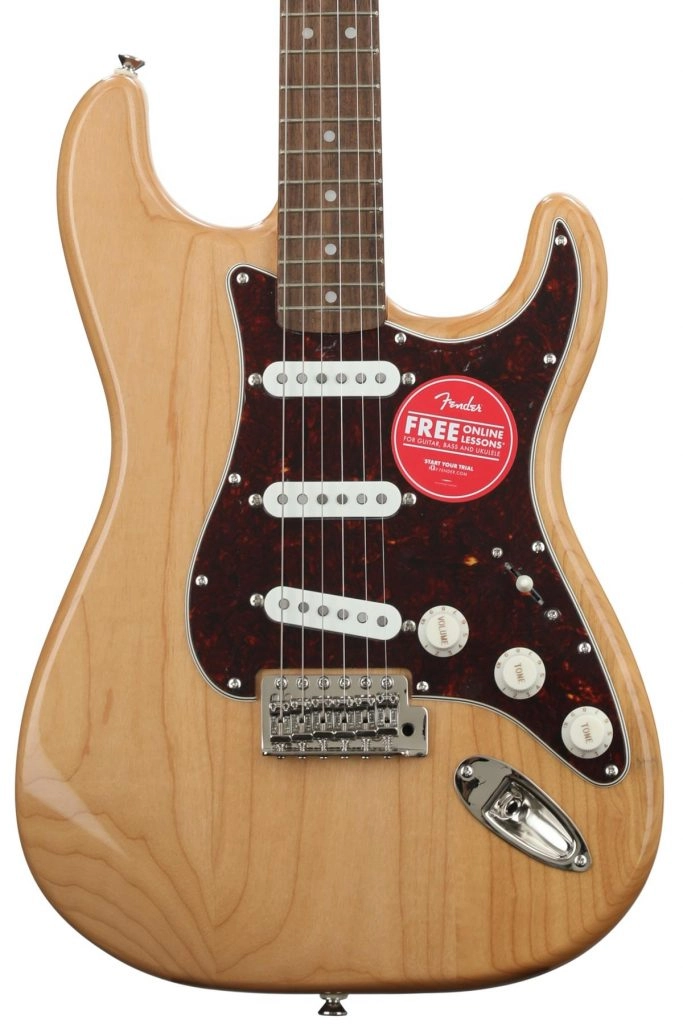 Squier isn't known only for bottom-of-the-budget Strats. The company has also introduced some slightly higher-end models, like the Squier Classic Vibe Stratocaster, to entice Affinity and Bullet players to upgrade one day.
And you know what? It wouldn't be a terrible upgrade. There's definitely something about this guitar that feels premium, which is rare to say when describing a Squier.
The Fender-designed single-coil Strat pickups offer that poppy sound that's synonymous with Strats. And with a five-switch blade, plus a tone knob, you can really dial in different tones to your liking.
I played one of these guitars recently and found the C-shaped neck to be extremely comfortable.
Now, this guitar isn't perfect. It is mass-produced, so you may deal with quality control issues. 
It's a consistent complaint that the tremolo isn't that good and can easily throw all of your strings out of tune — so use sparingly! One owner recommended taking out one of the three vibrato springs for better control and intonation.
Pros
Very good tone. For an entry-level guitar, the Classic Vibe sounds great.
Quality guitar. It's still mass-produced, but you can tell this model is manufactured more carefully.
C-shaped neck. Your left hand just feels at home holding this guitar.
Cons
Cheap tremolo. It'll throw your strings out of tune.
But when all is said and done, I would also recommend this guitar to a beginner with a slightly higher budget.
If you really dive into the intricacies of tone, Strats from the Classic Vibe series are probably the best overall. Your tone, though, also depends on what type of amp you're going to plug this guitar into. For a slightly higher quality amp, I'd go with a Fender Champion.
This particular model mimics the Fender Strats of the 1970s, but the brand also has a Squier Classic Vibe 50s Stratocaster and a Squier Classic Vibe 60s Stratocaster. There's also an hss Strat and a version for left handed players.
• • •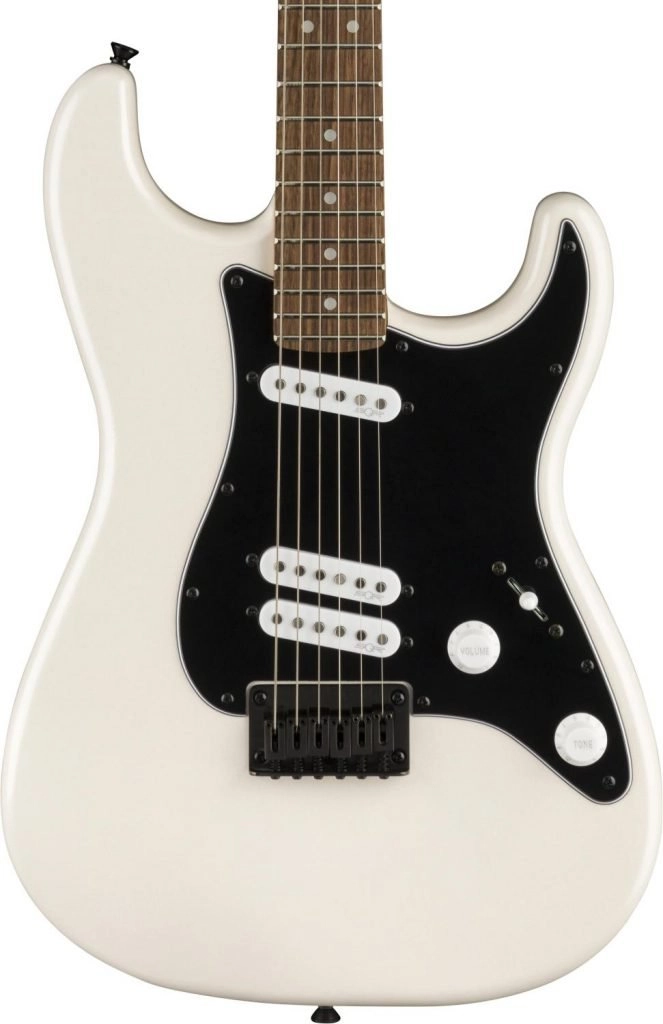 As the company aims to sell more guitars — and upgrades from Affinity and Bullet Squier models — it introduced the Contemporary series. The Squier Contemporary looks and plays as its name suggests: A modern take on the Stratocaster that looks and sounds unique.
The sound starts with the pickup configuration. It still uses three single-coil pickups, but the pickups are angled, which allows you to achieve some unique sounds. Add in the five-way switch, and you can really dial in some interesting sounds.
The next thing that stands out is the roasted maple neck. It's darker, but also more responsive when running scales and licks. Combined with the jumbo frets, you can really bend out big solos on this guitar.
Pros
Cool design. It's clear the company wanted to stand out with this model.
Two great finishes. These modern finishes really look great.
Unique sound. You get the poppy Strat sound, but there's a slight twist on it.
Cons
Not for everybody. The tone and look of this Strat may be too much for some players.
In terms of looks, not everyone is going to be a fan of the dark headstock, but it's not a huge deal. I actually like how it pairs with the die-cast sealed tuners.
If I had to pick between the two finishes, I'd go with the sunset metallic over the pearl white, but that's purely a personal preference.
The Squier Contemporary series also offers a guitar with dual-humbucker pickup system that's quite powerful. The Floyd Rose tremolo is average, but gets the job one.
• • •
Squier Strat Pack
One of the more popular items by Squier is its Strat Pack, which includes a mini practice amp, case, strap, and, of course, a Squier Stratocaster. This pack is a great value and is actually one of the best beginner electric guitar packages you can buy right now.
• • •
FAQ
Still have more questions about Squier Strats? Well, you're in luck, because I have the answers! As always, if you have more questions, feel free to reach out to us.
Are Squier Strats any good?
Squier Strats are good guitars for beginner players because of their solid tone, comfortable playability and budget price. Even better, there are a handful of different options and color finishes, so any new player can find the option that best fits their personality.
Even more experienced players can still appreciate these guitars. If you need a smaller guitar for traveling, for example, the Mini Strats are compact and light enough for practicing on the road.
Which Squier Stratocaster is best?
The Squier Affinity Stratocaster is the best Squier guitar, according to many guitar experts, but that is a completely subjective opinion. I prefer the Affinity Stratocaster because its quality is consistent and the price is extremely affordable. If a beginner asked me which model to ultimately purchase, I would — hands down — recommend the Squier Affinity Strat.
That being said, don't limit yourself to an opinion. Thankfully, many guitar shops carry most Squier Strat models. Go into your local shop and find one that 1) feels the most comfortable, and 2) sounds the best. Having said that, this is a guitar that I wouldn't hesitate to purchase online without even testing it!
Is the Squier Stratocaster good for beginners?
The Squier Stratocaster is good for beginners because it's…
Affordable. This is the most important part of purchasing your first guitar. You don't need something super expensive in the event you decide to give up the hobby. Buy something cheap and play it until it breaks.
Comfortable. This is also important for beginners. If a guitar feels too heavy or too big in your hands, you're going to be discouraged when you practice. This guitar is small and light enough for easy practice sessions.
How much is a Fender Squier Strat worth?
A Fender Squier Strat is not worth much money. If you spend about $300 on a Squier Strat and play it for a year or two, you might be able to recoup $150 to $180 of the cost, depending on its condition.
However, there are some rare Japanese Squier Stratocasters from the 1980s that can fetch $500 to $800 on the secondary market.
What is the key difference between a Squier and a Fender Stratocaster?
The main difference between a Squier and a Fender Stratocaster is the quality of the components and construction (1). While Fender also makes mass-produced electric guitars, the company does so in Mexico, where manufacturing quality is higher. Squier Stratocasters are manufactured overseas in China and Indonesia, where there are more quality control issues.
More expensive Fender Stratocasters are made by hand in the U.S. Those guitars are considerably more expensive, but are some of the best-sounding Strats on the planet. Squier doesn't make any Strats in the U.S. — all of the brand's guitars are made in factories.
How long is a Squier Stratocaster?
The length of a Squier Stratocaster can vary by model. The Squier Mini Strat, for example, has a scale length of 22.75 inches, which is considered a ¾ model. That's significantly shorter than the scale length of the Squier Affinity Stratocaster, which is 25.5 inches.
Scale length speaks to the length of the fretboard and dictates the number of frets. The Mini Strat has 20 frets, for example, while the Affinity Strat has 22. Neither is long enough to cover two octaves.
• • •
Grab that Squier Squier Strat Today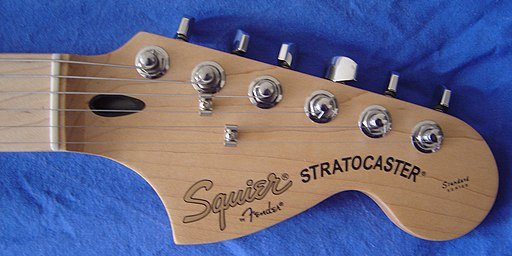 As you can see, the Squier Stratocaster is a super-popular guitar that's perfect for musical noobs. Better yet, you have plenty of options to really find one tailored to your liking. Make sure to also check out other non-Fender Strat-style and copy guitars.
Once you settle on the Strat that's right for you, start researching the best practice amps to plug into. Next, commit to a practice schedule, take some guitar lessons, and you'll learn some easy songs and riffs in no time.
Happy playing!
• • •
References
Justin Beckner, "Is a Fender Stratocaster Really Superior to a Squier?," retrieved from https://www.ultimate-guitar.com/articles/features/is_a_fender_stratocaster_really_superior_to_a_squier-82902
Image Credits
Squier Stratocaster Red Hot Chili Peppers image: risastla, CC BY-SA 2.0, via Wikimedia Commons; Squier Stratocaster headstock: David.Monniaux, CC BY-SA 3.0, via Wikimedia Commons.