I love a good movie like the next guy.
And as a long-time guitar player, you can probably assume I've seen my fair share of films featuring famous guitarists and rock groups, from fictional masterpieces to in-depth documentaries. Spoiler alert: I love them all!
Yes, there are some great — and hilarious — classic guitar-focused flicks to enjoy (I'm looking at you, Blues Brothers!). Still, there are also a handful of fantastic guitar documentaries that are truly eye-opening.
So, if you're looking for some recommendations about great guitar movies, like School of Rock, and documentaries, you've come to the right place. Let's feed every guitarist's cinematic appetite and get to it!
13 Best Movies About Guitarists
In no particular order, these are my favorite guitar movies:
Movies about Guitarists And Rock Band Groups
These are primarily fictional movies that are entertaining and motivating to watch as a guitar player. And yes, you'll find a movie about Spinal Tap on this list!
Crossroads (1986)
Rotten Tomatoes Score: 75%
What's it about? A young guitar student and an old-time blues player tour venues in the Deep South searching for a "lost song" written by blues legend Robert Johnson.
Why guitarists love it: In addition to learning a lot about Robert Johnson — one of the most innovative bluesmen of all time — there are two big guitar names in Crossroads: Classical guitarist William Kanengiser and certified guitar legend Steve Vai. The movie's climax features Steve Vai and the protagonist Eugene Martone (played by Ralph Maccio) in a "guitar duel," in which Vai plays what's arguably the greatest guitar solo in cinematic history.
Does Ralph Maccio really play the guitar? Maccio is a hobbyist guitar player but a professional player dubbed over his epic solos and performances in Crossroads.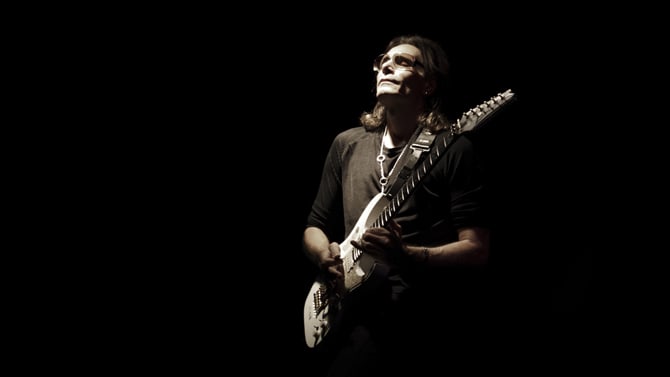 • • •
Sweet and Lowdown (1999)
Rotten Tomatoes Score: 77%
What's it about? This drama is more of a love story, but it centers around Emmet Ray,  a highly talented jazz guitarist played by Sean Penn. He falls for a mute woman, which adds a fun, quirky element to the storyline. Like any Woody Allen film, the dialog is fast and sometimes a bit of a head-scratcher. Nonetheless, it's a pretty entertaining film.
Why guitarists love it: This movie is clearly inspired by the personality — and great jazz guitar player — Django Reinhardt. The solos (obviously dubbed, as Sean Penn isn't much of a guitar player) are incredible and resemble the swinging jazz music you'd hear in the 1930s.
• • •
The Guitar (2008)
Rotten Tomatoes Score: 33%
What's it about? This independent film that premiered at Sundance is about everything wrong — losing her job, losing her boyfriend, and being diagnosed with terminal cancer — that happened to the main character, Melody. To cope, she goes on a spending spree to pursue her dream as a guitar player and performer.
Why guitarists love it: Honestly, they probably won't. Sure, there is some decent guitar playing, but it's not really the story's point. Not all of these can be winners!
• • •
This Is Spinal Tap (1984)
Rotten Tomatoes Score: 95%
What's it about? A classic "mockumentary" about the British hair rock group Spinal Tap and the band's struggle to climb the charts again. Packed with countless hilarious moments, anyone who has played rock music will absolutely love it. Some say the writer partly based some of the band's behavior on Led Zeppelin.
Why guitarists love it: "This one goes to 11." By far, the most iconic scene from "This is Spinal Tap" sums up everything you need to know about sex, drugs, and rock 'n roll
• • •
Coco (2017)
Rotten Tomatoes Score: 97%
What's it about? A naturally-gifted guitarist, Miguel, goes on a journey — through the Land of the Dead — to discover more about his family's history and connection to famous guitarists Ernesto de la Cruz, to determine how to reverse his family's decades-old ban on pursuing music professionally.
Why guitarists love it: For guitar-playing dads like me, it's one of the few age-appropriate movies centered around music and, specifically, the guitar. Like any good Disney-Pixar movie, there are some great life lessons along the way. And the musical numbers are REALLY good.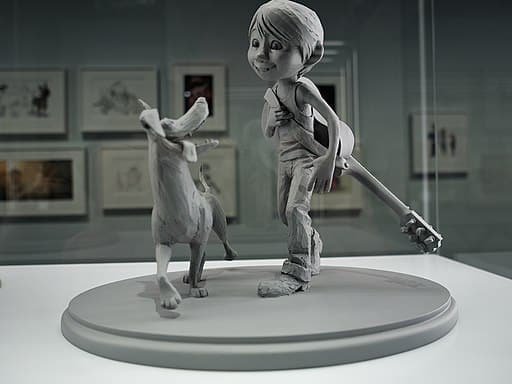 • • •
Singles (1992)
Rotten Tomatoes Score: 79%
What's it about? Featuring the music of Pearl Jam, the movie perfectly depicts the Seattle grunge scene of the early 1990s while mixing in a fun love story in the process. The storyline isn't forced, and I actually enjoyed it.
Why guitarists love it: Singles is a movie for grunge-loving guitar players with an affection for alternative music culture. As a bonus, Alice in Chains, Pearl Jam, and Soundgarden all make cameos.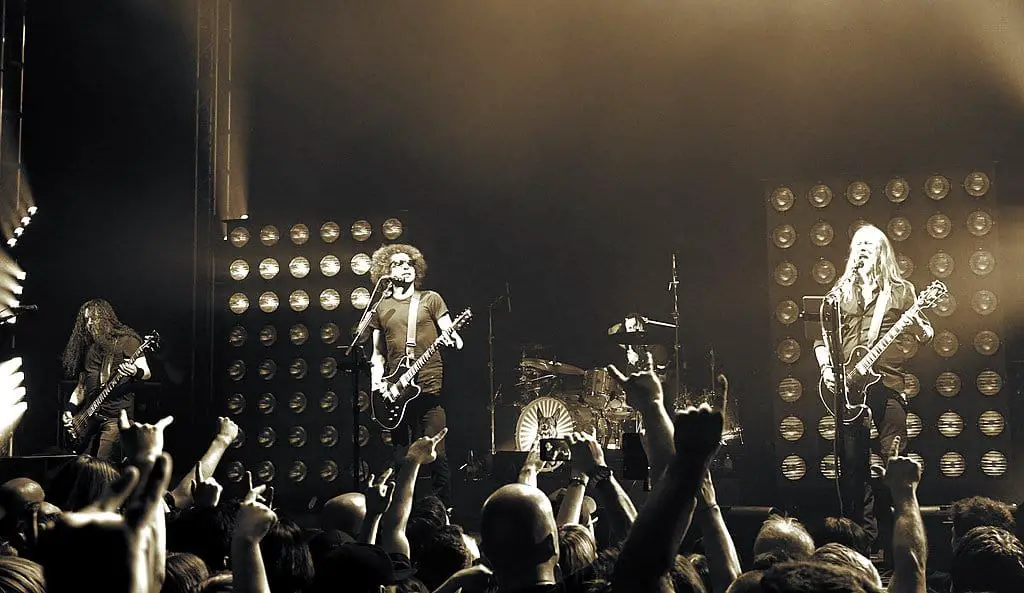 • • •
Guitar Documentaries
You're definitely going to learn a thing or two from this impressive list of guitar documentaries.
Jimi Hendrix (1973)
Rotten Tomatoes Score: N/A
What's it about? Filmed three years after Hendrix's death, this must-see documentary includes behind-the-scenes concert footage, exclusive interviews, and mind-blowing practice sessions that genuinely highlight the genius of the world's greatest guitar player. 
Why guitarists love it: If you love guitar, you understand the importance of Jimi Hendrix. No other documentary includes such intimate moments of Jimi's guitar-playing greatness. You'll be left in awe and feeling not worthy of ever picking up a guitar again.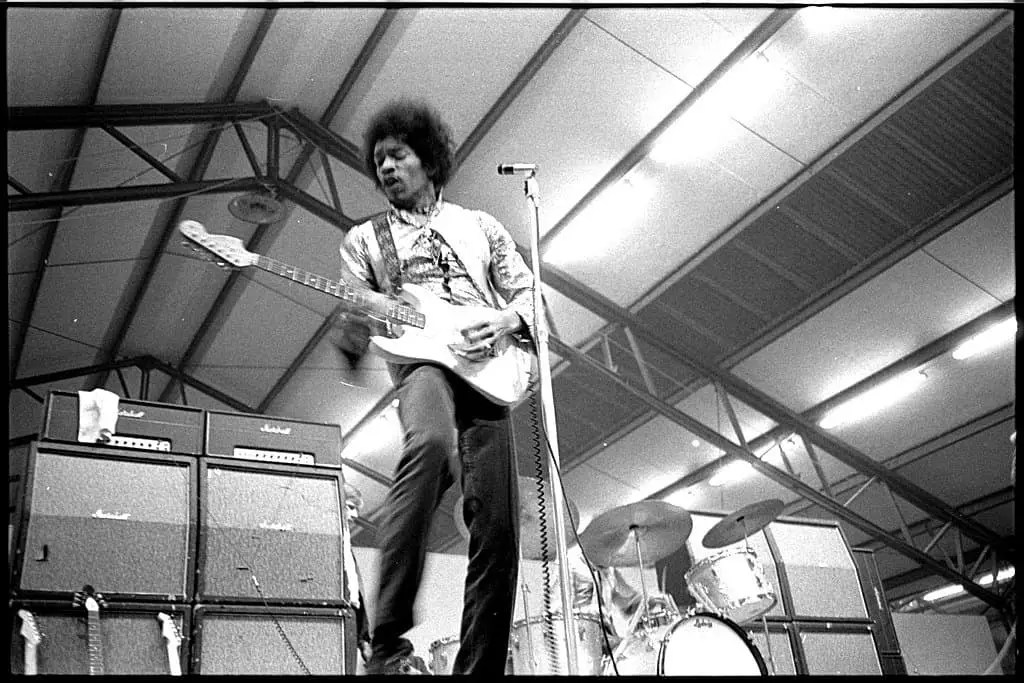 • • •
ZZ Top: That Little Ol' Band from Texas (2019)
Rotten Tomatoes Score: 100% (<10 reviews)
What's it about? This is the definitive story on everyone's favorite blues-rock group from the early 1970s. There was such a vibrant music scene in the 1970s that a group like ZZ Top could easily fall into the background. This Netflix documentary does a great job explaining why that didn't happen.
Why guitarists love it: There may not be a better history of ZZ Top. You'll finish this documentary with a much greater appreciation of the bearded blues-rock group and enjoy some great music along the way.
• • •
Paco de Lucía: La Búsqueda (2014)
Rotten Tomatoes Score: N/A
What's it about? I honestly hadn't heard about Paco de Lucía until watching this Spanish documentary. And there's a good chance many of our readers haven't heard of him, either. But once you watch this incredible documentary, you'll wonder why the man is somewhat of a mystery in the United States and beyond.
Why guitarists love it: Paco de Lucía was an incredible flamenco player who was the definition of raw talent. It's hard to believe someone of this caliber simply picked up the instrument as a child and understood how to play it so well. There are also plenty of invaluable anecdotes and exciting commentary of his years playing with Al Di Meola, John McLaughlin, and Chick Corea that are pure gold.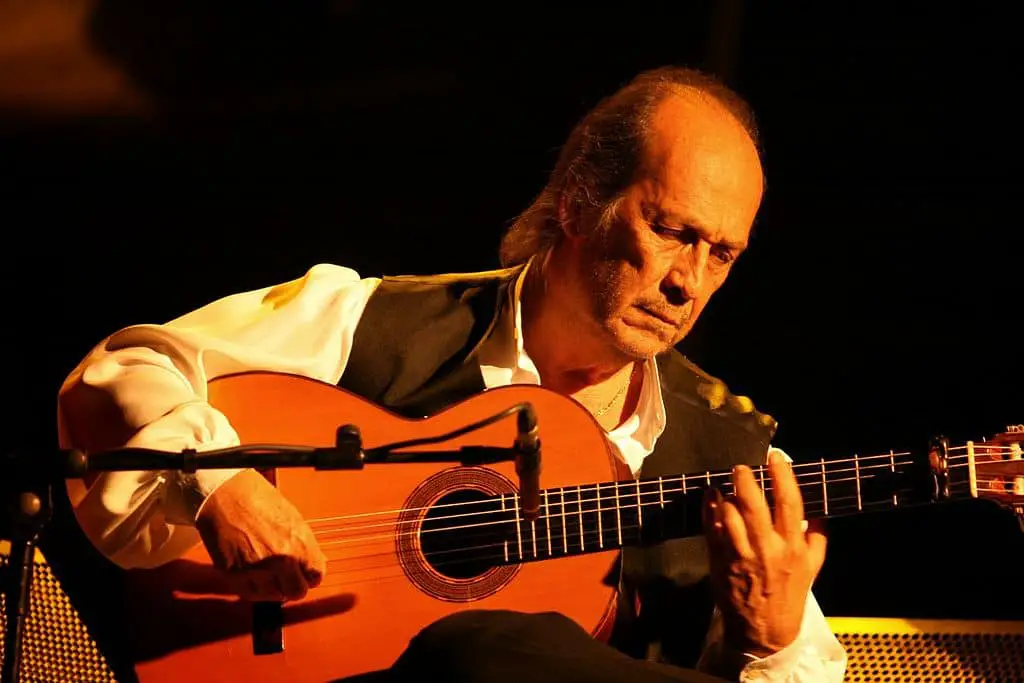 • • •
Turn It Up! (2014)
Rotten Tomatoes Score: N/A
What's it about? Want to know everything there is to know about the electric guitar? Then check out this easy-to-watch documentary called Turn It Up! Hosted by Kevin Bacon (who's quite the performer and guitar player!). You can learn the history of the electric and what makes it such an appealing instrument.
Why guitarists love it: There are plenty of cameos from great players, including B.B. King, Slash, Les Paul, Robby Krieger, John 5, Paul Stanley, Skunk Baxter… the list goes on. And all of them show off their playing skills to the extreme.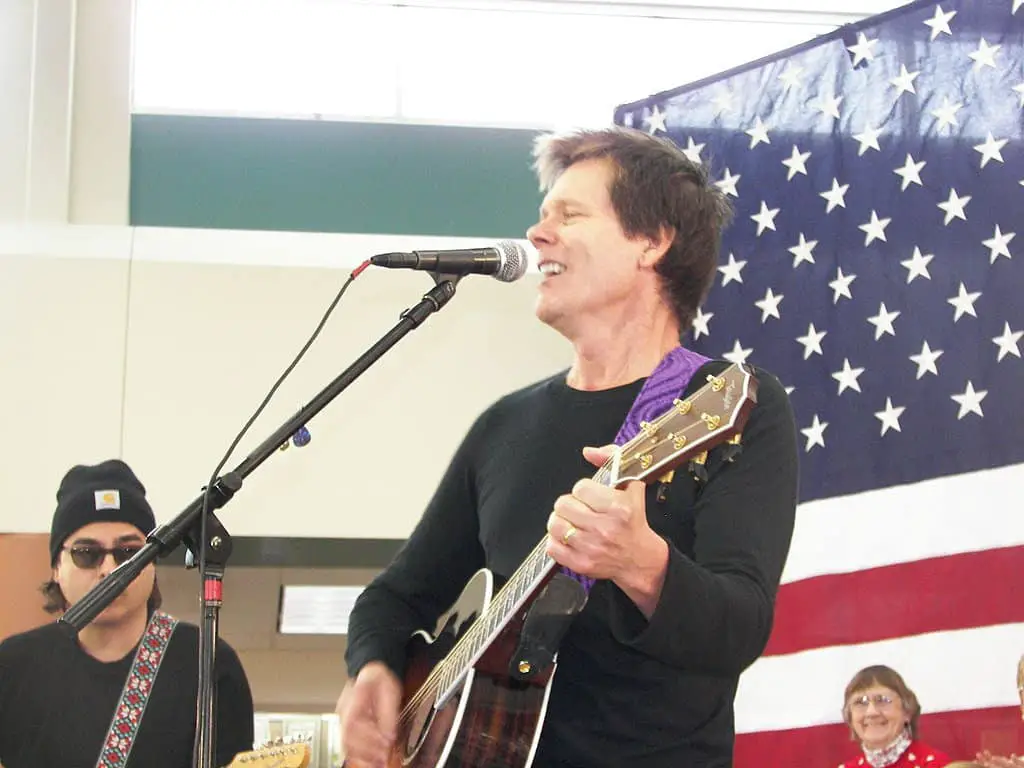 • • •
Movies Featuring the Guitar
Let's have some fun here. All of these movies feature guitar but may not necessarily be considered a guitar movie.
Blues Brothers (1980)
Rotten Tomatoes Score: 73%
What's it about? After being released from prison, Jake gets together with his brother Elwood to reunite their professional band and raise money for their childhood orphanage, which owes $5,000 in back taxes and risks being shut down. Blues Brothers has plenty of hilarious run-ins along the way, which make paying the money more challenging.
Why guitarists love it: There are plenty of memorable gigs that the John Belushi-Dan Aykroyd duo play, and the music is FANTASTIC. Also, there are plenty of cameos, including John Lee Hooker, Aretha Franklin, and more. If you love blues music, you'll love Blues Brothers.
• • •
School of Rock (2003)
Rotten Tomatoes Score: 92%
What's it about? Dewey Finn, played by Jack Black, is kicked out of his rock band and feels like his chances of becoming a rocker are over for good. That's until he pretends to be his brother when accepting a substitute teaching job to make some extra money. He quickly finds out there are some legitimate talents in his private school classroom, and he sneakily turns them into a mind-blowing rock band — obviously, with some hilarious hijinx along the way.
Why guitarists love it: Yes, there are some great guitar solos throughout School of Rock, but the guitar players really appreciate the Jack Black portrayal of a middle-aged man who wants to be a rock star. In a weird way, it's a motivating movie not to give up on your musical dreams. And, yes, Jack Black plays some of the movie's solos.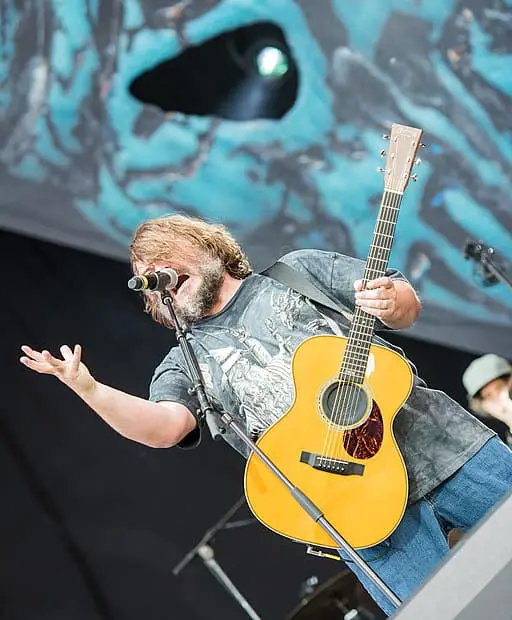 • • •
Rock Star (2001)
Rotten Tomatoes Score: 53%
What's it about? A salesman who casually performs in a rock band at night has his world flipped upside down when he gets kicked out of his 1980s rock group and then receives a call from his favorite band, Steel Dragon, to become their lead singer. The movie follows Chris Cole's (Mark Wahlberg) journey to stardom — and the dangers that come with it.
Why guitarists love it: Any guitar player who has dreamed of playing in a major rock group will love this music, despite some cheesy moments.
• • •
Image Credits
Steve Vai image: Fermatta Escuela de Música, CC BY 2.0, via Wikimedia Commons; Dante and Miguel (Coco movie characters): Jl FilpoC, CC BY-SA 4.0, via Wikimedia Commons; Alice in Chains image: aliina s., CC BY 2.0, via Wikimedia Commons; Jimmy Hendrix image: Photographer: Ary Groeneveld (?) ; Auteursrechthouder: Gemeente Rotterdam (Stadsarchief) CC0, via Wikimedia Commons; Paco de Lucía image: JavidBaku, CC BY-SA 4.0, via Wikimedia Commons; Kevin Bacon image: John Edwards, CC BY-SA 2.0, via Wikimedia Commons; Jack Black image: Foto: Stefan Brending.