If you want to know our top pick, here it is: the On-Stage DT8500 Throne with Backrest. You can check its price here.
Do you know how important a guitar stool is to your guitar playing?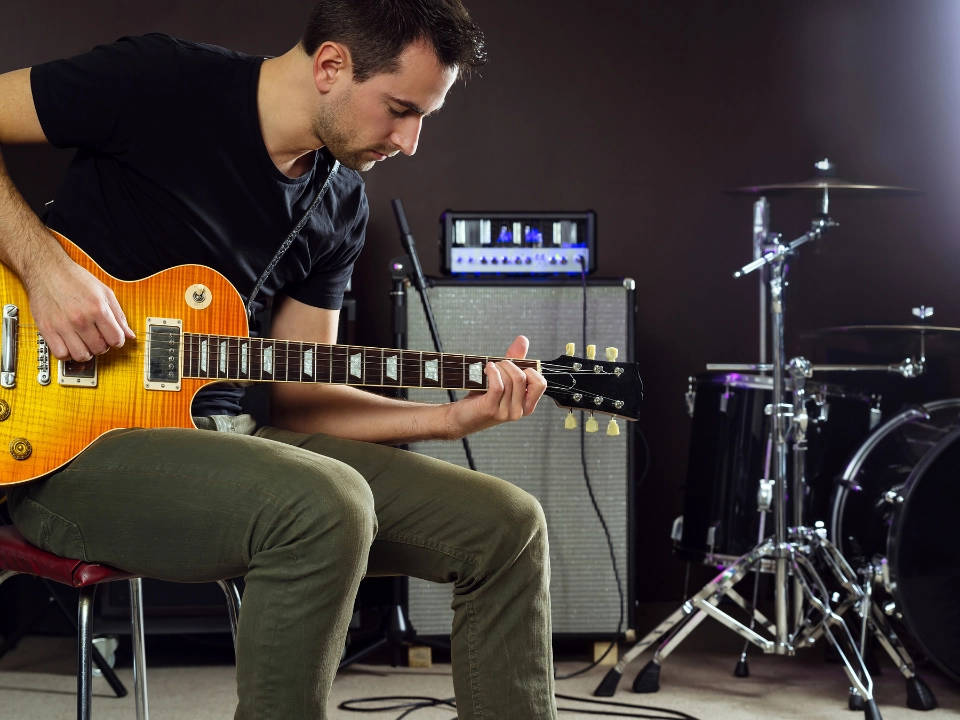 It might not seem like it, since you can play a guitar just about anywhere, but getting the right guitar stool is every bit as important to a guitar player as a piano bench is to a pianist. After more than 20 years playing, I can confirm that the older you get, the more this will ring true.
The first time I visited my chiropractor years ago, the first question he asked was how much my guitar weighed and if I practiced using a stool. At the time I was playing a Les Paul daily and my spine showed it.
From that day forward, we agreed, I would get the very best guitar stool I could afford. I've had a few over the years, but they tend to fall into one of three categories.
You can find the full reviews below, but here's a quick list of the best guitar stools I could find:
Guitar Stools With Hanger
Branded guitar barstools allow you to show your brand loyalty as a showpiece. Not the most ergonomically friendly guitar stools for playing, but, damned if they don't look cool.
The Quest For the Best Guitar Stool: Full Reviews
Guitar stools fall into one of three major categories, depending on where they fall on the functionality vs. aesthetic spectrum. Seats with stands, barstools, and premium guitar thrones.
Let's dive in.
Guitar Stools With Hanger
High up on the functioning scale is the ability to keep your guitar safe when you're not shredding. A guitar stool with a built-in hanger allows you to put your axe down without having to worry about it falling over or otherwise getting damaged.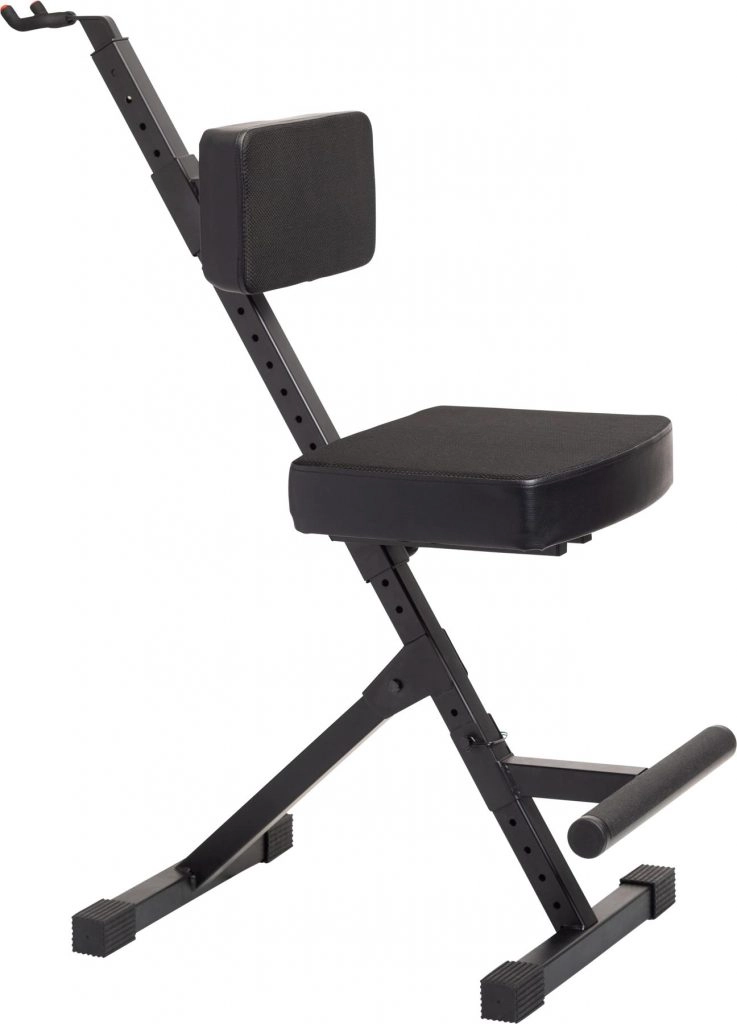 Pros:
Sturdy tube frame.
The backrest, the padded seat, and the footrest are height adjustable.
Fits in with your stage aesthetic.
Cons:
Industrial stage look means you may not want to leave it out.
Takes some time to set up.
Some people report individual units having loose drill holes on the main tube.
The first feature that jumps out at you about the Gator Frameworks Deluxe guitar stool is that it looks like it's built like a tank. It uses the same square tube metal frames and adjustment setups as their instrument stands to steady your posterior for hours of playing.
And at 300lbs of capacity, that's a lot of posterior.
I'll admit, it's not the "prettiest" guitar chair. In fact, the Gator Frameworks Deluxe guitar seat is an industrial utilitarian workhorse that's meant to get practice done. It doesn't spin. You can't roll around the room to grab something. Even adjusting the height of the seat takes work.
The hanger on the back of the backrest (yes, please!) has enough clearance to hang a baritone guitar safely. The hanger is also on the back, which places the guitar hanging there out of the way. You can play electric with your acoustic guitar hanging safely behind you.
All three elements, the backrest, the seat, and the footrest are height adjustable, which means this guitar chair is functional for people of all sizes.
It's a guitar stool that is built to work. And it looks like it.
• • •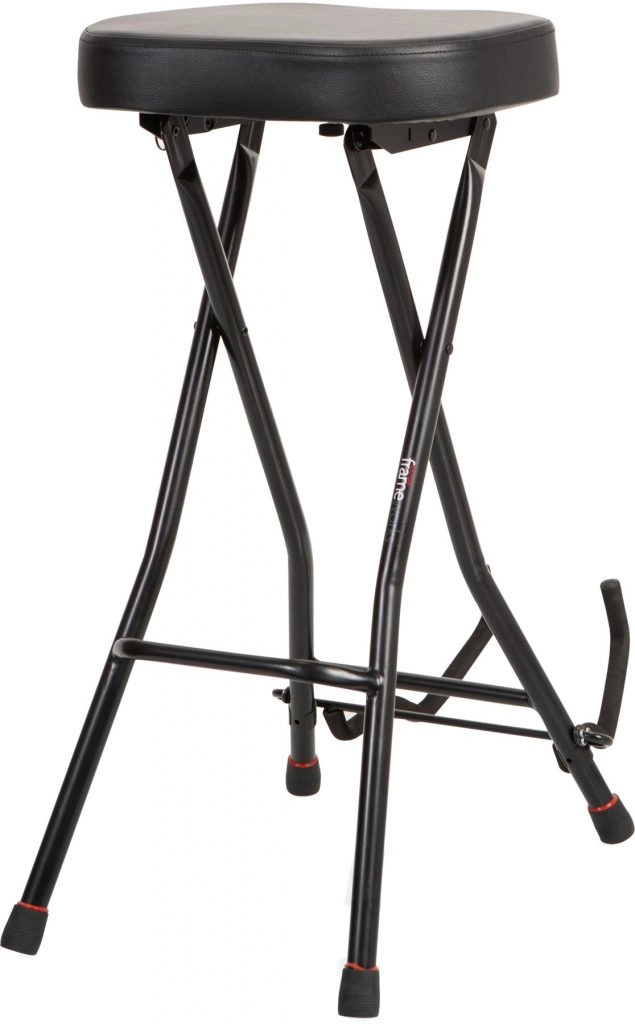 Pros:
Light and easy to transport.
Built in stand for holding one guitar.
Folds away for storage under a chair or sofa.
Cons:
No height adjustment
No backrest.
This is a sturdy, no-frills yet pretty good guitar stool with a built-in guitar stand. Or a stand with a guitar stool built in. Both functions are equally important and integral to the design. It could be marketed either way.
It reminds me of a walking cane my Grandpa had that folded out into a stool. Which is great. If you're gigging, or want something that's going to store out of the way, it'd be hard to go wrong with this guitar stool.
You don't want to use the GFW all day though. It has "gig" written all over it. There's no backrest, height adjustment, or footrest, so it isn't an ergonomic dream. But what it lacks in accouterments it makes up for in the convenience column.
It stands 28" tall and is rated for up to 250lbs of capacity. It's a guitar stool built for the average player, and it shows. If you were a coffee shop that had an acoustic open mic, this would be the chair you'd have available on stage.
It's going to get the job done for a solo guitarist 80% of the time.
• • •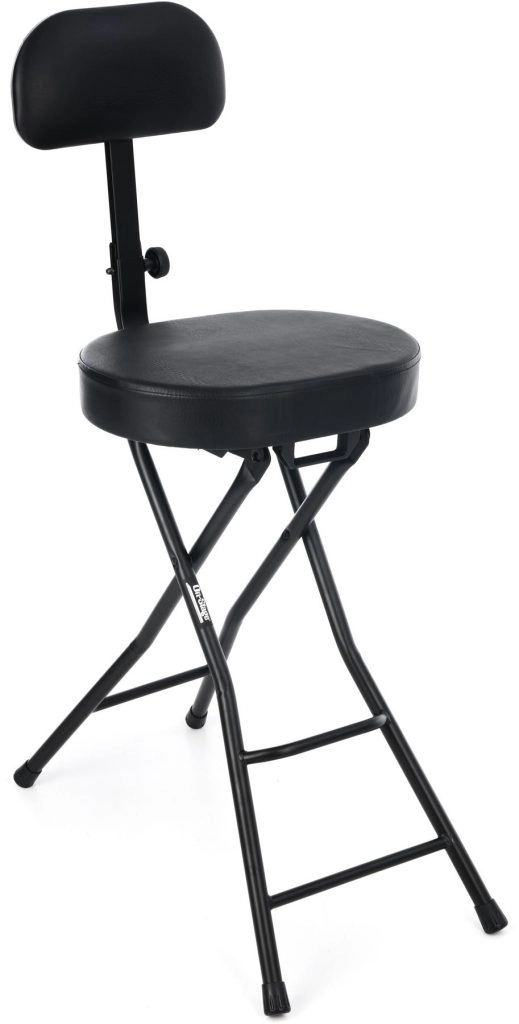 Pros:
Light and easy to transport.
Built in hanger for holding one guitar.
Folds away for storage under an ordinary chair or sofa.
Backrest
Cons:
No height adjustment.
Hanger doesn't have a restraining strap.
The DT8000 is something of a hybrid guitar stool. It's slightly more comfortable than the basic Gator Frameworks model with its extra padded seat and backrest, but the DT8000's portability is similar.
It isn't nearly as sturdy as the deluxe Gator Frameworks model, but it is a much more portable guitar stool. You can sit on it for longer without having to worry about leaving it set up in your living room all the time.
It sits right in the middle of the two in terms of functionality and tries to address most of the drawbacks that either of the other two guitar stools have. In splitting the difference, it doesn't do either's specific function as well.
It's only rated up to 200lbs, so our bigger players are going to want to look elsewhere. Along those same lines, the mechanisms that allow it to fold up easily for storage can be a bit finicky.
Since this guitar stool isn't as robust as the Gator Stands deluxe, the hanger feature isn't as useful. It doesn't serve as a sturdy enough base to trust it with your prize axe. It just left me feeling nervous that I'd knock it over or, more likely my toddler would.
A restraining strap would be appreciated here. Either for the guitar stand or the toddler.
The DT8000 has more comfort than the basic Gator Stands stool, but it's nowhere near as sturdy as their deluxe model. So any comfort gains might be canceled out by the added muscle tension of dropping your guitar.
If you're a fan of this style of guitar stools, take a hard look at the DT8500 a little lower down in the list. Slightly more expensive, but orders of magnitude more robust.
• • •
Guitar Barstools (or Something Similar!)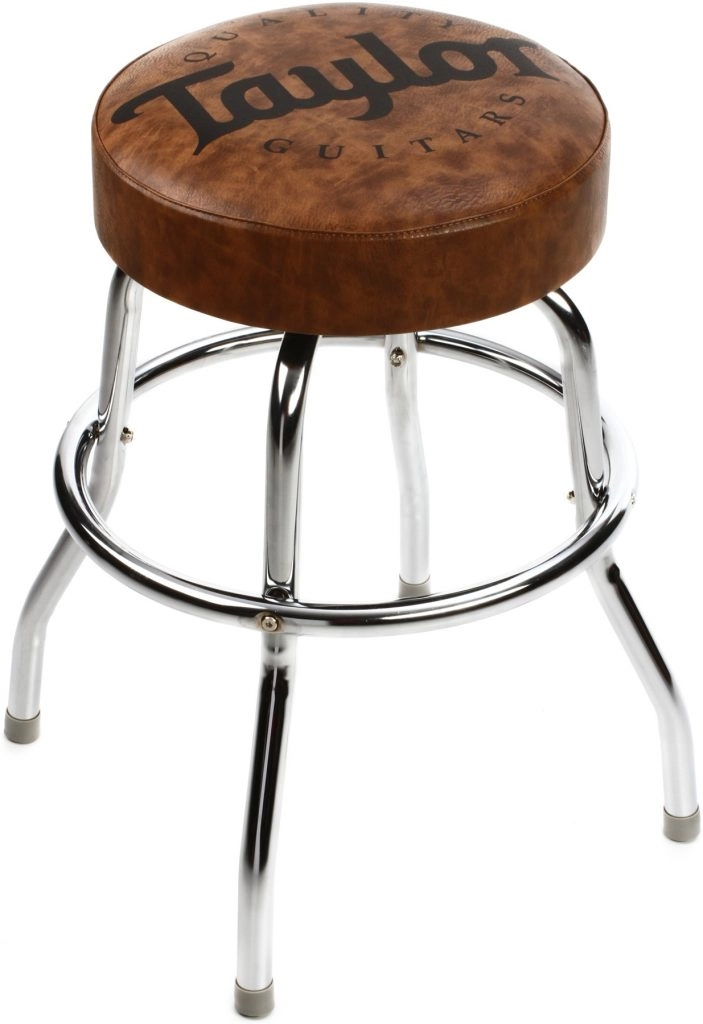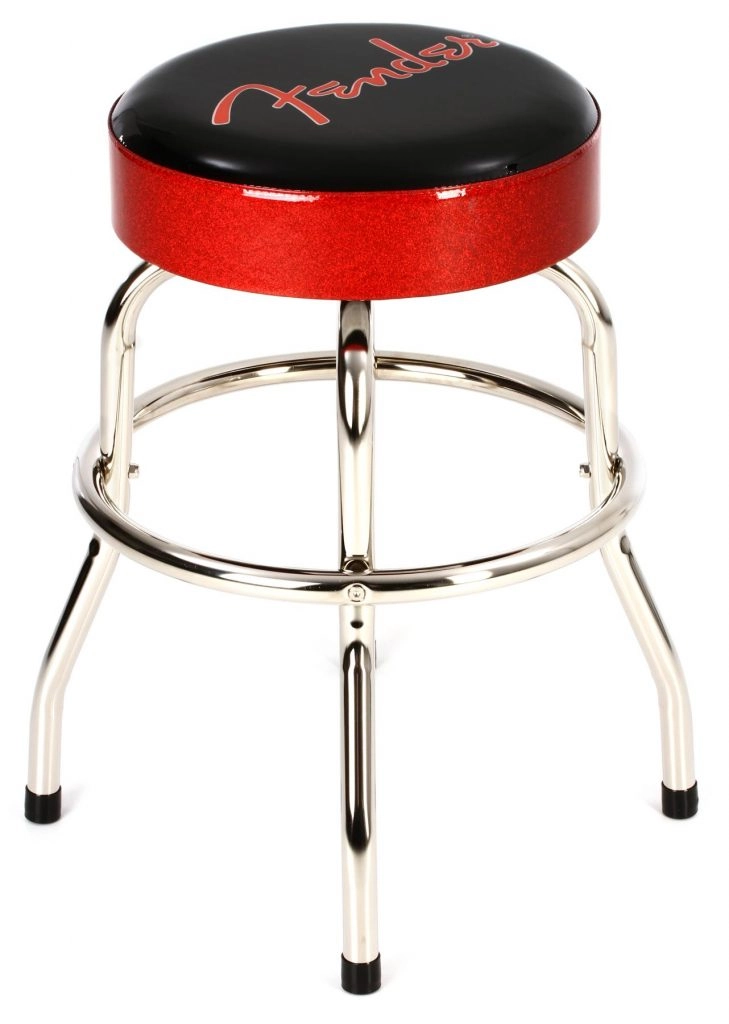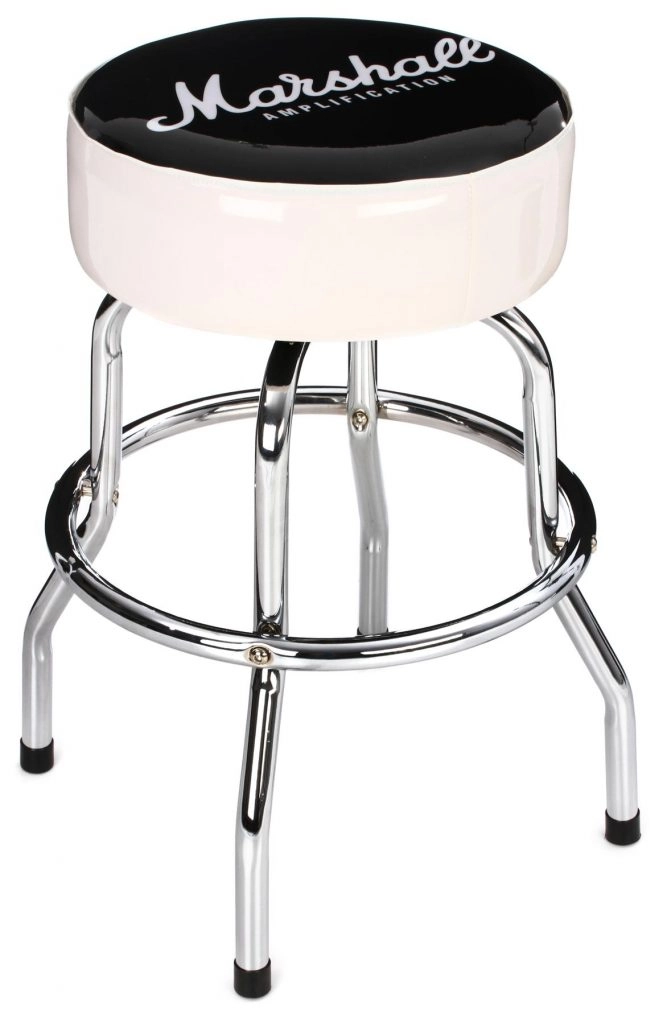 Pros:
These guitar stools simply look cool.
You can get one with almost any brand.
Plush and comfortable to sit on.
Cons
Not the most functional guitar stools.
Swivel can get annoying.
Not adjustable.
Difficult to assemble.
These three 24″ barstools are all basically the same outside the logo emblazoned on the seat. Besides the ones reviewed here, you can find them with virtually any other major brand on them, like Martin and Gibson. When you think of a basic guitar stool, that's what you're getting here.
The issue for players is that a barstool can be an overall good guitar stool, but it's not actually designed for playing guitar. Barstools are designed for helping someone plant their keister, so they can reach their drink. Then easily swivel to the bathroom when the time is right.
You'll notice they aren't the most ergonomic of guitar stools. There's no backrest to lean against meaning you're going to be balancing at all times. When you're playing, you have to lock your feet on the footrest to keep it from swiveling.
Can it be done? Of course. Is it the easiest or most convenient option? Of course not. But it does look cool. Plus, these are the cheapest guitar stools other than finding a used stool at bargain prices!
And if we are being completely honest, a sizable part of every guitar player's journey is ensuring they look cool.
Nobody, in the history of Gibson, has bought a Flying V because it was the easiest, most ergonomic, choice available. So, let's just check the egos a bit and make our jam room look rad.
A time and a place for everything.
• • •
Guitar Thrones
Guitar thrones are guitar stool royalty. Drummers think they have the market cornered on thrones? They do not.
These are guitar stools for serious players. Players who are going to be grinding in the studio for hours on end and need to ensure that what they are sitting on is raising their play to the next level.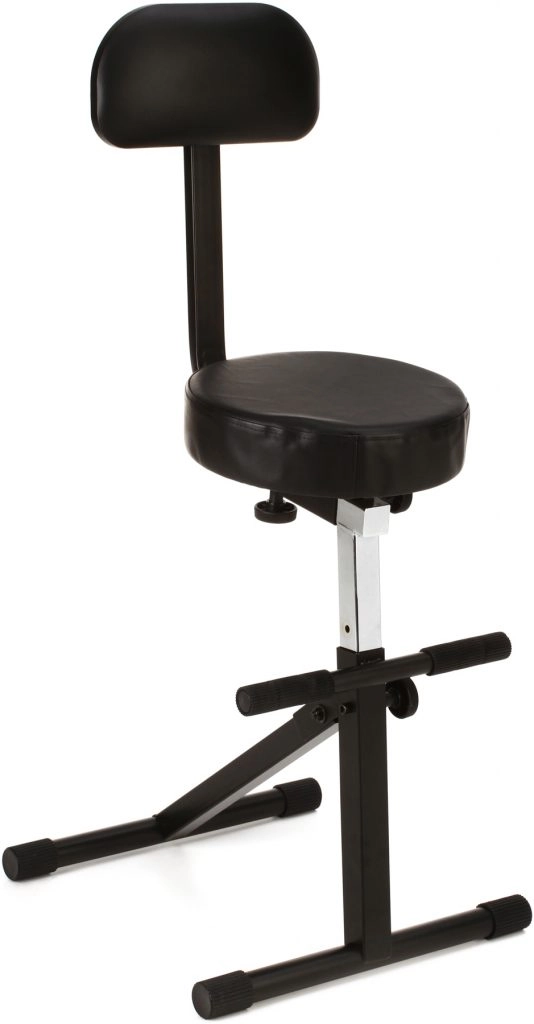 Pros:
A much sturdier guitar stool than the DT8000
Folding Legs
Very comfortable and durable padding on seat and backrest
Cons:
Slightly more expensive than DT8000
For the Rock Gods among us that need a little more height or just like sitting in comfort while playing guitar, there is no better throne for the job. Check out the new on-stage DT8500 guitar stool with backrest.
This stool is sturdy and foldable. Both features are essential for any working guitar player that is always moving from one show to the next.
The seat height is adjustable and the padded seat features a folding center armrest. The stool is constructed from heavy-gauge steel tubing which provides superior rigidity and durability.
The polyfoam padding is covered by a breathable fabric cover which resists wear, doesn't tear or become lumpy over time, like conventional foam padding that may be exposed to open flame. The On-stage DT8500 Throne with Backrest has a powder-coated finish that looks nice and will stand up to use in the outdoor elements as well.
And, unlike the DT8000, this one is rated up to 250lbs of capacity. That means a bigger guy can sit down with his basswood guitar and not have to worry that his capo is going to put him over the weight limit.
It really seems like someone at On-Stage looked at the DT8000, said to themselves "Steve, what the hell is that?" and spent 15 minutes fixing it. Thus the DT8500 was born. I can't say with certainty that's how it came about, but it's plausible.
• • •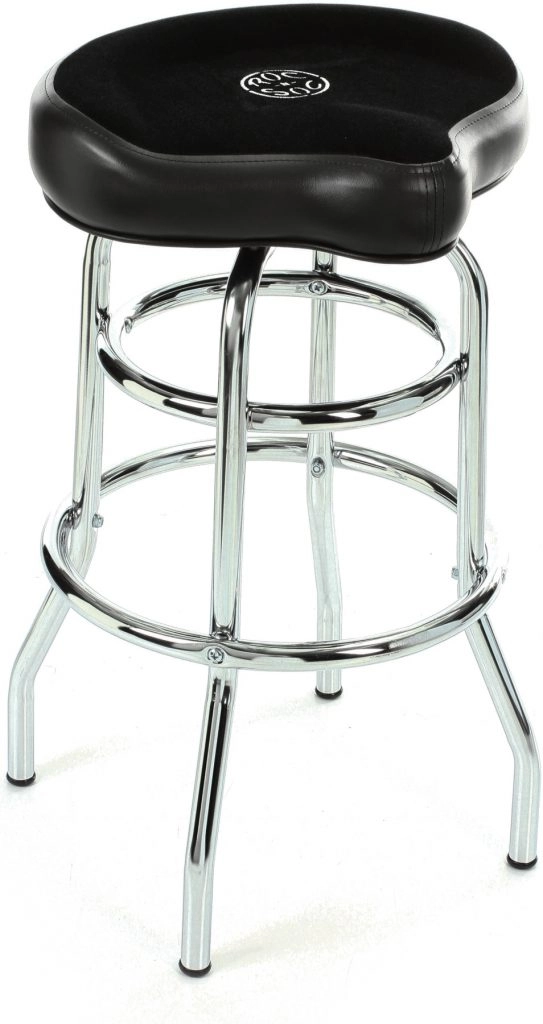 Pros:
Built for Long Term Comfort
Plus seat is well designed and looks high quality.
Cons:
Doesn't allow you to lock the swivel feature
No backrest
The Roc-N-Soc tower saddle is one of the most comfortable stools you'll have the pleasure of using. If there was a way to hook this saddle up to your bike, you would. It's that comfortable.
Maybe call the guys from American Chopper. They don't seem to be doing much these days.
Speaking of bicycles, the tower saddle itself is pretty much a bicycle seat that enables plenty of leg movement in either direction.
The slight bit of seat in the middle locks your butt into position and adds extra stability for when you feel like really getting into your jam. Sometimes you just really want to rock an acoustic like it's an electric. Just ask anyone in the Goo Goo Dolls what stool they like…
The polished frame sits at 29 inches and features two rings. So if you are over 5' 8" tall then this is the stool for you. It also means you won't rock up to practice and find your drummer sitting on it. Those guys are too short… universally.
The two rings come in very handy for switching up your playing position during a long session or gig. If you put your fretboard foot up on the top ring, you'll be in the perfect position for playing your acoustic without having to worry about a strap.
The swivel mechanism is smooth enough where turning around to adjust your amp or mess with your tuner doesn't give you any pause whatsoever. For those of us who are a bit introverted and don't love making small talk with an audience, just how smooth this swivel is becomes a major selling point.
If you're in the gift-giving mood, the Roc-N-Soc tower saddle comes fully assembled. So you can put that guitarist in your life right on the spot. Fun!
• • •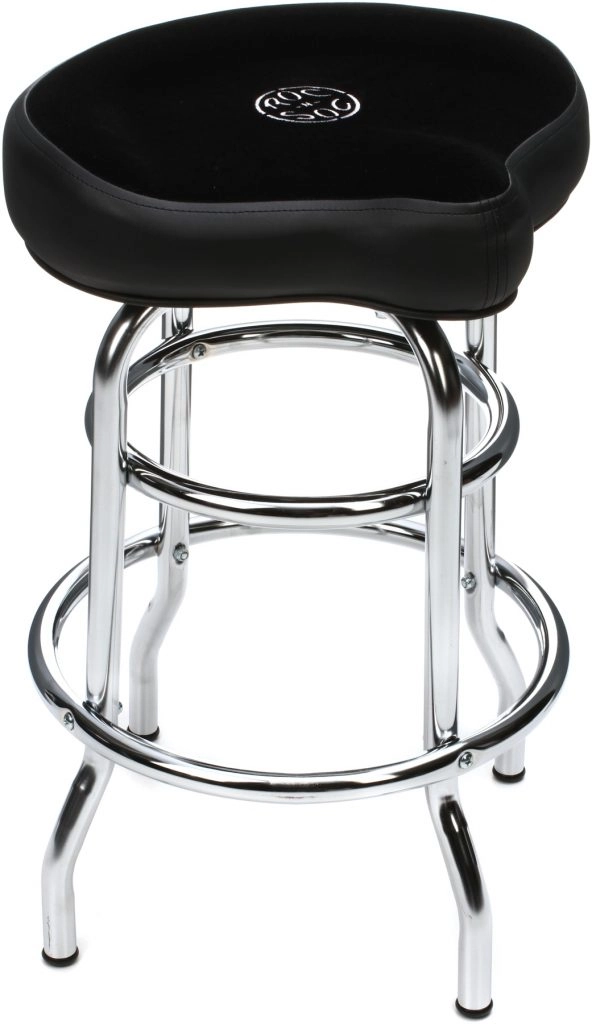 Pros:
Designed for shorter players.
Saddle is designed for long time play.
Cons:
No swivel lock.
No backrest.
The original rock-n-soc tower saddle is one of the best-reviewed guitar stools ever made (see my own review above). The saddle is so well-designed that several non-musical professions lust after it.
Well, according to my chiropractor anyway. But it makes sense. It's plush and looks like it can handle some rather large legs for hours at a time.
The swivel mechanism is smooth and offers very little resistance with high-quality bearings. If you're recording in front of your desk and need to spin around to grab another piece of gear, it's an enjoyable trip without a hint of wobble.
The only issue is that if you're a touch on the shorter side, which is common among artists, the original stool could be a bit too high. Similarly, if you want it behind your recording console instead of an ordinary chair, the original tower was awkward.
The shorter base on the short tower aims to solve that by shrinking 3 inches. It may not seem like much, but that's the difference between David Bowie's guitar posture and Mr. Burns'. So, if you're looking for comfort over long sessions, you'd do well here to pick one that's the correct height.
• • •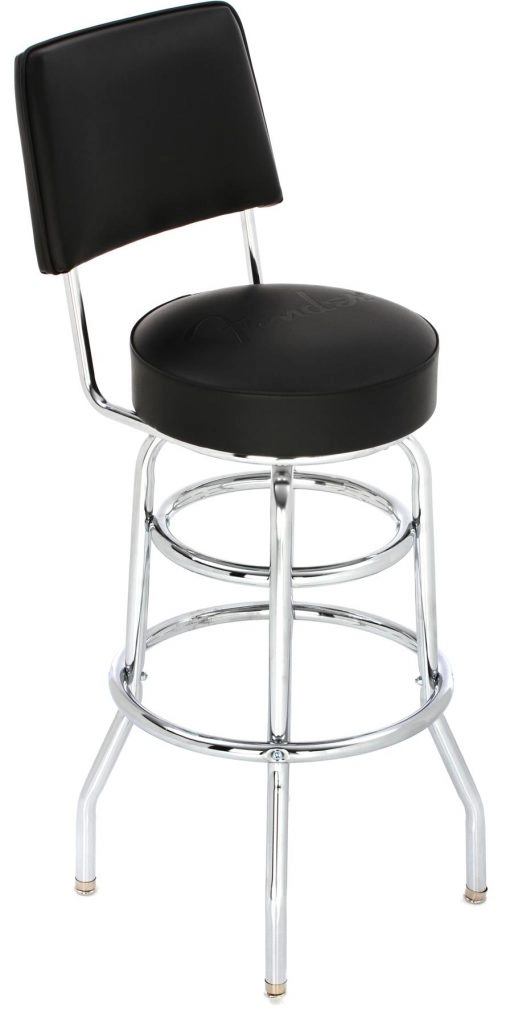 Pros:
Subtle Fender Branding
Well built 1″ tube frame
Thick padded seat and backrest
Cons:
Swivel can be an acquired taste
No height adjustment
This Fender stool is a basic barstool rebuilt with premium parts. While they were at it they threw in a nice padded backrest for good measure.
At 30 inches tall, this barstool should fit most players, as that's the standard barstool height. If you need to check if it will work, spend an afternoon at the local pub for research purposes.
Both the seat and backrest feature the Fender logo debossed into the material. The branding is subtle and understated which gives it an air of sophistication some other barstools on this list don't have.
While the branding is understated, it's hard to understate how well-made this stool is. It seems simple, but the attention to detail is the same level you expect from Fender's American-made instruments. Every stitch is finished, every bearing greased.
The only downside is the height on this stool is fixed. But again, if you've tested to ensure you won't be hunched over and your feet can reach the footrest, this is a fantastic guitar stool.
• • •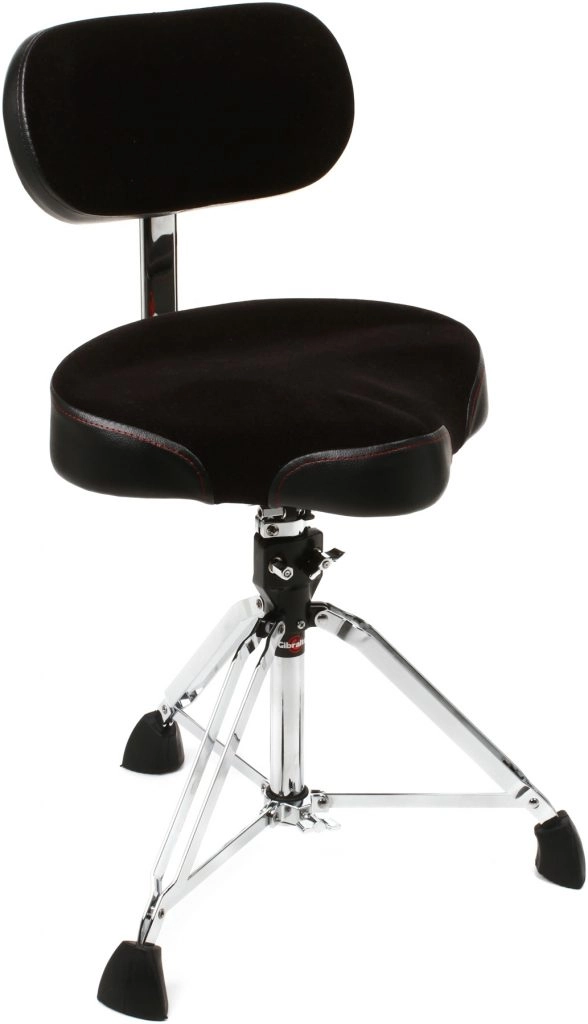 Pros:
Extremely comfortable.
Granular height adjustment.
Sturdy, lightweight construction.
Cons:
Ostensibly designed for drummers.
Drummers will covet.
The Gibraltar throne is technically a drum throne. So, if you're in a band, you know that those guys behind the kit are always angling for your gear. Keep a close eye on this one. For all intents and purposes, this is a stylish and sturdy guitar stool.
Drummers aren't known for taking care of their equipment either, so as a result, the Gibraltar throne is triple-stitched and built like a brick house. No amount of huffing and puffing is going to destabilize this beast. It also incorporates lightweight aircraft aluminum which makes it very portable.
It adjusts from 20" to 28" in height which should give most players plenty of range to find the perfect seating height. You can't say the same about most of the barstools on this list.
Beyond how functional it is, this throne is also just comfortable. Full stop. It's easy to envision sitting around a jam session for hours without having to shift your weight around much.
If you can keep your drummer at bay, this might be your stool. If you can't, just replace them with an 808 drum machine. Better in the long run.
• • •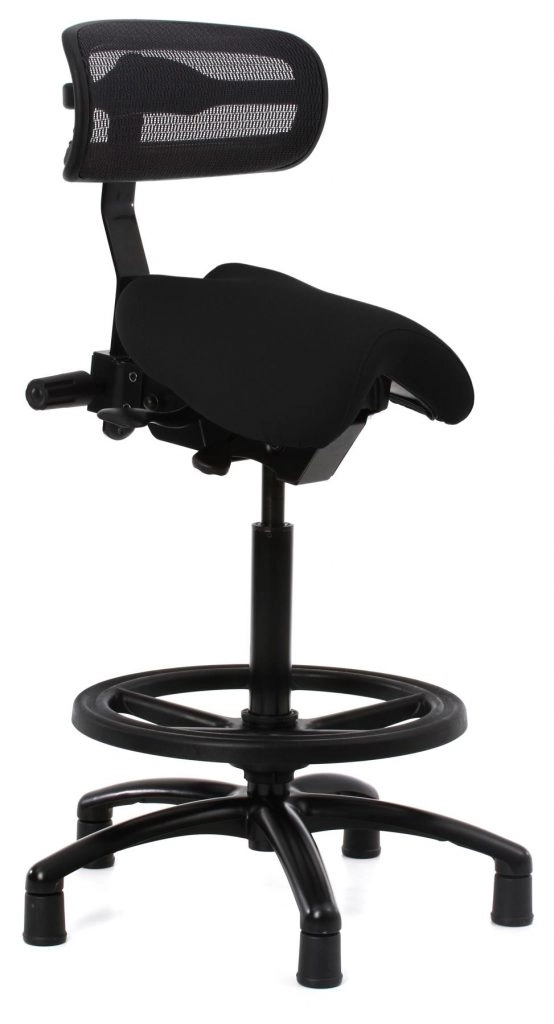 Pros:
Unparalleled comfort
Adjustable height.
Adjustable backrest.
Cons:
Looks like an office chair… but it's a guitar chair… however,
Costs as much as a CEO's office chair!
The Crown Seating Performer is the most ergonomically inclined (or reclined, depending on your preference) among the guitar stools on this list. It is more or less a proper office chair with a saddle designed for playing in lieu of a regular seat.
You're meant to plant yourself on that saddle, plug in, and get to work. It's as 9-5 working musician as you get.
Every part of this chair is adjustable. The ouch of the saddle, the footrest, and the free-floating adjustable backrest all adjust to provide ample support to keep you in tip-top playing shape. For a guitarist who wants to focus on their form, the Crown Seating stool melts away to make you feel like you're floating.
It's a stool that gets completely out of your way. There's no novel discomfort to give you an excuse for poor play. That's on you, not on Crown.
It's probably not going to be the first stool you pick up. More likely this will be the last you pick up, long after you've given up on aesthetics and have transcended to identifying yourself as a guitarist. As opposed to, say, someone who plays guitar.
If you answer "what do you do?" with "I'm a guitarist," this is your stool. Or if you have a bad back from carrying a toddler around. Also, a perfectly acceptable reason to add this to your cart.
Buyers Guide
It may not seem obvious, but slumped over a chair isn't how a guitar was meant to be played. You need a stool, but how do you pick the right one?
Why a Guitar Stool is Different from a Regular Chair
The most basic, proper guitar stool is just a platform you sit on to play guitar. A chair. A bench. A stool. But, not just any chair will do.
A guitar stool is to a guitar player as a piano bench is to a pianist and every bit as important. They are designed to place the player in the correct ergonomic position to enhance their play.
A pianist can play upside down like Jerry Lee Lewis, but they shouldn't. Look how that worked out.
Not only will the right posture help you learn faster and play better; the right position will reduce wear and tear on your body, allowing you to play well into your twilight years (1).
What Makes A Great Guitar Stool?
A great quality guitar stool not only makes playing guitar easier — it actually helps you become a better player. That's a necessary condition.
It's one that sets you, your specific body, up for success. Then it gets out of the way.
In an ideal world a guitar stool will do that for hours at a time with ease and comfort. While all the stools on this list are superb, there is a subjective element that makes it the best for you.
How long do you play for? Do you need to transport it? How much space do you have? Will you break it down for storage, or will it stay out as a permanent piece of furniture? How, um, big are you?
These situational questions bridge the gap between "excellent" and "best." And they're questions you'll need to answer before you know which stool is best.
FAQ
Which height should I use on my guitar stool?
Ergonomics are going to want your knees and back at right angles. That provides the sturdiest base and keeps your spine in the best alignment. If you notice you're hunching over your guitar when playing, or your feet aren't flat on the ground when seated, you need to adjust your height accordingly.
What are some tips for taking care of my guitar stool or throne?
Store your stool inside whenever possible in a low humidity environment. The fabrics and vinyl covers don't do well in the elements over long periods of time. Wipe them down after gigs with specialty products, or, in a pinch, light oils or Armorall to keep the vinyl in peak condition.
Should I use a guitar stool with or without back support?
Most of the time, an backrest will add more to your ergonomics and posture than a stool without. Even if you aren't playing with your back against the backrest at all times, it does serve as a template, or mold, for reestablishing your posture between songs.
With all things being equal, a backrest provides more options, more flexibility, and more opportunity. So, generally, you should aim for a guitar stool with a backrest when your budget allows for it.
Most stools that have backrests are also adjustable, or removable, if it turns out you don't need it for a particular gig or you run into the rare situation where it's cramping your style.
My Top Pick
While this is ultimately a personal choice, there are some features all guitar stools share. A great stool puts your body in a strong ergonomic position and then gets out of your way. You shouldn't ever be fighting your stool to play, no matter how cool it looks.
The best all around stool is hands down the On-Stage DT8500. It's durable and comfortable. It folds up for easy travel or storage. It encourages excellent guitar playing posture at a completely reasonable price. If you're getting one stool, for all occasions, this one will cover the most bases.
The best stool with a hanger is the Gator Works Deluxe. It's affordable, has cool industrial looks if you're into it, can be taken down if you're not, and is as well-built as it is comfortable. Add to that it holds your axe when you aren't playing and that stool is hard to beat.
If you've got the coin, the Crown Seating Performer is an absolute dream. You could replace your office chair with the Crown without skipping a beat. You might say Crown sits atop the throne. No? You wouldn't say that?
Fair enough. It's phenomenal nonetheless. If you can afford it, buy the Crown.
References
Daniela Ohlendorf, Eileen M Wanke, Natalie Filmann, David A Groneberg, and Alexander Gerber, "Fit to play: posture and seating positionanalysis with professional musicians – astudy protocol," retrieved from https://www.researchgate.net/publication/314160696_Fit_to_play_posture_and_seating_position_analysis_with_professional_musicians_-_a_study_protocol