You can hear that signature Fender Stratocaster tone on recordings and stages from players across all genres, from jazz to metal.
Whether you're into Dick Dale or David Gilmour, the versatile 3-single coil configuration allows for an incredibly wide range of sonic possibilities. And if you're only using one of those single-coil pickups, there's a pretty rich history on the single-pickup guitar (1).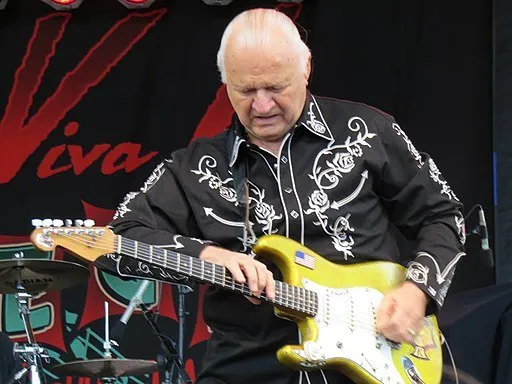 However, single coils can also bring some unwanted elements to your signal chain, including buzz and 60-cycle hum.
You buy your guitars based on feel if you're anything like me.
How does the neck feel in your hand? How resonate is the instrument before you even plug it in? I've owned three very different Stratocaster models over the years (Made in Mexico, Japan, and the USA, respectively), and while the build quality has become more consistent across the board in recent times, the pickup tone and output varied significantly across my trio of Strats.
So if you are like me and buy your guitars based on feel, one of the quickest ways to upgrade your tone is with a new set of pickups. But before you break out the soldering iron or head to your local guitar tech, you should determine what you'd like your upgraded tone to sound like.
If you were actually looking for reviews on the best Stratocasters, you're on the right site, but the wrong article! Check out our recent rundown of Fender's Best Stratocasters or best Strat copy guitars.
Do you want higher output? Less noise? Maybe period-correct vintage tone? Strat pickups are versatile — just ask Mike Rutherford (2).
Simply put, picking the right pickups is a very personal decision.
Whether your tone slants towards smooth or shred, there are more high-end and affordable options on the market than ever. Let's find the best Strat pickups for you.
Best Strat Pickups: Full Reviews
Whether you're looking for vintage-correct, hot-rodded blues or high-gain metal tones, let's take a look at how the best Stratocaster pickups stack up by category.
Best Noiseless Pickups
While the Stratocaster's signature tone offers unmistakable punch and clarity, it can also come at a cost–the annoying buzz associated with single coil pickups and 60-cycle hum.
Stratocaster noiseless pickups offer the trademark Stratocaster tones without the buzz or hum, making them ideal for performing in the studio or a worship setting. Swapping stock pickups out for a noiseless set is one of the most common Fender Strat upgrades. Let's take a look at some of our favorites.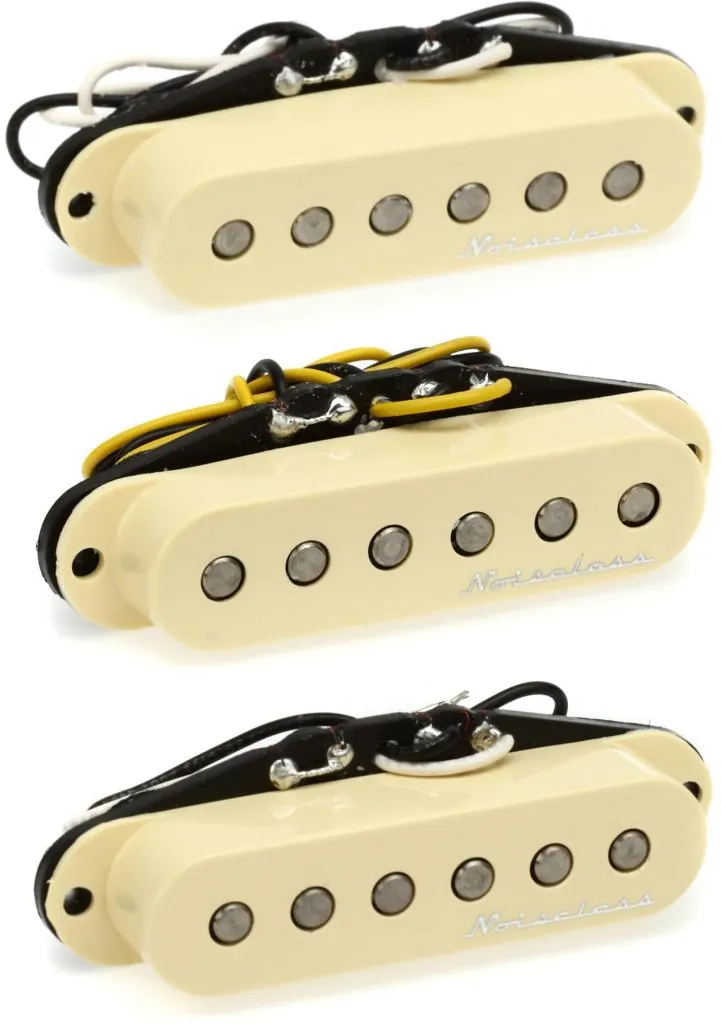 As its name implies, this Hot Noiseless Strat pickup set dishes out significantly more output than most stock pickups. 
In the bridge position, you can get the classic overdriven crunch that blues players love. The neck and middle pickups sound extra punchy and add more substance to both rhythm and lead playing.
The best part? You get the output and noise-canceling benefits of humbucker pickups while retaining the vintage voicing that helped make Leo Fender famous. 
Don't get us wrong — these are not just for blues players. Whether you're looking to turn your Strat into a high-flying blues and classic rock or metal machine, the Fender Hot Noiseless Strat Single Coil 3-Piece Pickup set is a great option to beef up your tone without adding any buzz.
Pros
Higher output than most stock pickups
They aren't kidding when they say "noiseless."
Affordable
Cons
Purists may find the output to be too "hot."
• • •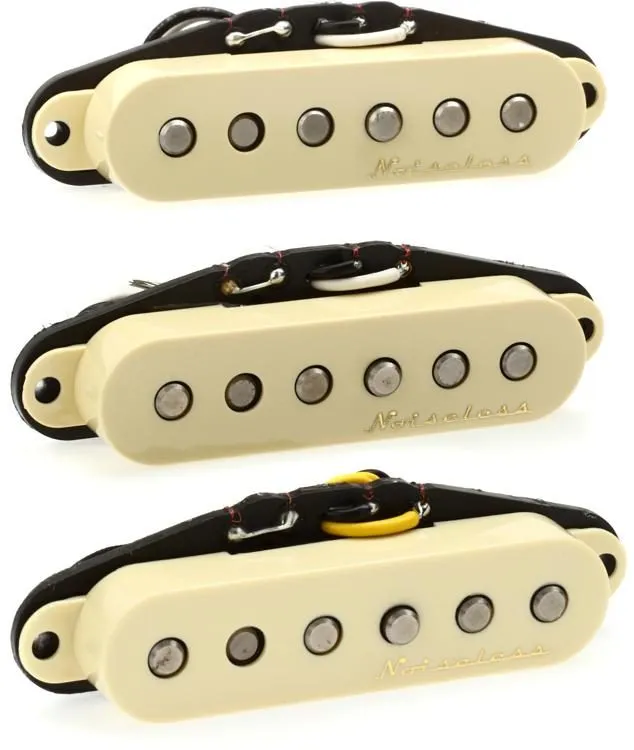 Get that signature vintage Stratocaster tone and look with the Fender Vintage Noiseless Stratocaster Pickups 3-piece set.
The Fender Vintage Noiseless Stratocaster 3-piece set nails the vintage tone of the original Stratocaster pickup design with one huge difference: they're noiseless!
Thanks to beveled edge Alnico II magnets and enamel-coated magnet wire, the Fender Vintage Noiseless Stratocaster 3-piece set retains the harmonic complexity, definition, and clarity of vintage Fender Strats. 
The bridge pickup adds shimmer and sparkle to an already bright-sounding guitar. The neck and middle pickup add warmth, and the trademark Stratocaster "quack" between the middle and bridge position. 
These three single coil pickups are fantastic for achieving the classic, clean tone you'll find in vintage Fender Stratocasters — without the hum. But how good are they? Good enough to be included in Fender Custom Shop, American Deluxe Stratocaster, and Eric Clapton signature guitar models.
Want to make your Strat sound the way Leo Fender intended as they first rolled off the assembly line in 1954 without the Custom Shop price tag? Give these classic pickups a try.
Pros
No hum
Signature vintage Fender clarity
Familiar and easy to find
Cons
Only available in one color: Aged White
• • •
This set of Alnico V pickups is the latest and greatest offering in the Fender Noiseless pickup line.
Offering excellent tonal balance and clarity, this set will also beef up your overall output–transforming an anemic-sounding Strat into a robust, well-rounded tone machine.
The Alnico V magnets and shielded wire provide better tone, clarity, and noise reduction than other pickups while retaining the vintage tone that Strat players crave. But don't let the vintage looks fool you. The Gen 4 Noiseless Stratocaster set features three pickups that can transform your guitar tone from vintage crunch to modern high-gain distortion.
The Fender Gen 4 Noiseless Stratocaster Pickups set is an OEM set — meaning Fender made it for Fender guitars. You can rest assured that when you purchase this set of three pickups, you'll get top-notch Fender quality and ease of installation. Most pickups make some compromises, but the quality and performance of the Fender Gen 4 Noiseless Stratocaster pickup set make it a new standard.
Pros
Higher output, making this set very versatile for all genres
Enhanced low end
Vintage look without the hum
Cons
Some buyers complain about difficult installation
• • •
Fender Custom Shop Pickups for Strats
It goes without saying that Fender's Custom Shop is legendary.
Picking up where Abigail Ybarra, the "queen of tone," left off after her retirement in 2013, Josefina Campos herself has continued the legacy of greatness in Fender's hand-wound pickup offerings. We'll talk more about them later.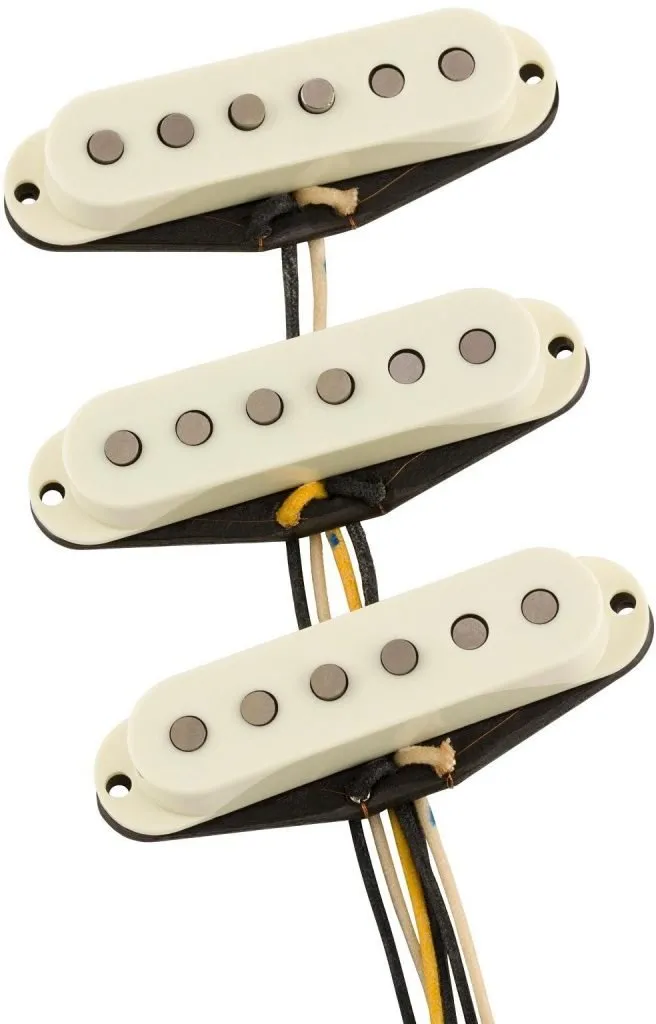 Do you want the trademark 50s Fender Strat tone? This is it–without the vintage guitar pickup price tag.
These pickups are built to sound just like the originals, with hand-wound Formvar wiring, medium output, and staggered Alnico V magnets. Surf rock, jazz, blues, and classic rock, these pickups can do it all. 
In addition to the period-correct tones of the neck and bridge pickups, this medium-output set features a reverse-wound middle pickup that provides noise canceling in the second and fourth positions. Thanks to its wax-potted design, these pickups do an incredible job of minimizing hum and buzz. 
If you want that classic California 50s Stratocaster tone, the Fender Custom Shop Hand-Wound '51 Stratocaster is one of the best single coil pickup sets you can buy.
Pros
Period-correct construction
Middle pickup is reverse wound for hum-canceling in positions 2 and 4
Extremely well-rounded tone
Cons
While relatively quiet for a vintage replica, these pickups are NOT noiseless
• • •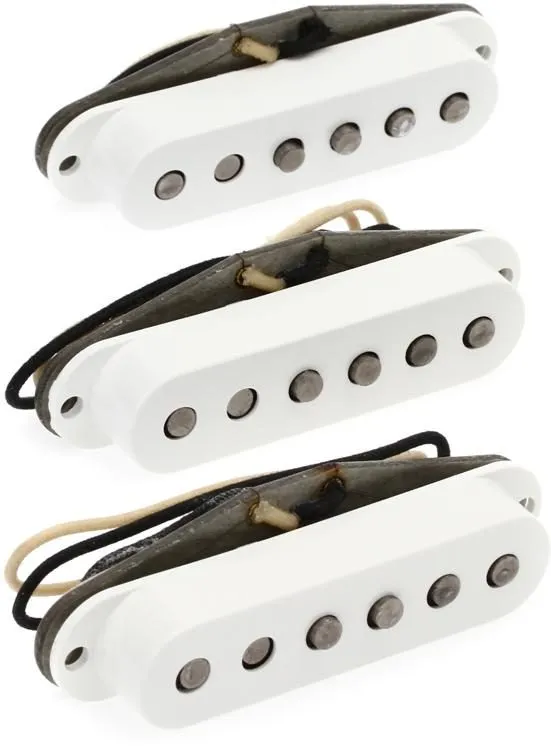 This period-correct set offers the trademark tones of the late 60s when blue rock was the undisputed king of the sonic soundscape.
In a battle between the Fender Custom Shop 69 pickups vs Texas specials (read more about them here), you'll find many similarities, but the '69 set has a slightly lower output.
Compared to the Custom Shop Hand-Wound '57 set, the '69 set can easily take your tone into bluesy, classic rock territory. Featuring height staggered Alnico 5 magnets, the bridge pickup sounds crisp and clear, while the neck and middle pickups have enhanced low-end response.
While you can still achieve the surf-styled California 50s tone with the '69 Stratocaster set, these are classic American Strat pickups aimed at nailing the holy grail of classic rock tones.
Pros
Pedal and overdrive-friendly
Spot-on 60s Strat tone
Staggered pole pieces for balanced output
Cons
Some players find the bridge position to be thin sounding
• • •
Tex-Mex Pickups
Fender Tex-Mex pickups are an excellent choice for classic rock and blues while retaining classic Stratocaster pickup tones. Boasting a higher output than stock pickups, Tex-Mex pickups are perhaps best known for nailing the hot-rodded blues tones made famous by certain blues guitarists from Texas.
A more budget-friendly Texas-style tone than the Fender Custom Shop Texas Specials, the Tex-Mex pickup set provides the best of both worlds: A classic vintage design with modern tonal updates.
While it is best known for its smoking Texas blues tones, don't sleep on the well-rounded clean tones that Tex-Mex pickup set can dish out.
The overwound bridge pickup in this Tex-Mex Stratocaster set can produce gobs of gain and output. The reverse wound middle pickup also features reversed polarity — and it cancels hum in positions 2 and 4. The extra output beefs up the tone from the neck position without being too over the top.
One of the biggest complaints you'll hear about the Fender Tex-Mex Stratocaster 3-piece set is its construction. While it's true that you'll find plastic bobbins and other lower-cost components, you'll be hard-pressed to find another way to achieve this hot-rodded classic tone for less than $100.
Pros
Massive output from the overwound bridge pickup
Hum canceling in positions 2 and 4
One of the best strat pickup sets under $100
Cons
With a lower price point comes cheaper components, such as plastic bobbins
• • •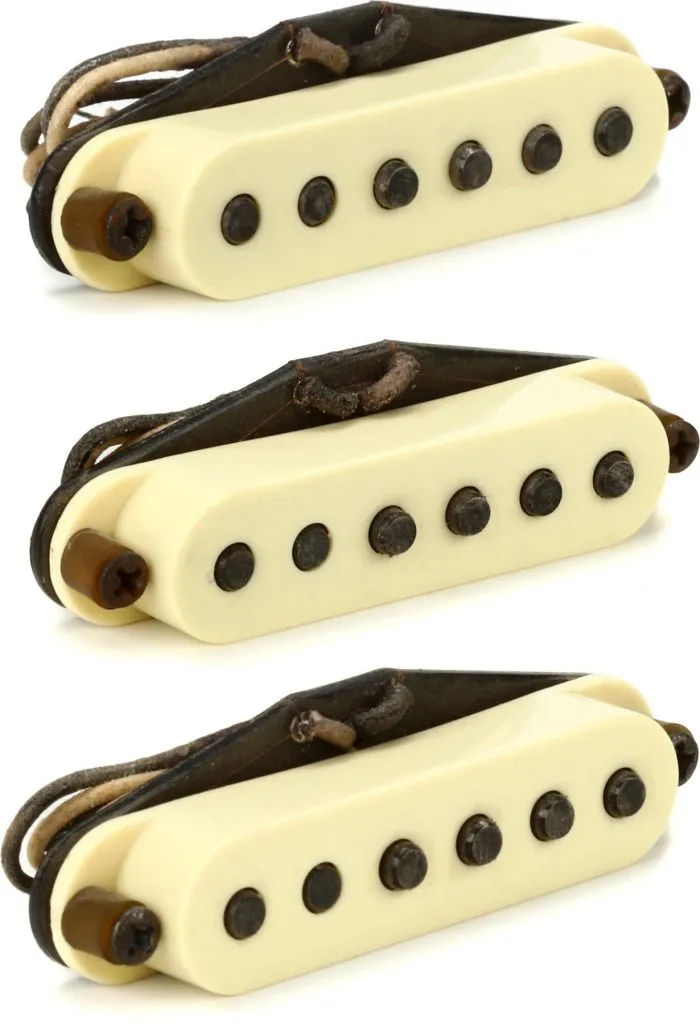 Among the best Seymour Duncan pickup sets on the market, the Antiquity Texas Hot Strat set is painstakingly designed to provide the sound and feel of a vintage Stratocaster pickup with modern advancements.
They went so far as to scatter-wind these pickups to mimic the irregularity that came with the legendary hand-wired pickups in vintage Strats. Featuring a reverse-wound middle pickup with reverse polarity, they give you humbucker tones in the middle position — with single-coil size!
Did you know that vintage Stratocaster pickups were wound with North polarity? The Seymour Duncan Antiquity Texas Hot Pickup set wound the coils in all three positions — just like you'd find in a vintage Strat.
Let's not overlook the fact that these are "hot" pickups. Featuring increased output, the Seymour Duncan Antiquity Hot Strat set boosts your presence, clarity and ability to push your amp harder. There's a reason that the Antiquity Hot Strat set is considered Seymour Duncan's signature pickup set.
With its vintage looks, period-correct tones, and enhanced output and articulation, this Seymour Duncan California-made pickup set blows other pickups away. They may be on the pricey side at $357, but many Strat players swear this is the one piece of guitar gear that they couldn't live without.
Pros
Punchy, articulate, and warm tone
Middle pickup is wound to mimic a humbucker
Careful attention to detail and vintage specs
Cons
Not noise-free outside of middle positions
• • •
Vintage Strat Pickups
The classic vintage Stratocaster sound that you know and love is famous for having a clear, punchy, and harmonically-rich tone. Designed to replicate the look, tone, and build quality of the originals, here are the best vintage-sounding pickups on the market.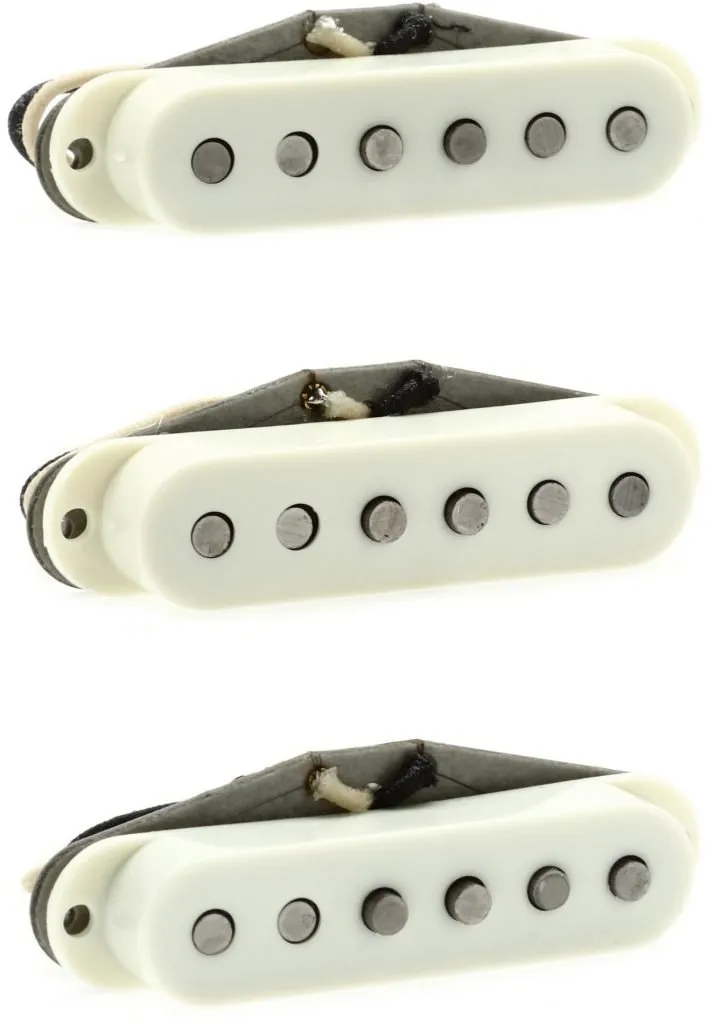 If you love the electric guitar tone from 60s Strats (think Jimi Hendrix, Cream, etc.), Fender's Pure Vintage 65 pickups offer period-correct construction and tone in the Stratocaster's classic pickup configuration. These pickups are wax potted and boast enamel coated magnet wire to reduce issues associated with microphony.
These Alnico V-powered pickups can take your electric guitar tones back in time with a crisp, clear, full tone. 
In keeping with tradition, each pickup features real cloth wiring and fiber-bobbin construction. You don't need to spend a fortune to upgrade your Strat and achieve vaunted 60s guitar sounds. This set is among the best vintage strat pickup sets, whether you're building your own guitar or looking to upgrade your current Strat.
Pros
Classic vintage Fender tone
Wax potting helps prevent pickups from sounding microphonic
Authentic vintage tone without the vintage price tag
Cons
While these pickups can nail the mid-60s Jimi Hendrix and blues tone, metal players may want to look elsewhere
• • •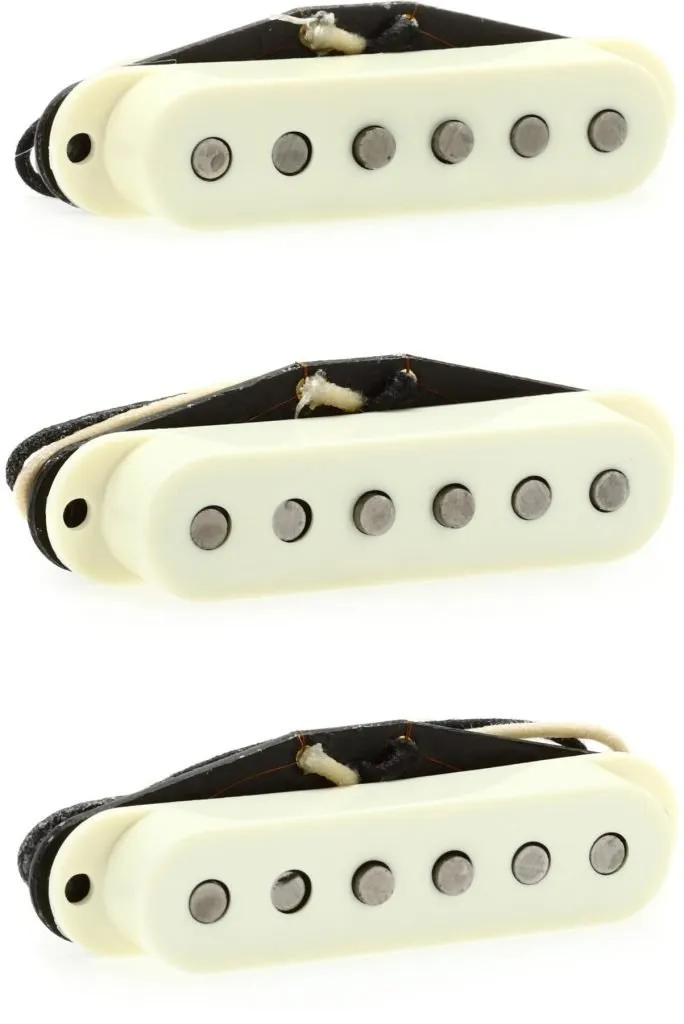 Take a trip back in time to the California 50s with the Fender Pure Vintage '59 Stratocaster 3-piece pickup set. If you're chasing the classic Strat tone, the Fender Pure Vintage '59 Strat Pickup set nails the crystal clear 50s Fender sound.
Also featuring period-correct features such as cloth wiring, wax potting, and vintage bobbin construction, these 50s Strat pickups have slightly lower output with a balanced, warm tone.
The Pure Vintage '59 Stratocaster pickup set is another great mid-range offering from Fender that allows you to combine vintage tone and modern performance without breaking the bank.
Pros
Great vintage recreation of 50s era classic Strat tone
Staggered pole pieces provide balanced tone and output
The formvar-coated wire helps add a shimmering brightness
Cons
While beloved by players from all genres, the 50s-era tone isn't for everyone–some find these pickups thinner sounding than contemporary higher-output pickups
• • •
Best Strat Pickups Buyer's Guide
At this point, we've covered a LOT of options to improve your Stratocaster setup. Whether you're looking to build a "partscaster" or mod your existing Stratocaster or Telecaster, choosing the right new or replacement Stratocaster pickups can take your tone to new heights. 
But what are the right strat pickups for you? Let's take a step back and review the different pickup brands and styles that might qualify.
Best Guitar Pickups Brands for Strats
When looking to upgrade your pickups, the brand that usually comes to mind for most players is the obvious one: Fender. However, many players opt for vintage recreations and hot-rodded pickups made by other leading manufacturers at a wide variety of price points.
Fender Pickups
There's a reason why Fender pickups are the first choice for many players.
After inventing one of the most signature sounds in the history of live and recorded music, Fender hasn't merely rested on their laurels. Instead, Fender has released vintage reissues and modern takes on the classic Stratocaster tone with noiseless pickups and pickups with a hotter output.
Fender pickup sets are also easy to find at most major music retailers, making them a highly accessible and, in many cases, affordable option for players looking to upgrade their tone.
Unsurprisingly, some of the best Fender pickups come from their legendary Custom Shop. Fender's Custom Shop guitar builders are deservedly well-known, but their pickup-winders have developed an enthusiastic fan base of their own.
Abigail Ybarra worked for Fender for 57 years, winding pickups by hand that has wound up being played by some of the most influential guitar players in rock and roll history. Picking up where Ybarra (the "queen of tone," as she was called) left off after her retirement in 2013, Josefina Campos herself has continued the legacy of greatness in Fender's hand-wound pickup offerings after learning the ropes and working under Ybarra's wing for three years.
Hand-winding pickups will result in less uniform wiring than pickups manufactured with an automatic coil winder. These "imperfections" can ultimately lead to truly unique pickups – giving them a tone that can't be found anywhere else.
Ever wonder why vintage Stratocasters (and their pickups) are so sought-after? These unique tones that can't be replicated are a big reason why.
DiMarzio vs Seymour Duncan
Two of the most popular alternatives to Fender pickups are DiMarzio and Seymour Duncan. In fact, some Fender Strat models come off the assembly line with these pickups installed. Both brands offer vintage replicas of Strat pickups, as well as modern takes on the originals with hotter output and noise-canceling features.
A number of famous shredders arm their Stratocasters and Strat-style guitars with DiMarzio pickups.
While his signature model is not a Fender guitar, Steve Vai uses a DiMarzio Strat pickup in the middle position of his signature guitar. Eric Johnson, David Gilmour, Jerry Garcia, John Petrucci, and Billy Corgan are also among the famous players who prefer DiMarzio.
Yngwie Malmsteen had a signature Stratocaster with DiMarzio pickups. The DiMarzio HS-4 Single Coil pickup was originally designed for Yngwie – offering a vintage-style Strat pickup with more brilliance and shine without the 60-cycle hum. 
However, DiMarzio pickups aren't just for high-gain or metal players.
DiMarzio offers a range of Strat-style pickups that range from vintage replicas to high-powered humbucking pickups. DiMarzio's line of "Area" pickups offers the classic vintage sound, with higher output and no noise. They're able to achieve this by creating a "stacked" single-coil pickup, which marries the best of both worlds between humbuckers and single-coil pickups.
I have a set of DiMarzio Area-T pickups in my go-to Telecaster and absolutely love them.
Similar to DiMarzio, there are some Strat models that come standard with Seymour Duncan pickups. As we reviewed earlier, Seymour Duncan offers a killer set in their Antiquity Texas Hot Strat Single Coil 3-pickup set. 
Arguably better known for their humbucking pickups in Gibson-style Les Paul, SG, and ES-series guitars in addition to Strats, Seymour Duncan also offers a range of Fender Stratocaster pickup options from vintage replicas to full-blown humbuckers that fit neatly in a single coil pickup slot.
Case in point: The Seymour Duncan Everything Axe Strat 3-piece pickup set.
Boasting virtually unmatched tonal possibilities with three humbuckers at each position, these pickups can also be "split" to offer true single coil tone at the flick of a switch. Want that classic PAF style tone in your Strat? Look no further. Want to coil tap these pickups for a traditional single coil tone? You can get the best of both worlds with this set. 
Seymour Duncan is also well-known for its "Hot Rails" series of pickups (seen here).
Hot Rails pickups are among the highest output pickups that Seymour Duncan makes, making it perfect for rock and metal, and this single coil-sized humbucker fits neatly inside Fender Stratocasters at any position.
Featuring a strong ceramic magnet, two thin "blades" and potent coil windings, the Hot Rails line of pickups provide huge tone and sustain. Hot Rails pickups also include four-conductor hookup cables to allow for coil tapping and advanced switching options to give you the option of a more traditional Stratocaster tone.
• • •
Different Types of Pickups
We've already touched on the primary pickup types available for Fender Stratocasters. Aside from the models that feature full-sized humbuckers at the bridge pickup position and/or neck, most Strat pickups are limited to the traditional footprint of a single coil pickup. But sometimes, big tones can come in small packages.
Single Coil Pickups for Strat
Single coils are the gold standard in Fender Stratocasters. Upon its release in 1954, the original Stratocaster pickups pumped out warm, round tones with a shimmering brightness that can cut through any mix. 
Manufactured or Fender hand-wound pickups are available at a wide variety of guitar retailers, so if you're looking for the signature Strat tone, look no further than single coil pickups for your Strat.
Strat with Humbuckers
A humbucking pickup is a type of pickup that uses two-wire coils to cancel out the buzz or 60-cycle hum that can be produced by a single coil pickup. In addition to its noise-canceling properties, humbuckers also dish out higher output and push your amp harder – making it ideal for heavier styles, like blues and classic rock. 
Fender offers a handful of Stratocasters with humbuckers, in an H-S-S (Humbucker at the bridge, single coils in the middle and neck positions) and HH (humbuckers at the bridge and neck positions) configurations. The H-S-S pickup configuration is arguably the most popular of the two, giving you a best-of-both-worlds approach with a humbucker and two single coil pickups to toggle between. Looking for one of the best humbuckers for Strats? Check out the Seymour Duncan SH-4 JB Model High Output Bridge Humbucker Pickup.
And if you're looking for a recommendation on the best HSS pickup set, take a look at the Fender Shawbucker / Gen 4 Noiseless HSS Pre-wired Stratocaster Pickguard. Available in white, black and tortoise, this loaded pickguard gives you everything you need to transform your Strat into a humbucker-powered rock machine.
Active or Passive Strat pickups
All of the pickups we've looked at in this rundown have been passive pickups, meaning that there are no onboard circuits inside of your Stratocaster.
Active pickups, on the other hand, have their own onboard amplification circuitry built into the guitar. This preamp is typically powered by 9-volt batteries and allows for greater tonal control over your overall output, EQ, and more. 
Actives are most popular among metal players, helping them tap into more power, distortion, and output without added noise.
These pickups aren't just for metal, though. Fishman Fluence Stratocaster pickups also use active electronics to mimic the Fender Stratocaster's most sought-after tones.
Have you ever wished that you could dial up your tone from California 50s-style Strat sound to blistering hot Texas tones? With the Fishman Fluence pickups, you can do just that with the flip of a switch. 
In the event of your onboard 9-volt battery dying, one potential downside to active electronics is that your pickups will not work in a passive manner. Beyond that, you will also have to consider the cost – active pickups are often more expensive, and in some cases, would require some modification to your guitar to install them.
Whether active or passive pickups are right for you depends on how much power and flexibility you're looking for.
Active pickups will give you greater power and flexibility over your tone. Actives typically offer higher output, lower noise and tone controls. This extra oomph comes from an on-board 9 volt battery, but don't let your battery run out – actives will no longer work once the battery dies.
Passive pickups continue to be the most common option. With advancements in output, noise-canceling and tonal flexibility, the question essentially comes down to how much extra output you want.
• • •
How to Change Strat Pickups?
Compared to Les Pauls or hollow-body guitars, installing Strat pickups is a fairly straightforward process – even more so if you opt for a "Loaded pickguard set" that essentially allows you to plug (and solder) and play. Swapping pickups is easily one of the most popular, and common, Strat mods.
There are even "solderless" Strat pickup options like the Seymour Duncan Classic Fully Loaded Liberator Pickguard for Strat that makes upgrading your pickups a breeze.
For most pickup swaps, you will need the following tools. We strongly recommend, beyond having these tools on hand, that you follow the instructions and safety tips provided by the pickup manufacturer.
Tools you'll need for Strat pickup installation:
Pickups
Pickup mounting hardware
Wire cutters
Soldering iron
Wire stripper
Screwdrivers (have a variety on hand for removing/reinstalling your pickguard and installing your new pickups)
IMPORTANT: I take a similar approach to guitar modifications as I do to car repairs. While I like DIY tinkering as much as anyone, there are certain projects that I prefer to leave to the professionals.
If you're like me and are shaky (at best) with a soldering iron, I recommend taking your Strat and new pickups to your local guitar shop or tech to have your pickups swapped professionally.
• • •
Strat Pickups FAQ
We've covered a lot of different Stratocaster pickup options. Let's take a look at a few of the more common questions about the classic three single coil pickups that create that classic Stratocaster tone.
What are the best single-coil pickups for Strats?
Obviously, this is a subjective question. The best Stratocaster pickups always depends on your style and sound preference. But in my opinion, the best all-around Strat electronics set you can buy is the Fender Hot Noiseless Strat Single Coil 3-piece Pickup Set. It combines vintage tone, higher output, and no annoying buzz. Need I say more?
The Seymour Duncan California-made Antiquity Texas Hot Strat Single Coil 3-pickup combo is another top choice if you have a bigger budget. This set features vintage looks and construction with killer modern performance.
If money is truly no object, take a look at Lindy Fralin pickups and Bare Knuckle pickups for some of the best high-end Stratocaster pickups.
Bridge pickup vs. Neck pickup: What's the difference?
As their names imply, the bridge pickup is the pickup located closest to the bridge on your Fender Stratocaster, and the neck pickup is located closest to the neck.
Tonally, the bridge pickup is brighter, clearer, and can be thinner sounding than the neck pickup – making it perfect for solos and lead playing. The neck position provides thicker tones that are typically darker, making it particularly well-suited for rhythm playing, jazz tones and blues riffs and solos. You'll occasionally find reverse-wound pickups in the middle position, which will give you noise-canceling properties in the second and fourth positions of the Strat's 5-way switch.
Some players like to mix and match between individual pickup models instead of going with a standard set. In his signature Strats, Eric Johnson famously pairs pickups based on '54 and '63 models. The possibilities are endless if you're willing to experiment.
What are single-coil pickups good for?
Single coil pickups provide the classic warm, glassy, clear and well-rounded tones that can be found on countless recordings and stages. From jazz to blues and classic rock, the Fender Stratocaster's single coil tone cuts through any mix and provides a clear punch that players covet. 
Traditional single coil pickups do come with a trade-off when it comes to noise and 60 cycle hum, and vintage pickups have lower output than their double coil (aka humbucker) counterparts.
What should I look for in Stratocaster pickups?
When looking for new Stratocaster pickups, here are a few questions to consider, starting with: What are you looking to achieve by swapping out your pickups?

Do you want higher output?
Do you want to eliminate buzz and 60 cycle hum from your signal chain?
Are you building a guitar and want to replicate a Stratocaster vintage sound?
Are you trying to turn your Strat into a metal machine?
How much do you want to spend?

If you can easily identify what you want your guitar to sound like, this can make your search for new pickups much easier. 
What makes vintage Fender Stratocaster pickups so special?
Vintage Fender Stratocasters are highly sought after (and extremely valuable) for a reason. Of course, various factors impact the desirability of vintage Strats, including the body and neck material, whether or not it has a vibrato arm, etc. But the pickups play an outsized role in impacting the tone of these legendary guitars. 
As we mentioned earlier in this article, vintage Stratocaster pickup coils were wound by hand. Hand-winding pickups results in less uniform wiring than pickups manufactured with an automatic coil winder, creating a unique tone.
We also reviewed some vintage-style pickups that aim to replicate the unique tones of the originals, such as the Pure Vintage 65 Strat Pickups and Fender Pure Vintage '59 Stratocaster 3-piece Set. Other high-end pickup makers like Seymour Duncan wind their pickups by hand in their hot-rodded vintage-styled pickups as well.
Many of these modern recreations of vintage pickups combine legendary tone with features that today's players crave. If you're like me and can't afford a vintage Strat, upgrading to vintage-style pickups can be a smart alternative.
What Strat pickups does John Mayer use?
Known as a longtime Fender Stratocaster player, John Mayer (one of our 17 best guitarists of all time!) now has a Paul Reed Smith signature model that bears a striking resemblance to his former Fenders.
Traditionally known for their humbucker equipped guitars, these sweet sounding single coils designed by Paul Reed Smith and John Mayer are our pick for the best PRS pickups we've ever heard.
How to test guitar pickups?
Historically, the best way to test different guitar pickups was to visit your local guitar shop and start plugging away. Now, thanks to YouTube and sound simulations provided by pickup manufacturers, you can compare the tone from one Strat pickup set to another without having to leave your house.
Seymour Duncan offers "Sound Samples" on their website where you can change the position, tone and mix of their Strat pickups.
How do you clean pickups?
Whether you gig regularly, or play periodically in your basement or bedroom, your guitar pickups will inevitably attract dust, dirt, dead skin, hair and maybe even blood. The best way to clean your pickups involves removing your strings, starting with a soft, dry (preferably microfiber) cloth and using compressed air to blow out the loose particles in your pickups. 
If you have set-in stains such as blood, beer or something else (we don't need to know), you can use a damp (NOT wet) cloth along with a soft brush to remove any residual residue.
While some players like to use WD-40 or other household cleaners, we prefer to keep things clean and simple.
• • •
In Summary
Choosing the right electronics for your Strat is a very personal decision. Do you want to define your own tone? Or replicate a classic, tried and true sound from a bygone era? Once you're able to answer that question, the real fun begins.
Here are some of my favorite picks for Fender Stratocaster single coils:
Comparing Stratocaster single coil models can seem overwhelming, but as we covered here, you can tap into tones from virtually any era at a price point that works for you.
Still wondering where to start? Take a look at my "Best of both worlds" for my pick of the best Stratocaster electronics and upgrade to a hot-rodded vintage Fender Stratocaster tone without the hum: The Fender Hot Noiseless Strat Single Coil 3-piece Pickup Set.
• • •
References
Tony Bacon, "The History of Single-Pickup Guitars," retrieved from https://guitar.com/features/opinion-analysis/history-of-single-pickup-guitars/
Jamie Dickson, "The Strat Can Be Anybody…," retrieved from https://www.guitarworld.com/features/genesis-mike-rutherford-the-last-domino
Image Credits
Featured Image: Freebird from Madrid, Spain, CC BY-SA 2.0, via Wikimedia Commons, via Wikimedia Commons; Dick Dale image: xrayspx, CC BY-SA 2.0, via Wikimedia Commons; Fender Stratocaster image: fictures, CC BY 2.0, via Wikimedia Commons.