If you're on a budget, the best Stratocaster is Fender's Player. If you have a higher budget, I'd go with the American Performer Stratocaster, which delivers great value for money and can certainly be described as a forever guitar. But keep reading — the best Fender Strat for you might be totally different than the one for me.
When it comes to electric guitars, there's not a model more iconic than Fender Stratocaster guitars. 
Leo Fender debuted the first Stratocaster in 1954, and it was decades ahead of other guitars on the market at that time. Many players didn't know what to do with it. Eventually, though, it became the must-have model for guitar players around the world.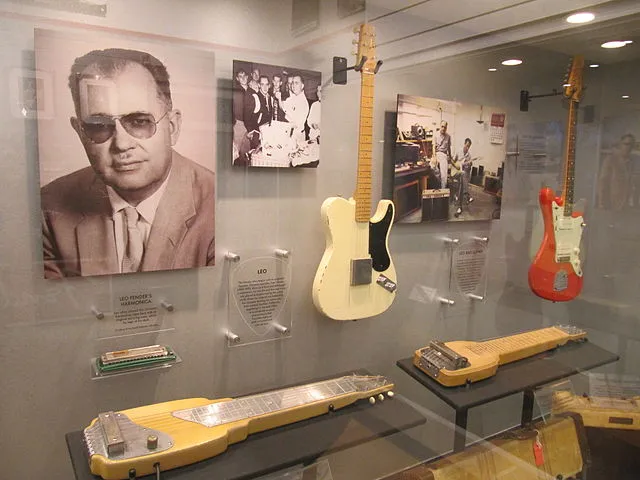 Strats are super-playable because of their easy-to-hold design. And they sound great across several genres due to the versatility of single-coil pickups.
Oh, and they also have an incredible, timeless aesthetic.
Most importantly, though, Strats are sold across a range of budgets, allowing everyone from beginners to more advanced players to afford one.
Today, there are many different Stratocaster models to choose from. In this article, I'm going to review the following models:
And then I'm going to touch on the vintage Strats of the 1960s, '70s, '80s, and '90s. (Spoiler: I'm a big fan of the American Original 60s Stratocaster)
Let's get ready to rock 'n roll and find the best Stratocaster for you!
Best Stratocaster: Full Reviews
While every player has an opinion on what are the best Stratocaster models, it's going to take a little bit of research and hopefully an opportunity to test drive some of these guitars at your local guitar shop. Use the reviews in this article as a starting point on your guitar-buying journey.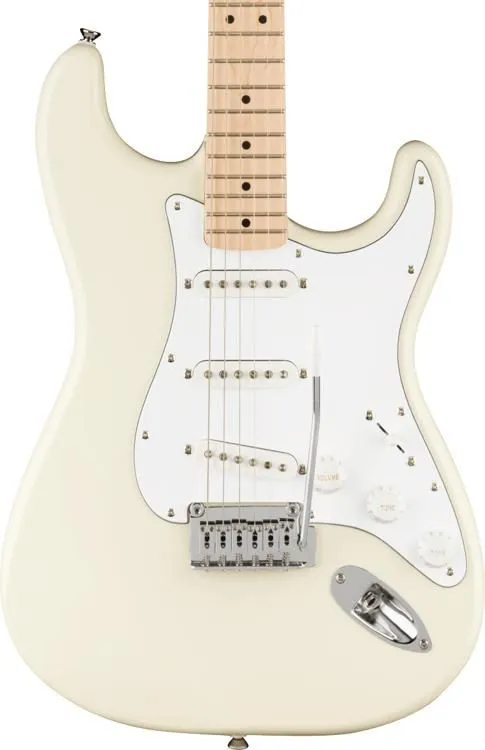 If you're just starting out as an electric guitar player and dead-set on owning a Stratocaster, start with Squier. Hands down, the mid-range Squier models, specifically the Affinity Series, is the best Stratocaster for beginners.
You can learn more about Squier Stratocasters in this dedicated review.
Pros
Affordable. This is the lowest-priced Strat you're going to find.
Plenty of options. Several series and color options for all budgets.
Cons
Cheap components. This is to be expected on low-priced, mass-produced guitars .
• • •
MIM Fender Stratocaster Guitars
If you're on a budget but want a genuine Fender — not a Squier — Stratocaster, you need to start with Fender's lineup of made-in-Mexico (MIM) Strats. For years, the company has successfully mass-produced their popular Fender guitars in Mexico, allowing the company to sell Strats and Telecasters at budget-friendly prices.
Are MIM Fender Stratocasts any good? They are some of the better beginner and intermediate guitar models on the market for a mass-produced electric guitar. Fender has done a great job of quality control in its Mexico factory and only gets better over the years.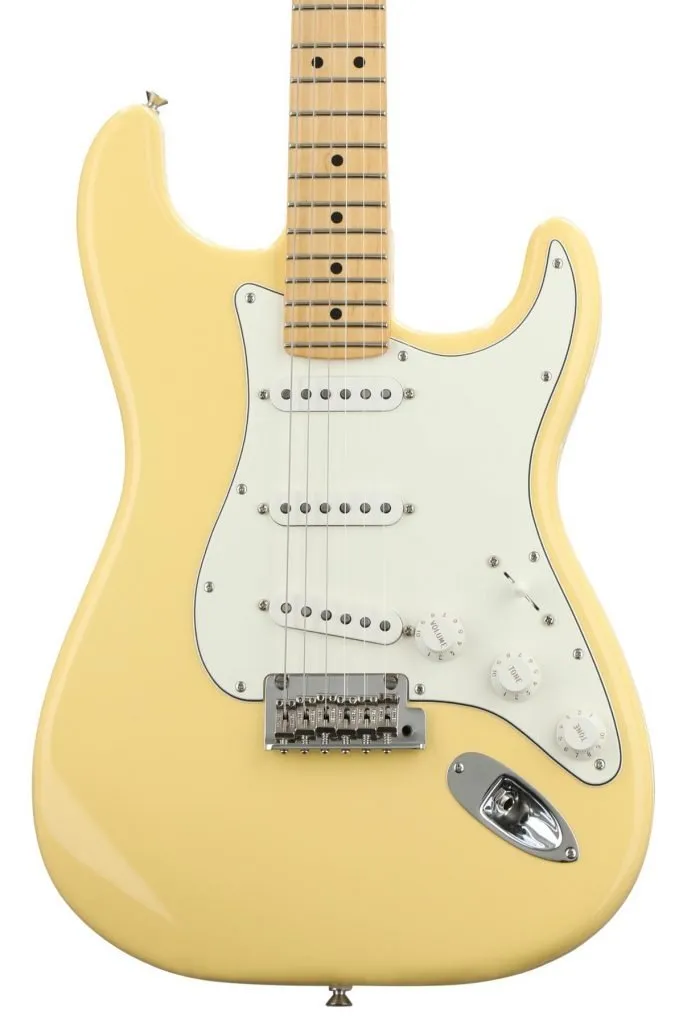 As one of the best guitars under $1,000, The Fender Player Stratocaster is the first electric guitar I recommend for beginners with a higher-than-normal budget.
In terms of price, it's more expensive than the higher-end Squier Strat models, but when comparing a Mexican Strat vs. American, you're going to appreciate the smaller price tag.
These models are trendy because 1) they have that iconic Stratocaster tone, and 2) you can find them in nearly any color and finish.
While you can replicate that vintage tone, Fender modernized these guitars nicely. The modern C-shaped maple neck, for instance, is super fast and comfortable to play, which is why many beginners appreciate this great guitar.
Most Player Series Strats feature a three-single-coil pickup configuration, but some of them feature a humbucker as the bridge pickup, and as both the bridge and neck pickup. The Deluxe Player Series Strat, which is only available at Sweetwater, includes a humbucker in the bridge position as well.
Pros
Affordable. The entire Player Series allows you to own a Fender Stratocaster for under $1,000.
Classic Strat tone. If you're looking for that vintage, clean tone that Strats have delivered on, the Player Series has it.
All of the colors. If you're committed to owning a Strat in a specific color, the Player Series has many, MANY options.
Cons
Stiff tuners. This is picky, but it's not for Stratocaster purists.
Many people compare the Fender Player vs. Performer. The main difference you need to know is that the Player is made in Mexico, while the Performer is made in America. We review the Performer Strat later in this article.
Note: If you're shopping for a used Strat, you might notice that MIM Fender Strats have been marketed under a couple different names, including the "Standard Stratocaster." That has since been renamed as the Fender Player Stratocaster.
There's also the Fender Player Plus Strat (not to be confused with the Fender Stratocaster Plus), which is one of the nicer-looking MIM Strats. The biggest upgrades to this model are the locking tuners and the high-performing tremolo. Intonation on this guitar is really impressive.
• • •
While it's not technically a beginner's strat, the Fender Deluxe Stratocaster is undoubtedly a guitar an interested beginner could invest in and keep for a very long time. This Strat is all about value, and I'd argue you'd be hard-pressed to discover any noticeable differences between Deluxe and higher-end professional models.
The Deluxe comes in two different models, the Roadhouse, and the Deluxe HSS Stratocaster for rockers who need extra power. The Roadhouse, which has only single-coil pickups, is a classic Stratocaster.
I love the wide range of colors and finishes Deluxe models come in. Many gravitate toward the three-tone sunburst, but my personal favorite is the Olympic White with Green Mint pickguard.
Pros
Great value. This is the best Stratocaster under $1,000.
Diverse strat tones. The Deluxe comes in two different trims, each offering its unique tone and pickup setup.
Noiseless pickups. The setup on the Deluxe Roadhouse offers vintage Fender tone.
Cons
None. Hard to complain about anything on a Fender Deluxe Stratocaster.
Fender uses an alder body and maple neck (22 narrow frets) on Deluxe models. The maple neck is a modern C-shape, which is comfortable for both beginner and more advanced players.
The most noticeable feature of the Deluxe Roadhouse is the unique "V6 rotary tone switch," which includes an onboard preamp. What does this mean? You essentially get six different tone settings on your guitar, in addition to being able to play straight through the single-coil pickups.
• • •
Fender American Stratocaster
A Fender Stratocaster made in the USA is more expensive than made-in-Mexico Strats, but the craftsmanship is also noticeably better. Expect to pay 50% to 60% more for an American-made Stratocaster.
Surprisingly, American and Mexican Strats' electronics (pickups) are nearly identical, although components are made in various countries for the Mexican models.
The most significant difference is the bridge. The bridge on American Fender Strats is noticeably better and delivers better intonation.
Some American-made models feature beautiful vintage style tuners that stay help the guitar stay in tune really well.
Finally, American Strats tend to be made of ash, a robust wood that delivers better sustain. Mexican Strats are typically manufactured with an alder body, which is cheaper to source.
Here are some of my favorite USA Fender Stratocasters.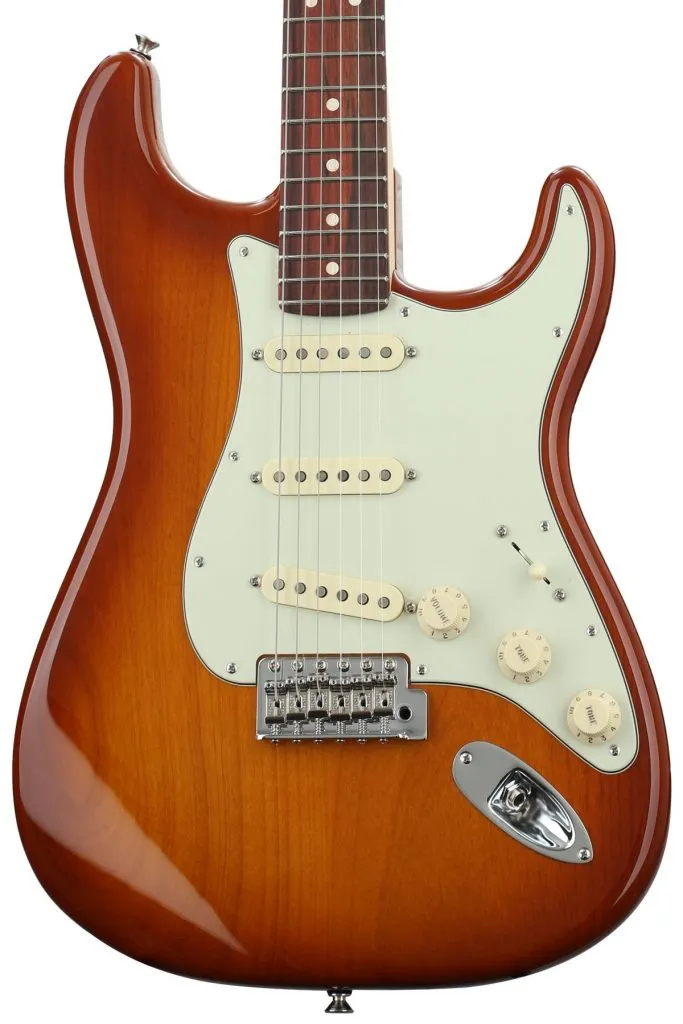 If you're looking for the cheapest American Strats, look no further than the American Performer Stratocaster. As we mentioned, American Strats are more expensive, but the Performer Series is a great value if you're 1) committed to playing guitar and 2) want to upgrade your beginner model. I'd argue this is the best Stratocaster for the money.
Besides the price, the American Performer Stratocaster is a favorite among guitar players and Fender fans for a few reasons.
First, the overall look and feel of the guitar are about as authentic of a Strat as you can find. You can truly see and feel the American craftsmanship that went into this guitar. I think the honeyburst color with rosewood fingerboard is one of the best-looking Strats on the market today.
The vintage style tuners look great and do their job by providing excellent intonation.
Pros
Quality construction. Just what you expect from an American-made guitar.
Powerful pickups. The Fender Yosemite single-coil pickups feature flat-staggered pole pieces for more output.
Classic Strat design. This model is nearly identical in design to the original 1954 Strat.
Cons
Inconsistent quality? Some owners have complained about narrow nut widths that require additional setup, but this isn't consistent across the board.
Next, the pickups deliver classic Fender Strat tone, but they get a nice little boost in output by using flat-staggered pole pieces. That style of pickup, which gives you better overall balance across all strings, is typically found on a Telecaster, but Fender used it in this Strat model.
If the "Performer" name sounds new to you, there's a good chance you pay attention to Fender guitars. The American Performer replaced the Fender American Special Stratocaster, which is now a hot commodity on the used market.
• • •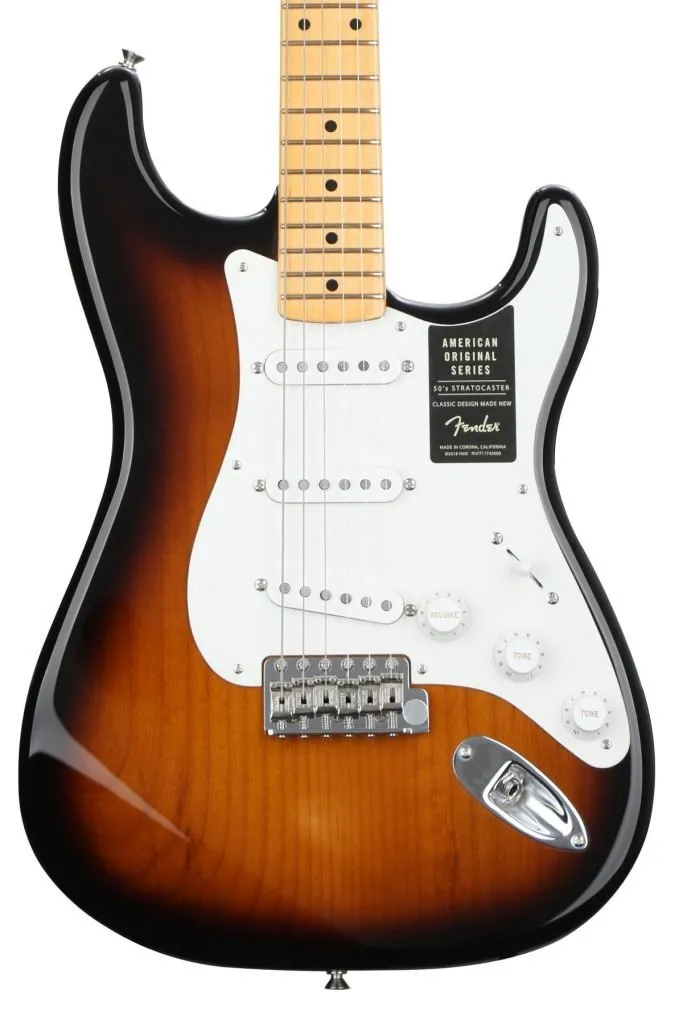 The American Original Stratocaster consists of two Strat models: One mimicking the Strats of the 1950s and the other replicating the 1960s.
The American Original '50s Stratocaster replicates a 1959 Stratocaster but is outfitted with modern components. The most significant noticeable difference between this model and the 1960s one is the neck. The Original '50s features a soft "v" maple neck, which was common on Strats back then. If you're upgrading to this model, the neck might feel uncomfortable at first, but your hands should adjust.
The most impressive part of this model is the 1959 pickups, which sound very authentic to the period.
The American Original 60 Stratocaster was designed around the 1965 Stratocaster, so think tones like John Mayer and Stevie Ray Vaughan. That classic Strat tone is made possible thanks to the Pure Vintage '65 pickups paired with a 5-way switch that allows you to dial in the perfect tone.
If you're choosing between the two, the American Original 60s Stratocaster gets the nod for its more authentic tone from its three single coil pickups.
Pros
Authentic. These Strats are as close to the 1950s and '60s as you can find.
Chunky neck. Don't worry; you can still grip it easily. The neck on the '60s model is made for rockin'.
Cons
Pricier. Here's where you get into the more expensive Strats.
The maple neck on this guitar is chunkier than the '50s model, but has a more familiar C-shape that your hands will recognize.
I really appreciate how the '60s model aged its knobs and pickup covers to give it more of a vintage look.
The Original series used to be called the Classic Stratocaster. You can still find some of those models on Reverb.
• • •
Are you looking for the top-of-the-line Stratocaster — and one that will have people giving your guitar a double-take? If it's in your budget and you love the look and sound of Strats, then you want to work toward investing in a Fender Custom Shop Stratocaster.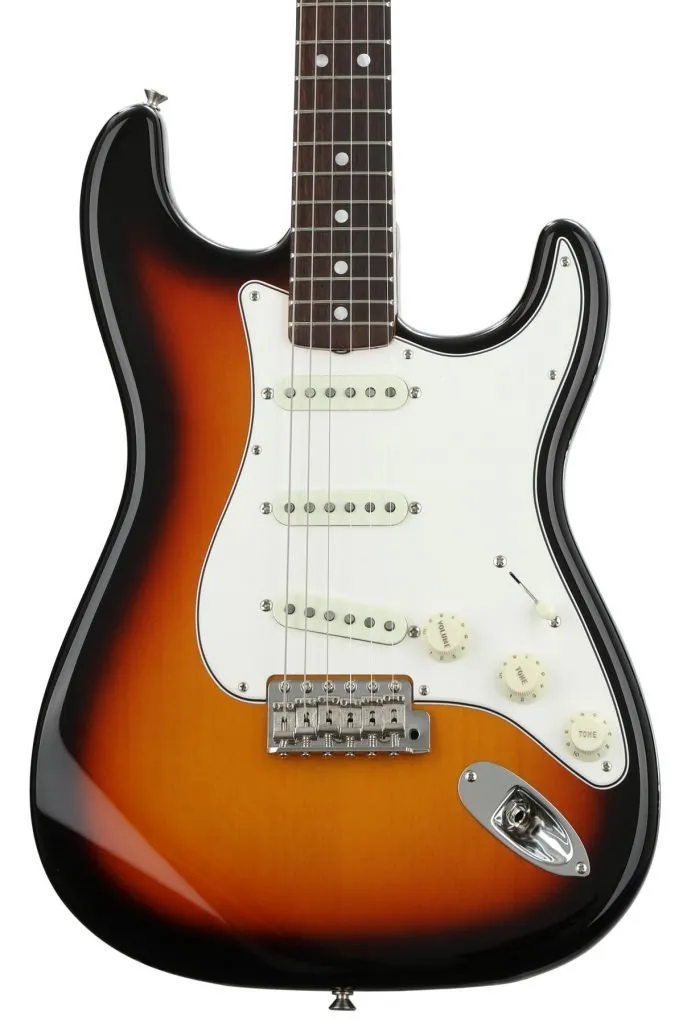 The Fender Custom Shop allows fans of really cool Fender Stratocasters (and other Fender models) to customize a guitar precisely to their liking. There are a number of guitar shops, including Sweetwater, where you can find Custom Shop creations. Many local guitar shops, like Rainbow Guitars in Tucson, Arizona, have members of their staff create these guitars and then sell them in their shop.
At Sweetwater, you can find the GT11 model, which comes in several relic options, giving it that beat-up Stratocaster look. The relic look isn't just making the Strat look worn in. Players have become quite creative over the years, by covering a sunburst finish with Olympic White, for example, and then chipping away some of the white paint to expose the sunburst.
You also get more basic options — like choosing a maple fingerboard over a darker rosewood fingerboard. Or an ash over an alder body.
The Custom Shop also features a number of Custom Artist Signature Fender Stratocasters, including those inspired by Eric Clapton, Jeff Beck, Jimi Hendrix, and Stevie Ray Vaughan.
While Fender Custom Shop guitars are pretty expensive (each of them is handmade by an expert Fender luthier), there are some more affordable options in the Fender Artist Series. While these are still four-figure guitars, they are about one-third of the price of most Custom Shop Strats. The Stevie Ray Vaughan Artist Series Strat is one of the more popular guitars in this series.
• • •
Vintage Fender Strats
You can find a Stratocaster in the Smithsonian — it's that iconic of a musical instrument. So, it should come as no surprise that there's a big following of vintage Fender Strats today.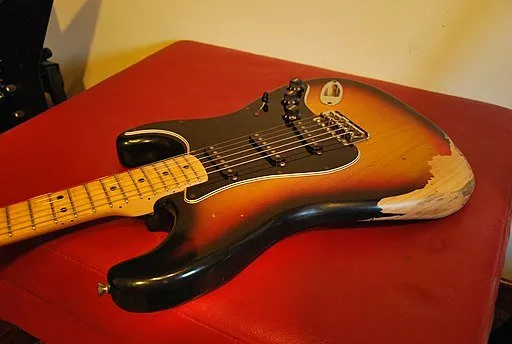 A vintage Strat isn't a new Stratocaster. To land a unique Stratocaster model, you need to be diligent about following the used Stratocaster market and doing your homework to confirm the serial numbers and overall condition before making your purchase. Fender Stratocaster value by serial number is very real, and a number that's a few digits off can substantially change the guitar's price.
Of course, what constitutes vintage is all relative. A Strat from the 90s could be 30 years old at this point, which to many is considered vintage. This category also includes Japanese Fender Strats, which were popular in the 1980s. One thing is true, though: Most of these are rare Fender Stratocasters that collectors adore.
We're going to use this section of the article to explore some of the best Stratocaster years and break down what's good and not so good about each of those models.
50s and 60s Stratocaster
When it comes to some of the best Strats over the years, guitar players turn to the 1950s- and 1960s-era models. When examining a 50s vs. 60s Strat, there are a few key differences.
The 50s model is special because it's the decade the Strat was launched. The most noticeable feature of 1950s Strats is the V-shaped maple neck and a curvy fretboard radius, which was flattened out over the years.
In terms of looks, you can't go wrong with a white blonde 50s Strat.
That iconic single-coil tone that Strats are known for really came to life In the 1960s. This 1965 Strat is a great example. This is the generation of Hendrix, Clapton, and Vaughan.
Design-wise, Fender updated the pickguard from white to mint green and released a bunch of really interesting color finishes. Still, black remains a popular option among collectors.
The pickups in the 60s were also updated to better accommodate overdrive and distortion, which had become a staple of rock music.
80s Stratocaster
The 1980s definitely weren't Fender's golden years, but there are still a few models that are highly sought after by collectors, specifically models from 1985 and 1989.
Fender lost its USA production facility in 1984 and moved all production to Japan until 1987, which is why Japanese Strats were so trendy in that era. During that time, Fender came out with the E Series Stratocaster, which is one of the more popular models today from the 80s. You can typically find these for $1,000 or less.
90s Stratocaster
Like the 80s, Strats were hit and miss as Fender worked to figure out what sells and what sounded good.
Fender used the 1990s to compete against many Superstrat-style guitars from Ibanez and other guitar makers that were flooding the market. In response, Fender released the Fender Prodigy Stratocaster in 1991, becoming one of its more popular models from that decade. Unlike a traditional Strat, the prodigy used two single-coil pickups and a humbucker on the bridge for a nice boost of power.
The Prodigy ended in 1993. Fender went on to make some nice American-made guitars in 1997 and 1999.
Early 21st Century Stratocaster
At the turn of the millennium, Fender was 15 years into its new Corona Plant in California and in need of a solid model to boost sales. The 2002 American Standard Stratocaster in Olympic White is a must-have guitar from this decade, inspired by the Strats of the 1960s. You can find these models in the used market for under $1,000.
There aren't any big collector items from the early 2000s, but 2002 and 2006 Strats made in America tend to be more popular.
• • •
Best Fender Strat Colors
If you're looking for the best-looking Strat, it's going to come down to color and finish. Over the years, there are dozens of colors to choose from, including those classic Strat colors, like burnt sunburst and Olympic White.
Here's some color-specific information related to Fender Stratocasters.
White Stratocaster
White Fender Strats are cool because iconic players like Jimi Hendrix and Jeff Beck made them cool.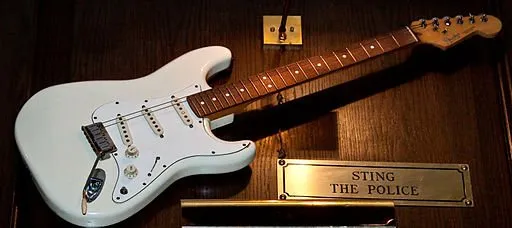 Typically, you'll see white described as Olympic White, which is one of the most popular options on the American Original 60s Stratocaster.
When shopping for Strats, you will also come across the color "vintage white," used on the Yngwie Malmsteen signature Strat. Vintage white is closer to a vintage blonde color than Olympic White.
Today, guitar players really like to play on a white Stratocaster with black pickguard, as found on the American Performer series.
• • •
Black Stratocaster
Black Strats are nearly as popular as white Strats. Black Strats are typically associated with rockers, which is why they remain one of the most popular color options today.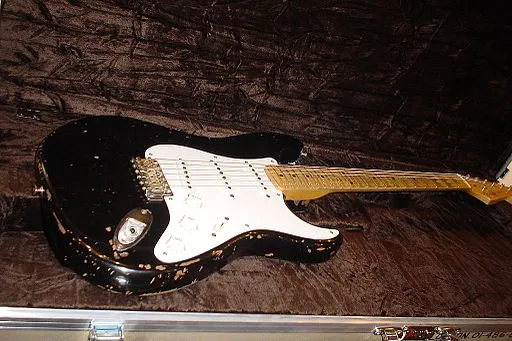 In fact, some of the most iconic Strats of all time feature an all-black look, including the American Performer HSS, in addition to newer axes like the Jim Root and Tom Morello signature models. I am particularly fond of this Custom Shop jewel.
One of the most recognized signature Strats is Eric Clapton's black and white Strat, appropriately called Blackie.
It's common for guitar players to pair black Strats with gold hardware, like this Fender Limited Mahogany Blacktop Strat, which featured two humbuckers in a gold finish.
• • •
Red Stratocaster
Many guitar players are also really into red Strats.
The closest example to an all-red Strat is the Fender Player Plus Stratocaster, which comes in Aged Candy Apple Red with a tortoise red pickguard.
There's also an Eric Clapton red and white Strat signature model that's quite popular. This model is identical, except for the finish, to Clapton's "Blackie" guitar.
If you're looking for a red and black Fender Strat for more of a super-Strat look, check out the Fender Noventa Stratocaster in Crimson Red. The black pickguard makes it ideal for rockers looking for an edgier guitar.
• • •
Buttercream Stratocaster
Buttercream Strats were a popular option in the 1950s and remain available today at reasonable prices. The made-in-Mexico Fender Player Stratocaster comes in Buttercream, which looks great when paired with a light-colored maple fingerboard.
The Fender Player Stratocaster HSH in buttercream features a darker pickguard, which offers a nice contrast.
• • •
Other Stratocaster Colors
Like I mentioned, you can find Strats in many different colors. Here are some great examples.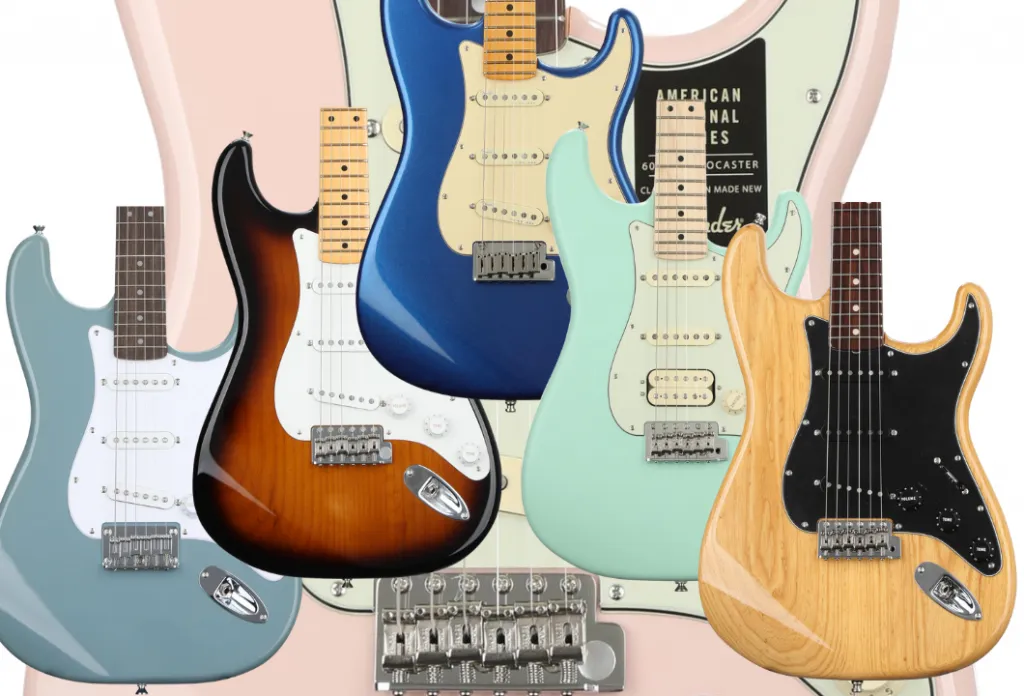 Light blue and dark blue
The Fender Player Series is available in "tide pool blue," a light blue color. The more expensive Fender American Ultra Stratocaster comes in Cobra Blue, which is closer to a Navy blue.
Sunburst
Sunburst is one of the most iconic finishes on a Strat. In fact, a two-tone sunburst was one of two options when the Strat debuted in 1954. Today, nearly all models, including the Fender American Original '50s Stratocaster, come in sunburst.
Gray
Unless you order from the Custom Shop, Gray is a tough color to come by with Fender Strats. Squier makes a solid-looking gray model, though, that more resembles a faded blue.
Natural 
There are many Strats with natural finishes on the used market, but fewer new guitars off the line today, except for the Custom Shop. This Fender Strat Plus from 1997 is an excellent example of a natural Strat.
Green
There are two schools of green when it comes to Fender Strats: 
Pink
Fender makes pink look masculine and classy. This American Original '60s pink Strat is a great example of the finish.
• • •
FAQ
Still have questions before purchasing your first Stratocaster? Here are some of the most asked questions about the best Fender Stratocasters.
What's the history of the Fender Stratocaster?
The first Stratocaster ever made debuted in 1954 (1). The unique contours of the Strat that we know and love were totally foreign to players at the time, and it took several years before the instrument took off. 
That first model had a three-tone sunburst finish, 21 frets, and a one-piece maple neck with black dot inlays.
In terms of sales, Fender Stratocasters didn't take off until the early 1960s. They remained a dominant guitar through the next couple of decades and cooled off a bit in the 1990s.
Still, the Stratocaster is easily the most popular electric guitar on the market today, even with so many more choices available.
What makes the Fender Stratocaster sound unique?
A Fender Stratocaster sounds so unique because of its high-quality single-coil pickups, which can sound great when played clean, and even better when there's some distortion and overdrive involved. The bridge and tremolo also help give the Strat its iconic tone.
What is the Fender Stratocaster's price range?
A Fender Stratocaster ranges in price from a few hundred to a few thousand dollars. The more expensive new models come from Fender's Custom Shop. Depending on the complexities of the custom job, a Stratocaster can cost more than $7,000.
How do you identify a Fender Stratocaster model?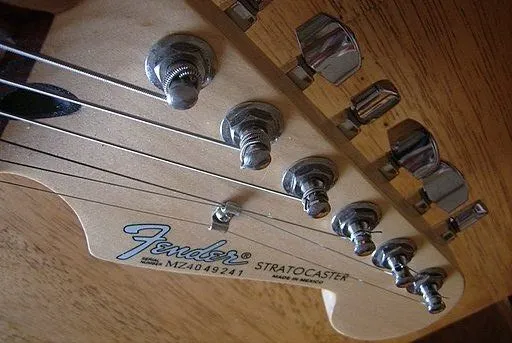 You can identify a Fender Stratocaster by using its serial number, which can be found at the top of the neck plate or on the front or back of the headstock. Use a serial number look-up tool online to determine the year and model. You can also narrow down the list of Strat models by determining if your guitar was made in Mexico or the U.S. You can find this information on the back of the headstock.
What are some of the most famous Stratocaster players?
Shortlisting the most famous Stratocaster players is no easy task, but many of them can be found on this list of iconic guitar players. The most famous Strat player is likely Jimi Hendrix. But you can also consider Eric Clapton, John Frusciante, Buddy Holly, and George Harrison.
What are the best Stratocaster songs?
One of the more modern and popular songs to play on a Stratocaster is John Mayer's Slow Dancing in a Burning Room. The haunting intro really highlights that classic Strat tone. (Note: John Mayer ditched Fender and now plays PRS guitars.) Other good Stratocaster songs include Where Were You by Jeff Beck; Layla by Eric Clapton; and Lenny by Stevie Ray Vaughan.
What is the best amp for a Fender Stratocaster?
If you're going after clean tones, the best amp for a Stratocaster is a Fender '65 Reverb Deluxe. If you want to create a tone that has some bite to it, I recommend a Fender Blues Junior, which is one of our favorite small tube amps. 
Can you play metal on a Stratocaster?
While metal music is not the most common genre for Strat players, but if Yngwie Malmsteen or Ritchie Balckmore can do it, you can certainly do it too! Over the years, guitar players have modded guitars to look like Strats, but with the power of a Gibson or another brand. This is how Super-Strats were born. 
What are the best strings for a Fender Stratocaster?
The best strings for a Fender Stratocaster are the Ernie Ball Super Slinky strings. These strings offer that plucky sound from the clean single-coil pickups that Strat players demand. A set of Fender Super 250s is my second choice.
How many frets are there on a Strat?
All new Fender Stratocaster models today have 22 frets. There's an exception with the American Vintage '65 Stratocaster, the Standard Stratocaster, and the Classic Series '60s Stratocaster, which all feature a 21-fret layout.
Why are there two tone knobs on a Strat?
The upper knob controls tone for the neck pickup, and the lower tone knob controls the middle pickup. Of course, a Stratocaster also has a volume knob, which controls the guitar's overall output (volume) and the brightness of its tone.
How much does a Stratocaster weigh?
A Fender Stratocaster weighs 8 lbs., or 3.6 kg. Compared to the rest of the electric guitar ecosystem, this is on the lighter side, making the Strat a popular guitar for gigging musicians.
What's the best case for a Fender Stratocaster?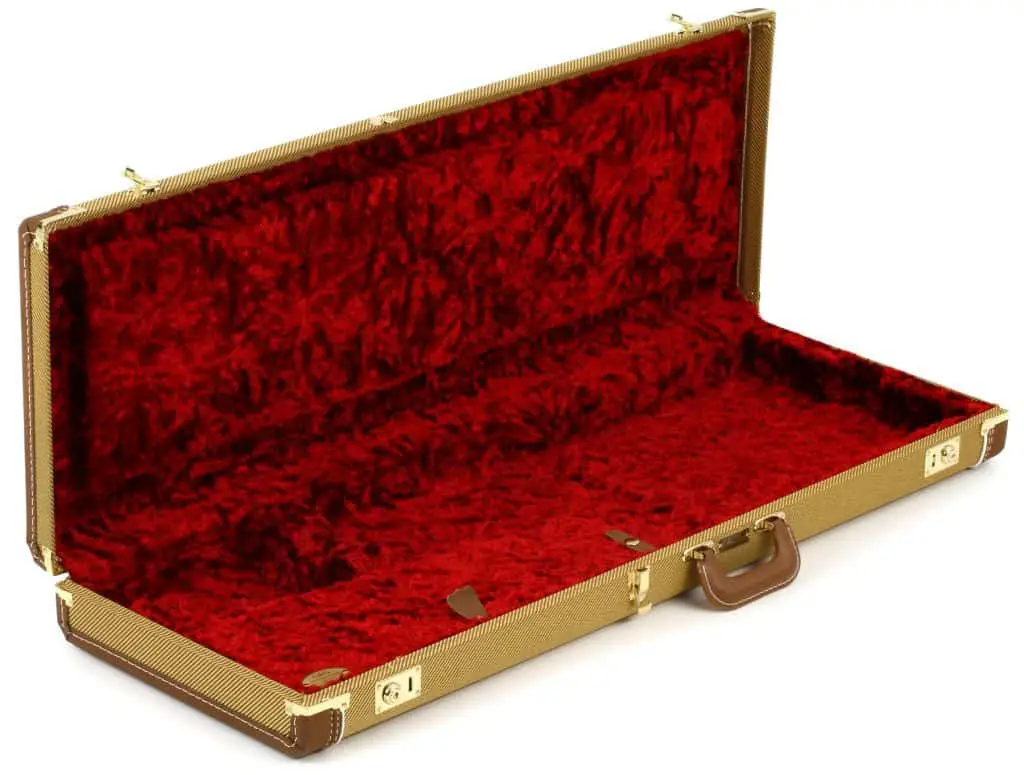 The best case for a Fender Stratocaster is a deluxe hardshell case in tweed from Fender with the red poodle plush interior. That case, however, is on the more expensive side. If you're looking for a budget, check out cases from Gator at Sweetwater.
• • •
Strap Up a Strat Today
As you can see, there are plenty of options when it comes to shopping for a Fender Stratocaster.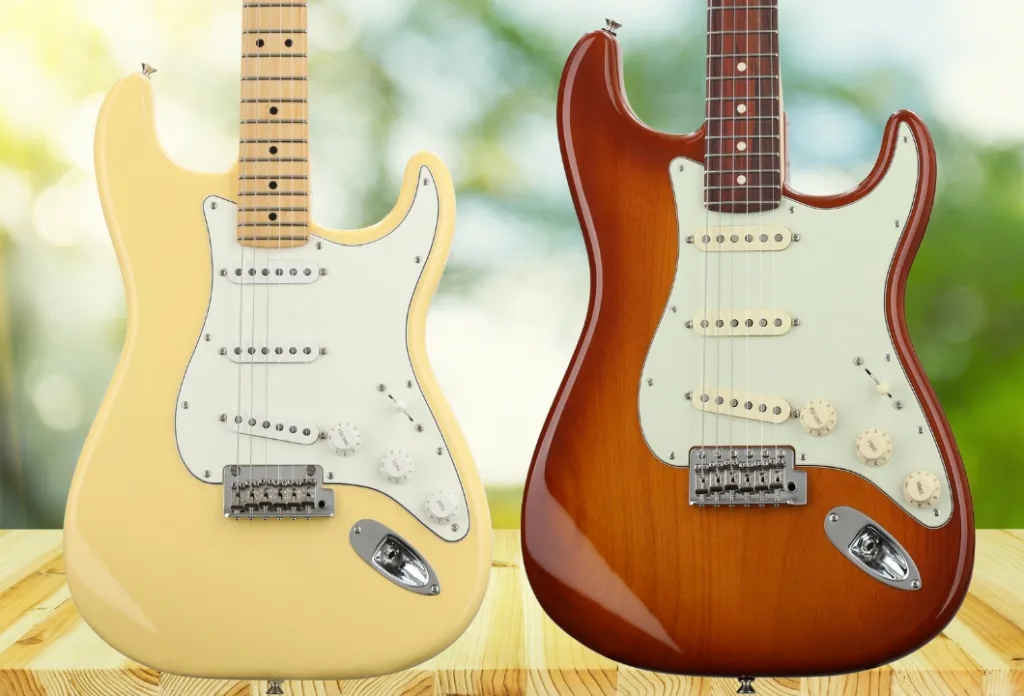 If you're on a tight budget, stick to a MIM Strat, like the Fender Player Stratocaster. This is still a very high-quality Strat with excellent tone, but you can find it for under $1,000.
If you have a slightly higher budget, though, I'd go with the American Performer Stratocaster, which is an excellent value. This is a Strat that will last a lifetime.
Happy Strat shopping!
• • •
References
Jeff Owens, "The History of the Fender Stratocaster: The 1950s," retrieved from https://www.fender.com/articles/gear/the-history-of-the-fender-stratocaster-the-1950s
Image Credits
White Fender Stratocaster image: risastla, CC BY-SA 2.0, via Wikimedia Commons; Black Fender Stratocaster image: CasinoKat, CC BY-SA 3.0, via Wikimedia Commons; Red Fender Stratocaster image: Christopher Bowley, CC BY 2.0, via Wikimedia Commons; Buttercream Fender Stratocaster image: https://unsplash.com/@dylu; 1976 Fender Stratocaster image at Vintage Fender Stratocaster section: Freebird from Madrid, Spain, CC BY-SA 2.0, via Wikimedia Commons; Fender Guitar museum image: Mr. Littlehand, CC BY 2.0, via Wikimedia Commons; Fender Stratocaster head image: Image taken by ArjunTalk • E-mail, Public domain, via Wikimedia Commons; Featured Image: Freebird from Madrid, Spain, CC BY-SA 2.0, via Wikimedia Commons.