Over the past 20 years of shredding, I've had the opportunity to play a lot of different electric guitars. Ones I've owned, borrowed, or just annoyed Guitar Center employees with.
Everyone is familiar with the iconic Fender Stratocaster. Legends from Eric Clapton to Jimi Hendrix rocked a Fender Strat. But after Leo Fender sold the company to CBS, there were quality issues, and rock music, in general, was also changing. The plucky tones from those Strat pickups are synonymous with rock and blues music.
Heavier riffs demanded more than the fender twang could reliably deliver. Other, heavier brands began to experiment with and build on what worked about the Fender Strat. 
In other words, they set out to build the best Fender Strat copies. If CBS wasn't going to do it, by gum, someone would pick up the mantle.
Some of the guitars we're going to look at are direct tributes to the Fender legend, while others are inspired by it:
The Best Stratocaster Style Guitars: Full Reviews
One of my earliest reasons to consider Strat-like electric guitars was simply cost. But others want to rock harder or have an affinity for a brand that isn't Fender. We've considered various reasons in selecting what we think are the best Stratocaster alternatives on the market today.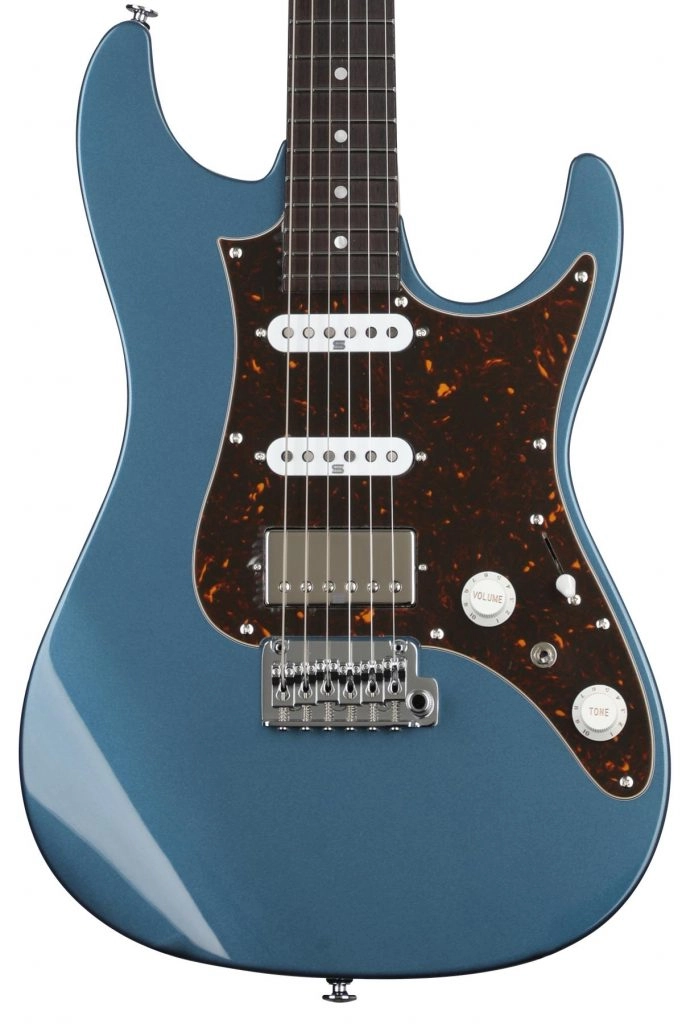 Ibanez has created its most Strat-looking electric guitar to date. But first glance appearance is where the similarities end. 
It features one of the most innovative pickup systems we've ever seen. The 5-way selector is the same you'll find on a standard HSS setup, but a second switch allows you to connect the single-coil pickups in the middle and neck in series.
That means you're able to create just about any tonal combination you want. And they're Seymour Duncan Fortunas, so they can deliver excellent hard-rock and metal tones. But switch them up to feature the single coils and you're right at home in classic rock or blues. 
Pros
Seymour Duncan pickups have 9 different configurations.
Top-of-the-line hardware throughout.
Cons
A bit on the pricey side for Ibanez
It's exceptionally diverse. The Gotoh tremolo gives you confidence that you'll stay in tune no matter how aggressive your soloing is. The C-shaped neck feels modern when you're hitting the higher frets. It's very comfortable. 
Speaking of the neck, Ibanez has gone above and beyond. They heat-treated a c-shaped maple neck and then sealed it with oil for additional comfort and playability. This thing is a work of art. 
• • •
G&L was the company Leo Fender co-founded in 1979 after leaving Fender. It's appropriate then that there's lots of back and forth between guitarists about G&L vs. Fender. While the form factors vary slightly, G&L is the natural evolution of Leo Fender's vision.
The G&L tribute S-500 is less one of the Fender Strat clones, and more like an evolutionary fork of Stratocasters. A true Fender Stratocaster alternative as it was designed by the man himself. If you didn't look closely at the headstock shape you'd be hard-pressed to know you're not looking at the genuine article. And in a sense you are.
The Tributes represented Leo Fender's continued growth. The innovative tremolo system which has two anchor points on top of the body instead of attaching using the standard six screws makes this system more stable. 
Aesthetically, it is richer and looks darker than its bright, surf-rock-inspired cousins. As far as playability, the Tribute S-500 most closely compares to the Fender Player Series. So when considering what to buy, G&L tribute vs. Fender Player Stratocaster is a legitimate consideration.
Pros
G&L guitars were designed by Leo Fender
Dual-Fulcrum Vibrato
Cons
Some components have been reported as sub-par.
My favorite innovation is that the center tone pot acts as a switch, allowing you to only use the bridge and neck pickups to get more of a Telecaster tone.
There's a deluxe model of the S-500 which is absurdly well-appointed, but will set you back accordingly. 
• • •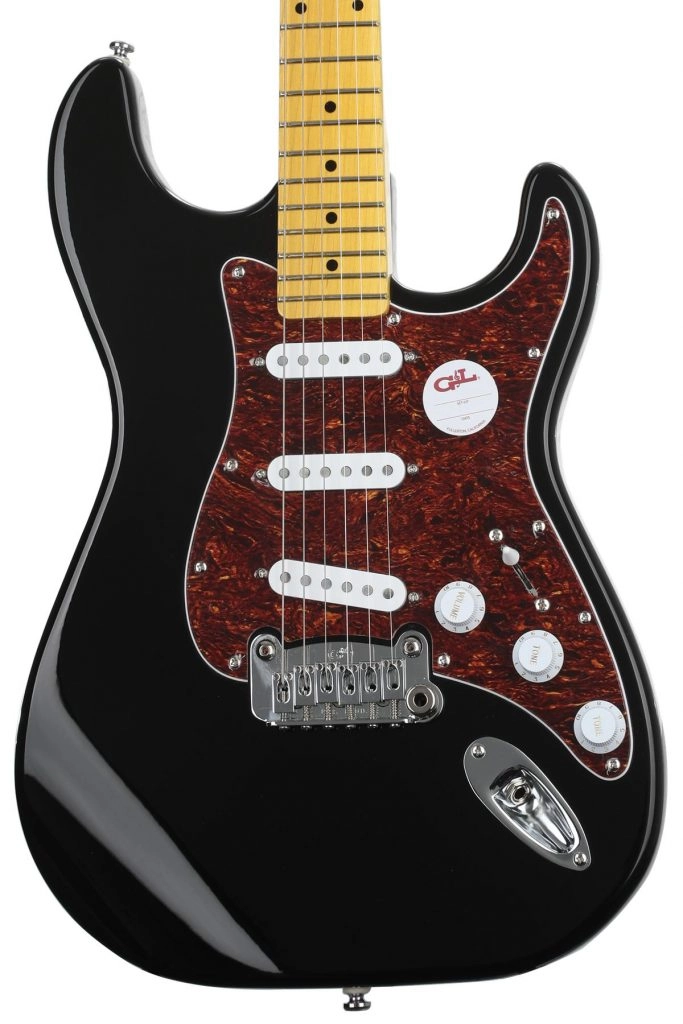 Like its more universal brother, the S-500, the Tribute Legacy is a line of Stratocaster alternatives aimed at recreating the sounds of the 1950s when a shimmering clean tone was the goal. There's also a high-end version of the Legacy, the Fullerton Deluxe Legacy. 
The big difference between the S-500 and the Legacy is the pickup system. The S-500 features 3 single coil CLF-100 pickups wired with an Alnico magnet. They shine. The guitar also features one of Leo's later inventions, the PTB (Passive Treble Bass) which gives the player the chance to split the treble signal from the bass signal to really dial in a 50s vibe. That's a fun studio feature.
Pros
Alnico magnet-based pickups are bright and shimmery
Vintage fast C-shaped neck
Beyond that, it's a pretty guitar. If you're doing a surf-rock record, this is the Fender Strat copy for you.
• • •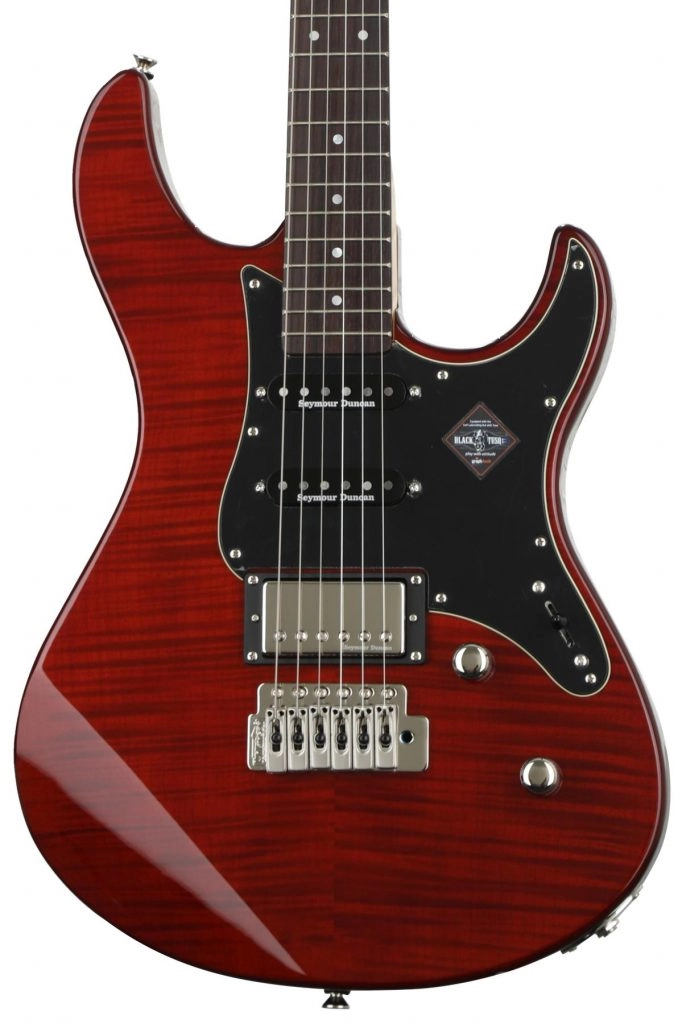 Yamaha is one of those Japanese conglomerates that seem to make everything. Dirtbikes? Sure, some of the best. Golf carts? You betcha. But if you look at their logo, it's 3 tuning forks. So, music is at their core. It's why we've included them on our list of best guitar brands. It's also why we wanted to take a look at one of their most popular beginner lines, the Yamaha Pacifica. 
This is one of those debates that has Strat enthusiasts foaming: Yamaha Pacifica vs. Squire Affinity. They're both entry-level Strat-like guitars, and while an Affinity Squier Strat was my first electric guitar, I have to admit, the Pacifica might be one of the best Fender Strat copies for new players. Check out how they compare at our Squier Stratocaster review.
Pros
It's Cheap. Maybe the best cheap Strat copy on this list.
There's a spectrum of models in the series to choose from.
Cons
No bridge single coil option.
• • •
Tough to beat an entry-level price of around $200 for a violin-burst finish. This is one of the most popular beginner guitars. We had to call it out when we talked about Yamaha a while ago because it's so pretty, oh so pretty. It's got basic hardware and features the HSS pickup arrangement that many of the Pacificas do.
• • •
The PAC112V is a slightly upgraded version of the PAC012DLX beginner guitar. While it features the same HSS pickup arrangement, the tone knob is set up with a push/pull system that allows you to split the coils on the humbucker to achieve a single-coil tone. 
• • •
This mouthful of a guitar model is a scorcher. It's the top-of-the-line Pacifica and has all the bells and whistles. Specifically, it has custom Seymour Duncan pickups in its HSS formation. The flame-red veneer on the body and matching headstock is every bit as eye-catching as any finish Fender is putting out. It's a bit pricier than the other Pacificas, but with an array of features like Grover locking tuners, it is actually quite reasonable. 
• • •
A bridge Seymour Duncan humbucker and P90 single-coil at the neck give this beauty the most unique tone of the Pacifica series. And that flamed maple top in a finish they call "root beer" is something special. Locking tuners from Grover and a hardtail bridge ensure this model stays in tune at all times. You can read our full review of this guitar in our best P90 guitars article.
• • •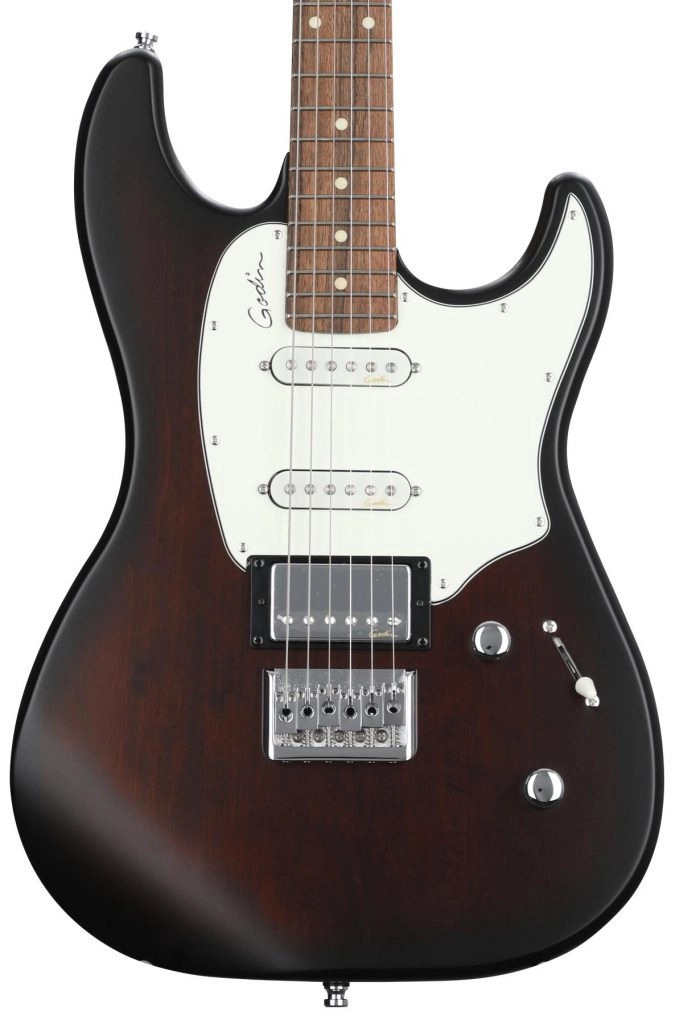 Godin makes some really interesting guitars. The Session HT is a bit of an odd duck. The slightly different contours of the body make it almost appear as a Strat and a Mustang had an out-of-wedlock child and sent it away to live in the Great White North. 
The pickups are made in-house and are arranged in the HSS style that provides the most versatility. And that just goes double when you consider it has a push-pull tone system to coil-split the bridge humbucker.
Pros
Unique Body Shape Stands Out
Coil-Splitting Humbucker Adds versatile tone.
Cons
Can be hard to track one down.
Its hardtail bridge makes this a great rhythm guitar, with near-infinite sustain. The semi-translucent bourbon burst finish makes the Session HT stand out on stage. Definitely one of the coolest Stratocaster alternatives I've run into.
• • •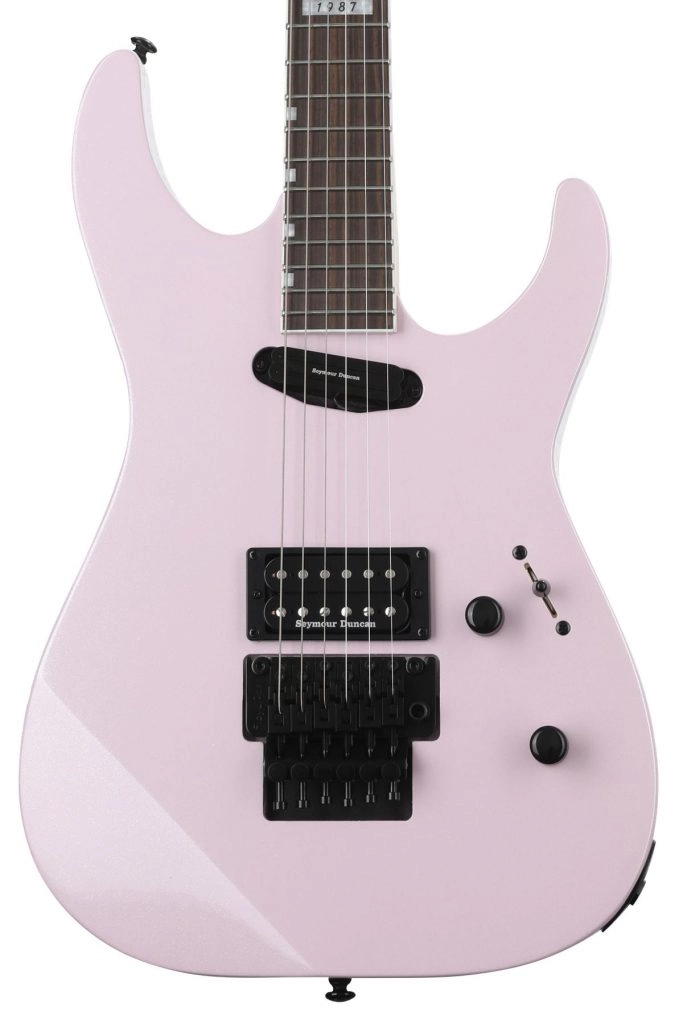 The Mirage Deluxe '87 is straight off an all-night bender on Sunset Blvd at the height of hair metal. It most certainly has that super-Strat vibe that CiCi Deville would sell a kidney for. It talks dirty to you with its bright pink finish and standard ESP attitude.
It features two hot Seymour Duncan humbuckers. A reverse-angled single-coil size one at the neck, and a standard hot rod style bridge humbucker. The Floyd Rose system along with the locking nut ensures your guitar stays in tune no matter how much you're bending.
Pros
Perfectly Captured 80s metal vibe
Seymour Duncan pickups provide a ton of gain.
Cons
Do you like the 80s? Can you afford enough Aquanet to support playing this guitar?
This is a spec-for-spec recreation of the Mirages at the time, so it's a performance-built instrument. It will melt a face or two in the right hands.
ESP tried their hands at a more direct Stratocaster copy in the ST 203, but that seems to have been discontinued. 
• • •
Charvel
Although not usually known for producing Strat-like guitars, some of the Pro-Mod series could qualify as a Charvel Strat copy. The Pro-Mod So-Cal Style 1 HH Floyd Rose, for instance, looks almost identical to the HH version of the Squier Contemporary Strat.
• • •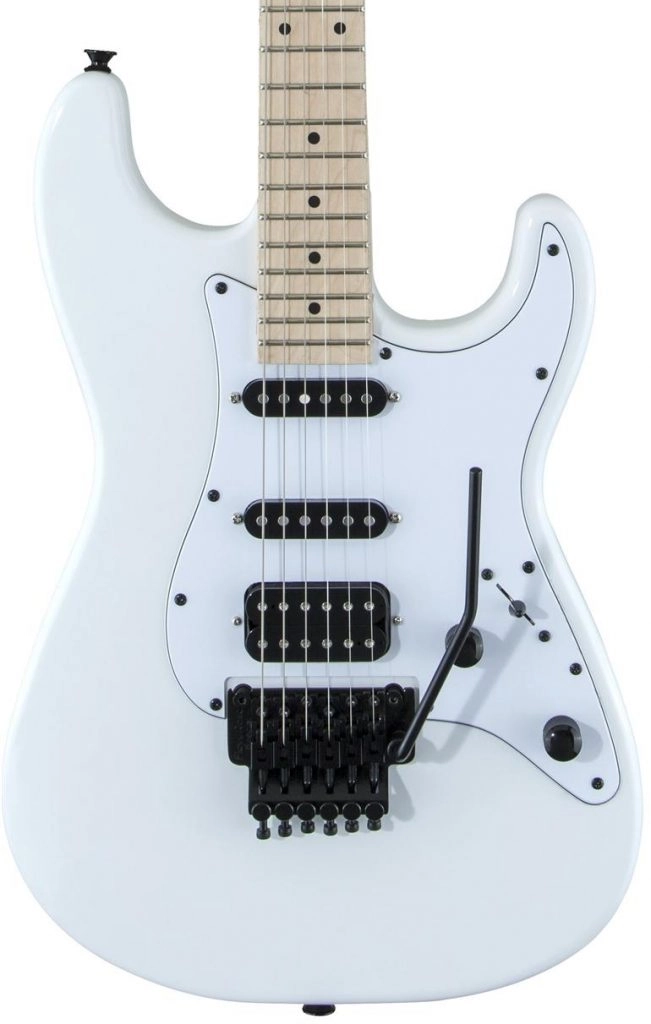 Jackson has been a legend in the hard rock and metal worlds for more than 30 years. We recently reviewed some of the Jackson guitars in that rock lineage. 
In all that time, creating a Strat copy hasn't likely been high on their list of priorities. That is until Adrian Smith of Iron Maiden says "let's get it done."
And did they ever. This thing is a beauty. I'm surprised they got away with the shape of the headstock, but I won't tell if you won't. Beyond that, the guitar itself features high-output, noiseless, Jackson-designed pickups in an HSS format. Having that much gain without any type of ambient noise shouldn't be possible, but they figured it out.
Pros
A well built custom Jackson Strat.
Surprisingly affordable for a custom model.
Cons
Spec'd for Iron Maiden… so not the most versatile on the planet.
The Floyd Rose tremolo and locking nut make sure the guitar stays in tune as you're setting the maple fretboard on fire. I'm a huge fan of maple fretboards on Strat clones. 
The snow-white finish with a white pickguard and jet black hardware gives it a type of inverse aesthetic that is really attractive and stands out in a sea of black guitars. Adrian cuts his own path and does so at a reasonable price with this copy.
• • •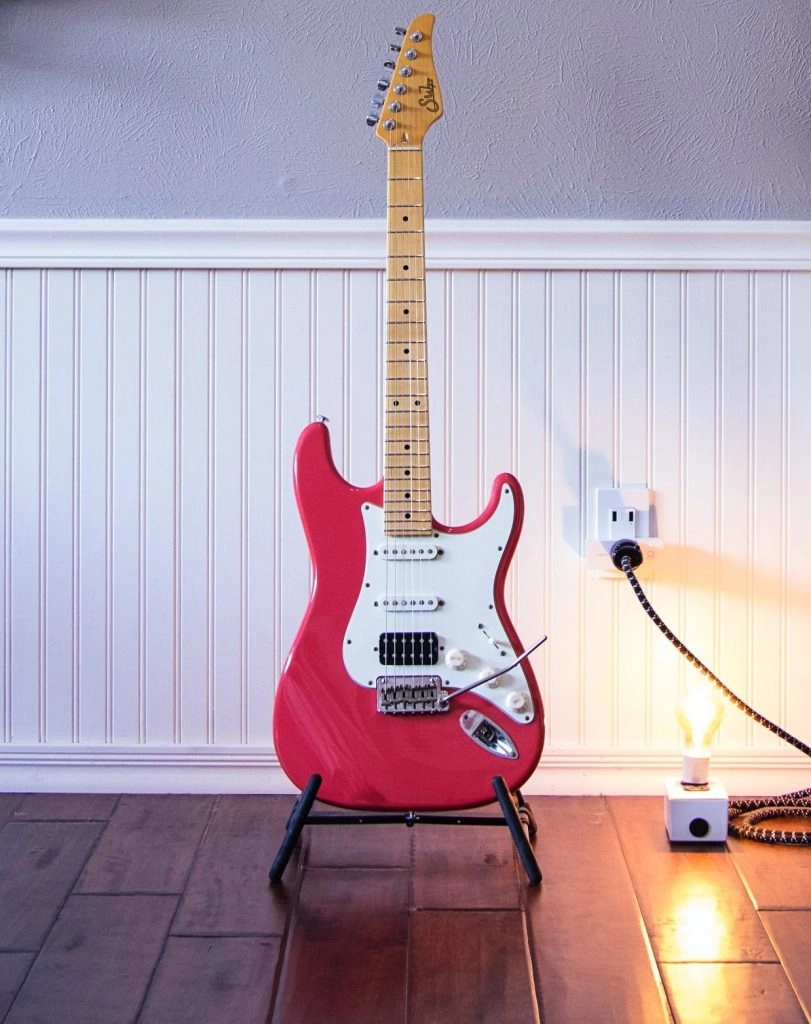 Suhr Guitars aren't all that familiar amongst most guitarists, and that's probably because these premium Strat lookalikes demand a premium price. Their Classic S models are so well-appointed that they feel like a custom shop model. In that respect, the price is reasonable but not immediately accessible to the average player.
Locking tuners, custom noiseless pickups made by Suhr, and a Gotoh tremolo bridge make this one of the nicest Strats you'll ever play. The low-profile vintage 60s C neck lets your hands fly around the fretboard.
Pros
Exquisite construction
Wide range of color, neck, and hardware options.
Cons
Not an entry-level instrument.
They have created a special thin urethane finish that helps the wood resonate more than any other Strat copy on the market. Weighing in at just over 8lbs, this guitar also feels exceptionally light. 
For my money (or let's be honest, for my credit) there isn't a better Strat copy on the market. It's just a shame there isn't something more accessible to the average, or casual player. As you progress this will be a guitar brand to watch.
• • •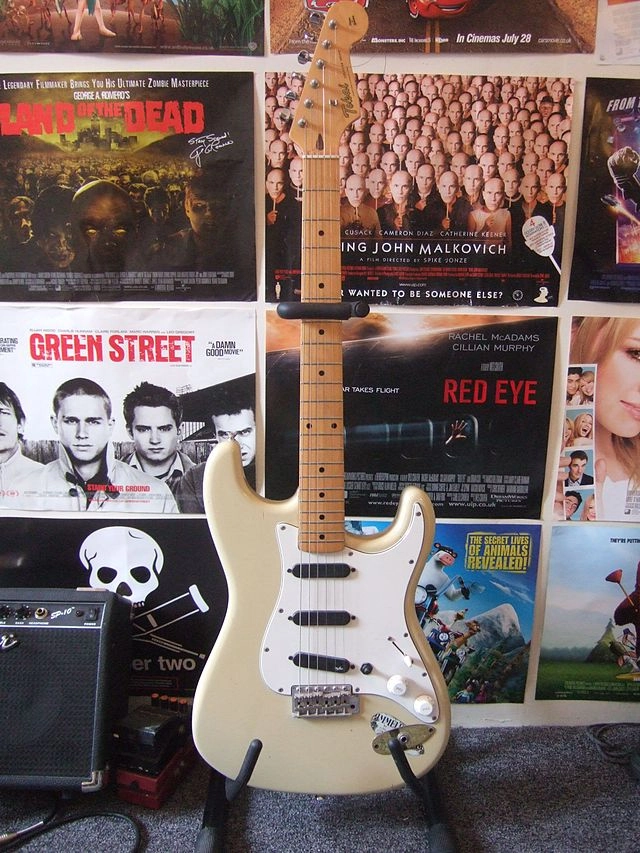 In the early 80s, Fender didn't have the best brand image in the marketplace, and so they decided to produce officially licensed Stratocasters in Japan to compete with the stellar copies that were being produced by companies like Tokai. These copies were so good that, even to this day, the Tokai Silver Star Strats are coveted by buyers in the used market above all others.
The Tokai Strats featured improvements that were head and shoulders above what Fender was doing in the 80s. Metallic finishes, hand-wound electronics, and matching headstocks were just a few of the improvements you'll see when searching for used guitars. 
Pros
Every guitar is hand-made in Japan.
Japanese Stratocasters are historically some of the best ever made.
Cons
Can now only be found in the used market.
Unfortunately, you can only get these now in the secondary market, because Fender started suing every guitar manufacturer at the time producing better quality copies and putting them out of business.
• • •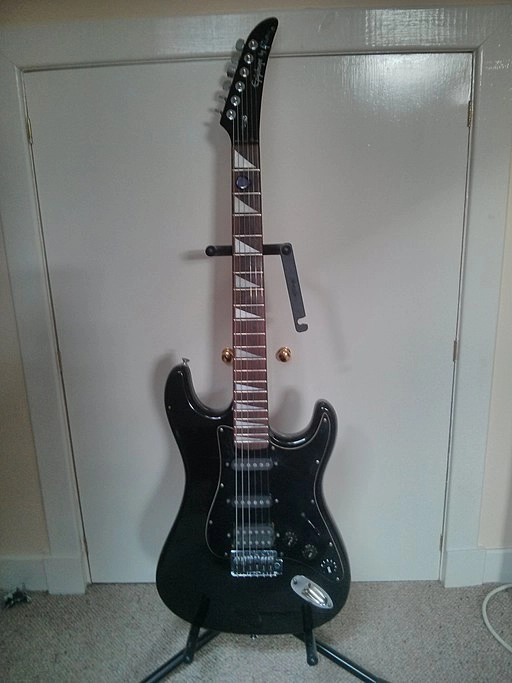 Throughout the late 80s until 2004 the Korean Epiphone factory produced a Strat copy known as the S series. And this thing is weird. Not only is it weird to see an Epiphone Strat, period, but they never got the branding right. Throughout its run, it saw 6 different headstock designs. You can find these on the secondary market and they sell from around $500 – $800 on average.
Pros
A completely novel release from Epiphone.
Cons
Have been discontinued, could be hard to find.
• • •
Boutique Strat Style Guitar Makers
When you want something better, but don't want to necessarily go to a custom shop, you can hit up one of these boutique guitar luthiers that make Strat-style guitars. These are true artists.
Nash creates beautiful S-style guitars that look like they came right out of the Fender custom shop at a fraction of the price. Each guitar is made by hand at their boutique shop in the USA. The Nash S63, based on a 1963 Fender, is one of the most sought-after Strat lookalikes in the secondary market.
• • •
Ron Kirn is a one-man operation who has been making their own Strat-style guitars since the late 70s when he was unhappy with what the CBS-owned Fender was putting out. Since then, he's literally written the book on how to make Strat-style guitars for hobbyists and professionals alike.
• • •
Kaufmann
Kaufmann is actually a guitar store that started making some of their own guitars. Their S-Model pays homage to but builds upon, what makes a Strat a Strat. If you find yourself in the Netherlands, you should check out their unique operation.
• • •
The Anderson Guitar Works has attracted some of the biggest names in classic rock. Richie Sambora, Keith Richards, and punk artists like Dexter Holland. The list of artists playing Tom Anderson classic guitars is quite impressive. 
• • •
Fake Fender Stratocasters
As with any asset worth having a counterfeit, it's possible to track down a knock-off Stratocaster if you have money to waste. For the most part, they come from China and can sometimes be a decent OEM instrument from the Chinese factory that walked out the back door. 
There are some luthiers that aren't producing Strat clones under their own label, but actual counterfeit Strats. The quality is so hit or miss that we can't recommend going this route when a Squier Bullet or Ibanez is available.
• • •
FAQ
Any time you're buying something that isn't from the original designer, there are going to be some common questions to help you make a better buying decision. Let's take a look.
Who makes good copies of Fender Stratocasters?
In addition to the brands and models we picked out as the best Strat-like guitars, there are other cheap Strat copy brands that are great for beginners. Look them up on Reverb and see what you think.
Cort
Univox
Friedman 
Pignose 
Deltatone
New York Pro 
Univox
Harmony
Bill's Brothers
SX
Tagima
Kona
Are Strat copies good?
Strat copies are good if you want to get a quality guitar without paying for the vanity brand name. Many of the guitars we looked at are higher quality at a more reasonable price than the Fender equivalent.
Fender or Gibson? Nah.
When I was starting out playing, I didn't know any better than to look at Fender or Gibson. Eventually, I found Squier Strats and settled there. I guess I'm not in bad company, as Mike Rutherford of Genesis is nothing but Squier Bullet Strats (1) on the final Genesis tour. So, just because something is cheap doesn't mean it's not arena-worthy. Take a second to look at our Squier Stratocaster review.
These days, I'm in the market for a Tokai Stratocaster, and I love the Yamaha Pacifica as a recommendation for new players. 
There's no reason to get stuck in the fender/Gibson debate when there are so many more options in the modern market. What's your alternative axe of choice? Any standouts we missed? Let us know in the comments.
• • •
References:
Jackson Maxwell, "Arena-rocking Genesis guitarist Mike Rutherford has been using $200 Squier Bullet Strats onstage," retrieved from https://www.guitarworld.com/news/mike-rutherford-genesis-squier-bullet-Strat
• • •
Image Credits
Epiphone Strat Copy Image: Kyle Macquarrie from Glasgow, Scotland, CC BY-SA 2.0, via Wikimedia Commons; Tokai Stratocaster Image: wetwebwork from london, U.K, CC BY-SA 2.0, via Wikimedia Commons; Suhr Classic S image: Nicholas Lazarine.