Jackson guitars are some of the hardest rocking guitars you'll ever strap on.
I recently picked up one of them for the first time in years and was blown away by how hot the basic humbuckers were. How much of a fast neck that was. 
They're in the same arena as some of the smaller electric guitar makers. You'll often see Jackson vs. Ibanez or Jackson vs. Schecter. They aren't interchangeable, but they run in the same circles. If you're not looking at an ESP guitar, Jackson is a fantastic alternative.
If you're ready to start shredding like Randy Rhoads, then it's time to peruse this Jackson guitars review.
Here's a quick look at the axes we'll be reviewing:
My Favorite Jackson Guitars
At this point, Jackson has quite a storied history in hard rock music. It'd be difficult to pick the objectively best Jackson across their entire catalog. So, for this review, we tried to pick a few of the best examples for each of the most iconic Jackson guitar models we could find.
Jackson Soloist
When Grover Jackson was still working at Charvel Guitars full time, he started making one-off custom guitars for different hard rock and metal players he'd encounter. Those custom guitars would serve as the genesis for the "Soloist" line. The first official Soloist didn't come off the line until 1984.
Slipknot is one of the most iconic modern metal bands out there. It makes sense then, that Mick Thomson would have a custom Jackson. It's affordable, under $1,000, with all the appointments you would expect. 
The only thing that bummed me out was that the custom pickups are made by Seymour Duncan instead of a heavier brand like EMG. That said, the neck is phenomenal and the sustain left my wife wondering why she married me. 
Pros
Sustain for days.
Ebony fretboard is lightning fast.
Cons
Stock can be spotty. 
Duncan, not EMG pickups.
• • •
This Soloist model features a neck-through design that you don't always see at this price point. The finish is amazing and the action on the neck is almost unbeatable. Reviews are in on this one, and yeah, it's tough to beat. 
The neck on this thing will make playing almost any riff you want immediately easier, whatever is your skill level. I'm not always the biggest fan of a neck single-coil pickup, but the bridge humbucker leaves nothing on the table. 
Pros
Jackson neck-through guitar has near infinite sustain
Crackle finish is out of this world
Cons
Basswood body at this price is a slight bummer
Neck single coil(?)
• • •
The Soloist SL2Q is a stunner, from its translucent purple finish to its hotwired Seymour Duncan pickups and standout gold hardware.
This Pro Series has an oiled maple neck with a fast and slim, D-shaped profile that makes it easy to play up and down the entire fretboard. 
Other features include a Floyd Rose licensed tremolo bridge, a mahogany body, and 24 jumbo frets on a bound compound-radius ebony fingerboard with micro angled shark fin inlays.
Pros
Neck-through guitar has near infinite sustain
Mahogany Body
Quilted top is a looker.
Cons
Piranha teeth inlays are hard to see.
• • •
The USA Select SL1 Soloist lives up to its name and then some. This top-of-the-line model comes with a completely solid design and an upgraded cutaway. It's basically the Jackson SuperStrat. 
The Select Soloist has a maple neck and alder body for a rich tone. The hard rock ebony fingerboard offers you super-smooth playability, letting your imagination be your guide as you go wild on guitar solos and riffs. It has to be in the top 5 most comfortable guitars you will ever play. The 3 humbuckers have more gain than any electric guitar I've ever played. Though, only at the store.
Pros
Three humbucking pickups have really high gain.
Mother of pearl inlays make this guitar stand out.
Another guitar that probably deserves to be called THE Jackson SuperStrat is the X Series Signature Adrian Smith SDXM. Check out our review in our best Strat copy article.
• • •
Jackson Dinky
One of the most active debates in metal circles is the Jackson Dinky vs. Ibanez RG. They are very similar guitars designed for aggressive licks. The Dinky features a slightly smaller and lighter body than the Soloist line but retains the speedy features of its cousin.
The Dinky JS22 has the iconic Jackson body in a shiny metallic blue finish. We've looked at the Jackson Dinky 7 string version before, but here we're going with a straight 6. 
The Jackson JS11 is, by far, the brand's cheapest exemplar on the market, but all in all, the JS22 is such a great value for just a few bucks more. In terms of playability, looks, and attitude.
Pros
Metallic blue finish pops
One of the most affordable guitars
• • •
If you're not dropping multiple octaves on your solos, the JS32 Dinky is going to be your best bet at a sub-$500 price point. 
The alternative Dinky hardtail version keeps everything well in tune without having to worry about your tone in between songs. 
The bright tonal finishes on these guitars make them stand out in a sea of black and muted purples. If you want to make a statement, here it is.
Pros
High quality fretboard
Finishes available are stunners
Cons
Neck can take some getting used to if you're new to Jackson
• • •
While obviously a Jackson, the Pro Dinky has some aesthetic appointments that set it apart from its well-branded brethren. For starters, you've got a dot fretboard. On a Jackson? What? 
Second, the nuclear-stained wood grain finish is something we've never seen… ever. 
If that finish is a little too metal, they also offer the guitar in neon pink which is about as 80s hair metal as you can get. They probably have C.C. Deville hand painting these.
Pros
Very lightweight
Unique wood grain finish
The bolt-on maple neck and active pickups ensure this guitar has a tremendous amount of sustain. If you've been looking at a Dinky, this one could float your boat.
• • •
Jackson King V
You can't have a hard-rock-focused guitar brand and not have an answer to Gibson's flying V. The King V line is exactly that. A Jackson line through and through, the aesthetics and playability are just what you'd expect. Perfect guitar for speed metal or any genre that needs to fly.
The King V was designed for the guitar player who wants the performance of a "V" guitar, but not the price tag. 
Finished in midnight black, The King V features a solid poplar body with a beautiful quilted veneer. While its flamed maple back, neck, and fretboard offer supreme playability. 
A pair of Jackson humbucking pickups provide plenty of power through your amp while giving your tone-rich definition. The fretboard features the iconic Jackson shark tooth pattern we've come to know and love with the electrifying fretboard.
Pros
It's a cheap V guitar. Maybe the most affordable for the money.
It wants to rock out of the box.
Cons
Some concern with the tuners
• • •
Finally, Floyd Rose paired with EMG pickups. Just kidding… that's metal, and the Jackson X series came to play. 
If you want to get extra heavy, check out the 7-string version King V 7 string for when you need to drop to C. It's never come up in my repertoire, but that just means you're rocking harder. 
The satin black finish stuns and those EMGs make sure there's not a hint of noise behind your strings. 
Pros
7-string available
EMG pickups howl
• • •
Jackson Rhoads
Built for the man himself, Randy's iconic offset V has been copied by just about every other hard rock guitar company on the planet. But this is the original, designed and built for a playing style every bit as unique as he was. Rest in peace.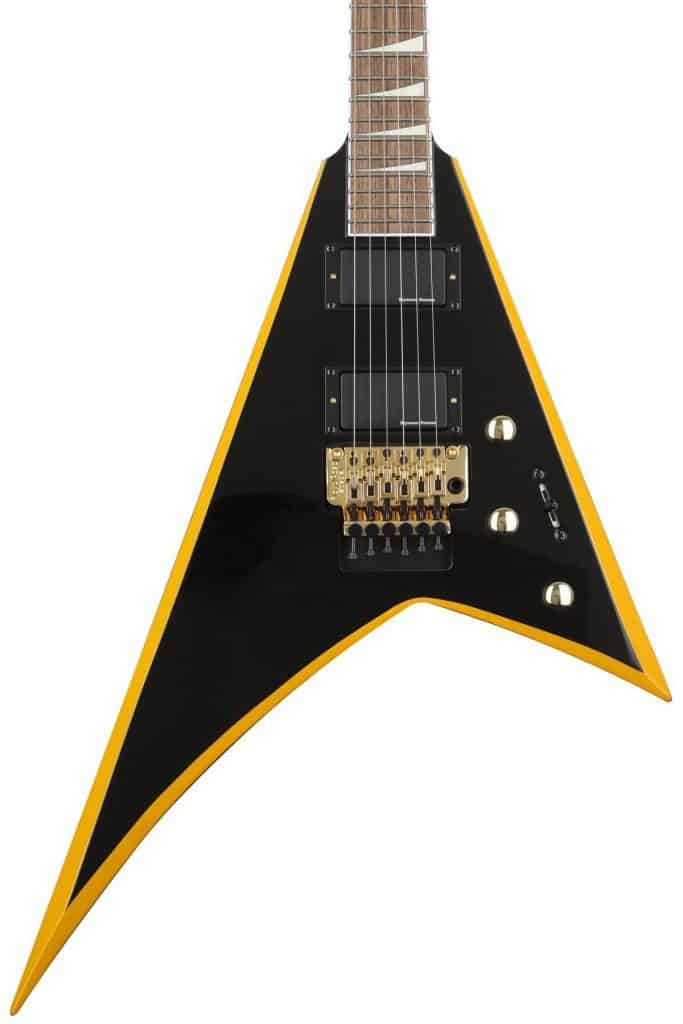 Randy Rhoads and Jackson teamed up in 1982 to create a guitar that would help launch a brilliant, albeit brief, career.
 With his slim custom-shop offerings and signature body, Randy was able to take the world by storm and establish himself as a legend (1). It took just one generation to crown him as such. Thousands of musicians — including many top metal players today – continue to honor Randy by playing his signature model.
Pros
Well appointed Rhoads signature.
Well under $1,000.
Cons
May not be "studio" ready
• • •
Seeing as Mr. Rhoads passed away more than 30 years ago, it's not super surprising there hasn't been a ton of work done on his pro model. This one looks amazing, but beyond that, it's the same Randy that Ozzy met all those years ago. 
Pros
Lightning Crackle finish is hot
Floyd Rose bridge is excellent
Cons
Not a ton of innovation for the price.
• • •
Jackson Kelly
In the Kelly, they've answered Gibson with an angrier, more angular, harder-rocking Jackson explorer. If you're plugging in one of these, you're not going to be tuning up for "The Streets Have No Name." Sorry Edge. The razor-sharp angles certainly make a statement about how much gain you use.
A guitar with a high-output humbucker at the bridge and another at the neck, offering a variety of tones. The Kelly JS32 is designed to take you from heavy riffs to smooth, clean solos with no problems. 
Pros
Ferrari red finish is angry
Under $500? Seriously?
Cons
Not a huge fan of poplar bodies
• • •
This is the guitar you want on your journey. The X Series Kelly KEXQ is an explorer-style guitar with flame maple top and jet-black headstock, black hardware, sealed die-cast tuners, maple neck, 3-piece neck-thru construction, two Jackson-designed high-output humbuckers, with one master volume and one master tone control plus 3-way switching for pickup control. It also features a laurel fretboard which is A, unusual, and B creates an unbelievable sustain.
Pros
That hunter green finish is sexy
Reasonably priced for a floyd rose.
• • •
Jackson Warrior (AKA Jackson Star Guitar)
The warrior series is similar to an explorer shape, but the arms are quite a bit more exaggerated. In fact, in some circles, these are known as "star" guitars for the vaguely four-pointed star shape the body makes. While they aren't entirely unique to Jackson, they are one of the brand's boldest body innovations.
The Warrior WRX is the perfect combination of high-end looks with no-nonsense playability. A solid poplar body gives it a great look, and a fast maple neck allows for crazy-fast playing. 
You're splitting the difference between the lower-end Jackson JS32 Warrior and the Pro series model.
If you don't need either specifically, the WRX X series is a great addition to your collection.
Pros
Neck-thru design well under $1,000.
Snow white body with flat black hardware is stunning.
Cons
Doesn't deal with stands well.
Or cases for that matter.
If you're especially heavy, we looked at a 7 string model and it's built for purpose. A dark one.
• • •
Jackson Monarkh
The Monarkh series, on the other hand, is one of the safest body designs they've created. Essentially it's the Jackson Les Paul style guitar. You can't play hard rock without this single-cutaway body interpretation. Interestingly, it's the only Jackson guitar that features an exclusive 3×3 tuner headstock.
Newly updated for 2016, the JS22Q is a great-looking guitar with a solid poplar body, bolt-on neck construction, and two high-output humbucking pickups. 
The Amaranth fretboard features 22 medium jumbo frets and dot inlays. The Monarkh SC JS22Q features a Trans Purple Burst that is simply stunning. The custom Jackson pickups howl and they don't leave you wanting for more.
Pros
Very nice Les Paul Copy.
$350 is an attractive price
Cons
Not, really, what Jackson's known for.
• • •
The Pro Series Monarkh SC is Jackson's premium take on the classic Les Paul style. It features a mahogany body, traditional 24.75″ scale length, two powerful Seymour Duncan humbucking pickups, two volume controls and one tone control for precise tone sculpting, 22 jumbo frets, 25-1/2″ scale ebony fretboard with mother-of-pearl ghost shark fin inlays, easy-access neck heel, stop tail bridge with Jackson backup nut, and cream body binding.
Pros
Excellent Les Paul Copy
Priced similarly to sub par Les Paul Studio
Cons
Stop bridge tail
Doesn't have the iconic Jackson look
• • •
Custom Jackson Guitars
The Jackson custom shop is one of the finest on the planet. 75% of the master builders rock mustaches. In fact, they could easily be Spinal Tap. But they decided to be exceptional woodworkers instead. Mike Shannon has been there from the beginning and was integral to the Soloist series, Rhoads, and several of the brand's most iconic designs.
Jackson Left Handed guitars
Jackson carries an affinity for southpaws that most other hard rock manufacturers don't seem to share. There are several models available in left-handed versions.
Jackson Guitar Cases
As their luthiers have invented some pretty wild shapes, you really need to get your Jackson case directly from the source. You can get a Soloist case that should fit the bill. The same goes for a Jackson guitar case Dinky style.
• • •
Jackson Guitar Parts
Even if you're not an avid Jackson fan, their guitar parts are instantly recognizable. Since the mid-80s, they've been some of the best-built, and affordable guitars on the market. 
Jackson Headstock
You can't miss the inline Jackson headstock with it's 45-degree angle and logo that looks like it was written with the fat sharpie. Be on the lookout for the Jackson Dinky reverse headstock which indicates it came out of the Japanese factory.
Jackson Guitar Necks
Metal players around the world worship the super fast necks the brand is well known for. Its profile is super shallow and allows for superb action that rivals any top-end guitar manufacturer. Even a $5,000 Gibson doesn't hold a candle to the Jackson in terms of speed.
Jackson Guitar Scale Length
Jackson scale lengths actually vary quite a bit, which is unusual for a manufacturer looking for efficiencies of scale… Are you groaning too? But they can range from 22.5" for a beginner short-scale guitar, all the way up to a beastly 26.5" that produces a noticeably baritone experience. Scales also vary within series, so make sure you double-check.
Jackson Guitar Body
As mentioned earlier, Jackson has some of the most creative luthiers on the planet. Many of whom are still at the company. It's allowed them to devise some of the hottest shapes in rock.
Jackson Pickups
As mentioned in the intro, Jackson humbuckers are wild. The amount of gain coming out of even their single coils is unreal. Put a Jackson next to a stock Gibson and tell me there's no difference.
Jackson Guitar Bridge
With a few exceptions, most Jacksons are holding down the tremolo fort with the Floyd Rose. Those exceptions are worth noting. The Monarkh series, in addition to having the unique 3×3 tuner headstocks, is entirely Jackson hardtail guitars.
• • •
Jackson Series 
As the company matured from a side project to its own entity, they began to develop a series system to ensure customers knew what was made where. And to what standards.
JS Series
Just because these are cheap Jackson guitars, doesn't mean they are crap. In fact, both the new and the intermediate guitar player might find that a JS is the best Jackson for the money. 
X Series
Designed to keep up with the aggressive attitudes of progressive metal, the X series took up the charge of tweaking classic Jackson designs and bringing them into line with their metal market.
Pro Series
These aren't signature Jackson guitar models but are designed for professional working musicians. If you're touring, you might want to look hard at the Pro series. The finishes and hardware upgrades make them hard to resist.
USA series
Well, they aren't cheap, but outside of the actual custom shop, they're the absolute best Jackson guitars you'll find. If you're a Jackson fan, and you're serious, peel back the curtain on the USA series.
• • •
History of Jackson Guitars & Rare Models
Jackson was born out of Charvel and Jackson. Grover Jackson specifically. The namesake founder got his start moonlighting custom guitars for a few players here and there while he held down his day job at Charvel. This was the birth of the Soloist era. At the same time, Randy Rhoads was melting faces as the new guitarist for Ozzy. Who better to create his signature axe than Jackson? 
The Rhoads story would dominate 1980s and 90s Jackson guitars, but they were coveted by every band on the sunset strip playing metal. Jackson fusion guitars, even Jackson double-neck guitars started showing up at the Whiskey, and the Key Club. 
Japanese Jackson Dinky guitars with their reverse headstocks became popular amongst the upstart bands without record deals, whereas Jackson guitars made in the USA held sway with more professionals. 
• • •
FAQ
While Jackson axes have been iconic for more than 30 years, they aren't nearly as well known as their Leo Fender or Gibson counterparts. Let's dive into some frequently asked questions about the brand.
Are Jackson guitars good?
Jackson guitars are good for hard rock and just about every genre of heavy metal. Playing guitar in a hair metal cover band? Get yourself a cheap Jackson.
Where are Jackson guitars made?
There's an assumption that you might buy a Jackson guitar made in India, but since 2002, after its acquisition by Fender, most of them are made in the US, Ensenada Mexico, Indonesia, or, wait for it, China.
Who owns Jackson Guitars?
Fender Musical Instruments owns Jackson Guitars since they acquired them in 2002. Because Fender ain't popular in metal. Rather than reinvent the wheel, Fender acquired them to serve the hard rock and metal markets.
Who plays Jackson guitars?
In the hard rock and metal worlds, Jackson guitars are somewhat ubiquitous. Dave Mustaine and Chris Broderick of Megadeth (2), for instance, have been playing them for years. It doesn't end there. Iron Maiden (3), Slipknot, and Anthrax (4) also rock the angled beast.
How to spot a fake Jackson guitar
The easiest way to spot a fake Jackson guitar is to check the serial number. They've gone through a number of different iterations during the past 30 years, but they've been transparent about how to track down an authentic number versus one made up. That's usually where a counterfeiter will drop the ball on an authentic serial. 
• • •
Shred Away, because you can
I'm nowhere near a metal guy, but I do love playing a Jackson guitar from time to time. You can't help but play a lead. As a big Ozzy fan, the Rhoads series really gets me. They're well-balanced and a blast to play. Also, the classic Soloist series Jackson is hard to beat.
If you've found yourself a high gain fan shredding riffs at 11 at all hours, and haven't yet sampled a Jackson… well, that's on you. Get on it. The Rhoads RRX24 is an absolute ode to Randy. Regardless of your metal skill level, the JS22 is an amazing introduction to the brand and as good a deal on an affordable guitar as you can get — you can barely get an Affinity series Squier for that price.
If you want to step out of your comfort zone and into the world of hard rock, Jackson is a fun place to start your journey.
• • •
References:
Kory Grow, "Ozzy Osbourne Pays Tribute to Randy Rhoads: 'I Owe My Career to Him'," retrieved from https://www.rollingstone.com/music/music-features/ozzy-osbourne-randy-rhoads-tribute-rock-hall-1169415/
"IN FLAMES/Ex-MEGADETH Guitarist CHRIS BRODERICK Teams Up With JACKSON For Pro Series Signature Soloist Models," retrieved from https://www.blabbermouth.net/news/in-flames-ex-megadeth-guitarist-chris-broderick-teams-up-with-jackson-for-pro-series-signature-soloist-models/
Jon Hadusek, "Iron Maiden's Adrian Smith Unveils Upgrade to His Signature Jackson Guitars," retrieved from https://consequence.net/2020/07/iron-maiden-adrian-smith-signature-jackson-guitars-upgrade/
"Anthrax Scott Ian Explains Why He Stuck With Jackson Guitars for So Long, Talks Randy Rhoads Connection," retrieved from https://www.ultimate-guitar.com/news/interviews/anthrax_scott_ian_explains_why_he_stuck_with_jackson_guitars_for_so_long_talks_randy_rhoads_connection.html
Image credits
Jackson guitars at the beginning: Karl Jonsson from Göteborg, Sweden, CC BY 2.0, via Wikimedia Commons; Jackson headstock image: Usherbaird, CC BY-SA 4.0, via Wikimedia Commons; Jackson guitar scale length image: Krzysztof Ostrowski, CC BY-SA 2.5, via Wikimedia Commons; Randy Rhoads image: rick, CC BY 2.0, via Wikimedia Commons; Jackson headstock in featured image: Thermosthatt, CC BY-SA 3.0, via Wikimedia Commons.