In case you're pressed for time, here's the punchline: the best P90 guitar out there, in my opinion, is the Epiphone SG Classic. The Fender Player Mustang is a second close. But you might differ, so bookmark this article and come back later to check out all the other great P90 guitars we included.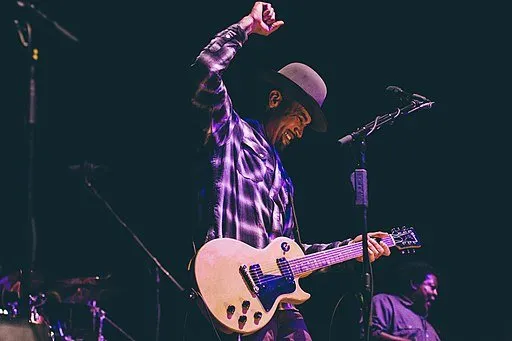 P90 pickups hold a special place in electric guitar lore, and in my twenty-plus years of playing, I've had the good fortune to own a few. P90's are some of the oldest examples of electric guitar technology, predating both the shimmery tones of Fenders' single coils, and the fat humbucker crunch coming out of Gibson. 
Gibson designed and produced the first iterations of P90 pickups way back during World War II. So picking the best P90 guitar took some legitimate work.
It may be old tech, but it's not outdated. Today, we tend to think of P90 pickups as sitting somewhere in between single coils and humbuckers. A balanced mix of clean tones and convincing overdrive.
Let's Review The Best P90 Guitars In the Market Right Now
Everything from the most classic center-slab hollow body guitars to Les Pauls, Telecasters, and everything in between has had a P90 version. So let's touch base and review some candidates for the best P90 electric guitar in the market right now. 
Solidbody P90 Guitars
Let's jump right into reviewing some of the most iconic solid body shapes in the history of the electric guitar. You're familiar with the Gibson and Fender guitars on this list, but you're likely not familiar with what P90 pickups will do to these legendary axes. It's an entirely different guitar with a P90 driving the tone.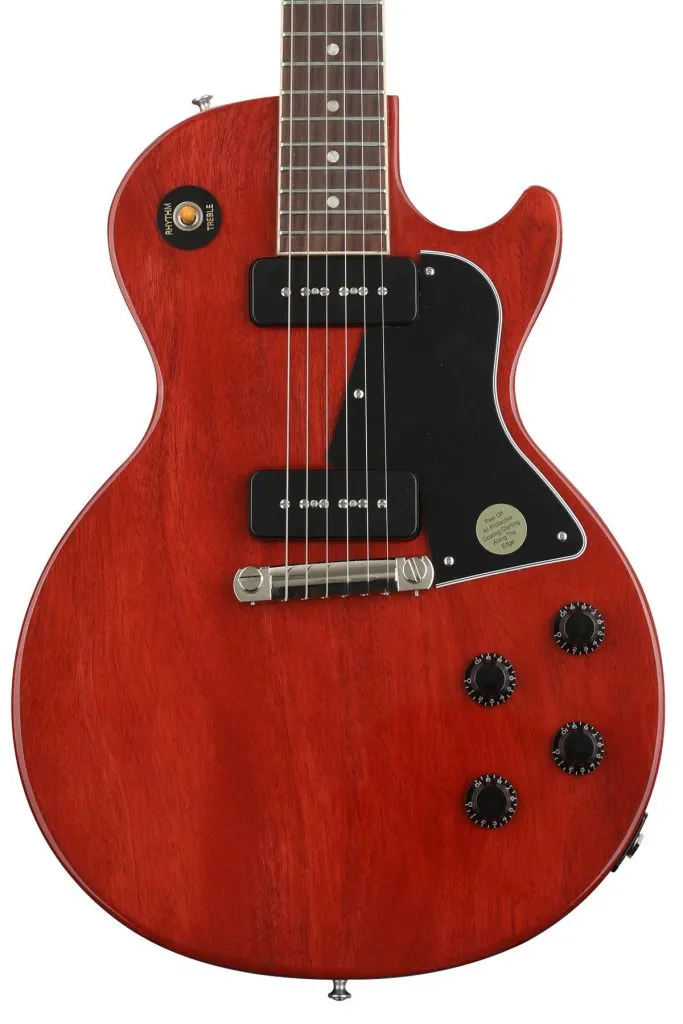 The Gibson Les Paul Special is currently a period recreation right out of the early 1950s when P90 pickups were the bee's knees. Gibson wouldn't release the humbucker until 1957, and it didn't become standard on lower-end Gibsons until well into the 1970s. 
Today, we're a lot more familiar with humbuckers as standard in Gibson guitars, but a Gibson Les Paul Special with P90 pickups is a different beast altogether. For one, if you're using just the bridge position, the P90 hums like crazy. You're picking up every little piece of signal that isn't shielded. 
That's a bit of a pain in a live environment, and something Gibson bucked with the introduction of their PAF series pickups. But the P90's are something special. You're not going to find a glassier tone during the hot P90's era than with a Gibson Les Paul Special. 
Pros
Light weight for a Les Paul
Available in several variations
Cons
Still quite expensive for a specialty guitar.
One extra bit of Gibson trivia is that the Les Paul Special is available in a left-handed model. After years of playing right-handed guitars upside down, southpaws rejoice. If you're on a budget, check out the slightly cheaper Gibson Les Paul Special Tribute model in a beautiful walnut finish.
If you're never going to use the pickup on the neck position, consider taking a look at the Gibson Les Paul Junior equipped with a single bridge P90 for rock simplicity. P90-guitar minimalism at its best.
This one is also available as a left-handed axe. 
• • •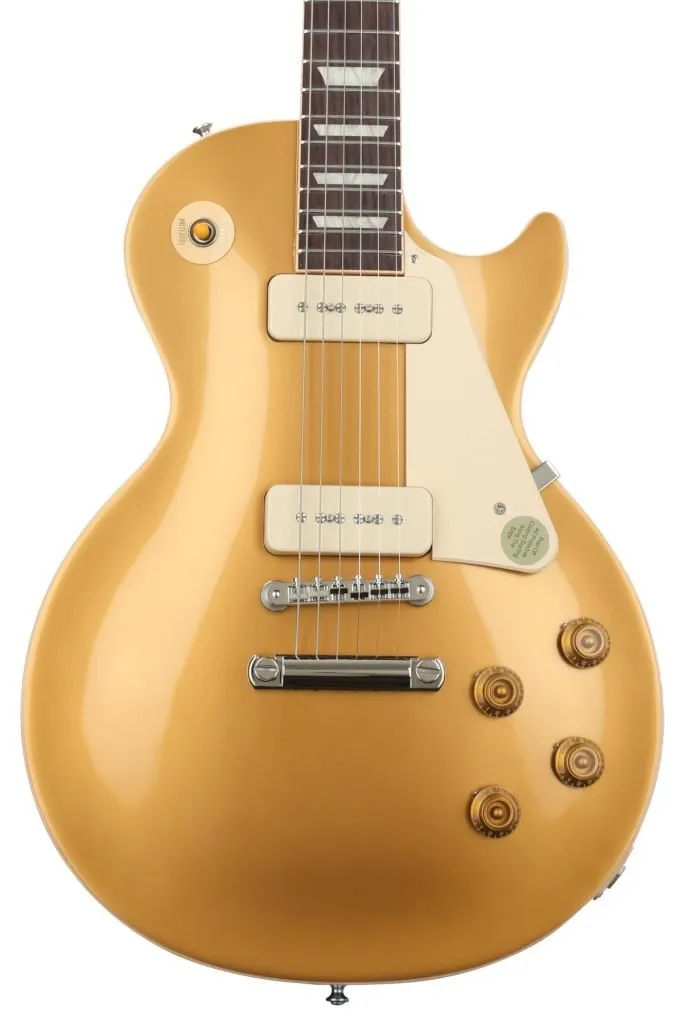 The 1950s don't get more iconic in guitar form than the Gibson Les Paul Standard '50s P90 edition. This was before Gibson started introducing the humbucker to their mainline guitars. That means those soap bar P90's are about as classic as it comes. 
If you've been playing a Gibson Les Paul Standard with humbuckers, you know exactly what you're getting — not only a great guitar but also the gold standard for rock music. But throw in a modern tube amp, and you've got a completely different sound. 
Cosmetically, it's a Standard Gibson with everything that entails, but the headroom on those P90's, with their wide, fat, bobbin wiring, leaves so much clean articulation. Humbucking growl can't compete.
Pros
Iconic gold finish
Plays as well as any Gibson
Cons
Again, not a cheap P90 guitar
It's easy to think you can replicate any sound you want these days with amp modeling and software. To some extent, that's true, but when you're really pressing the gain, and the P90's are begging to break up, they maintain picking clarity that's unrivaled in any other pickup type. It's an odd but welcome feeling from a Gibson Les Paul Standard.  
• • •
I have always been a fan of Gibson's SG. I've owned several over the years, and losing an SG Special with P90's to wildfires years back was a major blow. 
SG's just look cool, and they are light and balanced in a way that Les Pauls aren't. Les Pauls are exhausting and will do some serious vertebrae damage after years of playing. SG's are nothing like that.
When you throw in P90's to the mix, you get bell tone clarity that no other SG on the market can touch. This is the perfect guitar setup for indie or hard rock music when you want to have a lot of clarity in your picking hand, but still be able to push hard the distortion envelope. I mean, it's a P90 guitar alright, but it's still an SG, so you still want to rock hard with that lighter-than-average, yet classic mahogany body.
Pros
Lightweight
Beautiful finish
Cons
Mini "Les Paul Style" pickguard makes it look cheap
Whereas an SG with humbuckers has the pickups sitting very high up, the nature of the P90's is that they sit down in the body cavity and let the guitar's mahogany body do more of the resonant work.
If you don't envision yourself using the neck pickup, you can get the Gibson SG Junior with a single dog-ear P90 driving the bridge position.  
• • •
Not to be left out of the party, Gibson's entry-level brand released their own version of the Les Paul Special with a pair of mid 50's P90 pickups — which sound similar to classic single coil pickups. Tonally, it shares quite a bit with its more expensive, pedigreed cousin. And it's the best P90 guitar under $500 out there.
A friend played one of these through a Sovtek MIG 50 tube amp and the tone was crystal clear, even through the high gain channel. It's remarkable to hear just how well defined a pick pattern can be when you're not playing through muddy humbuckers. 
If you're looking to add a P90 electric guitar from the Gibson family, this is a serious contender. 
The Epiphone Les Paul Junior is in the same boat in terms of quality. It's why this P90 guitar also made our list of best Les Paul copies a while back. 
Pros
Iconic TV Yellow faded finish
Relatively inexpensive
Cons
I prefer a Rosewood fingerboard instead of Indian Laurel, but perhaps that's me being picky
Seriously? This thing is a beast and our favorite under $500
If you find yourself sold on taking the Epiphone route, you may also want to consider the Epiphone 1956 Les Paul Standard Gold Top Pro with P-90 pickups. It was a step above the standard Epiphone fare, which is already pretty damned good. It seems to be out of stock everywhere, but keep an eye out on the secondary market for one of these beauties to pop up.
• • •
Epiphone didn't leave out us SG fans either when releasing P90 guitars. The Epiphone SG Classic is a pretty cheap and well constructed P90 guitar.
Epiphone included the Pro P90's, which are accurate recreations of the P90's of yesteryear and approached with the same legendary attention to detail they've deployed to great success with their ProBucker pickup series. 
The Alnico V magnets, tin floors, and hand-wiring make this SG stand far apart from any other offering from Gibson or Epiphone. The soap bar pickups sit down in the thin mahogany body cavity, just as on the Gibson, to make this P90 guitar one of the most acoustically resonant SG's money can buy. 
Pros
Rad finish
Excellent playability
Set neck
Those pickups are also mounted inside the full-sized SG pickguard, making the electric guitar look cooler than the Les Paul-inspired mini pickguard you'll sometimes see on some Epiphone SG's. The larger pickguard concealed a larger routing cavity, which, in turn, helps with the guitar's tone.
It's that kind of attention to detail that has me considering a Christmas purchase at the time of writing. Treat yo' self.
• • •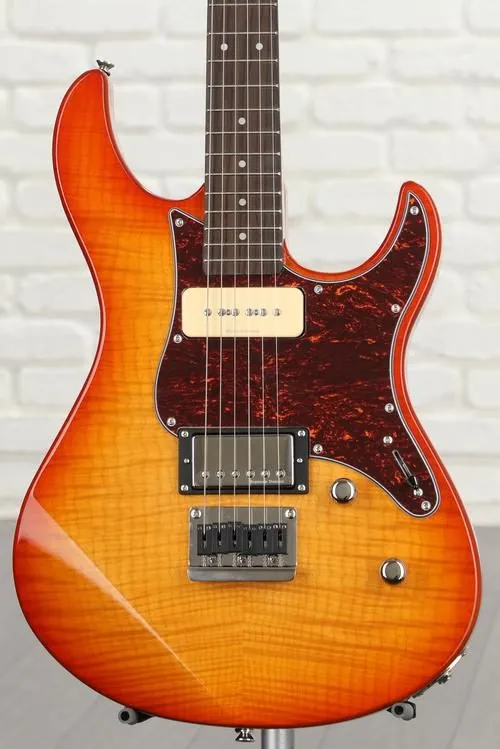 The Yamaha PAC611HFM Pacifica variant is one of the more interesting tonal pickup combinations. This electric guitar features a pretty standard humbucker at the bridge, which, honestly, is where I spend most of my time. But it sports a twangy P90 at the neck pickup which gives players some extra options. 
When you want a rich, full, bassy, clean yet warm tone, it's there. When the pickup selector switch is in the middle, you get the best of both worlds. It's a growling rock beast where the picking pattern still cuts through the noise. 
It's not a tonal experience you'd expect, but it's a nice one to have the option of. Beyond the interesting pickup combo, this P90 guitar is very well appointed. So much so that it made our list of the best Strat copy.
Pros
A great Strat-style guitar. And a great guitar, period.
Yamaha is really thinking outside the box with some of their recent guitar offerings, which is nice to see. 
Yamaha does also offer the PAC6611VFMTBk which is more or less the same guitar, but with a tremolo bridge included for doing extra bendy solos. Yamaha could work on their naming scheme. That'd help. This one, in particular, might fly for lawnmowers, but not for guitars. 
• • •
This is hands down my favorite guitar in the Yamaha line. For starters, "Revstar" sounds cool. It sounds retro in all the right ways but has plenty of modern upgrades. You won't be wondering if you paid $700 for the guitar equivalent of a Studebaker. 
The humbucker version of the Revstar made our list of the best Les Paul copies. But as with most other guitars on here, the P90's in that small mahogany body make a big difference. And the body is pretty small… it's closer to playing a Mustang than it is a Les Paul.
The smaller body lets the P90's rest closer to the base of the guitar body. Which can take care of that resonating quality the SG's create. 
Pros
Cool vintage styling matches classic vintage tone
Set neck
Cons
Slightly more expensive than the Epiphones, which is a bummer
In the tone department, you won't be disappointed if you go with the P90's over the humbuckers. A modern tube amp will let your solos sing and the pickups will add an unreal amount of clarity. This is a serious mid-price range contender for your first pair of P90's.
• • •
The Noventa series from Fender was their first proper, mass-produced, foray into the world of P90's. King of the single coil, they'd just never ventured into this arena until the creation of the MP-90 pickup.
It's a true P90, which is great because the world has been sorely lacking a P90 Strat. I do mean it's been sorely lacking because the P90's sound completely different from the bright single coils, or Fender's use of muddy humbucking pickups. 
The MP-90's, just like Gibson's provide clarity that's unmatched before the signal naturally begins to break apart.
Pros
Dual P90's on a strat
Maple neck
String through bridge
• • •
This guitar is punk rock incarnate. A telecaster that Barry Bonds would love? What? Too soon? The man took steroids. Get over it. 
This P90 telecaster was designed to compete against the likes of the Les Paul Junior, and, it's a great Les Paul Junior alternative. The cool thing is just about any stock telecaster can be modified with a P90 bridge to achieve the same results.
Do you need to buy this guitar? It's not really bringing a whole lot new to the table data not exactly affordable price, but it does serve as awesome inspiration for a modification project. 
• • •
Whereas the Noventa Tele wasn't doing much in terms of tone, the Noventa series Jazzmaster is just the opposite. Three MP-90 pickups give this guitar a ton of options no other Fender guitar has. 
One fun project has always been to put a real P-90 bridge pickup in your Jazzmaster. Standard Jazzmaster pickups look a lot like P90's; but they aren't. They're jazzed-up Fender single coils with everything that goes along with that. 
Even switching out both stock pickups on a Jazzmaster isn't going to get you that middle P90 tone that the Noventa series has. Really interesting and innovative work. 
Pros
3-pickup design
Unique tone options
• • •
With the Player series of guitars, Fender took some of their lower-end, traditionally student guitar models, like the Mustang, and updated them to bring them up to the pro level. Swapping the traditional Fender single coils for the more versatile pair of MP-90s might make this one of the most well-rounded, and perhaps the best P90 guitar under $1,000.
A problem with the Mustang single-coil setup has always been getting it to produce enough gain to really sing. Kurt Kobain could do it, but it isn't the easiest task in the world. The MP-90s updated electronic package answers that question in a simple, elegant manner. 
Cons
Finishes give a unique aesthetic, but can take some getting used to
• • •
It seems like that's an odd thing to do for a guitar that has seen such a resurgence in the secondary market over the past five years. Maybe PRS will open the window for ordering again, but there's been no indication that's the case. Happy hunting.
Pros
A PRS with a P90 tone is unique
Cons
Only available in the secondary market. Read below.
PRS makes excellent guitars, there's no question about that. But the story behind the PRS McCarty 594 Soapbar Limited is weird. The order window for getting one was open for just six weeks in the summer of 2017. If you didn't get your order in through an authorized PRS dealer during that six-week window, you're SOL. 
• • •
The first thing that stands out about the Reverend Sensei Jr: "damn… that seems like a lot of knobs for a single bridge P90."
Out of all the single pickup P90 guitars on this list, the Sensei has Reverend's bass shaping and treble bleed circuits built in that allow you to get even more out of an already versatile pickup.
Is it a true P90 or some hybrid single coil? Hard to say. I haven't torn this guitar down to see what the wind and magnet deployment looks like, but the proprietary pickup has a ton of tonal possibility. 
What's in a name anyway?
Pros
Bass control for the single P90
Pau Ferro fretboard
Cons
A tad on the expensive side for a single pick up
• • •
Purists are going to argue about whether these G&L soapbar single coils (or the Reverend single coil) are going to qualify as true P90's. 
But you know what? Purists are no fun, and nobody cares. The proof is in the pudding, and the angled bridge soapbar pickup on this G&L Tele is a lot of fun to crank up and fuzz out. 
These particular pickups sit somewhere between an overgrown single coil and a small humbucker. Definitely the realm of where a P90 would dwell. Their unique size and shape allow for that angled mount like you might see on a Fender Telecaster's bridge pickup, which gives it a unique tone and look you won't find anywhere else on the list.
Pros
Proprietary pickups are a fun take on P90's
Cons
Thick G&L neck can take some getting used to.
On the other hand, the G&L Ascari GT-90 does have genuine P90's, but it's apparently discontinued.
• • •
Noodles is kind of a weird guy. A janitor who hooked up with a bunch of high school kids to form the Offspring (1). Back around the time of Americana when everyone was concerned about the potential flyness of white guys, Noodles got his own signature model from Ibanez complete with P90's.
Pros
Custom guitar designed by one of the more creative guitarists in punk.
Cons
P90's lack the gain to do metal-like solos
It fit the type of music they were creating that didn't need a ton of distortion. There was also a version of this model that's even harder to find that was finished in duct tape that was then lacquered over. It was a cool look.
• • •
Hammer made some excellent guitars, including the Hamer Special P90. They ended up being a victim of their own great work, because giant guitar manufacturer Fender bought the company in 2012 for the specific reason of eliminating competition. 
Pros
Beautiful cherry red finish
P90 pickups sing
Cons
Fender bought the company and buried it in the desert
You can still find the Hamer Special P90 on the secondary market. They're not cheap since they're discontinued, but if you find one, snatch it up.
• • •
As V's go, the '59 Gibson is pretty special. It's a lightweight speed machine before such a guitar was really needed. I guess that's why Epiphone decided to make a one-off prototype version they could take to the NAMM show.
Pros
One-of-a-kind collector guitar
Cons
Production seems rough and attention to detail was not up to Epiphone standards
They may have thought of this brilliant idea the night before? Maybe on the plane to the venue? Because there's a lack of attention to detail on the finishes that is uncharacteristic. Rough around the edges, but still one of the best examples of a Flying V with P90's.
• • •
The Eastwood P90 Special is a "Mom said we can't afford a Gibson" type of guitar. A guitar meant to check off all the musical boxes without breaking the bank for a headstock.
Pros
Completely affordable Gibson knock off
Cons
Hard to find. Seems like it was discontinued.
It's modeled after the double-cutaway Gibson's from the middle 60s. The P90's do a reasonable job here, but not much is really known about this guitar. 
It's not like it's one you can run over to your local shop and try out.
• • •
Hollow And Semi Hollow body P90 Guitars
The birth of the electric guitar, and the P90 pickup, come from the hollow body and semi-hollow body era of guitar building. While nowhere near as ubiquitous as their solid body guitar brethren, a P90 feels right at home in this type of guitar.
Four lads from Liverpool made the Casino famous when they burst onto the scene in the 60's. 30 years later, the Ghallager brothers almost destroyed it. Way to go.
The Epiphone Casino is one of the most famous guitars on the planet. The guitar features the rarer, dog-ear style P90. The mounting hardware is attached via tabs that sit outside the pickup body itself, as opposed to the soapbar style, where everything is internal.
It's only a cosmetic change. All the crystal clear, jangly tones that have made countless pop groups famous over the years are there with a vengeance. Since the guitar is so popular, you can save a few bucks by picking up the Epiphone Casino Worn.
Pros
The guitar that changed the history of rock music
Easy to play
Cons
Expensive for an Epiphone
If money is no object, the Epiphone USA Casino is, aptly, made in America and serves as Epiphone's premium version of the famous guitar.
• • •
The Epiphone Wildkat with Bigsby is a throwback to a bygone era… and a resurgence of that bygone era which itself has sort of faded away. I'm talking of course about the run-up to World War II and the Cocktail Culture/Swing that gave us the film Swingers.
You're going to draw a comparison of Epiphone Wildkat Vs. Gretsch every time. After all, Gretsch is a brand bathed in those same epochs. 
If you're into that P90 semi-hollow body sound, the Wildkat is a comfortable version of that. Plenty of raw sound with a mahogany body small enough to be dancing around the stage like Elvis. 
So confident that rockabilly was coming back, Epiphone created the Epiphone Riviera P93, a guitar that eschewed its default humbuckers for a trio of P90's. 
Pros
Excellent throwback style
Perfect semi hollow body guitar for rockabilly
Cons
Retro style isn't for everyone
They took a stab at a more Les Paul-feeling guitar in the Epiphone Blueshawk Deluxe, a punchy little beast with a pair of P90's. Sadly, just as that cultural exuberance faded, Epiphone discontinued both of these guitars.
• • •
The Godin 5th Avenue Kingpin is about as old school as it gets. A single P90 pickup right below its silver leaf maple neck was how they used to do it. Many jazz records were cut with a guitar just like this. (A silver leaf maple neck is similar to a mahogany tonewood.)
Despite its simplicity, players describe this guitar's action as "butter" and its tone unmatched when amplified.
The hollow body means that you can play this guitar without plugging into your amp of choice, but that dog-eared P90 in the neck is begging for some action. The tone has been described as clear, articulate, and rich. 
Pros
Vintage style is a fun change of pace
Cons
Some reports of small bubbling in the finish
Very little bad to say about this guitar
Since the pickup is at the neck, you're going to end up with a clear, thick, bass tone out of the box. A tone control knob, along with volume, will allow you to dial in and brighten up the guitar a bit, but most of your treble is going to come from the guitar's hollow-body nature. 
• • •
Gretsch guitars have a look and feel that is unique in the guitar world. If you see a Gretsch in the wild, you know it right away. There's also a good chance you saw flames on someone's button-down shirt and a pompadour haircut in that same encounter.
The Gretsch G2665T-P90 Center Block Jr. is a reasonably priced entry into the Gretsch ecosystem. It's a semi-hollow body with double F-holes for warm acoustic playability, but where it really shines is in a lead.
Plug those P90's into a nice tube amp and start upping the output. When plugged in, this guitar will cut through almost anything with those bright P90's.
Pros
Classic Gretsch styling on this semi-hollow
An affordable Gretsch… what?
Cons
Reports of the nut lacking
If you're a solid-body instead of a semi-hollow traditionalist, this guitar most closely plays like the Gretsch G2215-P90 Streamliner Junior Jet Club. That's a mouthful. With its bridge humbucker and neck P90, your crystal clear picking on both is evident. 
• • •
Guild is an interesting brand. They're great guitars in their own right, but every time I play one, I think "this feels just like a Gibson." This isn't a bad thing in the least, as we've seen.
In the M-75 Aristocrat you have an excellent hollow body, with a pair of P90's overdriving your set through your favorite tube amp. As you crank up the volume, everything is soaked in warm, crunchy tones, where you're able to retain your picking articulation. 
If you're a solid body player, the M-75 is almost identical to the Guild Aristocrat P90. Pretty much the same guitar with some extra heft. 
Pros
Gibson-like experience at a slightly lower price point
Cons
Limited to genres like jazz and the like
I wanted to talk about the Guild T-Bird ST P90 for this article, but evidently, that has been discontinued. That's a guitar St. Vincent is probably stocking up on. 
• • •
FAQ
Despite being around since the dawn of the electric guitar, the widespread humbuckers and true single coil pickups mean that P90's are an acquired taste. They need a few extra questions answered before any player should pull the trigger on this investment. 
Do I need a P90 guitar?
Short answer? Yeah, you likely do. They have such range and versatility, every guitarist owes it to themselves, when the time is right, to add a P90 to their arsenal. As I mentioned earlier, the P90 is not well modeled by software, so the real deal is appropriate.
What are P90 pickups good for?
What aren't they good for? The P90's claim to fame is how clear the tone is on the low end. Before you start to compress the headroom and overdrive the rig. That said, even distorted, there's unmatched pick articulation with the P90.
What is the difference between a humbucker vs. a P90?
P90 vs. humbucker vs. single coil…. what to get? Well, each pickup has its own strengths and weaknesses, which means each is going to compliment the other nicely. The beautiful bit about the P90 is it sits in the middle of the brash, twangy single coil, and the muddiness of the humbucker. With the P90 you get the best of both worlds.
Who made the P90?
Gibson officially introduced the P90 in 1946, right after they started making guitars again after the war. There were some earlier versions of hand-made P90's that were floating around. So the tech existed, but it wasn't until Gibson officially made them their mainline pickup that you could say they were formally introduced.
• • •
A Piece of Electric Guitar History That's Still Going Strong
We're lucky to have the P90 available as an option on so many great guitars today. The clear, clean, tones are unparalleled by any other pickup, and the distortion headroom is great. It's the way these things are wired — low, and fat.
For my money, the Epiphone SG Classic is hard to pass up. And as a fan of Fender Mustangs, I could see the Player being my main stage player. Yeah… I need to go and activate a credit card. If you'll excuse me. 
Until next time. Let me know of any P90 guitars I missed.
• • •
Image Credits
Gibson factory image: Bjoertvedt, CC BY-SA 4.0, via Wikimedia Commons; Ben Harper image: Abby Gillardi, CC BY 2.0, via Wikimedia Commons.
References
Amit Sharma, "The Offspring: "We wanted to go back to basics: heavy guitars, bass and drums – and a melodic song underneath all that," retrieved from https://www.guitarworld.com/features/the-offspring-we-wanted-to-go-back-to-basics-heavy-guitars-bass-and-drums-and-a-melodic-song-underneath-all-that