Just when you thought you were getting the hang of running scales, shaping chords, and tackling popular songs on six strings, we're here to add an extra string into the mix
Whether you're a beginner or a more advanced guitar player, you've likely come across options for 7-string guitars when shopping for a new axe. While these guitars can be used across a range of genres, they're most commonly played in shred metal and heavy rock bands. That extra bass note offers the percussive grunge feel that rockers desire.
As a longtime player myself, I can attest that it's not only a difficult task to play a 7-string guitar — I recommend taking some YouTube guitar lessons to learn from the pros — but it's also difficult to shop for a 7-string. That's because they make up such a small percentage of the overall market today. You're lucky if you can even find one in your local shop to mess around with.
Lucky for you, I've done some legwork to make your purchasing journey a little easier.
Here's a quick glance at the candidates I chose for best 7-string guitar on the market today:
We've grouped the electric guitar models above by manufacturer, but if you're on a budget, you should focus on what I think are the best 7 string guitars under $500.
The Best 7 String Guitar: Full Reviews
Ready to start evaluating the top 7 string guitars on the market? This is as close to a comprehensive list as we can come up with — there's something here for players of all levels and budgets.
Ibanez 7 String Extended range Guitars
Any 7 string roundup needs to include Ibanez models thanks to guitar legend Steve Vai. Ibanez was the first top guitar brand to mass manufacture a 7 string model — the UV7 — which was used by the legendary shred master. The success of that model spurred the company (and others!) to create new models and the rest is history
If you're searching for a cheap 7 string guitar to scratch your extra-string itch, I recommend starting with the Ibanez GIO GRG7221M. For the price, you can afford to experiment and see if you really like playing with an extra string before deciding to invest in a higher-quality instrument.
As expected with Ibanez, the neck is silky smooth and extremely fast. There are 24 jumbo frets along the maple neck, allowing even those with fatter fingers to play single-note runs relatively easily.
I really believe this is one of the best 7 string guitars for the money on the market today. If you're looking for something with a more intricate color design, this alternate version will only cost you a bit more.
Pros
Budget Price. Even if you're just curious about 7 string guitars, you can afford to buy one.
Classic Ibanez speed. This fast-action neck is, well… fast!
Decent tonal range. For a guitar in such a low price category, the pickups offer a nice range.
Cons
Cheap hardware. As expected though with cheap 7 string guitars.
Only one color. And it's a pretty soft-looking blue.
• • •
If you can't tell, we didn't bother saving some of our favorite 7 string guitars down in the list. Remember, Ibanez was one of the first companies to mass-produce seven-string guitars, so as the prices go up on those models, expect some really nice results.
While I do like this classic RG model, it's priced a bit unusually for me. The pickups are decent, but not amazing. This leaves me wondering if this is considered a first-time guitar or an upgraded model. You'll simply have to try it out first and determine if it's for you or not.
Pros
Shred monster. Again, Ibanez is known for fast necks and this RG 7 string model is no different.
Beautiful mahogany top. The sapphire blue looks beautiful and sinister.
Tunability. The fixed bridge helps keep everything in tune — even after rocking out.
Cons
In-the-middle pricing. This is either a "cheap upgrade" or an "expensive beginner" axe.
Pickups are average. They can certainly deliver a lot of output, but the clean tones are lacking.
• • •
This is one of Ibanez's most expensive and highest quality 7 string guitars. In other words, price and quality are typically synonymous.
This axe is a high-performing instrument, though. Let's start with the 5-piece maple and walnut Premium Wizard neck. If you've ever played an Ibanez, you know the necks are incredible. But this one is the best of the best. How else do you think Steve Vai can shred so fast?
This is definitely an upgrade and a forever-type of 7-string guitar. If you're dedicated to playing with a 7-string guitar, I can't recommend it enough.
Pros
Designed by a legend. If Steve Vai is playing it, you know it has to be good.
Ibanez's fastest neck ever. The speed is insane.
Crystal clear pickups. Ibanez trusted DiMarzio Blaze pickups for its Vai signature and they are delightful.
Cons
Expensive. You do get what you pay for, though.
Funky color choice. Not everyone is going to love it.
• • •
If you're looking for a multiscale 7 string guitar, look no further than the Ibanez Axion Label RGD71ALMS. Not sure what multiscale means? Let me explain.
Multiscale fret guitars — also known as fanned fret guitars — are actually a relatively new trend. Simply put, it offers a long scale length for the bass notes and a shorter scale length for the treble side of things. To achieve this, there is more tension, which helps with your intonation and overall tone.
I wouldn't recommend starting with a multiscale 7 string guitar if you're a relatively new player. For starters, it's more expensive. But it's also a little trickier to figure out. Intermediate to advanced players will need a little bit of time to get used to it, but if they're dedicated they'll be extremely pleased with the results.
Pros
Innovative design. The modern and psychedelic design is certainly eye-catching.
Multiscale frets. They're tricky to get used to, but the possibilities are endless.
A 'nitro' neck?! How does Ibanez keep making these necks faster?
Cons
Multiscale isn't for everyone. Even skilled musicians can struggle with this guitar.
• • •
The Ibanez PRESTIGE comes in two versions: A 6-string version, which we previously reviewed, and a 7-string version, which is why it's on this list. The 7-string version is one of the best in its class.
Let's start with the stunning weathered black finish. You can see the wood grain on the Strat-inspired body. And it contrasts beautifully with the pearly white DiMarzio custom humbuckers.
Speaking of pickups, these puppies are really packed with power. The passive humbuckers were designed with an insane amount of clarity, which is what's needed for the fast attack playing style of metal music.
It comes with a hard-shell case!
Pros
Beautiful finish. The weathered black finish is stunning.
Designed for heavy metal. This axe is durable and designed to take the high-octane playing associated with that genre.
Powerful custom pickups. DiMarzio pickups offer more than enough power and tonal range.
Cons
Pricey. But this is a more advanced guitar, so the higher price tag is warranted.
• • •
Jackson Seven String Guitars
As one of the top guitar manufacturers targeting metal and rock players, it should come as no surprise that Jackson has a healthy lineup of high-performing 7 string models.
If you're searching for cheap Jackson guitars and are interested in a 7 string model, the Jackson JS22-7 Dinky is definitely an instrument worth checking out.
For the price, this is a surprisingly high-performing 7-stringer. The humbuckers are quite powerful, although they lack clarity in clean tones. Some of the hardware, like the tuners, feels a bit cheap, but this is also quite an affordable guitar.
You're going to come across two versions of the Dinky, which will have you wondering the differences between the Jackson JS-22 vs. JS-32. For about $50 more, the JS-32 is of slightly higher quality — mostly due to the super-bright white finish. The fretboard binding is also upgraded for a smoother (and faster!) feel.
Pros
An extra-nice beginner's guitar. Priced just right for quality and playability.
Comfortable neck. It features a 12-inch to 16-inch radius fretboard, which is quite comfortable.
The quilted maple top is beautiful. Jackson has created an eye-catching axe.
Cons
Humbuckers can't do clean well. If you're a rocker, you may not care, though.
And if you're really feeling adventurous, there's a Jackson multiscale version of the 7-string Dinky that's a lot of fun to play.
• • •
The Jackson X Series Rhoads RRX24-MG7 screams death metal, from its pointed "flying V" design to its all-black hardware.
I really like the through-body maple neck, which offers really impressive sustain. The 12-16 inch compound radius fingerboard is also extremely comfortable for more hands. Those with larger hands should be ok, too.
No case is included for this uniquely shaped guitar, so get ready to spend some money on one.
Pros
Designed for a rocker. Whether you play classic rock or death metal, this axe looks the part.
Low action. Perfect for Djent music, which needs to take advantage of the lower seventh string.
Floyd Rose tremolo. It's the best in the industry for a reason.
Cons
Black hardware can show fingerprints. This is picky, but it's true.
• • •
Let's get the bad stuff out of the way first. The Jackson X Series Rhoads RRX24 mimics a Gibson Explorer. That's not the bad part, though. This is a premium guitar with a high price tag, and Jackson doesn't include a case with it. There are cases that are certified to fit these guitars, but they're going to run you extra.
Anyways, there's still plenty to like about this wicked-looking axe.
You'll first notice that this unique Jackson is built like a tank. It feels solid, and all the components are extremely high quality, including the Floyd Rose double-locking tremolo. There's a reason a lot of makers don't include a tremolo on a 7-stringer. It's because it's hard to keep everything in tune. The Floyd Rose does an admirable job when it comes to intonation.
Pros
Fierce design. Jackson has created the ultimate 7 string Explorer lookalike.
Floyd Rose tremolo. Don't be afraid to go whammy on this guitar. The intonation is great.
Special pickups. Dave Davidson, lead guitarist of metal band Revocation, designed this DiMarzios himself.
Cons
No case. And as you can tell, you need a very specific case for this guitar, which isn't cheap.
• • •
If you're a skilled guitarist with a big budget and a desire for an absolutely stunning instrument, the Jackson USA Misha Mansoor Signature Juggernaut might be the nicest-looking and best-playing 7-string guitar on this list.
Everything about this guitar screams premium, from its locking tuners and hipshot hardtail bridge to its flamed "Laguna Burst" finish. Depending on the finish you pick (there are six total options), your price can jump by several hundred dollars.
Thankfully Jackson includes a premium hardshell case with this guitar, which you'll absolutely need for this type of investment
Pros
Stunning design. This is not only a guitar — it's a work of art.
The ultimate metal machine. As the signature model of Misha Mansoor, expect nothing but the best.
Extreme playability. The maple neck is graphite-reinforced.
Cons
Extremely expensive. This is a forever guitar that's quite the investment.
• • •
Schecter 7 String Guitars
Another 6-string powerhouse known for metal music, Schecter has been producing 7-string guitars for a few decades now. Schecter guitars, which tends to feature Strat-like body designs, are best known for their screaming-fast necks.
If you're looking for a truly excellent guitar under $500, I recommend that you seriously consider the Schecter Omen Extreme-7. From its stellar in-house-made pickups to its speedy neck — not to mention its impressive looks — this is a well-made instrument to hone in your seven-string skills.
You won't be disappointed by the quality of the inlays and the tone is exactly what metal and rock players crave.
A slightly more expensive version — the Schecter Omen Elite-7 — includes upgraded pickups and more color options. Schecter also makes a left-handed version.
Pros
Beautiful maple top. The black flamed look is perfect for hardcore rockers.
Shred-worthy neck. The maple neck is a thin "C" that fits most hands like a glove.
Flexible humbuckers. Split the coil for even more tones.
Cons
White binding breaks up an all-black look. That's just me being picky though.
• • •
I view the Schecter Damien Platinum 7 as a solid upgrade guitar. For the quality of construction and performance of its EMG humbucking pickups, I think there's a ton of value in this super slick-looking axe.
And if you're looking for something a bit sinister looking, the satin black finish and flat-black pickups are an extremely nice combination that looks great.
Schecter then takes the guitar to a new level by including Grover Rotomatic tuners.
There's a cheaper alternative with Schecter pickups that's decent, but it's more of a blurred line between a beginner's guitar and something more intermediate.
Schecter also makes a left-handed version.
Pros
Awesome satin black finish. Combined with the flat-black pickups, this guitar looks great.
Grover Totomatic tuners. Intonation won't be a problem with this guitar.
Rockin' humbuckers. Schecter went with active EMG pickups that deliver a punch for rockers.
Cons
Restringing is tenuous. You may need a pro to restring for you.
• • •
Designed for more serious guitar players, the Schecter Hellraiser C-7 is a workhorse seven-stringer that sounds as good as it looks.
You'll immediately notice the glossy white finish, which looks stunning but will also attract plenty of fingerprints. The pearl inlays and binding is really the cherry on top with this guitar, in terms of its looks.
The clarity and tone produced on this guitar are great, thanks to the optimal scale length, which keeps your low B string nice and tight.
There is a Floyd Rose tremolo version of this guitar.
Pros
Screaming fast neck. Made up of three pieces, you can really shred on this guitar.
Beautiful glossy white finish. The finish contrasts nicely with the guitar's pearl binding.
26.5" scale length. This keeps your lowest string nice and tight for optimal clarity.
Cons
Knob hardware could be better. Some owners have complained about the knobs falling off, but this seems rare.
• • •
If you're a metal fan, then you know and respect Randy Weitzel, lead guitarist for In This Moment. Schecter respects his playing so much that they gave him a signature model — a Flying V-inspired axe with Weitzel's signature Ouija graphic stretched across the body and headstock.
In terms of tone, this guitar is a powerful one. The solid mahogany construction offers incredible resonance and plenty of warmth. The active EMG pickups deliver excellent clarity — even on that low seventh string. And slim neck profile makes soloing effortless.
Unfortunately, this V-shaped guitar doesn't come with a case, which means you'll need to fork over some extra money for something that it can fit inside.
Pros
Powerful. In addition to its looks, this guitar can really scream.
Floyd Rose tremolo. Whammy all day while keeping your seven strings in tune.
Cool chrome hardware. The distressed look matches well with the Flying V body shape and intricate design.
Cons
Gaudy design. It's a bit over the top.
• • •
ESP LTD 7 String Guitars
ESP's lineup includes some incredible-looking custom 7 string guitars that sound as good as they look. If you need to stand out in a crowd with your 7 string, start with models by ESP.
The ESP LTD EC-257 is an innovative piece of construction. From the set-neck that allows for greater sustain to the all-mahogany body that delivers warm tones and a solid feel, ESP didn't diminish quality for this lower-priced seven-string model.
The 25.5" scale length should offer plenty of tension for your low B to thump out clearly, although anything over 26" is typically preferred.
If you have a solid foundation of a six-string guitar and are looking to add a 7-string to your arsenal, this ESP is a great model to learn on.
Pros
Les Paul-style body. Most 7 string guitars mimic a Fender Strat, so this is a nice change of pace.
Sustain all day. A set-neck construction means more sustain and faster attack.
Great value. This plays like a much more expensive guitar.
Cons
No case provided. Not even a gig bag.
• • •
The moment you pick up the ESP LTD M-1007 QM you notice how little it weighs, which is a gigging musician's dream come true. Made with alder wood, this guitar weighs under 12lbs, which makes it very easy and comfortable to play.
Of course, its weight, combined with high-quality hardware and powerful Fishman Fluence pickups does raise the price tag. This could very well be a forever type of guitar for the more advanced player, while others may view it as an expensive intermediate model.
Regardless, ESP created a winner here.
Pros
Lightweight. Perfect for gigging.
Eye-catching quilted maple top. It looks like a rockstar's guitar.
Deep cutaways. Access those upper frets with ease.
Cons
Expensive. It's a very nice guitar, but a bit on the pricey side.
• • •
I love how ESP created a range of 7 string axes so unique compared to the rest of the competition. As one of the very few 7 string Tele-style guitars on the market, the ESP LTD SCT-607B — Stephen Carpenter's signature model — this is certainly going to be a fan favorite.
But it's not for everyone. The baritone scale length means it's going to be a deeper, bass-centric sound which isn't for everyone. However, for rockers looking to have a slice of that percussive attack in their playing, this could be the guitar they're looking for.
The construction is super solid on this guitar, so don't worry about playing too hard. It will hold up!
Pros
7 String Tele. How cool is the design of this seven stringer?
Baritone scale length. Get down and dirty with this guitar.
Excellent Fishman pickups. I'm a huge fan of Fishman Fluence pickups because of their flexibility.
Cons
Pricey. A design like this isn't cheap.
• • •
The ESP LTD Eclipse EC-1007 is one of the brand's best 7 string guitars. Here's what I like most about it:
First, it's extremely powerful. The active pickups — EMG humbuckers — crank out so much tone it's unbelievable.
Next, the tuning stability is incredible. The best 7 string guitars share great tuning in common, but the EverTune (it's in the name for God's sake!) is the best.
Aesthetically, there's also a lot to enjoy about this guitar.There's no quilted maple top or fancy transparent blue burst paint job. Instead, ESP takes a mysteriously dark approach to this model. The black body combined with the black jumbo pickups really looks great.
Pros
High-performance. Playing this electric guitar is like driving a luxury vehicle.
Mahogany neck is beautifully paired with a Macassar ebony fingerboard.
Powerful pickups. These EMG active pickups (humbuckers) can really pump out the tone.
Cons
Expensive. This is a guitar experienced players buy after owning more affordable
This is one of those electric guitars that you need to really think about before pulling the trigger on it because it is one of the more expensive options on this list. That being said, this is hands down one of the best 7 string guitars on this list.
Bottom line, if you're a hardcore rocker, have a higher budget for a new guitar, and need something that's powerful, you can't go wrong with this ESP.
• • •
The Rest of the best 7 String Guitars
As 7 string guitars became more popular, more guitar makers opted to design one-off models. Here are some of our favorites.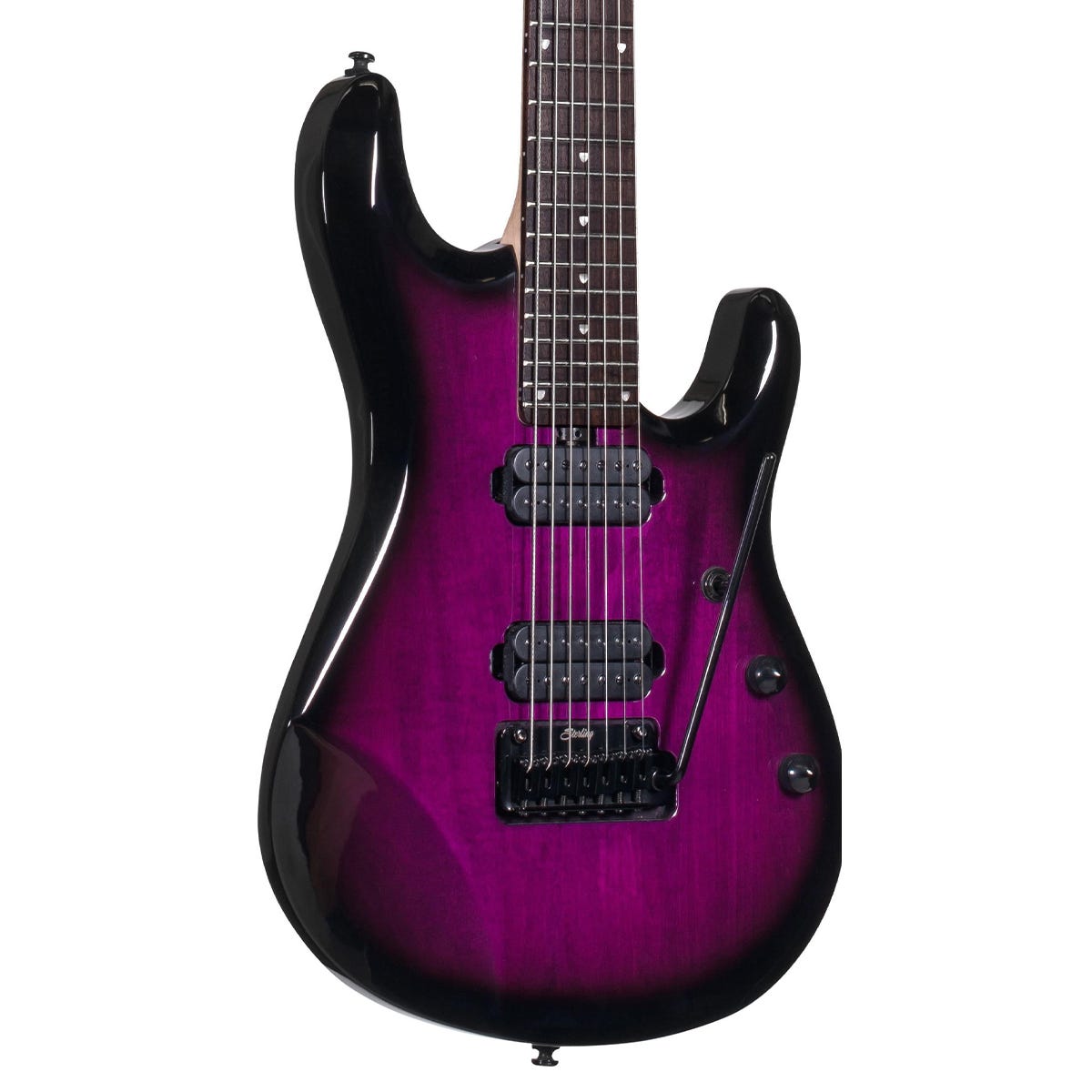 You can't talk about the best 7 string guitars without talking about the best players and Mr. John Petrucci is definitely on that list. The Sterling by Music Man JP70 is the John Petrucci signature model of the Dream Theater frontman and it's absolutely beautiful.
The guitar's maple neck, combined with its basswood body, which does a nice job of mimicking a flamed maple top, makes this guitar look and feel more expensive than it really is. It doesn't fall into the price category of seven strings for beginners, but it's not too far off.
So, what makes the sub-$1,000 guitar one of the best 7 string guitars on the market? Mostly its playability and speed. As you master the art of seven strings, your fingers will fly on this maple neck.
Pros
Great switch. The folks at Sterling improved the metal 3-way switch for easy sound transitions.
Playable neck. The bolt on maple neck feels — even with the wider grip and longer scale length — is comfortable to play on.
Locking tuners. Many seven string guitars deal with string tension issues, which is why you need locking tuners for improved tuning stability.
Cons
No hardshell case. You're only getting a gig bag, which I guess is better than nothing.
Some more advanced players may complain this guitar isn't warm enough because it opts for basswood over a mahogany body, or even a swamp ash body, but I don't think that's exactly true. The active pickups on this guitar are outstanding and offer plenty of power for most players.
I wish they offered a hardshell case instead of a gig bag, but that tends to be the norm with guitars in this price point.
• • •
Designed for solo guitar players, the NOVA Angel Vivaldi Signature guitar by Charvel is one of the best sounding 7-string guitars on this list.
Made of basswood, this axe features a 3-piece maple neck, a custom body shape and a neck radius that goes from 12 inches to 16 inches. It's the DiMarzio Air Norton 7 Humbuckers that deliver its incredible sound. A 5-way switch gives you endless options for tonal variety.
The tremolo system and tuners are also top-notch.
Pros
Beautiful design. The minty green Strat-like body paired with gold hardware is super-nice looking.
Gotoh Custom 510 tremolo. Don't worry about your strings falling out of tune when using this tremolo.
Easy access fretboard. The neck profile and body's deep cutaways give you easy access to the upper frets.
Cons
No case included. For a signature model, this is a bit disappointing.
• • •
Take a look at the Strandberg Boden Standard 7 and tell me what's missing: the headstock! As a headless 7 string guitar, Strandberg delivered an absolute winner.
Now, you need to have a creative personality to appreciate the unique design of this guitar. But once you get past it, it's really a great-sounding instrument.
Pros
Funky design. Rockers will appreciate it.
Different colors. I'm a big fan of the blue flamed maple.
Multiscale fretboard. This is one of the nicest and most unique extended range electric guitars around.
Cons
Design isn't for everyone. Some may think it's uncomfortable to play.
Expensive. This axe isn't cheap.
• • •
Ernie Ball Music Man electric guitars have always been expensive, including the John Petrucci Majesty 7. I can say with confidence, though, that you get what you pay for.
This guitar features a high-end finish, Schaller locking tuners that simply stay in tune, and a pickup system like nothing you've seen before — it includes a piezo pickup in the bridge for a truly unique acoustic sound. 
The tremolo system is completely custom designed and extremely reliable.
Of course, the worst part about this guitar is its price. Thankfully, a case is included.
Pros
Multiple sparkle colors. All of them look great.
Approved by Petrucci. This guitar was made in collaboration with Dream Theater's John Petrucci.
On-board Piezo pickup. Take advantage of an acoustic-type of tone.
Cons
Crazy expensive. It's one of the priciest guitars on our list.
• • •
Paul Reed Smith makes some of the world's best guitars, so it should come as no surprise that they also make pretty darn good metal guitars. This versatile guitar is the Mark Holcomb signature edition. The Periphery front man — one of the best metal guitarists out there — helped PRS build an impressive guitar that's extremely fast, powerful, and aesthetically pleasing.
The maple neck is thin, but can feel wide in your hands — especially if you have smaller hands. The tone knob is a push-pull that allows you to coil tap for single-coil tone. The fixed bridge design certainly helps with this guitar's tuning stability. And the mahogany body is heavy, but not uncomfortable to hold.
Instead of gothic cross inlays, like you find on some of the best metal guitars, PRS keeps its iconic bird inlays.
PRS includes a gig bag with this signature electric guitar.
Pros
Trusted brand. PRS is one of the best electric guitar makers in the business.
Amazing tuners. In terms of tuning stability, this electric guitar is great.
Mahogany body. One of the finish options features a quilted maple top, which looks great
Cons
Slightly expensive. For just a little more money, you open yourself up to a world of premium guitars.
• • •
Shopping for the best 7 string guitars: Buyers Guide
An understanding of the best 7 string guitars is important, but are these guitars for everyone?
Use this buyer's guide to determine if a 7 string is the best purchase for you. If it is, you'll want to know if you should look for features, like a maple top or magnetic pickups. Also, what are these multi scale guitars?
Let's dive in and have some fun!
Is A 7 String Guitar Worth It?
If you're new to guitar, I don't recommend starting with a 7 string. Now, that doesn't mean you need to be an advanced player to upgrade to a 7 string model. It's just that these guitars are tailored toward a very specific genre (metal and rock) and having a basic understanding of a traditional 6 string guitar will help immensely before adding a seventh string to the equation.
What to Look for When Buying a 7 String Guitar
7 string guitar scale. A 7 string electric guitar features a longer scale length. The scale length of a six string guitar is typically between 24 inches and 25 inches. A 7 string, though, can expand to 27 inches or even greater. This is critical for the lowest string, which needs extra tension. Manufacturers have figured out a "best of both worlds" scenario: multiscale fretboards. This allows the low strings to be extended further than the higher strings.
7 string guitar neck. Since 7 string guitars tend to be designed as rock and metal guitars, the necks are typically thinner to help make your fingers work faster.
7 string nut. The nut dictates spacing between strings, which is critical if you throw an extra string into the loop. If a company doesn't get it right, you could have buzzing and intonation issues
7 string guitar body. Most 7 string guitars mimic a Fender Stratocaster, but there are some that go the route of a Gibson Les Paul or Flying V. For a seven-stringer, though, you really want a body that features deep cutaways and that's lightweight so you can have easy access to the upper frets.
Qualities of the Best 7 String Guitars
There are some common features of the best 7 string guitars on the market today. I'll break down what we see most often:
Materials
Because 7 string guitars tend to be used for metal music, the aesthetic of the guitar tends to lend itself to that genre. That means quilted maple top bodies and potentially a quilted maple veneer neck. The quilted — also known as flamed maple top — gives these guitars an "on-fire" look, which is attractive for metal players.
In addition to these maple top guitars, if you go through the list above, you'll certainly see other materials used. For example, some models feature a swamp ash neck and swamp ash body, although that's a material that's typically reserved for Fender Stratocasters and Telecasters.
Intonation
Keeping a seven-string guitar in tune is no easy task. The cheaper models get thrown out of tune all the time — specifically the low B string, which is considerably thicker than a low E string. The nut and bridge of a guitar need to be built properly in order to keep the lower tunings sounding good and in tune.
To remedy this issue, some of these guitars feature a tune o matic bridge, which is really just an extended version of a fixed bridge.
A fixed bridge on most 7 string guitars is slanted so the distance between the nut and bridge is longer, which is beneficial for thick strings, like a low B. The tune o matic takes this idea a few steps further by lengthening the cut of the B strong. D'Angelico guitars do this on all of their signature jazz guitars using their stair-stepper bridge.
Building guitars with high-quality materials also helps with intonation. A guitar with a mahogany neck, for instance, is good for intonation. A mahogany neck is lighter weight but still strong since the wood is dense, which plays well for intonation.
Hardware
Whether you're looking at high quality ESP seven-string guitars or other extended range guitars, you'll notice that hardware makes a big difference. Not only when it comes to intonation and overall tone and playability of your instrument, but also for the appearance.
If you're looking for a high-quality tremolo bar — or whammy bar — for example, go for a Floyd Rose. The Floyd Rose tremolo is highly regarded as one of the best on the market.
Pickups obviously play a big factor in your tone and volume. Since seven-string guitars have a wider neck and different scale lengths, you'll typically find them using jumbo pickups. Jumbo pickups are simply "fatter" or modified versions of humbuckers or single coil pickups. You may also see a new guitar with jumbo nickel pickups, which offers a beefier tone.
FAQ
How do I tune a 7 string guitar?
There are three typical tuning standards for 7 string guitars:
B standard tuning. This is the most common tuning on seven string guitars. Your strings will look like this: BEADGBE. Notice that your bottom two strings now mimic your top two strings, allowing you to think through solos and chords a bit more logically.
Drop A tuning. For a grungier, darker sound, drop your bottom string to an A, so the tuning looks like this: AEADGBE.
Korn guitar tuning. Korn may be the only band to have a "signature" tuning. The metal band commonly plays their 7 string guitars tuned ADGCFAD, which can be quite complicated if you're used to a traditional 6 string tuning of EADGBE.
Are there famous bands that use 7 string guitars?
There are plenty! Above, we mentioned Korn, the heavy metal band from California. But other popular bands include Amon Amarth, Dream Theater, Spawn of Possession and Unearth. One of the greatest 7 string players on the planet is Steve Vai. Check out the master shred on his song "The Riddle."
Is a seven-stringer used for anything but metal music?
While metal is primarily the main genre for seven-string owners, the guitar has been used for various genres, including jazz, blues, and even classical.
Jazz and blues players appreciate the extra low string in order to create smooth walking bass lines. Classical players used it to make their running scales and arpeggios more full.
So, yes, metal music is the primary use for this type of guitar, but it's certainly not limited to it. We always encourage players to take their own path. Who knows — maybe you'll be the next great seven-string funk guitar player!
Does Korn use a 7 string guitar?
Korn guitarists James Munky Shaffer and Brian Head Welch both played seven string guitars and worked with Ibanez to create the Ibanez K7 signature series.
In fact, Steve Vai actually credits Korn in an interview with Ultimate Guitar for "bringing back" the seven-string (1).
How many octaves does a 7 string guitar have?
A 7 string has just over four octaves on it thanks to its low B string. A standard-tuned 6-string guitar with 22 frets is just shy of four octaves.
Is it worth getting a 7 string guitar?
A 7 string is worth buying if you have a specific application for it. If you play metal, for instance, it's going to be an attractive option for you in order to achieve those powerful, bassy bar chords. Some jazz and blues players even like the option of having that bass note for walking lines and playing chords at the same time.
Now, if you're just curious about playing on seven strings, it's probably not a good investment. These guitars can be expensive, and because they tend to serve a specific purpose — like metal music — they're not just an instrument you go out and buy for the fun of it.
So, is it worth it? If you want to play metal guitar, it is.
Did Robert Johnson use a 7 string guitar?
This is one of music's great urban legends that guitar players constantly talk about it. Did the legendary blues player Robert Johnson use a seven-string guitar?
Johnson did indeed own a seven-string guitar, but it was a modded six-string. This was the 1930s, after all, and guitar makers hadn't come up with a guitar that included an extra low string. He would reportedly play it in gigs, but it was never used on his records, which adds to some of the mystery.
Of course, no one has a clue what type of tunings Johnson used when playing this "Frankenstein guitar." Maybe one day, someone will find a clue to what he really played on.
Did Steve Vai invent 7 string?
While Steve Vai is certainly one of the more famous players to use 7-string models, he is not the inventor of this type of guitar. You could argue he's one of the best and influential players on this instrument, though.
Does anyone use an 8 string guitar?
Since we're talking about guitars with seven strings, we also mention guitars with eight strings! Sure, people use them, but they're way more rare.
In fact, 8-string models were used in the 19th century by classical musicians. Today, some metal bands pull them out for a unique sound, but again — it's very rare.
Rock Out With the best 7 String guitar
Like I've mentioned, the best 7 string guitars aren't for everyone, but if you love rock or metal music and really want to focus on that genre, I highly encourage you to pick up a 7 string model and hone your craft. My favorite 7-string overall is the Ibanez PRESTIGE RGR752AHBF, while my favorite budget option is the Ibanez RG7421PB.
But if you're definitely not ready to go into seven-string territory, we have plenty of 6-string options for you to check out here, here, here, and here.
Remember, the guitar isn't going to make you a better player — it's on you to practice and get better each day. So, make sure you have a good practice amp and something comfortable to sit on, and consider booking an online class to accelerate your guitar journey. Rock on!
• • •
References
Ultimate Guitar, "Head Talks How Korn Ended Up Using 7-Strings" as published here https://www.ultimate-guitar.com/news/interviews/head_talks_how_korn_ended_up_using_7-strings_reacts_to_what_steve_vai_had_to_say_about_his_band.html
Image Credits
7 string guitar image: .rhavin at German Wikipedia(Original text: .rhavin), Public domain, via Wikimedia Commons; James Munky image: Alexandre Cardoso, CC BY 2.0, via Wikimedia Commons; Seregor (Carach Angren) image: Clownhouse III, CC BY 2.0, via Wikimedia Commons; Steve Vai image: Toglenn, CC BY-SA 4.0, via Wikimedia Commons.